It's tough to believe right now, but white-tailed deer were nearly hunted to extinction. Like the North American bison, they were an attractive source of meat for a fast-growing population. Thankfully, people took notice. In 1873, Maine established the first bag limit – a limit for how many deer a hunter can take in a season. Several other states followed suit.
But poachers would simply go across state lines to hunt, then sell the venison in another state. Things continued to worsen. In 1898, Massachusetts went so far as to ban deer hunting altogether for five years. In 1900, the Federal Government banned interstate sale of poached meat, and the deer began to recover.
Robust wildlife management programs have since paid off. Deer are everywhere. This is good news for the ecosystem, since deer fill an important ecological niche. They graze away at the undergrowth, which cuts down on brush and reduces the risk of forest fires. Their droppings fertilize the soil and provide food for insects. And when they die, the deer themselves become food for predators and scavengers.
Unfortunately, deer and cars go together as well as a lit cigarette in a fireworks warehouse. Deer haven't evolved to deal with two-tun hunks of metal traveling at 50 miles per hour. They'll run out into traffic, seemingly oblivious to the danger. Worse, they'll freeze up in front of you, which give us the saying "like a deer in the headlights."
If you've ever hit a deer with your car, you know how damaging – and dangerous – a collision can be. Thankfully, there's a solution. Deer warning devices, or "deer whistles," produce ultrasound as you drive. This ultra-high-pitched sound is too high for humans to hear. But it's painful to deer, who run away.
Choosing the Best Deer Warning Devices for Cars & Trucks
Today, we're going to review three of the best deer warning devices for cars and trucks. These are plastic devices that you install on your vehicle. Air passes through them, and they create an ultrasonic whistle that deer can't stand. All of these choices are well-designed, and you could argue that any one of them is the best.
That said, there are also some differences between the three, and we'll have to talk about that. Most importantly, we'll have to discuss the form factor and installation. In other words, what does it look like and where can you mount it? We'll also need to think about maintenance and cleaning. And of course, we'll have to talk about how well they work. After that, we'll be able to deliver a fair verdict. Let's get started!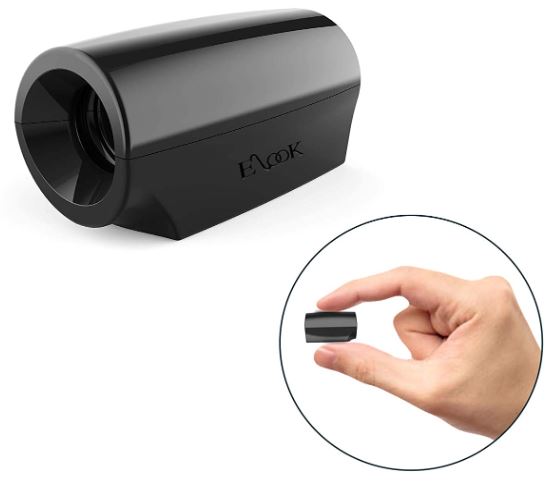 Elook Deer Warning Whistle
At first glance, the Elook Deer Warning Whistle is a simple black plastic tube. It measures 1.1 inch long and has a diameter of 0.6-inch. The bottom portion is slightly extended and flattened, giving it a height of 0.7-inch. The ABS material is durable and can withstand changes in temperature. You also don't have to worry about water, snow, or salt, since plastic doesn't corrode.
Thanks to the compact size, this device is very easy to conceal. It's even small enough to install inside many car grilles. Just make sure it's not touching the radiator, or it could get damaged. You can also mount it on the bottom of your bumper, where it will be invisible. Point being, you're not going to spoil your vehicle's appearance.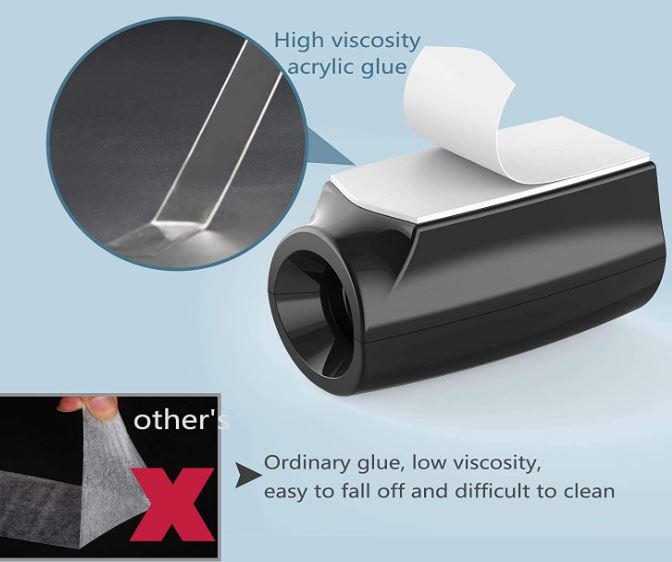 You can order it in a 2-pack, 4-pack, 6-pack, or 8-pack. This makes it easy to outfit several vehicles. You can order enough for everyone in the family, and keep all your cars safe.
Audibility
The Elook Deer Warning Whistle kicks in when your vehicle reaches 35 MPH. Below that speed, there won't be enough air flow to produce any noise. Think of it like puffing weakly into a trumpet; you're not going to get any sound. Then again, you don't buy a deer whistle to prevent low-speed collisions. You buy it to keep yourself safe from a nasty accident.
Above 35 MPH, the whistle will get louder the faster you drive. At highway speeds, it's audible as far as a quarter of a mile away. That's more than enough range to keep the deer away.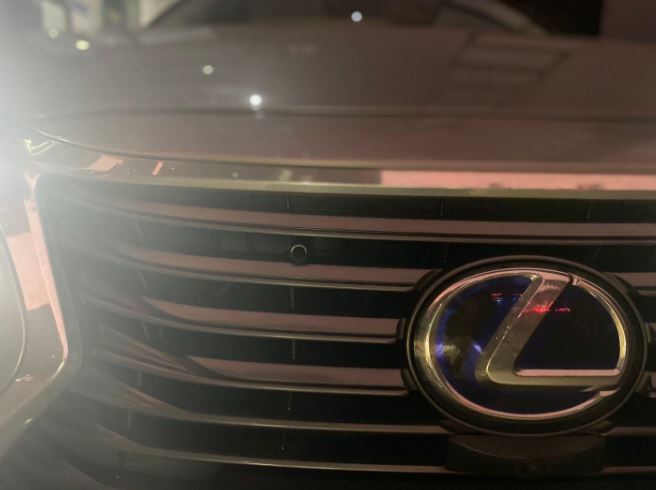 There's one thing we need to be crystal clear about: you cannot hear a deer whistle. The pitch is higher than 20,000Hz, above the range of human hearing. That's the beauty of it. If it were audible to humans, you wouldn't want it on your car. It would be incredibly obnoxious! As a side note, you don't have to worry about your dog. They can hear a deer whistle, but it's not the same pitch as a dog whistle. It won't hurt their ears while they're riding in your car.
Durability
On the bottom of each Elook deer whistle, there's a peel and stick adhesive. Just peel away the white cover paper and press the whistle down on your car, and it will stick. Make sure to clean and dry the area before you apply the whistle. The adhesive won't work properly if the surface is covered in dirt.
The adhesive pad uses an acrylic adhesive, which offers a number of benefits. For one thing, it offers excellent adhesion when subjected to wind stress. For another thing, it's easy to peel off if you want to remove your whistles. It also won't leave any sticky residue behind for you to clean up.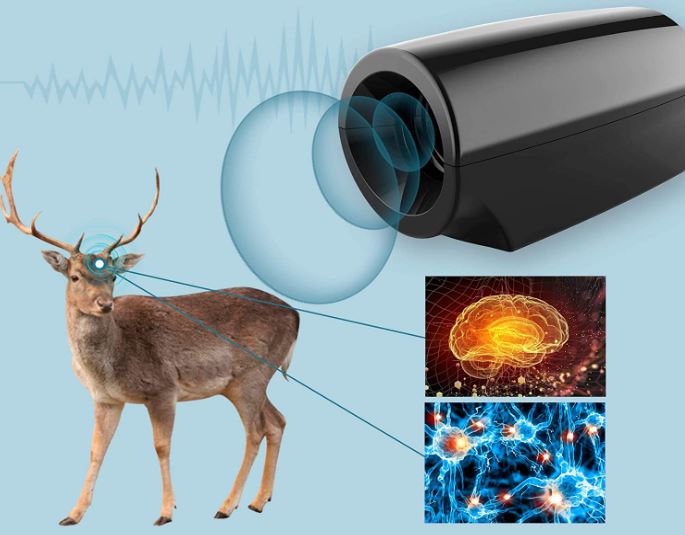 That said, this installation method has one major drawback; it's hard to clean the whistles. Cleaning is important, because dirt and debris will eventually clog the whistle. All you have to do is run some water through it in the reverse direction and clean it out. This isn't a huge deal, but it would be easier if there were some way to remove the whistles for cleaning.
If you're concerned about automotive safety, you probably like to be prepared for emergencies. In that case, check out our review of the Imazing IM39. It's a powerful, 4000-amp jump starter that fits in your car's glove box. It also has a built-in flashlight and other nifty features.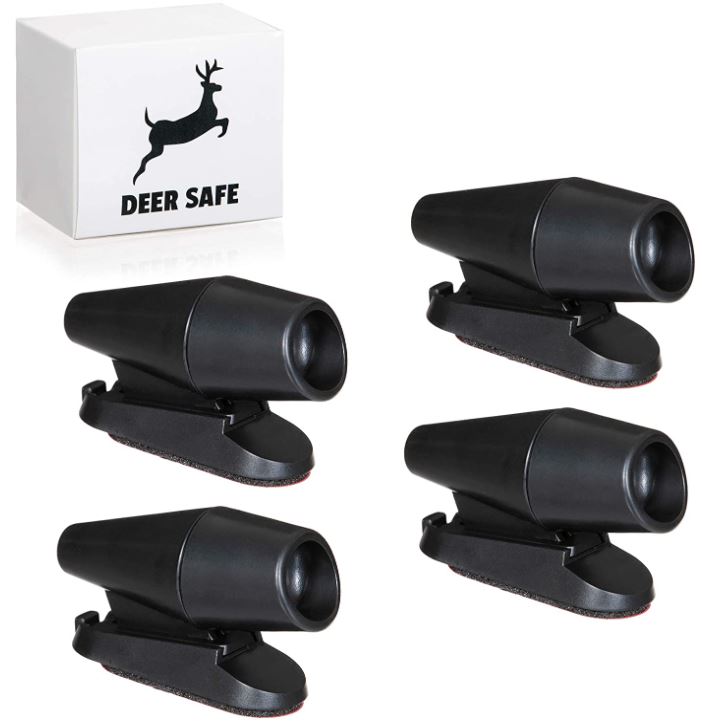 DEER SAFE Save A Deer Whistle
The DEER SAFE Save a Deer Whistle is also made from black ABS plastic. However, instead of a simple flat-bottomed tube, it has a pylon-style design. When you look at it, it looks like an upside-down airplane engine. This has some benefits, most notably for aerodynamics. However, it also necessitates a larger design.
The length of 2.2 inches is a non-factor, but the 1.5-inch height limits your placement options. If you have a very large grille, you might be able to fit it. Otherwise, you'll have to use your bumper, or put it on top of your car. On top of your car is probably the best place for most people, and it's reasonably out of the way.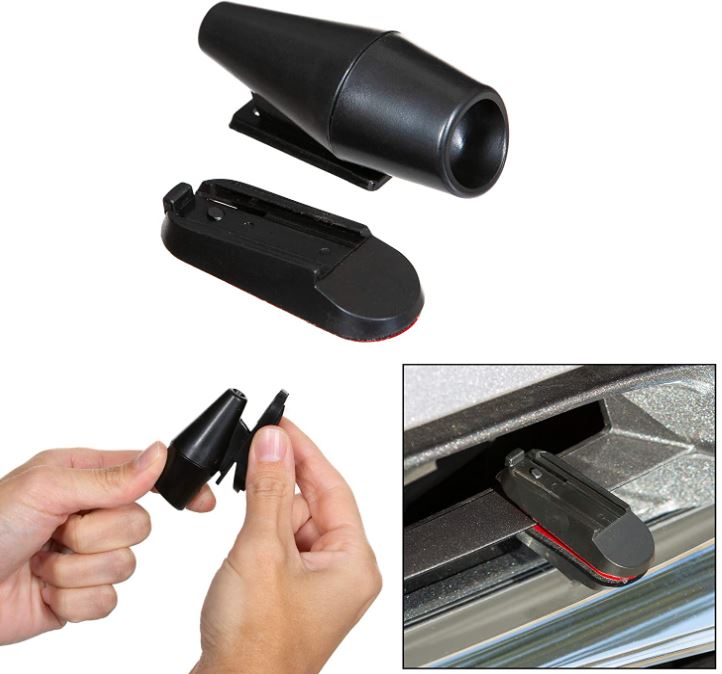 These whistles come in a 4-pack. As per DEER SAFE's instructions, that's enough to protect two cars.
Audibility
As with the last whistle we looked at, this one will kick in when your car reaches a speed of 35 MPH. DEER SAFE doesn't give any specific ratings for volume, and we obviously couldn't hear anything ourselves. That said, deer seem to scatter as the car approaches them, which is not normal deer behavior. Presumably, the whistles are doing their work.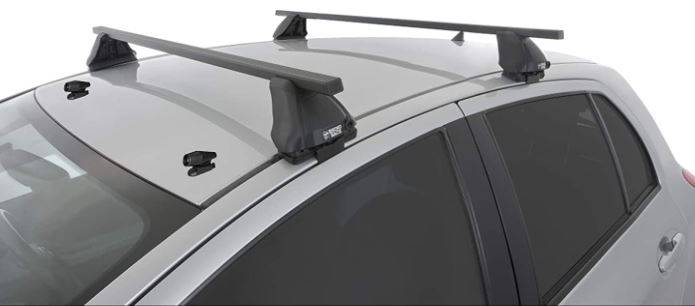 DEER SAFE recommends using two whistles to protect a single vehicle. Given the placement, that's probably a good rule of thumb for any deer whistle. With one on either side of the motor, the noise will be that much more widespread. Moreover, two whistles together will be louder than one alone.
Durability
The DEER SAFE whistle adheres similarly to the Elook whistle. There's an adhesive pad on the bottom of the pylon. You peel off a removable paper and stick it on your car. As always, make sure to wash the area first. The adhesive is very strong, and is rated to remain in place even in sub-zero temperatures.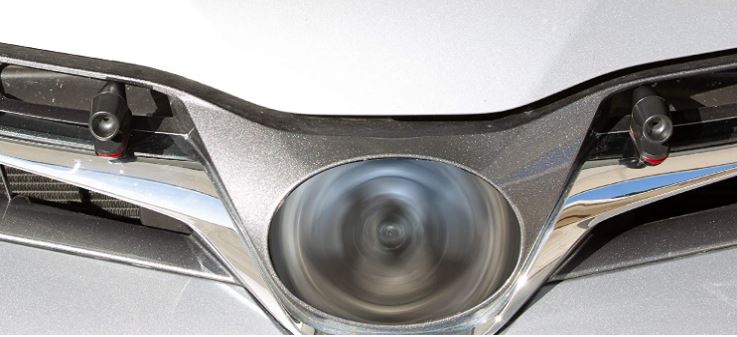 The beautiful thing about this whistle is that you can slide the whistle free of the base. This allows you to remove the whistles and clean them in your sink, then snap them back into place. You don't have to worry about cleaning a whistle that's placed in an awkward position.
Traffic safety is about more than just deer, and it starts with your tires. Underinflation makes your car less responsive as well as reducing your gas mileage. If you want to make sure your tires are always at the right pressure, a portable tire inflator is the ideal solution.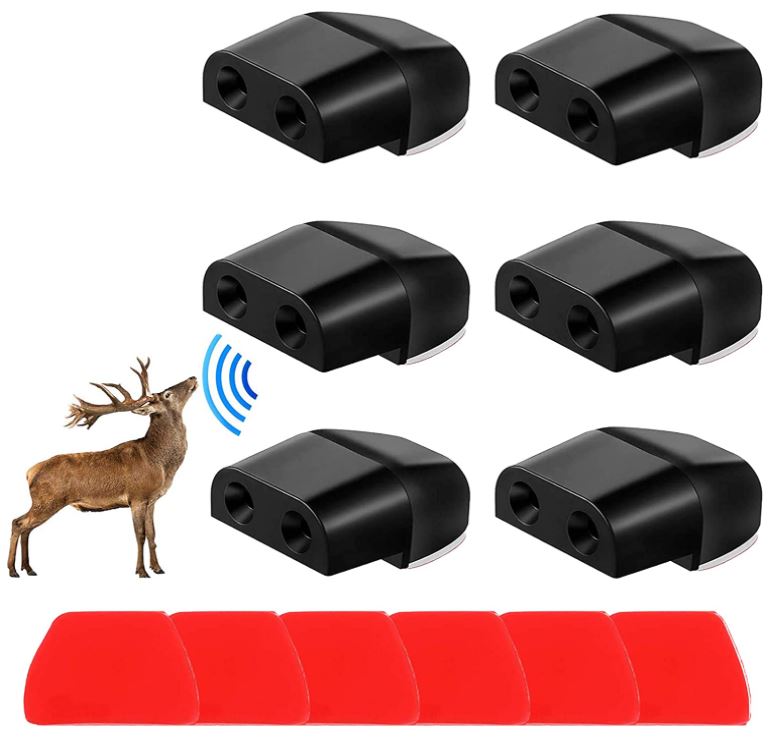 Niteguy Deer Whistle
The Niteguy Deer Whistle is made of black ABS plastic, just like the last two. However, the design is radically different. Instead of being circular, this whistle is flat, with two whistle holes instead of one. It measures 1.97 inches long, 1.57 inches wide, and a mere 0.4-inch thick.
This flat design makes the Niteguy whistle very unobtrusive. Put a couple of them on your car's roof, and they'll blend right in. They're even small enough to fit under a bike rack or cargo rack. You can also put them on the top or sides of your front bumper. They'll be noticeable, but only barely.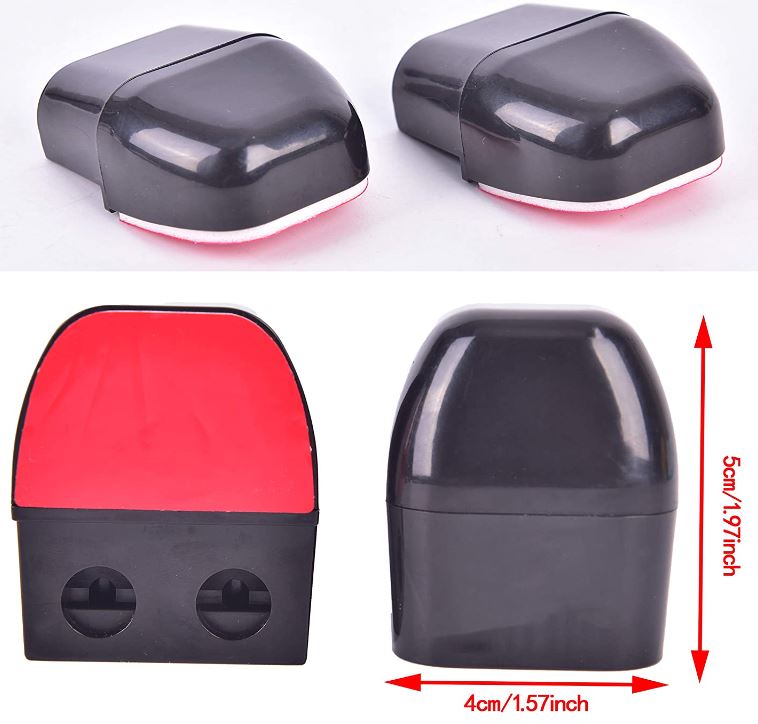 You can order this whistle in either a 6-pack or a 10-pack. This gives you more than enough whistles for most applications. If you're installing them on a single car, you'll have extras in case one gets damaged. And if you want to outfit the whole family, you won't have to order multiple packs.
Audibility
Like both of the other whistles on our list, the Niteguy whistle operates at speeds of 35 MPH and up. At maximum volume, it can deter deer up to a quarter of a mile away. Obviously, this depends on terrain. Trees and hills will dampen the sound, while open ground will let it spread. Regardless, deer will move away from your car.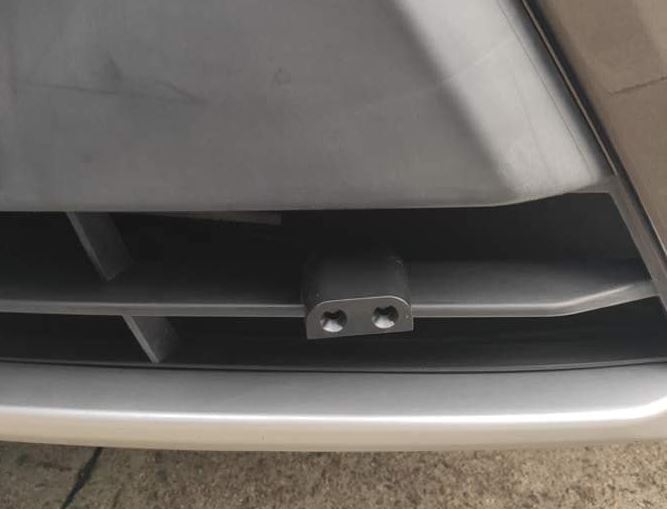 Durability
Along with each whistle, you get a corresponding 3M adhesive pad. This is a double-sided adhesive with a removable backing on both sides. Remove the backing from one side and stick it to the bottom of the whistle. Then peel of the other backing, and stick it directly to your car. It attaches firmly, but won't chip or damage your paint when you remove it.
Our one complaint about these whistles is how hard they are to clean. The back openings are actually in the bottom, just in front of the mounting adhesive. In theory, this area should never get dirty. In practice, it might. When that happens, it's a headache to clean. There's just not very much space to spray water into, and using a narrow scraper could chip your paint.
Final Verdict
As you can see, all three of these deer whistles will get the job done. But which one is the best one for you? Let's go over what we've learned today.
We began by reviewing the Elook Deer Warning Whistle. This is a compact, barrel-shaped whistle that's designed to conceal almost anywhere on your car. It's audible from a quarter mile away, and it starts working at 35 MPH. It also uses a high-quality adhesive, so you don't have to worry about it coming loose.
Next, we examined the DEER SAFE Save A Deer Whistle. This whistle's large, pylon-style design makes placement somewhat of a challenge. That said, the design has a purpose; it makes the whistle easy to remove and clean. We also appreciated the powerful adhesive, which works even in sub-zero temperatures.
Last but not least, we looked at the Niteguy Deer Whistle. We loved this whistle's unique design, with a flat profile that blends in with the rest of your car. It can be difficult to clean, but it also shouldn't get dirty enough to matter. It's also easy to install, and does a great job of keeping away deer.