Summer trips, long drives, or just plain outdoor adventures can become uncomfortable with the scorching heat. Investing in a portable air conditioner can be a game changer. From the van-lifer to the weekend camper, having a mobile cooling solution can greatly enhance the experience. Here's a brief glimpse at what our extensive reviews cover:
Join us as we dive deep into the features, benefits, and quirks of each of these top portable air conditioners to determine the best fit for your needs.
#1 – EcoFlow Wave 2 Portable Air Conditioner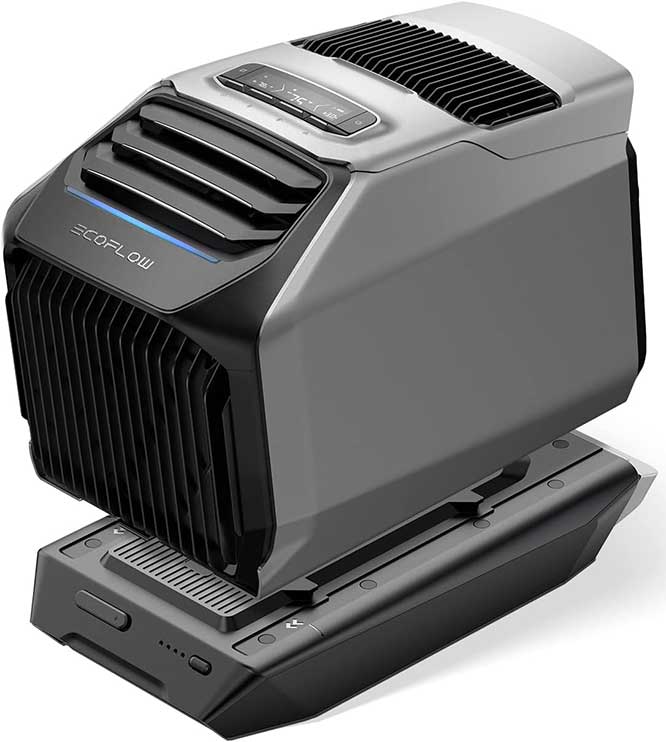 Key features:
World's first wireless portable AC
5,100 BTUs cooling, 6100 BTUs heating
Installation-free design fits anywhere
Eco-friendly R290 refrigerant
Handy mobile app
Designed for the mobile lifestyle, the EcoFlow Wave 2 is the world's first wireless portable air conditioner to offer both cooling and heating capabilities. Tailored with a unique compressor, this compact device delivers a robust 5,100 BTUs of cooling, rapidly dropping temperatures by 18°F in a 10m³ space in just 5 minutes (think going from 80°F to 62°F). Likewise, its heating capacity of 6,100 BTUs can also raise temperatures by 18°F. So if it's 59°F, you can heat your space to 77°F within the same time frame. This outperforms the industry average by a staggering 120%.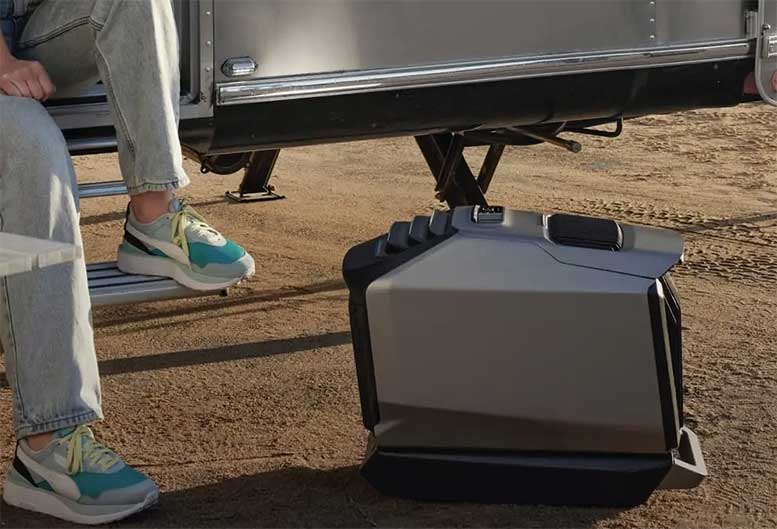 One standout feature is its installation-free design. The Wave 2 offers convenience right from unboxing – no complicated set-up or drainage required in cooling mode, given humidity remains under ~70%. Best of all, it also doubles as a heater. This makes it an ideal choice for those who move around frequently, such as in RVs, vans or tents. The unit is surprisingly silent at 44 dB in its Sleep Mode, ensuring undisturbed rest.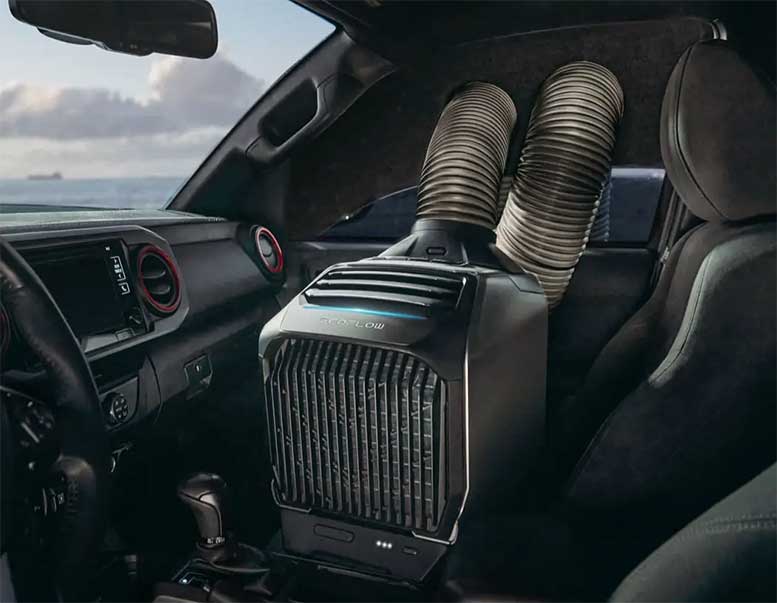 Its Eco Mode promises up to 8 hours of operation, providing extended comfort wherever you are. Additionally, its eco-friendliness is noteworthy. The Wave 2 utilizes R290, a green and natural refrigerant that's gentler on the environment, producing no harmful ozone emissions and having a lower global warming potential. Charging the device is straightforward and versatile. Whether at home, on solar energy, or even in your vehicle, the Wave 2's swappable battery design allows for swift charging.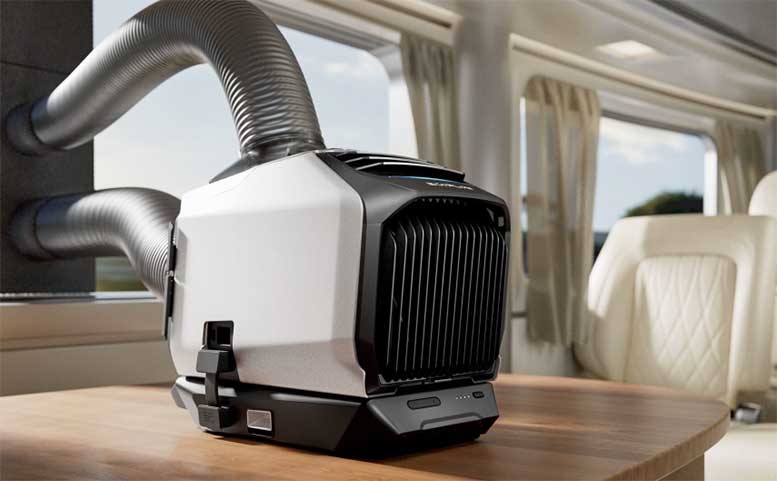 In addition, the Wave 2 can pair with the EcoFlow mobile app for full control from your smartphone or tablet. It offers close monitoring and complete control of current settings, remaining battery life, firmware updates and more. It's a well-designed app that operates smoothly without crashing or freezing, regardless of if you're using Android or iOS.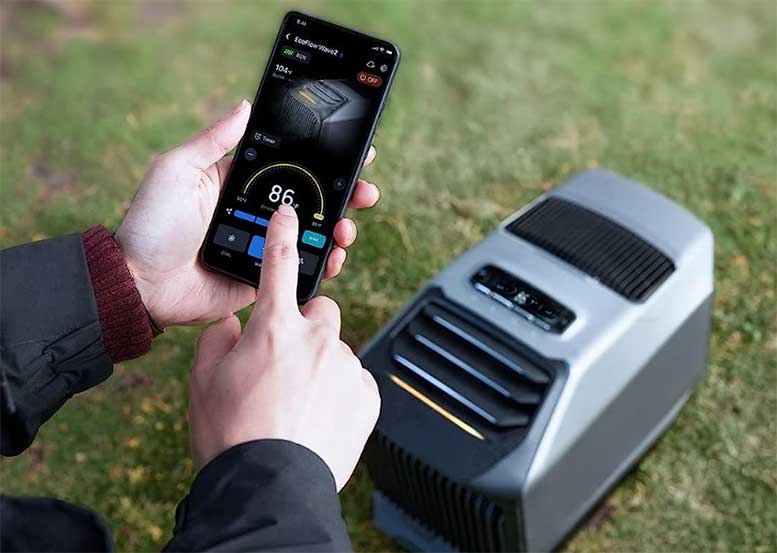 Plus, compatibility with EcoFlow's power stations ensures extended runtimes, making it a crucial component of a larger energy ecosystem. In terms of portability, it stands out with its design, allowing for directed cooling via attachable ducts. The unit, weighing 49 pounds and measuring 12 x 20 x 13 inches, is the epitome of powerful compactness.
What we liked:
Quiet operation at 44 dB
Eco Mode lasts up to 8 hours
Multiple charging options
Compatible with EcoFlow power stations
App works very well
What we didn't like:
Drainage required in high humidity environments
Additional components are pricey
#2 – Zero Breeze Mark 2 Portable AC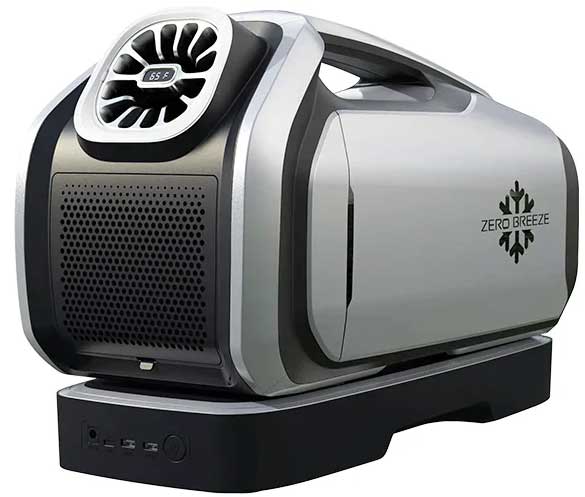 Key features:
Ultra-compact & Lightweight
Quick 10-minute cooling
Super energy-efficient
Multiple operating modes
The Zero Breeze Mark 2 establishes itself as a groundbreaking, ultra-portable air conditioning solution. During our testing, this device notably excelled in providing a comfortable cooling environment in diverse settings. Whether during outdoor adventures or within compact spaces like vans and small boats, it holds up well and works as advertised. One of the distinguishing features is its cooling capability.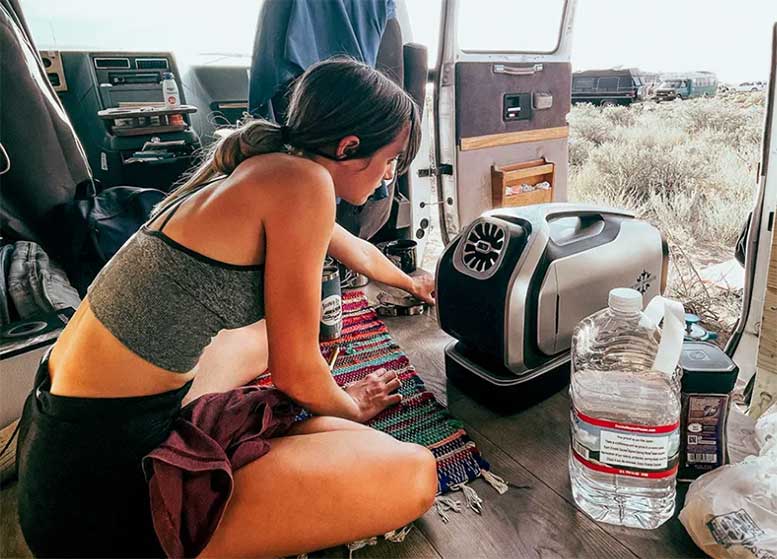 Within a span of just 10 minutes, the outlet temperature impressively dropped from 90°F to 60°F. Granted, that's in a space close to 30 square feet, but we still find it impressive nonetheless. It offers a commendable 2,300 BTU cooling power yet maintains a noise level of just 52 dB, ensuring a silent operation. Its physical dimensions stand at 20 x 10 x 11 inches with a weight of 16.5 pounds, making it genuinely portable.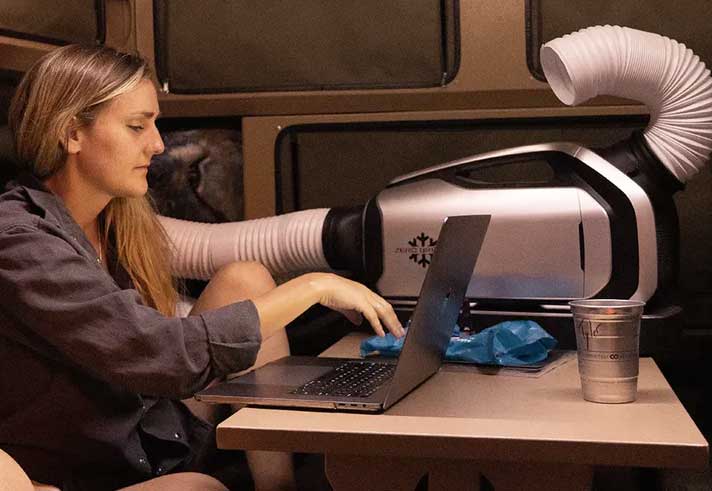 The unit also boasts a moisture protection rating of IPX4 and utilizes a dual hose exhaust configuration, which enhances its efficiency. The Mark 2 is powered by a 24-volt 18,650 Lithium-Ion Polymer Battery. This dedicated Mark 2 smart battery has a substantial capacity of 840Wh. In sleep mode, it consistently ran for up to 8 hours, while in its stronger mode, it offered around 3 hours of operation. Yes, there's quite a chasm of difference there. But for portable cooling, it's understandable.
A unique feature of the Mark 2 is its compressor – comparable in size to a cola can – which seems to revolutionize the portable air conditioner market. The device also provides flexibility with its multiple operating modes, catering to varied user preferences. However, during our testing, we did encounter a couple of areas for improvement. The exhaust hose tends to become noticeably warm during extended operation.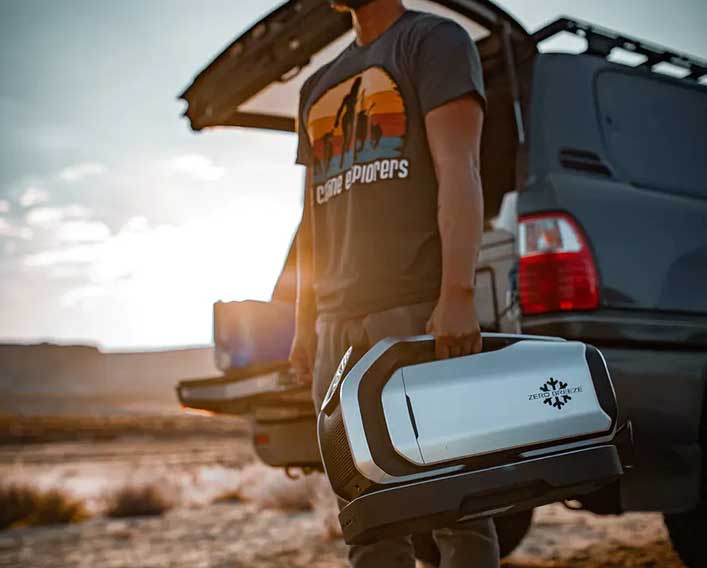 Insulation around this part would likely enhance the unit's overall efficiency. Moreover, the provided 110v to 24v power supply emitted significant heat when the device operated at high settings. A redesign of this component might further optimize the Mark 2's performance. To cap it all off, we can confidently say that the Zero Breeze Mark 2 is a solid choice for those seeking portable and efficient cooling solutions. There are just a few areas that could benefit from refinements. But overall, it's a very smart buy.
What we liked:
Impressive temperature drop
Quiet operation
Multiple power options
Highly portable design
What we didn't like:
Warm exhaust hose
Hot power supply on high settings
#3 – BougeRV Portable Air Conditioner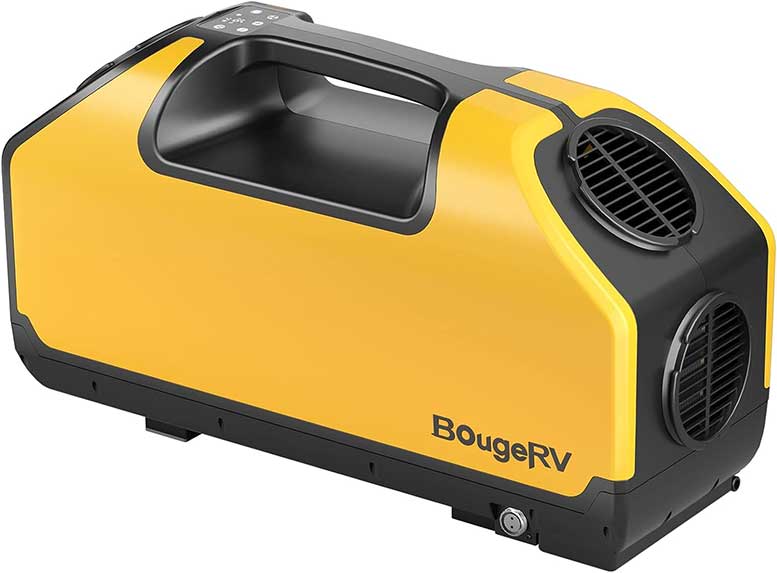 Key features:
2,899 BTU cooling power
Portable and ergonomic design
Panasonic compressor technology
3 wind speeds & 4 modes
Next on our list of top picks is BougeRV's Portable Air Conditioner: a tailored cooling solution for those living the van life, going camping, or simply needing a refreshing breeze in confined spaces. You'll need to provide your own power station to run this unit. With it, you get a surprisingly robust 2,899 BTU of cooling power. It comes in a yellow-hued body measuring 9.06 x 23.03 x 13.27 inches and weighing in at 23.2 pounds. Our testing methodology involved setting up the unit in various confined environments to gauge its cooling efficiency.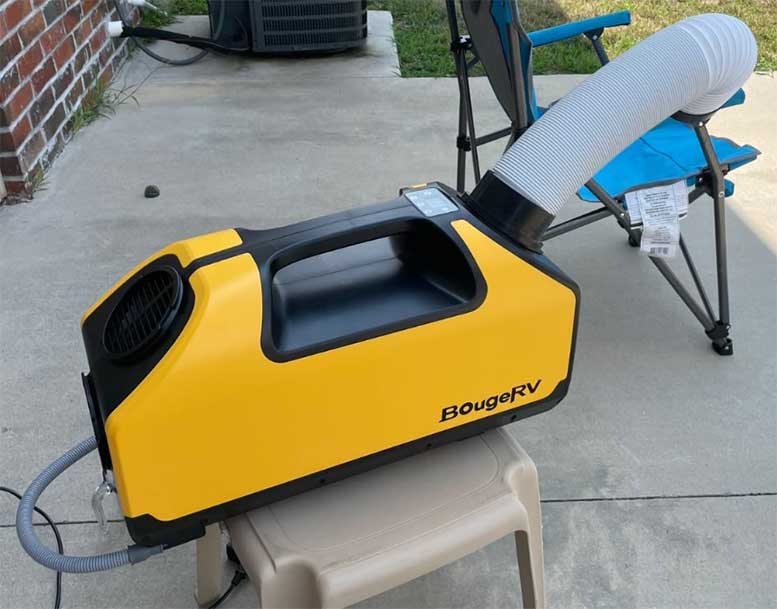 In spaces ranging between 43 to 54 square feet, the device managed to rapidly cool the temperature down to a comfortable 68°F within minutes. Its design employs a Panasonic compressor, ensuring durability and a superior cooling capacity. Noise levels, dependent on mode selection, oscillate between 45 to 65 dB, a reasonable range for its category. Feature-wise, the device flaunts three distinct wind speeds – light, weak, and strong.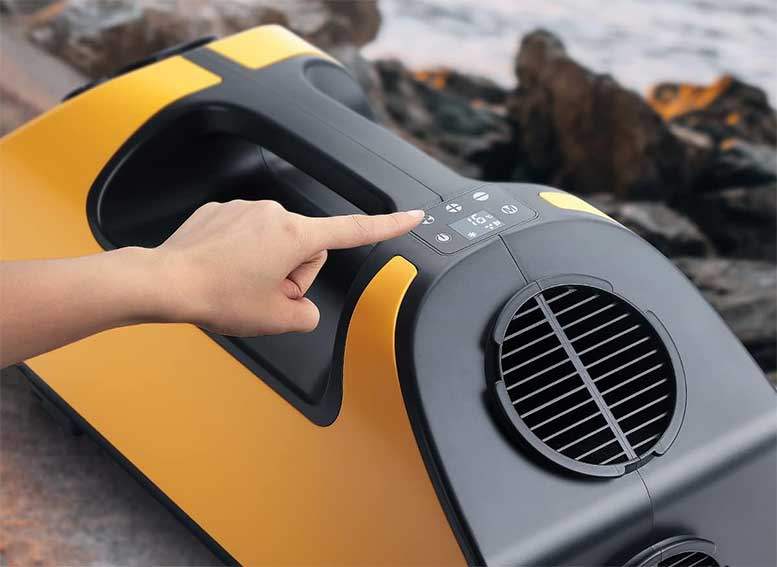 Additionally, with a press and hold of the "M" button, users can toggle between four modes: SLEEP, STRONG, COOLING, and FAN, allowing customization based on personal preferences. However, a noteworthy observation during our test was its potential limitation in larger or sunlit spaces. While the BougeRV performs admirably in shaded or smaller areas, its effectiveness may be diminished in a car's interior exposed to direct sunlight. Therefore, one must be discerning about the unit's placement and intended use.
What we liked:
Rapid cooling in confined spaces
Tough, rugged design
Easy to cycle the different modes
Compact and portable design
What we didn't like:
Requires separate power station to use
May not suit larger vehicles
#4 – IceCove Portable Air Conditioner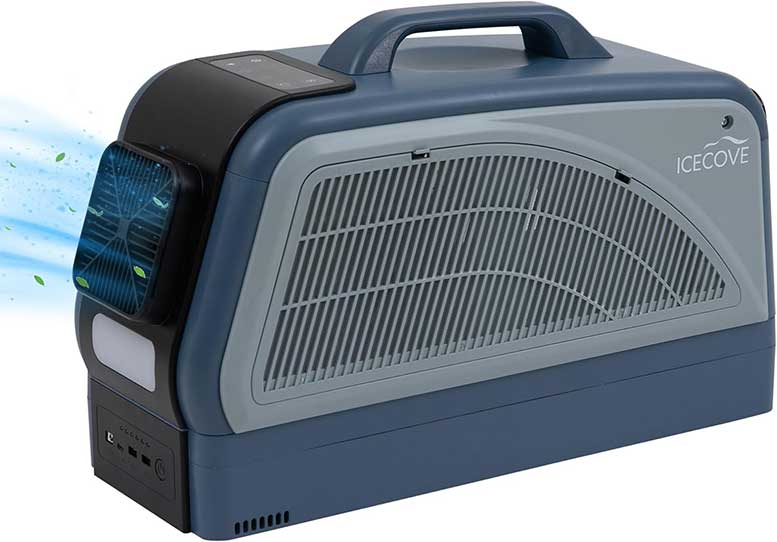 Key features:
Rapid cooling in 10-15 minutes
Lightweight & portable design
Intuitive control panel
Built-in LED flashlight
Designed for the adventurer at heart, the IceCove Portable Air Conditioner is the ultimate portable cooling solution for those on the move. It is lightweight and compact compared to a lot of other units on the market. But we need to point out that its advertising is a bit confusing if you're not reading the fine print. The main cooling unit weighs 18.74 pounds. But the power bank that operates and attaches to the cooling unit weighs an additional 15.87 pounds.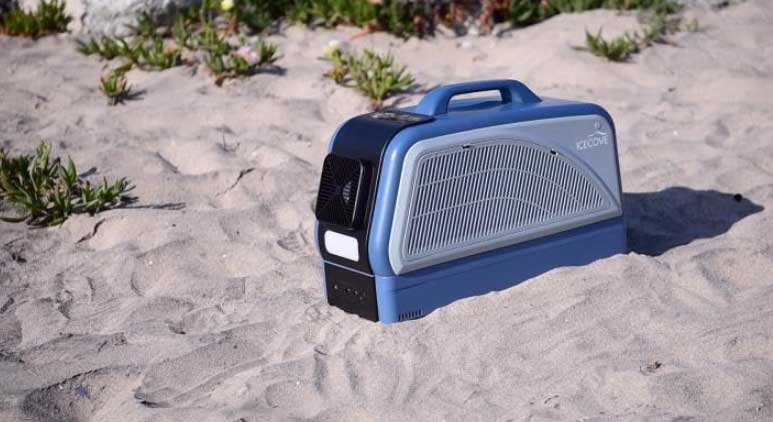 If you're keeping score, that's nearly 35 pounds in total. So it's considerably heavier than most people's initial impressions. That said, it does boast dimensions of 23.62 x 9.25 x 14.29 inches. So it ensures easy transport, whether you're camping or beach picnicking. Functionality meets flexibility with this device, as well. Its 2,500 BTU cooling power ensures that small spaces like trailers, tents, or vans get cooled down quickly, with performance-efficient cooling in just 10 to 15 minutes.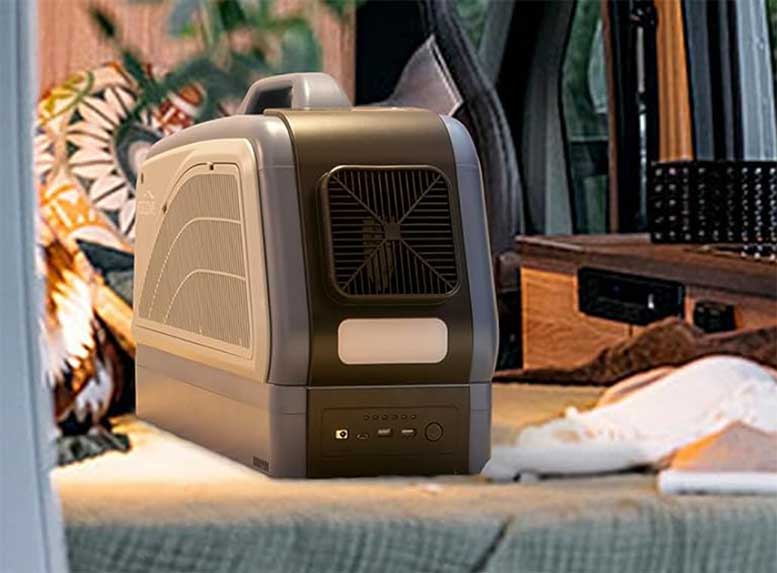 The unit's low power consumption, operating at 250W and a 25.5VDC voltage, is complemented by a battery life that can sustain the cool for up to 6 hours. This ensures comfort even in locations where shore power is inaccessible. During our testing, we appreciated the recessed track, which provided hassle-free vent installation, ensuring the air was directed efficiently. Maintenance is effortless with the removable air filter side panel, making regular cleaning a breeze.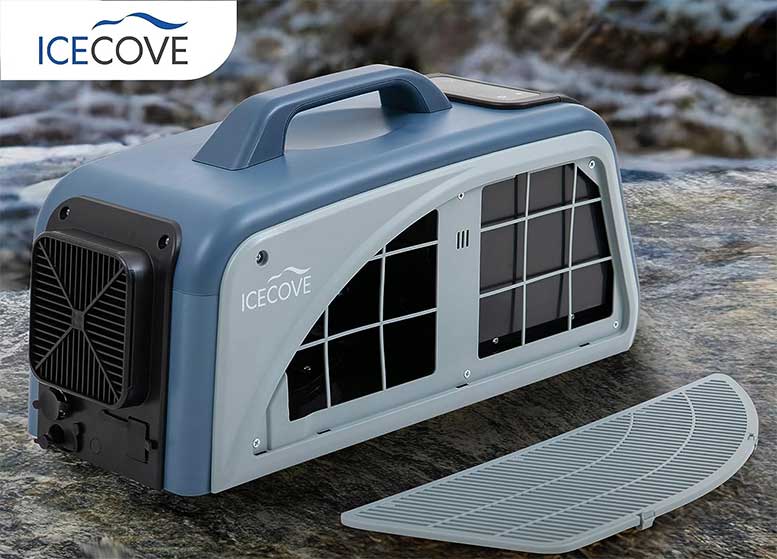 The control panel stood out, with intuitive settings allowing for temperature adjustments. Moreover, the built-in LED flashlight, with three lighting modes, proved beneficial during our nighttime adventures. For those environmentally conscious, the IceCove employs an R290 refrigerant system, aligning with EU environmental standards. In addition, the Lithium Iron Phosphate Battery offers a decent lifecycle, lasting up to 1000 charges.
What we liked:
Efficient R290 refrigerant system
Easy-to-maintain filter panel
6-hour battery life
Multi-mode LED lighting
What we didn't like:
Might need power bank for nonstop use
Battery adds to weight
#5 – EENOUR PA600 Portable Air Conditioner with X2000 Battery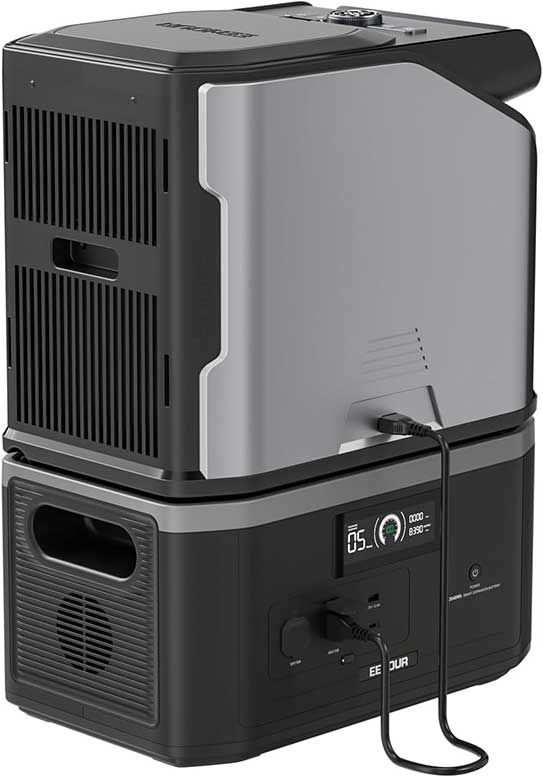 Key features:
6,000 BTU fast cooling
4 ways to charge
Sleep and dehumidifier mode
Remote control and timer
The EENOUR PA600 stands out as a robust portable air conditioner tailored for diverse environments, whether you're cooling down in an RV, making a truck sleepover comfortable, or escaping the heat during outdoor camping. At a glance, its black and silver design is not only sleek but also compact with dimensions of 18.7 x 11.61 x 15.94 inches. It weighs in at a manageable 26.5 pounds.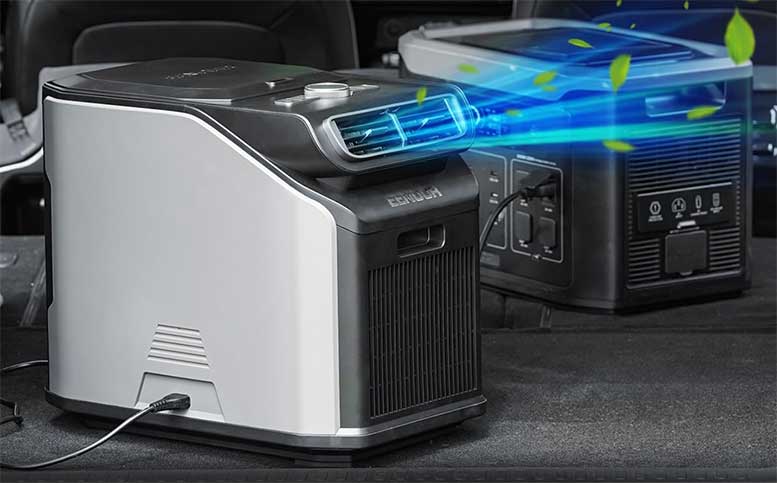 With an impressive 6,000 BTU cooling power, it doesn't take long for the device to create a refreshing atmosphere. This is particularly noticeable when using its fast cooling feature. Our testing showed that even on the hottest summer days, the unit efficiently reduced temperatures in confined spaces. In terms of noise, the device remains discreet, operating at around 42 dB at its lowest setting, ensuring a quiet ambiance.
Another notable aspect of the PA600 is its flexibility in power supply methods. We tested its compatibility with wall outlets, the X2000 battery, and even solar panels connected to a power station. The inclusion of the X2000 battery connection, especially, provides valuable autonomy for off-grid scenarios or power outages.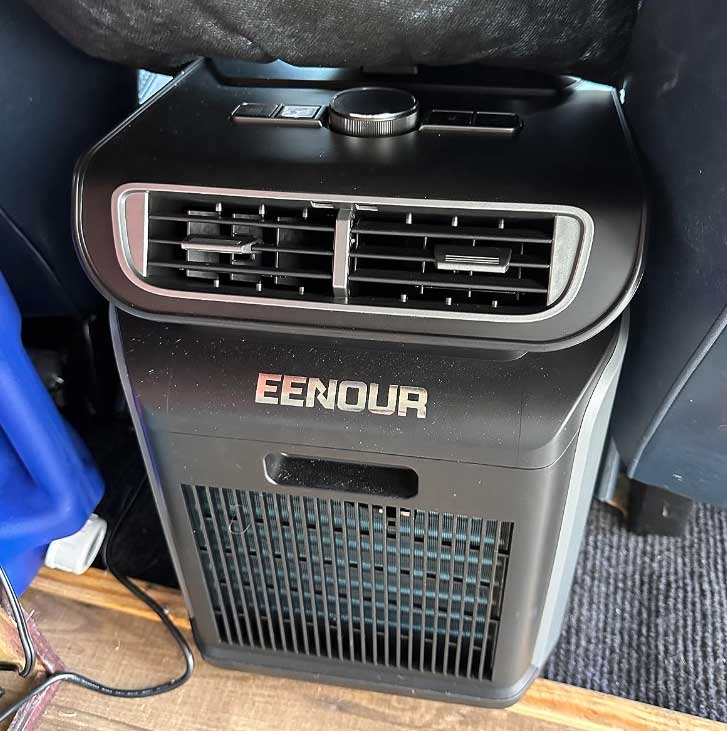 Functionality doesn't end with just cooling. The EENOUR PA600 offers seven fan speeds, dehumidifier capabilities, a sleep mode for energy-efficient nighttime cooling, and a timer setting. All these features can be conveniently controlled using the provided remote. However, potential users should note that the PA600 does not have a built-in battery. This might require additional investment or planning, especially for those looking to use it in more remote locations without a steady power source.
What we liked:
Versatile charging options
Compact and portable design
Quiet operation at 42 dB
Efficient cooling in varied environments
What we didn't like:
No built-in battery
Requires additional power source planning
Portable Air Conditioner FAQs
How do portable air conditioners work?
Portable air conditioners function by drawing in warm air from the room, cooling it using a refrigerant, and then expelling the cooled air back into the room. Excess warm air and moisture are expelled through a window exhaust kit.
Can a portable air conditioner cool multiple rooms?
While primarily designed for single rooms, if placed strategically (like near doorways), they can partially cool adjacent rooms. However, the efficiency decreases as the area increases. The units we introduced in this article are ideal for small indoor spaces, not multiple rooms.
Do all portable air conditioners need to be vented out a window?
For optimal efficiency, most portable air conditioners should be vented out a window to expel the hot air. It's true that you can sometimes find ventless models available that use water to cool. But to be honest, they tend to be less effective than vented versions, which is why we chose the entries featured here today.
Final Verdict
Each air conditioner on our list was chosen for its unique selling points, relevance to a specific audience, and overall performance. The EcoFlow Wave 2 leads the innovation front with its wireless capabilities and the promise of both cooling and heating. On the other hand, the Zero Breeze Mark 2 is for those who value ultimate portability without sacrificing performance. 
BougeRV is your go-to if you're limited on space, while the IceCove integrates several useful features into a compact design. Lastly, for those who don't want to compromise on power, EENOUR PA600 promises a stellar 6,000 BTU output. Each model has its strengths and minor flaws, but all ensure comfort on the go.