In an age where keeping our valuables secure is more crucial than ever, conventional safes may not always cut it. Sometimes, the best hiding spots are those camouflaged as everyday items. That's why we're highlighting the best hidden diversion book safes and containers. Our top picks combine security, subtlety, and sophistication. Here's a quick peek at what's to come:
With a catalog as versatile as this, there's bound to be an ingenious storage solution that fits your specific needs. Now, let's explore the nuanced features of each to find out what sets them apart.
#1 – KYODOLED Diversion Book Safe with Combination Lock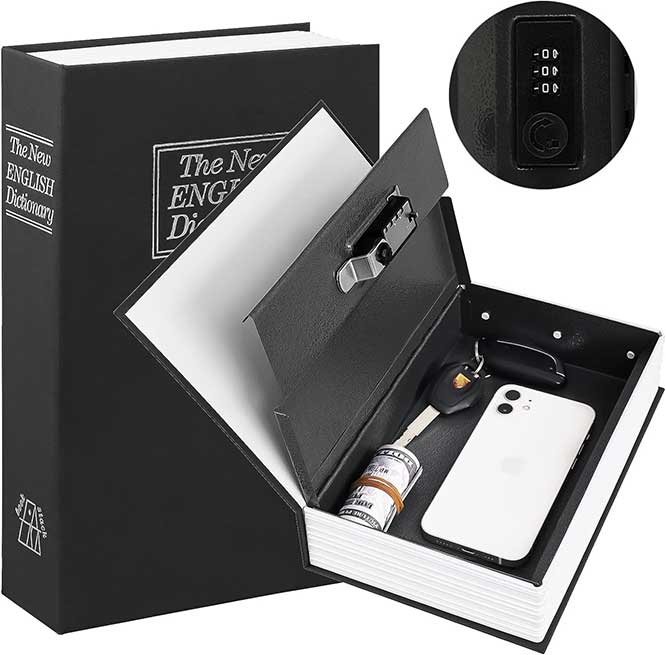 Key features:
Combination lock security
Authentic book-like appearance
129-cubic inch capacity
Floor mountable
Imagine a safe so well-disguised it could fool even the most astute observer. Enter the KYODOLED Diversion Book Safe with Combination Lock, a uniquely crafted masterpiece that doubles as a legitimate-looking book. Its design is tailored to blend seamlessly with your bookshelf, effectively becoming an undercover agent for your valuables. It's designed to mimic a real book. The camouflage is convincing; it perfectly coordinates with the other titles on your bookshelf, as though it were just another tome about quantum physics or classical literature.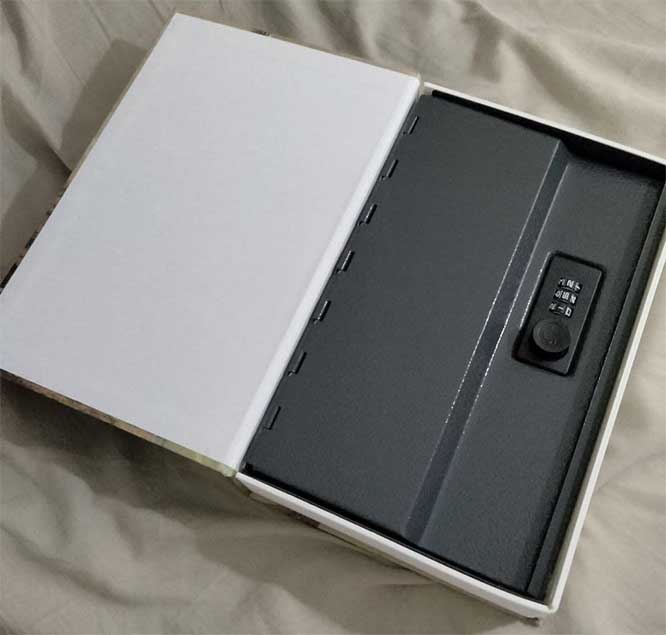 But hidden behind that façade is a metal fortress, eagerly guarding your personal belongings. While the exterior may be an ode to subtlety, it offers robust security features. Its combination lock provides an added layer of safety, ensuring that your valuables are safe and secure. This is not just a gimmick; it's a fortified chamber. This isn't one of those "looks bigger on the outside" kinds of deals.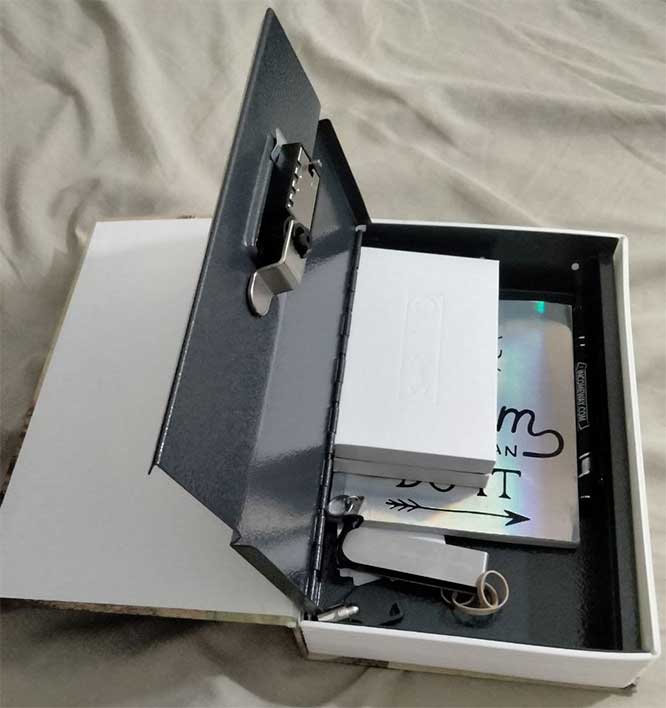 Its interior dimensions of 9.0 x 5.7 x 1.9 inches and a storage capacity of 129 cubic inches provide ample space to secure items like cash, passports, or jewelry. At 1.66 pounds, it's lightweight enough to be portable but heavy enough to feel substantial. Best of all, it's available in multiple sizes if you need more space. Designed to be floor-mounted, this safe offers a level of placement flexibility. It could be at home in a teenager's room, or even in a corporate office, serving its duty with equal efficiency. Your secrets, whether professional or personal, are safe.
What we liked:
Robust security measures
Extremely discreet design
Spacious yet compact
Lightweight and portable
What we didn't like:
Not water-resistant
No real pages inside
#2 – TRAVAH Diversion Safe Water Bottle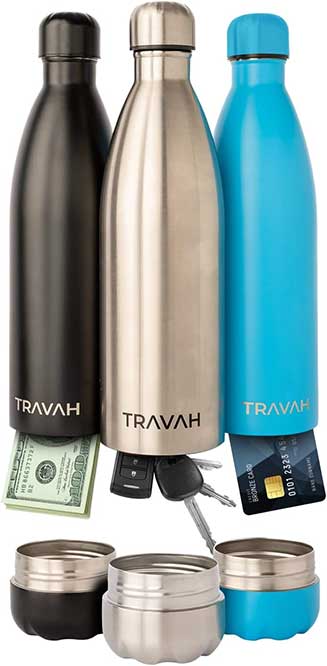 Key features:
17-ounce liquid capacity
3 x 3-inch hidden compartment
12-hour hot, 24-hour cold
Bonus smell-proof bag
Security and convenience aren't always easy bedfellows, but TRAVAH's Diversion Safe Water Bottle makes a compelling argument for why they should be. At first glance, it appears to be an ordinary stainless-steel water bottle, but dig deeper, and you'll discover it's more than a mere hydration station. Crafted in a sleek silver color, the bottle blends in effortlessly with other gym or travel accessories. It's made of stainless steel, making it a durable investment.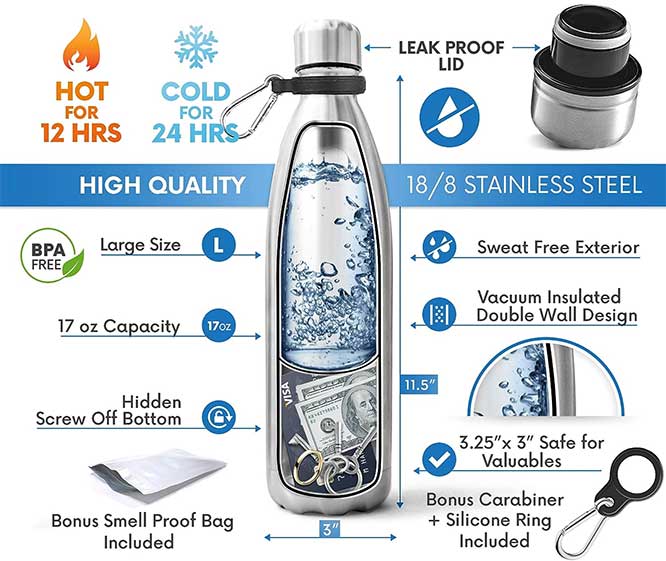 No one will suspect that it doubles as a safe because, well, why would they? It looks too busy being a water bottle. It measures at a convenient 1 x 1 x 1, making it portable and easy to carry around. Weighing in at 1.06 pounds, it won't break your back or your trust. We like its 17-ounce capacity. It's enough to keep you hydrated during a moderate workout or a short hike. But here's where things get really interesting. The 3 x 3-inch hidden screw-off bottom compartment affords enough room to fit in over a hundred bills, your car keys, or essential cards.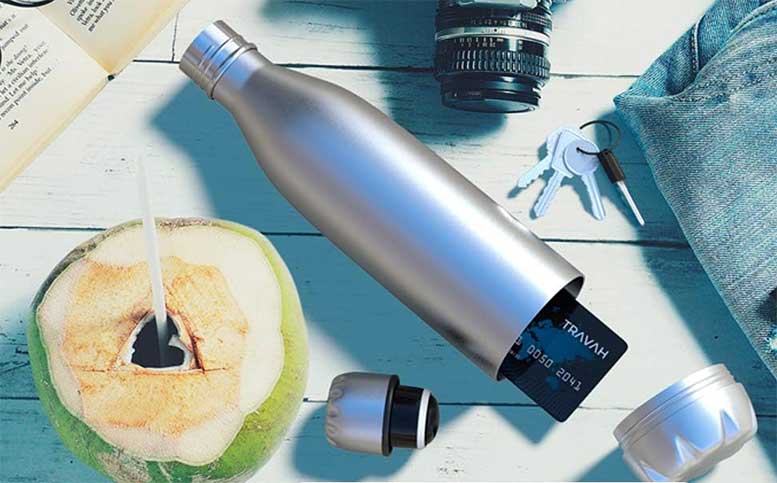 During our tests, the vacuum insulation really lived up to the promise. Our hot drinks stayed hot for 12 hours, and cold drinks were still chill after a full day. It also includes a smell-proof bag as a bonus, sealing the deal on discreet storage. One small complaint is that it can be hard to get open. Moreover, it's not water-resistant, so don't go throwing it into a pool or a raging river.
What we liked:
Durable stainless steel
Dual-function design
Thermal efficiency
Highly portable
What we didn't like:
Can be hard to get open
Not water-resistant
#3 – Younion Flower Pot Diversion Safe with Key Lock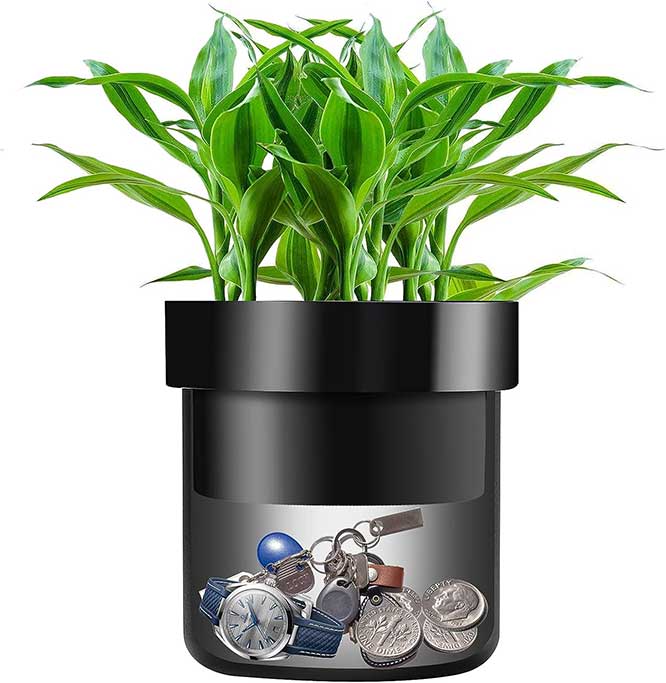 Key features:
4.8 x 5.2-inch dimensions
Solid steel bottom layer
Key-lock security
Indoor/outdoor use
Imagine a James Bond gadget for your living room—a device that serves dual purposes yet retains an air of subtlety. Younion's Flower Pot Diversion Safe with Key Lock offers exactly that. For all intents and purposes, it looks like an average flower pot. But beneath its unassuming exterior lies a robust, key-locked metal compartment ready to safeguard your valuables. It's tempting to view this as just a flower pot, especially because you can place succulents or artificial blooms in its upper layer.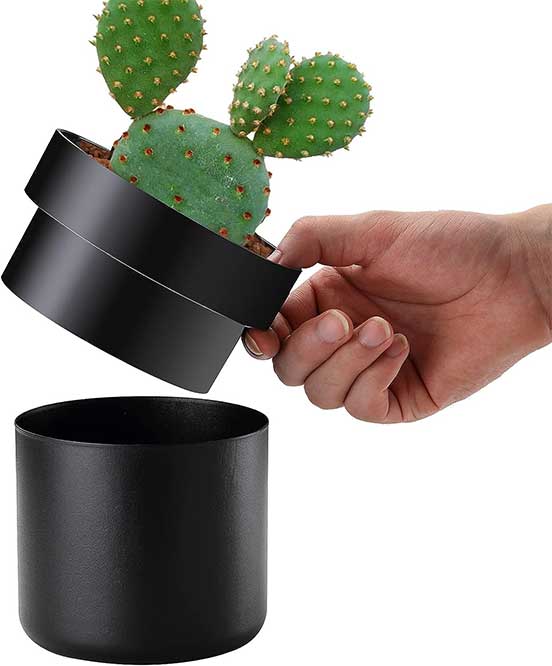 But once you lift the upper compartment, you'll find a good amount of room to hide things – 4.8 x 4.8 x 5.2 inches of secure, metal storage space. The material is a juxtaposition of solid steel and plastic, crafting a durable yet lightweight exterior. And at just 1.1 pounds, it's easily portable without sacrificing sturdiness. With a design that effortlessly blends with your other planters, it can sit incognito among a garden ensemble or bookshelf.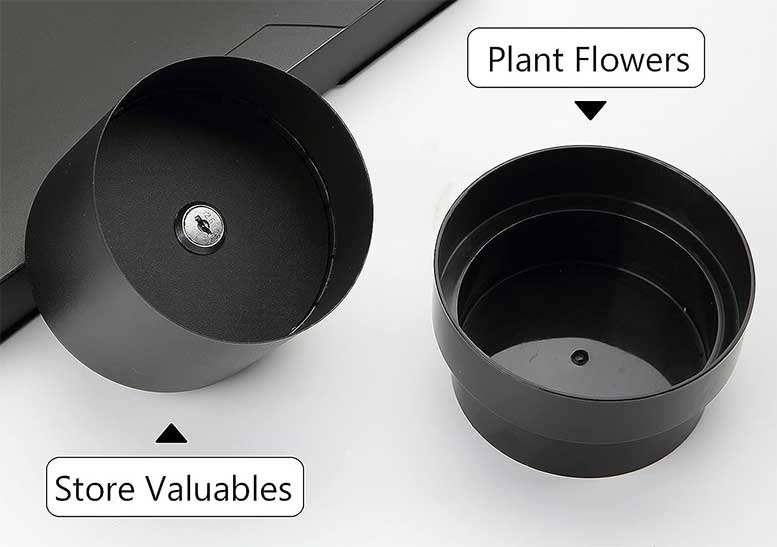 Whether indoors or outdoors, it maintains the illusion of being "just a pot." It isn't merely relying on its looks to keep your items secure; it comes with key-lock control. This level of security adds an extra layer of confidence that your items are double-safe. What's more, there are pre-installed holes at the bottom. They're perfect for securing the pot even more robustly, provided you're up for a tiny bit of DIY.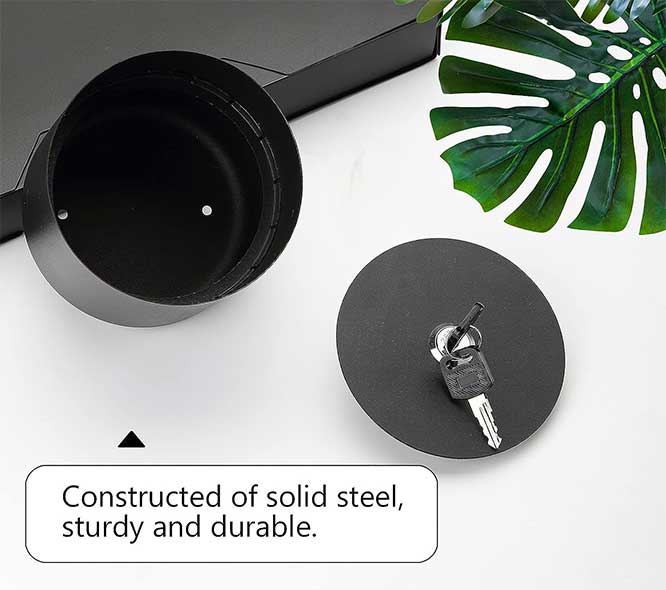 While it's excellent for stashing watches, keys, or small stacks of money, there's some room for growth – quite literally, if you're thinking of planting succulents. We do feel like the space is a bit tight for root and soil expansion, however. But the artificial plants serve their purpose if you're afraid of your live plants getting too big.
What we liked:
Master of disguise
Easily portable
Dual-functionality
Strong metal compartment
What we didn't like:
Limited plant space
DIY holes require extra effort
#4 – Jallyphy Hidden Key Storage Wall Hook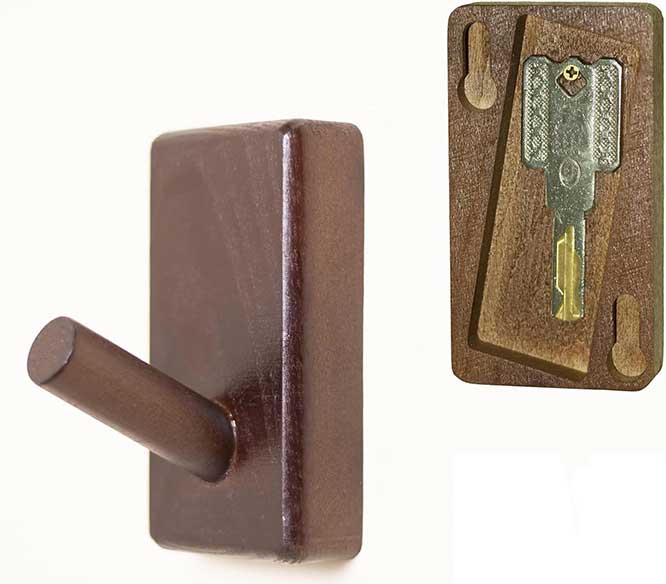 Key features:
Hardwood material
Wall mountable
Heavy-duty design
Hidden storage
Jallyphy's Hidden Key Storage Wall Hook is unassuming at first glance. But in reality, it's the perfect place to hide a key. Constructed with a rustic charm, this wall hook is made of hardwood with a natural finish. It effortlessly blends with your home décor – whether you're aiming for that cottage-core living room or a modern bedroom setting. Measuring at 2.5 x 1.5 x 3.5 inches and weighing a mere 2.39 ounces, it's compact enough to go unnoticed but sturdy enough to hang items weighing up to 22 pounds. And that's what makes it so unassuming.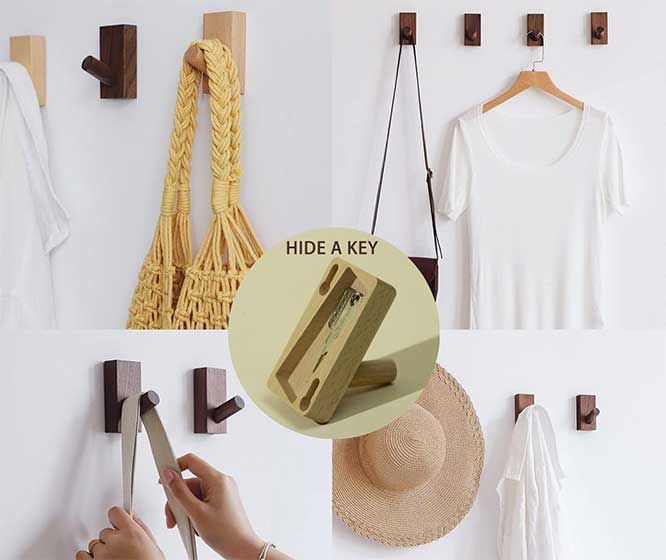 Wall mounting is the game here, and this unit comes with its own set of screws. Installation is generally straightforward, but the screws and template could use a little fine-tuning. Due to that, you're better off using your own hardware. Once it's up, however, it'll keep your keys safe while serving as an excellent wall hook. It offers dual functions, making it both practical and sneakily brilliant. While it can comfortably hold everyday items, its hidden storage space in the back is the real star.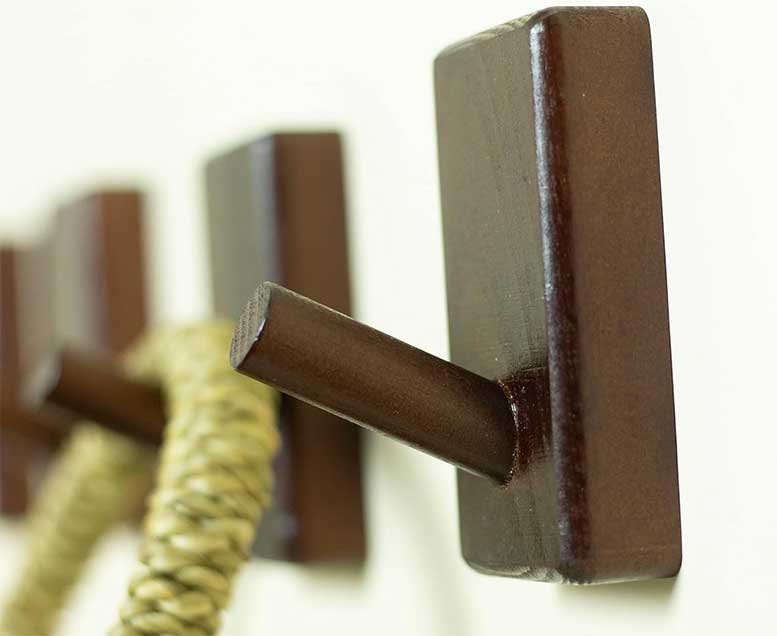 The hook's design is clever enough to dissuade prying eyes, yet it is accessible for you to quickly grab your hidden key when you're in a dash. While its wood and aesthetic make it fit seamlessly indoors, taking it outside is a risky move unless you've got a covered area. Also, be mindful of minor wood flaws. They don't compromise the hook's functionality, but it's a potential gripe to be aware of.
What we liked:
Dual function
Easy installation
Unobtrusive design
Indoor versatility
What we didn't like:
Flaw-prone wood
Not for outdoor use
#5 – Arabic Night Real Pages Diversion Book Safe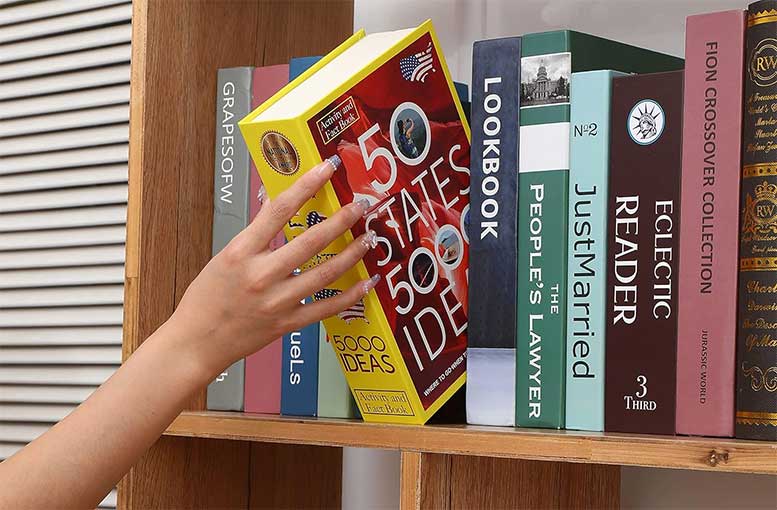 Key features:
Real pages for authenticity
Combination lock security
Portable metal safe
Knob-controlled access
Sometimes, the best hiding places are those that blend seamlessly into their surroundings. Ulixu's Arabic Night Real Pages Diversion Book Safe is the embodiment of such a concept. At first glance, it's just another book blending amid classics and bestsellers on your bookshelf. But there's more than meets the eye here. It doesn't just look like a book; it feels like one, too, complete with real pages. When picked up and thumbed through, its camouflage is quite convincing.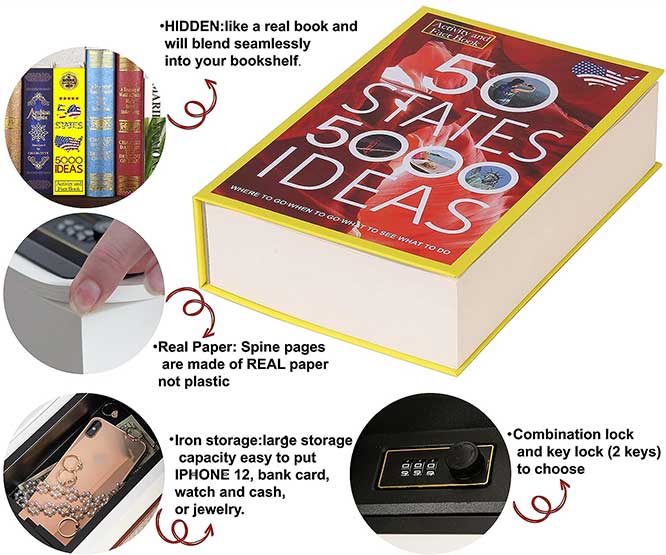 Ulixu uses actual paper pages in the book safe, making it inconspicuous. It offers more than mere aesthetic fidelity; there's also a combination lock. So no key fumbling here. It's controlled by a small but robust knob. While it may not be a steel vault, the material used is a durable metal designed to withstand some level of force. Also, dialing in your secret code is easy and effective. Now, let's talk dimensions.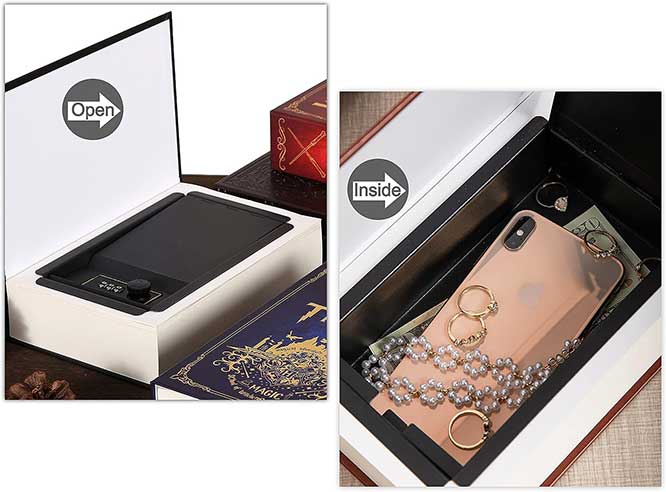 This unassuming stronghold measures 2.28 inches deep, 5.9 inches wide, and 9.25 inches high. Despite its heft and durability, it only weighs 2.16 pounds, making it portable enough to tote around. However, keep in mind that it's not water-resistant. So while it will keep your valuables safe, don't toss it into your swimming pool and expect a waterproof miracle. Also, heads up. It seems there are key lock variants of this safe, too. And you might not get a combination lock, even if you request it.
What we liked:
Convincing real-book feel
Versatile for all ages
Durable metal material
Easy-to-use combo lock
What we didn't like:
The cover feels a bit cheap
You might get a different lock style
Hidden Diversion Book Safes and Container FAQs
How do I choose the best diversion safe for my needs?
The key lies in what you want to protect and where you'll keep it. If you're storing smaller valuables, a book safe or wall hook may suffice. For larger items, consider the water bottle or flower pot safe.
Are these diversion safes weatherproof?
Most of the safes on this list aren't explicitly designed to withstand harsh conditions. However, many of them are robust enough for indoor use. If you're planning on using one outdoors, make sure it's designed for that purpose.
How secure are these safes?
While these safes provide a level of security by virtue of their camouflage, they are not meant to replace traditional safes entirely. For documents or valuables that need high-level protection, it's advisable to use them in conjunction with a more secure safe.
Final Verdict
The KYODOLED Diversion Book Safe takes the lead when it comes to blending in with other items; its authentic book-like appearance is nearly flawless. TRAVAH's Diversion Safe Water Bottle wins points for being dual-purpose. It quenches your thirst while keeping your valuables close at hand. Younion's Flower Pot Diversion Safe shines in its ability to add aesthetic value to your living spaces while still serving its primary function.
And then there's Jallyphy's Hidden Key Storage Wall Hook. This one earns its place for being both functional and minimalistic. Finally, the Arabic Night Real Pages Diversion Book Safe offers the best of both worlds with real pages and sturdy construction. Each of the options on our list has been carefully selected for its specific combination of security measures, discretion, and versatility. Whether it's blending in with your bookshelf, hydrating you during a workout, or sprucing up your living room, these diversion safes serve dual purposes and do it well.