One of the coolest new pieces of tech on the market for gamers is the Asus ROG Ally. This is an awesome device that is basically a gaming PC that you can take with you, wherever you go. When taking an expensive device like this on the go, you'll probably want to keep it protected. That's where a protective case comes in.
When looking for the perfect protective case for your ROG Ally, there are a few different factors to consider, such as:
Design and Aesthetics:
When you start researching the various cases on the market for the ROG Ally, you'll find that there are a ton of different designs and styles. Some are silicone or plastic molds that fit perfectly around your device to use while gaming. Others are designed as bags that can hold the Ally, as well as different cables and more. Choosing the right style will depend greatly on your preferences and use cases.
Durability and Materials:
Once you have your style picked out, you'll want to pay attention to materials. Some are made out of fabric and padding, while others are hard cases. Making sure you have something durable that can protect the device itself is key.
Storage:
If you opt for a style that is more like a bag, you'll want to pay attention to the storage capabilities. Maybe you don't need a ton of storage and would prefer a smaller build. On the other hand, you can never have too much storage space, so maximizing that may be the way you go. Regardless, there are options out there to suit your needs.
Bonus Features:
Different cases come with special designs, different colors, and even extra ways to carry them. Make sure to pay attention to the little details that help improve your experience while taking the ROG Ally wherever you go.
Best Overall: Dobewingdelou Protective Case for Rog Ally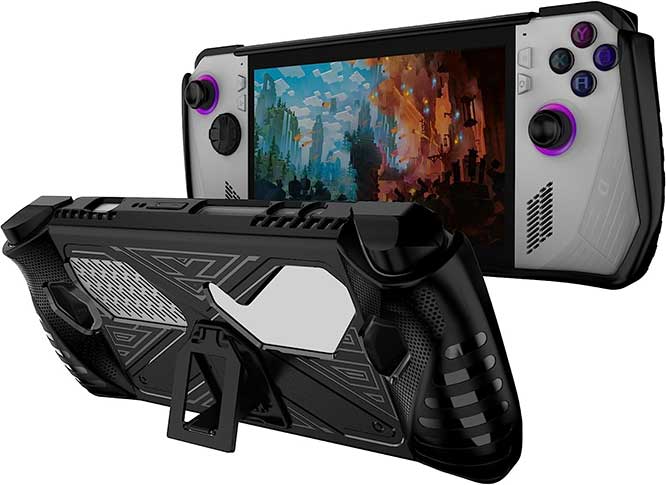 Key Features:
Hard form fitting case
Gamer design
Bonus Feature: Kickstand on back
Aesthetics: When you think of a case designed with gamers in mind, the Dobewingdelou Protective Case for ROG Ally is what would be created. This case is a form fitting option with a ton of accents that perfectly fit in the style that ASUS always goes for with their ROG products. This case is available in either black or white, with the same style accents on each.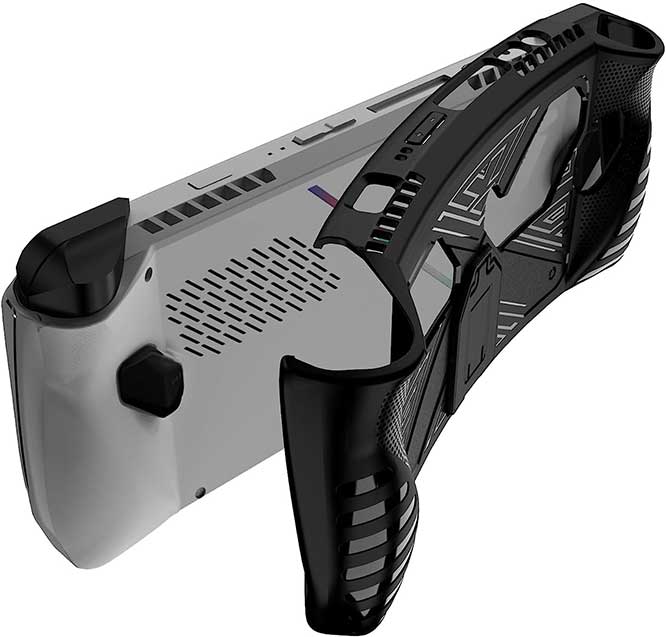 The case itself is made out of TPU. It has a smooth feel to it while providing great protection. It's specially designed to fit the Ally perfectly, so it won't slide around or come out on its own. Additionally, the case provides protection from shocks, scratches, and dust while in use.
This style of case isn't meant to have storage, so there isn't any included. However, there are great features to improve performance and overall looks while in use. Additionally, this case doesn't add too much bulk to your Ally, so it's still easy to put in a bag for on the go travel and storage with your cords and additional memory.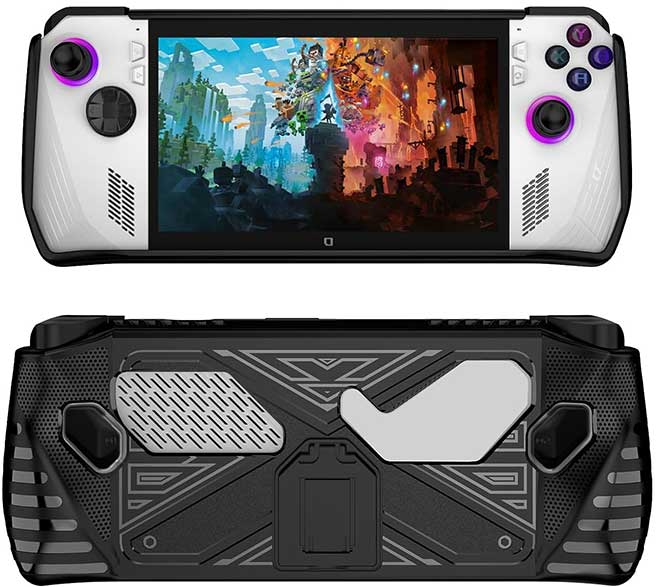 The best bonus feature this case has to offer is the included kickstand. On the back of the case, you can easily pull out or store the kickstand that can be used during screen projection or any other time you want to stand it up on its own. Overall, this is a case we think is the best overall choice for protecting your ROG Ally.
Pros:
Durable TPU material construction
Awesome kickstand
Great gamer aesthetic
Cons:
Best Storage Bag: tomtoc Carrying Case for Asus ROG Ally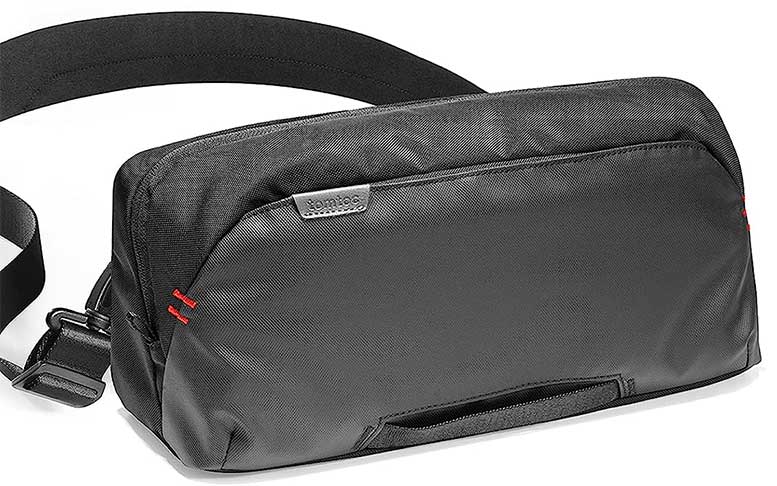 Key Features:
Bag style
Minimal look
Included strap for easier transportation
The tomtoc carrying case is one of the more minimalist looking cases out there for the Ally. It's a simple bag design and is only available in a black colorway. Overall, this is a great looking case that won't stick out while you take it wherever you need to go.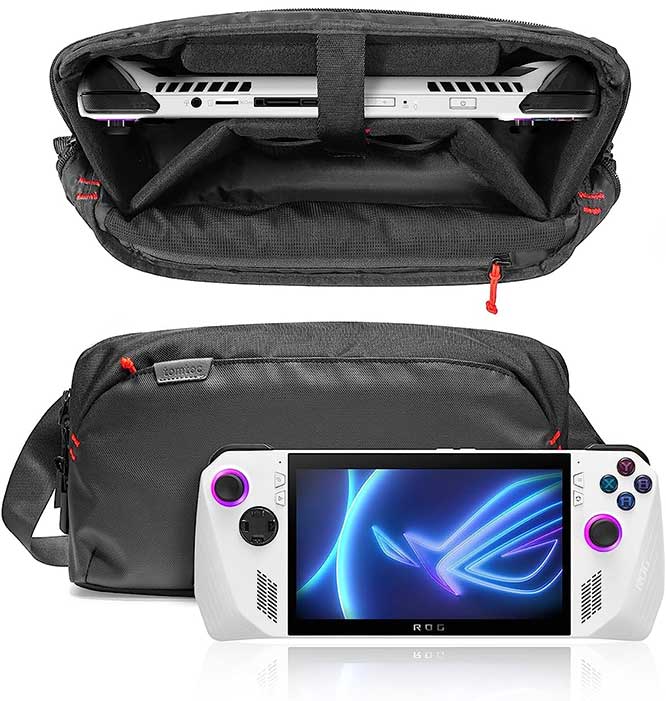 As for materials, this entire case is made from a polyester material. This material is extremely light and durable. Best of all, it's splash resistant, so your device should stay safe even in wet conditions. Additionally, there is supplemental fabric used that is made completely from recycled bottle yarns. To provide even further durability, the zippers used are Japanese YKK style.
When it comes to storage, this is a very roomy case. Internally there is a W-shaped area for the device to sit securely. In the remaining spaces, there are areas for controllers, cords, and even additional zipper storage for even more capacity.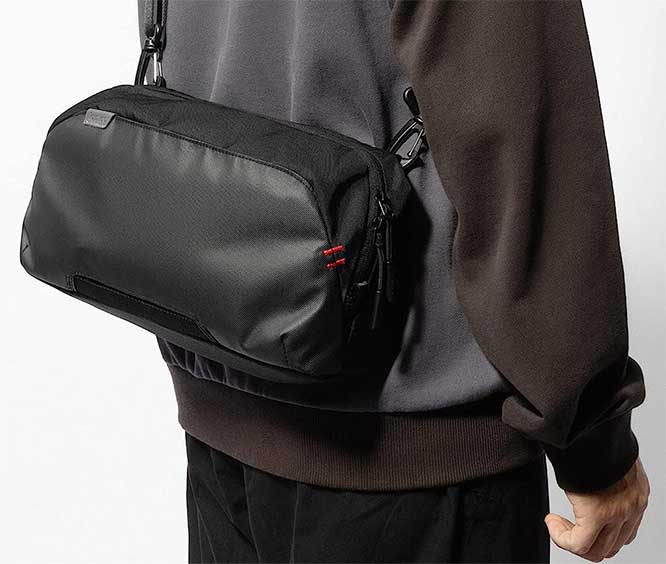 One thing that really makes this a great case is the added travel strap. This makes it super simple to sling over your shoulder and take it with you. In our opinion, if you're looking for a bag style case, this is a great option.
Pros:
Lots of storage
Travel sling included
Durable material construction
Cons:
The inner divider isn't secured well, so it does slide around some
Best Hard Case: Aenllosi Asus ROG Ally Hard Carrying Case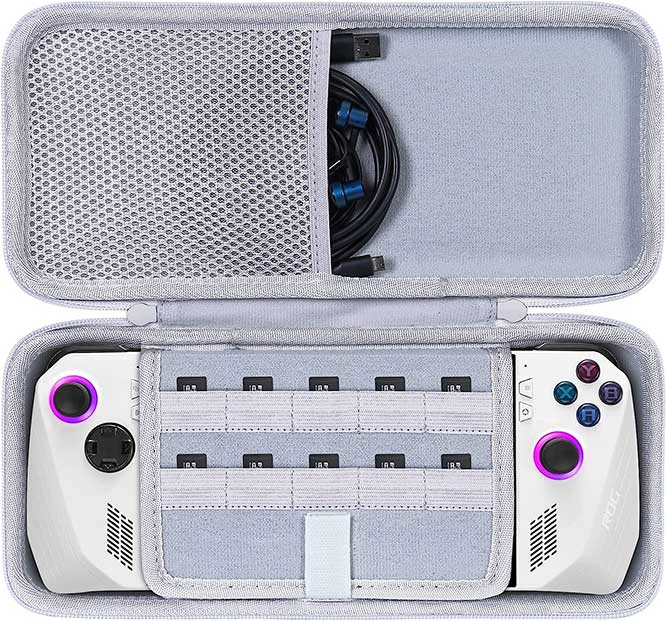 Key Features:
Hard travel case
Two color options
Easy carry handle
The Aenllosi hard carrying case is a great choice if you're looking for a hard carrying case. It's available in either black or white. Aside from the colors, the rest of the overall design is extremely minimal and simple.
This case is made out of an extremely durable EVA material. This keeps any bumps, drops, or scratches on the outside while your device is perfectly safe inside. Internally, the case uses soft fabrics to ensure nothing happens to the Ally. Best of all, there is a dedicated flap to go over the screen and keep it from getting scratched.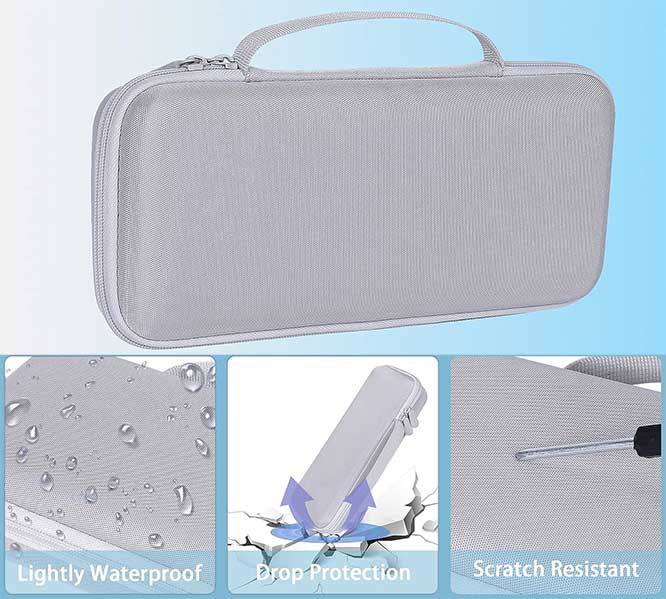 Storage in this case is done really well. On the inside of the top cover, there is a mesh material with elastic to hold it shut tight. This area is great for storing your cords and other small items. On the flap that covers the screen, there are 10 individual compartments perfect for holding extra memory cards, so it's even easier to take all your games on the go.
One of the best extra features of this case is the included carrying handle. Rather than a large strap, this case has a simple fabric handle on the top. This makes it easy to hold close and tight so you won't lose it easily. Overall, this is one of the best options out there for a hard carrying case for your ASUS ROG Ally.
Pros:
Hard exterior
Smart storage inside
Internal screen protection
Cons:
Difficult to close if you stuff too many items in the storage compartments
Best Alternative (Form Fitting): BoxWave FlexiSkin Asus ROG Ally Case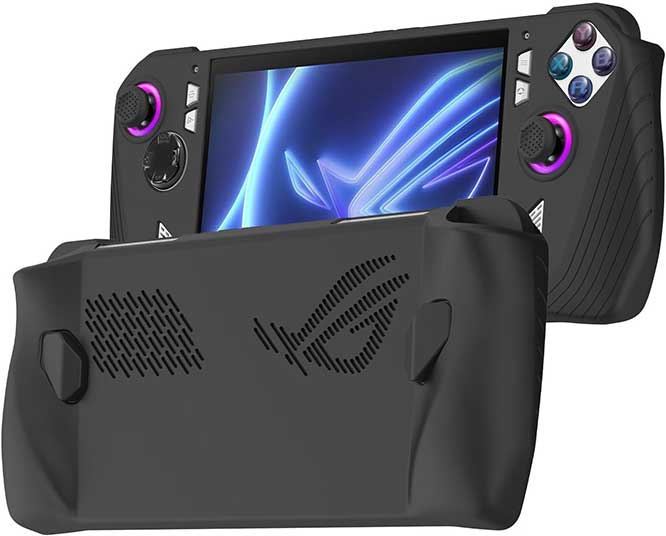 Key Features:
Form fitting style
Aesthetics: Five color options
Bonus Feature: Included airflow slots
The BoxWave is a great option for a form-fitting case. This case is designed to fit perfectly around your Ally, giving it protection and more grip while in use. Additionally, there are five different colors to choose from. You can go with black, green, blue, red, or white, depending on your style preferences.
This case is made out of silicone and is low profile. However, that doesn't stop it from keeping your device safe. It has anti-drop shock absorption technology and even is anti-oil and anti-fingerprint showing. This keeps your Ally from breaking while keeping the case looking great for hours of use. Best of all, when it does need to be cleaned, you can simply take the case off and wash it. Then it's good as new!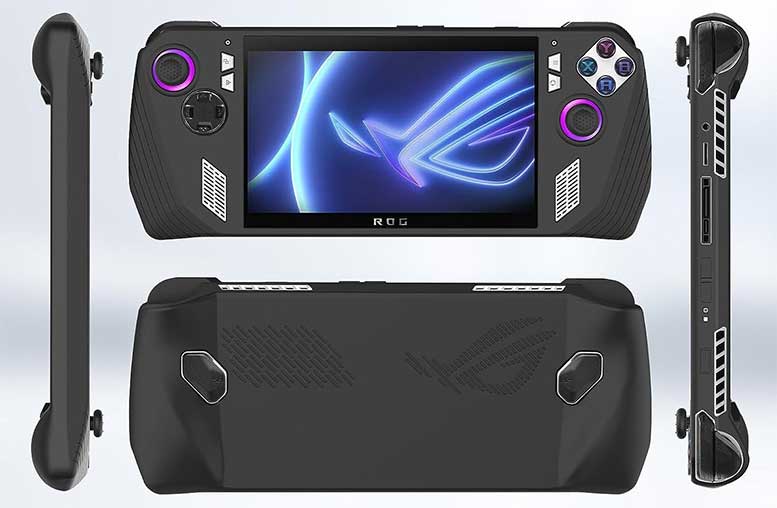 This style of case is lacking when it comes to storage. There aren't any extra pockets or hidden areas to store your cords or memory cards. However, it is designed to provide quick and easy access to all of your controls, ports, and buttons while in use.
One of the best extra features of this case is the airflow design. To help improve performance and temperatures, this case has cutouts on the front and back. These cutouts allow air to easily flow in and out of the Ally through its fan systems. As far as form fitting silicone cases go, this is a solid pick.
Pros:
Easy-to-clean silicone
Five great colors to choose from
Anti-shock drop proof
Cons:
Best Alternative (Hard Case): Wegodal Hard Carrying Case for Rog Ally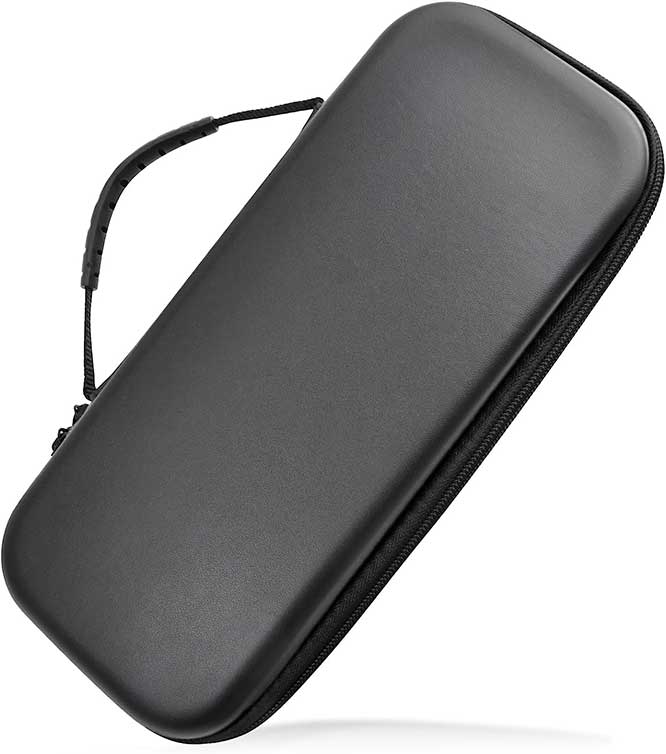 Key Features:
Hard case style
Simple design
Additional stand feature
Another great hard carrying case option is the Wegodal. Just like the case from Aenllosi, this is a minimally designed case with two color choices. You can go with either black or white. Beyond that, it has a fabric and leather look that makes it a classy choice.
The Wegodal is made out of Oxford fabric. This provides impact resistance as well as water splash resistance. Additionally, it uses a rubberized zipper to give further water proofing as well as dust proofing. Internally, the materials used are velvet imitating, which helps keep your Ally from being scratched or damaged while in transport. The entire inside is designed to perfectly hold your Ally, keeping it from moving around.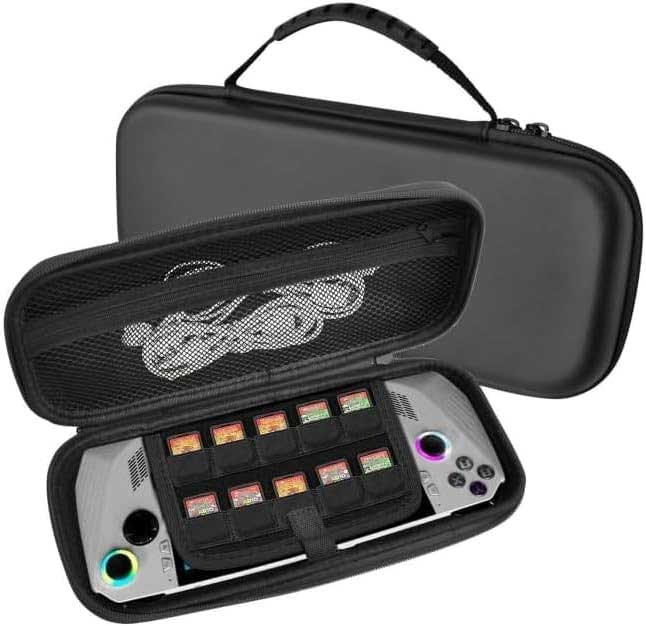 As for storage, the entire inside cover is covered in a mesh fabric with a zipper, providing a ton of space for your charging cords and other small items. Similar to the Aenllosi, there is a fabric flap that goes over the screen of your device. This provides scratch protection, as well as storage for 10 memory cards.
One of the best bonus features of this hard carrying case is the additional stand design. The top compartment of the case can be expanded to function as a stand for your Ally. This allows you to easily set it up and play your games in that configuration if you so choose. There are a lot of features to love in this hard carrying case from Wegodal.
Pros:
Stand feature for your device
Full top storage design
Durable Oxford fabric
Cons:
Internal storage zipper folds on top of the device, potentially scratching the body
Best Budget Option: Hounyoln EVA Hard Case for ROG Ally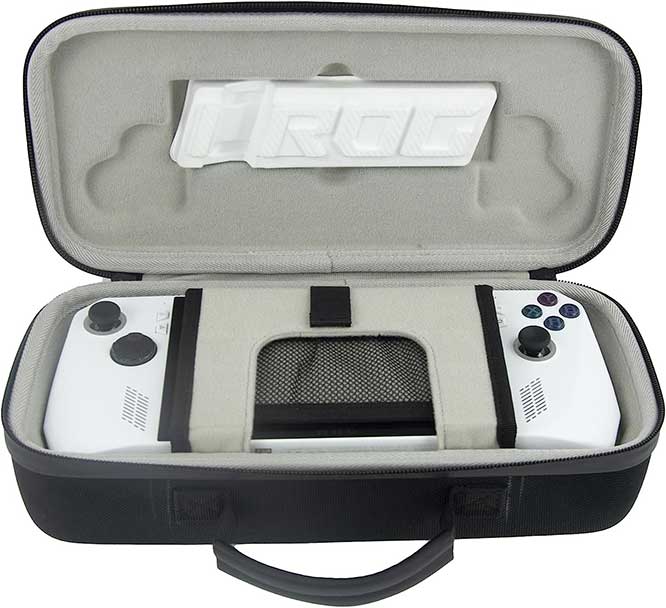 Key Features:
Type: Hard case style
One color choice
Holds everything you need
The Hounyoln is a great hard case option, especially if you're looking to get something on a lower budget. Aesthetically, it's just like the other hard case options on this list. It has a minimalist design that won't draw much attention, and it's only available in black.
The outer shell is made from a high-density EVA material. This shell is what provides scratch protection, impact resistance, waterproofing, and dust proofing. All of these ensure nothing can harm your Ally while inside. Internally, there is a soft flannel lining to help keep your Ally from being damaged while in transport.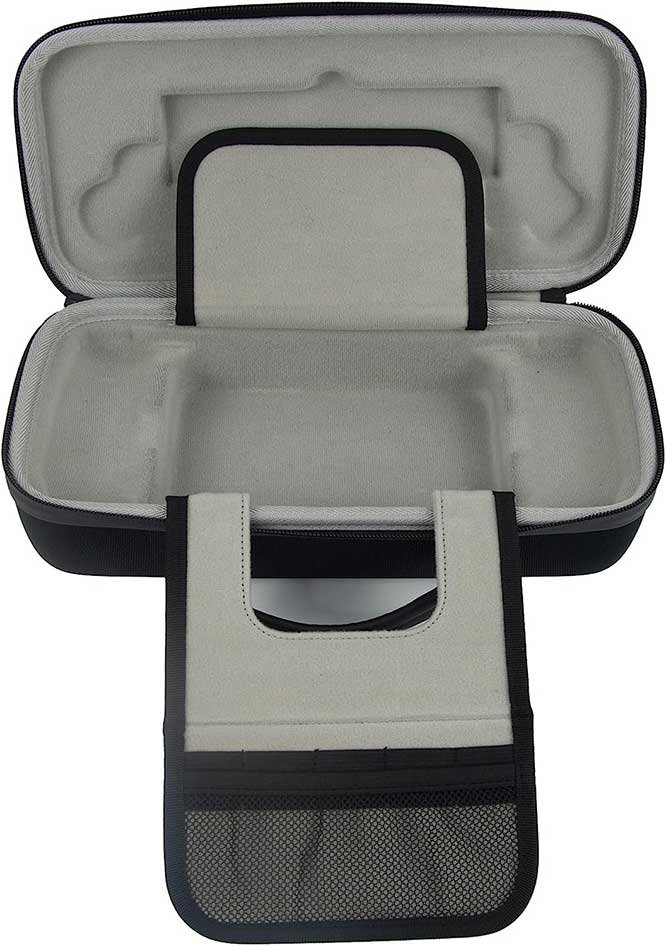 As for storage, this case differs from the other hard cases available. Rather than having a compartment on the top to loosely fit your cables and other items, this case has space on the bottom for that. You can easily store your charging cord and block, then simply fold over a flap. Your Ally then rests on top of that in its own fluted area. Additionally, there is a smaller mesh area to store your memory cards.
What sets this case apart is how well it all functions together. You get a hard exterior, soft flannel interior, and a perfectly designed housing to keep your Ally and other necessary items exactly where they should be. It's super portable, especially with the included carrying handle, and is more affordable than other hard case options on the market.
Pros:
Perfectly designed to hold all necessary items for your Ally
High-density EVA material on exterior
Lowest priced hard case on the list
Cons:
Some reviewers note it takes up quite a bit of space