The pursuit of immersive, undisturbed gaming is a shared desire among all Asus ROG Ally owners. The key to achieving this often lies in the effective protection of your device's screen, which is where screen protectors come in.
Not only do they shield your screen from scratches and impact, but the best of them maintain the display's clarity and touch sensitivity. If you've had a ROG Ally for any length of time, you're likely well aware that there are countless options available for protecting its screen.
No worries, though, as we've done all the hard work for you. Today, we're bringing you an in-depth review of the best screen protectors for the Asus ROG Ally, detailing their best features and how they perform. With that in mind, here's a quick peak at what's to come:
Read on for a comprehensive analysis of each screen protector. We share our thoughts on the good and the bad, so join us to determine which ROG Ally screen protector is right for you.
amFilm Tempered Glass Screen Protector for ASUS ROG Ally (3-pack)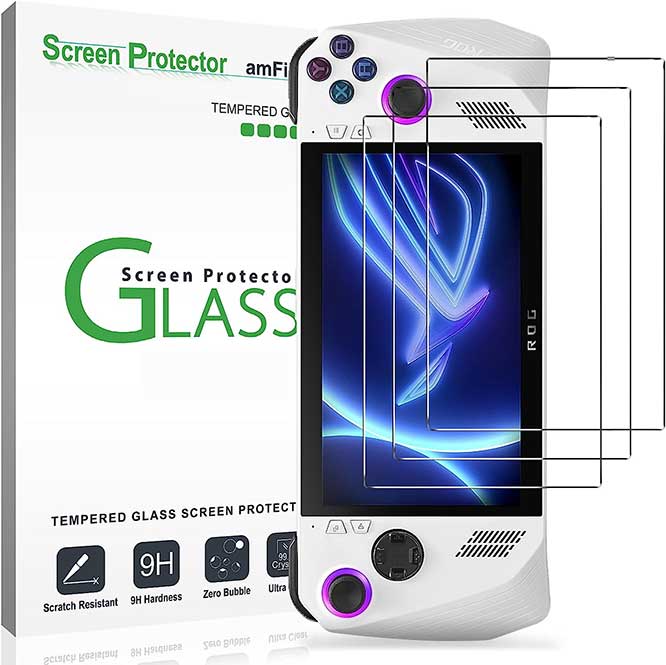 Key features:
Tempered glass with 9H hardness
Ultra-clear transparency
Anti-scratch and anti-fingerprint
Perfect fit for ASUS ROG Ally 2023
Crafted with precision and durability in mind, amFilm's Tempered Glass Screen Protector stands as a must-have for any ASUS ROG Ally user. At a sleek 0.3-millimeter thickness, the protector boasts a nearly invisible presence while also providing seamless touchscreen interaction. During our tests, it was evident that the tempered glass protects the 7-inch screen well without inhibiting sensitivity. The result is uninterrupted gaming at its finest.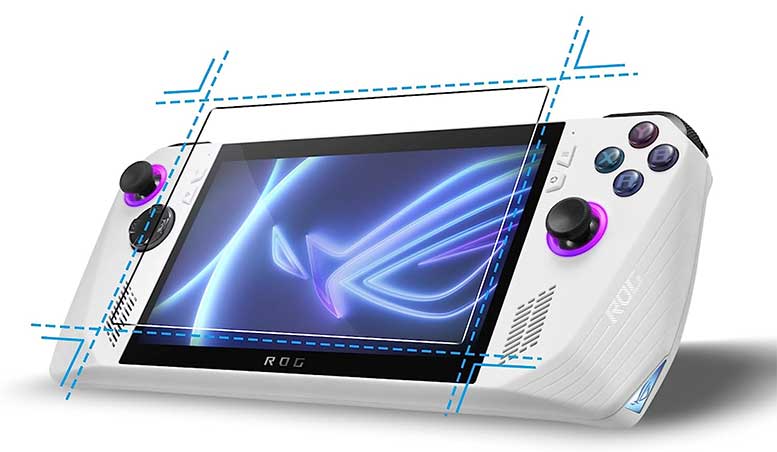 The protector is equipped with a surface hardness of 9H, meaning you get notable scratch resistance. With multiple tests simulating real-life scenarios, the protector worked wonderfully at deflecting scratches, a boon for any frequent user. The polished finish not only gives it an aesthetic edge but also adds to its anti-fingerprint functionality. By simply wiping it down with the included microfiber cloth, the glossy surface remains smudge-free, ensuring an unclouded viewing experience.
Designed for the 2023 model of the ASUS ROG Ally, the screen protector perfectly adheres to the device's screen dimensions. The exact dimensions of the protector are 6.3 x 4.33 x 0.5 inches. And with a weight of just 3 ounces, it doesn't add any significant heaviness, making it an ideal protective layer. Installation can be a bit tricky due to the exact fit, but with some patience and precision, it yields comprehensive screen coverage.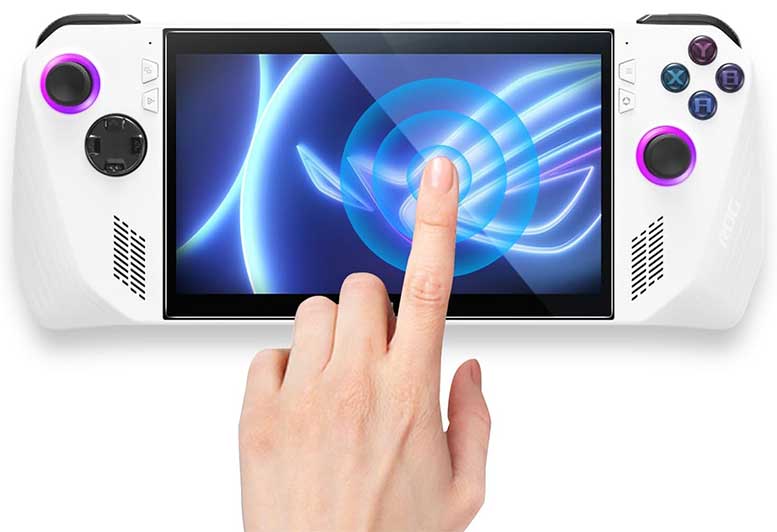 Despite not including application tape, this package comes with a trio of screen protectors, a cleaning kit, and an easy-to-follow manual. So application is manageable once you get the hang of it. The resulting Ultra HD clarity of the tempered glass delivers a high-definition viewing experience that truly makes this screen protector shine.
What we liked:
Maintains touchscreen sensitivity
Glossy, smudge-free finish
Ultra-thin design
Comprehensive installation kit
What we didn't like:
Tricky initial application
No application tape included
Miimall ROG Ally Tempered Glass Screen Protector (2-pack)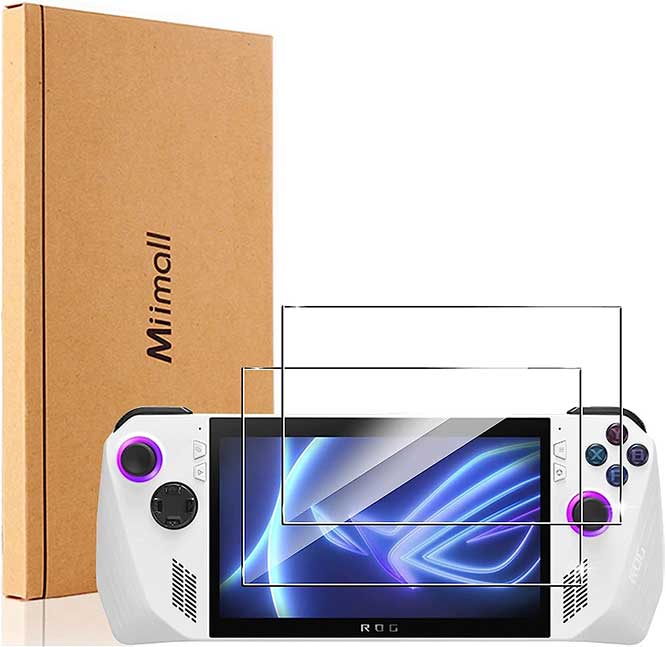 Key features:
Perfect fit for Asus ROG Ally 2023
Ultra-thin at 0.3 mm, 9H hardness
HD Clear and anti-oil design
Maximum coverage, bubble-free application
The Miimall 2-pack Screen Protector package for ROG Ally demonstrates an admirable commitment to safeguarding your gaming experience. Tailored for the 2023 Asus ROG Ally, this screen protector has precise cuts that provide optimum coverage and ease of application, making it a perfect companion for your handheld device. We're rather fond of the ultra-thin design. At a mere 0.3 mm, it merges seamlessly with your device, enabling you to enjoy an almost bare-handed feel.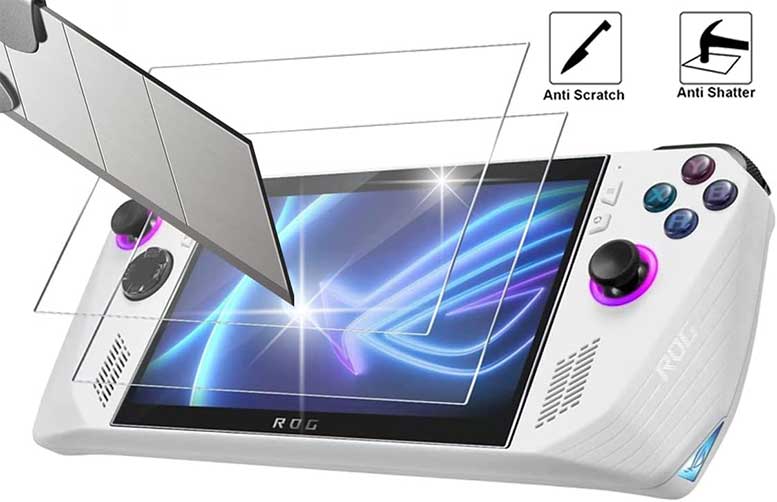 But what's more, the protector balances its thin profile with a robust 9H hardness resulting from high-hardness tempered glass film. This results in significantly enhanced protective abilities. Any gamer will tell you that a clear, vivid display is fundamental to an immersive gaming experience. Miimall's entry guarantees this through an HD Clear design that boasts an incredible 99.9% transparency. This ensures that your gaming or other activities remain unaffected.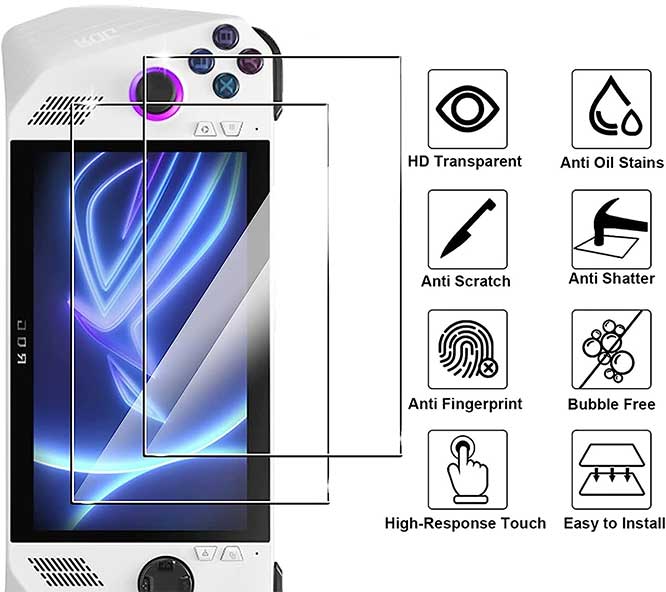 Additionally, its anti-oil design, aided by the latest oil reservoir processing technology, guards against fingerprint marks and oil and water stains. Not only does this make it a breeze to clean, but it also ensures optimal clarity during gameplay. You also get comprehensive coverage, snuggly fitting the ROG Ally's screen from edge to edge, resulting in a bubble-free application. Despite the fact that it doesn't cover the entire bezel, it does cover the visible part of the screen, allowing you to play games unhindered. Compact in design, it measures 3.94 x 2.36 x 0.39 inches and weighs just 1.06 ounces, making it a lightweight yet robust screen protection solution.
What we liked:
Precise cuts for better protection
Smooth bare-handed feeling
Exceptional visual experience
Easy to install and remove
What we didn't like:
Doesn't cover entire bezel
May not fit corner to corner
atFoliX Plastic Glass Protective Screen Film for ROG Ally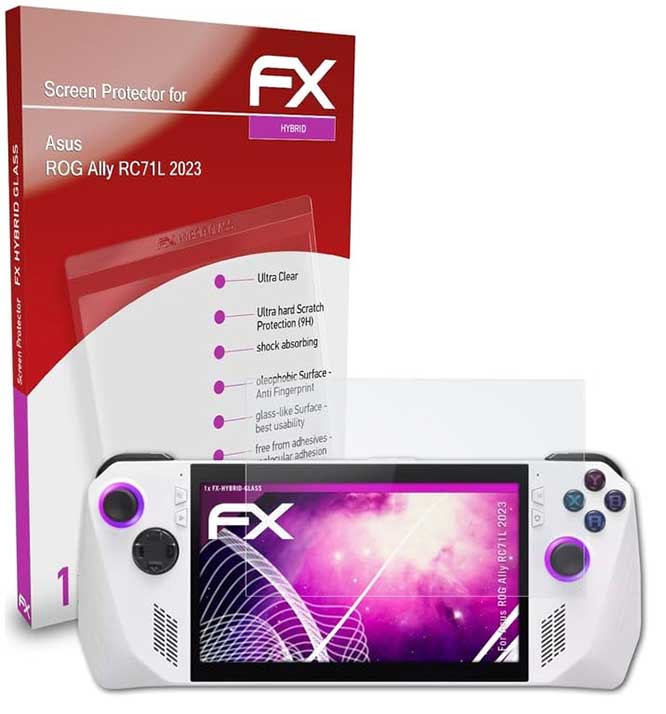 Key features:
Unbreakable, splinter-free FX-Hybrid-Glass material
Impressive scratch resistance (9H hardness)
High light permeability (nearly 98%)
Oleophobic anti-fingerprint coating
The atFoliX Plastic Glass Protective Screen Film for ROG Ally stands out as an ingenious blend of resilience and performance. Forgoing the fragility of traditional glass, this offering capitalizes on a cutting-edge FX-Hybrid-Glass material for robust protection without compromise. Being both unbreakable and splinter-free, this German-made protector exhibits unparalleled durability. With a hardness of 9H at 500g writing pressure, the screen protector's resistance to scratches is impressive.
Our extensive stress tests, involving abrasive materials and high-impact force, barely left a mark. Measuring approximately 0.2 mm thin, it doesn't inhibit device operation. The touch response remained just as precise as on an unprotected display. What's more, the light permeability of this film is top-tier, achieving almost 98% transparency. As a result, the visuals on your ROG Ally screen remain brilliantly clear and crisp. Plus, the oleophobic anti-fingerprint coating keeps the screen smudge-free, enhancing the viewing experience.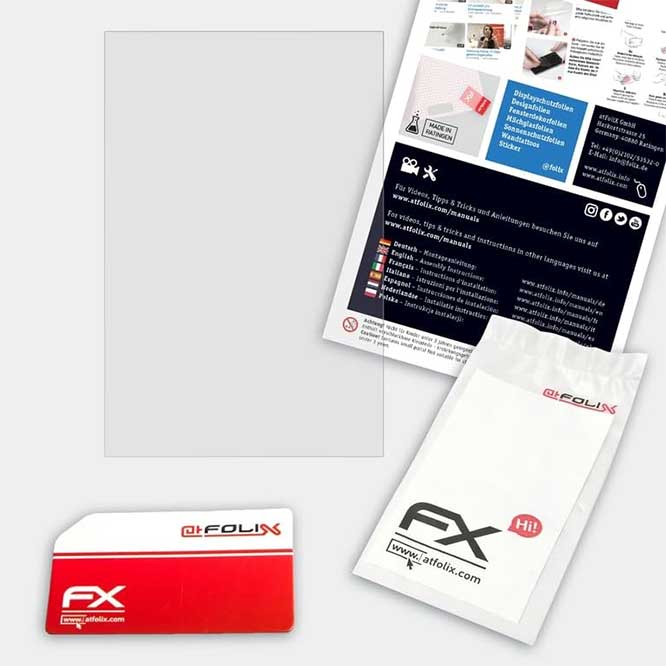 In what is perhaps the biggest benefit other than the excellent protection offered is its visual-improving qualities. Existing scratches on your device's display vanish under the extra-strong silicone adhesive layer of this film, imparting a brand-new look. Installation is a breeze, too, thanks to its real glass-like stiffness. The protector adheres to the screen without bubbles, with a cleaning cloth and squeegee included to aid the process. Despite its feather-light weight of just 0.741 ounces and compact dimensions of 9.06 x 4.72 x 0.08 inches, this screen protector delivers heavyweight performance.
What we liked:
Erases existing screen scratches
Easy, bubble-free installation
Super thin, doesn't impede touch sensitivity
Practically invisible on screen
What we didn't like:
Requires precise alignment during installation
Only fits Asus ROG Ally RC71L model
Orzero Tempered Glass Screen Protector for ROG Ally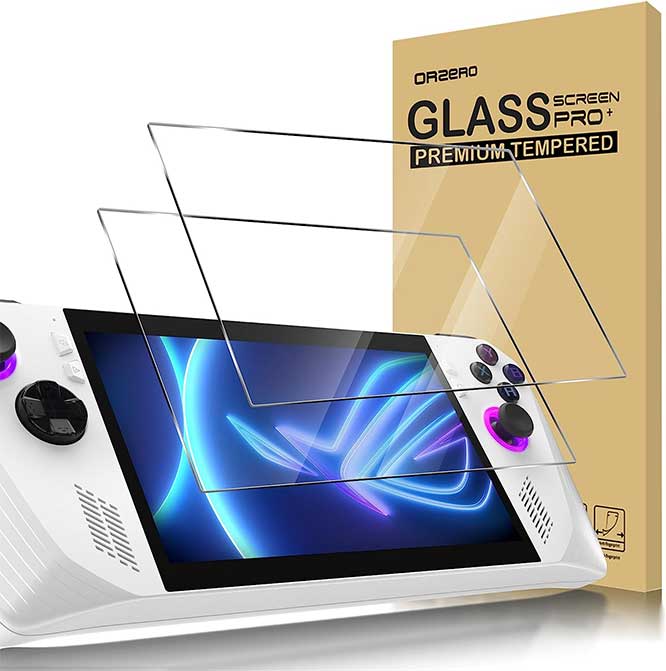 Key features:
9H hardness for high durability
2.5D Arc edges for full coverage
99% HD clarity for optimal visuals
Easy installation tools included
The last entry in our top picks comes from Orzero. Their Tempered Glass Screen Protector for ROG Ally is an exceptional addition to anyone's tech protection arsenal. Crafted with hardened 9H tempered glass, this two-pack set comes with remarkable durability, offering a formidable shield against scratches and exterior damage – all while maintaining the phone's pristine look. At first glance, it's evident that the protector promises full coverage.
It wraps around the ROG Ally with a seamless fit, thanks to its specific design and 2.5D arc edges. These edges provide a smooth transition from the protector to the phone, effectively eliminating any awkward ridge-like feelings during use. As for clarity, Orzero's screen protector boasts a near-perfect score, with 99% HD clarity. This allows for uncompromised visuals, making it easy to forget you have a protector installed. This transparency combines with the preservation of the original touch experience, meaning your device's responsiveness is as sharp as ever.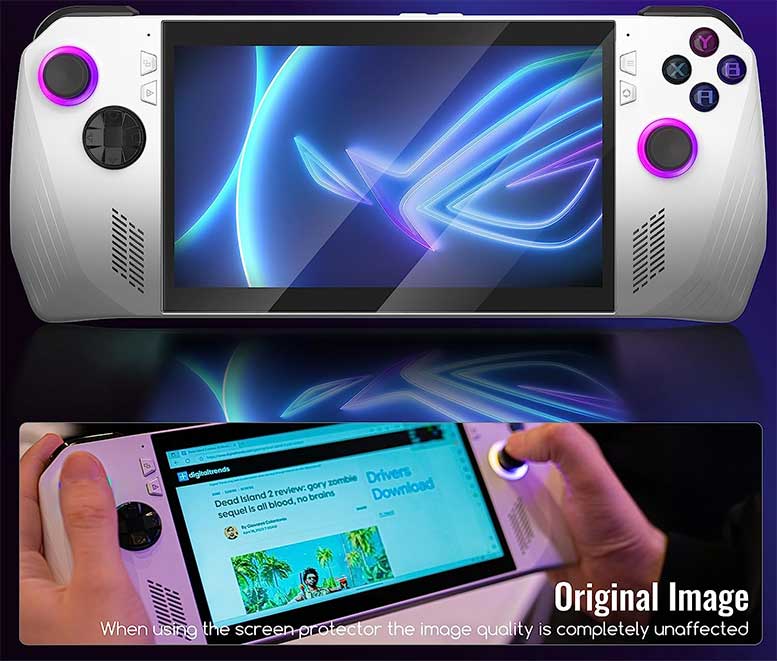 Installation was a straightforward task with the included dust remover, screen wipe, and lint-free dry cloth. It's clear that Orzero made every effort to ensure a bubble-free application and clean fit. Despite its robust structure, the protector has a minimal footprint, weighing only 1.76 ounces and measuring 8.66 x 5.08 x 0.67 inches. As a result, it doesn't add any significant bulk to the ROG Ally. You can look forward to seamlessly transitioning to a screen protector without any interference.
What we liked:
Protects against scratches and damage
Preserves original touch experience
Maintains sleek aesthetics of ROG Ally
Lightweight and slim design
What we didn't like:
Installation might require patience
Lacks application tape
ASUS ROG Ally Screen Protector FAQs
What is the importance of a screen protector for my ASUS ROG Ally?
A screen protector safeguards your ROG Ally's screen from potential damage, such as scratches, smudges, and impacts. It can also enhance the visual experience by reducing glare, improving visibility, and even diminishing existing scratches. A quality screen protector will also maintain the touch sensitivity and performance of your screen.
How do I install a screen protector on my ASUS ROG Ally properly?
To install a screen protector properly, start by cleaning your device's screen with a microfiber cloth to remove any dust or smudges. Then, peel off the protective layer from the screen protector and carefully align it with your ROG Ally's screen, taking care to match any cutouts with the appropriate buttons or sensors. Once aligned, slowly apply the protector, starting from one end and moving to the other to avoid bubbles. If bubbles form, you can smooth them out towards the edges using a credit card or the provided squeegee.
Can a screen protector affect the touch sensitivity of my ASUS ROG Ally?
Quality screen protectors are designed to be thin and transparent, ensuring that they do not hinder the touch sensitivity of your ROG Ally. They allow you to interact with your device as usual, and in some cases, they can even improve the feel of your screen. This is where it pays to invest in a well-reviewed brand like the ones presented here today.
Does every screen protector fit every model of the ASUS ROG Ally?
Not necessarily. While many screen protectors are designed to fit a range of models, some are made specifically for certain models. Therefore, it's crucial to check the compatibility of the screen protector with your specific ASUS ROG Ally model before purchasing.
Will a tempered glass screen protector make my ASUS ROG Ally heavier?
Tempered glass screen protectors are slightly heavier than plastic ones, but the difference is typically negligible. You likely won't notice any significant change in the weight or feel of your device once it's applied. However, the extra weight is often worth the superior protection and scratch resistance that tempered glass offers.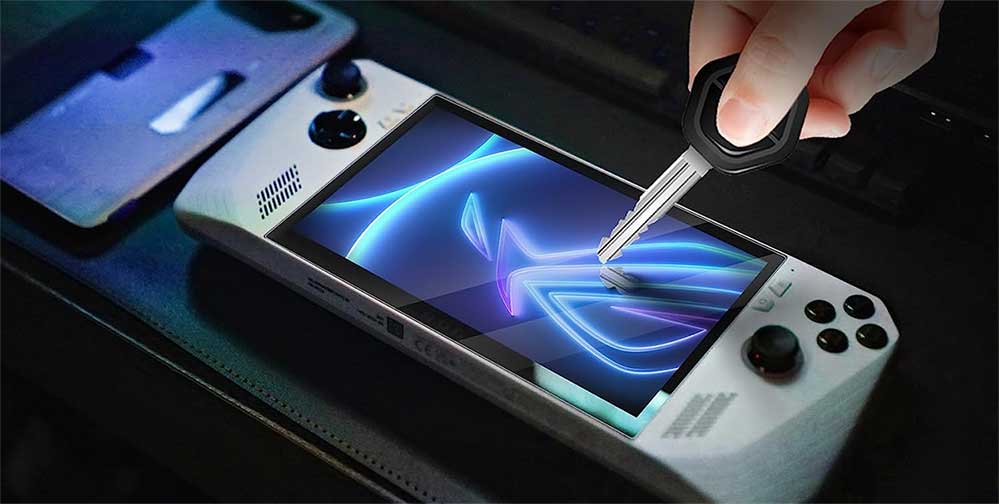 Final Verdict
As you can see, each of these screen protectors highlighted here has proven to offer its own unique advantages. For instance, amFilm's Tempered Glass Screen Protector stands out for its ultra-clear transparency and anti-scratch properties, offering a nearly invisible layer of defense for your Asus ROG Ally. For those who appreciate a perfect fit and bare-handed feel, the Miimall ROG Ally Screen Protector is an excellent choice.
The atFoliX Plastic Glass Protective Screen Film, on the other hand, impresses with its unbreakable, splinter-free material and nearly 98% light permeability. And lastly, the Orzero Tempered Glass Screen Protector provides top-tier durability and 99% HD clarity, ensuring that your gaming visuals are never compromised. Depending on your specific needs, these four contenders offer the best combination of protection, functionality, and aesthetics for your Asus ROG Ally.