The demand for reliable and accurate battery testing tools is likely greater than it's ever been, given the advancements we've seen in battery technology. Battery testers allow users to evaluate the battery's condition, providing key insights on capacity, resistance, and voltage.
Whether for professional use or DIY enthusiasts, a high-quality battery internal resistance tester is a must-have. To aid you in your search, we've reviewed four top contenders. Here's a rundown of our top picks:
In the reviews that follow, we explore everything from the features and uses to the strengths and weaknesses of these top-tier battery testers. Whether you need one for professional tasks or home use, there's a tester here to fit your needs.
1. LeTkingok 4 Line YR1035 Battery Internal Resistance Test Meter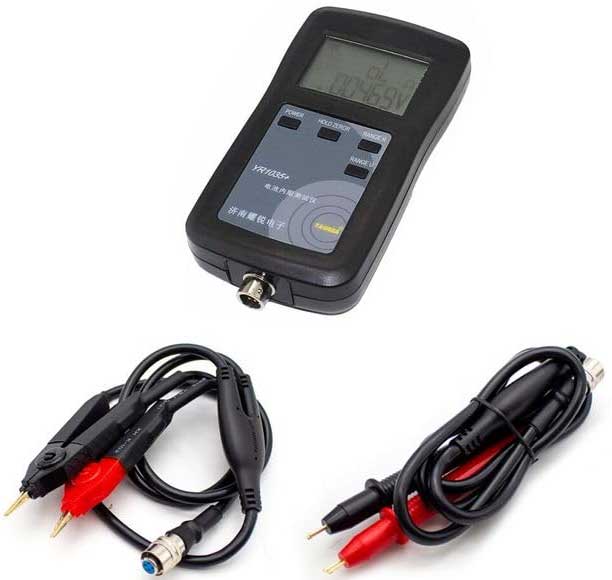 Key features:
Digital LCD display with backlight
4-wire method for increased accuracy
Test range up to 200 ohms
Measures variety of battery types
The LeTkingok 4 Line YR1035 delivers an uncompromising performance for those who demand precision in testing the internal resistance of various battery types. Its versatile capabilities allow users to measure the internal resistances of Lithium-ion, nickel-hydroxide, and lithium-manganese cells or assembled batteries. Outfitted with a digital LCD display complete with a backlight feature, it's effortless to read measurements, even in dim lighting conditions.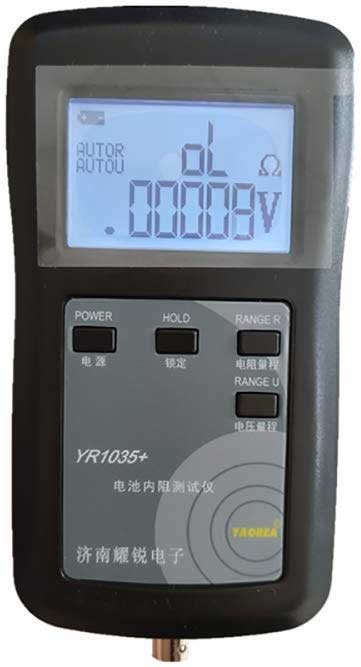 We found this feature particularly useful during our test runs in various lighting environments. Adopting a 4-wire method, the tester ensures accuracy down to minute measurements, with a test range up to 200 ohms and an impressive minimum resolution of 0.01 milliohms. During our time with it, the device accurately captured internal resistance as low as 0.30 to 0.50 milliohms, utilizing the ZR function. We appreciate that this tester showcases both attention to detail and durability.
It sports a solid design that ensures a comfortable fit in your hand. And because it measures just 6.69 x 5.08 x 2.05 inches and weighs in at a slight 14.07 ounces, we found it to be an ideal tool for both stationary and mobile use. The LeTkingok YR1035 stands out in its ability to resist the influence of test line and contact resistance due to its True 4-wire AC sine measurement. Furthermore, its low power consumption and various power-saving options make it an environmentally friendly choice.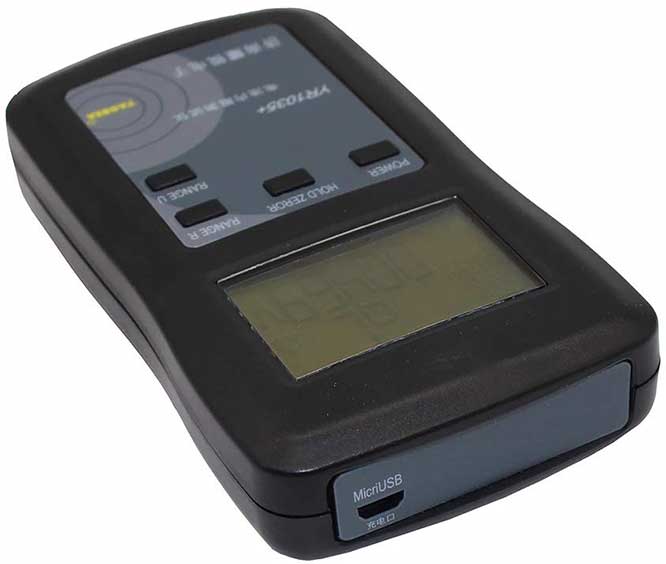 Comparatively, LeTkingok's tester outperforms the rest in terms of testing precision and robustness. Unlike the AideTek SM8124A, X-cosrack B3, and KINGBOLEN BM550, it applies a 4-wire method to yield accurate measurements, and its versatility extends to numerous battery types. However, it shares a common weakness with the X-cosrack B3 – the instructions offer little help. Despite this, the LeTkingok YR1035 excels with its solid design, handy ZR function, and variety of power-saving options, features that aren't prominent in other testers.
What we liked:
Handy ZR function for low resistances
Solid, handcrafted design
Resists influence of test line
Variety of power-saving options
What we didn't like:
Can't use AC signal input
Instructions offer very little help
2. AideTek SM8124A Portable Battery Internal Resistance Tester
Key features:
Compact size and lightweight
High measurement range and resolution
User-friendly interface
Smart power management
The AideTek SM8124A is a practical option for anyone looking to evaluate the condition of batteries. With a compact size of 7.36 x 7.32 x 1.65 inches and weighing in at 6.3 ounces, this one is easily portable and can fit comfortably in any tool kit. What's more, it boasts impressive capabilities for internal resistance measurement with a range of 0.2ohm to 20ohm and voltage measurement spanning from 0 to 200V.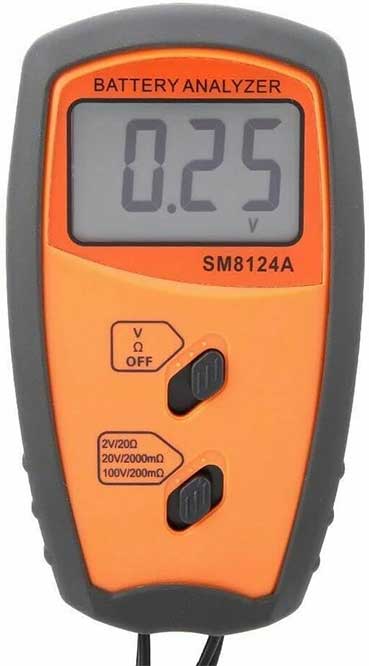 This wide range allows the tester to accommodate a variety of batteries, broadening its utility. The tester also impresses with its high resolution of measurement, giving users accurate readings down to the millivolt or micro-ohm level, a testament to its precision. Ease of use is another positive attribute here. Its clear LCD display, intuitive leads connection, and smart power management contribute to an overall seamless user experience.
On the downside, it's worth noting that the test leads aren't the best length for all jobs, which might make use a bit challenging. To be fair, your mileage may vary, depending on what you're testing. You must also be cautious not to exceed the maximum voltage of 200V during testing to avoid damaging the device. In any case, AideTek's SM8124A offers straightforward functionality, precision, and portability, making it a viable tool for battery testing and troubleshooting.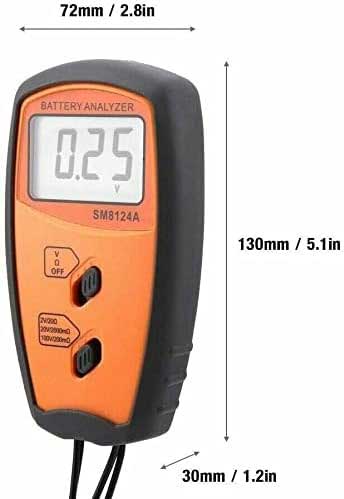 So, how does this one stack up against the other entries? For starters, AideTek's tester has a considerable edge in terms of portability. This stands in contrast to the slightly bulkier LeTkingok YR1035. Furthermore, while it shares a broad measurement range with the LeTkingok option, it doesn't offer a 4-wire method or low resistance testing capabilities. AideTek's user-friendly interface and smart power management also distinguish it, although it shares a common shortfall with the X-cosrack B3, in that its test leads may not be the ideal length for all jobs.
What we liked:
Provides accurate readings
Easy to use and transport
Comprehensive measurement range
Quality LCD display
What we didn't like:
Can't exceed 200V
Test leads may be too short for some users
3. X-cosrack B3 Battery Capacity Resistance Tester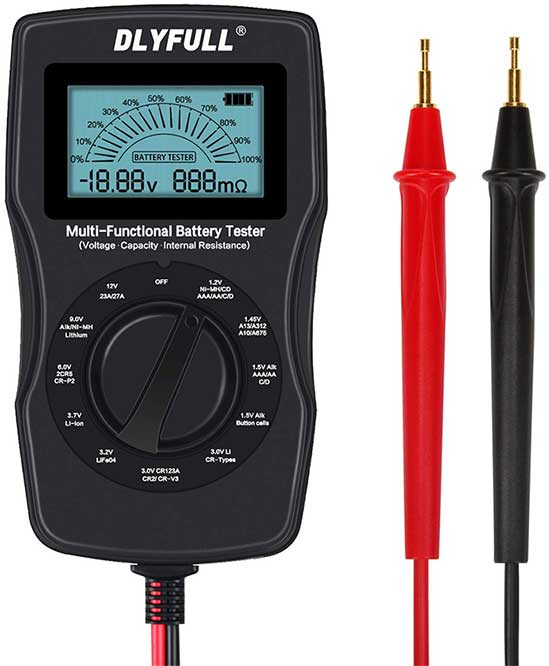 Key features:
Highly compatible with common batteries
Measures capacity, voltage, and internal resistance
Easy-to-read LCD screen
Compact and lightweight design
The X-cosrack B3 is an all-inclusive battery diagnostic unit for tech enthusiasts and household users alike. Packaged in a sleek black casing, this compact tool brings versatility and convenience to the table, making battery testing a breeze. With dimensions of 6.73 x 4.09 x 1.42 inches and a weight of 6.74 ounces, it manages to provide comprehensive battery testing in a portable package.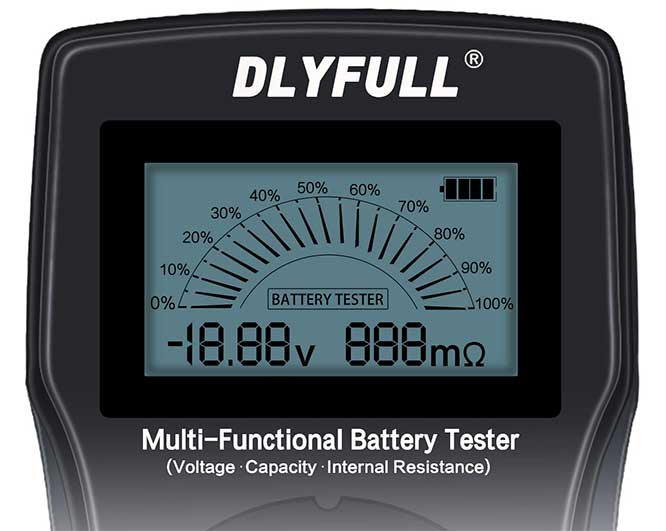 Highly compatible, it covers a broad range of common battery types, from smaller AAAA batteries to larger ones like 18650. Notably, it does not limit itself to just testing battery capacity. Rather, it also offers the functionality of a simple multimeter, measuring voltage and internal resistance, thus providing valuable information about the battery's quality and state of charge. Featuring an easy-to-read LCD screen, it delivers immediate feedback on battery health.
This detail proves crucial when deciding whether a battery needs recharging or replacement. However, while it's convenient to use, a caveat to note is that the manual could be improved for clarity and additional information, such as internal resistance standards for each battery type. In testing, it performed commendably, with the adjustable copper leads ensuring accurate testing. Its usage simplicity was appreciated; selecting the appropriate voltage and connecting the leads is all that's required.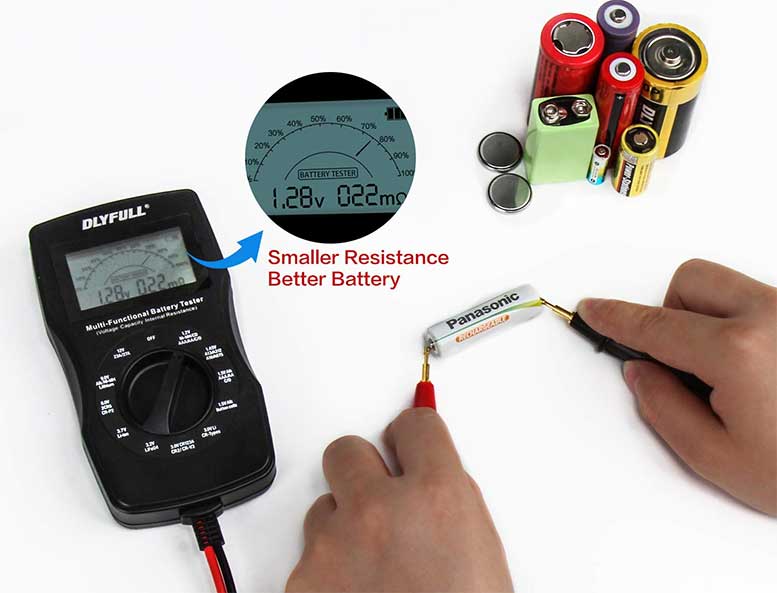 Compared to the others, X-cosrack's tester is the most versatile, capable of testing a variety of battery sizes. This feature, shared to a lesser extent by the LeTkingok YR1035, is absent in the AideTek SM8124A and KINGBOLEN BM550. The B3 also offers multimeter functionality, a unique feature among these entries. However, like the LeTkingok YR1035, its manual is lacking in clarity. One disadvantage is that it doesn't come with the required AAA batteries, which is not an issue with the other entries.
What we liked:
Broad-range battery compatibility
Multimeter functionality
Convenient and simple to use
Portable for on-the-go testing
What we didn't like:
Poorly-written manual
Doesn't come with required AAA batteries
4. KINGBOLEN BM550 Car Battery Tester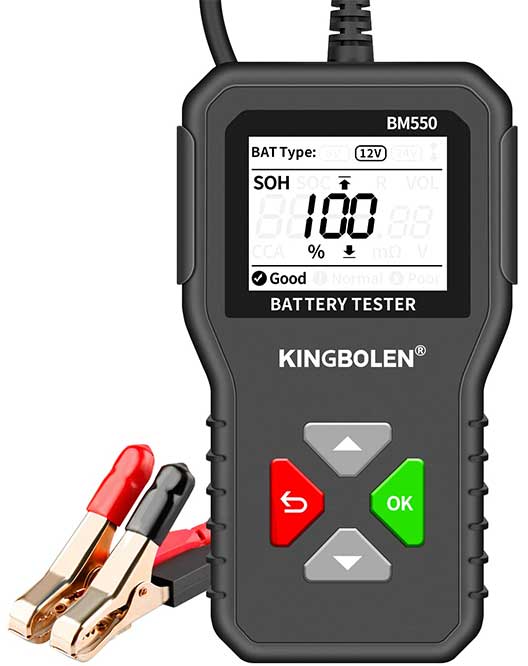 Key features:
Tests 6V, 12V, 24V batteries
Accurate SOH, SOC, resistance data
Reverse connection protection
In-vehicle or out-of-vehicle testing
Designed for simplicity and efficiency, the KINGBOLEN BM550 Car Battery Tester has quickly emerged as an essential tool in many garages. This compact, battery-powered device measures just 4.88 x 2.74 x 0.89 inches and weighs 8.15 ounces. It offers comprehensive battery testing for a broad range of vehicles, from cars and trucks to ATVs and boats. Perhaps the standout aspect of this tester is its wide-ranging compatibility.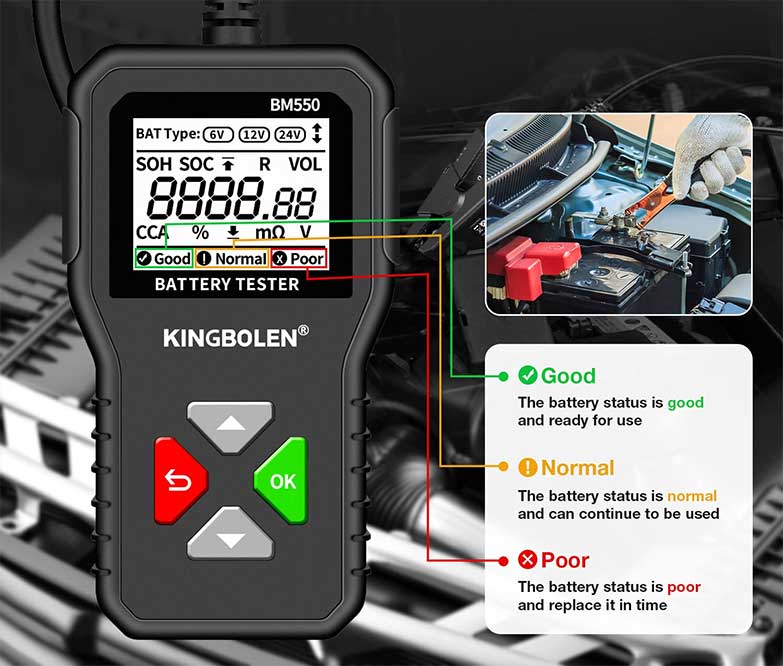 Capable of testing 6V, 12V, and 24V batteries with a CCA range of 100-2000, it effortlessly accommodates a variety of battery types, from regular flooded to EFB batteries. That said, it's not suitable for deep-cycle batteries. The BM550 excels in providing precise, quick, and easy-to-understand information about your battery's health.
It delivers accurate data on the State of Health (SOH) and State of Charge (SOC), internal resistance, and voltage, visible on a clear 1.8-inch HD screen. In testing, it consistently proved its accuracy and speed, offering a reliable snapshot of a battery's status within moments of connecting. As for user-friendliness, it's a dream. The plug-and-play design is intuitive, requiring just a simple clip connection to the battery.
Whether you're testing a battery in-vehicle or out-of-vehicle or even assessing a dead battery, the BM550 proves consistently effective and convenient. Its thoughtful safety feature deserves special mention. The unit features reverse connection protection to safeguard the internal circuit from potential damage if the wires are accidentally reversed – a feature we found extremely useful during our testing sessions.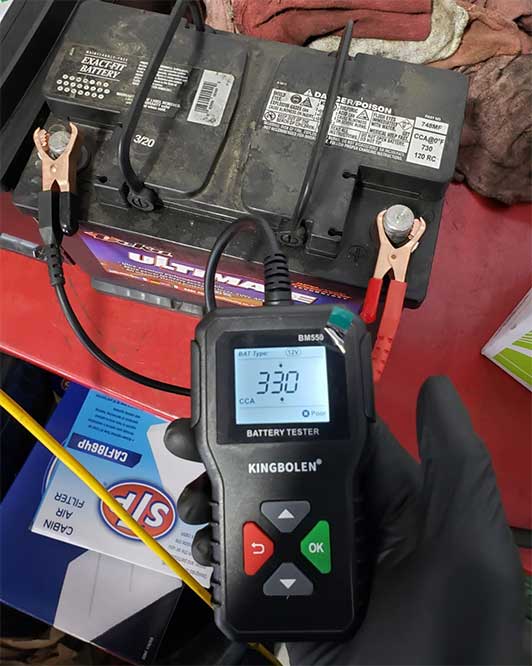 When pitted against the others, KINGBOLEN's tester is primarily designed for vehicle battery testing. It's certainly in a unique niche compared to the other entries. And although the LeTkingok YR1035, AideTek SM8124A, and X-cosrack B3 have their strengths, none offer in-vehicle or out-of-vehicle testing. This can be seen as both a strength and a weakness, depending on what your main use of the tester will be.
What we liked:
Wide-ranging compatibility
Quick and accurate readings
User-friendly design
Effective safety feature
What we didn't like:
Not suitable for deep-cycle batteries
Limited usage
Battery Internal Resistance Tester FAQs
What is a battery internal resistance tester?
A battery internal resistance tester is a device that measures a battery's internal resistance, which is a parameter that affects the performance and efficiency of a battery. It's important for diagnosing the health of a battery, as high internal resistance can result in the battery not delivering its full power or not holding a charge effectively.
Why is it important to measure a battery's internal resistance?
Measuring a battery's internal resistance is critical for understanding its overall health and performance. A battery with high internal resistance may not be able to deliver its full capacity and could fail prematurely. It can also cause the battery to heat up during use, which can further degrade the battery and even lead to safety issues. Therefore, regular testing of a battery's internal resistance can help identify issues before they become serious problems.
How do battery internal resistance testers work?
These testers typically work by passing a small current through the battery. In doing so, it measures the voltage drop of that current. This allows the tester to calculate the battery's internal resistance using Ohm's law. The tester usually displays the resistance on a screen. Advanced models may also offer additional features, such as capacity testing, voltage measurement, and compatibility with different types of batteries.
Final Verdict
We're confident that there's a tester for most everyday needs among our top picks. The LeTkingok 4 Line YR1035, for instance, proved to be an outstanding choice for those who need a battery tester for multiple battery types. Its various power-saving options make it a versatile and environmentally friendly choice.
AideTek's SM8124A shines for its straightforward functionality and compact size. It's a good pick if you're looking for a portable tester that's easy to use and delivers precise readings. Then there's the X-cosrack B3. This entry stands out with its multimeter functionality and wide battery compatibility. It's a solid all-rounder that suits a broad range of users.
Finally, KINGBOLEN's BM550 Car Battery Tester is a must-have for vehicle owners. Its quick and accurate readings make it an excellent tool for maintaining vehicle battery health. Choosing the right battery internal resistance tester ultimately depends on your specific needs and preferences. Rest assured, each of these options is worth considering, given their respective strengths and features.