Barcode scanners shouldn't be complex. Even when you add Bluetooth, that should only make things simpler. But unfortunately, that's not always the case. Though it's getting easier than ever to make use of a good barcode scanner, picking the scanner that's most appropriate for your needs can still be as much of a challenge as ever.
Picking the Best Bluetooth Barcode Scanners
To get started, you want think about where the scanner might be used. Are you in a rugged environment or a heated warehouse? How much throughput will the scanner see? What types of barcodes are you going to read? Can you maintain a connection to a PC while scanning? These questions can help inform everything from the type of scanner to its size.
Type of Scanner
The three most common types of scan engines are laser, linear, and 2D area imagers. Among those three, laser is the single most common. This type uses a simple red diode to measure the blank spaces between barcode bars. Though they can only read 1D barcodes, they're also among the cheapest options out there. But for greater range, you often need reflective labeling.
The second type is a linear image scanner, which takes a picture instead of reading with lasers. Linear scanners tend to perform better that laser scanners for reading damaged codes, or codes that have been printed poorly. At the same time, they have comparable range and cost to a basic laser scanner.
The third type are 2D area imagers, which are able to read all types of barcodes. That includes stacked, 2D, and 1D barcodes. There are speed advantages, too. You don't need to worry about the orientation of the barcode while taking a reading. The scanner is smart enough to align it on its own, which means less aiming before taking a reading.
Form Factor
If you've been to a supermarket, then you've probably seen a basic gun-style scanner. Ignoring fixed-mount and in-counter scanners, the three main types are mobile PC scanners, presentation scanners, and handheld scanners.
Handheld scanner are the ones we all know, the point-and-click scanners that require you to pull a trigger. Mobile PC scanners are good for communicating with wireless networks, for an all-in-one style inventory management scanner. True to their nature, presentation scanners were made to sit on counters. They were also made with a little more attention to spent the outward appearance of the instrument.
Durability & Longevity
When you're holding an instrument in your hands, it's just a matter of time until you drop it. Might take you ten days, or it might take you ten years. But people drop things all the time, some more than others. Even if you're not taking measurements in the jungle, you want an instrument that can survive a little rough and tumble use. Though you don't need to start looking for waterproof certifications, being sealed against dust is helpful for longevity as well.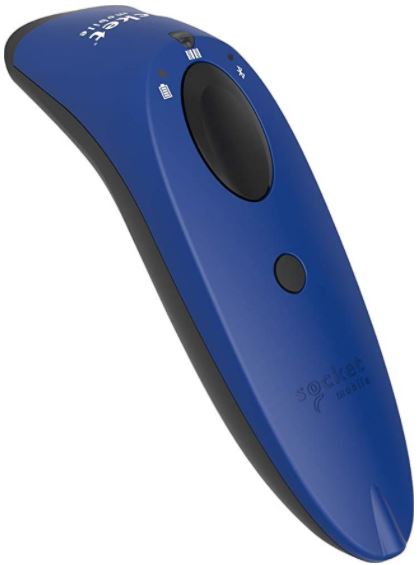 SocketScan S700
The SocketScan S700 is capable of reading all 1D bar codes, both linear and stacked. Its maximum reach extends out about 20", which is just a touch above average for equipment in this price range. And because the S700 connects to a variety of Bluetooth enabled smartphones, notebooks, and desktops, you can pretty much connect to anything with Bluetooth.
Build & Design
In general, it would be fair to call the S700 an ergonomically designed instrument. It's pretty small and lightweight, similar to a television remote. And similar to a remote, it measures about 1.6 x 1.4 x 5.1 inches. Clearly intended to fit in the hand. The least handheld aspect of this device is that it weighs about a pound after you've got the batteries shoved inside.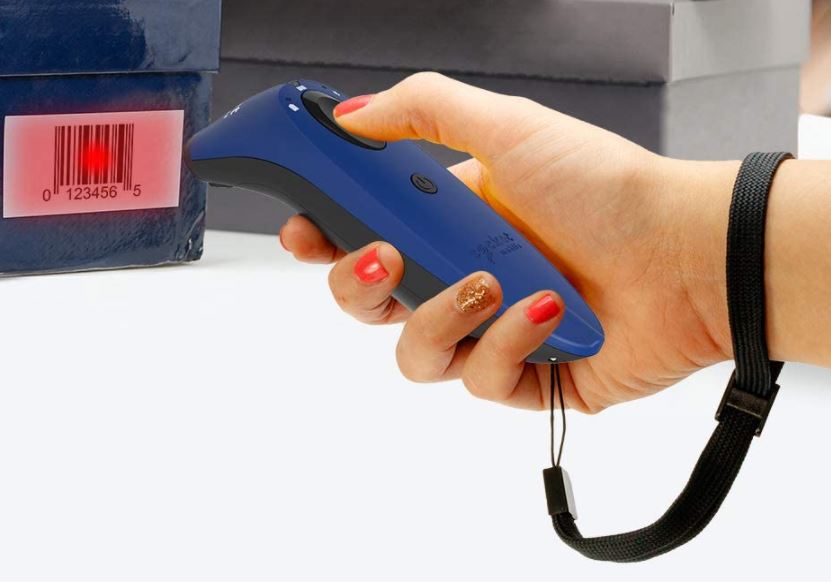 Interestingly enough, the SocketScan S700 is actually available in five different colors. They include blue, black, red, white, and yellow. When you're going to be carrying around the scanner day-after-day, it doesn't hurt to put some thought into its style. Especially if customers will see it.
The S700 is powered by fairly strong batteries, which are supposed to last for 14-hours of consecutive use. That figure might creep downwards or upwards slightly, depending on the actual usage of the unit. Overall, we feel that the S700 is pretty good for working more than a full shift.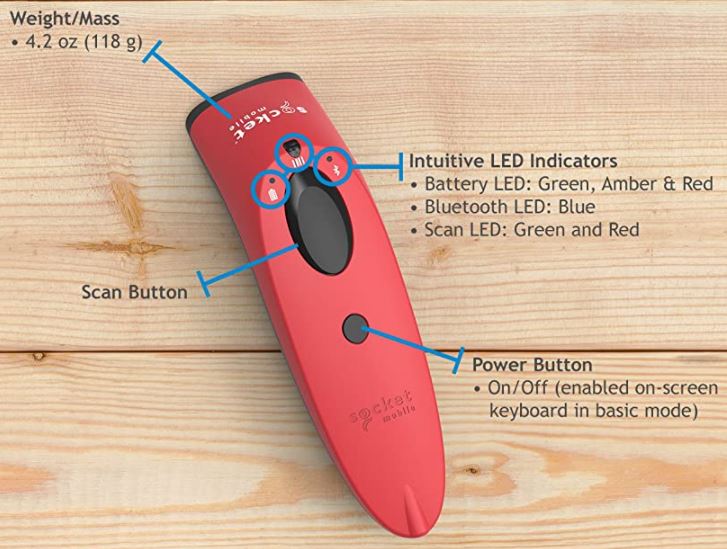 Other Considerations
This instrument comes preconfigured and ready to be used. The default settings have been optimized to be suitable for most scanning applications. So unless you're trying to do something terribly unique, you won't have to get involved with any significant setup process. Quite convenient.
The S700 is powered by a pair of rechargeable batteries that are included. You might want to have some extras on standby, or even consider moving to rechargeable AA batteries.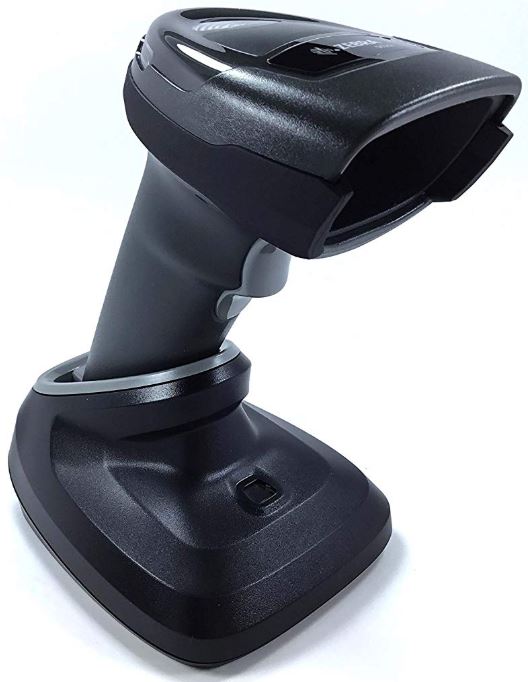 Zebra Symbol DS2278-SR
The Zebra Symbol DS2278-SR is relentless. It doesn't matter what you put in front of it, 1D barcodes or 2D barcodes, it will chew right through them. That versatility is further matched with equally versatile hardware options; you can connect through USB, RS232, keyboard wedge, TGCS, and even RS485.
The Bluetooth portion of this scanner doesn't disappoint, either. It uses a class 2 connection for a total of 33ft of connectivity. Consequently, you can control the scanner with essentially any mobile device, like a smartphone or PC. That lets you access data from the device, change settings, or otherwise integrate the data stream with the rest of your data collection system.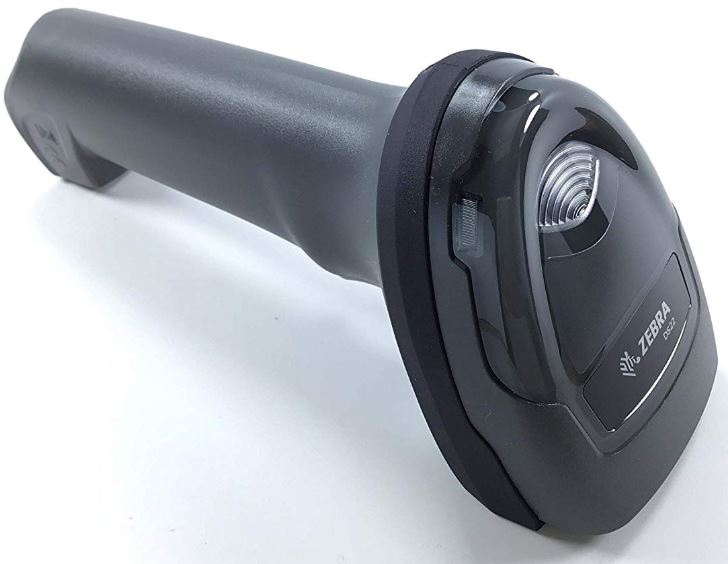 Build & Design
The DS2278-SR measures 6.9 x 2.6 x 3.5 inches, and weighs about eight ounces. It's a handheld design, with the grip specially made to contour against your fingers while holding it. The scanning range for this instrument stretches between 0.5-inches and 14.5-inches. That's about high-average for a scanner in this price range.
That design also makes using the scanner very natural. The distribution of its weight is pretty good, so it doesn't become a strain on your wrist over lengthy periods of time. Moreover, it was built to withstand numerous drops from about 5ft — straight onto concrete. It's made to withstand tumbling force as well.
The DS2278-SR is powered by a 2400mAh lithium-ion battery. That's about twice as big as most batteries you'll find inside Bluetooth barcode scanners. Consequently, when you've got it fully charged, you can expect the battery to last through about 84-hours of operation. Standby time is equally high, lasting for several weeks before you have to tend to the battery.
When it comes time for a recharge, once the scanner is placed into the charging base, you'll find it's possible to restore the battery in about an hour. Naturally, the DS2278-SR can draw power from any wall socket, and through micro USB cable.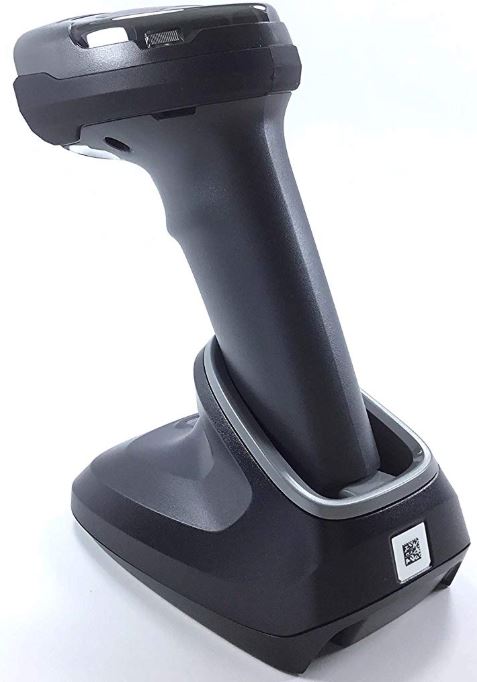 Other Considerations
Even with pretty manic use, the battery inside this kit will almost never need to be replaced. It could easily be five or ten years before you have to think about swapping out the battery. When that time comes, you'll be pleased to know it's pretty easy to pop open the chassis and swap in some new cells. The DS2278-SR is powered very similarly to a DSLR camera, which makes it pretty easy to find new batteries online.
Zebra also uses their own proprietary Wi-Fi module to help reduce interference problems with your wireless connection. They operate on channels which aren't shared by WLAN networks, so customers and workers aren't disturbed by the scanning. In addition to the charging cradle, USB cable, and user manual, Zebra includes a three-year warranty.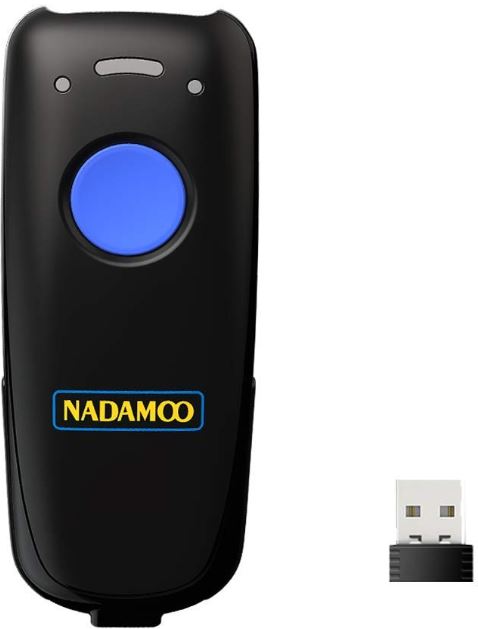 NADAMOO Mini Wireless Barcode Scanner
Sometimes you want cheap and simple, and that's a pretty good description of the NADAMMO mini wireless scanner. This scanner can't read 2D barcodes, but it can read any common range of standard 1D codes. Expanding on those capabilities, this mini scanner comes with a three in one design, which refers to your connection options.
More specifically, the NADAMOO mini scanner is capable of connecting through Bluetooth, 2.4 GHz Wi-Fi, or through the included micro USB adapter. In any case, it's not difficult to connect to virtually any mobile device.
Additionally, you'll find over 300 different configuration options on board. You can add your own suffixes or prefixes to the barcodes, enable or disable different types you want scanned, or even turn on/off the audio cue when a scan occurs. Not bad for customizability.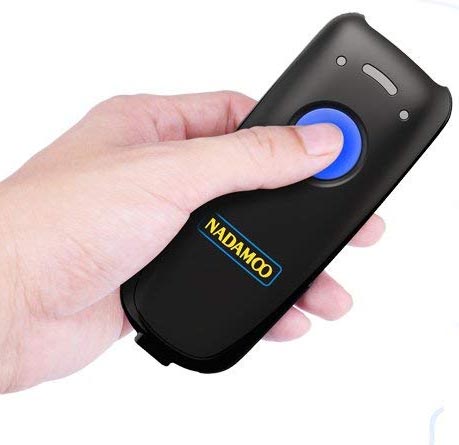 Build & Design
The NADAMOO Mini Wireless Barcode Scanner measures 4.7 x 1.8 x 0.8 inches, and weighs about five ounces. That's including the built-in battery. All in all, a pretty handheld design. Quite easy for taking with you for mobile scanning purposes. And similar to the DS2278-SR, this device is safe to drop from about five or six feet.
Long distance transmitters are made for people who aren't sitting two feet from their computers. This scanner provides a long distance design, capable of blasting a signal out to around 164ft. That's assuming there aren't obstacles between the signal and the transmission. And those figures drop pretty drastically once you introduce anything besides trivial obstacles, similar to nearly any wireless transmission.
This mini scanner was built with a 1200mAh rechargeable battery, about half the power of the battery used by the DS2278-SR. But it's also pretty similar to the kind of battery you'd see inside of a DSLR camera, so it can provide roughly 20 hours of constant scanning. Getting a full charge takes about 3 hours, while the standby time is an impressive 100-days.
For scanning, there's also a few options available, including key trigger mode, auto induction mode, and continuous mode. True to its name, the continuous mode will simply accept one reading after the next. The key trigger mode requires you to tell the scanner you want to take a reading. And the auto-induction mode will scan based on content currently in your database.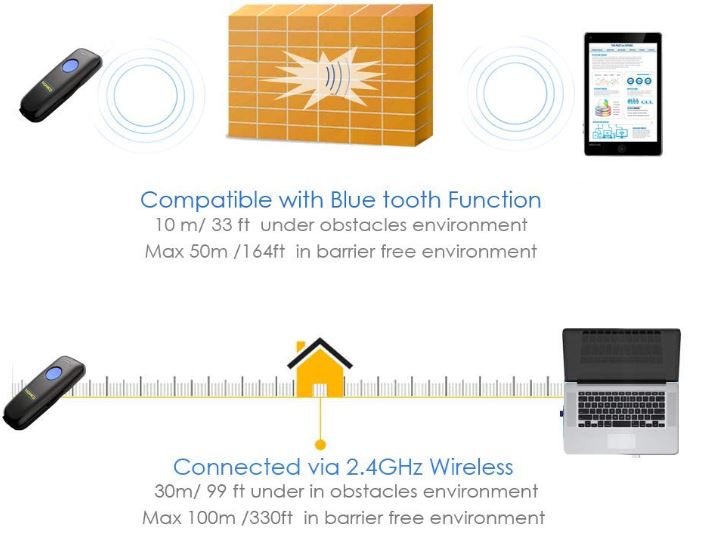 Other Considerations
There are two upload modes. The instant upload mode, and the storage mode. You can scan a barcode with the storage mode and then upload the data in a big batch later. Alternatively, the internal storage for this device can keep as many as 5,000 barcodes safely in memory.
The NADAMOO Mini Wireless Barcode Scanner is compatible with Android, Windows, iOS. Even for older versions like Windows XP, you won't encounter compatibility issues. However, this scanner isn't compatible with Square.
Ignoring that limitation, you'll find configuring the device isn't complex, but it does take some attention to detail. Should you need it, you can scan codes in the user manual to help get the answers to your questions quickly. Often times, the codes lead you to detailed informational instructions. Though no extras are included, this scanner does include a two-year warranty.
Choosing Between 3 of the Best Bluetooth Barcode Scanners
When you think of a barcode scanner, something similar to the Zebra Symbol DS2278-SR is probably what comes to mind. Except unlike an ordinary barcode scanner, this one has been streamlined with Zebra's proprietary Wi-Fi technology for the sake of non-interference. It has a great scanning range and because it connects through Bluetooth, you don't really have to fault this device for not having built-in storage.
The SocketScan S700 is not for casual, intermittent barcode scanning. It's versatile enough to get a wide variety of different scanning jobs done, but between the handheld design and the carrying lanyard, this kit was clearly made for someone who's doing an enormous amount of daily use with the scanner. It was made for throughput. And when you're constantly carrying a scanner, it helps to have some style options. The S700 can help you there, too.
Finally, the NADAMOO Mini Wireless Barcode Scanner is the right choice for someone who's looking for something simple, versatile, and wonderfully inexpensive. Though this scanner is small enough to hang from a keychain, it's got similar scanning power to some of the larger scanners on the market. At least, when you put the right barcodes in front of its attention. This scanner only reads 1D barcodes. But if that's all you need, it's easy to recommend NADAMOO's Bluetooth scanner.