When you're running a business or a school, it's sometimes necessary to issue IDs. These can be used to control access to sensitive areas. For instance, campus buildings can be limited to students and staff. They can also be used to smooth relations with other businesses. For example, if your extermination company is servicing a commercial railyard building, you'd better have ID. If not, your employees are going to have some interesting conversations with the railroad police. In the past, we've reviewed thermal shipping label printers, along with basic office printers. But plastic ID card printers are in a different league altogether.
The reason for this is that shipping label and office printers are meant to be cheap and efficient. You don't need to print all your office memos on premium-quality resume paper, for example. Instead, you're probably using cheap, lightweight copier paper. Similarly, most printers are made to be widely compatible and easily accessible. But plastic IDs aren't supposed to be easy to produce. If anyone could make one with a cheap office printer, fake IDs would be too easy to make. Instead, even cheap ID card printers are fairly pricey, intentionally priced for institutions or serious hobbyists. And even low-quality cards are made to last for months of everyday use. Higher-quality machines can even apply holograms and other advanced anti-counterfeit features.
We're about to review four of the best plastic ID card printers on today's market. We'll start with the IDP SMART-31 Printer Kit. This is an affordable, complete kit that comes with everything you need to design and print from any PC. After that, we'll examine the Magicard 60. This is a high-capacity printer with advanced software for mass-producing IDs quickly and easily. Next, we'll review the Fargo DTC1250. This printer also offers a high capacity, but is more basic with less complex software. Finally, we'll look at the Badgy200. This lower-capacity, but more reasonably priced printer is better for smaller organizations that still need professional-looking IDs. One thing we should note before we begin. All of these printers can print — but not generate — barcodes. None can print magnetic stripes. That said, let's see how they stack up!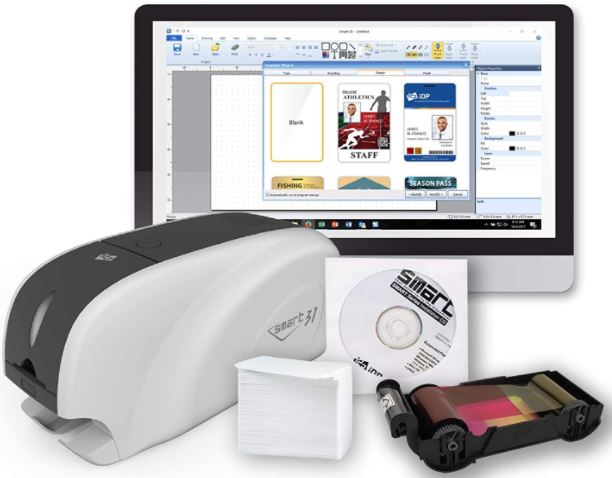 IDP SMART-31 Series ID Card Simplex Printer Kit
The IDP SMART-31 is an easy to use, high-quality photo ID and access badge printer that's sold as a complete kit to make things simple and straightforward. Geared towards first-time users, no prior experience is required in order to create and print ID cards with high resolution and vivid colors.
Sold as a complete kit, it contains everything you need to get started including the IDP SMART-31 Series ID Printer itself with a wealth of accessories. These include the Smart ID software, drivers, user manuals/guides, a power cord and USB cable, a YMCKO color ribbon, 100 blank PVC plastic cards and 1 long cleaning card.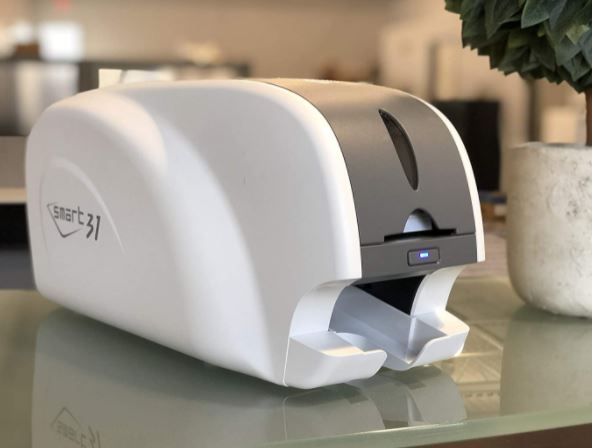 The printer itself hooks up directly to any available USB port on your PC and lets you use your computer with the Smart ID software to create custom plastic ID cards within minutes. Although there is some learning involved, the software is incredibly straightforward and easy to use. For first time users, all you need to do is pop the CD into your computer, install the software and refer to the well-documented instructions.
The Smart ID software makes design as simple as possible without any prior experience. Once you boot up the software, you're given a blank canvas to add images, text and barcodes. It even lets you manage databases and provide card encoding options for added security.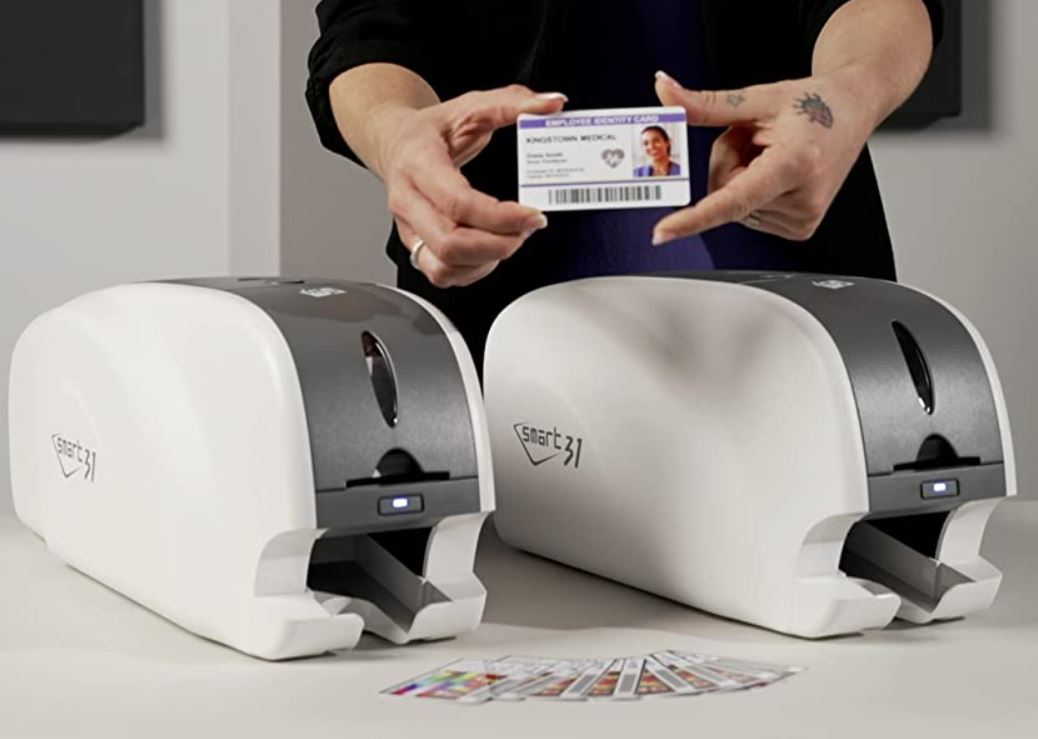 Speed and Performance
The IDP SMART-31 is labeled as an "entry level" option, but mostly because it's much more affordable than the competition. In fact, the specifications of the printer are quite enticing. Capable of printing at resolutions between 300 to 1200 dpi and 16.7 million colors, you can easily achieve the professional quality you're likely after. In addition, prints can have "zero edge" meaning that there won't be an annoying white-space between the design and the edge of the plastic ID card.
Once the printer is installed and you've added the color ribbon and blank PVC cards inside it, you're ready to start printing. Surprisingly, the speed at which it prints onto the blank cards is fairly fast. It'll print a single card in roughly 20-30 seconds (depending on the complexity, color, etc.), meaning that it's capable of printing over 150 cards per hour. That being said, you're likely able to churn-out your own ID cards for an entire office or workplace in just a single day.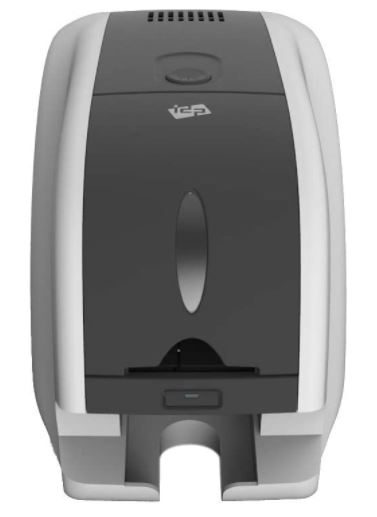 We believe the IDP SMART-31 is the best complete kit for high quality, one-sided plastic ID card printing from your home or office. Everything you need is included to get started, along with all of the instruction and documentation required to master the use of it all with a short learning curve. Best of all, IDP covers the SMART-31 with an impressive 3-year advance exchange warranty. What this means for you is 36 months of assurance that it'll perform well and as expected without any headache.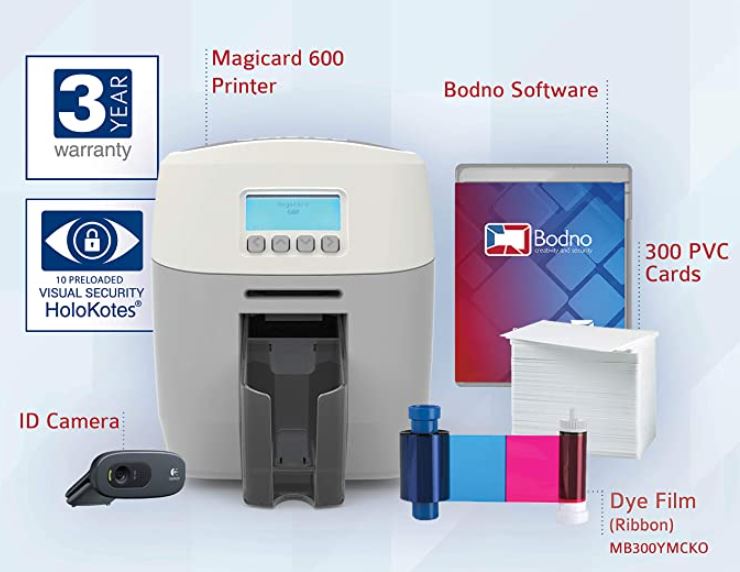 Magicard 600
The Magicard 600 is a beefy printer with a two-tone white and grey shell. With a footprint over 18 inches deep and nearly nine inches wide, it's neither compact nor terribly portable. That said, it has a fairly large capacity, with a front hopper that accepts up to 100 PVC ID cards. The hopper is sloped, so the input portion is larger than the output portion. The front output tray has a capacity of 70 cards, not 100. However, you're probably removing them as you go along, so this is less of an issue. A larger input tray, on the other hand, saves you from interrupting the print cycle over and over again.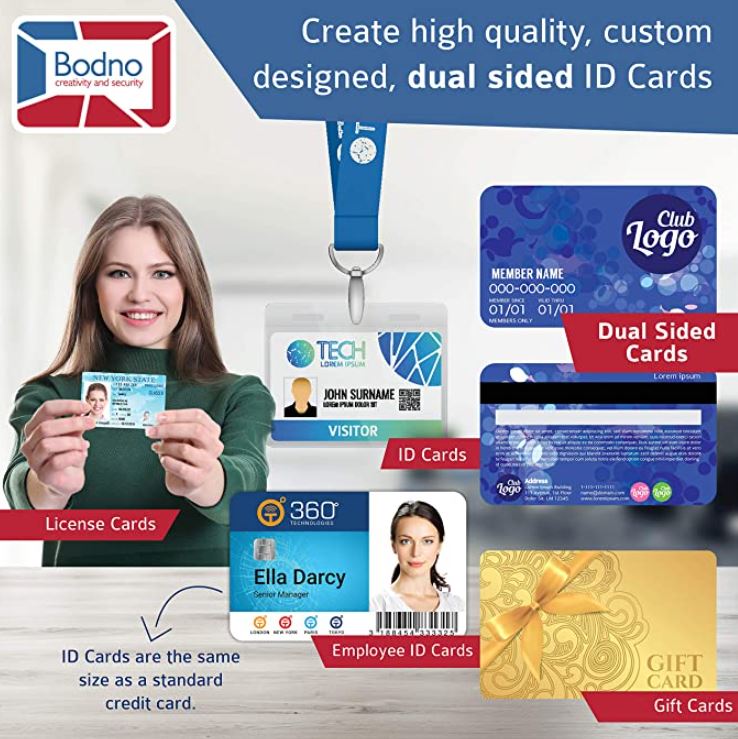 Along with the printer itself, the package includes everything you need to get started. There's an ID camera that can be used for snapping and adding pictures on the fly. There are also 300 PVC ID cards and a color printer ribbon. Keep in mind that the ribbon will also run out after about 300 uses. So when you buy more IDs, make sure to buy another printer ribbon to go along with it.
The biggest value, though, comes from the Bodno Silver editing software. This software allows you to easily create IDs using a number of pre-made templates. You can also build your own custom templates, to make your IDs look exactly the way you want them to. The Silver version of the software even lets you import data from Excel spreadsheets and print QR codes. The QR codes can be used for more applications for simple barcodes. Meanwhile, importing spreadsheets makes it easy to mass-produce IDs. For instance, if you have a school with 1,000 students, you can simply import a spreadsheet with their names. Instead of creating 1,000 individual IDs, you could then use a single template and auto-generate the process. This can save you several hours of work on every print run.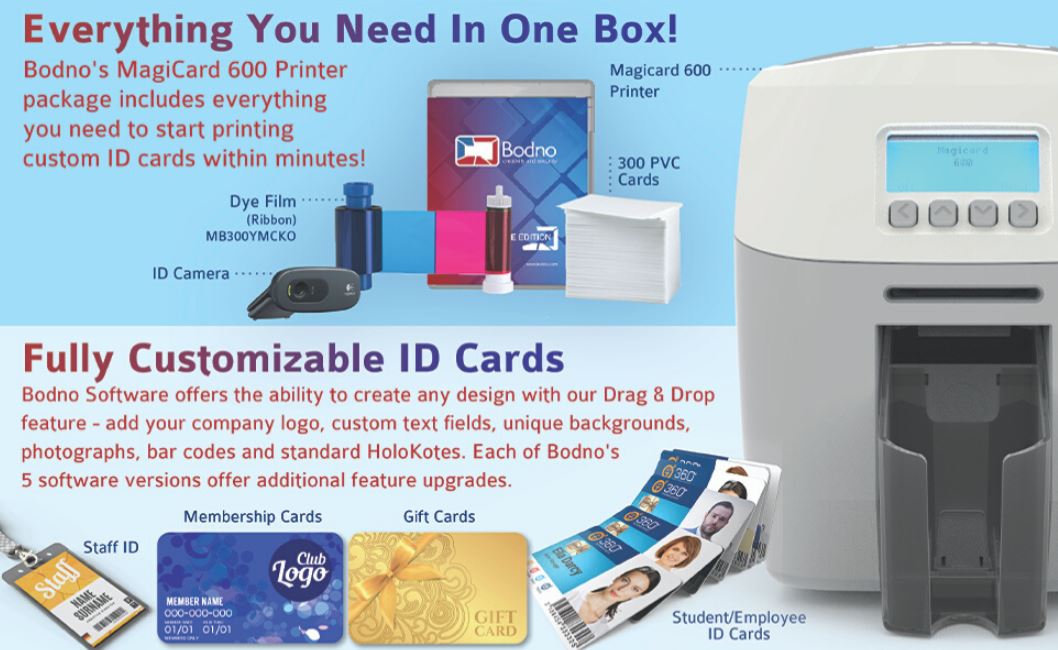 The customer support is fairly robust. Magicard maintains a 24/7 help line with US-based technical support. The support team maintains the ability to log into your software if you give them permission. So when you call them, they can actually help you out remotely, and get your IDs printing properly.
Speed and Performance
The Magicard 600 prints at a crisp, dense, 600 x 300 DPI, which provides very good photo quality. You'll be able to create professional-looking IDs that are as sharp as anything you'd get from an official agency. Of course, this level of quality means somewhat slower printing than you might expect. IDs will take 19 seconds per side to print, or 38 seconds per ID for each individual card. This can be reduced to five seconds per side by printing in black and white. But for most modern purposes, you're going to need a color photograph or logo at a bare minimum. An easier way to increase speeds is to print single-sided IDs. But depending on how much information you need to include, that may not always be practical.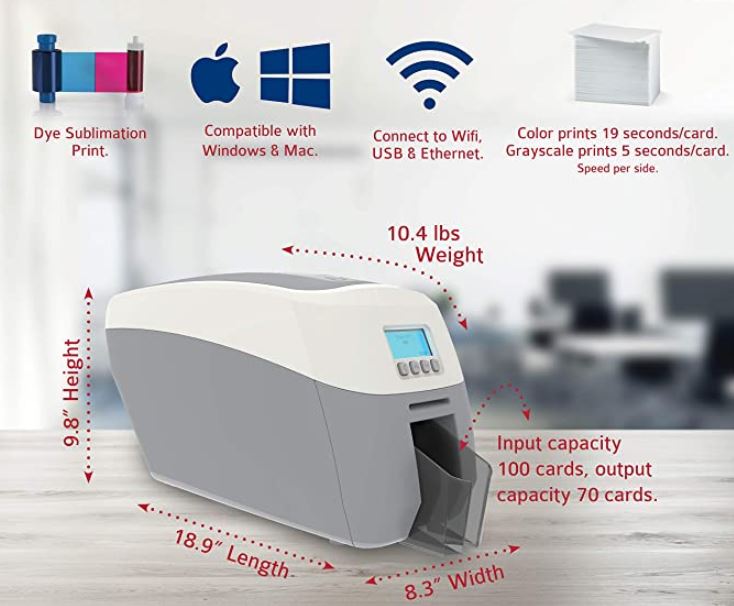 The kit comes with 10 holographic coating options. These coatings can prevent counterfeit IDs by adding yet another layer of security. You can even order a custom hologram from Magicard for even more protection. This will cost an extra fee, but it's well worth it if you really need that level of fraud prevention.
The Magicard 600 can be connected either via USB or via WiFi. The USB connection is the most stable, and is better if you're using the 600 with a single workstation. The WiFi connection, on the other hand, gives you more flexibility. You can use the 600 with one PC, share it with an entire office, or even take it on the road. Either way, you also get the benefit of a three-year manufacturer's warranty. This ensures that your investment is well-protected. If there are any manufacturing or material defects, you can get a full refund or replacement.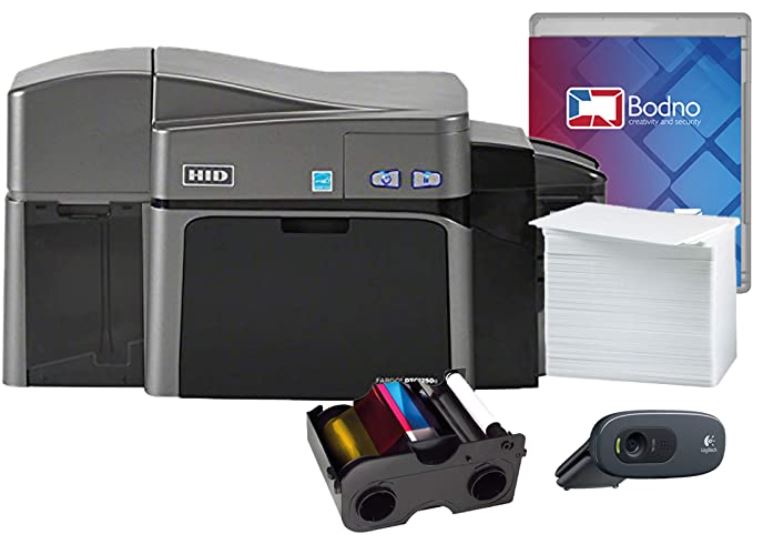 Fargo DTC1250e
The Fargo DTC1250e is built a bit differently from the Magicard. Instead of a dual front hopper, it has separate in and out hoppers at the left and right respectively. The upside of this design is that it allows for two full-sized, 100-card hoppers. There's no discrepancy between the input hopper and the output hopper. That said, there's also a somewhat larger footprint. And because the hoppers are on the sides, the printer has a width of more than 18 inches. That's comparable to the width of full-sized laserjet printers, and takes up a fair bit of desk space.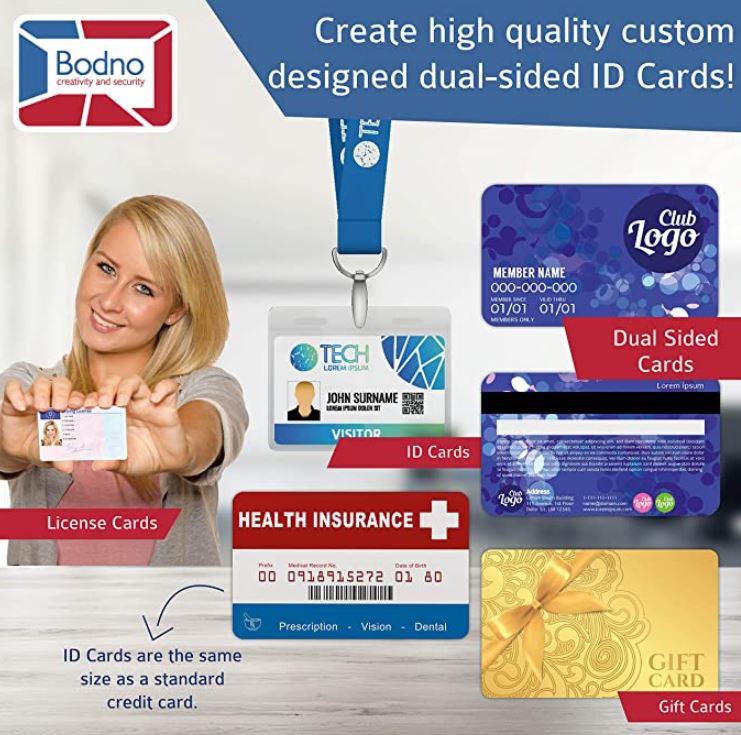 The kit includes a packet of 250 PVC ID cards, as well as a color printing ribbon. As with the Magicard, this ribbon has about the same capacity as the number of cards in the package. Once again, when you order more cards, order another printer ribbon as well.
The software package for the DTC1250e is the Bodno Bronze Edition. This gives you most of the benefits of the silver edition. You get templates, easy drag-and-drop design, and an all-around professional look. However, you can't import data from spreadsheets. This means you'll have to manually fill any text fields on each ID. On the other hand, you get the same 24/7 lifetime technical support that comes with the silver edition. So you can rest assured that the software will actually work as intended.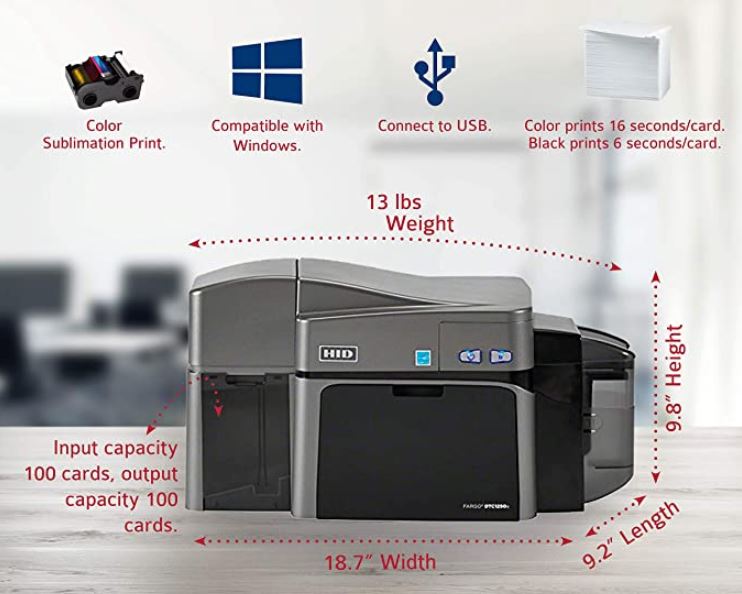 Speed and Performance
The printer performance of the DTC1250e is a tad faster than the Magicard 600. It can print a single-sided color ID in about 16 seconds, or a double-sided ID in about 32 seconds. This is roughly a 20 percent improvement, and very noticeable when performing large jobs. Black and white IDs can be printed in six seconds per side, or 12 seconds for a double-sided ID.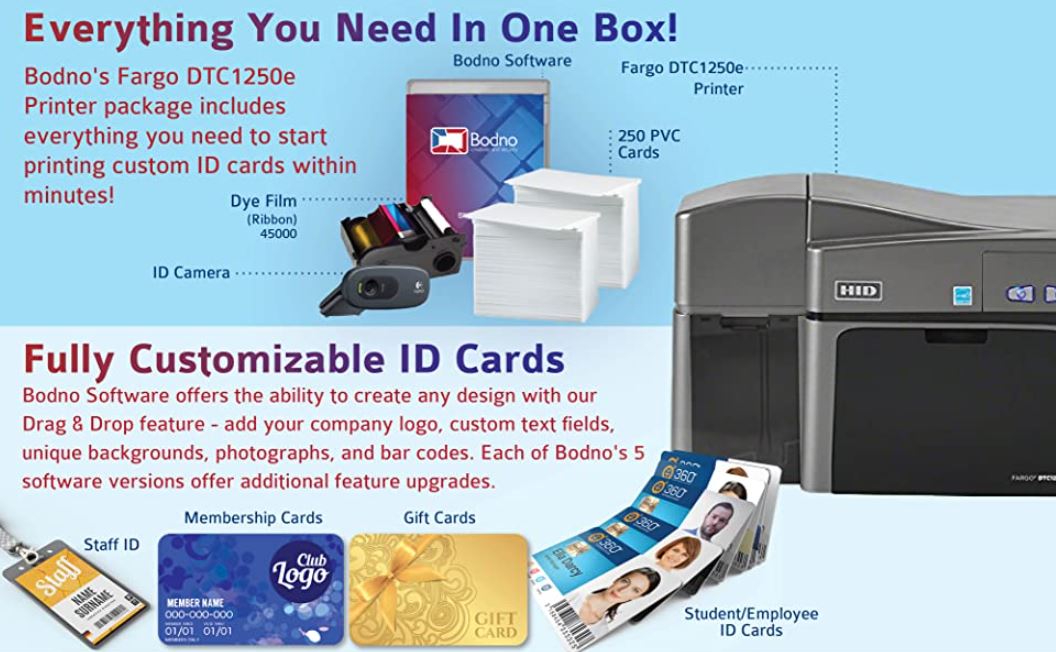 The downside of this speed is that the Fargo printer is prone to jamming. We're not saying it jams all the time. But if you're printing a few dozen IDs, it's liable to jam at some point in the process. Clearing the jam is fairly simple; you just open the printer and remove the stuck card. But it wastes an ID card and at least some amount of ink. It also wastes your time, partially negating the benefit of the DTC1250e's fast printing speed. Even so, you're protected from damage to the printer itself. It comes with a three-year warranty against any defects in any materials or workmanship.
One more thing to keep in mind about this printer is that it connects with USB only. For permanent or semi-permanent use with a single computer, that's not a big deal. On the other hand, it limits the potential for any kind of use as a network printer.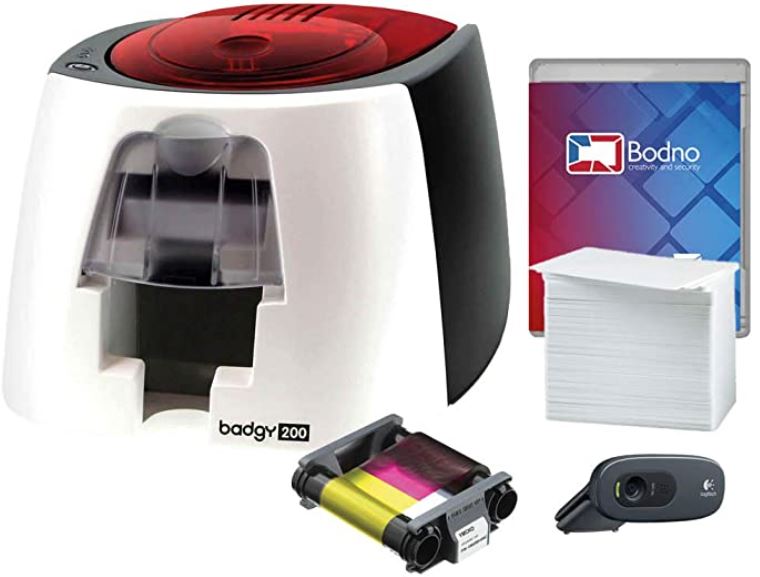 Badgy200
The Badgy200 is a more compact printer that's designed for smaller spaces and smaller print runs. At less than 8 inches wide and 11 inches deep, it's about as small a card printer as you'll find. The 50-card input hopper is located under a semi-transparent cover on the top. When completed, IDs are dispensed into a lower output tray, which also has a capacity of 50 cards.
The kit includes more than just the mere printer. It comes with 50 PVC ID cards, and a printer ribbon with enough capacity to print around 250 IDs. So the first thing you'll want to order will probably be more IDs. In addition, there's a small camera in the package. This can be used to take ID photos on the fly, so there's no need to import them from elsewhere.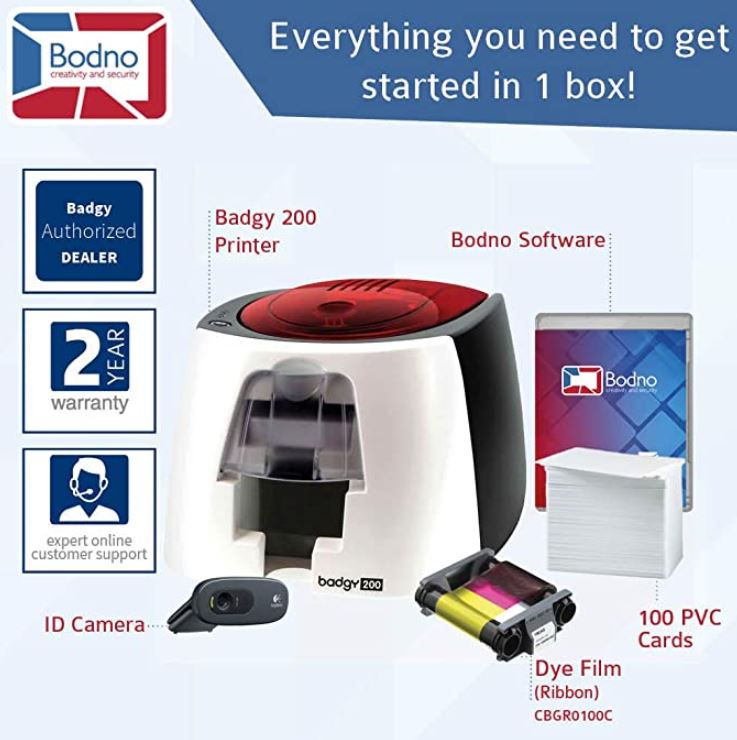 Speaking of importing, you won't be able to import text from an excel spreadsheet. Like the Fargo printer, this one comes with Bodno's Bronze Edition software. So you get some fairly robust ID-creation capabilities and templates. You can easily add photos, logos, and other elements, both in black and white and in color. The result is an ID that's truly professional. Along with this, you get the same lifetime Bodno technical support as the Fargo and the Magicard. That's pretty impressive, considering the reasonable price point.
Speed and Performance
As with the last two printers we looked at, color printing takes longer than black and white printing. In color, you can print a single-sided badge in 19 seconds, or a double-sided badge in 38. A single-sided black and white ID, meanwhile, can be produced in all of five seconds. This puts the Badgy200 roughly equivalent to the Magicard in terms of print speed. Keep in mind the smaller hopper, though. You'll have to refill it more often, so you won't be able to achieve quite the same speeds.
This printer is covered by a two-year manufacturer's warranty. That's not quite as robust as our first two offerings' three-year warranties. Still, it's more than enough time to sort out any defects from the manufacturer.
Final Verdict
So, which one of these plastic ID card printers is the best? It depends what you need. If you're printing a lot of IDs and need them printed as efficiently as possible, the Magicard 600 is ideal. The main benefit is the Bodno Silver Edition software, which allows you to input spreadsheets of data. In terms of sheer convenience, there's no comparison between this and manually creating each ID.
The IDP SMART-31 is an excellent choice for those needing a complete kit that doesn't break the bank. With everything you need included, there's little guesswork and plenty of ease of use with this option. The printer offers up to 1200 DPI and can print ID cards with virtually no-edge and bright, vivid colors. Although it's a one-sided printer, it'll offer more than enough capability for most scenarios.
The Fargo DTC1250e is a bit of a mixed bag. It offers higher speeds than the Magicard 600, at least in theory. On the other hand, it also has a tendency to jam during longer jobs, which can end up slowing you down. The Bronze Edition software is effective, but doesn't have the same import capability as the Silver Edition. But you do get a pair of large hoppers, as well as a lower price.
The Badgy200 is the most affordable printer on our list, but it performs surprisingly well. You can achieve print speeds comparable to the Magicard 600, albeit with a smaller hopper. You're also stuck with the Bronze Edition software, with correspondingly fewer features. Even so, you're getting professional-quality ID cards at a hobbyist price point.