If you're looking for a way to make your business more secure, a plastic ID card printer can be one of the best investments that you could make. These handy little devices make it easy for you to develop a template, and crate branded corporate identification with the push of a button. But choosing a printer isn't always an easy process. There are plenty of options available, each with their own unique features designed to provide different security elements, levels of durability, and connectivity. Today, we're going to look at the three best Plastic ID card printers on the market. Then, we'll help you select the one that's right for your needs.
Magicard Pronto
Magicard is known in the security community for producing affordable, easy to use secure ID solutions for medium and small businesses. Their packages include everything you need to get started, making it a great choice for low volume applications.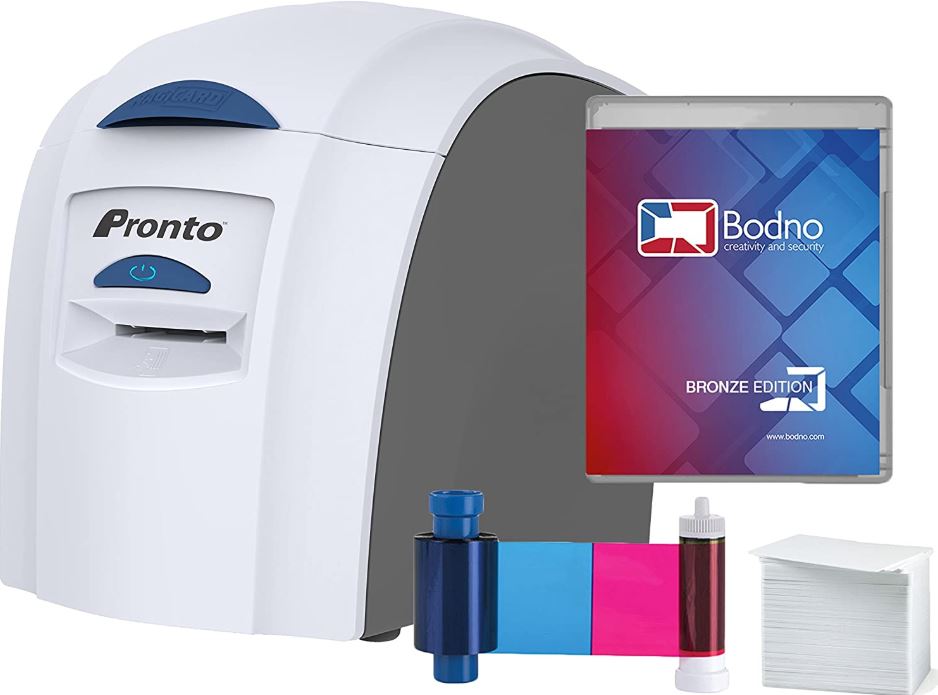 Print Quality
The Magicard Pronto is one of the higher end DTC (direct to card) printers on the market. This means that the printer uses a thermal print head and a YMCK ribbon to create the image. If you were to unspool this ribbon, you'd notice that it's made of multi-colored patches that are each roughly the size of a plastic card. The printer rolls the ribbon so that a single color covers the plastic card, then a thermal print head slides over the card, using heat to transfer each color to the card one by one.
YMCKO means that it starts with yellow, then moves on to magenta, cyan, and finally black. The final layer, O, is the overlay. It's a clear plastic coat that protects the ID. The end result is that, by varying the levels of heat on each color, the printer can produce a total of 2 million different colors.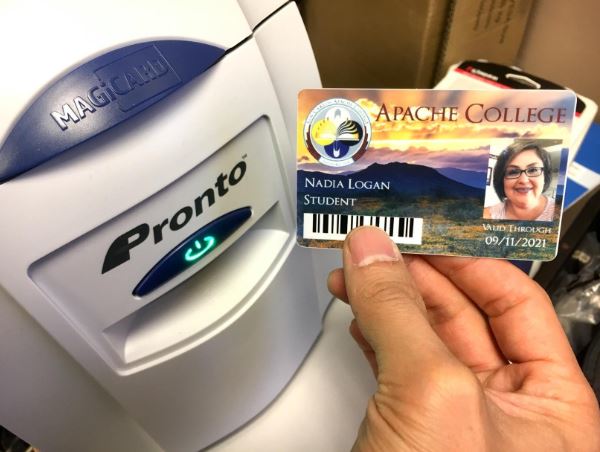 What sets this printer apart from other direct to card printers is that the head and the ribbon are slightly larger than the actual card itself. This allows it to create edge to edge images, so you aren't stuck with a border like you are with some other inexpensive printers. The total resolution of this printer is 300 dots per inch. This isn't the most detailed printer on the market, but images come out clear and even. 300 DPI is more than enough to create photo ID where the bearer can be easily identified.
Credential Durability & Security
With the 30 mil cards, your IDs are pretty durable. One of the main reasons they last so long is the overlay. This is essentially a clear coat. It will stop the ink from rubbing off when cardholders are taking it out of their wallet, or carrying it around day to day. The type of pigment they use is resistant to fading, so can last for many years.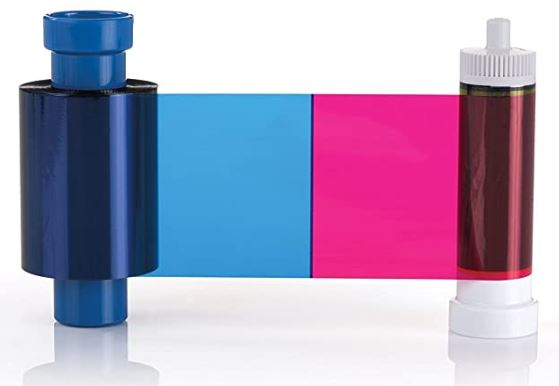 There are no advanced security features in the card printer. The cards themselves will be virtually impossible to modify, as is the nature of direct to card printing. Older card printers are susceptible to being 'washed' with nail polish remover, allowing people to remove an image and replace it with their own. This just isn't possible with this printer. However, there are no custom holograms or any other feature that would stop somebody else with a similar card printer replicating your design.
Card Printing Volume
If you're making color IDs, a single ribbon can create up to 100 ID cards. If you're only making black and white cards, you'll get 500 prints off of a single black ribbon. The hopper itself holds 25 cards at 30 mil each, which is the thickness of a standard credit card. You also have the choice of printing on 20 mil cards if you like, although those are much less common.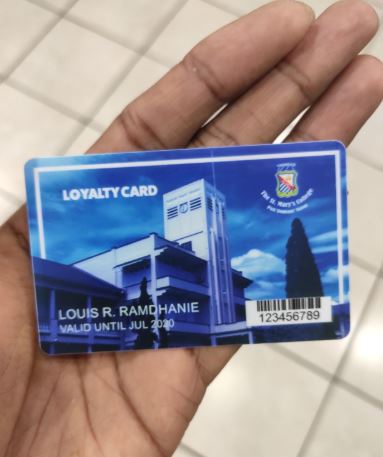 Each card takes a little under a minute to print, or roughly 45 seconds per side. The printer only does a single side at a time, so you'll have to flip over the card to print the other side once you're done. If you're printing the same back on each card, you can double the print time. But if you're making a custom back for each card, you'll want to budget about 3 minutes per card.
You'll have to load the template, print, remove the card, place it back in the hopper, and print it again. If you're a small business, a couple minutes isn't really a bit deal. But if you're a major company, then you'll want a faster printer.
Fargo HDP 5000
When it comes to ID card printers, Fargo has been the top of the pack for many years. Their card printers have been the first choice for government and corporate needs, selected chiefly for their reliability and high print quality.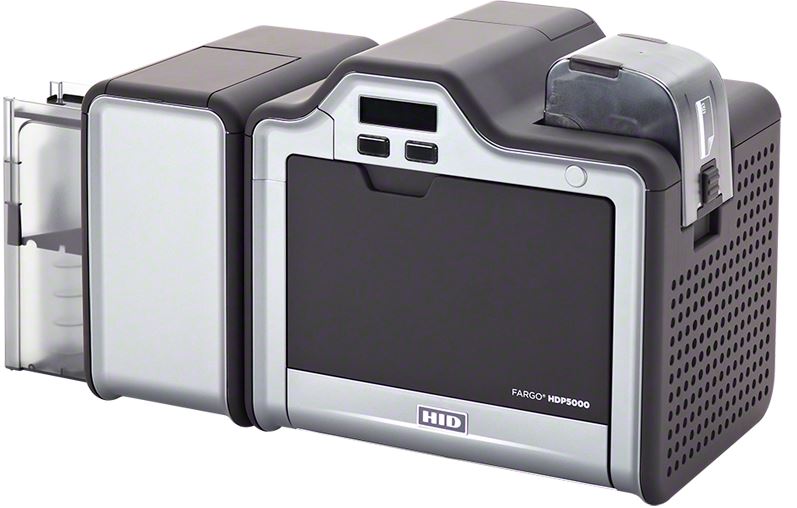 Print Quality
Although it's still only a 300 DPI printer, the Fargo HDP 5000 is one of the best-looking ID card printers on the market. It uses a technology known as dye sublimation to create the images. What this does is vaporize the individual pigments into the clear overlay, which it then lays down on top of the card. This is good for a few reasons. With most card printers, you're making multiple passes over the card. This means that even tiny alignment issues results in the colors not lining up exactly, making your print quality just seem a little off, like an old newspaper. But the HDP 5000 doesn't suffer from these issues thanks to the system they call "High Definition Printing."
Credential Security & Durability
The cards can be fully laminated, making them extremely durable. Even intentional scratching or damage would require a lot of force to remove the pigment from the card, so your prints will always look great.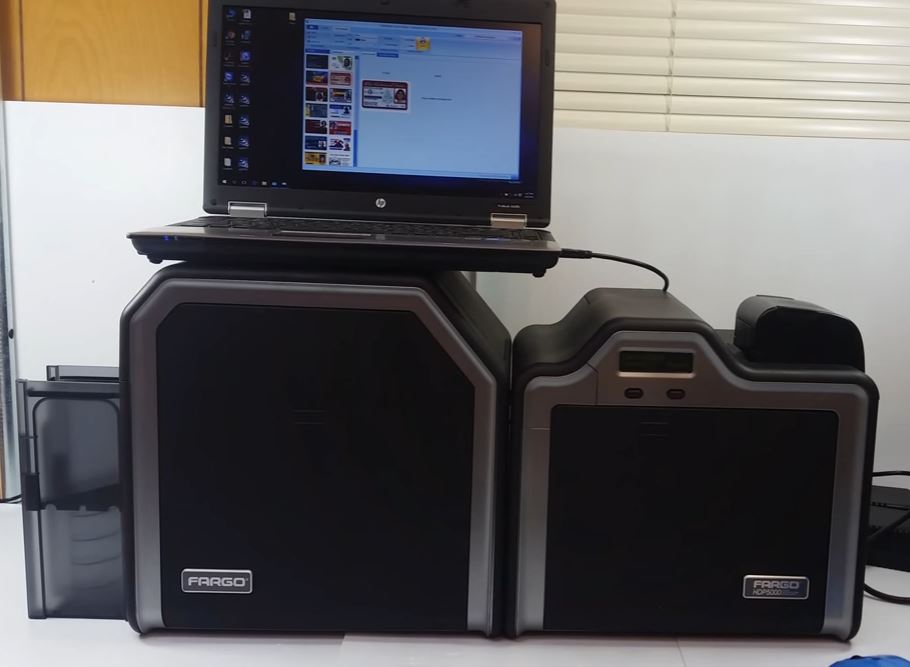 There are several key features that make this one of the most secure printers on the market. For starters, the print quality is so high that attempts to replicate your card would result in obvious distortion. The included software can help you use this to your advantage. It supports something called "microimages". You'll see these used all the time in currency and government IDs. What this means is the software will design an image that is specifically hard to scan. If anyone attempts to clone your IDs without having the original template, they'll be unable to replicate the exact look, even if they use an equally high quality printer.
The printer can encode smart cards or magnetic stripe cards. This lets you use proximity technology in your business security system, and encode all the cards on the fly. If you're using RFID, most of these cards come pre-configured. The HDP 5000 allows you to lock both the input and output hoppers, so your material is safe from theft.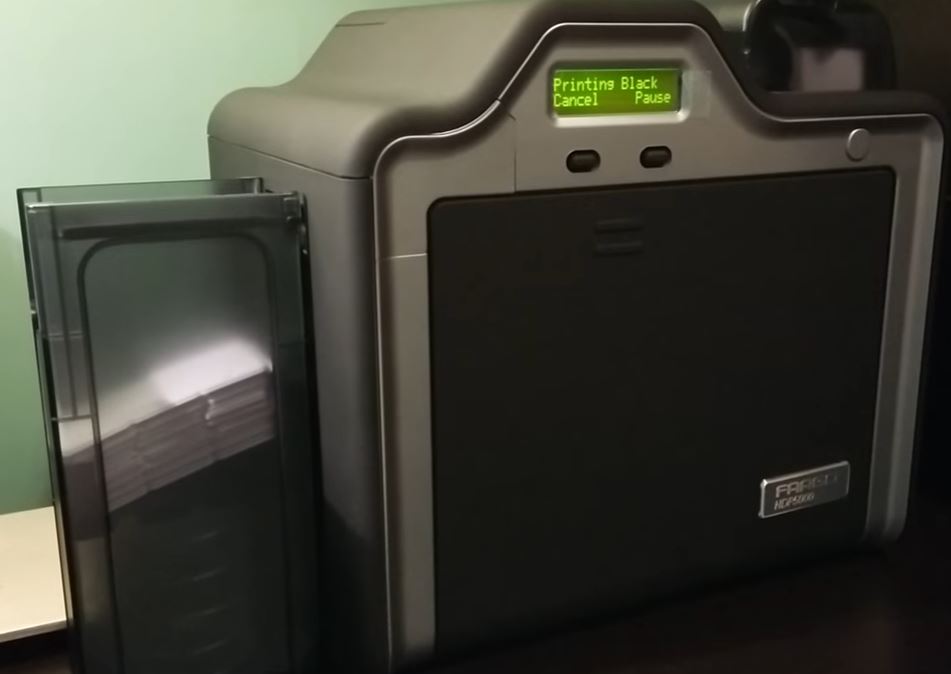 Card Printing Volume
The Fargo HDP 5000 can support batches of up to 200 cards at a time. It only takes 24 seconds per card, and can complete 150 cards in just a single hour of printing. If you're encoding the magnetic stripe, you'll add a couple seconds on to each card. But overall, you can have a pile of cards ready with just a few short moments.
Magicard Enduro 3e
Magicard produces high quality printers, with the added benefit of accessibility. This isn't just a card printer, it's an all in one security suite that provides your business with everything you need to start creating ID cards. This is the most popular of Magicard's products, and their inclusive kit is one of the first places you should look if you're new to the world of ID card printers.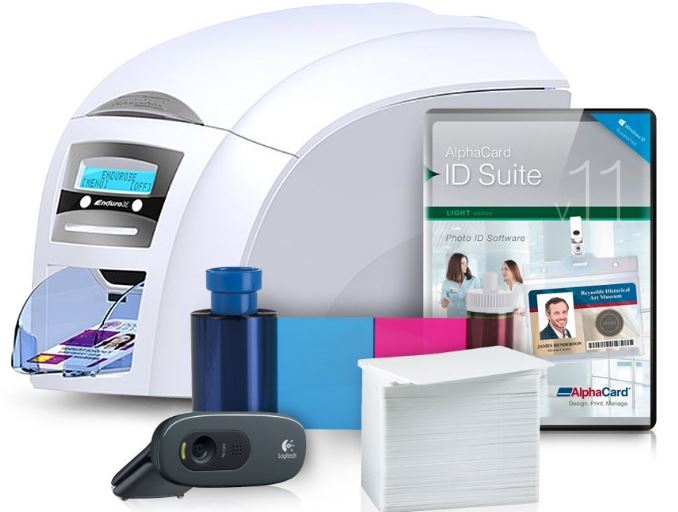 Print Quality
The Magicard Enduro 3e is a direct to card model, using the same CMYK ribbon used in other models. What makes it different from the competition is its unique color mapping technology. This uses and optical sensor to read the color that has already been placed down, so it will have better alignment than most direct to card printers. It also supports dual sided printing, so you won't lose any time having to flip the cards over and can create custom backs for each card.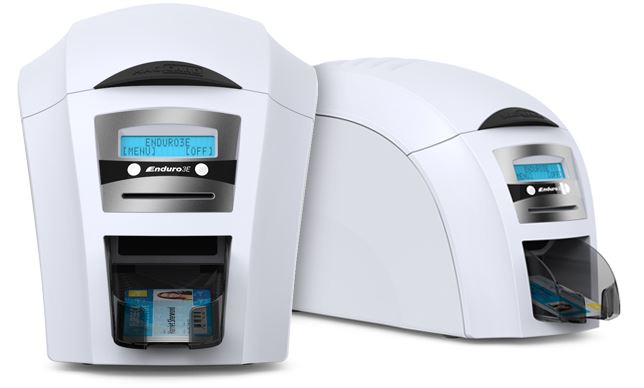 Credential Security & Durability
The most unique security feature we've come across is the Enduro's HoloKote. This is an anti-counterfeiting technology that makes it virtually impossible to clone the cards. HoloKote is a special segment of the ribbon that adds a laser etched hologram to each card. You can use the software to choose where and how the hologram is placed on each card. The nice thing about these holograms is that they can't simply be scanned and printed, they need to be ordered direct from Enduro. There is no additional cost per card, and yet it's one of the most secure options on the market outside of having custom holograms made.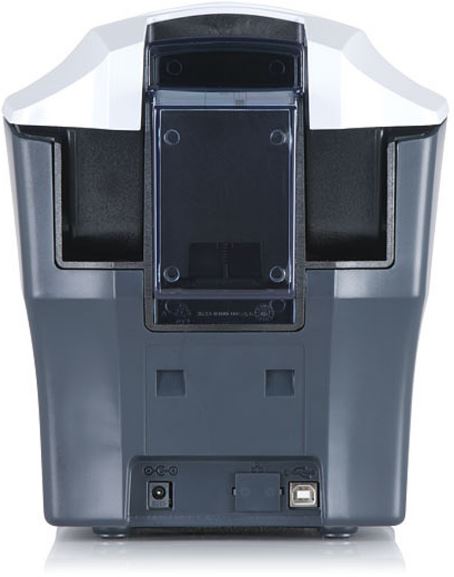 Card Printing Volume
The actual printing takes 35 seconds per card, putting it right in the middle of the other two models. If you're printing monochrome, you'll only need 7 seconds per card. Monochrome is often used for pre-printed applications. You'll get standardized cards, and just print the barcodes on them. Each ribbon can print 100 cards, and the hopper can hold 50 cards at a time. This makes it suitable for medium volume applications.
Which Plastic ID Card Printer is Right for Me?
When you're finding the right plastic id card printer for your business, there are few important factors to consider. For most people, it boils down to capacity, security, and ease of use.
Perhaps the most balanced of all the three models we've looked at today is the Magiccard Enduro 3e. This card printer includes a camera, and all the software you need to start making cards right away. There are plenty of premade templates available, so it takes no experience to get started.
Other users will be focused on security. In this case, there is no better option than the Fargo HDP 5000. While it's a little pricier, these printers have by far the highest print quality and the most advanced anti-copying security. These are the very same printers trusted by governments, so they're sure to be right for your business. Plus, they have the highest capacity of any printer, making them perfect for high volume users.
Finally, the Magicard Pronto is the recommended card printer for businesses who just need something simple and affordable. Although it seems to lag behind the others in terms of specifications, it's still a very high quality ID card printer. The cards look good, the system is easy to use, and it's still simple for you to get everything up and running. Most businesses don't have to worry about criminals attempting to counterfeit their cards, nor do they need fancy hologram systems. In this case, you can't go wrong with the Magicard Pronto.
Was this helpful? Please consider sharing: