The rise of the smartphone over the last decade has left many households in a predicament with their home phone line. Since most cordless phones are designed to stay in or around your home where they're restricted to landline use, you may be quite limited on how you receive or make calls. However, several cordless phones are now available that integrate a whole new realm of features.
With the ability to connect and sync directly to your cell phone, a Bluetooth-Enabled Cordless Phone is a better and smarter investment in 2017-2018. With this newest technology, the phones that we're going to cover today are all ideal for those who need to receive calls to your home, directly from your cell phone, or integrate other advanced features that are designed to make your life a bit easier.
Panasonic Link2Cell Bluetooth Enabled Phone
Allowing you to link up to two cell phones, the Panasonic Link2Cell Bluetooth Enabled Phone allows an easy and effortlessly integrate them into your home phone system using the latest Bluetooth and DECT 6.0 technology. Included with five cordless handsets and a base keypad, it also includes a built-in answering machine that's ideal for a wide range of situations – in the home, at the office, for your business, etc.

Link 2 Cell
Virtually any and all cell phones can be linked to the Panasonic home phone handset where you're then able to take advantage of all that Link 2 Cell technology can offer. Giving you the ability to make outgoing calls from your cell phone, with your home phone, it's specifically designed to open up a new realm of free movement with excellent coverage throughout your home.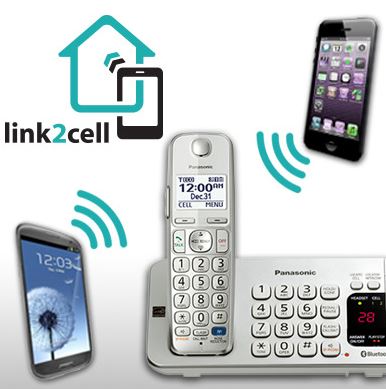 Talking Texts
One of the coolest and most sought after features it the Talking Text Sender Alerts that are available. When you're receiving an incoming call on your synced cell phone, the cordless handset will audibly announce the name and phone number with it's own text-to-speech ability. It'll read the name and number and make sure that you clearly and distinctively know who's trying to get a hold of you without needing to look at the screen.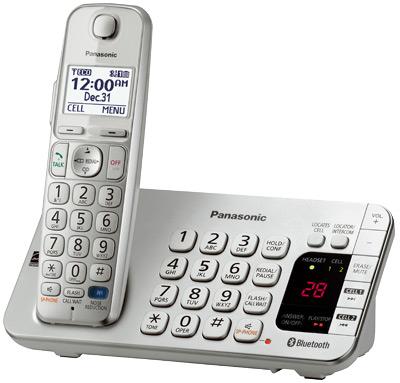 Great Design
With the included base station, you're presented with a wide range of buttons and functions that you can carry out at anytime. The Smart Function Key button is conveniently placed on the side of each handset in order to offer an easy, accessible solution for operating the phone with ease. With it, you can retreive voice mails, see what calls you've missed, configure alarms, etc.
Advanced TAD Functions
With the integrated answering machine, the Panasonic Link2Cell can be configured to immediately alert you of a new voicemail whether you're home or away. If you happen to be home, you'll hear an audible tone that beeps to give you an indication that you need to check your answering machine. If you happen to be away from home, your cordless phone will automatically send a short message to whichever connected cell phone or office phone that you'd like to give you a heads up.

Noise Reduction
The fact of the matter is, nobody likes to be distracted by background noise and chatter. Utilizing the latest in enhanced noise reduction, this cordless phone automatically suppresses unwanted grey noise that can become a distraction for you or the other person on the end of the line. In addition, it'll automatically enhance your voice so it comes off as clear and coherent at all times.
VTech DS6671-3 Expandable Cordless Phone with Bluetooth Connect to Cell
Designed specifically to make phone calls a much better experience, the VTech DS6671-3 Cordless Phone is an expandable system that packs a wide range of user-friendly features. Incorporating Bluetooth Connect to Cell technology, it offers a synced connection with any cell phone so you can make or take calls from anywhere in your home. Packed with two handsets, a hands-free headset, and the latest DECT 6.0 standard, you're assure clear and high quality calls with perfect sound.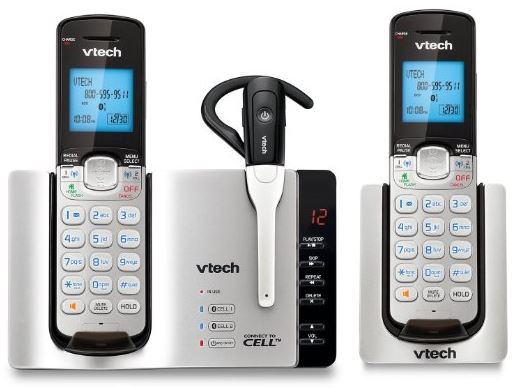 Mobile Notifications
Once you've paired your cell phone with the VTech DS6671-3, you're given the option to receive mobile notifications no matter where you are. Once your mobile phone receives a text message, email, or any updates, you can be notified immediately through your home phone system. Each handset can be configured to beep and display all of the details of the notification so you're always in the loop, even when you may not necessarily be right next to your cell phone. Additionally, users can opt to receive important reminders regarding events or plans that you've made on your calendar.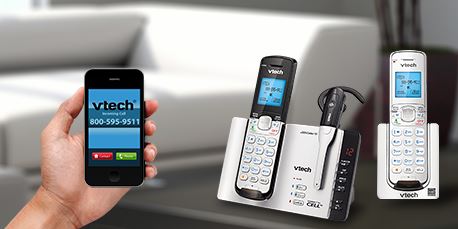 Virtual Multiple Lines
Since you can pair two cell phones with your cordless phone system, you can theoretically use your phone as a multi-line system. It gives you the ability to make and receive phone calls for multiple phones, all at the same time. The simultaneous use can bring a new element of production to the tablet if you are thinking about upgrading your office or work phone to a Bluetooth enabled cordless phone like the VTech DS6671-3.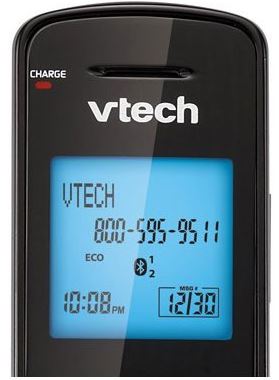 Share Ringtones
Nobody likes those old and boring ringtones that are drastically outdated. You have the ability to have your cordless phone play virtually any ringtone from your iPhone so you can add a new flare to your incoming calls and distinctively tell which phone line is receiving an incoming call.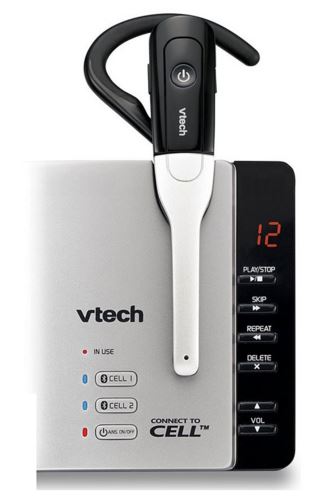 Hands-Free Headset
Included is a hands-free headset that allows you to freely move about your home or office without using your hands on the phone. It attaches comfortable to the ear and pairs with the base station for a true cordless, hands-free experience. Most phones don't come with an added bonus like this, so it's nice to see a great deal of value included.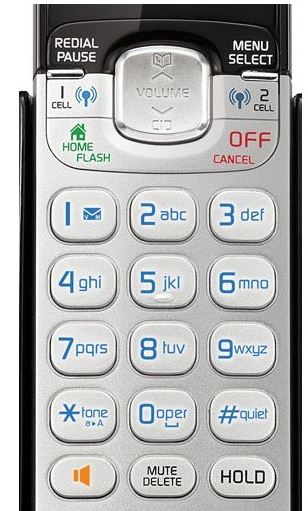 Excellent Design
With an easy to read, blue backlit screen, you'll never have a tough time determining what number is calling you with the VTech DS6671-3. The LCD screen provides a clear and bright background to contrast well over the dark letters that indicate everything you need to know to properly use the phone to it's full functionality.
AT&T TL96273 Connect to Cell Expandable Cordless Phone
Designed specifically for users who need to improve their at-home or at-work communication, the AT&T TL96273 Connect to Cell Expandable Cordless Phone offers a wealth of features that incorporate up to two cell phones and one landline into a single, easy to use system. Featuring Connect to Cell technology with Bluetooth integration, you'll achieve all the comforts of using a standard cordless phone while being able to use your cellular phone plan.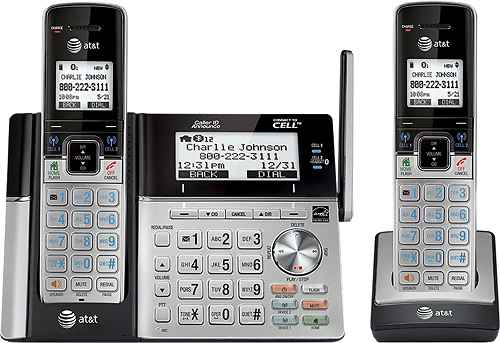 Connect to Cell
AT&T made it easy to make and receiving your incoming cell phone calls with the TL96273. Within a couple of minutes, you can pair your mobile phone and manage all of your calls using your cell or home phone – the choice is yours. Best of all, the mobile notifications allow you to get instant insight when you have a new email, new text message, or a notification from your favorite social media site like Instagram, Facebook, Twitter, Pinterest, etc.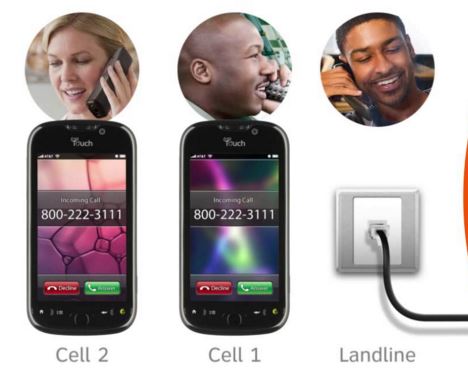 Virtual Multi-Line
Since you're given the ability to pair two different cell phones at once, and use your landline too, you can make and receive calls from three seperate numbers at once. This virtual multiple line system offers a great option for a busy household who's constantly receiving calls to multiple numbers. Paying for additional lines could potentially be a thing of the past with a feature like this.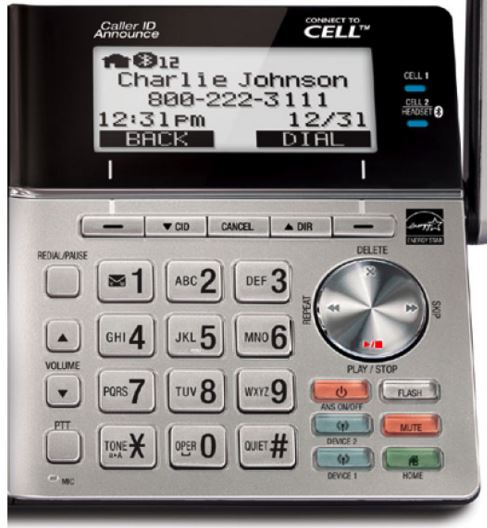 Excellent Range
Equipped with one of the most powerful antenna/amplifier combinations, the TL96273 from AT&T offers some of the best wireless range that we've ever seen. Ideal for large houses, it uses an advanced and totally unqiue antenna design to send a clear signal to all areas of your home. Additionally, the noise-filtering technology keeps it from becoming distorted, blurry, or inaudible the further you walk away from the base station.
Phone Book Directory
Many people keep all of their contacts on their cell phone, but it leaves you with the issue of not having all of your numbers readily available on multiple phones. AT&T designed the TL96273 so you can download and intake up to 6,000 individual phone book entries so that they appear on your cordless handsets. This allows you to have all of your friends, family, and important contacts alays readily accessible from your cordless phone, without having to reach for your cell phone and cross-dial.

Caller ID Announce
When you're receiving an incoming call, it'll audibly announce who's making that call. You'll then have a clear indication as to who's calling you and if you truly want to answer it. Surprisingly, the text-to-speech technology seems to be on-key and work excellent for exactly what it was intended to do. Great work AT&T!
Final Words
By linking your cell phone to your cordless phone at your home, office, or workplace, you can potentially open up a whole new realm of possibilities. Making and receiving calls from your cell phone using Bluetooth, having three virtual lines, and pairing your very own cordless handset allows you to boost productivity and overall ease of use throughout your home or office.
Each one of the options we've covered integrate their very own digital answering system, since this is a very standard feature to have. We didn't go into the specifics of each answering machine since they're all fully capable and roughly the same.
However, either one of the three Bluetooth-enabled cordless phones that we've reviewed are excellent options for those who need one in 2020. Which one will you choose?