Bluetooth hearing protection headphones have been gaining popularity in recent years, and for good reason. They're designed to protect your ears while also allowing you to listen to music or make phone calls utilizing their Bluetooth connection. People who work in construction, manufacturing and agriculture, where loud machinery and tools are often used, find them especially useful.
But it's not just individuals working in these industries who can benefit from these headphones. They're also great for anyone who prioritizes their hearing, whether at a concert, a sporting event or even while mowing the lawn. The ability to block out external noise while still being able to hear music and other audio can be a game changer.
With so many options available, it can be overwhelming to sift through and find the perfect pair. Today we're going to showcase our top picks for the best options currently on the market.
Selecting Bluetooth Hearing Protection Headphones: Factors to Consider
Noise Reduction Rating (NRR): This is a measure of how well the headphones block out external noise. Make sure to look for headphones with a high NRR but not so much as to negatively impact your situational awareness.
Bluetooth Connectivity: Make sure the headphones you choose have Bluetooth connectivity and are compatible with your devices. Cheaper options will opt for an older iteration like Bluetooth 4.0. If at all possible, go for headphones that use 5.0 or higher.
Comfort: They should be comfortable to wear for long periods of time, with adjustable headbands and ear cups.
Battery Life: Look for headphones with a long battery life so you don't have to worry about them running out of power while you're in the middle of working.
Durability: You'll want a pair that's built to last and can withstand the rigors of use in a variety of environments. You should make sure that the materials are high quality and that the overall construction is quality.
Noise Reduction: Plush earpads are an excellent choice for passively reducing background noise and cancelling it out altogether.
Audio Quality: Good audio quality is important so you can enjoy your favorite music or other audio without disappointment. Don't accept subpar audio just because they're safety-oriented headphones.
Additional Features: Some headphones come with additional features like an LED indicator, voice prompts, and touch controls for easy operation. You'll have to decide which features are most important to you.
Cost: Bluetooth hearing protection headphones can range from affordable to expensive. Decide which features are critical and which you can live without. You may need to find a balance between cost and a feature set that prioritizes what you want the most.
It's important to note that not all Bluetooth hearing protection headphones are created equal, and what may be the best option for one person may not be the best option for another. Whether you're looking for a top-of-the-line option or a more budget-friendly option, let's take a look at our top picks in all these categories.
Best Overall: PROHEAR 037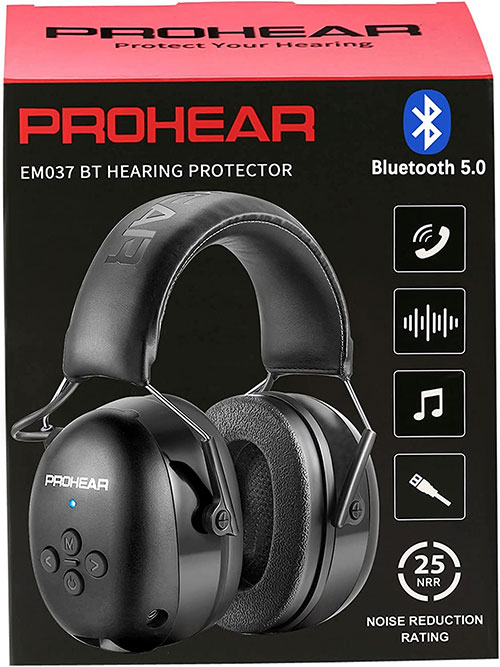 Key Features:
Bluetooth 5.0
NRR 25dB.
Hands-free calling.
1100mah lithium battery.
Total weight: 1.1 lbs.
The ProHear 037 is a well-rounded hearing protection headphone that delivers on all fronts without overpromising. The price falls within the average range, making it a budget-friendly option if you work in demanding environments. Even though you still have to make an investment, the fact that they're not extremely expensive is a plus.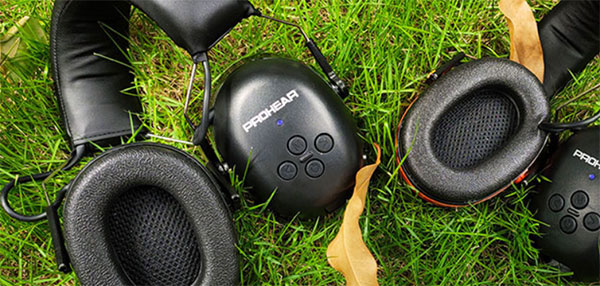 Most hearing protection headphones are fairly heavy because of the form factor, protective materials, and/or a large battery. However, the ProHear 037 stands out, weighing in at 1.1 pounds, which is significantly lighter compared to other models we tested.
This is a big advantage if you move your head a lot while working, reducing neck strain. The ear cups are made from durable materials and can easily be replaced, which contributes to the longevity of them.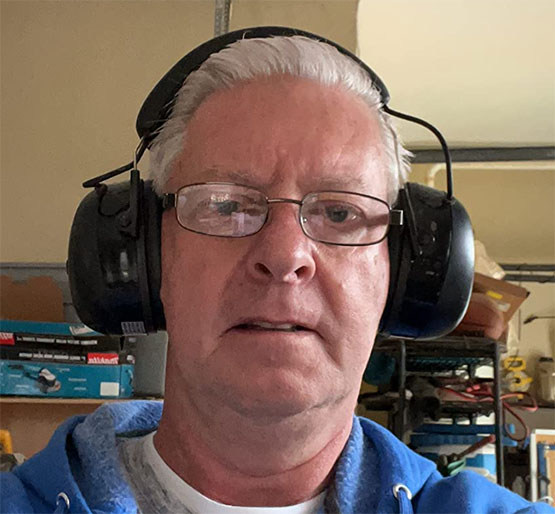 However, some reported that the ear cups felt less comfortable or didn't conform well to their ears when exposed to low temperatures. In this case, upgrading to gel-based ear cups might be a better option. Overall, the ProHear 037 does a solid job of sealing your ears and blocking out background noise.
The brand claims up to 40 hours of playtime, but in noisy environments with the volume turned up, our team got an average of 29 hours per charge, which is still impressive. The build quality is above average, made from ABS plastic and relatively high quality materials that can withstand heavy use without showing much scuffs or damage.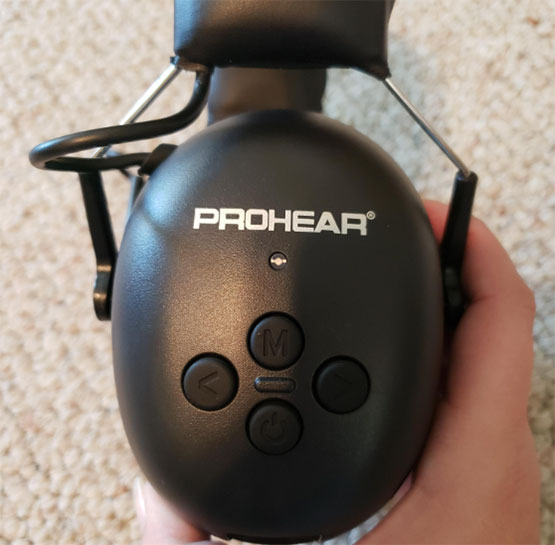 The only downside is that the adjustable band holds a lot of tension, initially putting some pressure on your head. However, it does become more comfortable after a few uses. Many users also comment on how comfortable they are for extended wear.
These headphones are fully wireless but you also have the option of using a wired 3.5mm auxiliary connection, if desired. The real star of the show here is the Bluetooth 5.0 technology, which is much improved when compared to older versions of Bluetooth in terms of connectivity, minimal lag, and interference.
The ProHear 037 is rated with a NRR of 25dB, which is one of the best in its price range and category for blocking out noise. This rating was even confirmed by multiple third parties. In practical terms, they perform well against loud noises while providing great sound quality for music. In fact, music sounds surprisingly well, with relatively deep bass and clear highs and mids.
What We Liked:
Bluetooth 5.0 dramatically improves connectivity and transmission.
Good audio quality for music.
Available in a few different colors.
Comfortable for extended use.
Effective voice isolation for phone calls.
Long battery life.
What We Didn't Like:
Customer support can take time to respond.
Best High-End: 3M WorkTunes Connect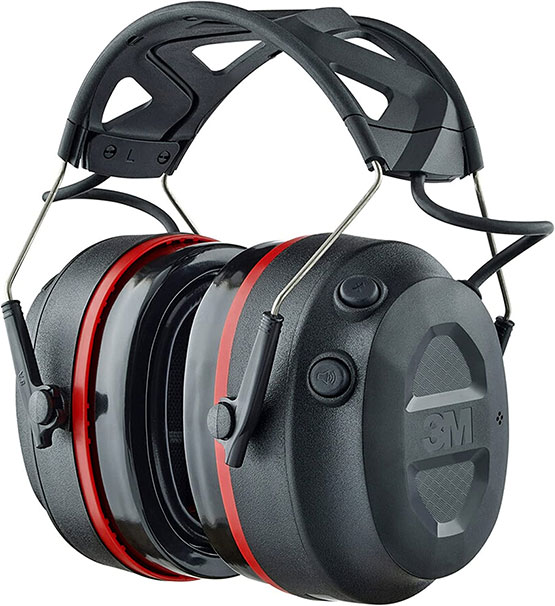 Key Features:
Bluetooth 5.0.
NRR 26db.
Gel cushion material.
Hard-hat compatible.
Vented headband.
Auto shutoff feature.
External microphones.
Total weight: 1.98 lbs.
The 3M WorkTunes Connect is a high-end option for those who want excellent quality in convenience and safety in their protective headphones. It has a robust and industrial look, with a surface finish that makes it highly resistant to scratches. Best of all, the thinner, vented headband design is optimized to be worn in conjunction with a hard hat. This is a departure from the more traditional padded headbands and may work better for some users.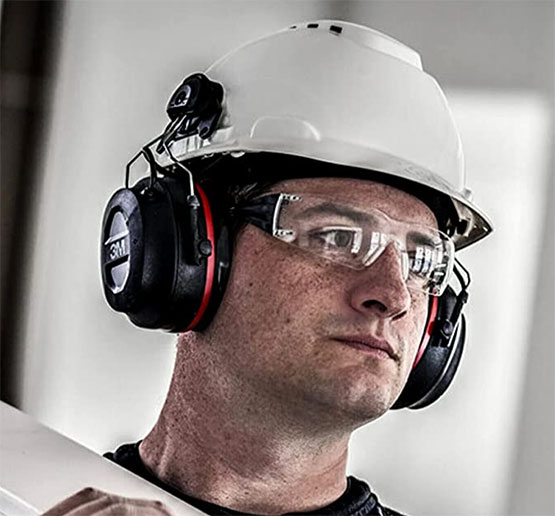 One of the best things about the 3M WorkTunes Connect is that it has multiple external microphones that let you control how much outside noise gets in. This lets you stay aware of your surroundings while still enjoying your music, at the ideal level. This is especially useful for team communication.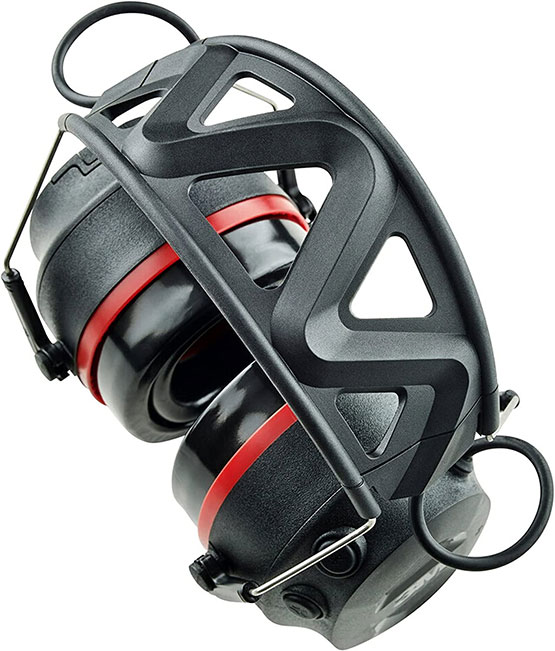 Additionally, the hands-free calling feature is designed to work well in collaboration with other team members. During setup, the instructions for how to talk to other team members were a little hard to understand, but the audio assist feature helped.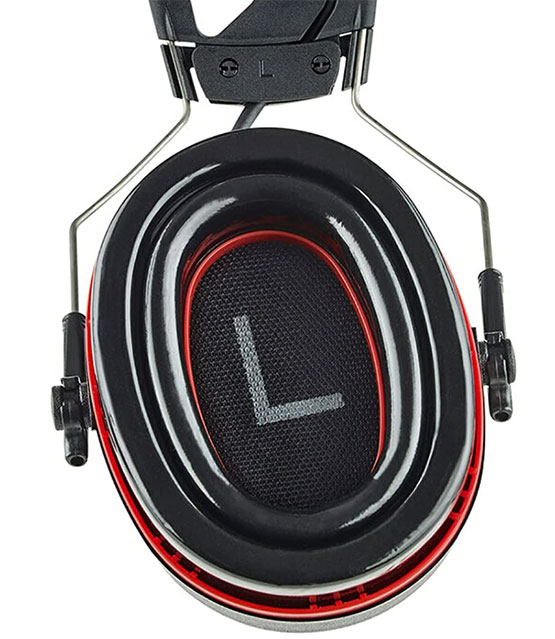 In terms of sound protection, the WorkTunes Connect has an NRR rating of 26 dB, making it one of the best for truly protecting your hearing. We found that the Bluetooth 5.0 connection performed extremely well with no disruption and fantastic wireless range up to 80 ft in ideal conditions. The mic placement is ideal for high-noise and windy environments. They're set back, which makes a difference in creating an isolated soundstage for both music, phone calls and person to person communication.
The ear pads are made of gel which is said to offer the best comfort out there. In fact, we found this material easily conformed to the contours of the head while offering a much more comfortable experience than other materials like PVC leather or foam.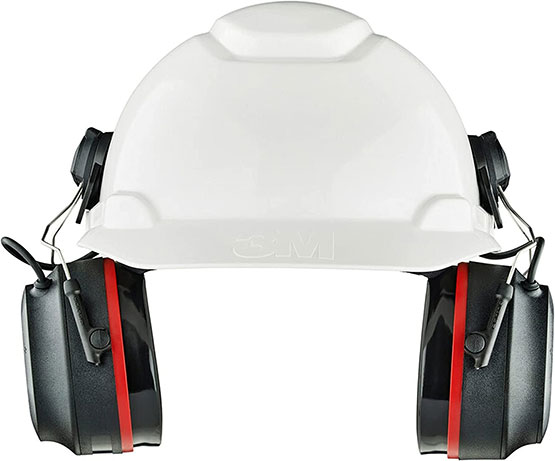 Overall, we feel that the 3M WorkTunes Connect is a great investment, despite its somewhat high price tag. It works well in all regards, provides suitable comfort and has a high-end look and feel that anyone can fall in love with.
What We Liked:
Premium, scratch resistant materials.
External mics provide an added layer of safety.
Secure fit that's optimized for use with hard hats.
Microphones work well for noisy environments.
Gel ear pads are extremely comfortable.
What We Didn't Like:
A bit more expensive than others.
Best Runner-Up: ZOHAN EM037
Key Features:
Bluetooth 5.0
NRR 25db.
Voice assist.
LED power indicator.
Thick, padded headband.
Total weight: 1.1 lbs.
The Zohan EM037 is a solid runner-up in the world of protective headphones. As a nearly identical model to the PROHEAR, they stand out for their strong features and performance, making them an excellent alternative.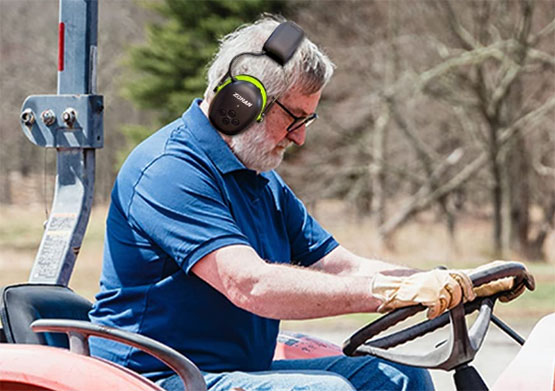 They utilize Bluetooth 5.0, which as we've discussed, is known for having a longer range and less interference. During testing, the Zohan's claimed range of 80 feet didn't quite reach that, but it still performed well even with obstacles between the headphones and the paired device.
The audio quality of the Zohan EM037 is quite good, with a slightly stronger emphasis on low frequencies. The noise reduction is effective and boasts a similar NRR25 rating, although it's not third-party verified like the ProHear 037. The microphone's sound isolation is acceptable and tends performs decently in noisy environments.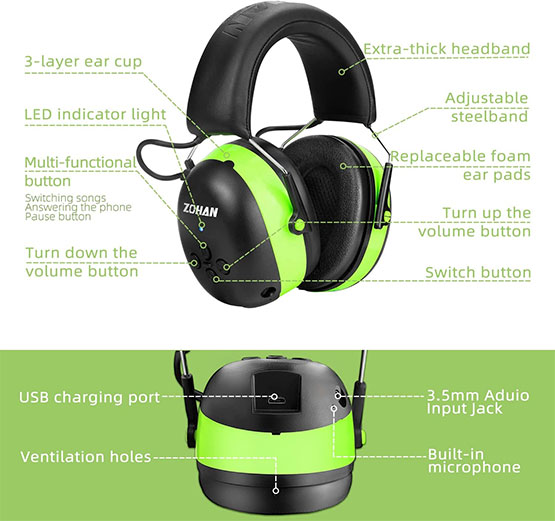 The battery life is about the same as that of the ProHear 037. However, it only takes 4 hours to fully charge, which ultimately makes it easier to re-charge when needed.
The shape of the ear cups and the thickness of the headband seems to be a bit more rounded and thicker, respectively, than the ProHear 037. While this makes the headset more comfortable, it also makes it slightly more unwieldy to move your head around, but not really by much. The ventilation holes do a good job of preventing moisture buildup from sweat, keeping them cozy in warm climates.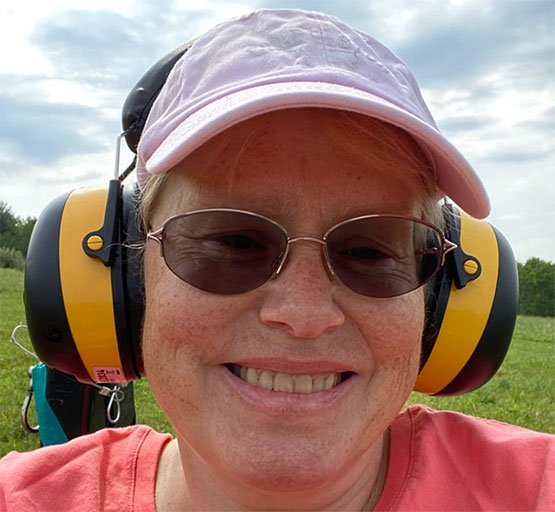 Controls are easy to access and have a satisfying, tactile feedback that works well, even while wearing gloves. Overall, we feel the Zohan EM037 is a strong runner-up with excellent features and battery life, making it a solid option.
What We Liked:
Solid Bluetooth 5.0 performance.
Available in a variety of bright colors.
Headband feels ultra plush.
Comes with a carrying pouch.
Great wireless range.
Fast recharge time.
Accessible price point.
What We Didn't Like:
Thick headband may not be for everyone.
Best Budget: DISON Bluetooth Safety Headphones
Key Features:
Bluetooth 5.0
NRR 29dB.
Hands free calling.
Total weight: 12.3 ounces.
The Dison Bluetooth Safety Headphones are our top pick as the best budget option for several reasons. First, the Bluetooth 5.0 technology generally provides a high-quality, stable, and fast connection. We had very few issues and felt the performance on this front was very comparable to higher-priced options. During our tests, the wireless connection worked very well, with clear transmission and no noticeable lag during music listening and phone calls.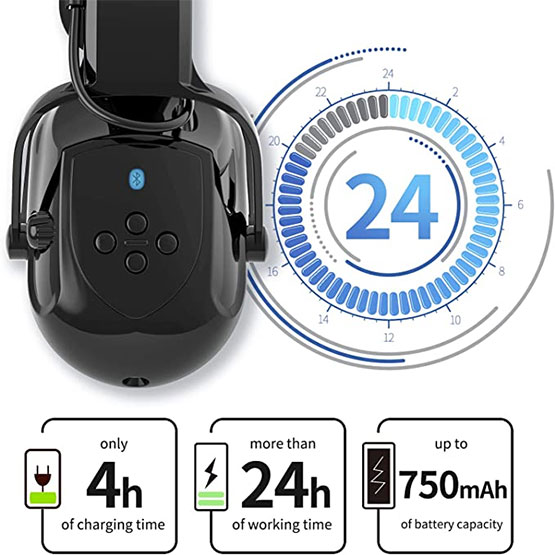 An advantage of the Dison is the inclusion of a 3.5mm corded option, which allows users to listen to audio with a wired connection. This can be useful when you don't need the portability of battery power, or if you accidently forget to charge them. The hands-free calling feature works effectively. Best of all, you can use the exterior controls to manage calls and volume.
While the Dison is an affordable option, there are some trade-offs to be aware of. For example, the ear cup material is comfortable but lacks good ventilation that's found in other models. In addition, the adjustable headband doesn't have much padding, which could be uncomfortable for some people with differently sized or shaped heads. However, it does make it compatible with hard hats.
The exterior of the Dison is made of cheaper plastic, which is not as scratch-resistant as other models. In our opinion, this should be expected at this price-point. And while the ear pads seem to do a good job at keeping out background noise, they're not quite as cozy as more expensive models.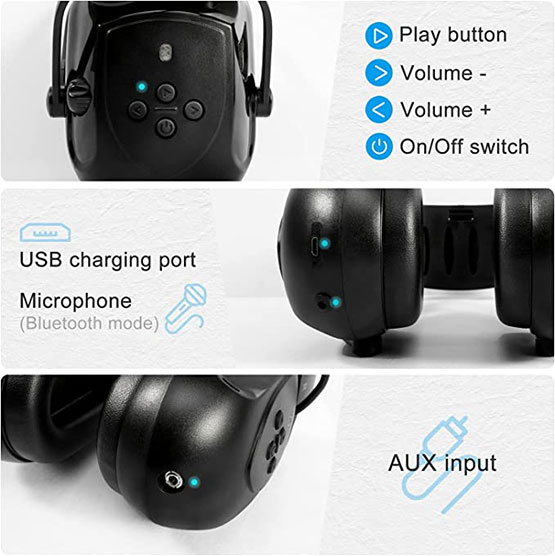 The NRR rating is 29 dB, which provides good ear protection. However, it does not have external microphones like the 3M, which could limit situational awareness. This may be acceptable for low-impact activities like lawn mowing but may not be ideal for working environments with multiple people.
Overall, we feel that the Dison Bluetooth Safety Hadphones provide a good balance of features and value, making them a good choice for those on a budget. Just be aware of the few trade-offs and you should be good to go.
What We Liked:
Affordable price.
High NRR rating provides great noise reduction.
Lightweight design.
Speaker quality is good.
Hands free features are easy to use.
What We Didn't Like:
Exterior tends to scratch easily.
Feel a bit cheap.