Kingslim D6
Pros
340-degree monitoring.
Built-in battery for parking mode.
Adhesive and suction cup mounting options.
Beautiful 4K video quality.
Installation is simple.
Cons
App connection is finicky.
Adhesive mount bracket has a limited range of motion.
You really can't be too careful on the road these days. We're not just talking about driving safely and wearing your seat belt. Insurance scammers are everywhere, and the last thing you want to do is to fall victim to one. There are many types of scams, but most of them involve a fake "witness" who can back up the scammer's story. If you don't have a witness of your own, you can end up becoming a victim.
A dash cam can be your best defense against scammers. With video evidence, you'll be able to prove who was at fault. Hopefully for your insurance premium, it was the other driver. If you're a rideshare driver, it's also helpful to have an interior camera. That way, you'll be protected from false claims by problematic riders. If audio recording is legal in your state, it's even better to have a microphone.
We're about to review the Kingslim D6. This is a windshield-mounted dash cam that records both in front of your vehicle and inside the cabin. It's easy to set up, and the forward camera records in full 4K. But those are just a few features. To truly understand whether this is a worthwhile camera, we'll have to dig a lot deeper. After that, we'll know enough to make a fair judgement. Let's get right into it.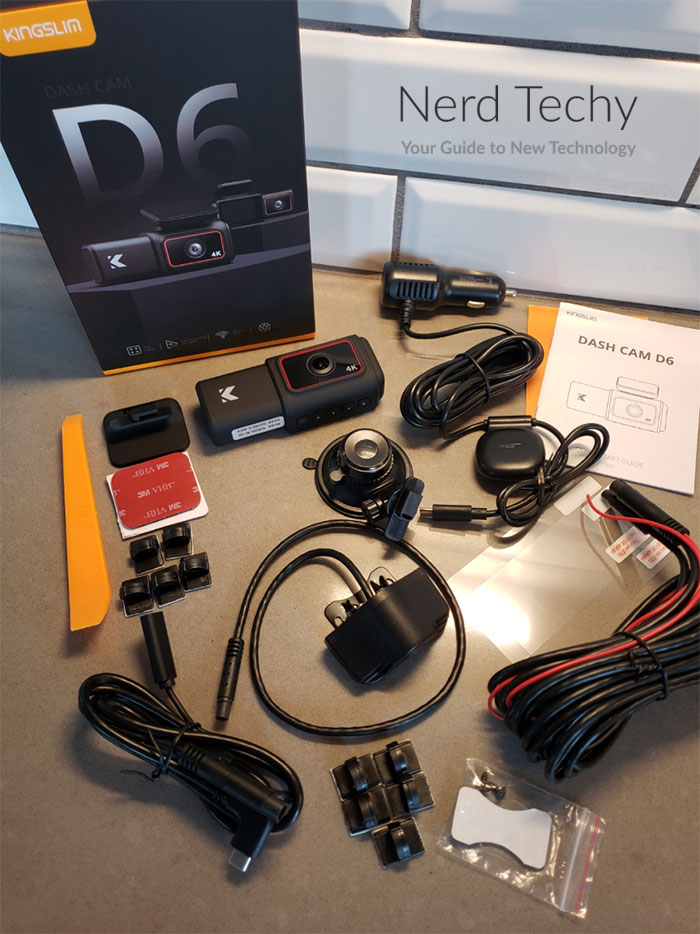 Overall Design
The Kingslim D6 4K Dual Dash Cam is a compact little camera that won't block your view of the road. It measures just 1.1-inch tall, with a width of only 3.9 inches.
That's fairly broad compared to the height, but no matter how you cut it, it's a very small camera. It's constructed from black plastic, with a satin finish that's easy to keep clean. It attaches to your windshield via a set of top mounts – either an adhesive one or a suction cup.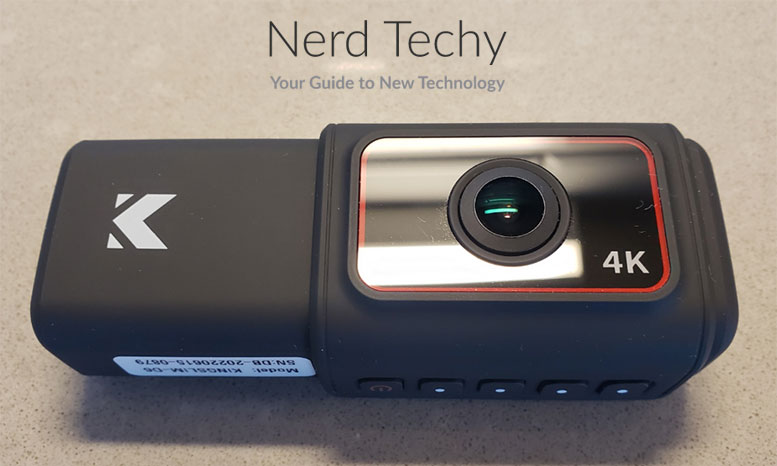 The housing has a two-sided design. The main camera housing is located directly under the bracket. It has a large rectangular panel around it with a bright red border, and a white "4K" imprint at one corner.
On the front of this part of the housing is an LCD display. This shows your current camera view, as well as video that you've already recorded. It's pretty small, but that's not a big deal. It's not like this is a backup camera where you need to have a great view while you're driving. In fact, a bigger screen might be a distraction.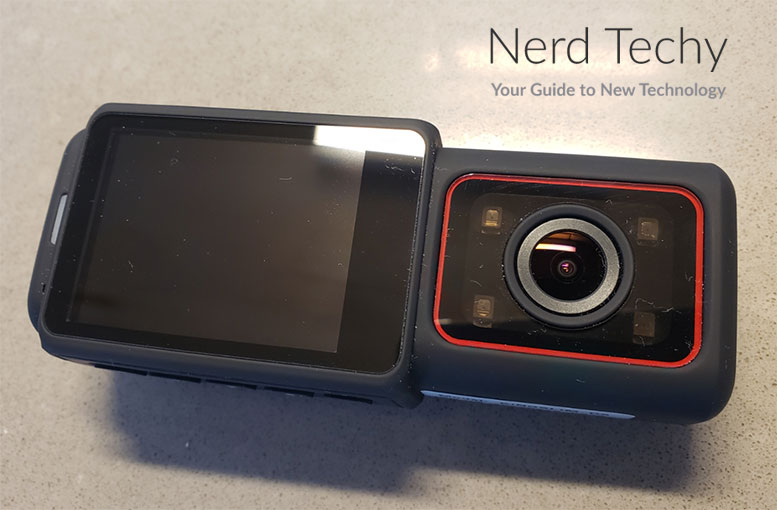 The other half of the housing protrudes from the side of the main body. This houses the interior camera, which is slightly smaller than the main camera. It's also bordered by a bright red band, which lets passengers know they're being recorded.
We liked the fact that it's highly visible. For rideshare drivers, this is incredibly useful. Far better for passengers to behave themselves in the first place than to deal with a dispute after the fact.
Kingslim backs their dash cam with an 18-month warranty. If there are any defects in parts or labor, you'll be covered.
Control Functions
There are two ways of controlling the Kingslim D6. First off, there's a set of physical control buttons along the bottom edge. They're made of black plastic similar to the main housing, and they provide good tactile response. You can use them to perform many functions.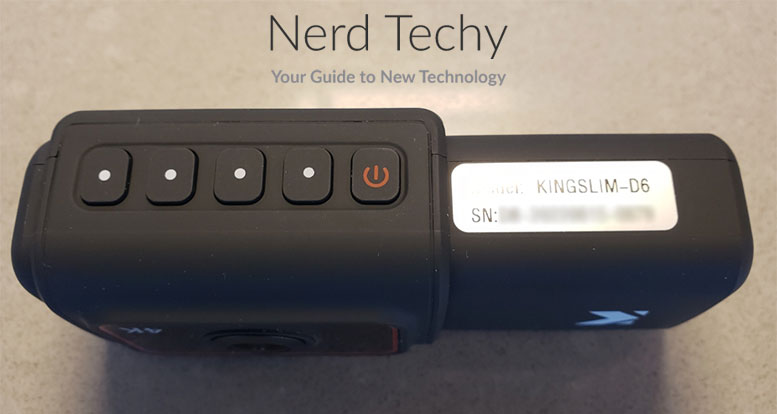 To begin with, you can change the view on the LCD display. It can show the front camera, the interior, split screen, or stay off altogether while you're driving. You can change your camera's settings. For example, you can activate or deactivate parking mode. You can also turn audio recording on or off.
Most importantly, you can use the controls to review your recorded footage. This is helpful in the event of a crash, but it can also come in handy if you don't want to mess around with the app.
Speaking of the app, the Kingslim D6 functions as its own WiFi hotspot. You can connect your phone to it as if it were a wireless router. Using the Kingslim app, you can then take full control of the camera. You can turn audio on and off, change the parking settings, and activate and deactivate alerts.
The one thing we didn't like is that the 5GHz connection is finicky. It randomly disconnects from time to time, which can get annoying. To get the best results, turn off your data connection and don't use a VPN.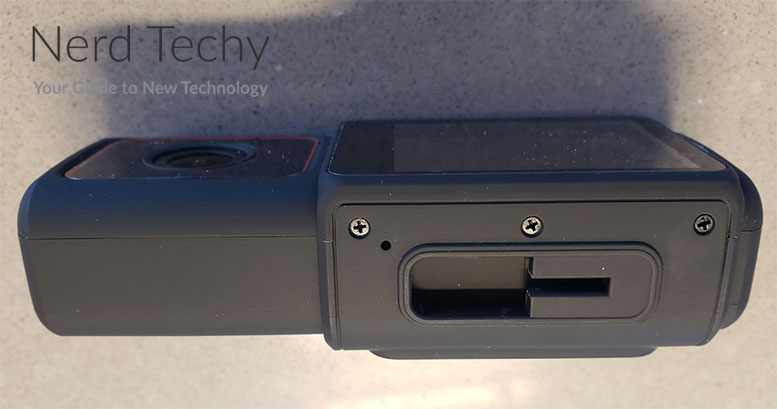 Installation
One thing we liked about this camera is how easy it is to install. It clips into one of two mounts. The first is an adhesive mount with a peel-away backing. Just clean your windshield with some alcohol, remove the backing, and secure it in place. Then clip the camera into the mount. Make sure you know you're in the right spot before you attach the bracket.
Once it's secure, it can be very difficult to remove. All in all, the mount works well. However, the hinge has a limited range of motion. On very steep or very shallow windshields, this could end up being a problem.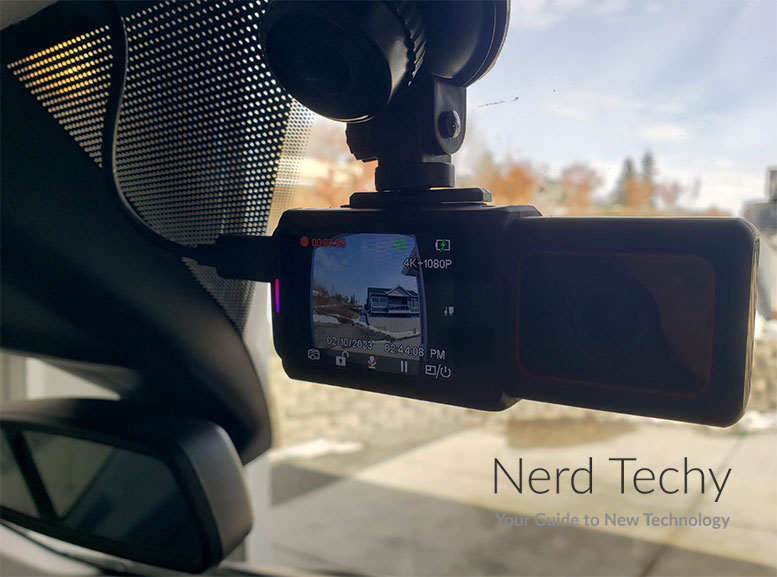 The suction cup mount is a nifty alternative. Like all suction cup mounts, it can vibrate loose under extreme conditions, but it has a wider range of movement. Even better, you can use it to switch the camera between cars. If you own multiple vehicles, you won't have to order multiple dash cams to outfit all of them. Regardless of which option you choose, installation is quick and painless. Just hang up the camera and plug it into your car's power socket, and you're good to go.
Kingslim plans on releasing a rear camera in the near future. This camera is designed to mount in your rear window and attach to the front camera. It's capable of recording in 2K, and provides a full view outside the back of your vehicle. Of course, it's never wise to buy a product because of planned future features. But this is something that's still worth keeping in the back of your mind.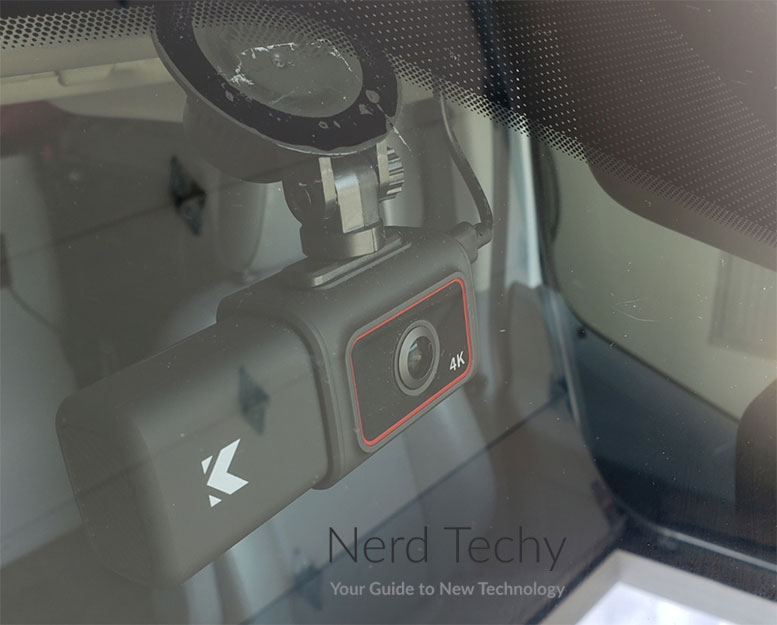 There's a built-in battery for parking mode. However, the battery only lasts for a few minutes. It's fine if you're running into a store to grab a few things. But for anything more than that, you're going to need a hardwiring kit. Kingslim doesn't seem to manufacture one, but it's compatible with any USB Type-C hardwiring kit.
Video and Recording
The front camera captures video in 2160p, or full 4K. You're getting four times the pixels of 1080p, which provides more than enough detail. You'll even be able to read license plates at an impressive distance. The 30 FPS framerate isn't impressively fast, but it's not too slow, either. It's not like you're playing a video game. The rear camera records in 1080p at the same framerate.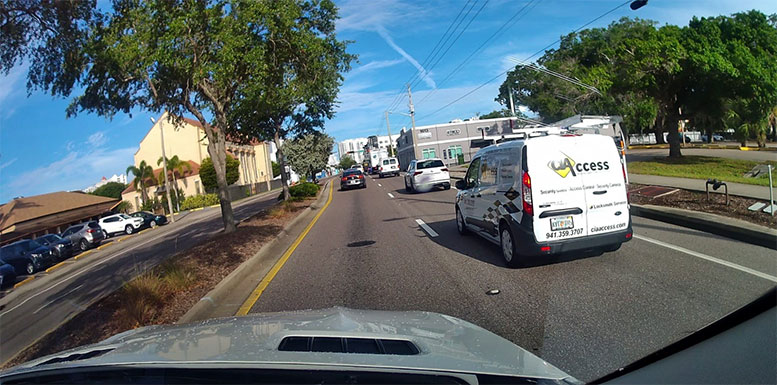 Both cameras capture bright, vibrant color by day or night. It looks very good, but keep in mind that color night vision technology requires a bare minimum of ambient light. The glow of your headlights will be more than enough. But if you're in pitch blackness, the night vision won't work.
You also get the benefit of a 170-degree field of view, both on the front and the rear cameras. In total, this provides a 340-degree field of view. Your only blind spots will be a tiny 10-degree wedge to either side. Remarkably, there's no fisheye effect. Videos don't look like they're stretched or warped like some wide-angle cameras will do.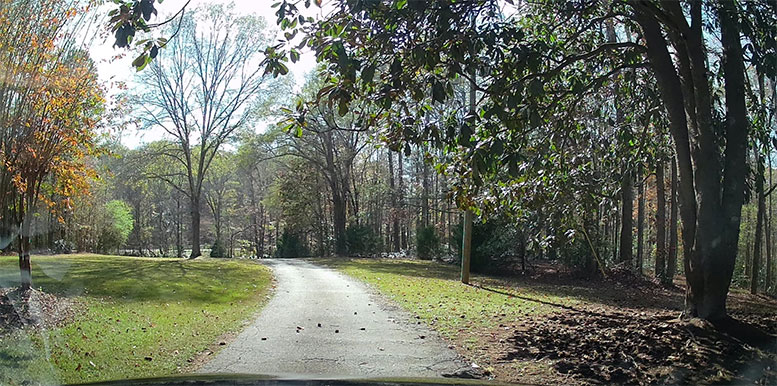 As we mentioned, the Kingslim D6 is also capable of audio recording. Be aware that some states ban audio recording if all parties are not aware they're being recorded. Make sure to turn off the microphone if you have to in order to comply with state law.
The camera has a built-in G-sensor that detects shocks. When it feels like you've been in a crash, your video will automatically be locked into memory. This will be retroactive several seconds before the crash, so you'll capture the entire accident.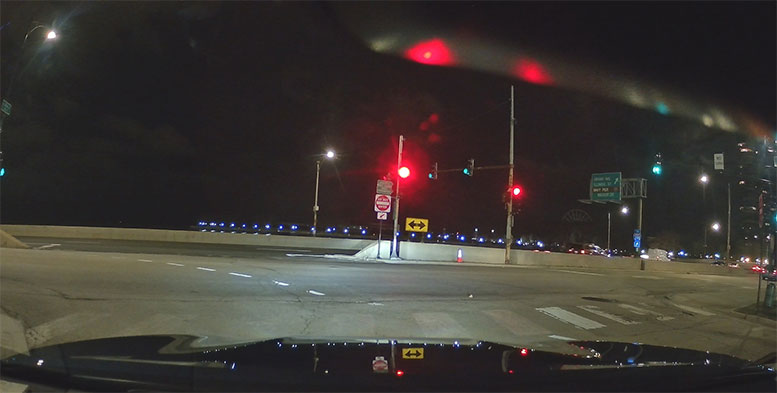 There's also an anti-fatigue warning that you can turn on or off. It will beep at a set interval – either 1, 2, or 4 hours – to remind you to take a break. This feature can come in handy if you spend a lot of time on long road trips.
Storage and Monitoring
The Kingslim D6 doesn't come with any on-board storage, which is pretty common for today's dash cams. Instead, it accepts a Micro SD card, and supports up to 256GB of capacity. Be careful, though. Cheap cards will wear out quickly with constant writing and overwriting. You'll be well served to spend a few extra bucks on a good quality SD card.
The camera records all your footage using a loop recording method. This means that the oldest video is constantly overwritten by the current video. The only exception is video that has been locked into memory. You can delete locked videos manually if you want to free up extra space.
You can review your videos on the built-in screen, which is perfectly fine for a quick look. But to get the most out of the camera, you'll want to use the smartphone app. The app makes it much easier to delete unwanted clips. You can even download clips to your phone and share them on social media.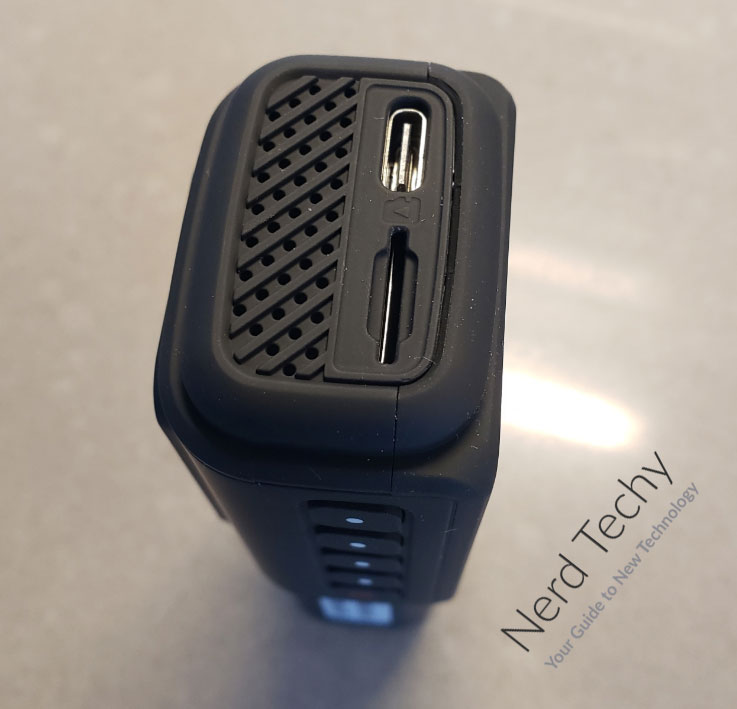 The D6 doesn't just capture video; it also keeps a record of your speed and location. Using the app, you can overlay this data on Google Maps and create a virtual record of your journey. GPS data can also be critical following an accident. For example, it will show whether or not you were speeding.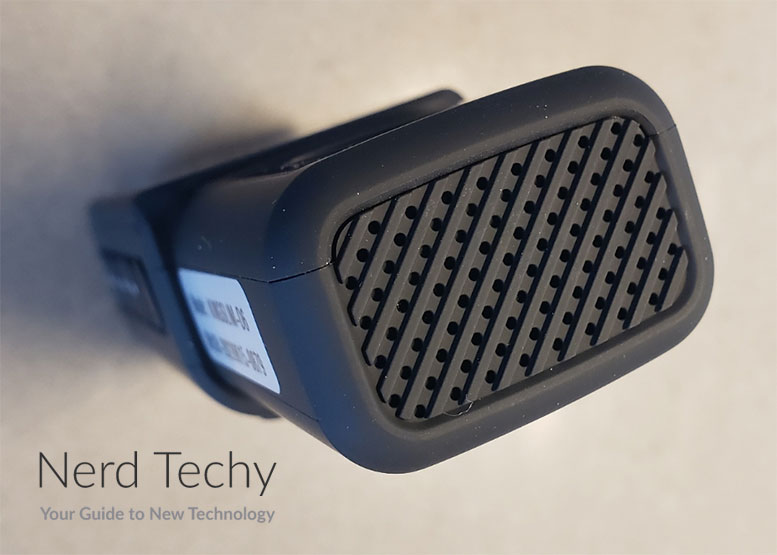 Final Verdict
The Kingslim D6 4K Dual Dash Cam is a great tool, especially for rideshare drivers. The 4K front camera is crisp and clear, as is the 1080p interior camera. The color night vision is top tier, and installation takes just a couple of minutes. All in all, there's a lot here to be happy about.