These days, a lot of our work lives revolve around technology. Instead of a classic writing desk, most people use a more functional computer desk. The same goes for the humble legal pad. It's all but extinct, replaced by smartphones and tablets. This has changed the overall aesthetic of your average office. Gone are many of the fine touches that used to make a professional space feel truly professional. But this doesn't mean your office has to be plain, boring, or even excessively modern. With a touch of leather, even the newest of technology can have an elegant, classic appearance.
We've reviewed a number of leather accessories in the past. Among these are leather iPhone cases, something many people may not even know exist. But phone cases are just the start of what you can do with leather. You can make a leather laptop bag, tablet case, writing pad, or even mouse pad. Today, we'll be looking at the last of these, the humble mouse pad. For many a mouse pad is an unnecessary luxury. But if you have a glass desk or a very smooth one, a pad keeps your mouse running smoothly. And even if you don't, a quality leather mouse pad just plain looks nice!
Note: At no extra cost to you, we may earn a commission for purchases using our links. Learn more.
We'll begin by reviewing the Harber London Leather Mouse Pad. This is a sturdy, felt-backed pad with a soft border around the edges. Next, we'll look at the Maruse Italian Leather Mouse Pad. This is a plump pad that's nice and soft, with plenty of cushion for the heel of your palm. Last, we'll examine the Lucrin Rectangular Mouse Pad. This mouse pad is larger than the others, and nearly square in shape. Each of these pads has its own benefits, strengths, and weaknesses. Which one is going to be right for you? To find out, we'll have to dig a little bit deeper. Let's get started!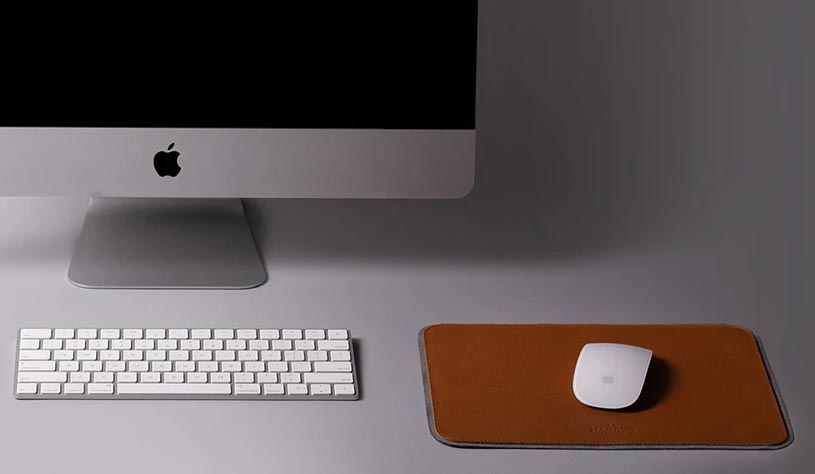 Different Types of Leather
Before we proceed, it's important to talk about the main thing that distinguishes these pads: the type of leather. If you're like many people, you probably think that leather falls into two categories: "genuine" and "fake." In fact, there are several types and grades of leather, each with its own quirks. The most common varieties are full grain, top grain, genuine, corrected grain, and PU leather. Let's take a quick look at each, so we have a better understanding of what we're talking about. After that, we'll be better prepared to look at today's mouse pads.
Full Grain Leather
If you want the absolute highest quality leather, look for full grain leather. This type of leather gets its name because it's constructed from the full thickness of cowhide. Hence, "full grain." Because the hide has not been separated, this is the most durable type of leather. It's very difficult to puncture, and virtually impossible to tear. It also stands up well to scuffs and drags, since there's plenty of extra thickness.
Full grain leather is usually left with a natural finish. Unlike highly-processed leathers, full grain is meant to retain the original unique patterns and imperfections of a living animal. Because of this natural look, no two pieces of full grain leather are ever identical. That said, the leather is sometimes treated with a dye that's similar to wood stain. It absorbs into the surface, and makes the leather water-resistant, while applying a bit of color. More often, the stain is transparent, and is only used for water-resistance.
One last thing to keep in mind is that full grain leather will develop a patina as it ages. The patina's color is difficult to predict, and depends on a variety of factors. It is this patina that creates the look of aged leather. If you want a mouse pad that looks better with each passing year, consider full grain leather.
Top Grain Leather
Moving down a tier, we come to top grain leather. Much as full grain leather uses the full thickness of the hide, top grain leather uses only the top layer. This layer is separated from the lower layer by a chemical and mechanical process, and used separately. Top grain leather is thinner than full grain leather, which makes it somewhat less durable. However, this also makes it comparatively easier to bend and flex.
Top grain leather is usually used in applications where a smooth, uniform appearance is desired. For this reason, it's often sanded smooth during finishing. The result is that top grain leather has fewer imperfections, but individual pieces are less unique. Like full grain leather, the surface can then be treated with either a clear or colored dye. Because of the way it's finished, the patina on top grain leather is often not noticeable.
Genuine Leather
When used to refer to leather, "genuine" can mean two different things. First, it can be used as in the title of this article: genuine, organic cowhide as opposed to a synthetic. However, it can also be used to refer to a specific grade of leather. Remember how top grain leather is made by separating the top layer of hide from the lower layer? Genuine leather is the lower layer. Like the other grades we've discussed, genuine leather is usually treated with a clear or colored stain. And like full grain leather, it develops a patina as it ages.
Because it's made from the inner part of the hide, genuine leather is usually not as tough as top grain. It's still leather, and it's still durable. But it's easier to scuff or puncture than the tough outer layer of hide. Genuine leather also has a more prominent grain, so the finish is not as smooth. This can be a good thing or a bad thing, depending on your desired result. Either way, it's more affordable than top grain leather.
Corrected Grain Leather
Corrected grain leather is a variety that has only recently started to become popular. Simply put, corrected grain leather is made from scraps that aren't useful for other grades. As companies continue to work to tighten their margins, they're finding more and more uses for this material. Corrected grain leather is sanded and buffed to remove as many imperfections as possible. At this point, it's treated with dye to better hide any flaws. As for durability, corrected grain leather is impossible to judge in one broad stroke. Its strength will depend on the type of leather it was originally taken from.
Because the dye schemes are meant specifically to conceal imperfections, corrected grain leather is usually brightly colored. As a result, you won't often see it used in a "professional" context. It's used for things like high-visibility kid-sized footballs, where bright colors are desired.
PU Leather
PU leather is not leather at all. It's what we used to call "pleather," or "synthetic leather," and is sometimes marketed as "vegan leather." In general, we recommend staying away from PU leather. It tends to feel sticky, it's not as durable, and it's not as supple. On the other hand, there are a couple situations where PU leather can be desirable. The first is if price is an issue. PU leather tends to be cheap compared to the real thing. The second is if you're vegan, since there are no animals used in the manufacturing process.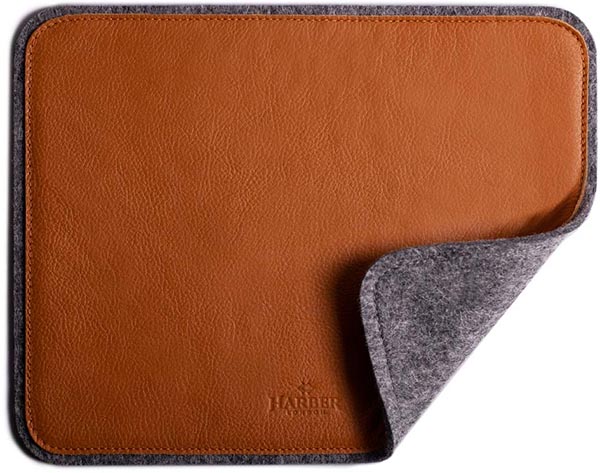 Harber London Leather Mouse Pad
Harber London is an established manufacturer of leather products, such as their high-quality leather desk pads. The Harber London Leather Mouse Pad is a full grain leather pad that's as tough as it is attractive. The leather has a visible grain to it, and comes in three different colors: tan, black, or navy. The only adornment is a smooth Harber London logo at the bottom center. Other than that, the entire 11.4 x 9-inch mouse pad is smooth, an ideal surface for your mouse. It also strikes a good balance between size and convenience.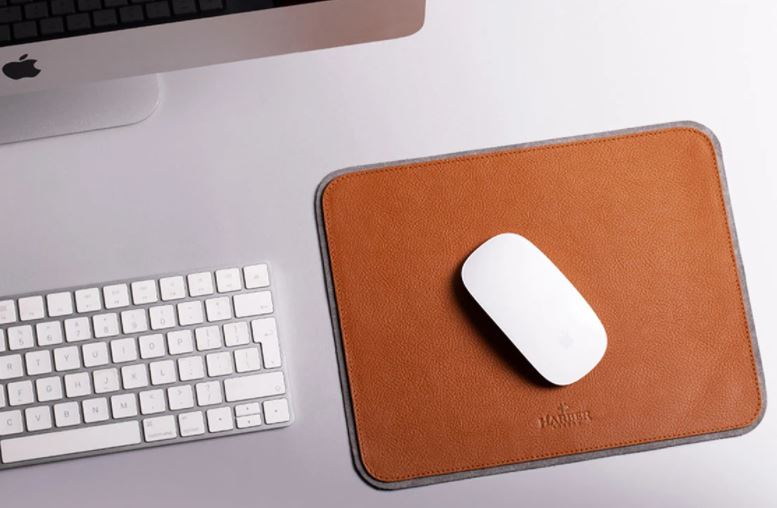 With its full grain construction, the upper layer is already quite thick and soft. However, the bottom layer is made of thick wool felt, which provides even more padding. The wool felt also helps the mouse pad to sit flat on rough surfaces, or to remain in place on glass.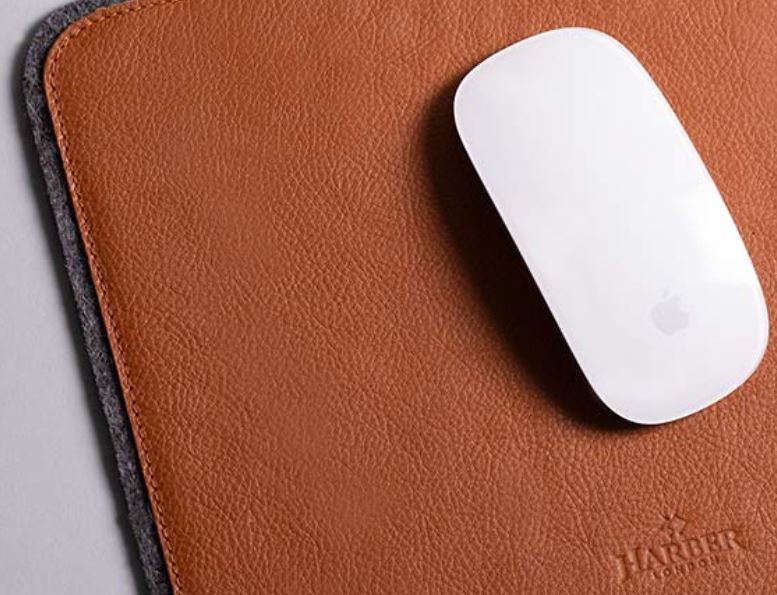 As with most leather mouse pads, the stitching is around the edges, in order not to get in your mouse's way. However, there's actually a felt fringe left exposed around the edge. This provides an accent, as well as a bit of extra cushion for your fingers. All of the work is performed by hand in Spain, so you're getting far better quality than a machine-made pad.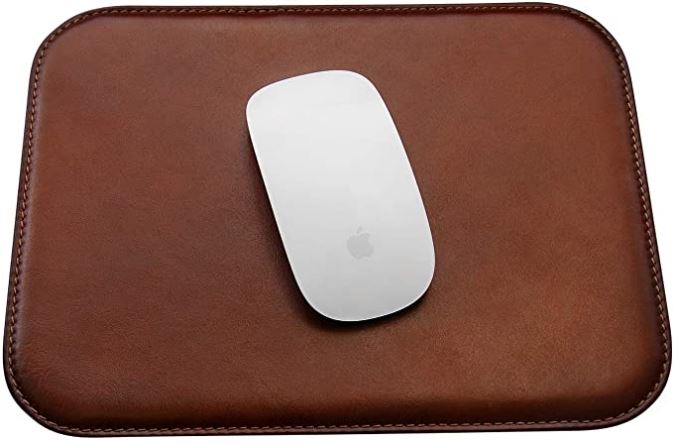 Maruse Italian Leather Mouse Pad
The Maruse Italian Leather Mouse Pad is similar in many ways to the Harber Leather pad. For one thing, it has rounded corners, which provide a softer, more attractive profile. For another thing, it's stitched from full grain leather. This makes it thicker and tougher than other types of leather.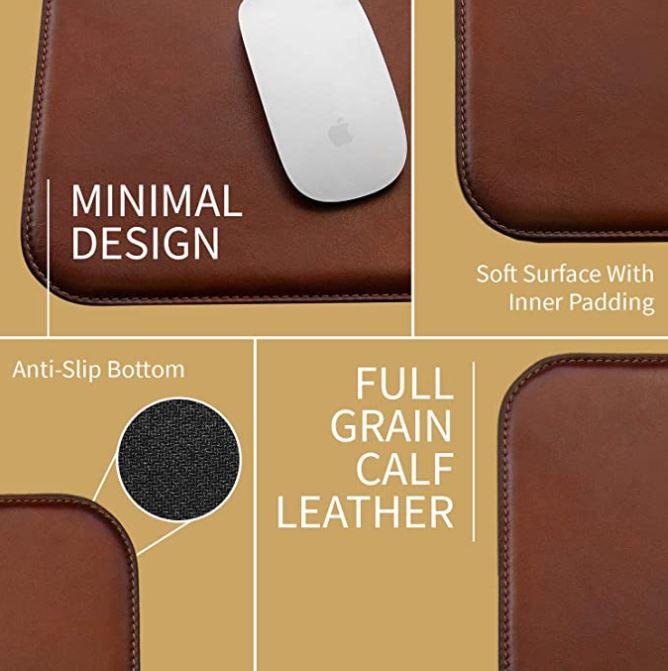 However, the material is calf leather, so it's a bit softer, and doesn't have as much grain. It's also available in different colors. The options for the Maruse pad are black, brown, navy, and "honey," which is basically a golden-brown. The overall dimensions are 10.16 inches wide and 7.72 inches tall, making it the smallest of our three options.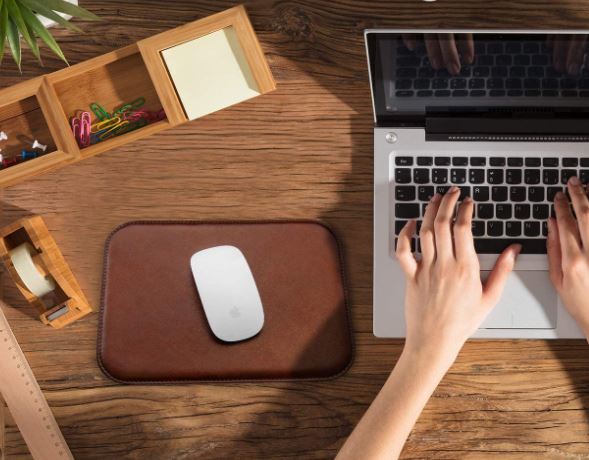 Instead of being backed with felt, this pad is backed with a rubbery nylon material. This is a bit springier and more flexible, and easier to roll up. It also provides better grip on a smooth surface, and it's generally thicker and softer. That said, it doesn't even out as well as felt on a rough surface. Like the Harber London pad, the Maruse is handmade, although it's made in Italy rather than Spain. The edges are neatly stitched, with only a small bead of leather on the outer edge.
Lucrin Rectangular Mouse Pad
The Lucrin Rectangular Mouse Pad is a departure from our last two options in a couple of ways. First off, it's nearly square, at 10.4 inches wide and 9.2 inches high – or is it the other way around? Regardless of which way it's oriented, it's also truly rectangular in shape. Instead of rounded corners, the corners are sharp, 90-degree angles. Whether this is a desirable aesthetic is up to you.
This mouse pad is burgundy in color, with a top layer constructed from genuine leather. This gives it a slimmer profile than the Harber London and Maruse pads. The result is a flat top, and an even more accentuated square shape.
It's also surprisingly soft and comfortable, thanks mostly to the softness of the leather. The bottom of the Lucrin mouse pad is microfiber, which provides reasonably good grip and flexibility. As with the first two pads, the backing is stitched to the top layer around the edges. The stitching is nice and tight to the corners, and forms a proper right angle, once again accentuating the shape.
Final Verdict
As you can see, each of these mouse pads has its own unique quirks. We began by reviewing the Harber London Leather Mouse Pad. The thing we liked most about this mouse pad was the quality of construction. Simply put, the thick, full leather top layer is very durable, and the stitching is top notch. The wool felt back is also a major plus, providing extra padding as well as stability. On the other hand, some users might not appreciate the fringe around the edge.
The Maruse Italian Leather Mouse Pad is a bit softer and thicker than the Harber London pad. This is because the back is rubbery nylon rather than felt. The top layer is also made from calf leather, so it's smoother. On the other hand, the grain has less character, and there's no unique fringe.
The Lucrin Rectangular Mouse Pad is made from genuine leather, so it's thinner and softer than the last two. However, it's also less durable, and it's only available in one color. The square profile is what really makes it stand out, though. If you prefer a more angular aesthetic, you'll like this pad.
Please consider sharing:
Note: At no extra cost to you, we may earn a commission for purchases using our links. Learn more.