Modern optical mice don't technically require a pad. But a good mouse pad can make it significantly easier to use your mouse. And in some cases, they're still a necessity. For example, you might have a glass desk. In that case, the laser from a mouse would simply shine through the glass. Without a pad, you won't be able to do anything with your mouse.
If you're going to have a mouse pad, why not get one that's easy on your eyes? After all, it's going to be sitting on your desk 24/7. It may as well be attractive. And if you're dressing up your desk, why not go with some high-quality leather accessories? Sure, you could go with a traditional foa, plastic, or glass mouse pad. But leather is so much more classic, and it has a unique appeal other materials can't provide.
Today, we're going to review four of the best leather mouse pads we were able to find. No time to read the complete review of each pad? Here's a quick and dirty overview:
Needless to say, these are pretty barebones descriptions. To really make a fair comparison, we'll need to take a closer look at each option. Let's see how these leather mouse pads stack up!
Best Overall: Harber London Leather Mouse Pad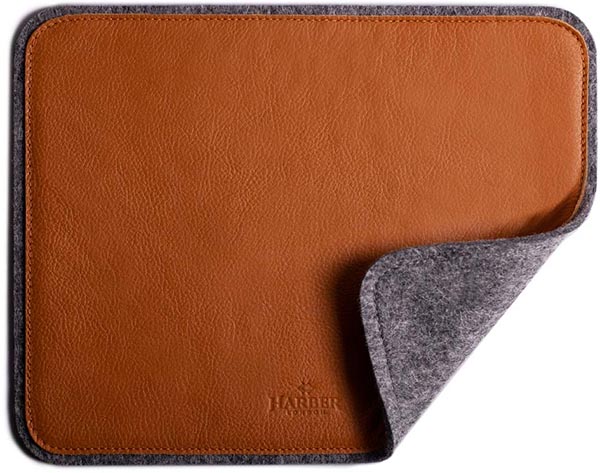 Key features:
11.4" x 9"
Full grain leather.
Three color options.
Felt or microfiber backing.
The Harber London Leather Mouse Pad is crafted from high-quality full grain leather. The grain is raised and easily visible, and it's available in three colors: tan, black, and navy blue. The overall size of the pad is 11.4 inches wide and 9 inches tall, which gives you plenty of space to work. The only other cosmetic feature of note is a small Harber London logo embossed at the front center.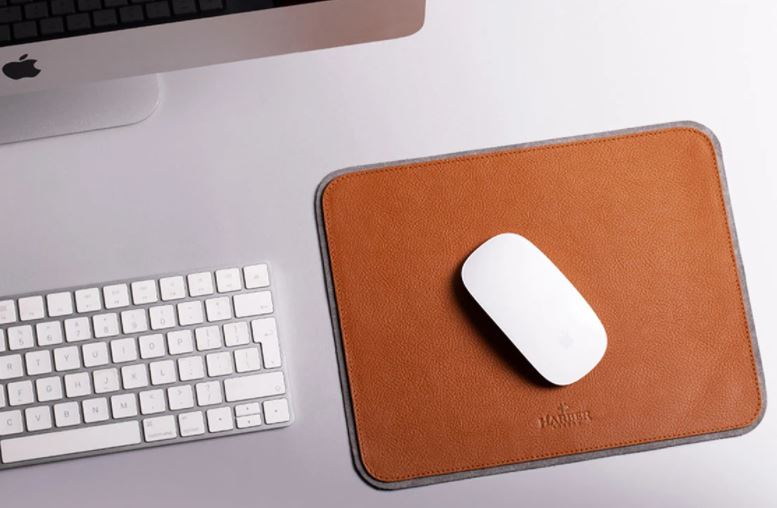 The top of the mouse pad is fairly thick, as well as being reasonably soft to the touch. The bottom layer, meanwhile, is a thick wool felt pad. This provides extra cushion under your hands, and makes it very comfortable to work on. It also helps to keep the pad in place so it won't slide around while you're working.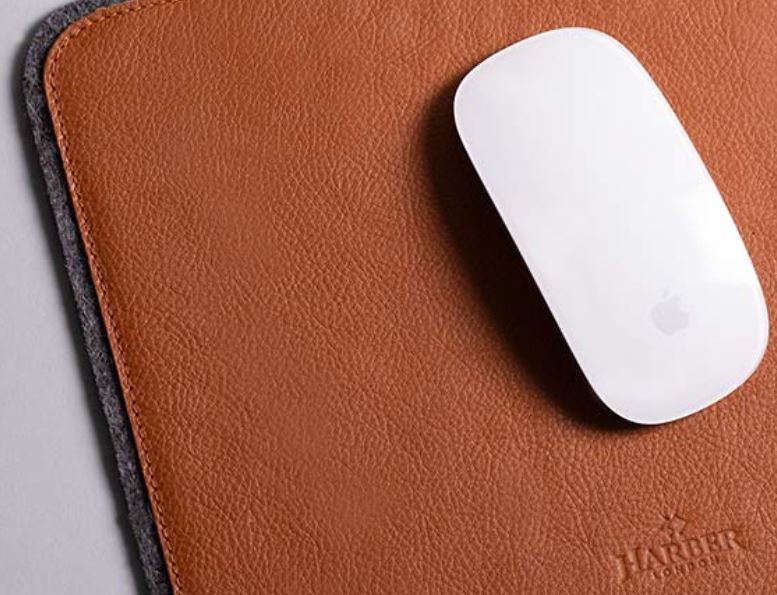 There's heavy stitching around the edges, and it's colored to match the leather. But instead of a clean edge, the wool felt protrudes around the edge, creating a fringe. It's an attractive accent as well as a bit of added comfort. The stitching, meanwhile, is done by hand in Spain, so you know you're getting good quality workmanship.
Harber London is a well-known manufacturer of various leather products. Not long ago, we reviewed their leather desk pads, and we were impressed with their quality an craftsmanship. So when we went looking for a good leather mouse pad, they seemed like an obvious brand to refer to.
Best Runner-Up: Maruse Italian Leather Mouse Pad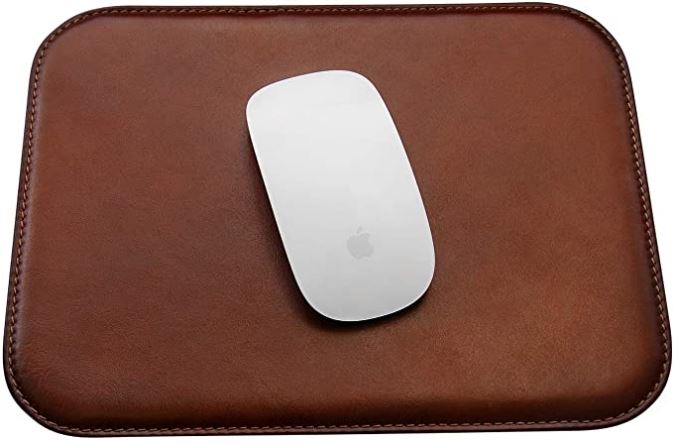 Key features:
10.16" x 7.72"
Full grain calf leather.
Four color options.
Nylon backing.
The Maruse Italian Leather Mouse Pad has a lot in common with the Harber Leather mouse pad. It's roughly rectangular, but with rounded corners that create a cleaner profile. It's also crafted from full grain leather, with a raised visible grain.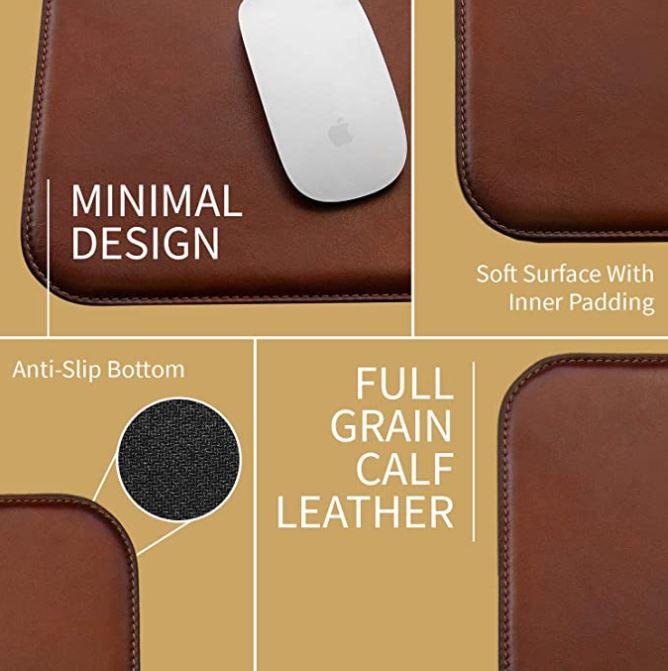 That said, there are a couple of important differences between the two pads. To begin with, the leather is calf leather, not cowhide. As a result, it has a softer finish and the grain isn't quite as pronounced. You also get a different selection of colors. This pad is available in black, brown, navy, and a golden-brown color they call honey. Finally, the dimensions are just a smidge smaller, at 10.16 inches wide and 7.72 inches long.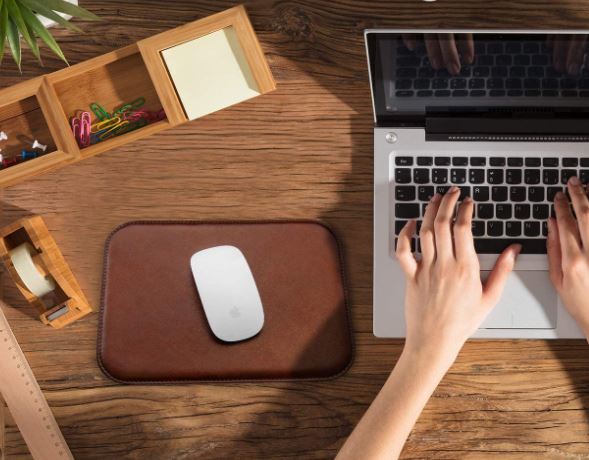 The stitching is done by hand in Italy, and it seems very sturdy. There's no overlap from the backing material, with just a narrow leather lip around the outside edge. The backing material, meanwhile, is a rubbery nylon. It's flexible and allows you to easily roll up the mouse pad, and it keeps it from sliding around. It's also very thick and soft, similar to the backing on a traditional mouse pad. In this way, you're getting a blend of a standard, ergonomic backing and a beautiful leather face.
Best Budget: RED SPIDER Full Grain Leather Mouse Pad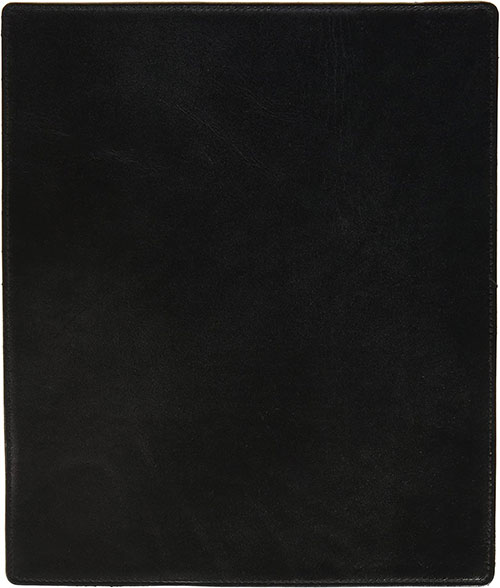 Key features:
9.5" x 8"
Artificial leather.
Comes in black.
Felt backing.
The RED SPIDER Full Grain Leather Mouse Pad is the smallest on our list. It measures 9.5 inches wide and 8 inches tall, which should still be plenty for most applications. The upper surface is a smooth black faux leather material. It feels like suede, and is very smooth and soft to the touch. Our only gripe is that it's advertised as real leather when it's clearly pleather. Sure, you're looking at a very affordable mouse pad. But false advertising is false advertising.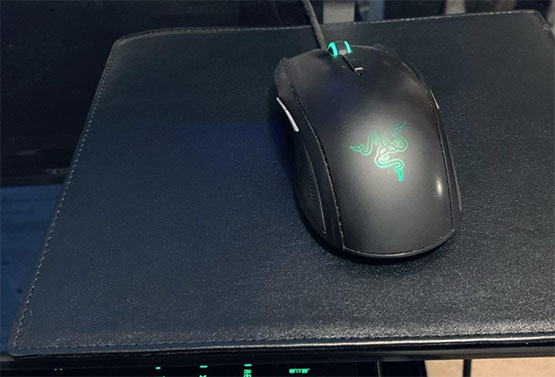 The stitching is done by machine, but quality control seems to be reasonably good. At least our pad was well put-together and seemed like it should hold up to regular use. The backing material is a soft felt that provides a comfortable, well-cushioned surface. And while the pad overall is stiff, it doesn't slide around while you're working.
Best Alternative: Hide & Drink Leather Mouse Pad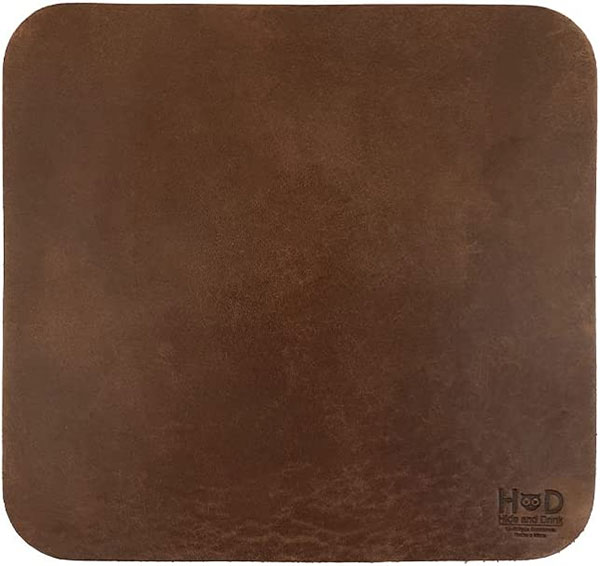 Key features:
9.25" x 8.75"
Full grain leather.
Two color options.
Neoprene backing.
The Hide & Drink Leather Mouse Pad is made from a heavy-duty full grain leather. The surface is mostly smooth, but with an irregular, all-natural grain that's unique on each pad. You can choose between two colors: a rich "Bourbon brown" or a more subdued charcoal black. The only adornment is an H&D logo, embossed at the front right corner.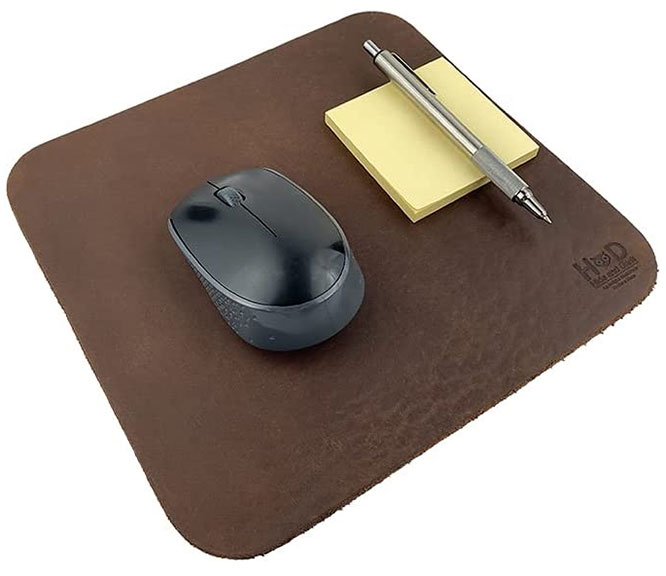 Each mouse pad is hand cut to a size of 9.25 inches wide by 8.75 inches long. There's no stitching at the edges, with Hide & Drink instead opting to attach the backing with an adhesive. The work is all done by hand in Guatemala, and the neoprene backing is soft and thick. It provides a comfortable working surface, while still allowing you to roll up the pad for transport.
Understanding Grades of Leather
If you're going to buy anything made of leather, it's important to understand what you're buying. Most people understand the difference between real cowhide and fake synthetic leather. But there are actually many different types of real leather, each with its own strengths and weaknesses. These varieties include full grain, top grain, genuine and corrected grain. Here's a quick overview of each one, so you can understand what they mean.
Full Grain Leather
Full grain leather is called "full grain" because it's made from the complete thickness of the cowhide. Because different layers haven't been peeled off, this type of leather is by far the most durable. You need special tools to put holes in it, and cutting it requires high-grade shears. And since it's nice and thick, you can scuff and scrape it up without causing serious damage to the material.
Full grain leather can be dyed, but it's rarely sealed. That's because it's generally intended to maintain the appearance of the original hide. Each piece of leather has a unique grain and subtle imperfections, so no two pieces are alike. A dye will change the color of the leather and seal it to prevent further staining. It will also make the leather water-resistant. But it won't prevent the leather from aging naturally over time.
This aging process is actually considered desirable. With exposure to air, the leather will gradually develop a patina, much like a bronze or copper statue. The patina can be a variety of colors depending on a number of factors, and makes each piece of leather even more unique. It also creates an aged appearance that's hard to replicate artificially.
Top Grain Leather
Top grain leather, as the name implies, uses only the top layer, or "grain," from the leather. Using chemical treatment followed by a mechanical process the upper and lower layers are separated. Because there's no lower layer, top grain leather is not as durable as full grain. However, it's more flexible and easier to work. This makes it popular for applications that require less bulk.
Top grain leather is generally sanded smooth during the finishing process. This eliminates most imperfections and reduces the grain to a smooth finish. It can then be died or treated as desired. Top grain leather can form a patina, but because it's a regular surface it may not be noticeable.
Genuine Leather
The term "genuine" leather can be confusing. Many manufacturers use the word "genuine" to indicate that their leather is real rather than synthetic. But "genuine" is also its own specific grade of leather.
When top grain leather is separated from the rest of the hide, the remaining lower layer is genuine leather. This material is treated much the same as top grain or full grain leather, and can develop a patina with age.
This leather is less durable than top grain leather because it's the lower level of the hide. It's easier to puncture or scuff, but it also has a very prominent grain. Depending on your application, this can be a good thing or a bad thing.
Corrected Grain Leather
Corrected grain leather is a catch-all term for leather that has been reconstructed. This leather is made from scraps of other grades, which are sanded and buffed to create a uniform finish. Because the starting material can be any grade, corrected grain leather can be any quality.
PU Leather
"PU leather" is a fancy term for artificial leather, sometimes known as "pleather." It often looks and feels like the real deal, but it's nowhere near as durable. PU leather cracks over time, and the finish can wear off to reveal the underlying cloth. The only benefit of this material is how cheap it is.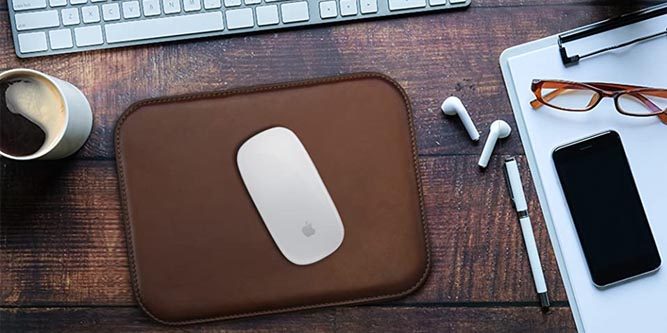 Final Verdict
As you can see, all four of today's leather mouse pads are attractive and well put-together. So which one is the optimal choice for you? At the end of the day, it's a personal decision based on your own tastes and preferences. Here's what we've learned today.
We began with an evaluation of the Harber London Leather Mouse Pad. This full grain leather pad is handmade in Spain, and it's of top tier quality. Not only is the upper surface tough and durable, but the wool felt lower layer is very thick. It's soft under your hand, and it also creates an attractive fringe around the pad.
Next, we checked out the Maruse Italian Leather Mouse Pad. This mouse pad has a thick, rubbery nylon backing that's more akin to a traditional mouse pad. The upper surface, meanwhile, is a smooth, luxurious calf leather. And with four color options, you can order it to match pretty much any desk and tastes.
After that, we took a look at the RED SPIDER Full Grain Leather Mouse Pad. This mouse pad is actually faux leather, not real, but it's smooth and soft like suede, and it's also attractive. Not only that, but the price is very reasonable. If you want to get a champagne look on a beer budget, you're looking at a solid choice.
Finally, we reviewed the Hide & Drink Leather Mouse Pad. This Guatemalan-made pad has a similar neoprene backing to the Maruse pad. But it's held on by an adhesive rather than stitching, and you have different color options. We also liked the quality of the leather, which has a natural grain that will be unique on each pad.
Meet Derek, "TechGuru," a 34-year-old technology enthusiast with a deep passion for tech innovations. With extensive experience, he specializes in gaming hardware and software, and has expertise in gadgets, custom PCs, and audio.
Besides writing about tech and reviewing new products, Derek enjoys traveling, hiking, and photography. Committed to keeping up with the latest industry trends, he aims to guide readers in making informed tech decisions.