If you're looking for a clean, green way to travel, a bicycle is a great way to do it. That said, a bike isn't always practical. Suppose you wear a dress shirt to work, for example. Pedal your way across town, and you'll have the world's most noticeable pit stains. Bicycles also require a lot of effort on your part. In a perfect world, we'd all want to exercise hard and stay in great shape. But maybe you want an easier way to get to your destination. In that case, an electric bike can be the perfect solution.
An electric bike, or "e-bike," is a traditional bicycle with a motor and battery. You can pedal when you want to, or use the motor to make your ride easier. This is a relatively new technology, enabled by ever-shrinking batteries. Modern e-bikes have enough range to get you through an everyday commute with no trouble at all. They're also designed to be portable and collapsible, so you can take them on public transportation.
DYU is one of the leading e-bike manufacturers. Founded in 2016, they've already sold more than a million electric bikes. Today, we're going to introduce four of the best DYU e-bikes that are all discounted for DYU's Spring Launch Sale. Best of all, each one is $200-$300 off the retail price, with an additional discount of $200 off for every $2000 purchase.
These are the compact DYU T1, the mid-sized DYU V8, the larger DYU King 750, and the DYU FF500. But which one is right for you? To find out, we'll need to take a closer look at all of their features, benefits, and drawbacks. Let's get started, and see how these bikes stack up!
DYU T1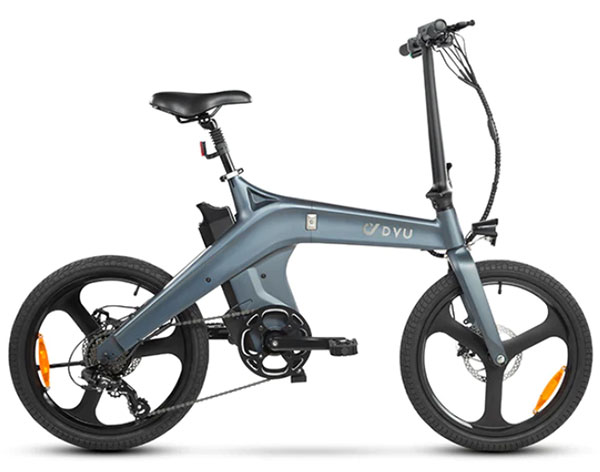 Key features:
Current Deal Price: $899
Magnesium alloy frame.
20" tires.
250W motor.
10Ah battery.
15 MPH maximum speed.
7-speed transmission.
The DYU T1 is designed to be as compact and lightweight as possible. It comes in grey or navy blue, with a magnesium alloy frame that's tougher and lighter than steel. The frame has a single fat cross-bar with no lower bar, which keeps things as simple as possible. The padded seat is comfortable for most riders, and has a shock absorber built into the support. It floats up and down when you hit bumps and potholes, for a smooth riding experience.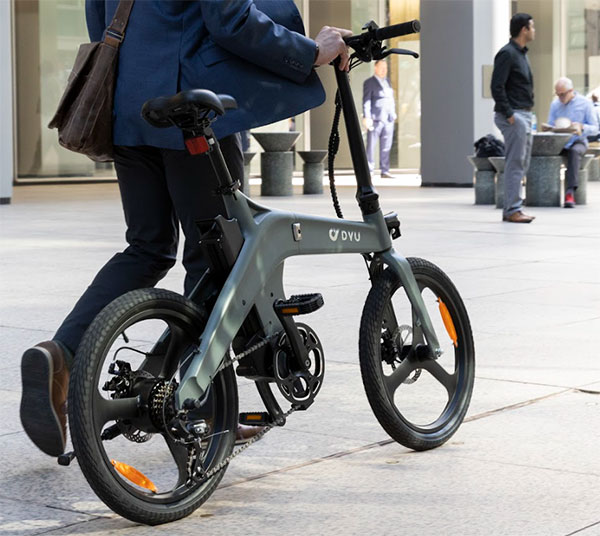 The T1 has small, street-style 20-inch tires, and the design is collapsible. When fully set up for riding, it measures 60 inches long 43.9 inches tall, and 21.5 inches wide. Fold it up, and it's just 33.5 inches long, 30.7 inches tall, and 18.9 inches wide. And at a mere 49.6 pounds, it's easy to carry up and down stairs.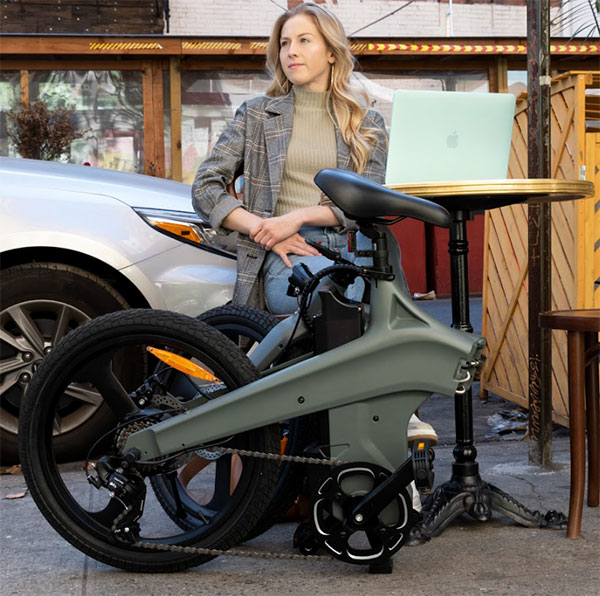 In addition to front and rear reflectors, the bike has a bright headlight on the front. This not only makes it easier to find your way in the dark, but it makes it easy for motorists to see you. Meanwhile, the front and rear disc brakes provide superior stopping power to traditional rubber bike brakes. You'll be able to come quickly to a halt at red lights and other obstacles. You also get the benefit of a 7-speed transmission. There's a single gear on the pedals, with seven gears over the rear derailleur.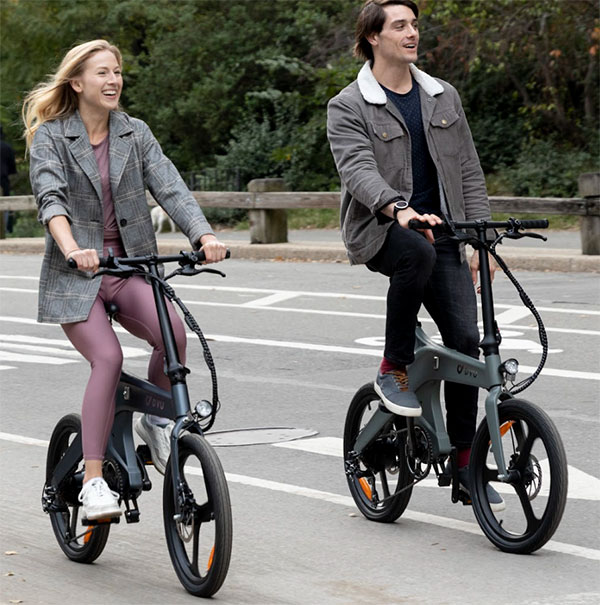 The whole bike is rated IP54 for weather-resistance. The "5" indicates a very high degree of dust-resistance. You don't have to worry about dust getting into your battery housing, motor, or headlight housing. The "4" indicates that it's splash-resistant. If you ride it through deep water where the electronics will be submerged, it will get damaged. But everyday puddles and rain won't cause it to get damaged.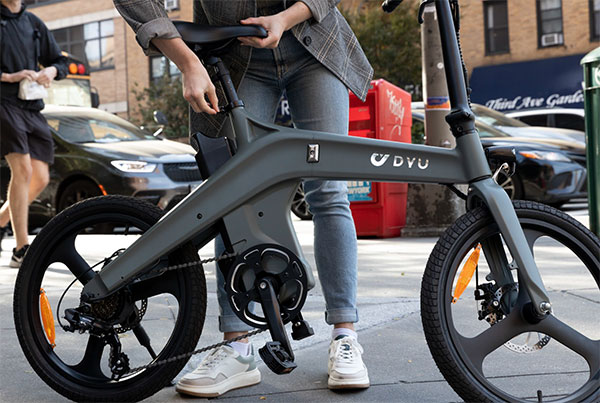 The handlebars are straight, with traditional brake levers and a throttle on the right grip. The motor is fairly small and draws only 250 watts. It's capable of boosting your speed as high as 15 miles per hour at up to a 15-degree slope. The battery is a small, 10Ah 18650 battery, but that's all you really need for a smaller motor. It's located in the frame beneath your seat, and is easy to pop out and recharge. The charging process takes five to six hours, assuming a totally dead battery.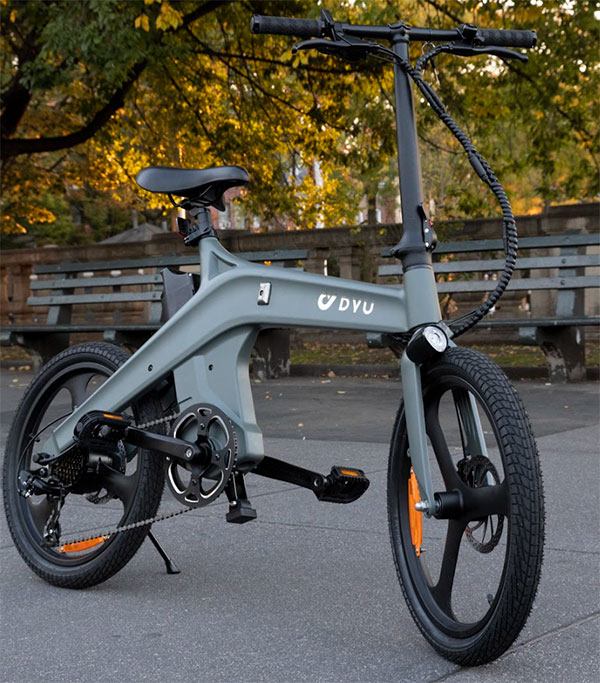 DYU provides a 12-month warranty on the frame. This doesn't cover parts like the chain or reflectors. But if the frame itself is defective, you'll receive a replacement or a refund.
DYU V8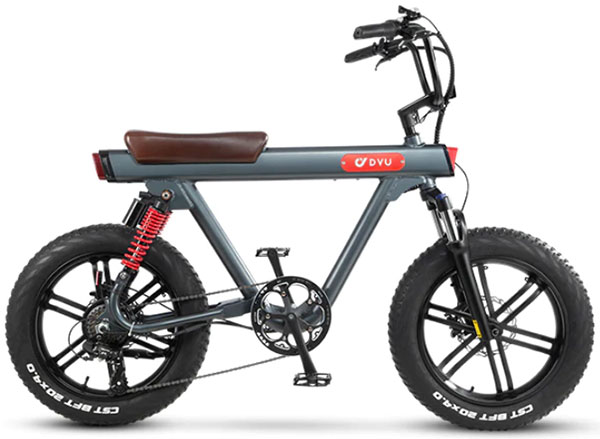 Key features:
Current Deal Price: $1499
Aluminum alloy frame.
20" tires.
750W motor.
15.5Ah battery.
28 MPH maximum speed.
5-speed transmission.
The DYU V8 is noticeably larger than the T1. While it also sports a set of small, 20-inch tires, they're fat and chunky instead of skinny. The bike measures 64.8 inches long, 45.7 inches tall, and 25.8 inches wide. While the frame doesn't fully fold in half, the bike is still partially collapsible. When collapsed, it measures 55.9 inches long, 36.8 inches tall, and 9.25 inches wide. That said, it weighs 88.8 pounds, so it's pretty heavy. You'll want to roll it around rather than carrying it.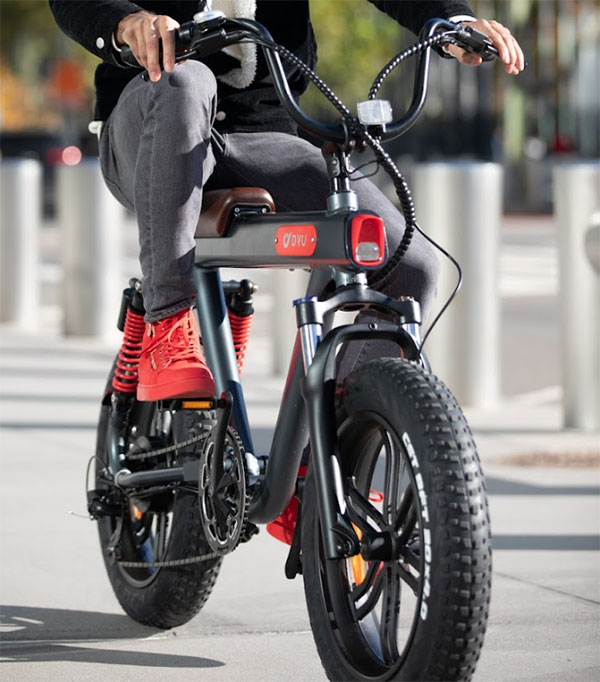 The frame of the DYU V8 is constructed from a grey aluminum alloy, and has a straight, flat crossbar. The leather seat is elongated, and sits directly on the crossbar, which gives the V8 an antique appeal. The lower bar is V-shaped, with the pedals located at the bottom of the V. There's a set of heavy, spring-loaded shock absorbers under the seat, with lighter hydraulic absorbers under the handlebars.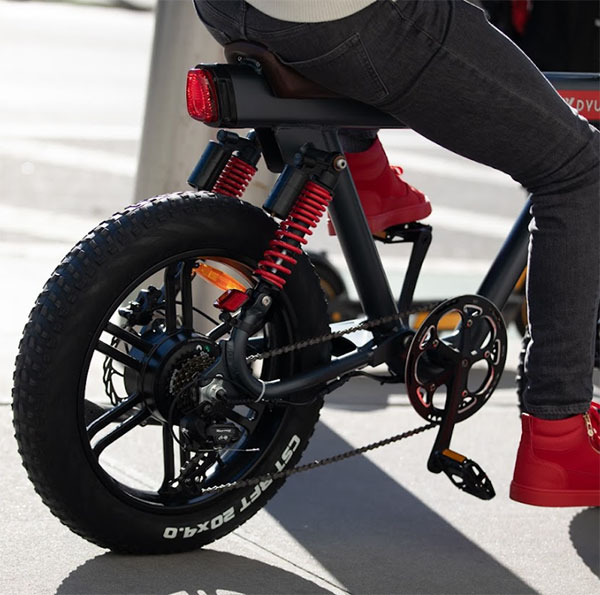 The handlebars themselves are swept backwards, lending the bike even more old-school appeal. What's decidedly not old-school is the LCD display in the center. It's bright and clear, with large numbers that are easy to read in any lighting conditions. Along with your current speed, you'll see your battery level, riding mode, and an odometer. You'll also see a warning light and error code if the bike is experiencing any serious issues.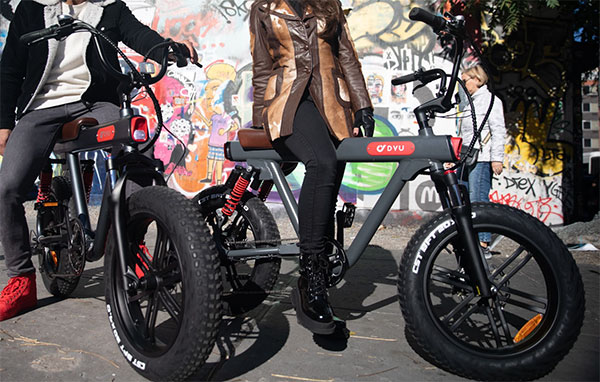 At the front of the bike, where the crossbar meets the handlebars, is a bright headlight. This combines with a set of reflectors to make you very easy to see. A set of hydraulic brakes provide excellent stopping power on both the front and the rear tires. The 5-speed transmission might not be that impressive, but it works well and it's easy to operate. And with IP54 weather-resistance, you don't have to worry about a little dust or rain. You also get the benefit of DYU's 12-month frame warranty if anything goes wrong.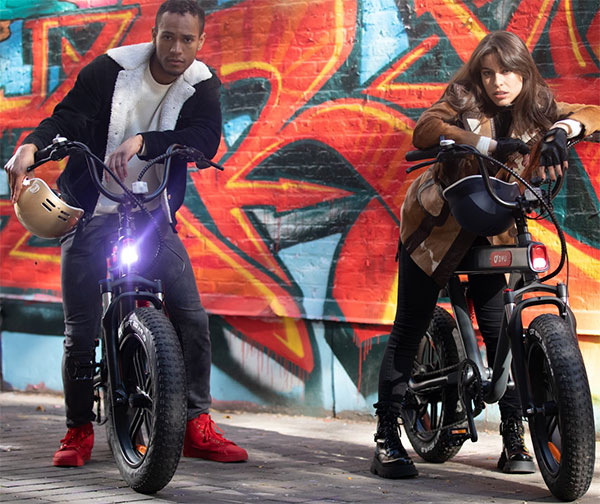 The 750-watt motor is very powerful, and has three operating modes. You can set it to 15.5 MPH, 21.7 MPH, or 28 MPH. In all of these modes, it's capable of moving at full speed up a 15-degree slope. The battery has a capacity of 15.5Ah, and is housed in the front of the frame. It's easy to remove, and recharges in between seven and eight hours.
If you're looking for something a little bit smaller, check out the Fiido X. It's constructed from a lightweight magnesium alloy that's still tougher than steel. It also has a PIN lock on the battery that makes it difficult to steal. On the downside, there's no manual throttle.
DYU King 750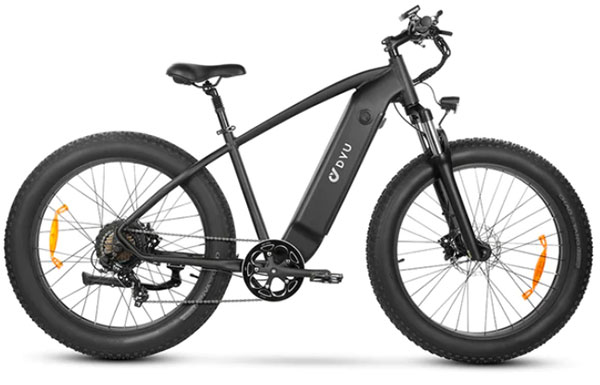 Key features:
Current Deal Price: $1599
Aluminum alloy frame.
26" fat tires.
750W motor.
20Ah battery.
28 MPH maximum speed.
7-speed transmission.
The DYU King 750 is an even larger e-bike, designed for off-road as well as on-road use. It measures 74.8 inches long, 45.7 inches tall, and 25 inches wide. The frame is also collapsible, reducing the size to 58 inches long, 30.3 inches tall, and 8.5 inches wide. It's constructed from a tough black aluminum alloy, and tips the scales at a hefty 97 pounds.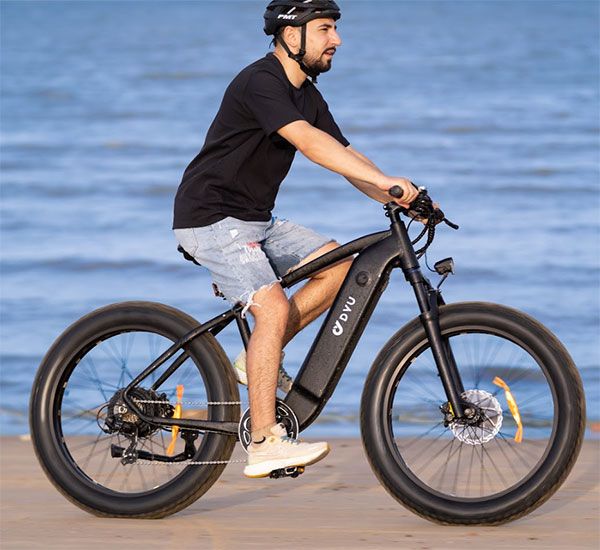 The frame on the King 750 is a traditional triangular men's frame, with slight curves that make it look a bit more modern. At the back is a padded seat, which is height adjustable and has a built-in shock absorber on the support. There's also a set of hydraulic shock absorbers under the straight handlebars. Meanwhile, the 26-inch tires are big and beefy, with a width of four inches. This makes them perfect for riding on dirt and trails.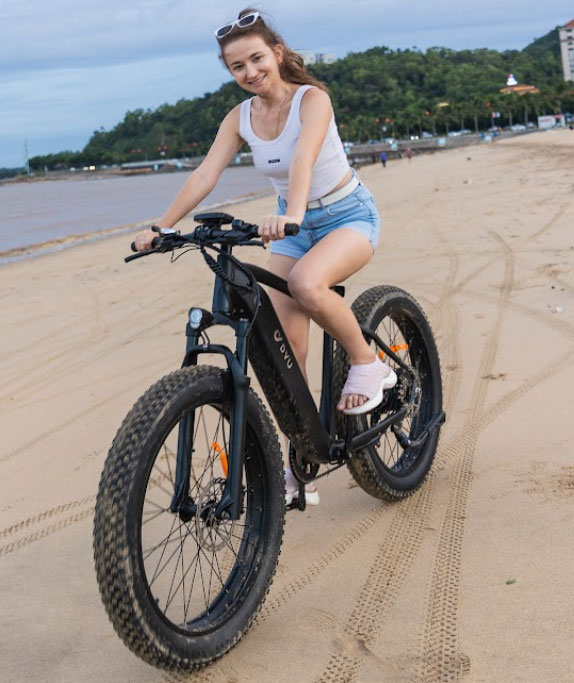 Between the handlebars is a wide LCD display with a colorful readout. At the right is a gauge that shows your current speed, while your power output is displayed at the left. There's also an odometer, trip odometer, and battery meter. If there are any status errors, you'll also see them on the display.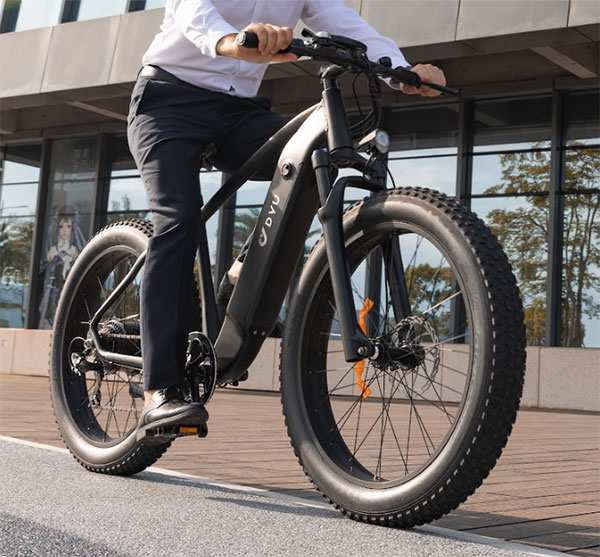 At the front of the bike, above the tire, is a bright headlight for safety. Additional safety features include a set of hydraulic disc brakes that provide excellent stopping power. IP54 weather-resistance ensures that all the electrical components are safe. A 7-speed transmission makes it easy to navigate different types of terrain. And as before, you're protected by DYU's 12-month frame warranty.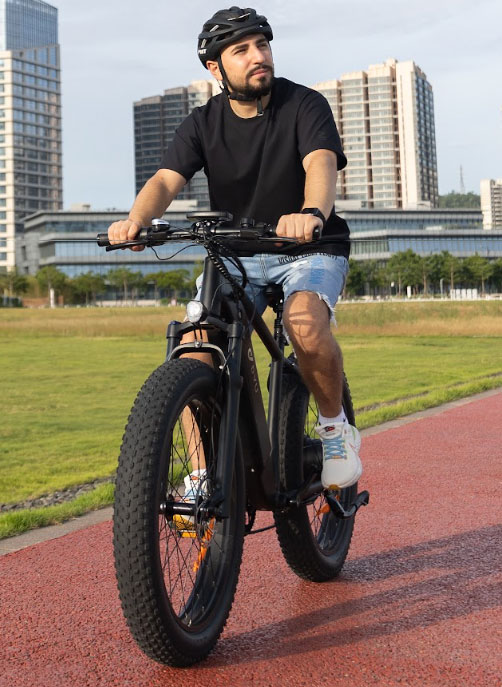 The 750W motor is operated by a manual throttle on the right handlebar. It can move the bike at up to 28 miles per hour on up to a 15-degree grade. The battery is pretty large, with a capacity of 20Ah. It stores in the front of the frame, and can only be removed with a key. This makes it harder to steal. When it's time to charge, you can go from 0% to 100% in six to seven hours.
If big, heavy-duty e-bikes are what you're looking for, take a look at the C3STROM Astro Pro. It looks like a small motorcycle, not a bicycle, and it provides powerful acceleration and an impressive top speed. That said, it's way too heavy to carry around.
DYU FF500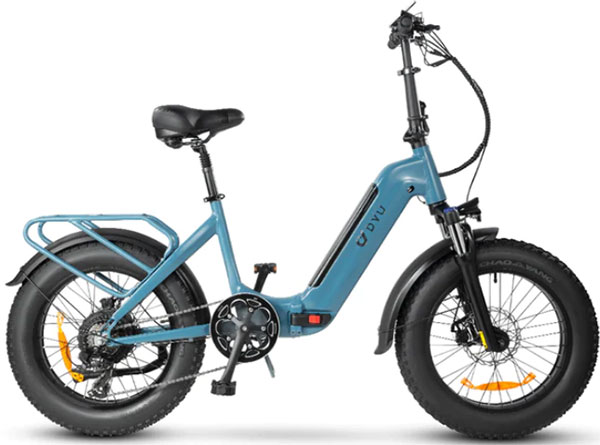 Key features:
Current Deal Price: $1299
Aluminum alloy frames.
20" fat tires.
500W motor.
14Ah battery.
20 MPH maximum speed.
7-speed transmission.
The DYU FF500 is a mid-sized bicycle with a low crossbar similar to a traditional women's bike. The frame is aluminum alloy, with an attractive baby blue finish and a little cargo rack on the back.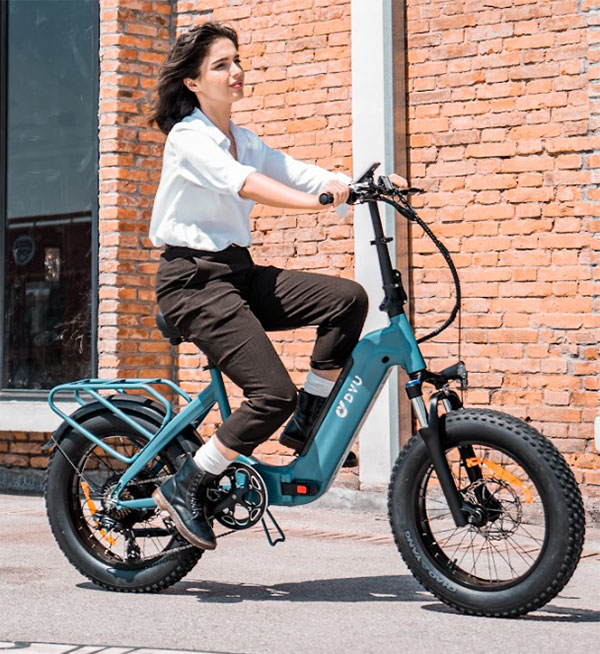 When fully assembled, the FF500 measures 69.3" long, 50" tall, and 23" wide. It's hinged at the center, and collapses to just 37.4" long, 31.5" tall, and 19.7" wide. And at 68 pounds, it's not as heavy as you might expect.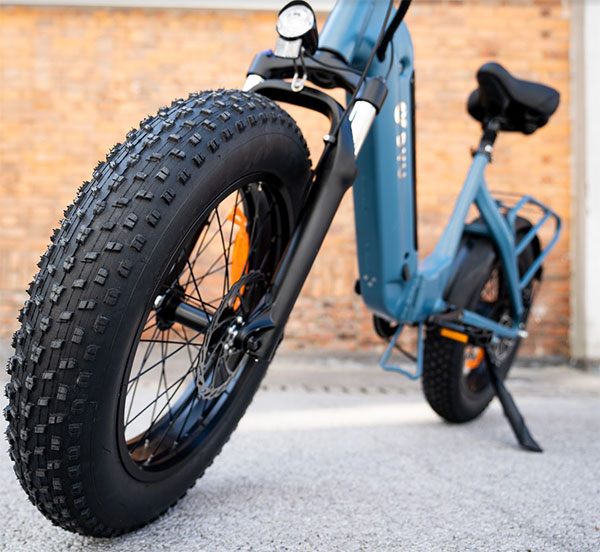 The seat is soft, comfortable, and adjustable, with a shock absorber built into the support. You'll also find shock absorbers at the front beneath the handlebars. The tires only have a diameter of 20 inches. But they're fat, which gives good traction and plenty of cushion. Between the straight handlebars, you'll see an LCD display that shows your current speed, battery level, and other data. Underneath is a bright headlight for visibility.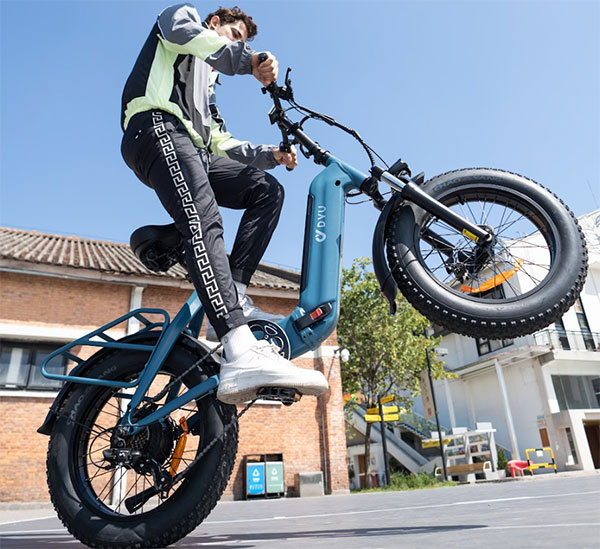 The mid-sized 500-watt motor can accelerate the bike to 20 miles per hour, even on a 15-degree hill. The 14Ah 18650 battery system is reasonably powerful, and can be easily removed for charging.
Electric Bike FAQs
Do I need a driver's license to ride an e-bike?
It depends. In most US states, you don't need a license or registration for e-bikes that go less than 30 miles per hour. In the UK, the maximum unregistered top speed is 15 miles per hour.
How fast can an e-bike go?
It depends on the bike! Just keep in mind the speed limits we mentioned above. If the bike goes faster, you'll have to register it and it will be treated as a scooter or moped.
What happens if my battery dies? Will I be stuck?
E-bikes are designed to be pedaled as well as motor-powered. If your battery dies, you'll still be able to pedal to your destination.
Why are e-bikes so heavy?
Unlike regular bicycles, e-bikes have a battery and an electric motor. These parts are very heavy, and often weigh more than the rest of the bike.
Final Verdict
All four of these DYU e-bikes are very well-engineered. Under the right circumstances, any one of them could be the ideal choice. Let's go over what we've learned today.
We started out by looking at the DYU T1. This is the smallest and lightest of the three, with a magnesium alloy frame that weighs less than 50 pounds. It's great for public transportation or if you need to carry your e-bike up or down stairs. On the downside, it has a relatively small battery and motor that can only boost your speed to 15 MPH. But that's the maximum speed allowable for unregistered e-bikes in the UK. So if you're British and you don't want to have to register your e-bike, you're looking at a great choice.
Next, we checked out the DYU V8. This model has fatter tires and a longer frame that's constructed from aluminum rather than magnesium. The result is a heavier frame that's more affordable to manufacture. We loved the old-fashioned design and flat leather seat, which is very stylish. We also liked the fact that there are three different throttle modes. You can zip down major roads at 28 MPH, or cruise down a bike path at 15.5 MPH.
Fourth, we reviewed the DYU King 750. This is a heavy-duty e-bike that's capable of off-road as well as on-road use. Not only does it have a set of fat 26-inch tires, but the 750-watt motor is very powerful. At almost 100 pounds, it's a bit big to take up and down stairs. But if you want an electric bike that you can ride pretty much anywhere, you're looking at it.
Last but not least, we went over the DYU FF500. This mid-sized bike has a little cargo rack on the back for carrying gear along with you. It also collapses to a very small size, which makes it very easy to store.