PITAKA MagEZ Case 3
Pros
Ultra-slim design.
Tough aramid fiber construction.
Available for all versions of the Samsung S23.
Compatible with MagEZ and MagSafe accessories.
Multiple color schemes available.
Cons
Pricey for a phone case.
Carbon fiber appearance may not be for everyone.
On February 17th 2023, Samsung is set to release the Galaxy S23 series of phones. This hotly-anticipated series includes the S23, S23 Plus, and S23 Ultra, which are already available for pre-order. They have very large displays, high-quality cameras, and more storage than Samsung's older offerings. They're all premium phones, in like with anything you can get from Apple. They're also as expensive as anything you get from Apple.
If you've pre-ordered one of the Galaxy S23 series phones, it's a good idea to protect your investment. A good quality phone case will keep the phone safe from drops and dings. Modern phone cases should also be compatible with magnetic mounting and charging technology. Otherwise, you won't be able to get the most out of your Galaxy S23.
We're about to review the PITAKA MagEZ Case 3 for the Samsung Galaxy S23 Series. This case is exceptionally slim, which makes it easier to slip into your pocket. It's constructed from a rugged aramid fiber, and is available for all versions of the Galaxy S23. But how well does it perform, and is it worth the money? Let's find out.
Overall Design
The first thing you'll notice about the PITAKA MagEZ Case 3 is how thin it is. At only 0.95mm, you'll barely notice the difference between it and a bare phone. It's also lightweight, at only 0.79-ounce. By comparison, the base model Galaxy S23 tips the scales at 5.93 ounces. Despite how slim and light it is, it's very durable. PITAKA starts by laying down the magnets and pouring resin around them to form a slim plate. This plate is then coated inside and out with 600D aramid fiber.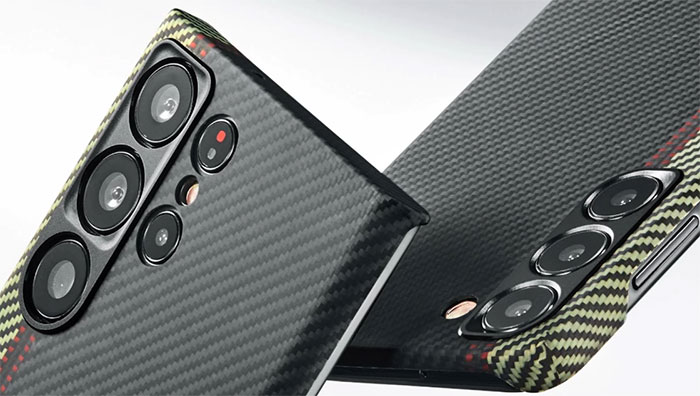 Aramid fiber is a type of heat-resistant synthetic fiber that's used in all kinds of high-stress applications. Among other things, it's used in body armor, ballistic composites, and a number of other applications. Its smoke point is high enough that it's often used as a safe replacement for asbestos. It's even used to reinforce hulls on fiberglass boats. In other words, you're looking at a very heavy-duty material that can take a serious beating.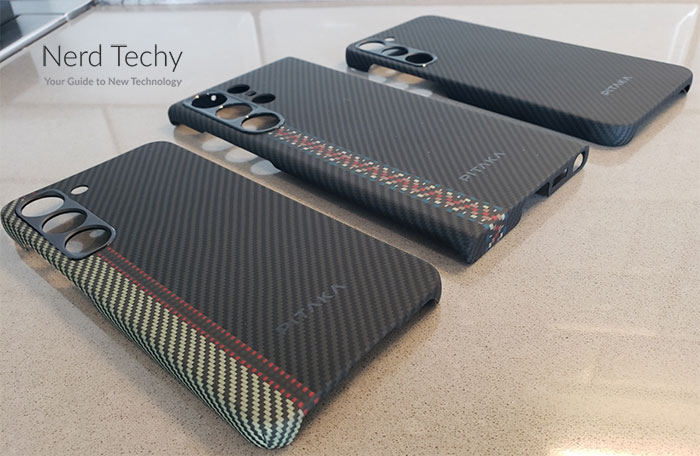 Your camera lenses and screen get a bit of extra protection. Around each lens is a 0.3mm ring. If you drop your phone, the lens will be suspended above the ground instead of hitting it. Along the same lines, for the S23 and S23+ versions, the raised area around the front protects your screen. Of course, this assumes you're dropping your phone on a perfectly smooth surface. In the real world, it's always smart to apply a tempered glass screen protector.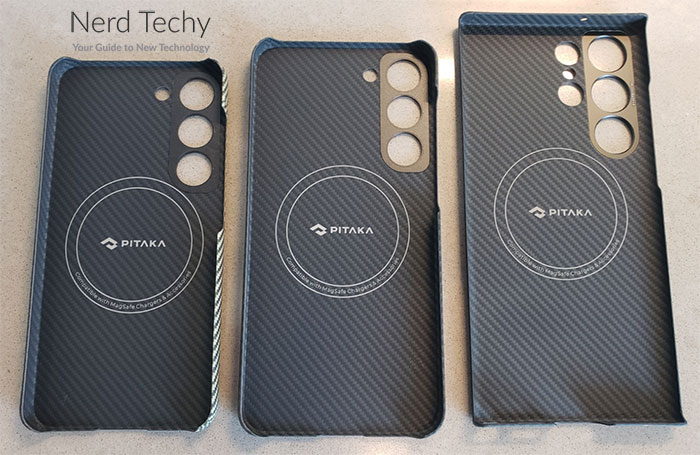 The finish is textured for an easy grip. The finish has a series of staggered blocks in different shades of black that create the illusion of stitching. The texture is comfortable to hold onto without being so rough that it collects dust. In addition to the plain black version, you can order two colored options. One has a green and brown stripe down the camera side of the phone, and the other has an earth tone stripe. Regardless, the quality of construction is excellent, and we had no concerns about durability or ergonomics.
Attachment and Compatibility
The Case 3 is designed to slip right over your Galaxy S23 phone. The bottom is very thin, which allows it to flex easily and snap over your phone. The fit is pristine, with cutouts for your charging port, camera lenses, and side buttons. It slightly covers the edge of the lens on the base S23 and S23 Ultra. But it doesn't obscure your view or affect the function of the camera.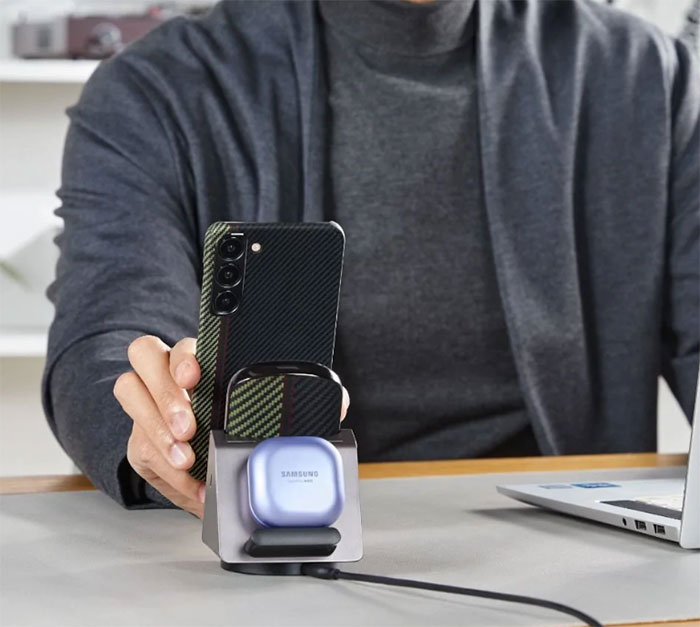 Speaking of which, keep in mind that the Galaxy S23, S23 Plus, and S23 Ultra are different sizes. There are three corresponding versions of PITAKA's case, which are designed to fit. When you order, make sure you choose the correct version for your phone. Otherwise, it's not going to fit.
The function of the magnet, meanwhile, is excellent. It supports wireless charging on virtually any Samsung-compatible charger. While it may not support old-fashioned Samsung wireless chargers, the majority of them are fully compatible. It also mounts to PITAKA's MagEZ Slider, along with any MagSafe mounts. If you have a magnetic car mount or charger, you won't run into any compatibility problems.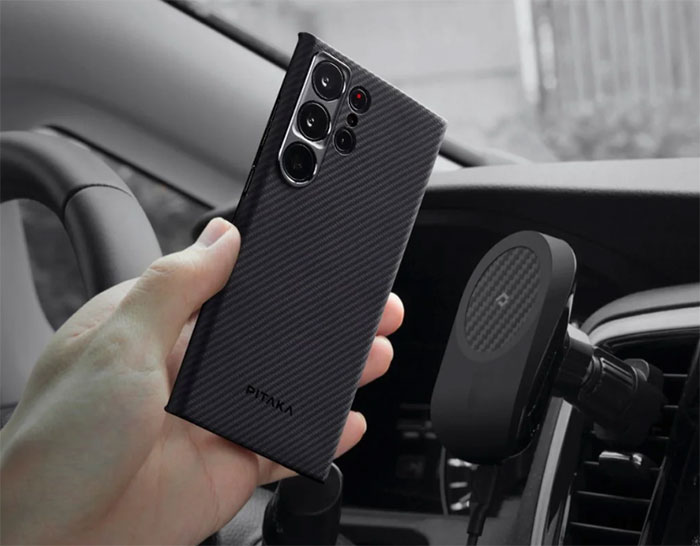 Samsung Galaxy S23 vs. S23 Plus vs. S23 Ultra
The Samsung Galaxy S23 is a brand new phone. The "23" is because it's coming out in 2023! So it stands to reason that you probably have some questions about this phone. What can it do, and what's the difference between the Galaxy S23, S23 Plus, and S23 Ultra? Here are some basic facts about Samsung's new Android smartphones.
To begin with, all three of them look very similar. They're constructed from glass and aluminum, and they use the same Snapdragon 8 Gen 2 processor. All three have a 12-megapixel selfie camera on the front, with a display refresh rate of up to 120Hz. All three versions also support ultra-wideband technology. This lets you use your phone as an RF tracker to find keys and other lost objects.
That said, there are some important differences between the three S23 versions. The most obvious is the size. The base model S23 has a 6.1-inch display and weighs just 5.93 ounces. The S23 Plus is a bit larger, with a 6.6-inch screen and a weight of 6.88 ounces. The S23 Ultra is the largest of the bunch, at 6.8 inches and 8.25 ounces.
Part of the difference is due to battery size. The Ultra has more capacity than the Plus, which has more capacity than the base model. However, the cameras are also different. The S23 and S23 Plus both have a three-lens rear camera that include a telephoto lens. The S23 ultra has a more capable four-lens setup, with a primary camera that captures 200-megapixel images. A pair of 10-megapixel telephoto lenses and a 12-megapixel wide-angle lens provide more durability.
Another major difference with the S23 Ultra is the stylus. There's a little spot on the phone for storing it, so it works a lot like Samsung's Galaxy Note series. Not everybody needs a stylus on their smartphone. But it's incredibly handy for taking quick notes or even drawing diagrams.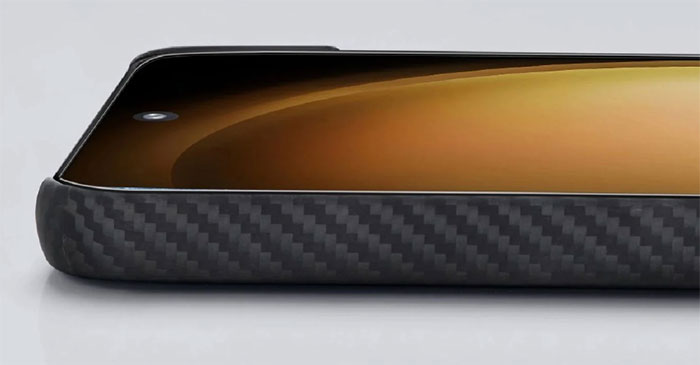 What's the Deal With Magnetic Phone Cases?
As expected, the new Galaxy S23 phones are capable of wireless charging. Not only that, but they support Fast Wireless Charging 2.0, which offers the same speed as Apple's MagSafe charging technology. You can charge the Galaxy S23 at the same crisp 15 watts that you can charge an iPhone 13 that's using a MagSafe charger.
But what does this have to do with your phone case? The problem is that the term "magnetic phone case" can mean different things. First, it can mean magnetized covers. These attach to your phone's housing with a magnet, then close shut over the front. The front cover is also magnetized so it stays securely closed. You can't use this kind of case with a wireless charger or a magnetic mount.
Second, a magnetic phone case can mean a phone case with its own built-in magnet like the Case 3. These cases are specifically designed for magnetic mounts. These cases can be compatible with wireless chargers, but that's not always true. Make sure to do your research before buying any magnetic case. Otherwise, you could end up with a case that doesn't work with your wireless chargers. The Case 3 will work with your charger, so that's not a concern here.
Choosing the Best Phone Case
We've talked about magnetization, but that's only one of many important features you need to consider. It doesn't matter how good the magnet is if the case pops off easily or doesn't provide good drop protection. So before we wrap up, let's talk about some other things that make a good phone case.
First off, take a look at the material the case is made from. A lot of cheap cases are floppy and rubbery, which is bad news. These cases can fall off, or even get pulled off by a magnetic mount. Instead, look for a stiffer, more solid case. TPU and polycarbonate are good choices if you want a more affordable case. Metal is also great, although most metal cases will interfere with MagSafe chargers. If you're willing to spend a bit more, the Case 3's aramid fiber material is even tougher.
When it comes to durability, you're usually going to have to make a tradeoff. The most durable cases are fat and chunky. They have thick bumpers and even air cushions to protect your phone during a drop. Unfortunately, this makes the phone bulky to carry around. Instead of carrying it in your pocket, you'll need to use a belt clip. This can be inconvenient, which is why many people choose a slimmer case.
Finally, look at the form factor. Badly-made cases can cover your phone's buttons or other essential areas. Before you buy a case, make sure it allows you to use all of your phone's functions.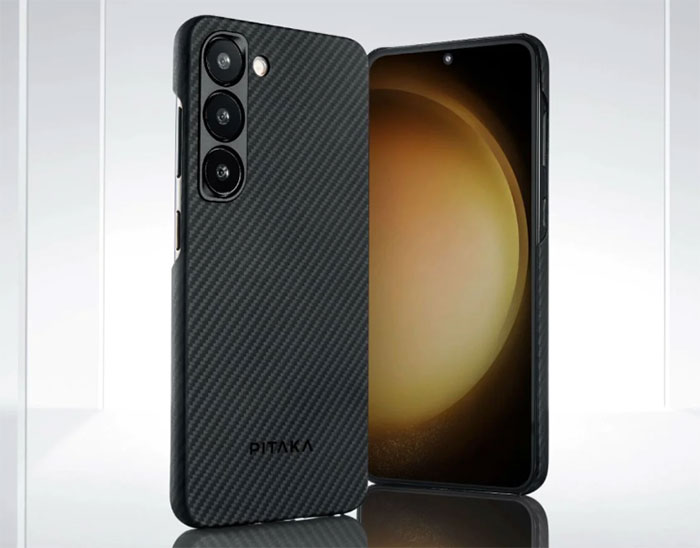 Final Verdict
The PITAKA MagEZ Case 3 for the Samsung Galaxy S23 Series is a top-tier case for a top-tier series of phones. It's expensive, but you're getting an extremely well-made, super-slim case that's tough enough to carry with you anywhere. The drop-resistance is excellent, and the aramid fiber texture is ergonomic and comfortable to hold onto.
Putting it onto your phone is very easy, and it stays in place securely once it's installed. And with a built-in magnet, you can take advantage of magnetic mounts and compatible wireless chargers. What else could you ask for in a phone case? Sure, it's a bit on the pricey side, but you're getting an attractively-designed slim case that offers ample protection.
Meet Derek, "TechGuru," a 34-year-old technology enthusiast with a deep passion for tech innovations. With extensive experience, he specializes in gaming hardware and software, and has expertise in gadgets, custom PCs, and audio.
Besides writing about tech and reviewing new products, Derek enjoys traveling, hiking, and photography. Committed to keeping up with the latest industry trends, he aims to guide readers in making informed tech decisions.