Light-up LED gloves for kids have been gaining popularity in recent years as parents, educators and caregivers look for ways to engage children in hands-on activities to create meaningful experiences away from screens. These gloves offer a unique and fun way for children to explore and play, whether it's in the dark or during a special event, such as a concert or dance party.
One of the reasons for the increasing popularity of these gloves is the growing awareness of the importance of hands-on learning and play in child development. These gloves provide opportunities for children to explore, create and express themselves in new ways while also promoting physical activity and coordination. All the while offering a bit of warmth from the cold.
In addition to being a fun accessory for playtime, light-up LED gloves can also be used in a variety of educational and therapeutic settings. Teachers and therapists can use them as a tool to teach children about color and light. Additionally, they can help children with special needs develop fine motor skills.
With so many options available, it can be difficult to sift through the choices and find the best pair of light-up gloves for kids. That's why we've gathered our team of experts to thoroughly review dozens of options to help you find the best pair that will provide hours of enjoyment. In this article, we'll be sharing our top picks along with a comprehensive guide to help you make an informed decision.
Factors to Consider When Choosing Light Up LED Gloves for Kids
Quality of the Lights: Opt for gloves that have bright and vibrant LEDs that are easy to turn on and off.
Durability: Look for gloves that are made with durable materials that can withstand play and rough handling.
Comfort: Soft, stretchy materials can make a big difference in the overall experience.
Safety: Look for gloves that have no sharp edges or dangerous parts that could cause injury. One overlooked aspect is the battery pack. You'll want to make sure that all loose components are safely secured and tucked away.
Size and fit: Make sure to select gloves that are the correct size for your kids' hands. You should pay close attention to the age ranges in the product description and read user reviews to find out how well they fit in reality.
Battery life: Look for gloves that have efficient LEDs that provide hours of use before needing to be replaced. It's also nice if they come with extra batteries.
Different modes: Some gloves come with different modes such as flashing, fading and steady light. These can be more exciting for kids to play with. You'll also want to make sure that there's an easy way to cycle through each mode or setting.
1. Theefun Light Up Gloves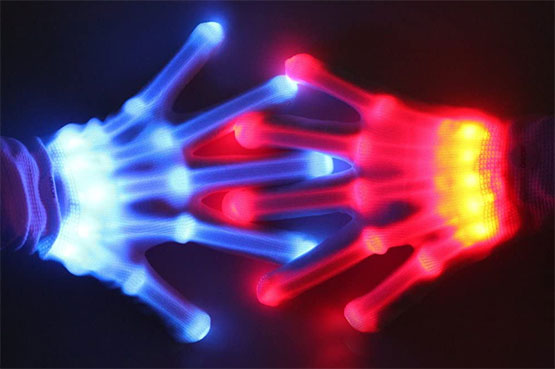 Key Features:
Whole hand lighting.
Available in 5 or 12 colors.
2 lighting modes.
Unisex.
Ideal for ages 8-14.
Material: Cotton.
Replaceable batteries.
Our first selection is one of the most reviewed LED gloves on Amazon. Theefun Light Up Gloves are an ideal option for those looking for a whole-hand lighting effect. While most LED gloves simply light the fingertips or fingers, the light on these gloves extends to the entire back of the hand.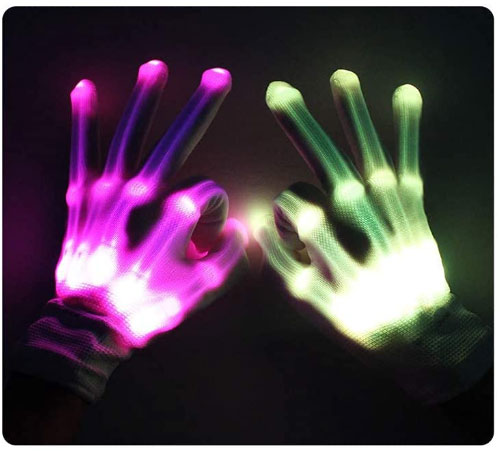 It's meant to simulate the look of the bones within your hand. You'll want to keep this in mind. While they were designed to go with Halloween costumes, many people enjoy using them for general entertainment and educational purposes.
In terms of lighting, we found the brightness to be very high. From fingertip to wrist, the lighting is consistent. We didn't witness any flickering or visual "pulsing," which can sometimes happen in low-quality options. We found that as the batteries wore down, it gradually dimmed in brightness in an even manner.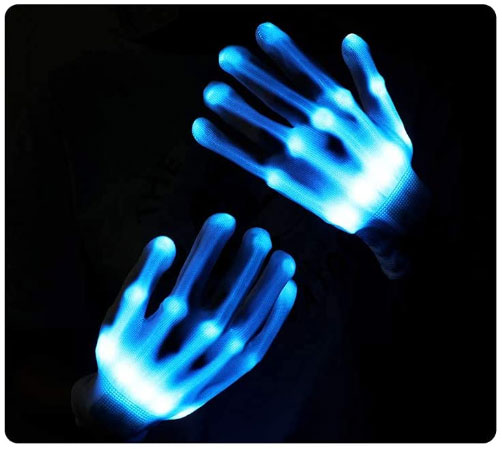 The cotton material and the elastic band around the wrist could be stretched over and over again without losing shape. We feel that the fit was comfortable while providing enough tension throughout to keep them from sliding around or going out of position. In addition, the lights on the back of the hand were not restrictive and still allowed for free movement.
In terms of sizing, they're true to the description. They're ideally suited for boys or girls between 8 and 14 years old. Some adults may be able to wear these, but larger adult hands may not be able to fit.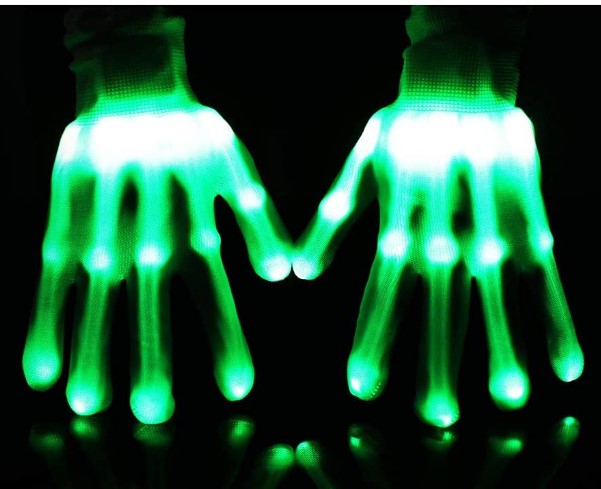 Battery life is one area where this pair excels. We appreciate the velcro section that keeps the battery out of the way. Some inferior models we tested had the battery placement in a conspicuous or poorly placed area that made them cumbersome, especially for active young children. Overall battery life depends on a few factors, but we and many other users were able to get an average of 8–10 hours of constant use. This is very good since the lighting area on these gloves is larger than others.
The manufacturer includes extra batteries, which eliminates having to purchase your own. We thought this was a nice move by the brand, ultimately helping parents and their children get plenty of playtime straight out of the box.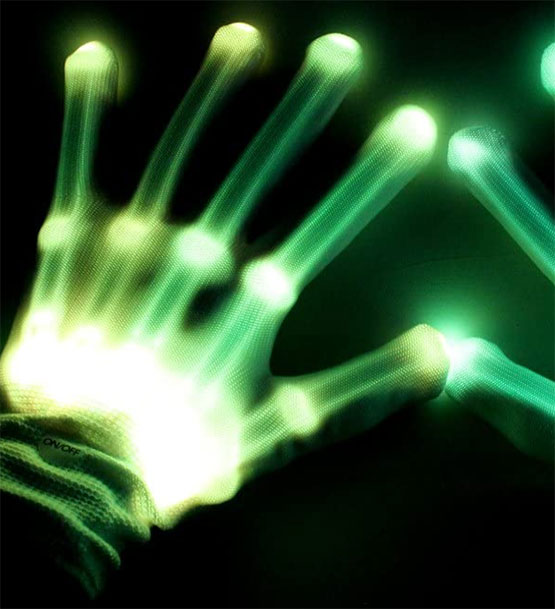 They're available in 12 different colors and they provide two lighting modes (flicker and steady). The single-button control made it easy to toggle through the modes and colors. One button push changes the color into a flicker mode. A subsequent push will turn it to a steady mode. This sequence repeats with every color. One downside to the single button control is that you're going to have to toggle through the entire color sequence before going back to the color you just passed. It's not a big deal if you don't intend to switch up the colors very often.
Overall, the Theefun Light Up Gloves are a great choice for people who want LED gloves with a large lighting surface and good battery life. They're also one of the most economical multi-color options currently available.
What We Liked:
Large lighting surface.
Bright LEDs with plenty of color variety.
Single button design are easy for kids to figure out.
Extra batteries are included.
What We Didn't Like:
Slightly more expensive than other options.
2. Pecosso Kids LED Gloves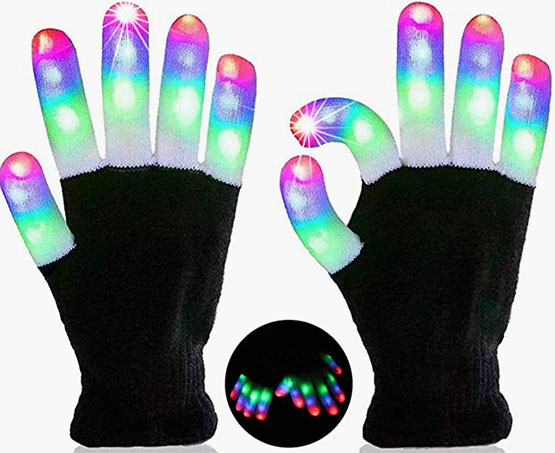 Key Features:
Red, green, blue color LEDs.
Light from fingertip to finger base.
6 lighting modes.
Cotton-polyester blend.
Replaceable batteries.
The first thing we appreciate about the Pecosso Kids LED Gloves is the wide range of sizes. They're available in small and medium sizes and are appropriate for children aged 3 to 16. This inclusive, two-size approach helps kids have a more-tailored fit. We found that the sizes of both provided an ideal fit for most users. Additionally, we felt that the cotton-polyester material blend was a tad more durable than our first option. These were also easier to keep clean, which is an added bonus.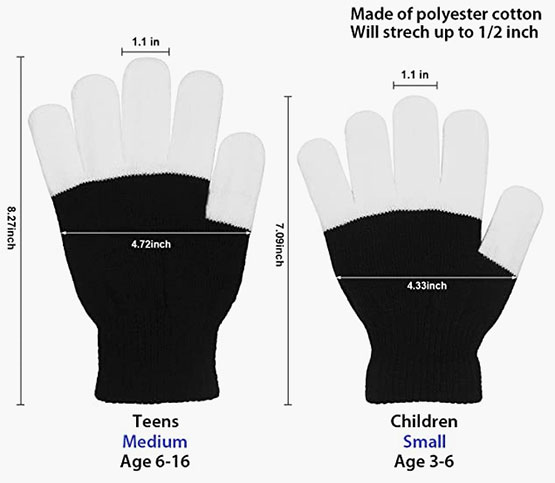 The lights illuminate from the fingertips to the base of each finger, offering a different look than other models that simply light the fingertips. Unlike the TheeFun, color customization is limited to just three colors: red, green, and blue.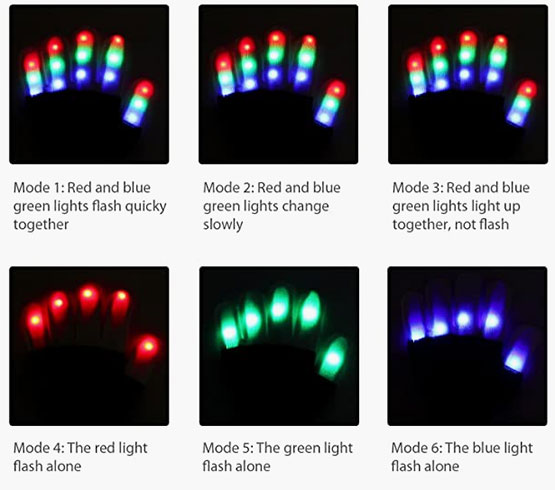 However, the place this model shines is in its six lighting modes. With just one button, kids can easily switch between modes. The options are an alternating strobe, alternating flash, always on, flash red, flash green, and flash blue. We feel that this is an ideal combination, especially for younger children who are more interested in modes than specific color changes.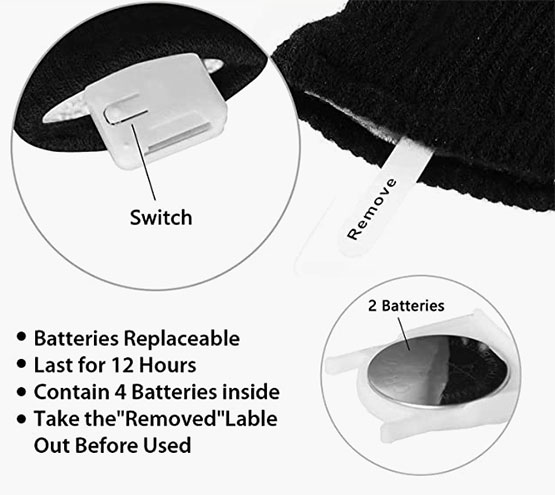 Battery life performs well. The battery compartment and discreet placement are similar to the TheeFun. That said, we were able to get between 10 and 12 hours of use. Keep in mind that this will vary depending on the lighting modes you use most often. They've included extra batteries as well, which is a nice bonus.
Overall, we feel that the Pecosso Kids LED Gloves are a great choice for most kids. In fact, they're especially good for younger children that would like preset lighting modes as opposed to needing specific color adjustments. We found that these gloves were one of the best pairs for not requiring adult intervention once the batteries were installed.
What We Liked:
Bright LEDs.
Long battery life with extra batteries included.
Variety of lighting modes that are easy for children to toggle between.
Durable material and good fit.
What We Didn't Like:
More color options would have been nice.
3. XISFORX LED Gloves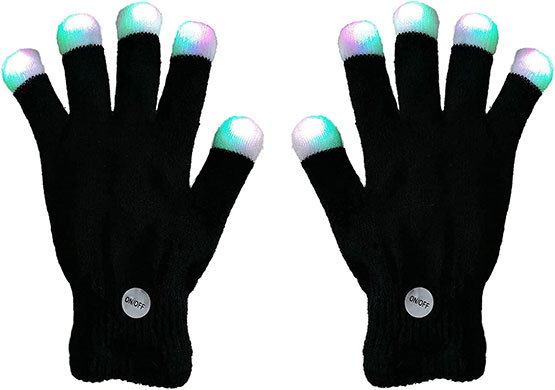 Key Features:
Whole finger or fingertip options.
Polyester material.
Red, green blue LEDs.
6 lighting modes.
Replaceable battery.
The XISFORX LED Gloves is another great choice, especially for older children. When we tested them, we found that while they can be used by children of all ages, they're ideally sized for children 10 and older. Like the Pecosso, they have red, green and blue LEDs.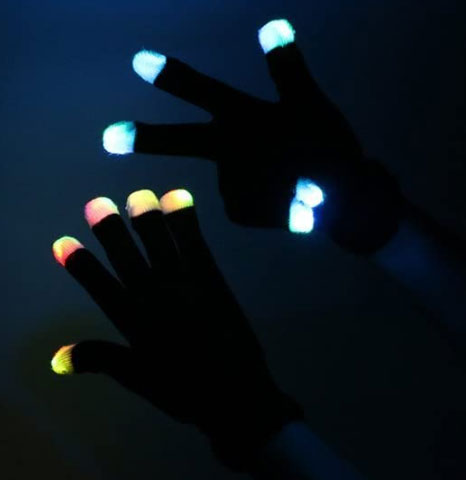 The gloves provide six lighting modes to toggle through, and we felt that they offered a great selection. All of the lighting modes are operated by a single button, just like the others in this article.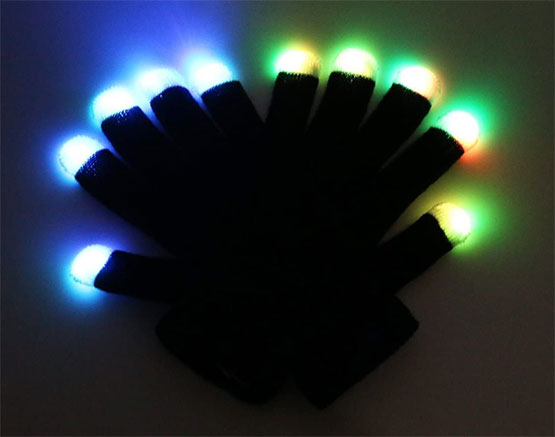 One thing we noticed was that the LED brightness was very strong. They glow much brighter than all of the others we tried. Best of all, they didn't dim towards the end of battery life either. We did not experience any flickering, only a steady bright glow.
Battery life varies depending on which version you get. The fingertip model lasts an average of 10–12 hours of constant use, while the whole finger option is between 8–10 hours.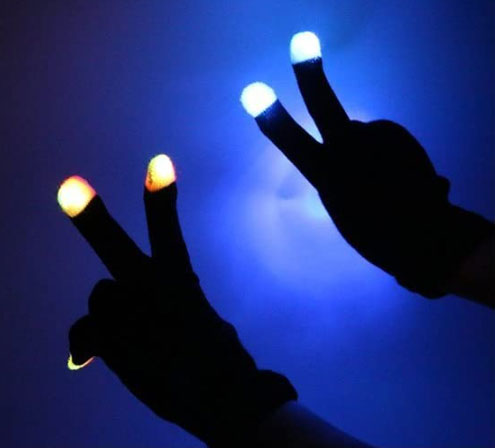 We were unsure about the breathability of the polyester material. However, we found the material was very comfortable, and it provides a good amount of stretch to conform to the shape of the hand. While it's not as breathable as the cotton-blend version, it still did a decent job at providing enough ventilation to keep things cozy.
What We Liked:
Available in fingertip or whole finger LED.
Strong battery life performance.
Easy to toggle between lighting modes.
Secure and comfortable fit.
What We Didn't Like: