Vantrue E3
Pros
Records the front, the rear, and the inside of the car.
Supports up to 512GB of storage.
Powerful GPS features.
Built-in WiFi hotspot.
Easy to setup, configure and use.
Cons
Won't accept power from other USB-C power sources.
A bit expensive.
Working as a rideshare driver can be a great way to earn cash. You can work full time on your own schedule, or make it a side gig for the odd weekend. Unfortunately, problematic drivers can ruin the experience.
Worst of all, riders have been known to make false accusations of abusive behavior in order to get a discount. An interior camera can protect you and your reputation from these kinds of scammers.
A dash cam can also come in handy in the event of an accident. Suppose another driver runs a red light and T-bones you at an intersection. They might lie and say that you ran the red light. If there are no witnesses, it's your word against theirs. If you don't have evidence, you could end up seeing an increase in your insurance premium. A camera will provide that evidence.
Today, we'll be reviewing the Vantrue E3. Also known as the Element 3, this is a triple-view dash cam that records inside your vehicle, and outside to the front and the rear. It has a built-in GPS receiver, along with a WiFi hotspot for easy app connectivity. But there are many other features to explore and consider. Only after we've given it a thorough evaluation can we deliver a fair verdict.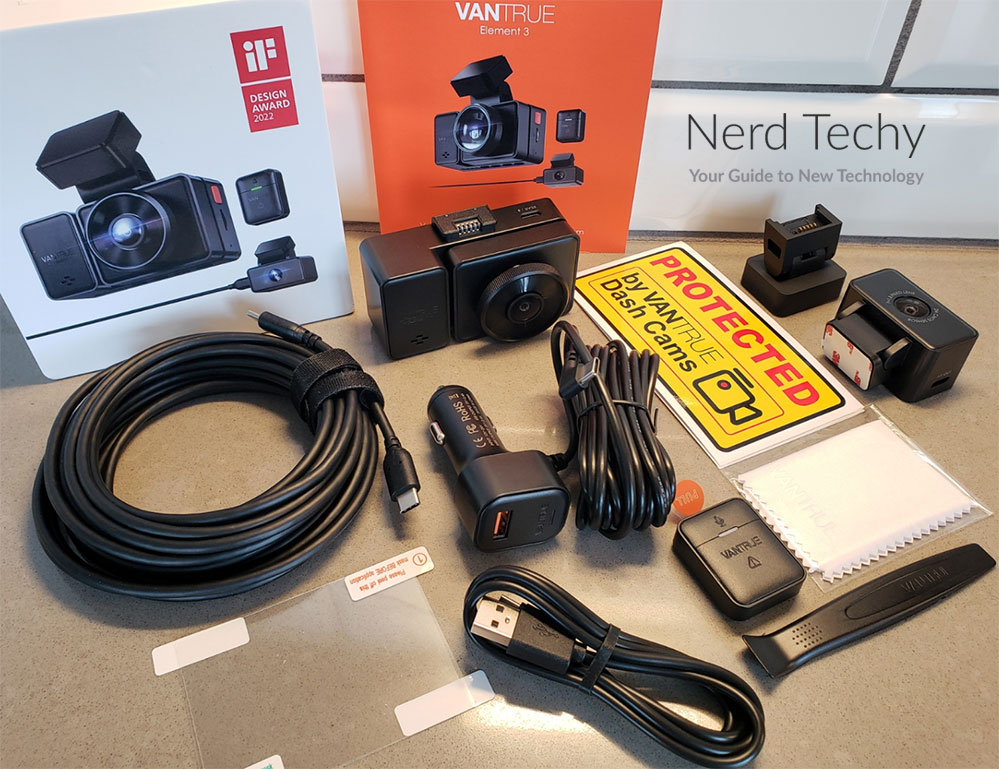 Overall Design
The Vantrue E3 Dash Cam has a two-part design. The first part is the front camera, which measures 3.4 inches wide, 1.96 inches tall, and 2.54 inches thick. At this size, the camera is nice and compact, and won't obscure your view of the road.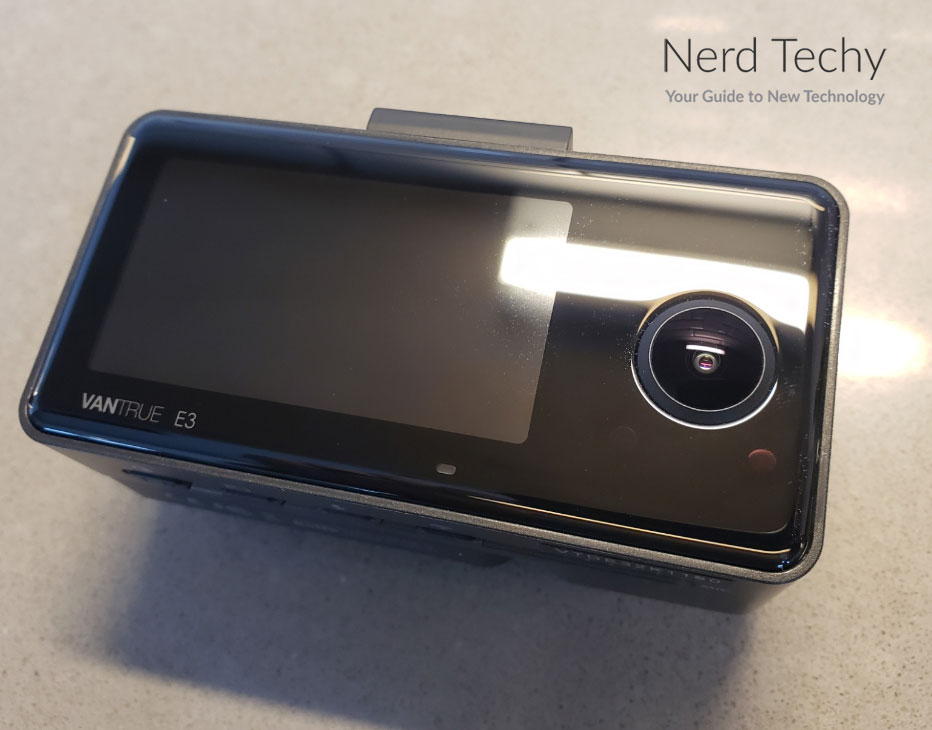 It's also easy to remove, with a handy magnetic mounting bracket. And with a reversible design, you can mount it on your windshield or on the dash. It's constructed from a sturdy black plastic, and sports a 2.54-inch LCD display on the back.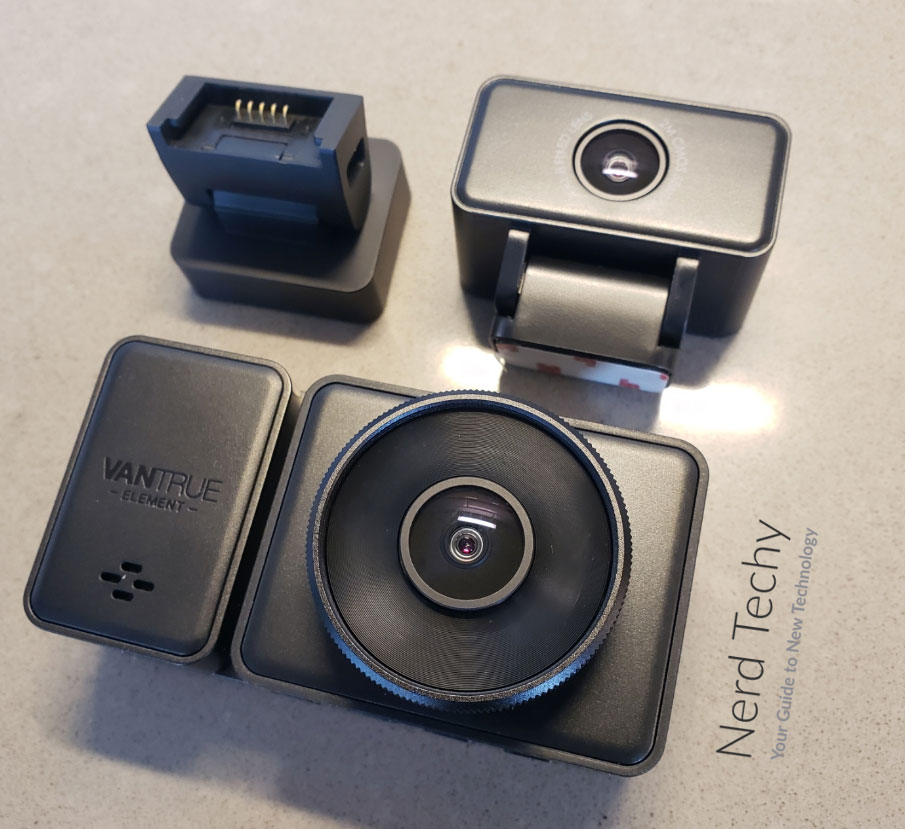 The forward-facing lens is surrounded by a circular protective housing. This keeps it from any damage, and also blocks some light from coming in from the sides, reducing glare. The inward-facing lens is located to the right of the LCD display, and sits flush with the housing.
The rear camera is noticeably smaller than the front camera. Including the mounting bracket, it's just 1.69 inch high, with a width of 2 inches. It mounts inside of your rear windshield, with a pivot at the base of the bracket. This allows it to point at the exact angle you need, depending on the angle of your rear window.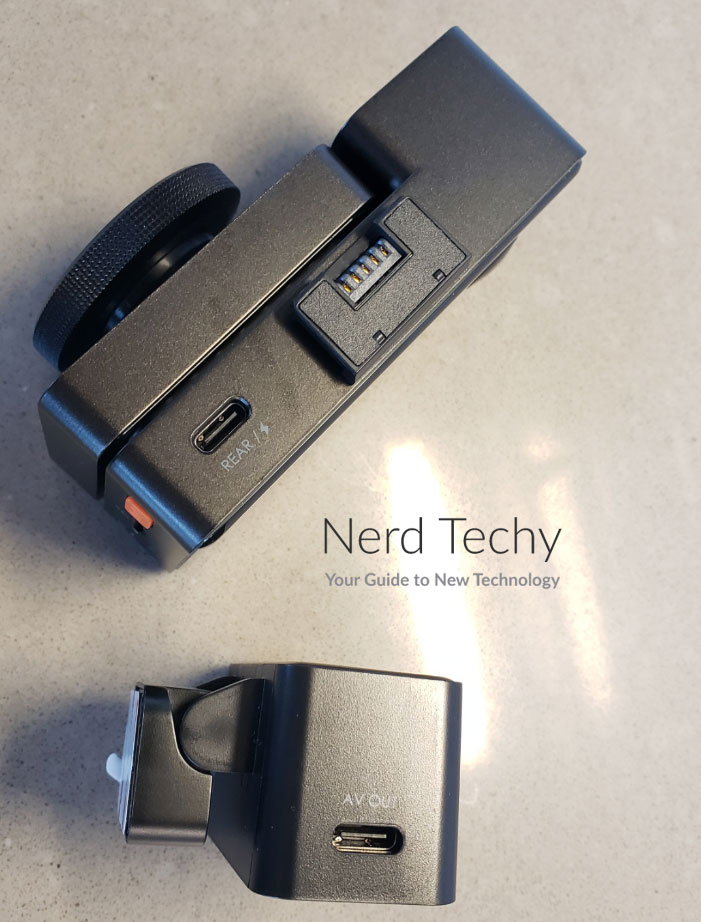 The E3 is backed by Vantrue's 18-month manufacturer's warranty. If there are any defects in parts or labor, you'll be fully covered.
Control Functions
There are a few ways to control the E3 dash cam, starting with physical control buttons. There's a bright orange rubber button built into the left side. The rest of the buttons are on the bottom edge. You can use them to activate the WiFi function, turn voice controls on or off, or adjust the display mode. For example, you can switch between the front, rear, or interior cameras, or view a split-screen version.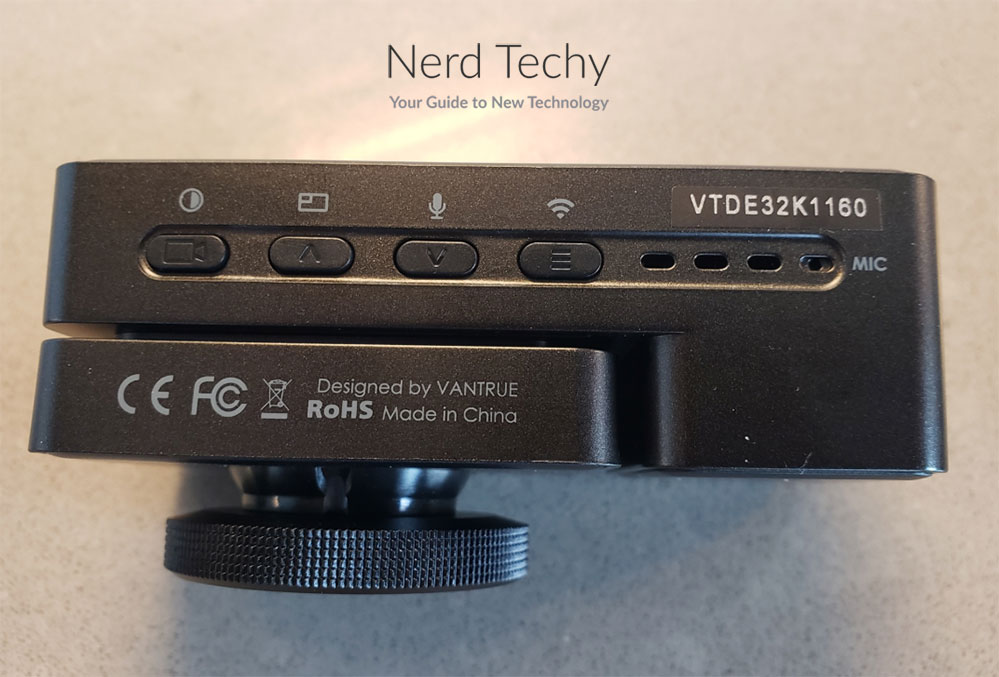 There's also a small wireless remote. It's made of black plastic, and it's about the size of a key fob. You can use the three built-in buttons to lock a video in memory, take a snapshot, or activate and deactivate voice controls. The idea is to have something closer to hand than the actual camera.
Besides the app, which we'll discuss later, the other option is to use voice controls. These are pretty convenient, since you don't have to mess around with the physical buttons. You can save video, take a screenshot, turn your WiFi on and off, and even review video. The result is a totally hands-free control system that's easy to operate while you're driving.
If you don't need all of these options, check out the DDPAI Z50. It has fewer on-board controls and a more basic smartphone app, so it's simpler to use. Despite having fewer features, it still boasts gorgeous 4K forward video and 1080p rear video with brilliant color.
Installation
The Vantrue E3 front and rear cameras both mount in the same fashion. The kit includes a set of three double-sided adhesive pads which you use to adhere the mounting brackets. All you have to do is wash your windshield and stick the bracket in place. The third pad can be used to attach the wireless remote to your dashboard. Or you could keep it as a spare in case you decide to move one of the cameras.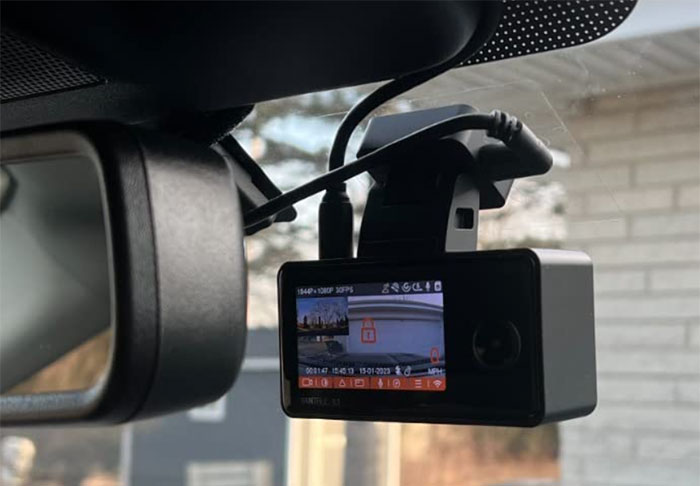 Once you've mounted the cameras, you're ready to attach them. The package comes with a 20-foot USB Type-C to Type-C cable that connects them together. That's long enough for pretty much any vehicle, even a large SUV. You even get a little trim tool to help you tuck the cable behind your car's molding.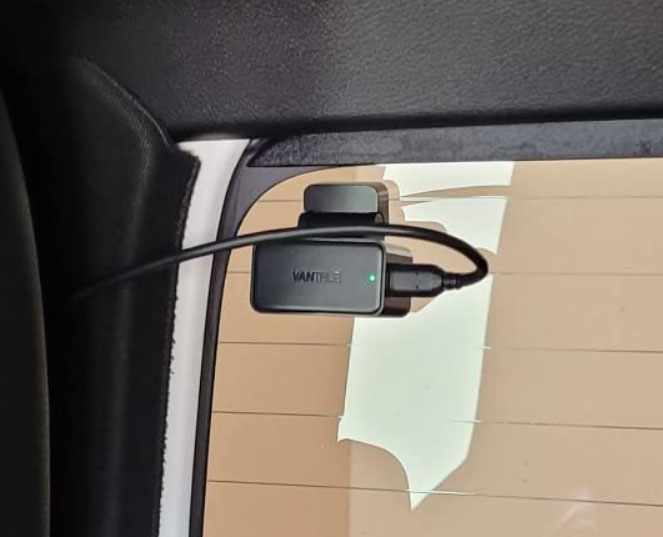 After that, all you have to do is plug the front camera into your car's power outlet. The automotive power to USB Type-C cable is 11.4 feet long, which once again should be more than long enough. Be careful, though! The camera seems to have trouble working with other power supplies. If you lose the adapter, it could be hard to find a suitable replacement.
If this is more equipment than you need, consider the Thinkware X800. It's a simple front-only camera that's very easy to install. And it's modular, so if you want to add a rear camera later on, you'll be able to. The only downside is that there's no mobile app. If you want to access your videos, you'll have to remove the SD card.
Video and Recording
The front camera has a resolution of 1944p, which is very sharp. It's almost as sharp as 4K, which is 2160p. It's sharp enough to zoom in on your phone and see fine details that you can't make out in 1080p. The interior camera and rear camera record in standard 1080p. That's about standard for a rear camera, and it's all you'll ever need from a front camera. All cameras capture video at 30 frames per second, which is more than sufficient for a dash cam.
The front and rear cameras both have a 160-degree field of view. This ensures a very wide area of coverage both in front of and behind your vehicle. You'll be able to see the lanes to both sides, which is crucial for investigating many types of accidents. The interior camera has a somewhat wider 165-degree field of view.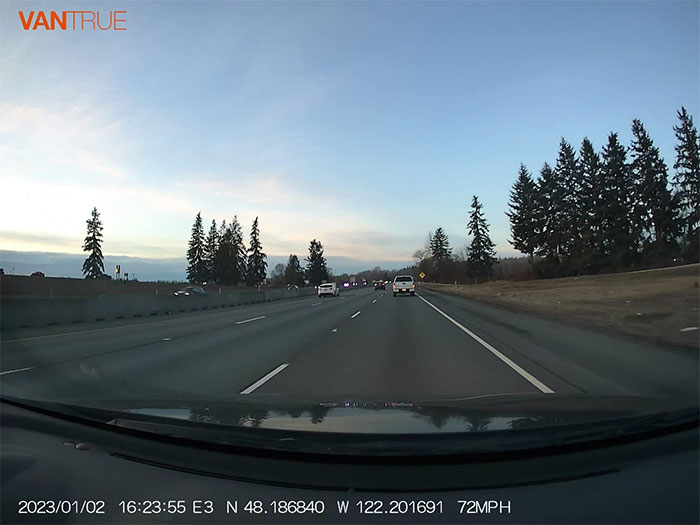 Both exterior cameras feature full color night vision. This requires some quantity of light, so it won't work in pitch darkness. But even moonlight is enough to provide a bright, vivid image. The interior camera utilizes infrared night vision, with four IR diodes. This provides clear video under any conditions, but only in black and white.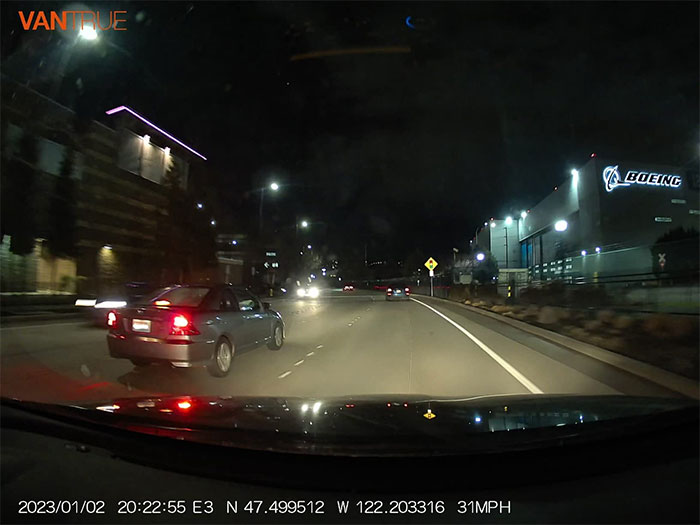 If you need a sharper rear camera, there are options. The Vantrue E2 is a good example. It's a front and rear camera kit, both of which have 2.5K resolution.
The E3 doesn't just capture video. It also has a built-in GPS module that keeps a record of your speed and location. Over the course of a video, it effectively tracks your entire route. You can even bring up the app and create an overlay on Google Maps.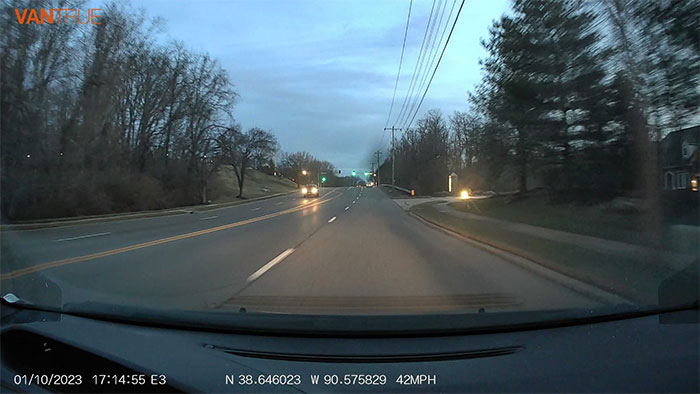 Storage and Monitoring
This camera has an internal sensor that's designed to sense the type of impacts involved in a collision. When it triggers, it will automatically lock that portion of the video into memory. Video that isn't locked into memory will be continually overridden by newer recordings. You can also manually lock a clip into memory by pressing the button on the controller. This can be handy if you see something amusing you want to record but aren't in an accident.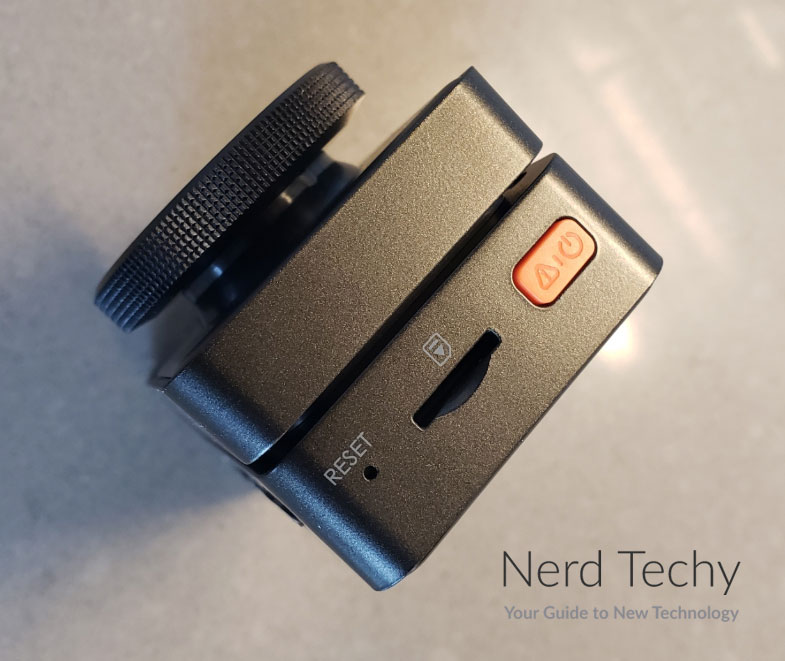 As is the norm these days, there's no built-in storage on the E3 camera. That said, it will support up to a 512GB SD card. That's an incredible amount of recording, enough to store days of continuous footage. Just make sure to use a good quality SD card. Cheap cards will wear out quickly under the stress of being written over constantly.
The built-in WiFi hotspot supports a dual-band connection for better speed and stability. Connect to it with the app, and you'll be able to view all of your footage on your smartphone. You can even download videos and store them for later. This can be handy if you want to submit your footage as part of an insurance claim.
In addition to all that, the E3 also comes with an optional parking camera function. If you're going to use this, you'll need to install it via the hardwiring kit. Otherwise, it could drain your car battery.
There are three different parking modes to choose from. In buffer detection mode, the camera will record from 5 seconds before an incident until 30 seconds after. In low frame rate mode, it will record continuously, but it will only record at one frame per second. Low bitrate mode records at 15 frames per second, but the video itself is lower quality.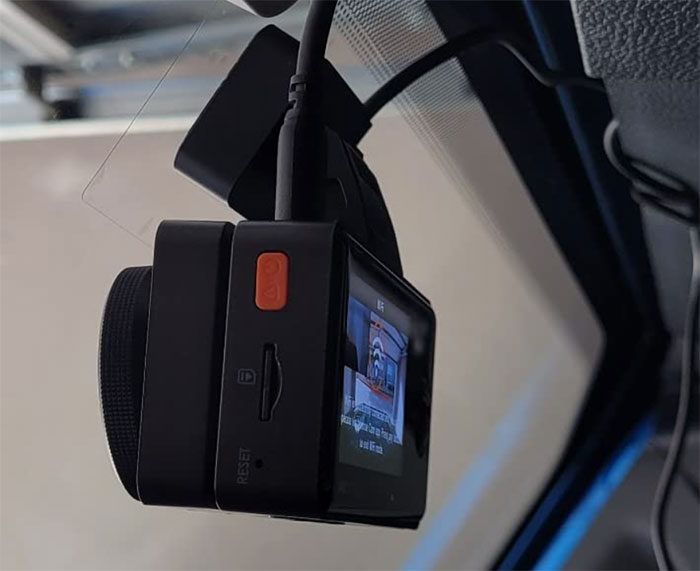 Final Verdict
The Vantrue E3 Dash Cam is a powerful tool, not just because it has three camera lenses. Not only do you record in front of and behind your car, but inside of it as well. The video itself is crisp and clear, and the night vision quality is excellent. The system is easy to install, and sets up in just a few minutes. If that's not enough, it even accepts voice controls. All things considered, we were very pleased. It seems to be a very well designed dash cam!