How we use our desks has changed a lot over the years. Go back a couple of generations, and a desk was where you put your typewriter. Nowadays, it's where you put your computer monitor. Depending on the height of your desk, you may also put your mouse and keyboard there. But more often than not, a mouse and keyboard work best in an under-desk tray.
Many modern desks come with a tray already equipped. But if yours didn't, there are plenty of aftermarket mouse and keyboard trays to choose from. This means you're not stuck with whatever tray came with your desk. Many aftermarket trays are adjustable, and can pivot or tilt to accommodate different seating positions. So it's worth shopping around and finding one that's a good fit for you.
We're about to review four of the best under-desk keyboard and mouse trays that money can buy. To find out which tray is best, we're going to have to dig a lot deeper. Let's see how these under-desk keyboard trays stack up!
Best Overall: VIVO Ergonomic Keyboard and Mouse Tray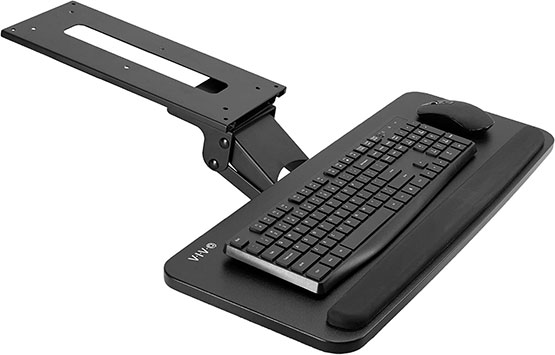 Key features:
Five color options.
Built-in wrist rest.
Can slide, tilt, or swivel.
Three-year warranty.
The VIVO Ergonomic Keyboard and Mouse Tray feels tough and solid. It has a particle board core, with a smooth finish on the outside. You can order it in black, white, or in three attractive wood tones with various types of grain.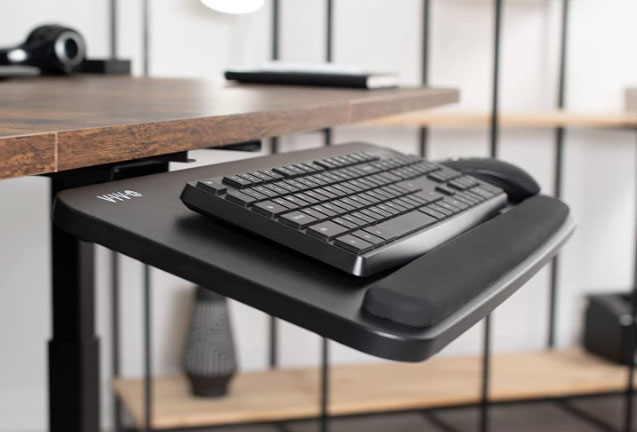 The surface is large enough for a mouse and a full-sized keyboard. It measures 25 inches wide and 10 inches long. The bulk of the surface is bare and smooth to accommodate your peripherals. However, there's a padded wrist rest at the front that runs almost the entire width of the tray.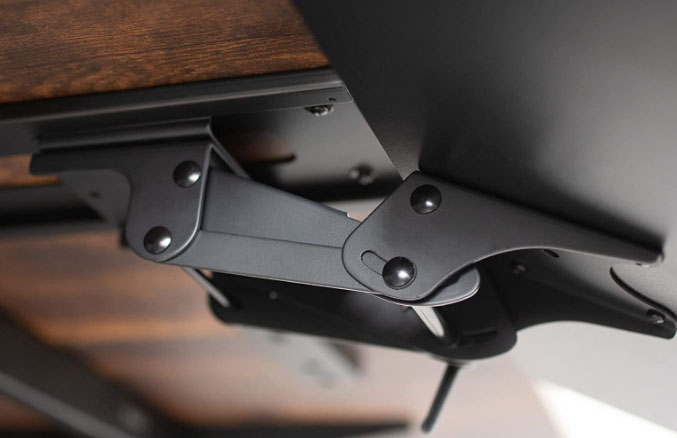 The tray itself sits on a stainless steel mounting bracket. The bracket, in turn, hangs from a steel plate that attaches to the bottom of your desk. The plate measures 14.25 inches long and 6.25 inches wide, and has a track on the bottom. This track makes it easy to slide the keyboard tray in and out from under your desk.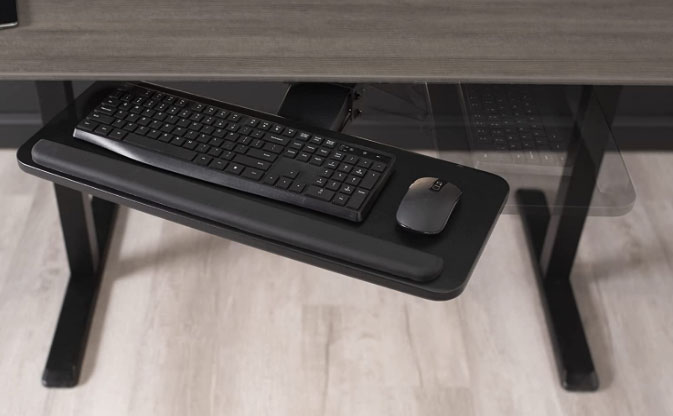 In addition to sliding, there are other ways to manipulate the VIVO tray. To begin with, you can tilt it anywhere from 6 degrees forward to 22 degrees backwards. There's a tension release lever on the right side of the mount that makes adjusting it a breeze. You can adjust the height up or down over a range of 5 inches, to get the perfect height. You can even swivel the tray to the left or right to sit at an angle to the main desk surface.
Assembling and mounting the VIVO tray is easy, and it only takes a few minutes. Keep in mind that you'll have to install it on a wood desk so it has something to screw into. You also need a surface that's at least 5/8-inch thick and can support 10 pounds. You also get the benefit of a three-year warranty, which is more than long enough to identify any defects.
Best Clamp-On: ErgoActive Extra Wide Under Desk Keyboard Tray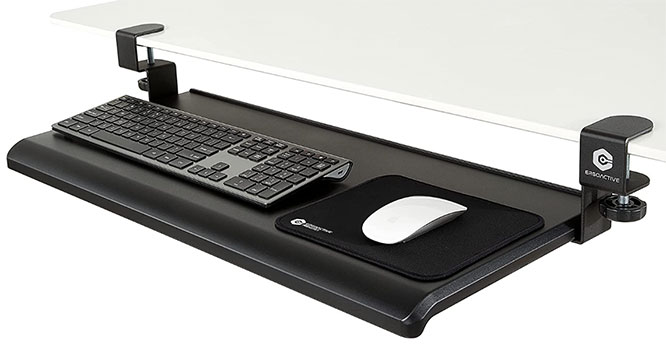 Key features:
Black plastic construction.
Clamp-on design.
Slides smoothly in and out.
Includes a mouse pad.
The ErgoActive Extra Wide Under Desk Keyboard Tray is slightly wider and shallower. It measures 27.6 inches wide and 12.2 inches long, and it's made out of black plastic.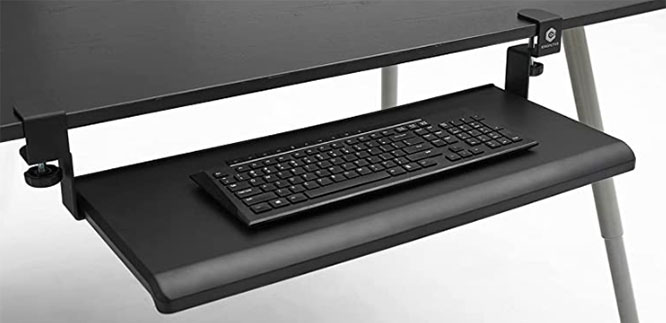 There's a downward-curving lip at the front that provides a comfortable rest for your palms. Meanwhile, there's a raised ledge at the back to keep your keyboard from falling off. And despite the fact that it's made of plastic, the tray is surprisingly sturdy. It's a total of an inch thick, with a grid-shaped pattern in the bottom for reinforcement.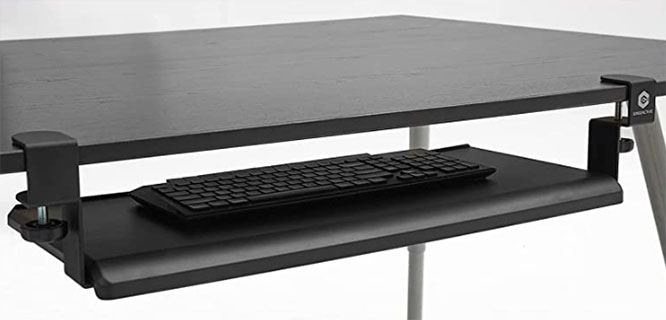 This tray doesn't screw onto your desk. Instead, there's a pair of clamps that are spread out to the sides, for a total width of 32.5 inches. The clamps are made from metal, not plastic, so they're very tough. At the same time, they have soft black padding on the inside to protect your desk. They'll open to accommodate a surface as thick as 1.57 inches. And when the tray is attached, it will hang down by 3.95 inches. It weighs just 6.42 pounds, so it puts virtually no load on your desk.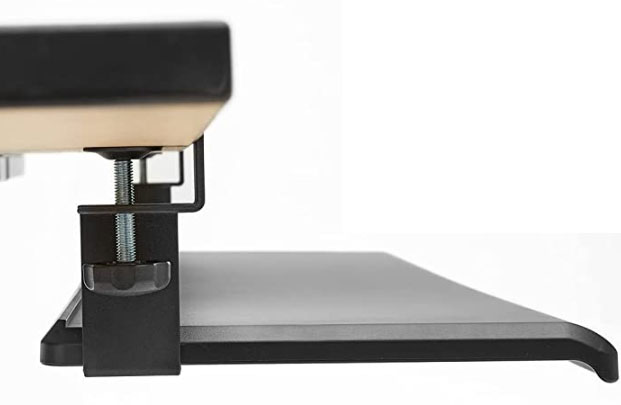 The clamps support the tray on a set of tracks, which allow you to slide the tray in and out. The motion is nice and smooth, without any roughness in the bearings.
Along with the tray itself, you get a little mouse pad. It's just a plain black pad, but it goes well enough with the tray. More to the point, you get an 18-month manufacturer's warranty. If anything fails prematurely, you'll be protected.
Best Runner-Up: Mount-It! Keyboard & Mouse Drawer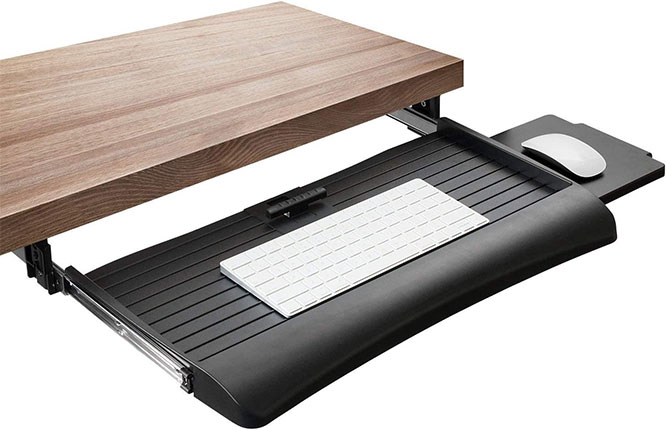 Key features:
Black plastic construction.
Mounts on a set of sliding rails.
Ambidextrous side-mount mouse tray.
Three mounting height options.
The Mount-It! Keyboard & Mouse Drawer is a little bit smaller. This is a black plastic tray that measures 21 inches wide and 11.75 inches deep. Most of the surface is recessed, with a raised slide at the back that moves in and out to secure your keyboard. The front portion is raised, which provides a reasonably comfortable wrist rest.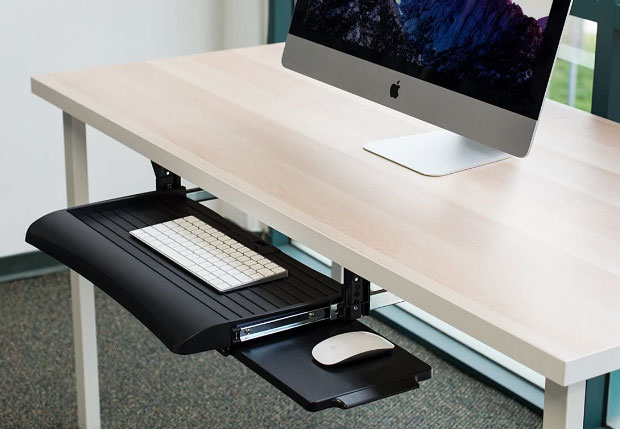 There's a separate mouse tray that measures 8 inches wide and 7.5 inches deep. The mouse tray mounts on the bottom of the keyboard tray, and pulls out to the side like a drawer. It's also modular. You can position it on the left or right side of the main tray, so you can use your mouse with either hand.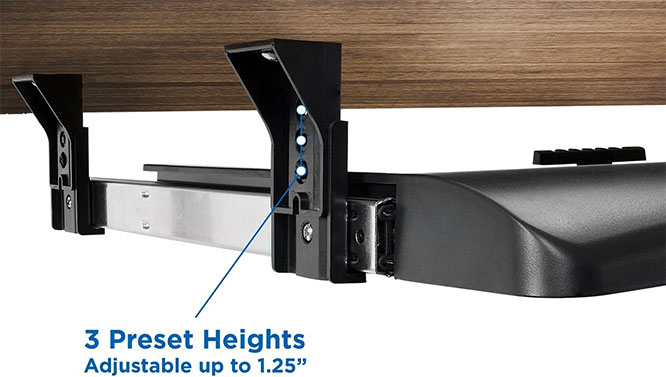 The Mount-It! tray attaches to a set of metal tracks that mount to the bottom of your desk. It weighs just 4.21 pounds, and it takes mere minutes to install. That said, it requires at least a 5/8-inch thick desktop in order to screw in. We particularly liked the brackets, which have three different mounting heights, up to 1.25 inches.
Best Alternative: HUANUO Under Desk Keyboard Tray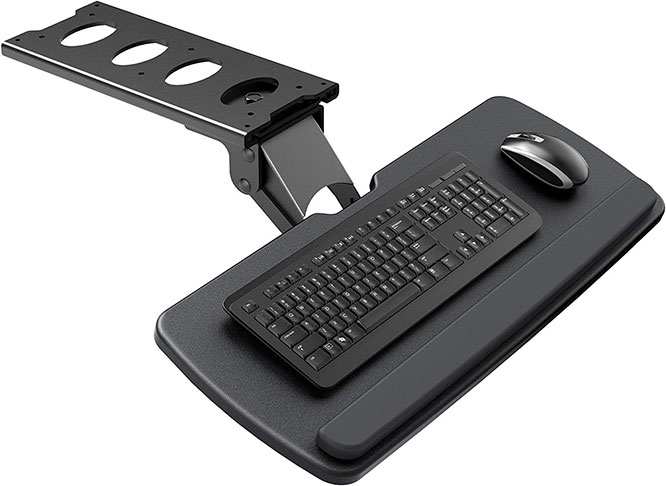 Key features:
Black or brown plastic construction.
Slides, tilts, and swivels.
Built-in wrist rest.
The HUANUO Under Desk Keyboard Tray is wide and narrow. It measures 25 inches from side to side, with a depth of only 9.8 inches. It's constructed from plastic, but it's available in two colors: black and a faux wood finish. Most of the surface is flat, but there's a padded wrist rest that's almost as wide as the entire tray.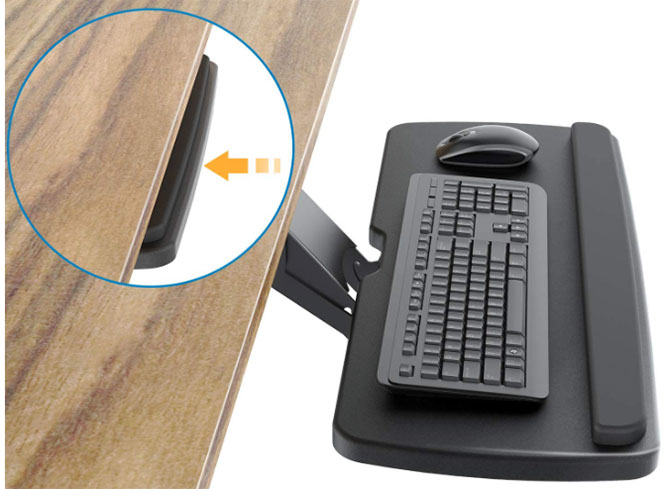 The tray itself attaches to the top of a steel mounting bracket, which connects to a steel plate. This steel plate screws into the bottom of your desk, and has tracks that allow the tray to slide in and out. It measures only 9.87 inches long and 6.25 inches wide, so you can easily install it around obstructions. The mounting equipment and tray weigh 12 pounds altogether, and can support a weight of 11 pounds.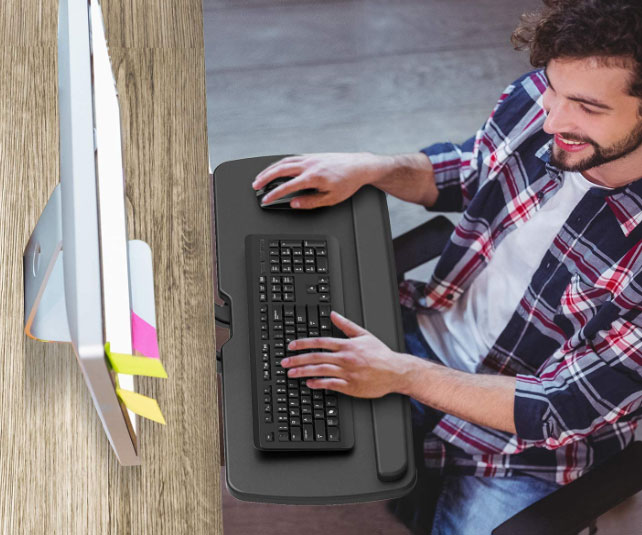 This tray is designed to be very easy to adjust. Using the tension lever, you can adjust the keyboard angle between -6 and +22 degrees. You can adjust the height across a range of 6.3 inches. You can also tilt the keyboard to the left or right by up to 90 degrees. So if you want to sit at an angle to your desk, you can.
How to Choose the Best Under-Desk Keyboard and Mouse Tray
Before we finish up, let's talk about what makes a good under-desk keyboard and mouse tray. Why might you choose one option over another? Here are a few things to consider.
Size
The size of your keyboard and mouse tray is important for a couple of reasons. To begin with, you need one that's big enough to accommodate all your equipment. A full-sized keyboard requires a larger tray than a tiny tenkeyless keyboard, for example. You may also need more or less space depending on how you use your mouse.
That said, it's equally important to get the right size tray for your desk. If your desk has cross-bars and obstructions underneath, the tray will need a tiny mounting surface. Conversely, a miniature tray might look silly on a large, oversized desk.
Mounting
A keyboard tray that screws into the bottom of your desk will be more secure. Clamp-on trays, by comparison, can tend to feel wobbly and unstable. However, you can't screw into all kinds of materials. A screw mount simply isn't an option on a glass, metal, or stone desk. In those cases, a clamp-on tray can be a better option. Clamp-on trays are also ideal if you don't own your desk. They're great for coworking spaces or even in a regular office.
Other Considerations
Since you're going to be typing on your keyboard tray, it's important to think about ergonomics. For this reason, most good quality trays will have a wrist rest or other supportive surface. Many are even adjustable. Ask yourself if you need a keyboard that can move up and down or tilt back and forth.
Clearance is another major consideration. You want there to be enough room for your legs to fit comfortably underneath. You also want your keyboard and mouse to be able to clear the bottom of your desk. You may even have side clearance issues if the tray has a mouse tray on the side. These are things you'll need to think about before you buy.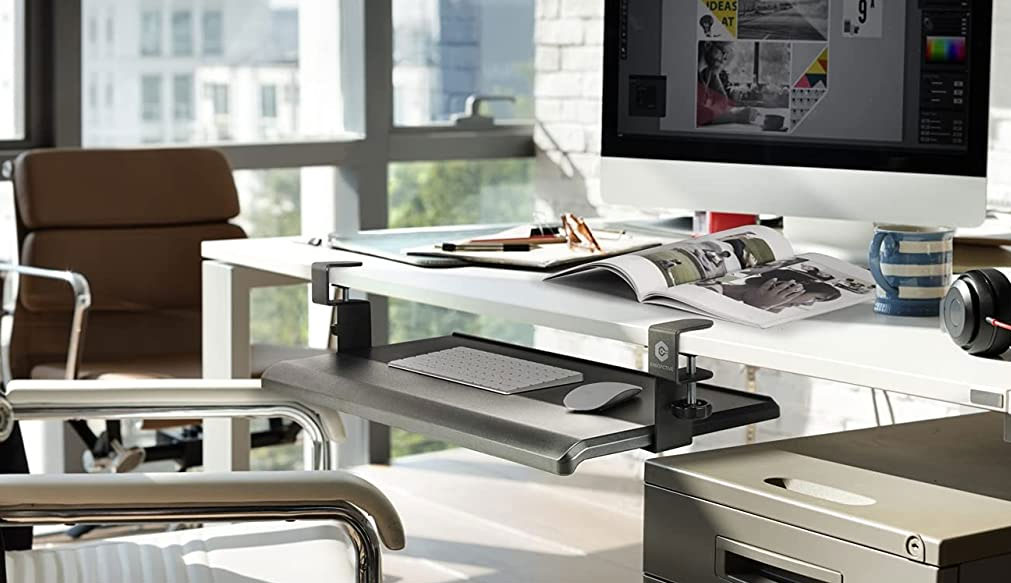 Final Verdict
All four of these under-desk keyboard and mouse trays are well thought-out. But which one is the optimal choice for you? Here's what we've learned about each of today's options.
We began by looking at the VIVO Ergonomic Keyboard and Mouse Tray. This tough tray is available in five color options, with a soft, supportive wrist rest. It's large enough to accommodate most needs, but it's not overly large. We particularly liked the small mounting plate, which can fit on most desks without being obstructed. We were also impressed by the number of ways you can adjust this tray. You can tilt it, pivot it, and raise it up and down. That way, you can work comfortably under almost any circumstances.
Next, we checked out the ErgoActive Extra Wide Under Desk Keyboard Tray. This lightweight tray is great when you don't want to permanently install anything. It gently clamps onto your desk, with padded clamps that won't scratch up your surface. You can move it from place to place in just a few minutes. And since it doesn't screw in, you can install it on glass, metal, and other non-wooden surface materials.
Third on our list was the Mount-It! Keyboard & Mouse Drawer. This is another lightweight option, but it has a couple of slick bonus features that are worth pointing out. To begin with, there's the ambidextrous mouse tray, which is a great feature for left-handers. However, we also liked the fact that you can adjust the mounting height. This allows you to get more or less clearance, depending on what you want.
Finally, we reviewed the HUANUO Under Desk Keyboard Tray. The HUANUO tray has a wide range of movement in all directions. You can change the height, as well as tilt your keyboard and pivot it from side to side. The built-in wrist rest is supportive and comfortable to the touch. It's also easy to install, with a small mounting plate that will fit well on the bottom of almost any desk.
Meet Derek, "TechGuru," a 34-year-old technology enthusiast with a deep passion for tech innovations. With extensive experience, he specializes in gaming hardware and software, and has expertise in gadgets, custom PCs, and audio.
Besides writing about tech and reviewing new products, Derek enjoys traveling, hiking, and photography. Committed to keeping up with the latest industry trends, he aims to guide readers in making informed tech decisions.