C3STROM Astro Pro
Pros
Powerful acceleration and impressive top speed.
Relatively long riding range.
Equipped with a name brand battery.
Excellent build quality.
Oversized, puncture resistant tires.
Cons
Very heavy.
Only available in one frame size.
With advances in battery technology, we've seen an influx in electric bicycles in recent years. Nowadays, they're more capable, efficient and powerful than ever.
While some e-bikes are meant for a casual stroll in the park, others are built for daily commuting and grocery-getting. Needless to say, the latter requires an e-bike that's designed and built well for high-demand, regular use.
Recently, overseas manufacturer C3STROM designed and released one that gives a whole new meaning to the term "electric bicycle." In fact, we honestly have a hard time referring to it as an e-bike, but technically it is.
Introducing, the Astro Pro. This is a special class 3 e-bike that was created to be one of the most powerful and capable e-bikes out there. At first glance, it looks more like a motorcycle. But take a closer look and you'll notice that it's actually a highly-engineered electric bicycle that visually appears as a classic motorbike.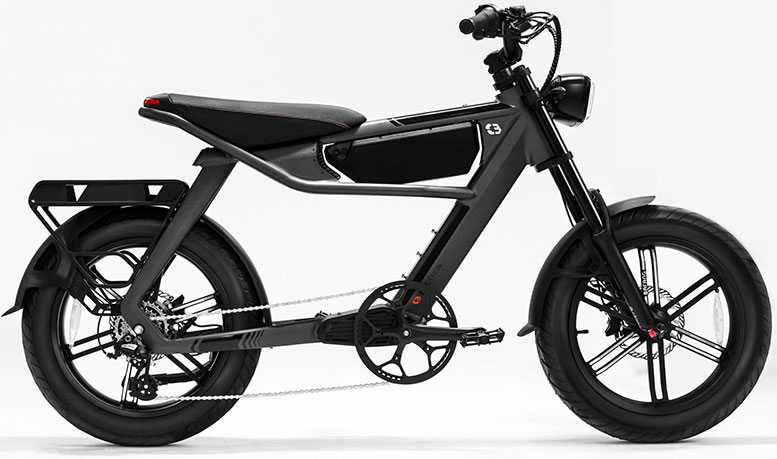 Motor and Drivetrain
Also referred to as a futuristic electric moped, the C3STROM Astro Pro was created with everyday commuting in mind. Although it may not be the perfect replacement for a car, it's packed with a wealth of specs and features that are all very enticing.
While it has pedals, handlebars and a configuration similar to a standard bicycle, there's a lot more going on here. The heart of the Astro Pro is a 750W Bafang motor. Capable of 80Nm of torque, the electrical system is built with a 35-amp controller, meaning that it pulls around 1,800 watts at full throttle.
This is plenty of power for incredible acceleration that quickly gets you up to the maximum non-pedal assist speed of 20 mph. There's five levels of pedal assist that can get you going even faster. Beyond 20 mph, class 3 mode is automatically activated which lets you pedal assist to a maximum speed of 28 mph.
The large, 56-tooth, 170mm crankset inspires confidence. It makes for efficient pedaling to be transferred directly into the rear drivetrain for smooth movement whenever you decide to use any of the pedal assist modes. And with an 8-speed rear derailleur, there's a nice range of gears to sort through so you're never working too hard.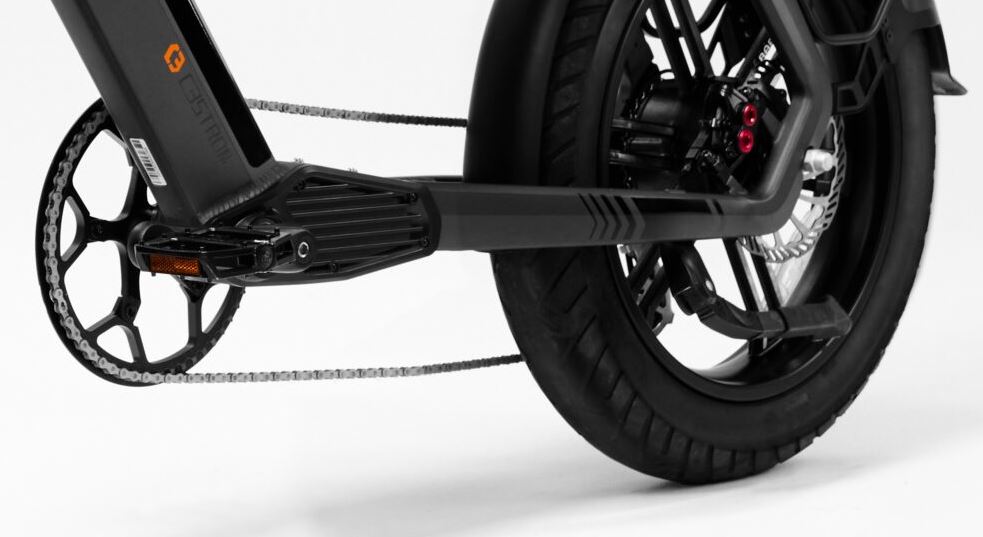 There's even an off-road specific mode. Offering speeds up to 32mph, the off-road mode is the ideal choice for gravel and dirt. While we wouldn't recommend taking the bike on any real mountain bike trails, it's nice to have a mode that's a bit faster than the 28mph max speed that the standard class 3 mode allows.
Battery, Charging and Distance
Along the bottom edge of the top tube of the Astro Pro, you'll notice a large black box. This is the 1040 watt-hour (52V 20AH) battery. It's fully removable which is a great feature to have if you'd like to purchase additional batteries for more range. Best of all, they use Samsung 21700 cells which are highly reputable as a reliable and long-lasting option.
With the included AC adapter, users are able to re-charge each battery in about 4-5 hours. Realistically, this is very quick and more than acceptable for a capacity of this magnitude. In fact, they claim that this battery is the largest capacity battery for an e-bike under $4,000. We agree. Simply put, it's incredibly rare to see this kind of capacity at this price-point.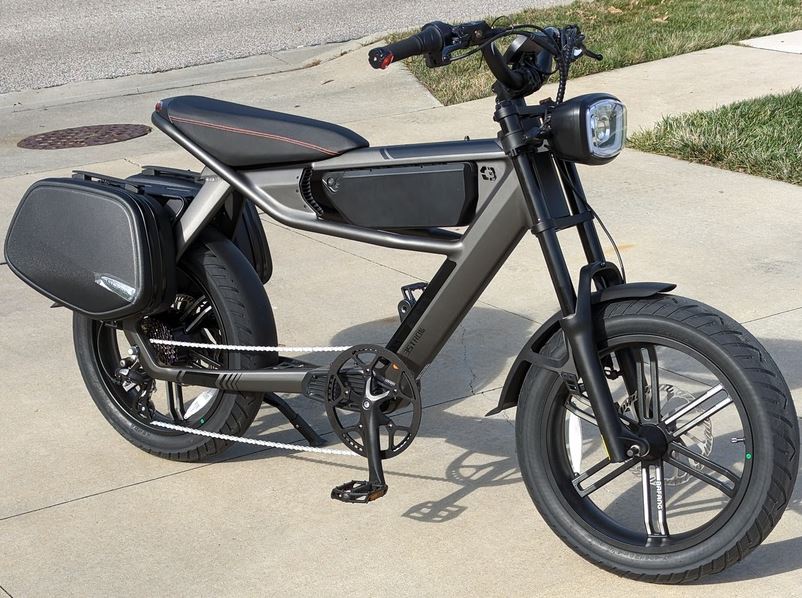 C3STROM also claims a 78 mile range, which we tend to scrutinize a bit. This estimate may be accurate for those using pedal assist on flat ground in ideal temperatures. However, once you start tackling hills, off road use or full throttle without any pedaling, we'd be shocked to get this kind of range.
In fact, many users report the range being more-realistically around 40-60 miles, which in our opinion, is still quite acceptable. Once you begin riding in cold temperatures or uphill for extended periods, it will take a more-significant toll on the remaining battery life.
Tires
Equipped with two 20-inch x 4.25 inch wide fat tires, they inspire confidence when riding in all conditions. While they may not be off-road tires, they'll still work well for gravel or dirt road cruising. The tread pattern is ideal for naturally wicking away water on the road to contribute more grip when crucially needed.
Best of all, both tires are puncture resistant. Under the rubber, there's a unique combination of aramid and ceramic particles that hold up to staples, nails and other shards of glass and metal quite well. In addition, they've equipped a Kenda K-shield tire liner to the full-width interior of the tire. It's good to see an extra layer of protection so flat tires aren't a common occurrence.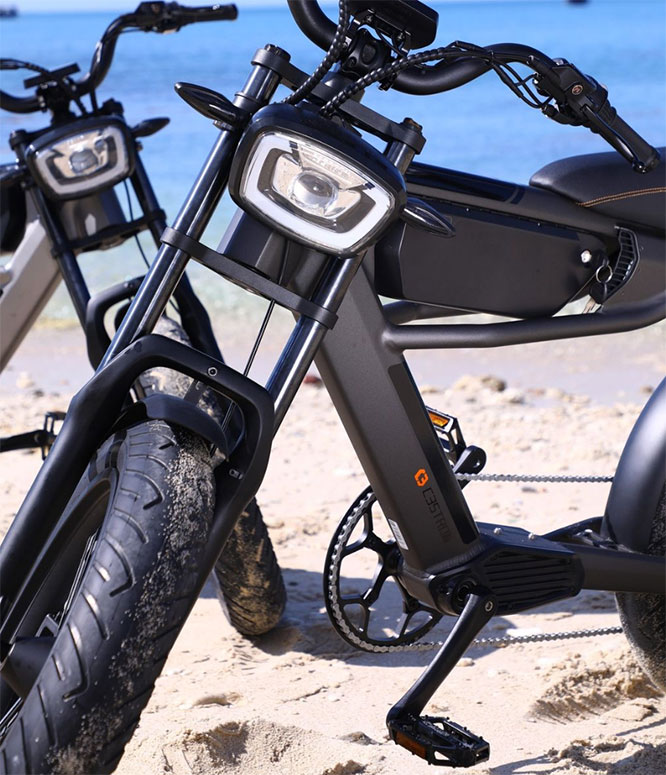 Suspension and Comfort
The front fork is equipped with hydraulic-loaded suspension. It offers over 100mm of travel, meaning that it can compress and decompress up to 100mm when encountering bumps, dips or drops in the riding surface. Overall, it seems to do a good job at providing a smoother experience, regardless of the kind of road you're on.
There's no rear-suspension to speak of. Our thought is that if they were to add rear suspension, the build would be much more complex, resulting in a significant increase in the retail cost. Still, it would have been nice to see a few springs added underneath the seat.
Speaking of, the seat, also known as the saddle, is oversized for maximum comfort. Filled with silicone, it naturally reduces vibration in a very effective manner. While it's smooth to the touch, it actually offers a nice balance of firmness and softness. Going from nearly halfway down the top tube and hanging a bit off the back, it's easy to move around to find acceptable comfort, no matter your riding experience.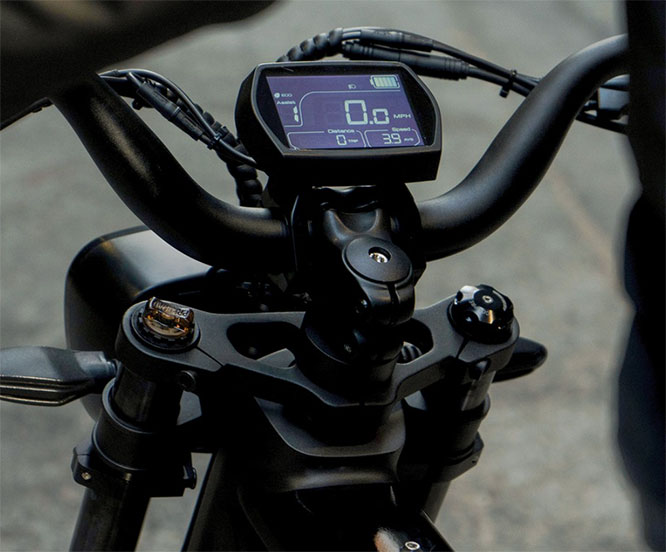 Size and Weight
Weighing in at whopping 95 lbs, the Astro Pro is quite heavy. Although most e-bikes tip the scale around this weight, it's something riders should be aware of before committing to it. Starting at slow speeds, smooth roads and a wide open area is highly recommended to inspire riding confidence. Needless to say, users who aren't comfortable riding a normal bike should use caution and ease their way into it.
While the bike feels solid and balanced, it's only available in one size. With a rider weight limit of 330 lbs and a seat height of 30.6″, few size-adjustments are possible. Ultimately, this makes it a bit difficult to hone-down a perfect fit for every single person. It would have been nice to see other frame sizes available. However, with the saddle so big, users can either sit far forward or far back, depending on their height. Still, it may not be an ideal bike for extremely tall or short people.
Brakes
Both the front and rear wheels are equipped with disc brakes. They're of the hydraulic variety where liquid is used in a pressurized cable to deliver powerful braking performance. This is vastly different than mechanical disc brakes that utilize a metal cable.
The benefit is that hydraulic disc brakes offer much better stopping power. The drawback is that they are typically more difficult to maintain, making them a headache to adjust if needed in the future. However, any competent bike mechanic will be able to work on the Astro Pro. That said, at-home tweaks and adjustments to the brakes can be a bit overwhelming if you're a novice with bicycles.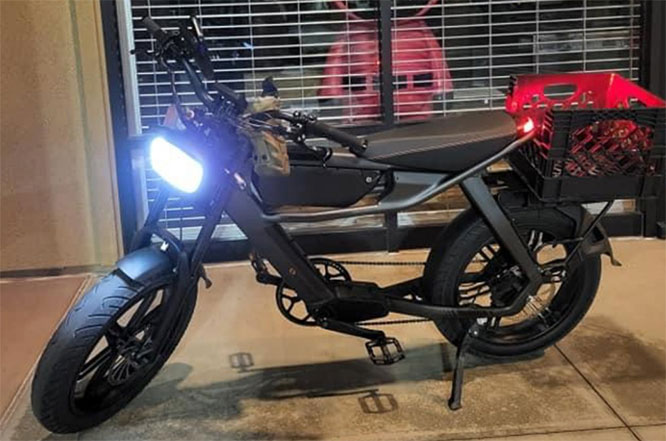 Lighting
On the front of the bike, you'll notice a large headlight. This LED headlight comes with both a low and high beam function in addition to right and left turn signals. Capable of emitting 130 lux, it's bright enough for total darkness and angled at the perfect degree to fully illuminate what's in front while riding.
Located on the rear-side of the saddle is a built-in red LED bar. This lights up whenever the front light is turned on and gives drivers and other riders behind you a visible warning of where you're at. While not quite as bright as the front headlight, it's ample for the use it's intended for.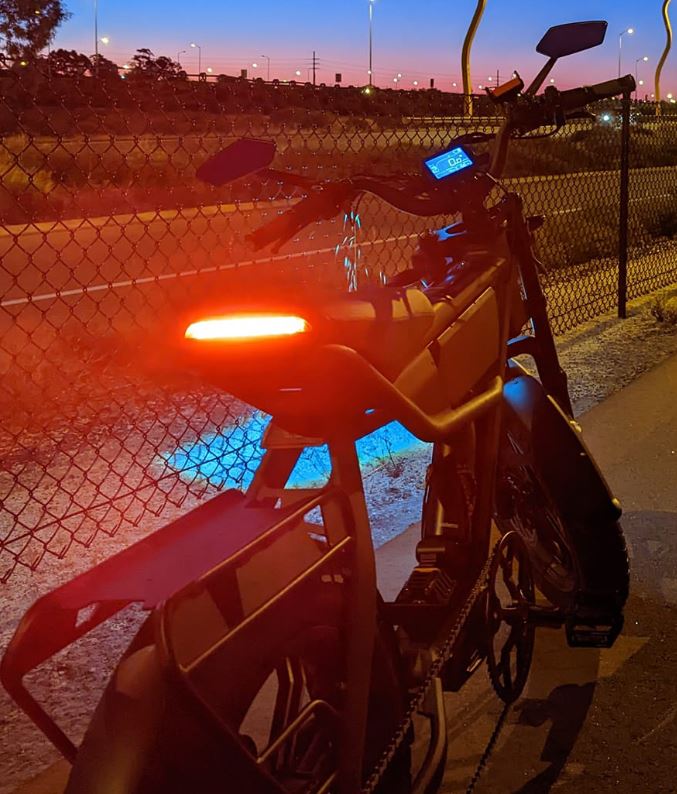 Final Thoughts
The C3STROM Astro Pro is a very cool e-bike. While it's a bit bulkier than your standard bike, it's equipped with a wealth of features that certainly make it enticing. Whether you're a total novice or an experienced rider, it seems to offer a wide range of practicality and fun to those who give it a chance.
The powerful motor with incredible acceleration give it a peppy feel while the classic style bodes well with those who want something totally unique. Given its 1040 AH rechargeable battery, the range and top speed are both on the higher end of the spectrum.
Additionally, C3STROM has a variety of add-ons and upgrades available. In fact, a rear rack, front/rear reflectors/fenders and a 4A fast charger are all given as free bonuses when purchasing directly from the official website.
If you happen to be in California, you can even test ride the Astro Pro before committing to purchasing it. Check BMEBIKES in Northridge or Victory Ebikes in Newport Beach if there's any interest in a test ride or in-person evaluation. Best of all, they offer free USA shipping and a generous 1 year warranty period.
Meet Derek, "TechGuru," a 34-year-old technology enthusiast with a deep passion for tech innovations. With extensive experience, he specializes in gaming hardware and software, and has expertise in gadgets, custom PCs, and audio.
Besides writing about tech and reviewing new products, Derek enjoys traveling, hiking, and photography. Committed to keeping up with the latest industry trends, he aims to guide readers in making informed tech decisions.