Whether you're an amateur collector, a designer, or a professional jeweler, it's essential than you can accurately size-up gemstones and precious metals. If you simply take someone's word for carat size, you're relying on trust. You're trusting in the accuracy of their equipment, and more often than not, you're relying on the honesty of their person. But even a well-intentioned person can go wrong if they're using a scale that's not adequately calibrated or prone to errors. For anyone buying, selling, or making jewelry, there's no way to get around the necessity of a carat scale.
But what sets apart a carat scale from a great carat scale? To begin with, you're looking for a digital device because most people aren't going to want to bother with an analogue technology. It's not that analogue is necessarily worse, after all, physicians still widely make use of analogue scales. But digital scales are far superior when it comes to small weight measurements, like the kind of miniature sizes you typically see with gemstones and precious metals.
A great digital carat scale won't leave you relying on your best judgment when determining the readout, and it won't leave you crunching mathematics to figure out conversions rates. Essentially every aspect of measurement can be automated to a stunning a degree, making digital carat scales faster, more convenient, and far more accurate for light-weight measurements.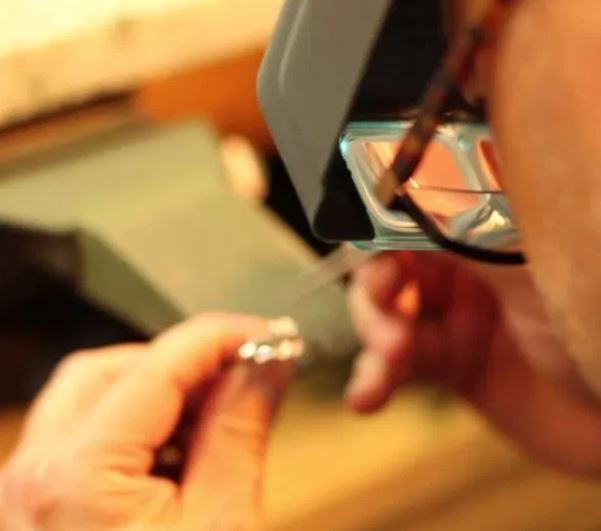 Choosing a Digital Carat Scale
However, the kind of accuracy you'll get will vary drastically from scale to scale, and the kind of accuracy you'll want will depend on the kind of objects you intend to weigh. Most gemstone scales should be equipped to readout as accurately as one thousandth of a unit. And you'll want to ensure those units support whichever types of precious objects you'll be measuring on the scale. Most digital carat scales should offer support for metrics like troy ounces, diamond weight total (dwt), grain, grams, and ounces.
Even though a versatile scale can take on a variety of jobs, you're going to want to make sure the scale you choose reflects the stuff you'll be weighing most of the time. For example, a particularly sensitive carat scale is able to handle both heavy and light gemstones. A less sensitive scale will do fine with larger stones, but can only provide rough approximations for smaller stones.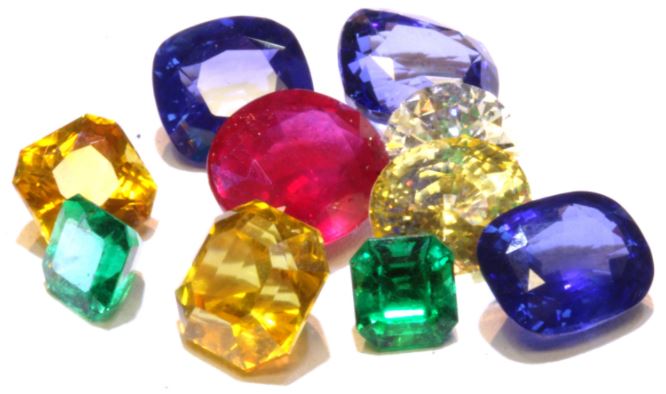 Small Stones or Large Stones
Since rare stones end up in smaller cuts, and a higher degree of accuracy is needed for those stones. For small gemstones, a great carat scale should read with precision to 0.001 grams. When you're dealing with cuts made to be engraved in groups of 100 on the face of a timepiece, those stones absolutely require a high precision scale.
But artisans often use bulkier stones like jade or amber, and you don't need pinpoint accuracy to weigh a chunk of jade the size of your thumb. For more common and bulky stones, you'll be satisfied with a digital carat scale that's readable to approximately 0.01 grams. The same can be said for metals and precious coins, which don't need the same level of precision as is necessary for small gemstones.
Bonus Digital Functions
Any digital scale worth its salt will include a tare function. Tare can help you alter the calibration of your scale to subtract the weight of a gemstone scoop or other instruments, so they don't affect your measurement. Similarly, many digital scales have taken to adopting memory features that can keep track of the past data you've collected. For anyone taking measurement after measurement, this can be an invaluable assurance that you don't end up losing your as you quickly move through a series of measurements.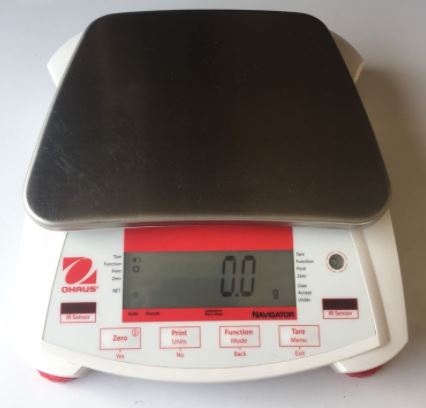 Build and Usability
Like with most instruments, it's a good idea to use a digital carat scale before purchasing it. Some digital carats have minor flaws that only reveal themselves once they've been put to use. For example, an easy-to-read display might become obscured or even unreadable after you've added a draft shield or weighing pan to your scale.
For the most part, these kind of small details only come out after you've started using the device. Reviews are the next best thing because they can provide you a degree of assurance no such subtle flaws are waiting in the shadows for you, but a scales that carry a satisfaction guarantee also ensure you'll be able to fix such a problem if it does unexpected emerge.
Pan Size and Weight Limits
Many scales have been built specifically for very small gemstones and so are accurate to great precision, but not as well prepared to handle weight. If you plan on weighing rare metals or other large quantities, you'll want to ensure the scale you pick can has a maximum weight capacity that is up for bigger tasks.
And in general, it doesn't matter what you're going to be weighing, you want a spacious platform to do it. On the other hand, most people don't want to give up a considerable part of their desk or counter space to a carat scale. Portability particularly matters for anyone who needs to travel and weigh stones.
For the purposes of resisting the corrosion that's inevitable during persistent contact with other objects, you'll also want to ensure your scale uses a stainless steel measuring platform. It won't considerably detract from a scale's portability, and will drastically improve its potential lifespan.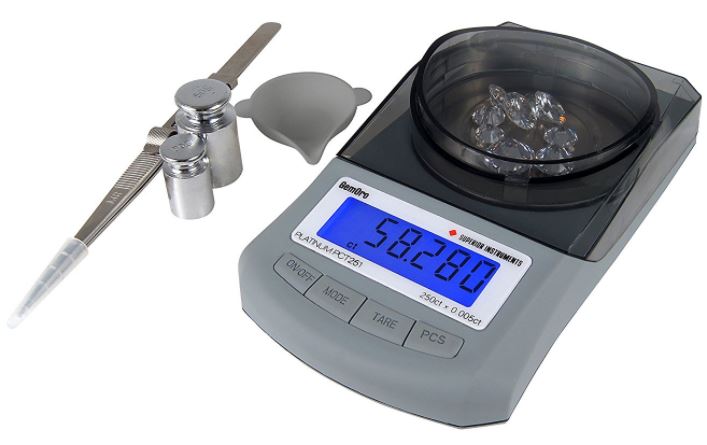 GemOro Platinum PCT251 Carat Scale
GemOro is another brand that specializes in jewelry products, including some modestly priced yet exceptionally accurate carat scales. Their Platinum PCT251 is a precision scale that offers a powerful 0.005ct degree of accuracy, with the same roomy 250 carat capacity as the MyWeigh PRO250.
Using the scale is easy with its 4-button design. When you flip over the draft shield, you'll find the PCT251's low-profile design can be widely expanded to better accommodate weighing large stones. It also includes all the basic tare and memory functions which jewelers have come to expect from these devices, and provides full support for common units like grain, ounces troy, DWT, ounces, and grams.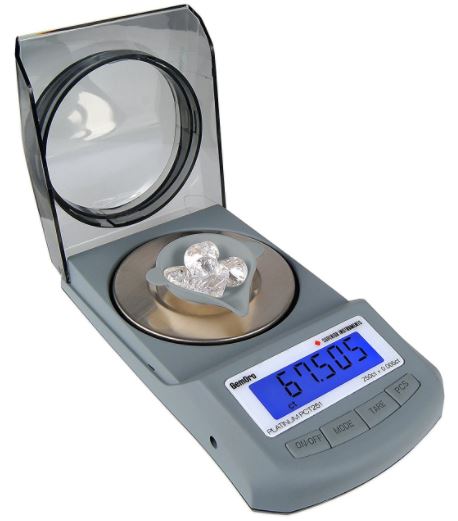 Design & Features
In the interest of keeping your scale calibrated, GemOro includes the necessary calibration weight to ensure your scale continues to live up to precision standards. The EZ-grip and rubberized paint finish makes for a durable non-slip construction. And like the PRO250, this scale is ready for travel with an included carrying case made of a hardened rubberized plastic.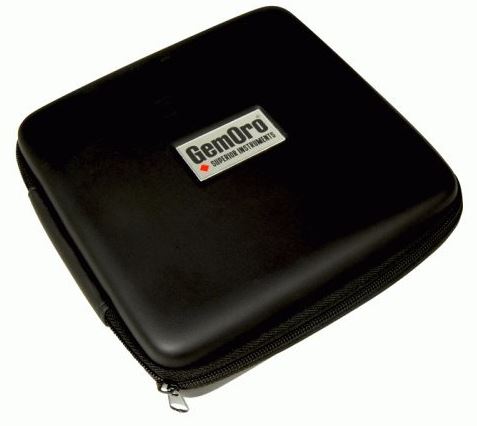 Inside that case you'll find an included pair of Swiss-style tweezers for diamonds, a diamond scoop, calibration weight, a stainless steel weighing platform, and a universal AC adapter. The OCT251 can also be powered by four AAA batteries, if you don't care to use the adapter.
And if you don't mind replacing the battery slightly more often, you'll love the strong backlighting of the display, which is bright blue and visually clear. The PCT251 includes a 5-year replacement warranty, which should be more than enough to ensure a healthy lifespan for your scale.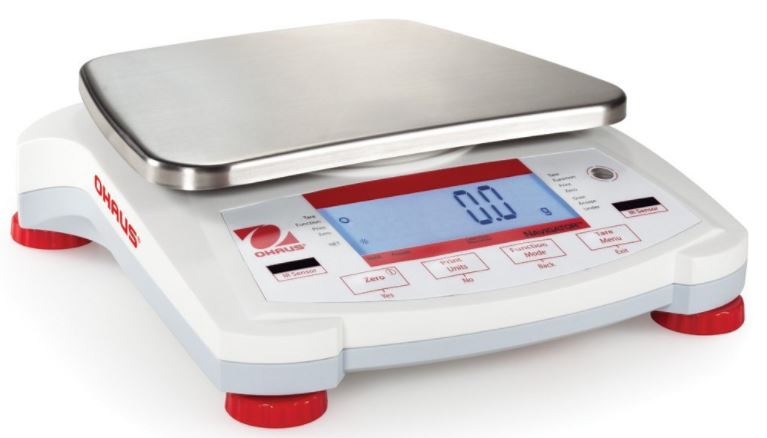 Ohaus NV2101 AM Navigator Portable Scale
OHAUS is no stranger to industrial and laboratory manufacturing. Their calibration weights, lab balances, and scales are a standard in facilities all across the world. With the NV2101, Ohaus has decided to offer a versatile scale that's capable of taking on small gemstones, but more optimally build for rare metals and other heavy weighing. And with the word "portable" right in the name, you know what you're getting with the 2.4-inch low profile design.
The NV2101 has a considerable total weight capacity of 2100 grams, which is about four and a half pounds. It has readability to 0.1g, which makes it clearly designed for heavier stones that can really push the limit of its lofty weight capacity. Consequently, supported units include pounds, kilograms, grams, ounces, pounds per ounce, Troy, carat, pennyweight, and grain.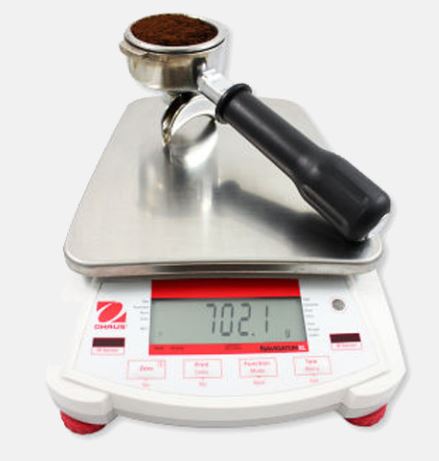 Design & Features
Compared to the simple abilities of other scales, the NV2101 has a variety of extra modes that make it stand out. For example, it allows you to weigh by percent, parts counting, accumulate, and many more practical metrics. The NV2102 uses several touchless sensors to help manage tare, zero, print, and similar weighing functions that have to be micromanaged on other devices.
The wide 8.4-inch top uses a broad stainless steel tray that prepares this scale for years of use, and is supported by a readable backlit LCD for easy viewing access of your measurements from any angle.
Unfortunately, Ohaus does not include a calibration weight, but the scale supports a calibration function if you purchase an aftermarket calibration weight. Apart from the included A/C adapter, this scale can be powered by 4 AA batteries.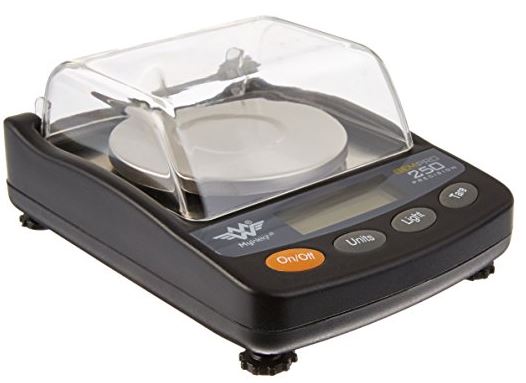 MyWeigh GemPro 250
As their name suggests, MyWeigh is a brand that specializes in weighing scales for manufacturing and industry. Inside the scale market, MyWeigh is well known as one of the most reputable and reliable sources of accurate digital scales, and the GemPro 250 is no exception.
The GemPro 250 has a 250 carat maximum capacity, paired with a 0.01 carat resolution. For the 2.5 to 3 grain range, you'll find accuracy of 0.02 grains or about one kernel. In addition to measuring carats, the GemPro 250 is equipped to read ounces, pennyweights, troy ounces, grains, and grams.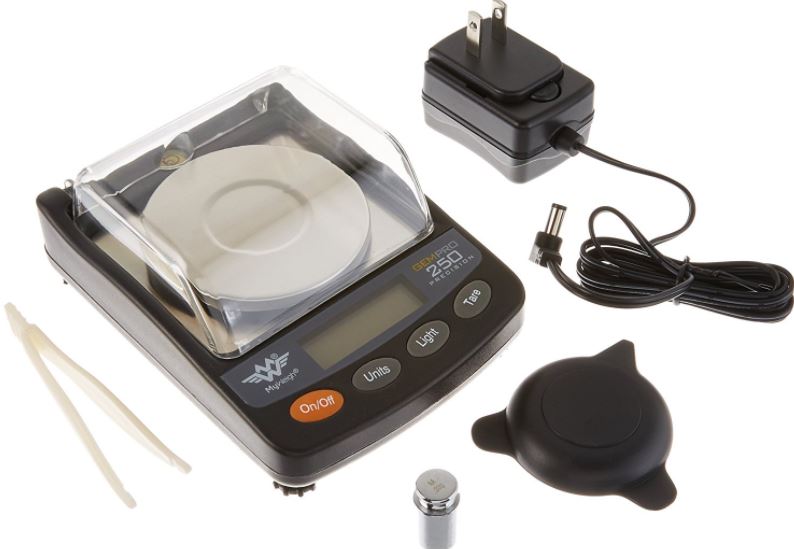 Design & Features
For ease of use, it's easy to like the fully programmable auto-off feature. Whether you want the auto-off to initiate 10 seconds after you step away, or to only initiate after an hour to ensure mistakes aren't made, you'll find customization that can make the Pro250 more suitable specifically to your needs. The simple four button design uses an on on/off button, a button to toggle units, a light button, and of course the tare function.
The GemPro 250 includes an includes an A/C adapter, weighing tray, and a hard shell case for carrying. It also includes its own calibration weight to allow you to keep the device calibrated for years to come, and won't leave you shopping around for an aftermarket weight.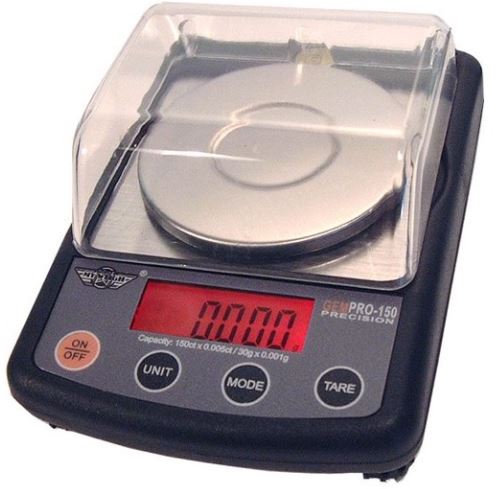 This modestly sized scale is 7 x 3.3 x 8-inches, making it about average in terms of its storage capacity. It weighs a lightweight 1.65lbs to keep it portable, just in case you need to pop your scale into its hard shell case for travel. And most impressive of all, the Pro250 carries an extremely long lasting 30-year warranty from the manufacturer. In other words, MyWeigh trusts in their own product.
Choosing Between 3 Great Carat Scales
If you're looking to weigh bulkier gemstones, precious metals, and other heavy objects, then you want the Ohaus NV2101 Navigator Scale. It has the durable design you need to not get banged up from repeated contact with previous metals, and it's got a maximum capacity well-suited to even the largest weights you might throw at it. But for small stones the Ohaus isn't your choice, it's clearly not designed for tiny weights as is partially indicated by its lack of support for measuring DWT.
If you're looking for a carat scale mostly to be used for smaller gemstones, you'll be selecting between the GemOro Platinum the MyWeigh GemPro 250. Some people aren't going to need super-precise accuracy, and they're not going to use the scale often enough to have to worry about it being extra durable. For those people, the GemOro Platinum is an inexpensive avenue to get reasonably high accuracy without enduring unnecessary cost. It's a mid-range scale that's suitable for the general needs of most jewelers and craftsman.
On the other hand, some people will need more accuracy than the GemOro Platinum can provide. Professionals can't tolerate accuracy mistakes for vast quantities of measurements because small inaccuracies over many small stones adds up to a great deal of lost profit over time. For accuracy as small as 0.001g, there's no substitute for the My Weigh SCGEMPRO250. The high accuracy and resolution of this device is paired up with an unbeatable 30-year warranty that's almost as durable at the stones it's built to weigh.