If you've got a gaming computer, chances are you've got it tricked out with a lot of RGB gear. Why did RGB become the standard form of decoration for gamers? There's no single easy answer. But generally speaking, it's a way to customize something that's otherwise fairly standard. Think of a keyboard. Yes, there are different designs such as tenkeyless and ergonomic boards. But for the most part, a good gaming keyboard is going to be large, rectangular, and mechanical. In many ways, one gaming keyboard looks much like another. But by using RGB lighting and customizable patterns, gamers can take their gear and make it truly theirs.
You can take the same reasoning from keyboards and apply it to any part of your rig. Got a gaming mouse? There's probably RGB lighting. Built your own gaming PC tower? You almost certainly put an LCD strip or two inside. Even gaming monitors are often built with RGB lighting in the back panel. But those are just your essential pieces of equipment. You may also want some optional accessories, including a headset stand. And while a stand is by no means mandatory, it's useful for keeping your gear organized. A well-designed stand can even provide power for charging your headset.
Note: At no extra cost to you, we may earn a commission for purchases using our links. Learn more.
Of course, the same rule of cool applies to a headset stand. If it goes with your gaming PC, it's got to have RGB lighting. To help fill that need, we're about to review three of the best RGB headset stands available. We'll begin with the Razer Base Station V2. This is a round stand that's compatible with the Razer Chroma RGB lighting ecosystem. Next, we'll look at the Corsair ST100. This is a durable aluminum stand for Corsair's iCUE ecosystem. Last, we'll review the Havit RGB Headset Stand. This is a large plastic stand with its own on-board settings, so you don't need a separate controller. Which one is going to be the right choice for you? Let's dig a little deeper, and see what we uncover!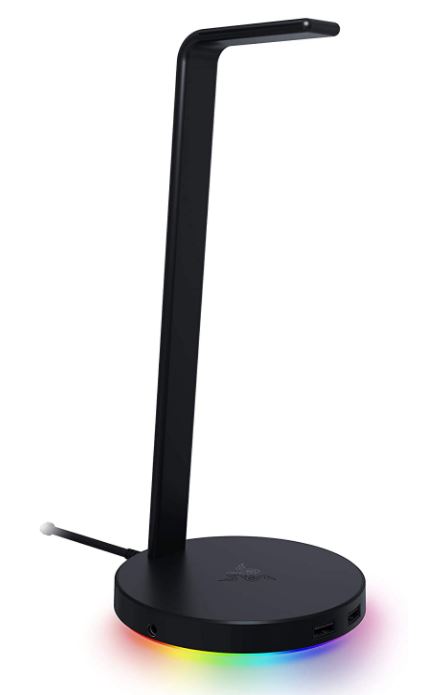 Razer Base Station V2
To most PC gamers, Razer should need no introduction. They're experts at both RGB lighting and gaming accessories, and produce everything from RGB gaming mice to RGB speakers. The Razer Base Station V2 falls right in line with their other offerings. To begin with, you get slick construction that blends curves and straight lines to create a truly contemporary look. You also get a matte plastic finish that's easy to keep clean. Yes, we said plastic, but don't let that worry you. It's very sturdy, just like you'd expect from Razer. In addition to plain black, it's also available in white or pink to match your other gear.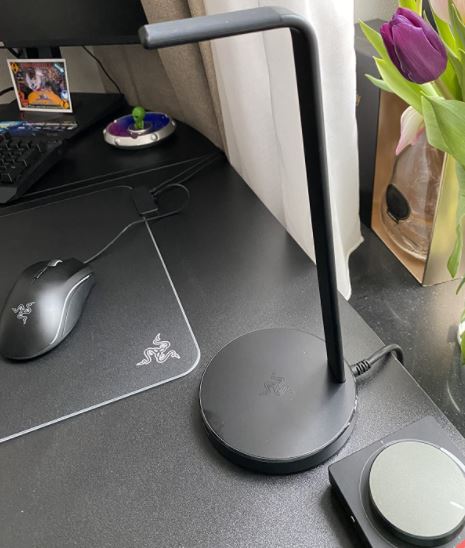 The V2 consists of a vertical support arm mounted in a circular base. This arm can be removed easily for easy transport. When the arm is installed, the total height of the stand is 11.03 inches. This is just right for most headsets, and will support them well without taking up too much space. The base measures 4.73 inches in diameter, is barely half an inch thick, and bottom heavy. Most of the total 1.94 pounds of weight is located here, so you don't have to worry about it tipping over.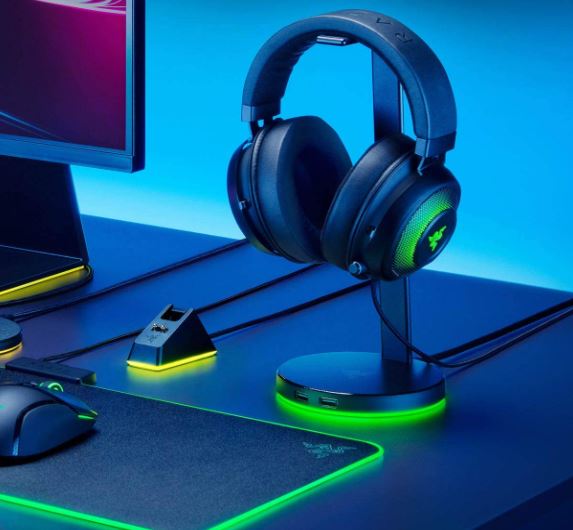 The bottom of the base sports a set of anti-skid rubber pads, to help prevent it from sliding. There's a cord running out the back for plugging into your computer's USB port. On the side, you'll find your other connections. There's a pair of USB 2.0 ports, which can be used both for charging and for audio. There's also a 3.5mm aux cord which can be used for audio pass-through.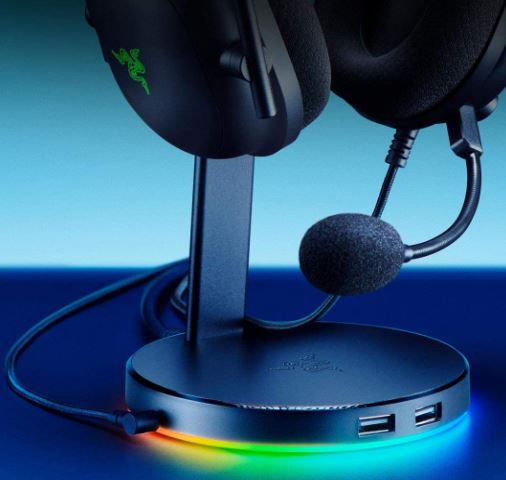 Lighting Effects and Compatibility
How the RGB lighting effect works will depend on how your system is set up. Let's assume you don't have any lighting software. In that case, when you plug into your PC or Mac, the lights will run in a standard color-changing cycle. If you plug into a game console, you'll achieve the same effect. Here's where things get weird. When you plug into an AC adapter, your lights won't work. You'll still get power, and you can still charge your headphones. But the lack of lighting in this mode would defeat the purpose.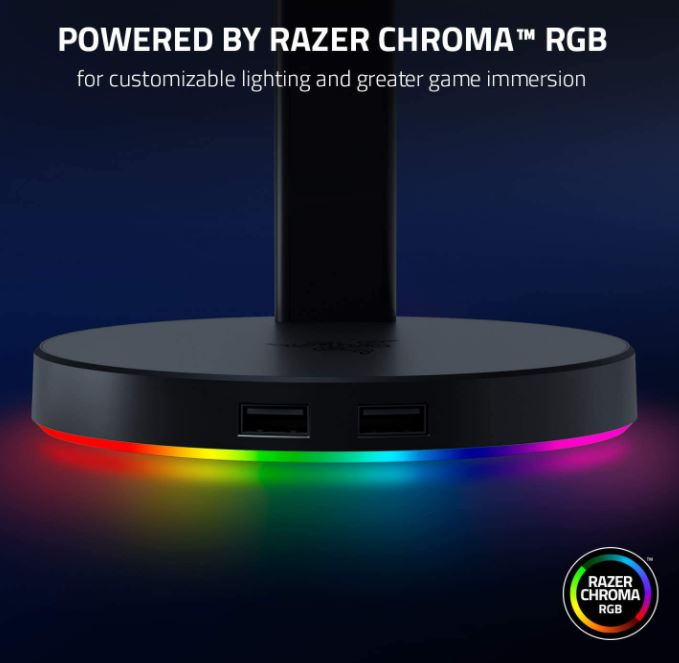 That said, the V2 is designed to work with the Razer Chroma ecosystem. This is a standard RGB format that's used by Razer hardware, as well as hardware from Razer's partners. It also syncs with dozens of AAA games, so your lighting becomes a part of the overall experience. If you're using other Chroma hardware, all of it will be synched together for a truly seamless lighting system.
However, to configure Chroma hardware, you need to use Razer's proprietary software. To do this, you'll need to go to their website and download their Synapse software for free. Even better, there are Synapse apps available on both the PlayStation Store and Xbox Marketplace, also for free. This allows you to bring synchronized RGB lighting to your console as well as your PC.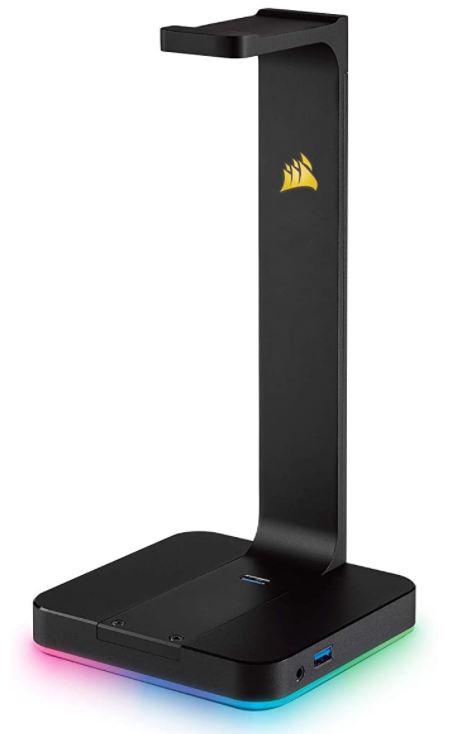 Corsair ST100
Corsair is another brand that should be familiar to gamers. If you don't already use Corsair RAM, you might have some other accessories, like their Bluetooth headphones. The Corsair ST100 is their version of a headset stand, and it impressed us with its durability. Constructed from black anodized aluminum, it can take a serious beating. If you're prone to being rough on your gear, you'll be pleased with how hard it is to cause any serious damage.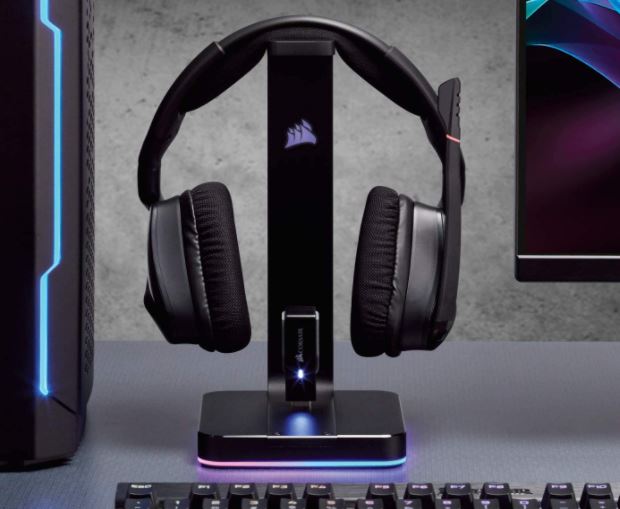 Like the Razer stand, the ST100 consists of a heavy base and a lightweight vertical support arm. The base measures 4.72 inches square, and the stand is a total of 9.84 inches tall. At this height, it can support almost any headset or headphones without them dragging on the ground. One thing we liked is the color-changing Corsair logo on the support arm. This is a nice touch to compliment the lighting around the base.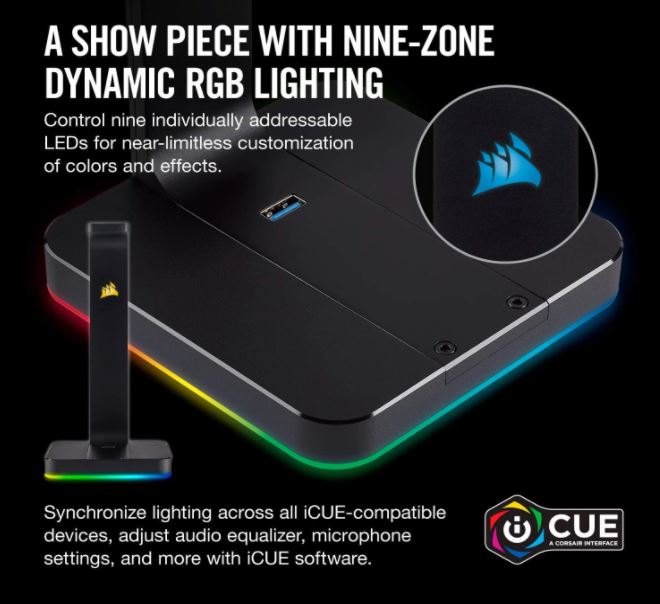 The USB power supply cord is located in the back of the stand, so it's easy to connect to your PC. On top of the base, there's a USB port for easily plugging in your headphones. On the right side, you'll find an additional USB charging port, as well as a 3.5mm aux port. Like the Razer stand, there are also rubber skids to ensure that it stays in place.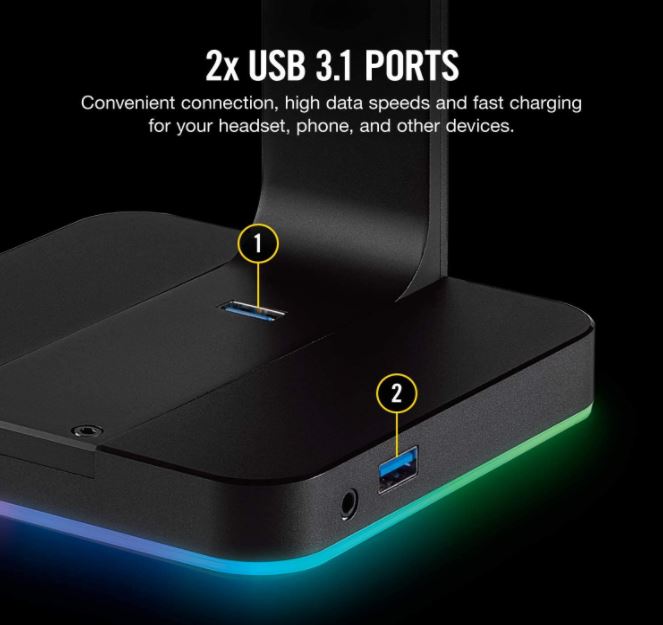 Lighting Effects and Compatibility
Like Razer, Corsair maintains their own standard for RGB lighting. This standard is called iCUE, and has been used on a number of keyboards, mice, fans, and other components. Using the iCUE software on PC and Mac, you can take advantage of fully-customizable 9-zone RGB lighting. You can also sync your headset stand with the rest of your iCUE hardware. If you plug into a computer with no iCUE software, the lights will default to a simple rotating pattern. And if you plug into a wall outlet, you won't have any lighting whatsoever. Then again, you also won't have audio pass-through, so we're not sure why anyone would want to do this.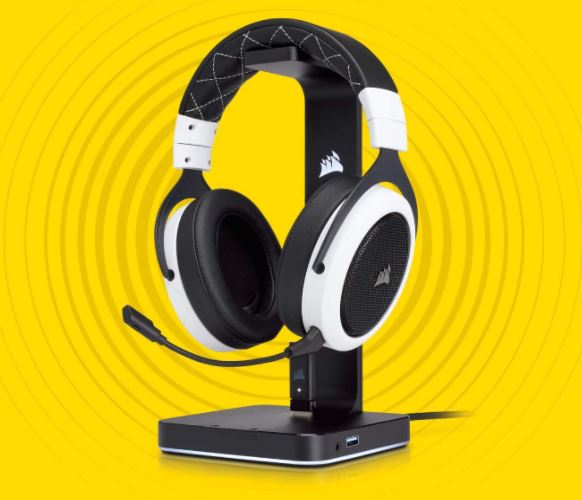 So far, the Corsair ecosystem might sound like a one-for-one replacement for the Razer ecosystem. However, there is one important different. While Razer's Synapse control app is available on Xbox and PlayStation consoles, Corsair's software is not. If you're a console gamer, you'll only be able to use the default lighting pattern.
There is one other feature of the ST100 we should mention. When you plug your headphones into the 3.5mm aux port, the pass-through audio will support 7.1-channel simulated surround sound. Keep in mind that this assumes that your computer and your headset are both compatible. But if you use a surround sound headset, you can connect directly through this headset stand.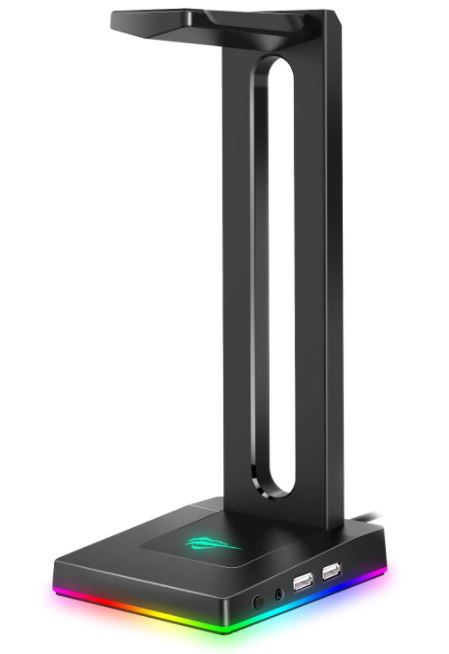 Havit RGB Headset Stand
Havit is a manufacturer of budget-priced gaming gear that still performs well. We've reviewed their RGB gaming mousepad, among other offerings, and they usually do a good job. The Havit RGB Headset Stand is a similarly well-engineered accessory that comes at a similarly affordable price.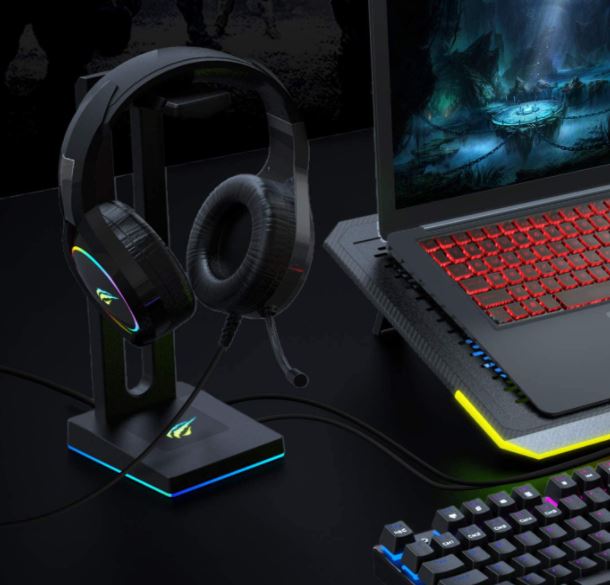 This stand sports a wider vertical arm than the last two, but the arm itself is still lightweight. It's constructed from ABS plastic, which is reasonably durable. It's not built like a brick, but it's not going to crack just from getting knocked over. You can order the stand in black or white to match your other accessories. The base measures 4 inches wide, 4.7 inches deep, and is 11 inches high including the stand. The whole assembly weighs 1.19 pounds, with most of that weight located in the bottom. As a result, it's fairly stable.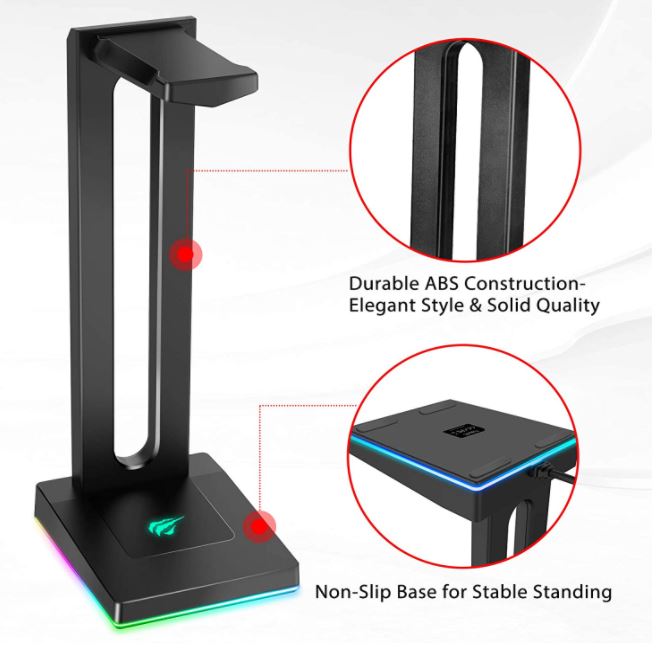 The top of the base features an RGB Havit logo, which adds an additional touch to the lighting around the sides. On the bottom, you'll find non-skid pads, just like our last two choices. You'll also find a pair of USB ports, as well as a 3.5mm aux jack built into the right side.
Lighting Effects and Compatibility
The Havit RGB Headset Stand is a bit different from the Razer or Corsair stands. It's not designed to work with any existing ecosystems, and instead relies on its own preset options. On the one hand, this makes it undesirable if you already use a lighting controller. There's no way to sync it with your other gear for a unified look.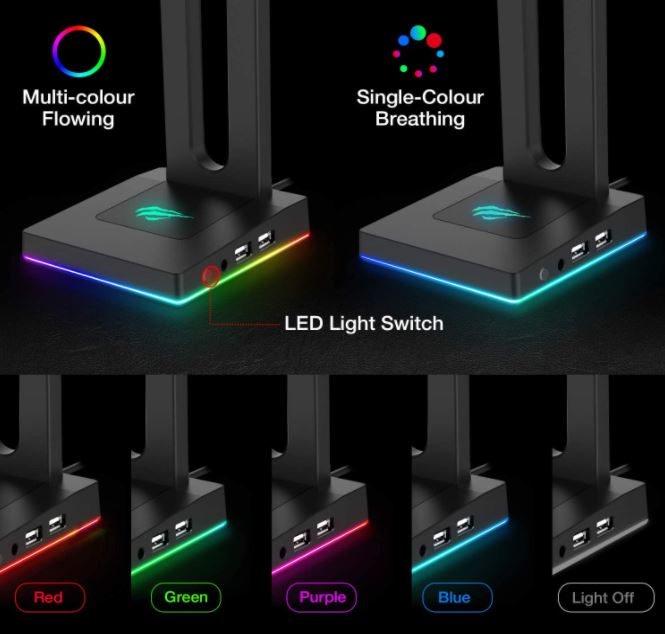 That said, for anyone without lighting controls, the Havit stand will provide them. You can choose between a cycling rainbow light, or a breathing light in four different colors. Admittedly, this isn't the same level of control that you'll get with, say, Razer Synapse software. But as a standalone holder, it gives you a lot of customization. Not only that, but it's easy to use with a game console. Unfortunately, like our last two options, the Havit stand doesn't light up when connected to AC power.
This stand requires two USB ports, not one, to connect to your computer. That said, it supports data transfer as well as power on both of its own ports. You can use a pass-through connection for a keyboard, mouse, or other accessory as well as your headset. That said, you may prefer to use the 3.5mm aux port. Like the Corsair stand, the Havit is compatible with 7.1-channel simulated surround sound.
Final Verdict
As you can see, the main reason you'd want to choose one of these stands over another is the manufacturer. If you already use Razer or Corsair RGB lighting, you'll want to go with the compatible stand. Otherwise, you won't be able to sync up your stand with the rest of your gear! On the other hand, if you don't already use one or the other, your options are wide open. Here's a quick recap of what we've learned about each of these RGB headset stands.
The Razer Base Station V2 is designed to work with the Razer Chroma ecosystem. The advantage here is not just for PC users with existing Chroma lighting. Because the Synapse control app is available on consoles, you can also use this stand with an Xbox or PlayStation. The overall construction is plastic, but of a durable variety, so premature breakage isn't much of a concern. It can also be easily broken down for transport.
The Corsair ST100 is similar, in that it works best with its own iCUE ecosystem. However, the ecosystem itself is a bit more limited. While you can still control the RGB lighting with PC or Mac, there's no console app. Console players will be limited to the basic, default lighting pattern. That said, the 3.5mm aux port supports 7.1-channel surround sound. If that's important to you, the ST100 is tough to pass up.
The Havit RGB Headset Stand is a better choice for most console gamers, since you don't need any control software. On the other hand, it has little to offer gamers who already use Corsair or Razer hardware. There is one exception, though. If you need to run a second accessory through the stand, you'll be able to do it.
Please consider sharing:
Note: At no extra cost to you, we may earn a commission for purchases using our links. Learn more.