One nice thing about PC gaming is that you get to choose your controls and accessories. This simply isn't the case for console players. For instance, if you own an Xbox One, you have a single input: the Xbox controller. Sure, you can modify the controller with aftermarket thumb sticks. If you want to get really fancy, you can use a racing wheel or other similar accessory. But at the end of the day, you're looking at the same old set of options. There just aren't that many companies manufacturing quality third-party console accessories.
With a PC, on the other hand, the sky's the limit. If a device plugs into your USB port, you can use it. You can use a soft touch keyboard with chiclet keys, or a hard-hitting mechanical keyboard. You can use a slimmed down mouse or a big, beefy gaming mouse with a dozen customizable buttons. You can even modify your PC to fit your own desires. With RGB light kits and controllers, your PC can look however you want it to look. On a more mundane note, you can buy a different mouse pad. This might not be an extreme modification, but it's an important part of your battlestation's look and feel.
Today, we'll be reviewing the Havit RGB Gaming Mouse Pad. Havit is an all-around electronics manufacturer, known for everything from Bluetooth speakers (Havit M22) to Thunderbolt hubs (Havit T90). Now, they've brought their expertise to the realm of gaming mouse pads. We'll look at all the pad's features, starting with the physical construction and moving on to added benefits. Once we've examined everything there is to examine, we'll be equipped to render a final verdict. Let's get started!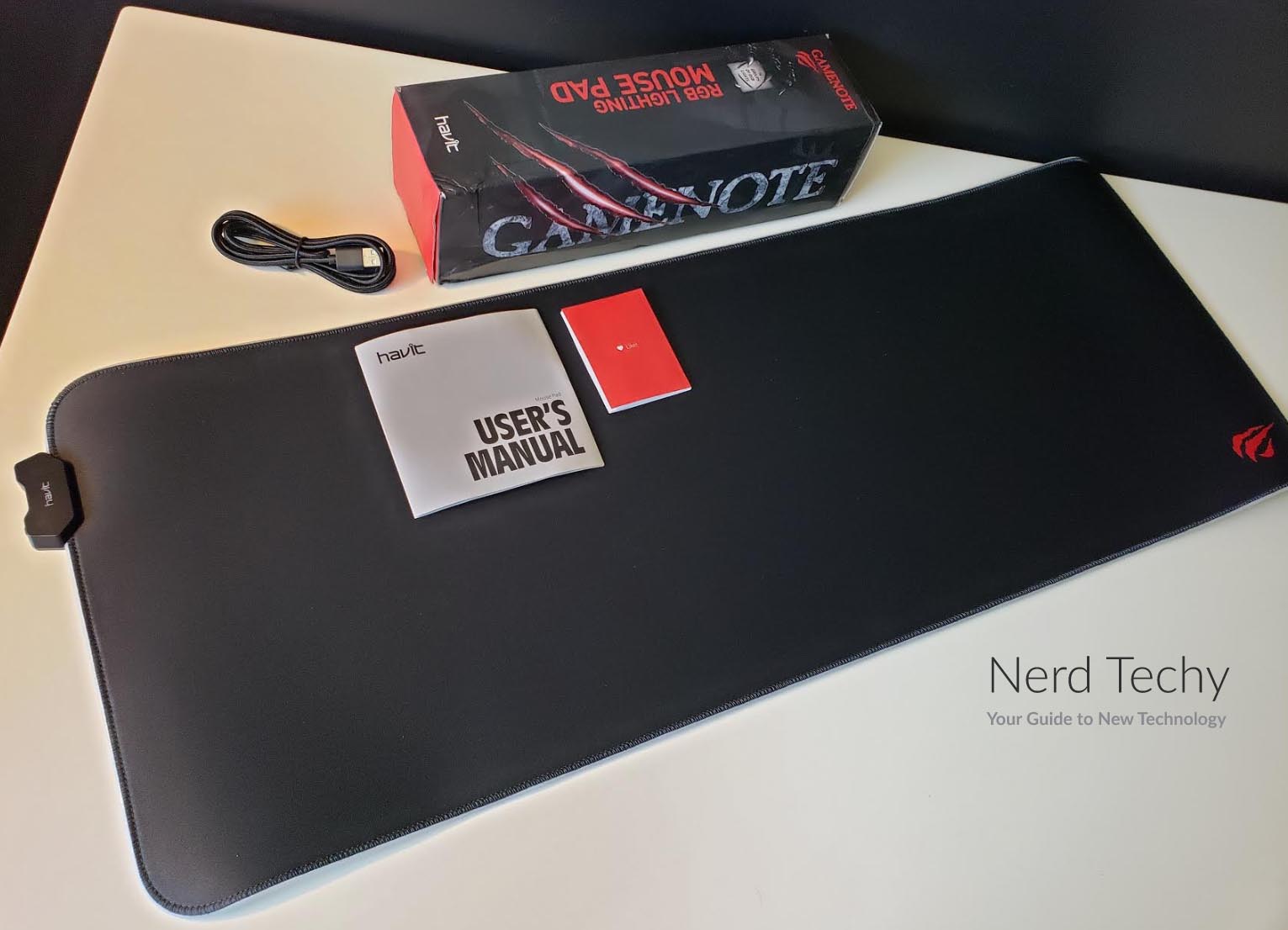 Design & Construction
To begin with, let's talk about size. After all, a mouse pad is simply a surface on which to move your mouse. The bigger the pad, the more space you'll have to move. On the other hand, a smaller pad can be more useful on a smaller desk. It really depends on what kind of setup you're rocking. The Havit RGB Gaming Mouse Pad measures 31.5 inches wide, 11.8 inches tall, and 0.15 inches thick. This makes it fairly large, even by the standard of big gaming mouse pads. If you love to set your mouse sensitivity low and make wide, sweeping movements, you're looking at a fantastic choice. If space is limited, you can even put your keyboard on the mouse pad and still have plenty of room. It might seem silly at first to put a mouse pad under your keyboard, but it can actually reduce shock. This is fantastic if you tend to constantly hammer your keys.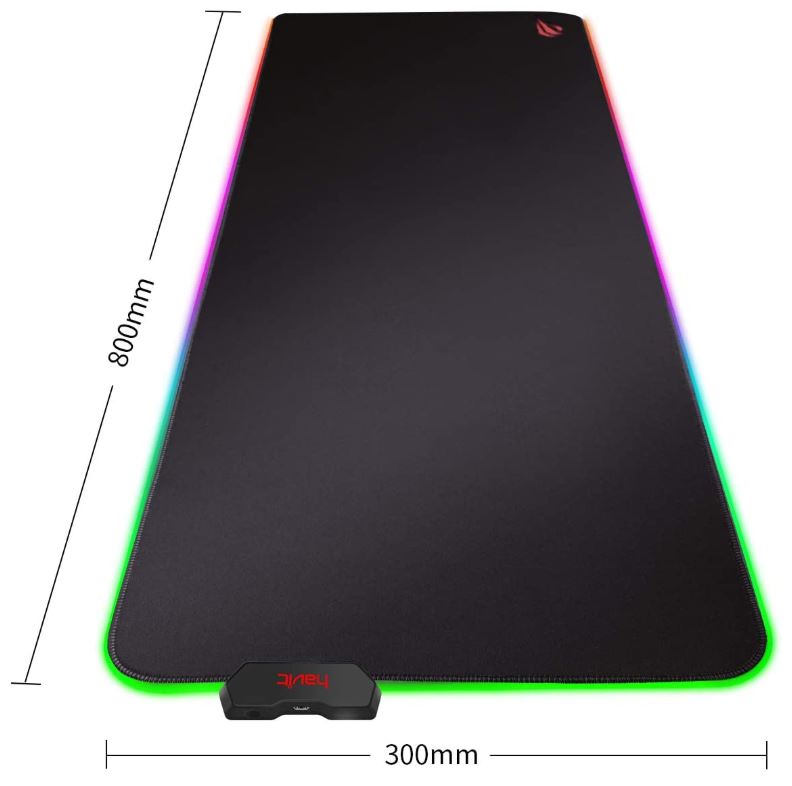 The 0.15-inch thickness is not to be discounted. This mouse pad is fairly thin, and has a relatively firm feel. This isn't your granddaddy's cushy, fat mouse pad that's thick enough to sleep on. On the other hand, this slim design has a significant benefit: the mouse pad is easy to transport. Since it's so thin, it can be easily rolled up for travel. You can throw it in a backpack or a laptop bag, and take it to your friend's house for a gaming night. Moreover, it weighs only 1.55 pounds. This might seem heavy, but once again, think about the size. Considering how large it is, the Havit mouse pad is exceedingly portable.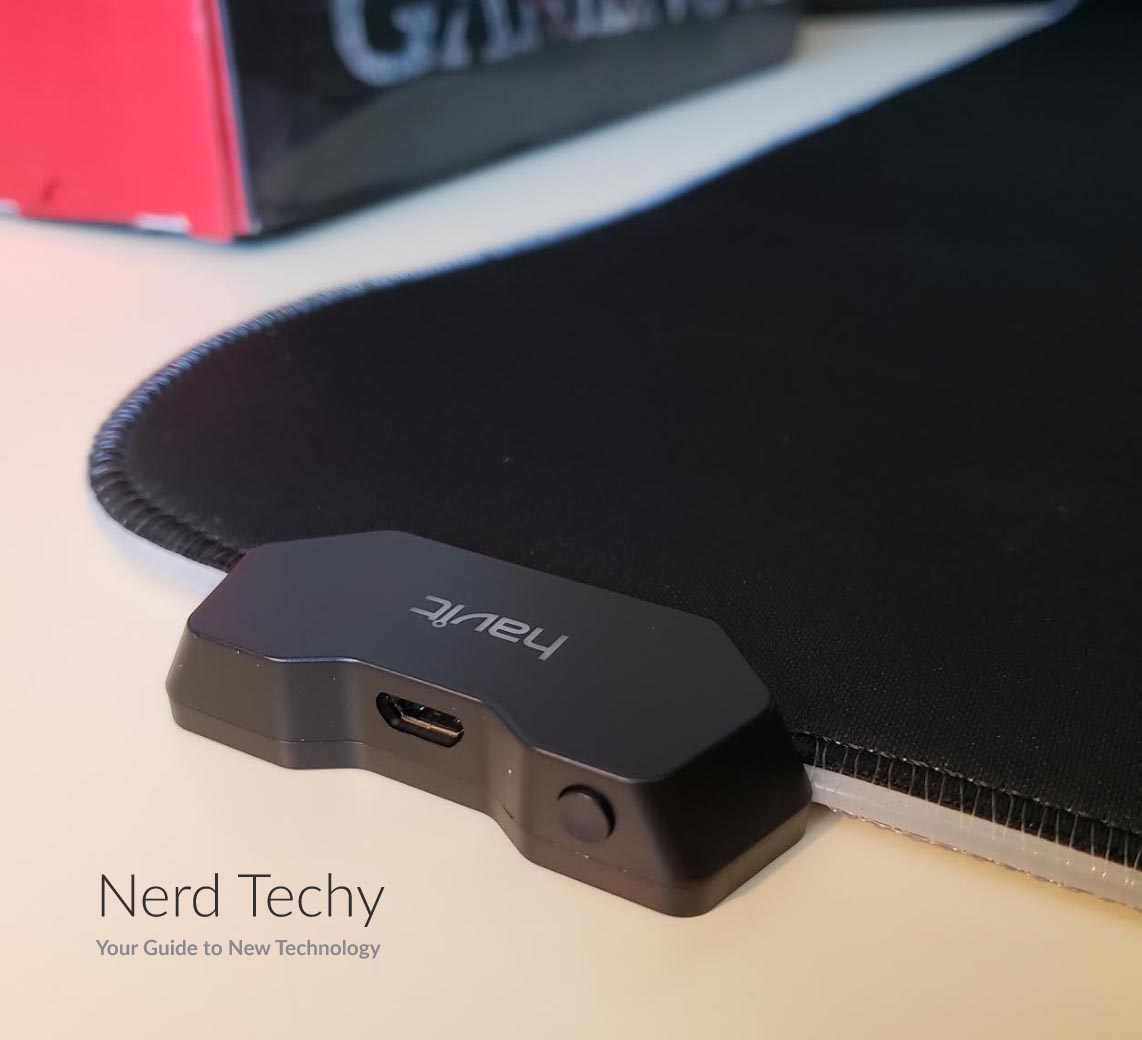 The construction is also quite durable. The surface is constructed from a mercerized material, which has a soft texture but can still take a beating. In particular, it does a very good job of resisting spills. The surface won't soak up liquids, hold them, or get moldy. If you spill your energy drink during a marathon gaming session, a paper towel will set things right. This is a significant benefit, since you don't need to worry about staining, either. Your slick, black mouse pad will retain its color for years to come. There's a small Havit logo at the bottom left, which might be a concern for some people. But unlike some mouse pad logos, it has no added texture whatsoever. You can slide your mouse right over it without any change in the feel.
The bottom of the mouse is also well-constructed. It has an anti-skid, rubberized texture that keeps it from slipping around. Even if you apply a lot of pressure to your mouse, it's going to stay in place. The top and bottom are connected by heavy-duty stitching around the edges. This ensures that they won't separate, even after years of heavy-duty use. Moreover, the stitching is embedded in the sides, and does not protrude through the top or bottom. This means you don't have to worry about stitching interfering with your mouse movement. Even if you go all the way to the edge of the pad, the texture remains consistent.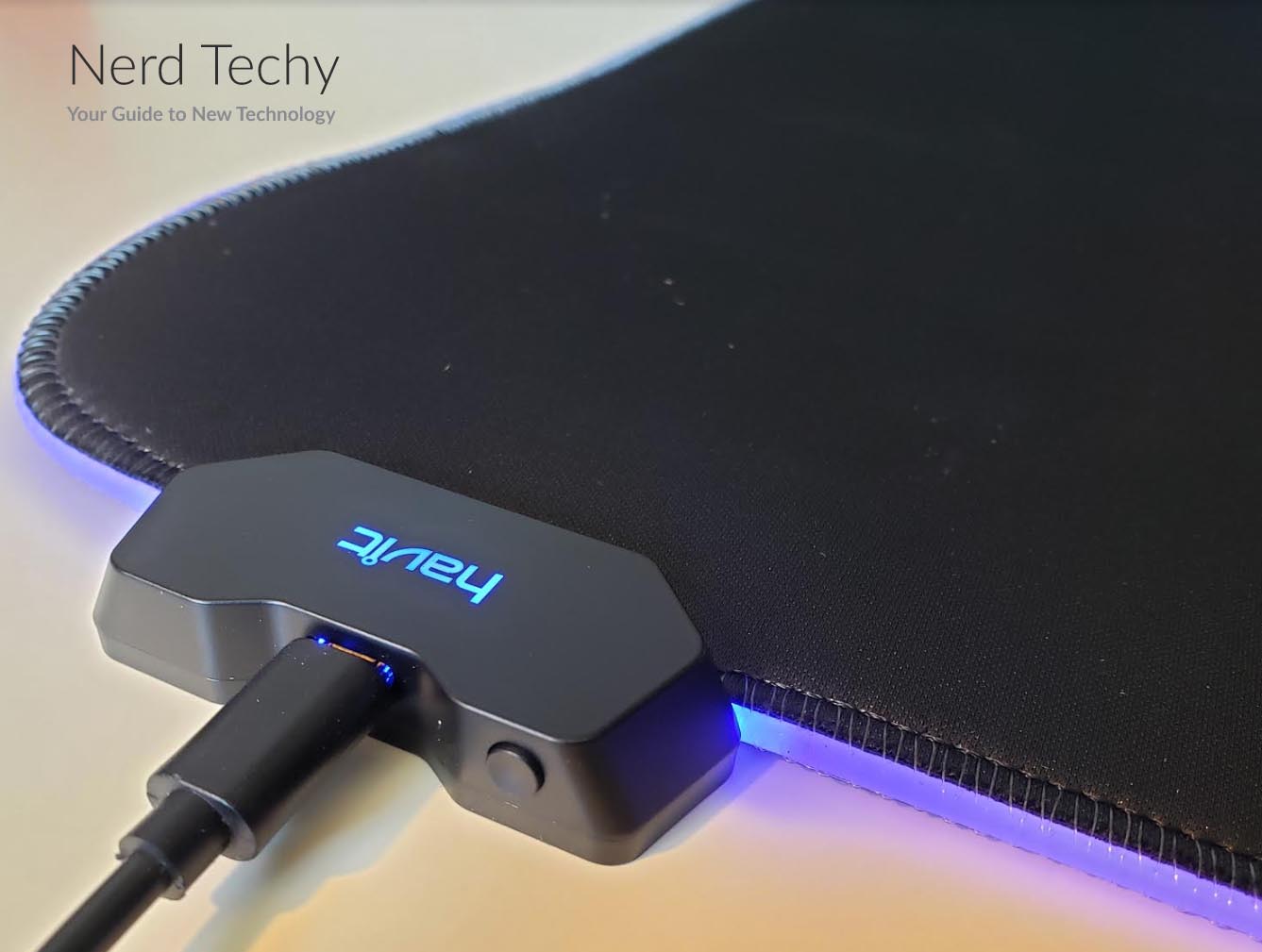 In addition to the normal mouse pad basics, the Havit RGB Gaming Mouse Pad also sports LED lighting. Needless to say, this lighting requires a power supply. There's a small USB power hub on the left side of the mouse pad. It protrudes from the side, and only slightly obstructs the top left corner of the pad. It's also a matte black, so it nicely matches the surface of the pad itself. On top, there's a bright red Havit logo. On the outside, you'll find the Micro USB port itself, along with a button for controlling the LEDs.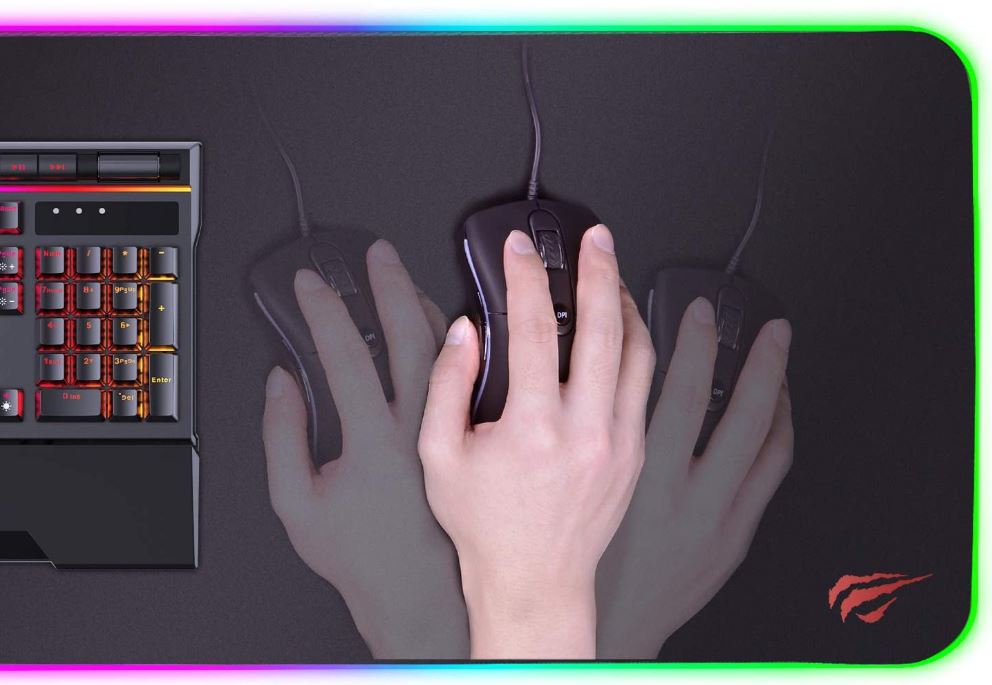 Performance
So, we've established that the Havit RGB Gaming Mouse Pad is well constructed. But how well does it perform when you start actually using it? In this regard, it performs very well, in line with the market's top mouse pads.
The upper surface is very well textured, with no unexpected variations in the finish. Your mouse can scroll smoothly and effortlessly across the surface, without any skipping. If you're a gamer, this is an essential feature. You need your mouse to point exactly where you expect it to, and not to jump around. The rubberized bottom is also of assistance here. It keeps the mouse pad firmly anchored in place, even during an intense gaming session. No matter what you're doing, your mouse will track accurately and smoothly.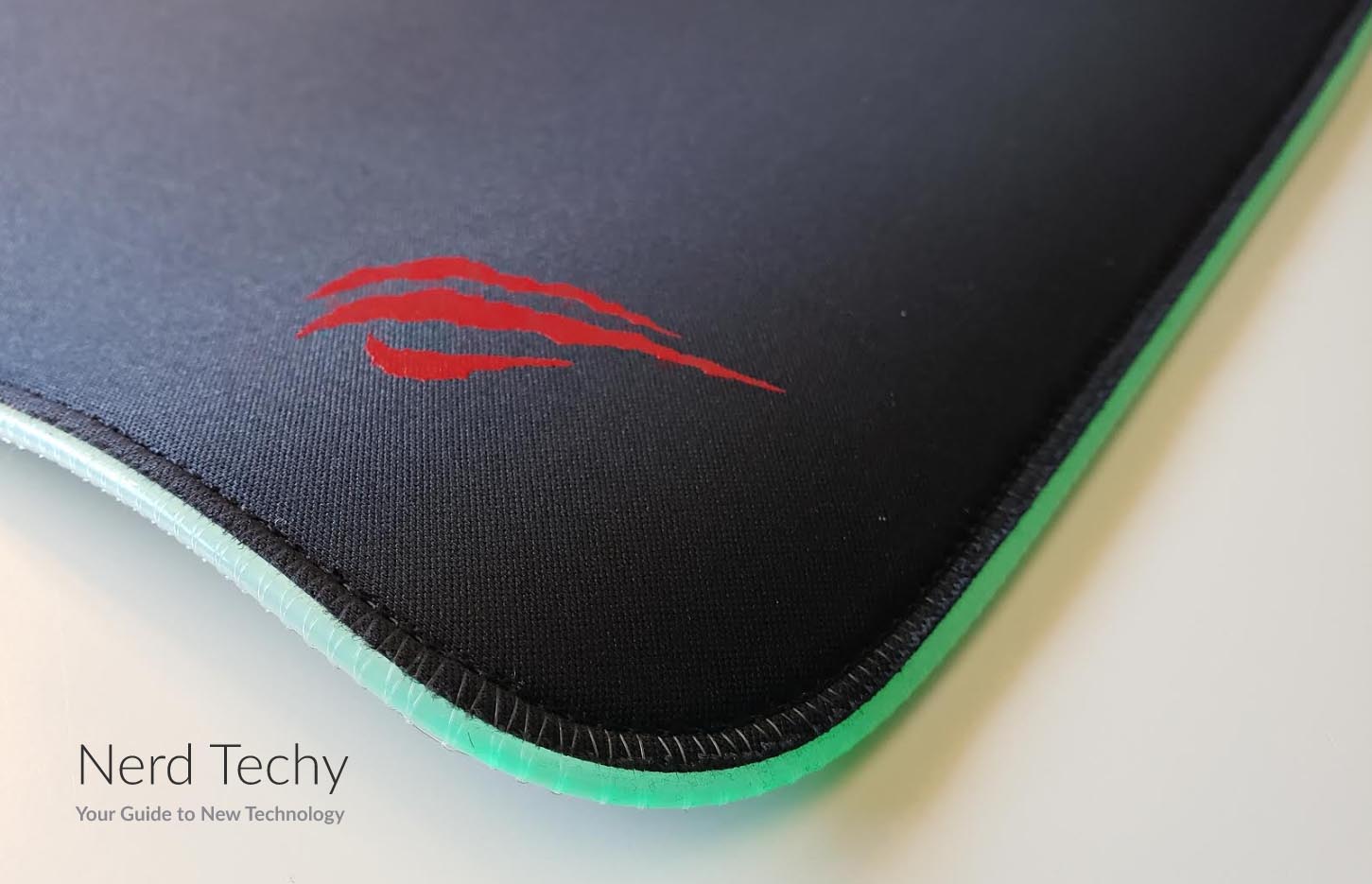 Customization Options
The Havit RGB Gaming Mouse is plug and play. Simply connect it to your PC, and it will immediately light up. Admittedly, this is a purely cosmetic feature. If you look at things objectively, you're spending a bit of money for RGB lighting that could have been spent elsewhere. For instance, Havit could have made a thicker pad that provides a bit more cushion. On the other hand, a thicker pad wouldn't have been as portable, so this might not have been a good thing. Regardless, you're looking at a well-constructed mouse pad, even if it does have some unneeded bells and whistles.
Of course, many people will enjoy the RGB lighting. If that sounds like you, congratulations! You've found yourself a mouse pad that meets the aesthetic design you're looking for. Simply plugging in the pad will illuminate the LED lights, which is more than good enough to get you started.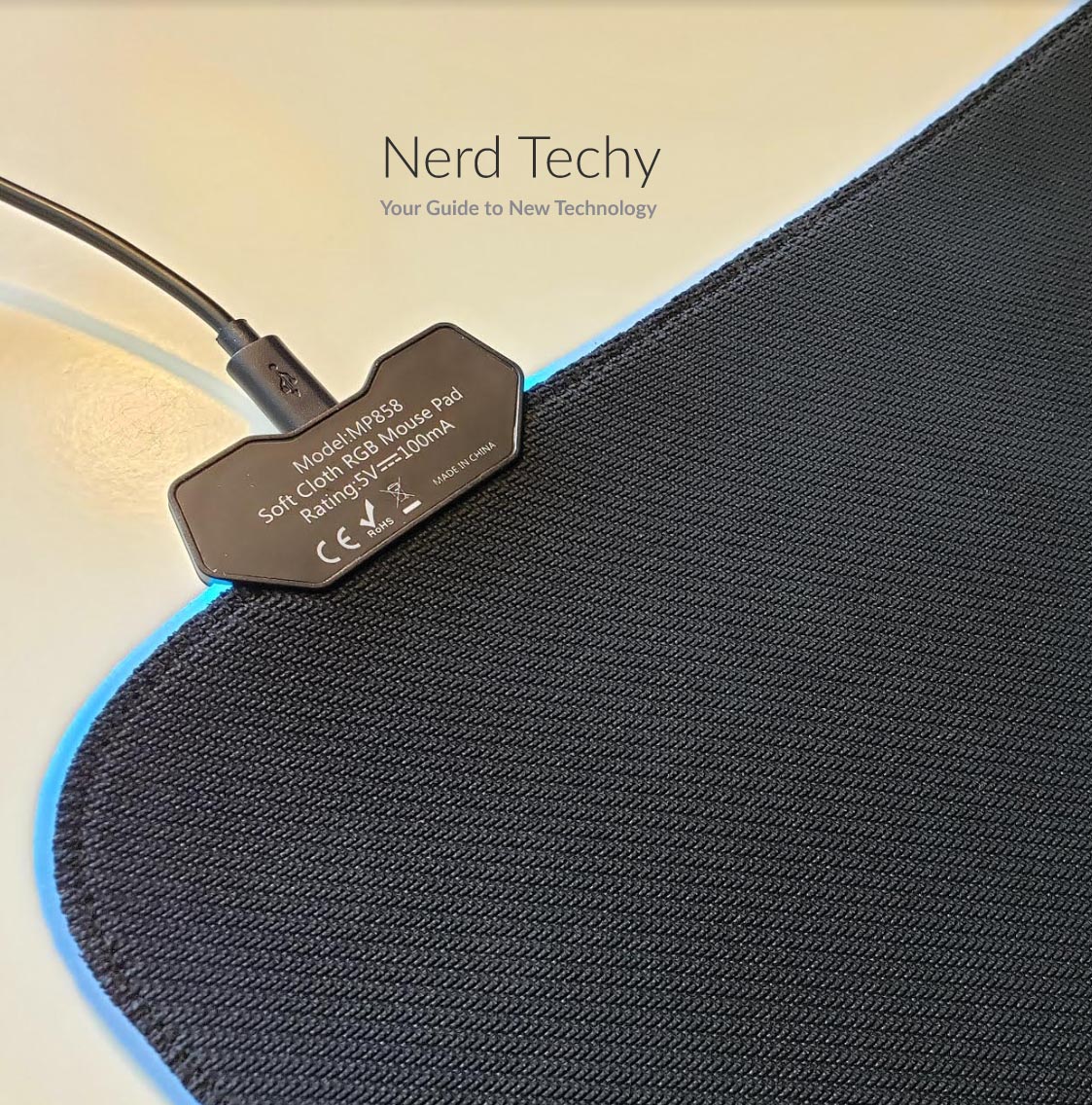 That said, if you're an RGB lighting enthusiast, you probably want a few more options. With the push of a button, you can cycle through 14 different color modes. Seven of these are static, and seven are dynamic, which means they cycle through different colors. This gives you plenty of versatility, so you can get exactly the look you desire. Whether you want a bold, red appearance or a more understated rainbow lighting, you're good to go.
Final Verdict
So, where does all this leave us? Is the Havit RGB Gaming Mouse Pad worth your money, or should you give it a hard pass? Let's start with the physical construction. This is the bread and butter of any gaming mouse pad. If your mouse doesn't move smoothly, nothing else matters.
Thankfully, the Havit RGB Gaming Mouse Pad is very well constructed. To begin with, the surface is smooth and comfortable for your wrist. Depending on your grip, this may or may not matter. But even if it doesn't matter to you, it sure doesn't hurt anything. More to the point, your mouse moves across the surface without any interruption. This is a great feature for games like first person shooters that require a high degree of precision. But even for a more relaxed game, it can eliminate a lot of frustration. For instance, if you're playing Civilization VI, you won't need to struggle to click the right building icons.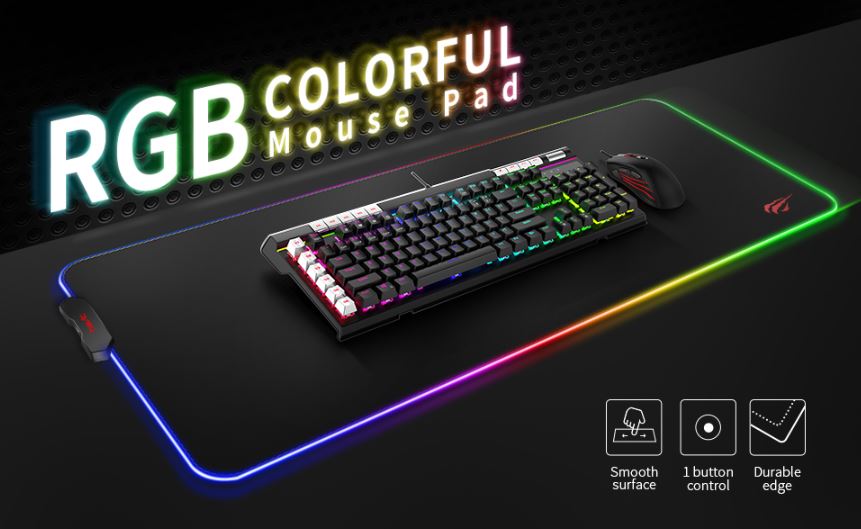 Moreover, the pad is very well constructed. Many mouse pads are cheap, with top surfaces that start to peel after a few months of use. If you're looking for a gaming mouse pad for the long term, this is simply unacceptable. The Havit RGB Gaming Mouse Pad's stitched design makes it very durable. You can use it for years without the top starting to separate from the bottom. Not only that, but the bottom is equally well engineered. It's nice and grippy, with a rubbery lower surface that won't slip or slide. This will further improve your mouse's accuracy. Even if you tend to press down very hard, your pad will stay right where you want it to be.
The size is another significant benefit. If you want a big, spacious pad, you can move your mouse around as much as you like. This is particularly useful for shooters, especially if you set your mouse to low sensitivity. You can spin your character in a full circle without needing to lift the mouse. In a time-sensitive situation, this can be clutch. And if you have a smaller desk, you can simply put your keyboard on the left portion of the pad. Problem solved!
Finally, you get best in class LED lighting. This might not be a major selling point for many people. But if you want a mouse pad that looks as good as it performs, you've got a solid option. Looking for some other options? Be sure to take a look at our guide to the best RGB LED gaming mouse pads. We recently updated it with new additions.