For gamers and PC enthusiasts, there are a lot of different devices to consider adding to your setup. From a great-looking case to the peripherals on your desk, everything needs to flow into one unique style that you love spending time with.
One item that can really elevate your setup to the next level is an RGB lighting kit. These kits can be used to add RGB lighting to various areas in and around your PC, adding that look that gamers everywhere love so much.
And being that all of these products are addressable, you can customize individual diodes rather than the entire strip. The result? Pinpoint customization for your favorite lighting effects. When deciding the best option for you, there are a few factors to consider.
Size and Design
Size is important with these lighting kits because it determines just how much lighting you'll be getting. Typically, these kits are comprised of longer, skinny lighting options that can be put inside your PC case.
The design is also important, as it will determine how much lighting will be created and how it will look. Some options have fewer lights that are more spread out, which will create less intense lighting. Alternatively, some have many lights close together under a diffuser, which makes some of the best-looking RGB out there. You'll also find options that can be controlled with different functions, which helps further your customization options.
Functionality
Functionality is important for a few reasons. The first refers to how it will actually work best on your computer. Some kits are just strips that can be placed anywhere in the case. Some are designed for specific purposes, like covering your various cables or for surrounding your motherboard.
You'll also want to pay attention to how they attach to your computer. Magnets, brackets, and even double-sided tape material are all common ways of attaching. Finally, pay attention to how they receive power. Some go directly into a USB port, while others need to be plugged into a controller or directly into an RGB header on your motherboard for the best functionality.
Extras
Extras are what they sound like. When comparing, see if any have that extra feature that makes them stand out from the others. It could be a better material, extra quality of life features, or more.
Best Overall: Airgoo NEON Addressable RGB PC LED Strip Kit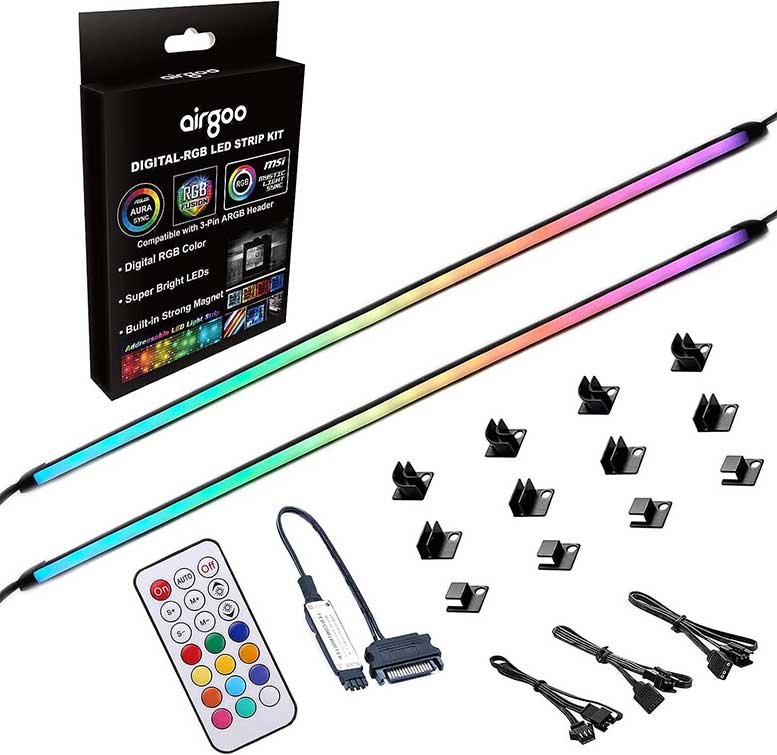 Key Features:
31-inches of lighting
Dual flexible lighting strips
Magnetic attaching
The best overall lighting kit is the Airgoo NEON Addressable RGB PC LED Strip Kit. This kit comes with two individual strips that can be connected together to create over 30 inches of RGB inside your computer. Each strip has 21 individual LEDs to create a great look. They are then covered by a diffusing material to help make the lighting appear seamless, which makes it one of the best-looking options on the market.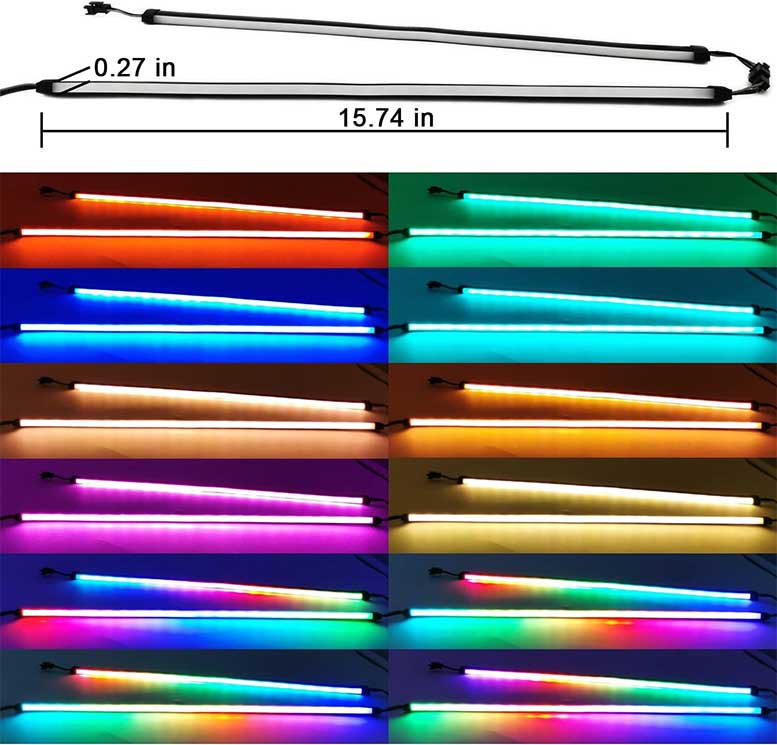 As for how to attach these to your computer, each strip comes with a variety of brackets that can be magnetically attached to your case. The strips easily slide into these brackets, so the setup is simple. If you don't have anywhere to magnetically attach, each bracket also has a spot to put a screw through, so there is some flexibility in attaching.
These strips are powered by a 3-Pin ADD header. There are also three different ways to connect these strips to your computer, depending on the motherboard you have. You can use either a standard 3-Pin connector, the included ADD header or a controller that adapts to SATA cables, so there should be a way to connect to your computer regardless.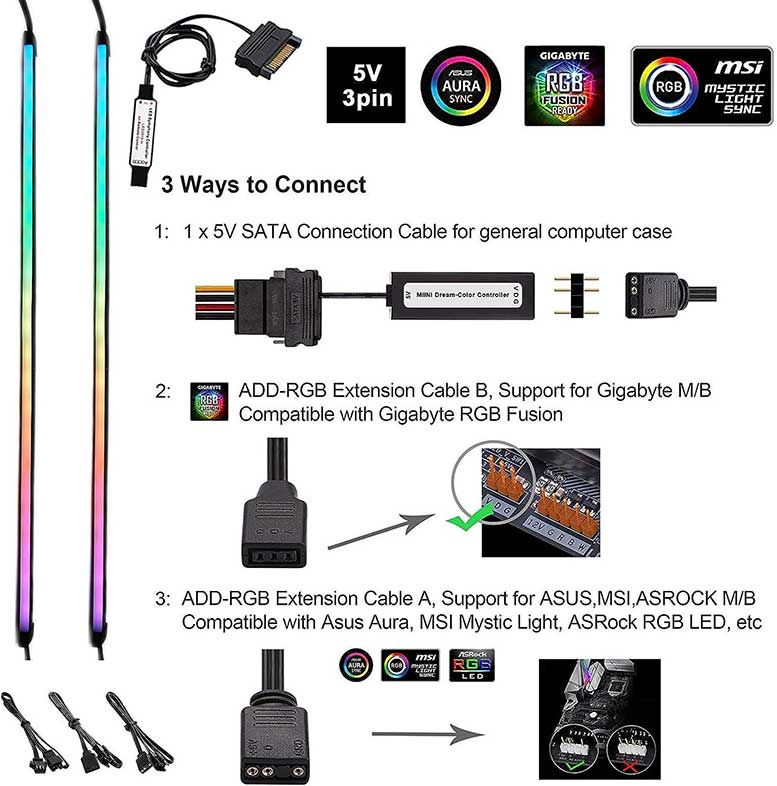 Depending on the type of motherboard and connections you have, this light strip can be controlled with either lighting software or via the included remote control. This gives you plenty of customization options to make it match your aesthetic easily. With all these features and overall great looks, this is a great choice.
Pros:
Three ways to connect
Two individual light strips
Diffuser material makes the lights look seamless
Cons:
Some reviewers note that the various connector points are hard to hide
Best Runner-Up: Corsair iCUE LS100 Smart Lighting Strip Starter Kit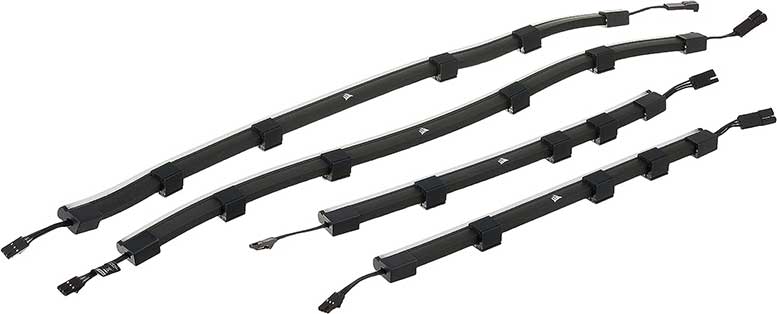 Key Features:
55-inches of lighting
Two long and two short strips
Controller included
A solid runner-up choice is the Corsair iCUE LS100 Smart Lighting Strip Starter Kit. This kit is comprised of four different light strips. Two of them are 17.7 inches long, and two are 9.8 inches long. This gives you about 55 inches of total lighting to add to your computer. The longer strips have 27 individually addressable LEDs inside, while the shorter strips have 15. Similar to the option from Airgoo, the LEDs are covered by a diffusing material to help make the lighting appear seamless.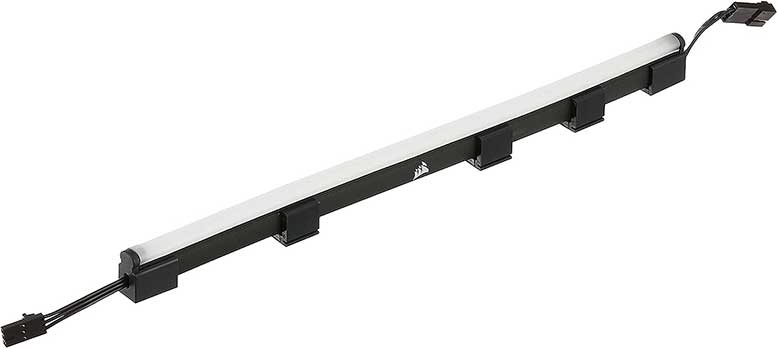 The functionality of these light strips is great. To attach them to your computer, you simply slide them into the included brackets and stick them where you want them. While they are designed to be attached internally to your computer, you could also line the back of your monitors or other places in your setup for cool lighting effects. Each light strip is connected to each other via a connector that supplies lighting information and power.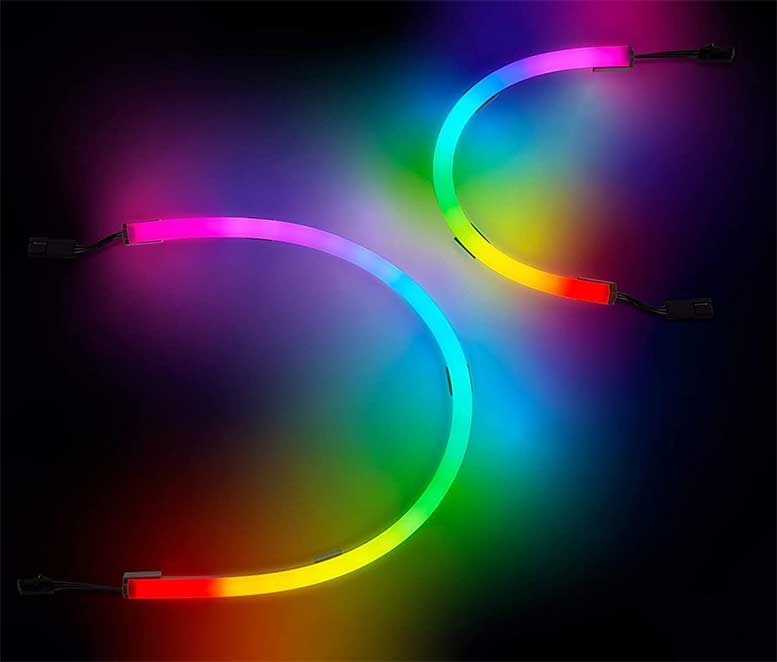 Powering these light strips is done through the included controller. This controller can either be plugged into your computer or into the wall. Once plugged into the controller, each light can be customized via Corsair's iCUE software (to do this, you'll have to have the controller plugged into the computer via USB).
Overall, having this much lighting that is simple to set up is a great thing. With 55 inches of lights that can be individually addressed and customized and plenty of mounting options for your PC or surrounding setup, the Corsair iCUE LS100 another great kit option.
Pros:
55 inches of lighting with 84 LEDs
Controller is included
Customizable with iCUE software
Cons:
Some reviewers received this kit with a European wall plug
Best Alternative: GIM KB-14 RGB PC Light Strip for Gaming Case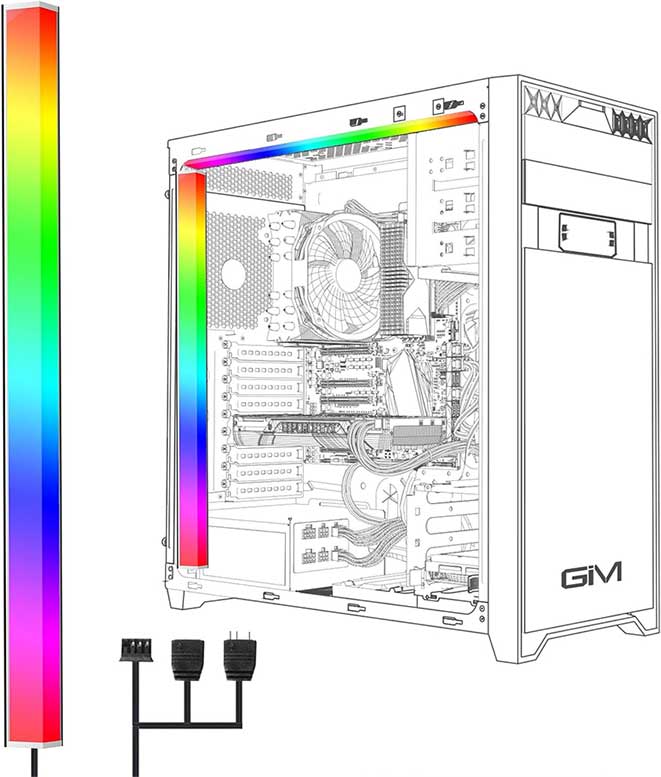 Key Features:
11.8-inches of lighting
Double sided light bar design
Magnetic attaching
A great alternative for your PC is the GIM KB-14 RGB PC Light Strip for Gaming Case. This is honestly more of a light bar than a light strip, as it's a bulky option (not a bad thing). It has a total length of 11.8 inches and comes with one bar in the package. This bar has LEDs throughout it and is covered by a diffusing plastic. A unique aspect of this bar is that the lighting can be shown through two different sides, providing even more lighting effects.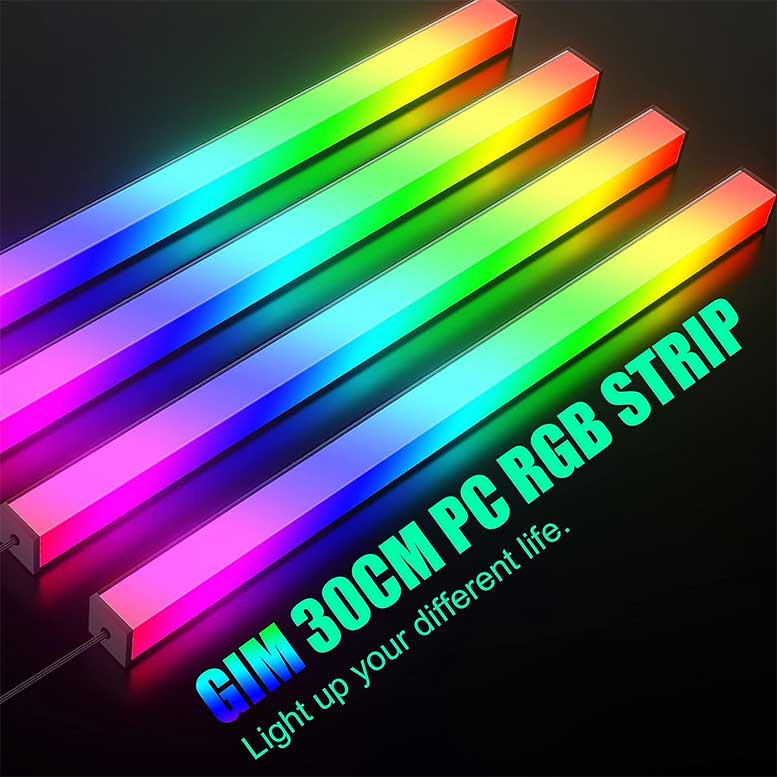 Attaching this to your computer case is simple. Included on the bar is a set of magnets that easily stick to the case wherever you want them. However, if you don't have anywhere that's magnetic to stick them to, you'll have to get your own adhesive tape material.
Connecting it to your computer can be done in a few different ways. If you have GIM fans, you can simply plug this directly into your fan hub and sync it with your fan lighting, even if you're using one of the best PWM fan controllers. If your motherboard has a free 3-pin slot, you can attach it there. Finally, if neither of those works, it does come with a SATA adapter as well. This gives you plenty of options to make sure it will function properly on your computer.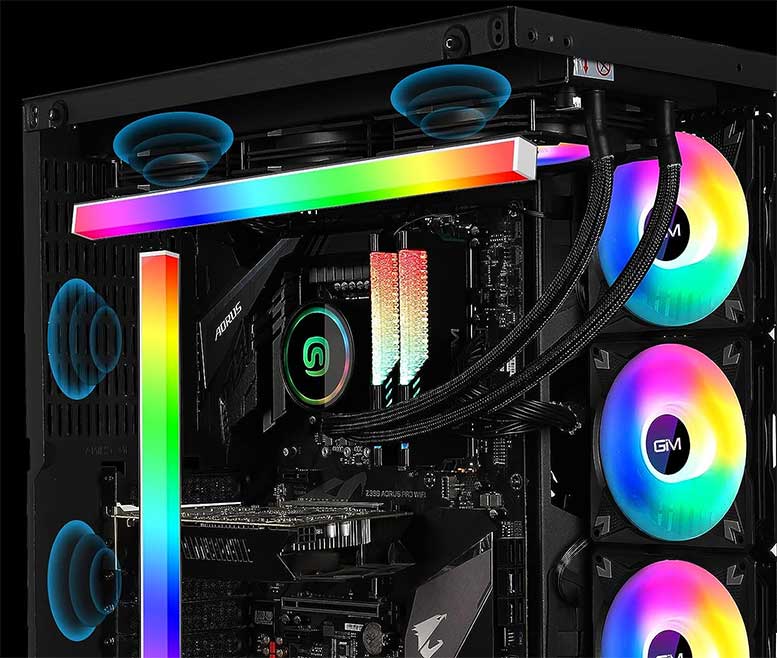 There's also a wide range of controls for this light bar. If you are able to plug it into the motherboard, you can use many of the most popular lighting software solutions on the market to customize each LED. If not, there is a lighting controller included that has pre-set modes, colors, and speeds to make it easy to find one you'll like. Overall, this bar throws off a lot of light and is easily controllable, making it a solid alternative.
Pros:
Dual lighting zones
Magnet attaching
Three ways to connect to your computer
Cons:
Only one bar is included in the pack
Best For GPU Cables: Airgoo Diffused Addressable RGB GPU Cable Extension Kit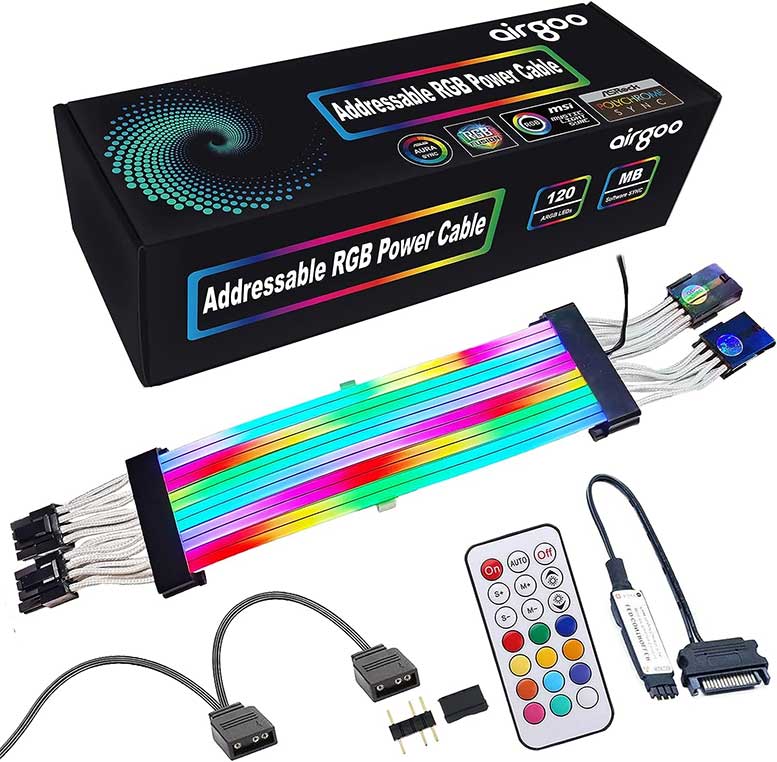 Key Features:
11.8 Inches Long
Individual GPU Cable Lighting
It Replaces Your Current GPU Power Cables
If you're really looking to enhance your gaming computer's looks, then the Airgoo Diffused Addressable RGB GPU Cable Extension Kit is for you. This kit is comprised of a single lighting device that is just under a foot long. However, rather than being a light strip or bar like many other kits are, this instead replaces the power cable of your graphics card. These cables are then covered by 12 strands of LEDs, for a total of 120 addressable RGB LEDs.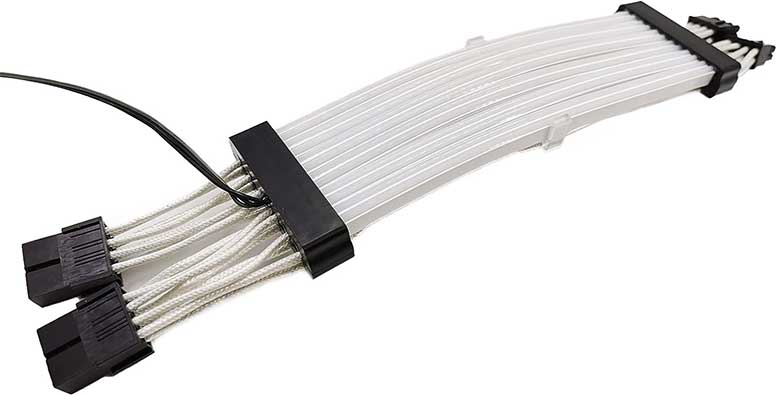 As far as attaching them goes, it's pretty simple. The LED system itself comes pre-attached to the cables, so you don't have to do anything special with that. The GPU cables are dual 8-pin (6+2 connectors), so it should work with most GPUs on the market today.
Once they are attached to your GPU, you'll have to provide power to the LEDs themselves. This is done via a 3-pin ARGB header plugging directly into your motherboard. This provides light customization from programs such as ASUS AURA SYNC and MSI Mystic Light Sync. If that's not possible, you can also connect the lights to a SATA cable via the included controller and then use a remote control to customize the lighting settings.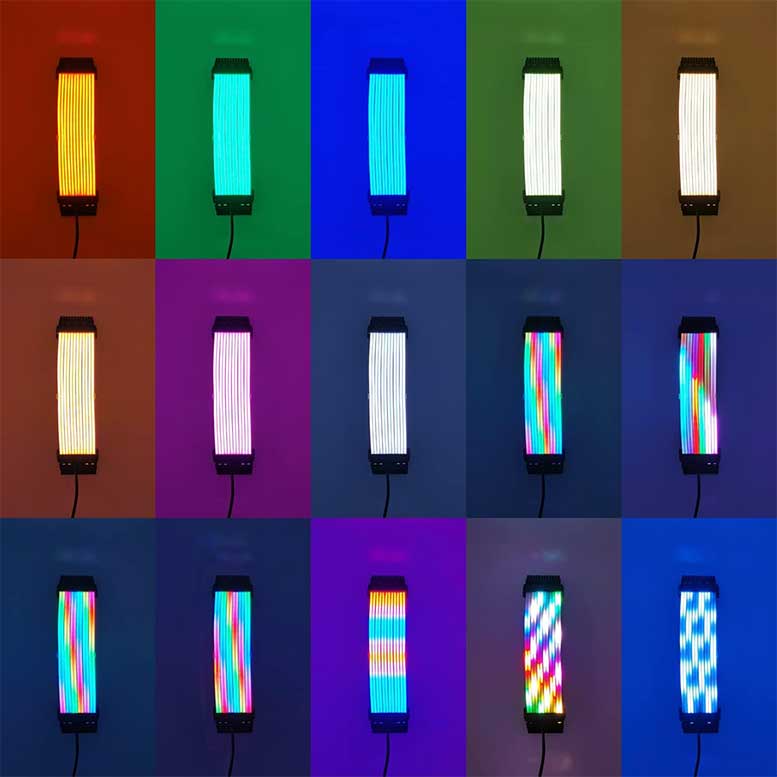 This lighting kit is something that not many gamers out there have, as it's a relatively new design in the PC gaming world. It really enhances the look and throws off a ton of light in an area on your PC that typically doesn't have much for customization besides static-colored cables. These are definitely a must-add for gamers who love RGB in their computers.
Pros:
Makes your GPU cables look great
120 total LEDs
Two ways to connect
Cons:
Compatible with most, but not all GPUs so make sure it will work with yours before purchasing
Best Basic Light Strip: Speclux PC Addressable RGB LED Strip Lights Kit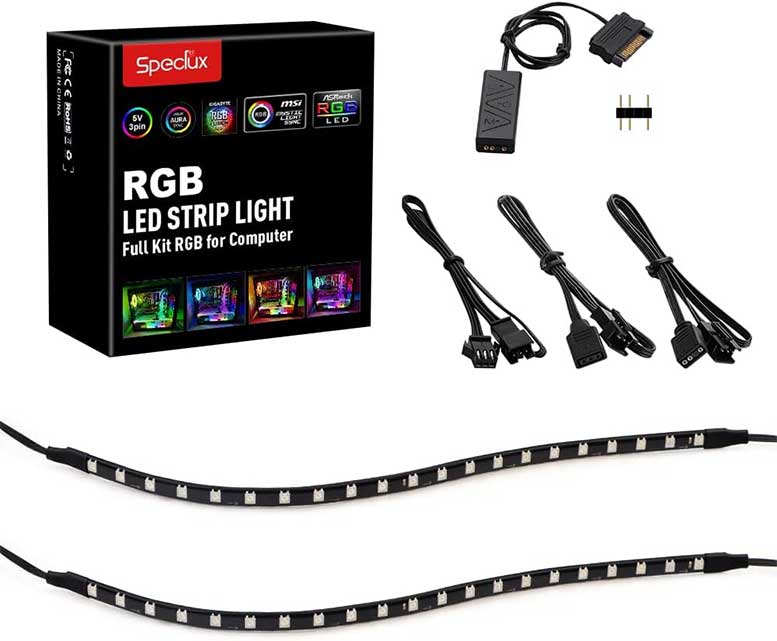 Key Features:
27-inches of lighting
Two individual strips
42 LEDs
For those who want a basic light strip, the Speclux PC Addressable RGB LED Strip Lights Kit may be the way to go. This kit features two individual LED light strips that each have 13.7 inches of lighting area. Additionally, they each have 21 individual LEDs within them. Where they differ from other light strips on this list is the lack of a diffusing material on top. This means each individual LED will shine through, so gaps will be visible.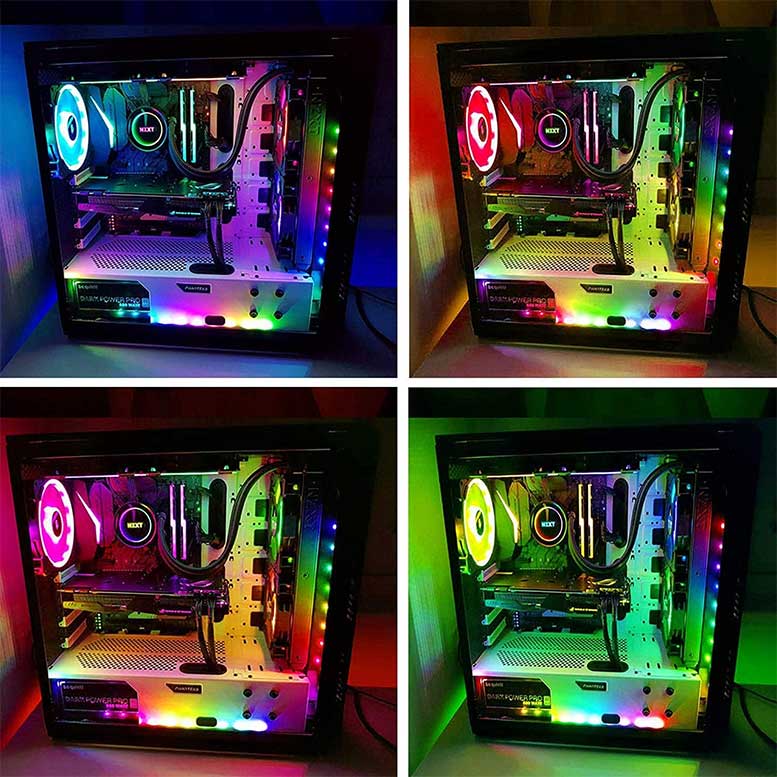 To attach these to your computer, there are two options. The first is built-in magnets within each strip that will attach to metal areas on your computer. Alternatively, you can use the included adhesive tape on the back of each strip.
Connecting these to your computer can be done in a few different ways. The first is to connect directly to a 5V SATA cable with the included connector. You can also connect to your computer via a VDG header or 3-Pin RGB header on your motherboard. You'll also need to daisy chain the light strips together in order to get the maximum lighting performance.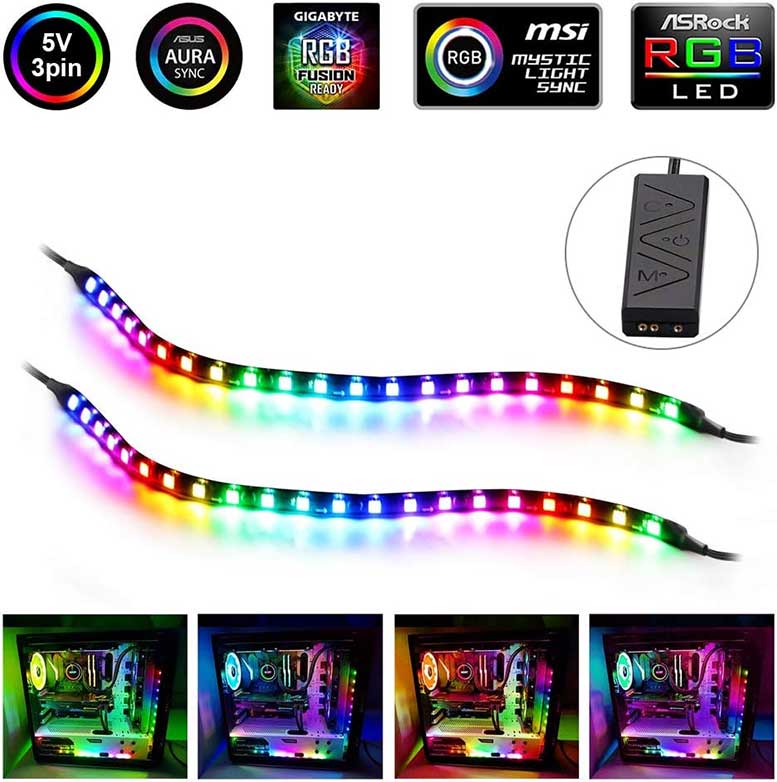 Controlling the lighting itself can be done with software or the included controller. If the light strips are connected via the Motherboard, you can use ASUS AURA SYNC, Gigabyte RGB Fusion, MSI Mystic Light Sync, or ASROCK RGB LED software. If, instead, you go the SATA cable route, you can control it via an inline controller to switch modes and effects.
Pros:
42 total RGB LEDs
Magnetic or adhesive attaching
Three connection options
Cons:
The light mode controller is inside the computer, so controlling it this way is inconvenient
Best Basic Light Strip Alternative: ALITOVE RGB Addressable LED Strip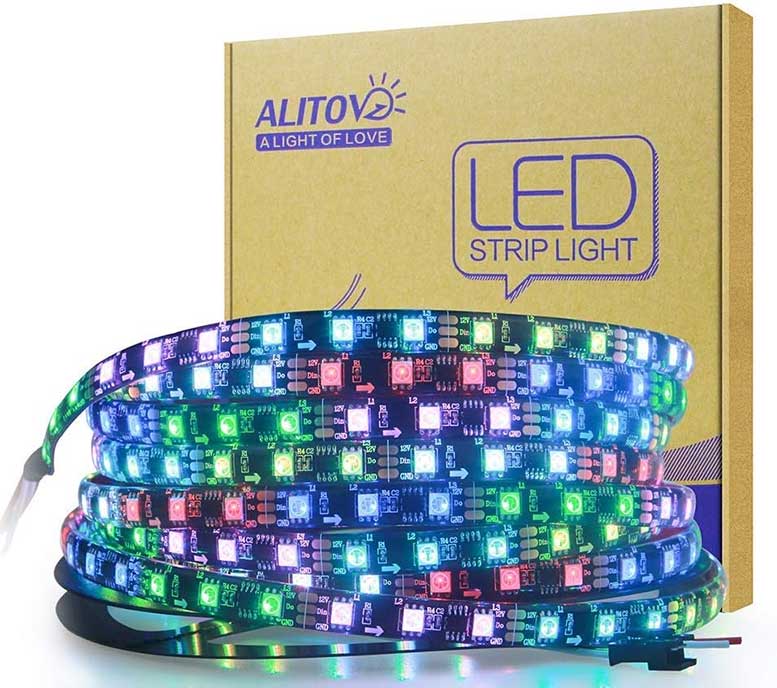 Key Features:
Over 16-feet of lighting
300 LEDs
Adhesive attachment
Another great basic light strip option (especially for those who need bulk lighting) is the ALITOVE RGB Addressable LED Strip. This kit comes with over 16 feet of RGB lighting, comprised of 300 individual LEDs. Similar to the Speclux, these lights have no diffusing material.
To attach them to your computer, there's a simple self-adhesive backing that can attach anywhere on your computer. You probably won't need 16 feet of lighting in your case, so this strip can be freely cut consistently through itself so you can get the exact size you need. After cutting, they can be attached together so you don't waste light.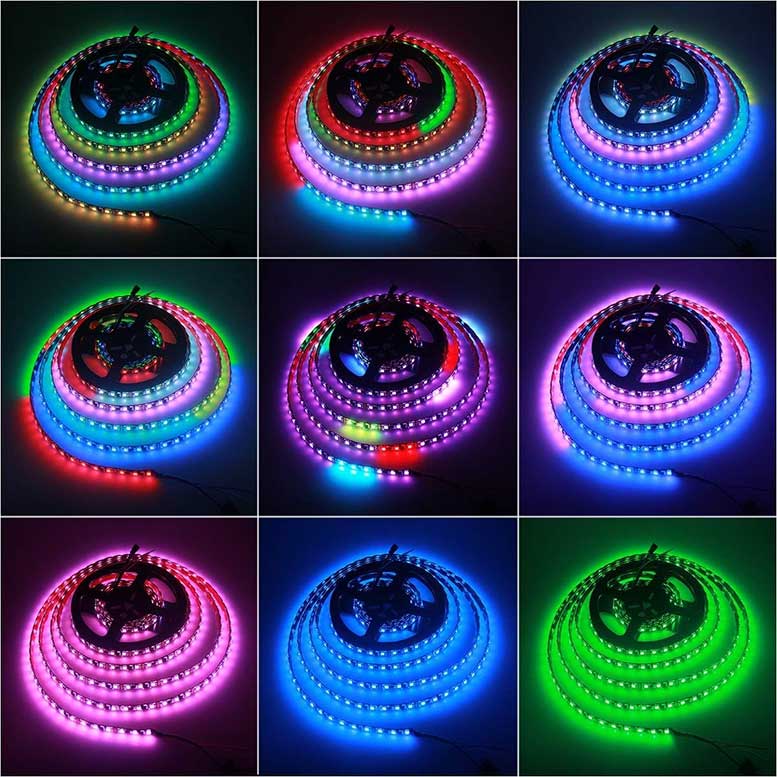 Connecting them to your computer may be a bit more annoying than other options out there. They require 12V power, so it will have to plug into the wall somewhere. To connect to your computer and control lighting effects, there is a built-in 3-Pin connector.
If you're someone who needs a bulk option for your computer so that you can cover everything in RGB LEDs, this is the kit for you. Getting over 16 feet of lighting and 300 LEDs that are customizable is awesome. The only issue is that limited connectivity may make these a pain to use in some PC setups.
Pros:
Over 16 feet of cuttable lighting
Multiple lighting modes
Can be cut to size
Cons:
Connecting to your computer may be a pain to do
Best For Motherboards: AsiaHorse ARGB Light Strip for Motherboard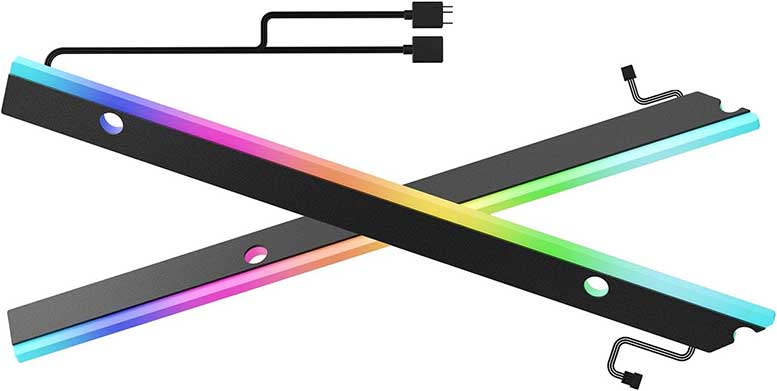 Key Features:
Two 9.6-inch lights
Designed for use on your motherboard
24 total LEDs
Another unique option out there is the AsiaHorse ARGB Light Strip for Motherboard. This light kit is designed specifically to line the sides of your motherboard, creating a unique lighting effect where there isn't typically RGB to be found. This kit comes with two 9.6-inch light strips, each with 12 individual LEDs. They are also covered with diffusing material and angled so that lighting effects are completely seamless.
The way you attach these light strips is a bit unique compared to other options. These are installed directly onto the motherboard standoffs on the case itself. You first slide these over the standoffs, then attach your motherboard and screw it all down. This makes them extremely secure but may be annoying to add to a PC that is already in use.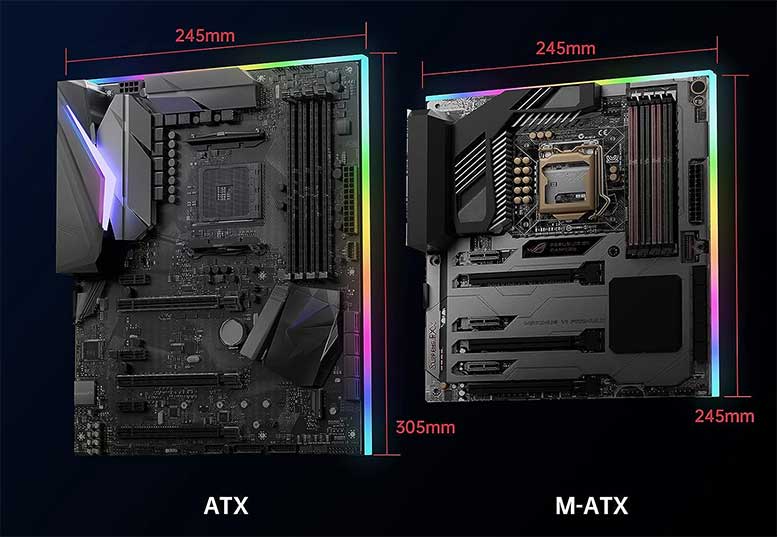 Connecting to your computer is simple through an included 5V ARGB 3-Pin connector. There isn't a way to connect these to a SATA cable, so you'll have to have an open spot on the motherboard. Additionally, these lights attach to each other via a daisy chain connector.
Once plugged into your motherboard, you can control the lighting effects via multiple different software solutions. Examples are ASUS AURA SYNC, ASRock POLYCHROME SYNC, and MSI Mystic Light Sync. Overall, this can be a really great addition to add an extra bit of RGB flair to your build.
Pros:
Designed specifically for motherboards
Multiple software control options
Easy to connect to the motherboard
Cons:
It can be annoying to install if not being put in a new build
Meet Derek, "TechGuru," a 34-year-old technology enthusiast with a deep passion for tech innovations. With extensive experience, he specializes in gaming hardware and software, and has expertise in gadgets, custom PCs, and audio.
Besides writing about tech and reviewing new products, Derek enjoys traveling, hiking, and photography. Committed to keeping up with the latest industry trends, he aims to guide readers in making informed tech decisions.