In the mid-90's, LED lighting came into its own. While red LEDs had been in common production since the 1970s, it was in 1994 that Japanese inventors developed Indium Gallium Nitride LEDs, which allowed for the production of bright blue and green LEDs. This led to a revolution in RGB lighting, because all three colors could finally be combined in a small space.
Since the earliest days of PC gaming, gamers have been finding ways to enhance their rig. And the invention of compact, ultra-bright LEDs gave us the opportunity to add another layer of awesome to that sweet gaming PC. The first LED gaming rigs were fairly basic, with fixed colors. Adjusting them usually required expensive hardware, or an advanced knowledge of coding to program your own lights. But nowadays, we have access to advanced lighting kits and controllers that are very reasonably priced. Today, we'll be looking at four of the best kits on the market.
Single-Channel vs. Multi-Channel LED Controllers
Before we go any further, let's distinguish between the two main types of LED controllers: single-channel and multi-channel. A single-channel LED controller allows for full control of LEDs that are connected to it. However, all the LEDs must be controlled as a single unit. These controllers are typically used for under-counter lighting, or for other home applications. And while they used to be common on PCs, they're now becoming less popular due to the growing availability of affordable multi-channel controllers.
Most modern PC RGB light kits use a multi-channel controller. With this style controller, you can connect your LED strips to different channels (sometimes called "zones"), which can be operated independently. But how does this work in practice?
Let's say you have lighting on the front of your PC, the back of your PC, and around the fan port on the side. With a single-channel controller, all of these LEDs would have to be set to the same color and intensity. And if the colors changed on a dynamic basis – say, if they cycle through seven different colors – all the lights would operate simultaneously. With a multi-channel controller, you could set the front lights to a soft blue, and the rear and side lights to a bright green. If you had a separate strip on the monitor, you could set that strip to cycle based on whatever colors are on the screen, to make viewing easier on your eyes. All of the light kits on our list have multi-channel controllers.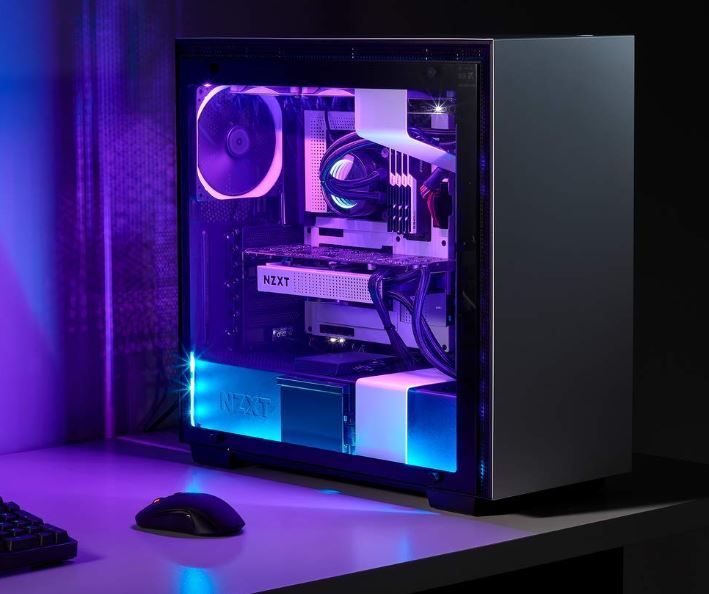 Creating Different Colors
If you remember elementary school art class, you're probably familiar with the three primary colors: red, blue, and yellow. These colors can be combined to create any other color of the rainbow. Red and blue make purple, for example. But when you're mixing colors of paint, what you're really doing is subtracting colors. When white light strikes a yellow surface, the yellow pigment absorbs all of the light except the yellow light, which is reflected. As a result, your eyes perceive the surface as yellow.
But when you're making new colors with light, you're not dealing with pigment. You're creating light that's a certain color to begin with. And mixing those colors means putting different colors together, or adding them. As a result, the three primary colors for light are red, green, and blue (RGB). So, for example, while mixing red and green paint gets you a brown, mixing red and green light gives you yellow. Pretty cool! If you'd like to know more, Wikipedia has a whole article about RGB color mixing.
So, what does this have to do with LED light kits? Every individual bulb on your LED light strip contains three separate diodes, in red, green, and blue. They're so small and close together that they appear to be a single bulb. By changing the intensity of each diode, you change the color of the bulb. It's that simple.
Different Connection Standards
Before you run out and buy any old LED strip, it's important to remember that it will need to be compatible with your PC's motherboard (or with your controller). There are two different standards for RGB lighting. The original, 4-pin design was developed for home use, before people started integrating RGB lighting into PCs. This standard uses three different wires, one for each channel: red, green, and blue. A fourth wire provides the main power supply, a 12-volt current. While this standard was originally developed for home use, most motherboard manufacturers have stuck with it. This only makes sense, since PC usage was originally a secondary application for LED lights, and was a bit of a niche market.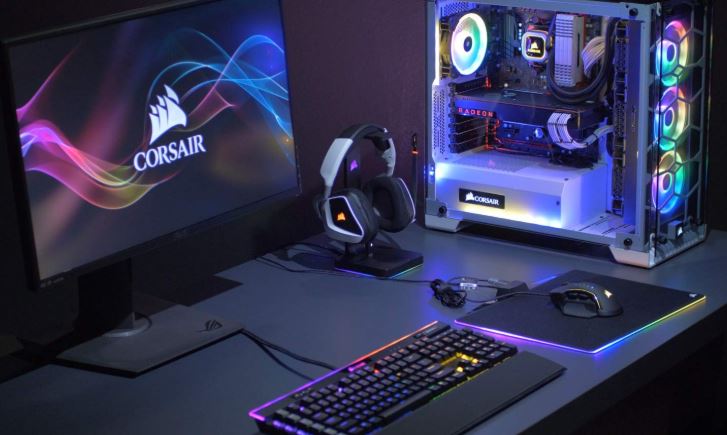 However, some motherboard manufacturers have started using their own standards. For example, the 12-volt cable is typically on the right side of the cable, but sometimes it's one of the middle cables. An arrow on the plug will show you which is which. In addition, some manufacturers have switched over to a five-pin design. The fifth pin is used for dedicated white LEDs, which draw less power than three separate RGB diodes. Gigabyte motherboards, for example, use this kind of connection.
This isn't an issue with any of our kits, since the LED strips are either included in the package or use a standard 4-pin design. The controllers, meanwhile, will interface with your motherboard, so you won't need to worry about how many pins are on the LED strips. However, if you ultimately need to replace one of the LED strips, it's important to replace them with the right type. Otherwise, you'll need to return them and re-order, which is an unnecessary headache.
Keeping Your PC Cool
One thing that's important to remember when adding LED lights to your PC is that they produce heat. As a result, you'll need to add more cooling to your PC. Depending on your case size and mounting options, your choices may be limited. But basically, there are two ways of doing this.
The first way is simply to add more fans. Some LED kits have ports for plugging in extra fans, which makes this process easy. However, if your PC case is on the smaller side, you'll have trouble taking advantage of this feature.
Your other option is to install a liquid cooler on your processor. Which variety you should use will depend on how much head space is available over the processor. Liquid coolers are pricier than some extra fans, but they will draw less power, and are generally more effective. Keep in mind that they still require some amount of air flow to keep your PC cool, so you may still want to install an extra fan if that's possible. If it's not, consider upgrading your existing fan to a more powerful model.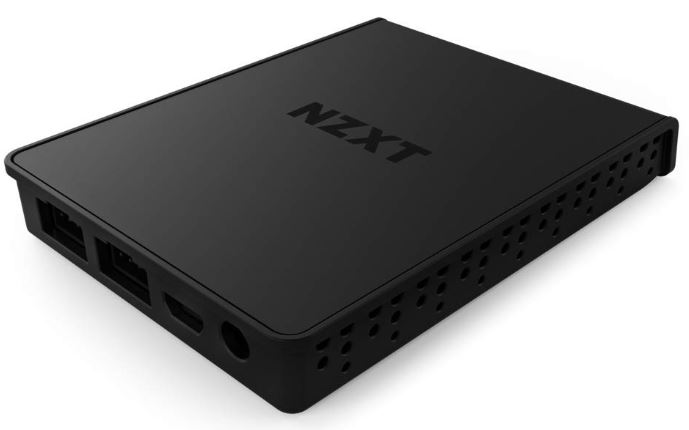 NZXT HUE2 RGB Lighting Kit
First on our list is the NZXT HUE2, the successor to their original, popular HUE+ lighting kit. It consists of a primary controller, an ambient light that mounts on the back of your monitor, four 10-light LED strips, and the HUE 2 Underglow, which is designed to mount on the bottom of your PC. Keep in mind that this last component will only work if your PC sits up on feet. If your case has a flat bottom, there won't be any room to mount the Underglow. Finally, the HUE2 comes with a cable comb, which allows you to plug the LED strips even when they're not directly next to the controller.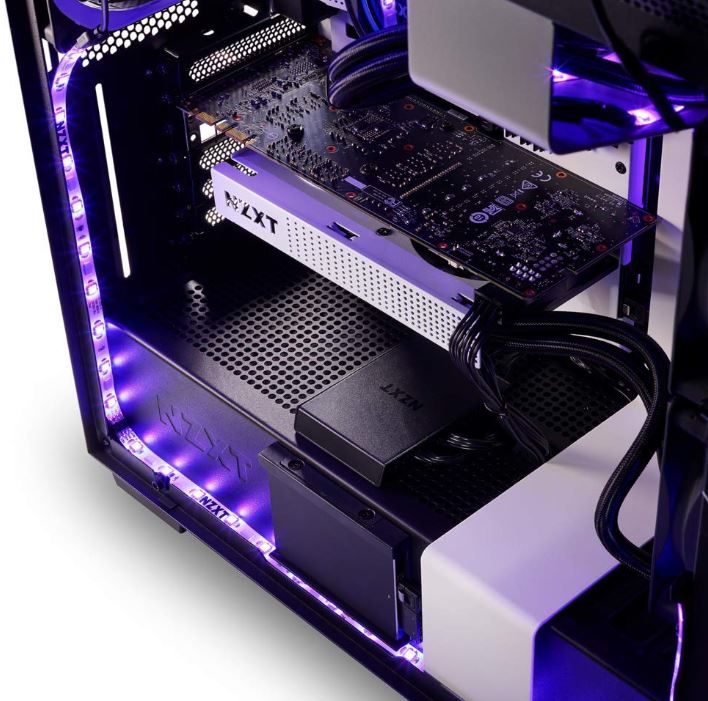 All of the components of the HUE2 communicate through NZXT's CAM software, which has also received some upgrades since the original version that rolled out with the HUE+. The software allows you to select a wide variety of options, and to control each element of the kit individually. There are four total ports, so you can connect the Underglow to a single channel, the ambient light to another, and daisy-chain two LED strips to each of the other two ports. Alternatively, if the Underglow doesn't work with your system, you can spread out the LED strips across three ports.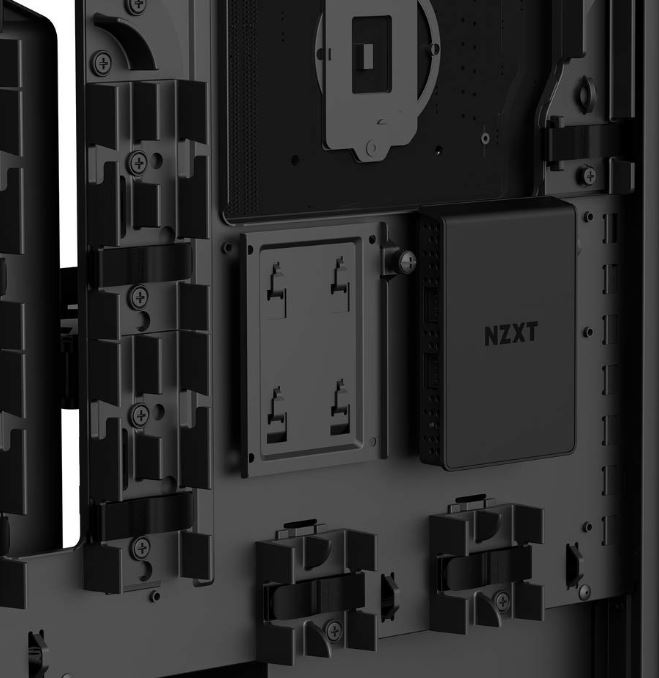 The ambient light is particularly impressive. Out of the box, it's designed to function like most other ambient lights. It samples colors from the edges of the display, and matches those colors as best as possible to create a relaxing background glow. It's designed to fit a variety of monitor sizes, from 21 to 35 inches. The CAM application allows for easy calibration, which takes just a few minutes. Once you've calibrated it, you'll never need to make any further adjustments or modifications.
Alternatively, you can set your own options, just as you would for the other sets of LEDs. Through the CAM software, you can set your own color, intensity, and even set a cycling pattern – although this would probably be distracting.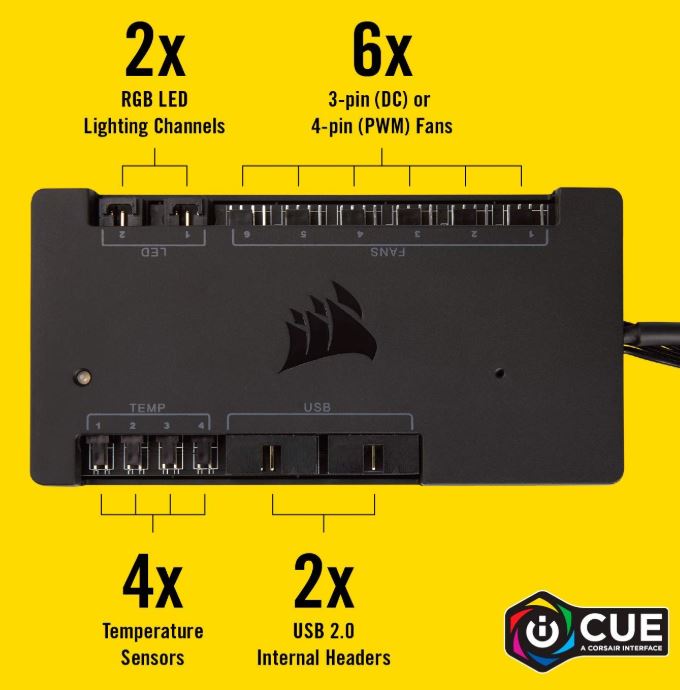 Corsair iCUE Commander PRO
Corsair's iCUE line of products includes a wide variety of devices, everything from fans to mice to keyboards to liquid coolers, power supplies, and – wait for it – RGB lights. CUE stands for Corsair Utility Engine, and iCUE software is a single application that can control all iCUE devices. This includes the Commander PRO. The nice thing about the iCUE product line is that if you buy several iCUE parts and peripherals, you can control them all from one central location.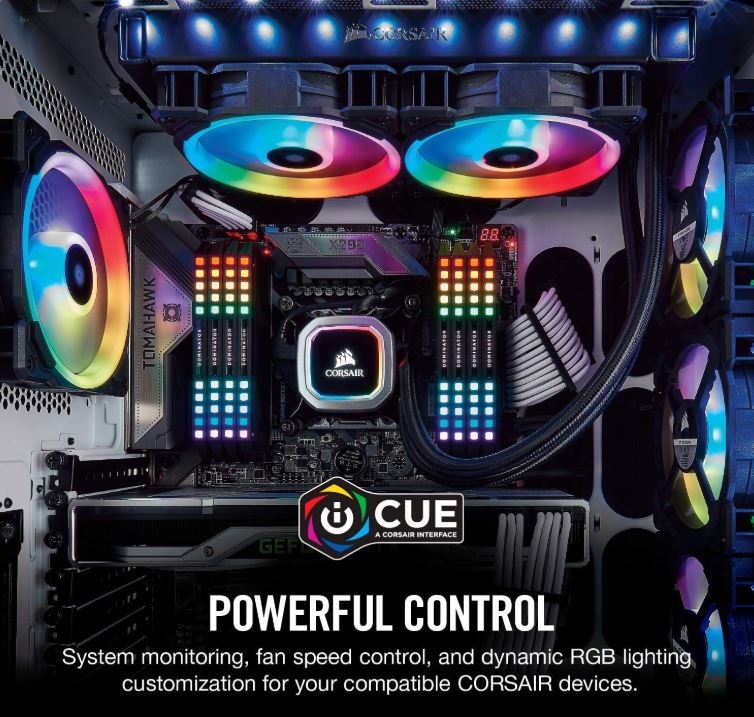 The Commander PRO isn't just an RGB light controller; it also controls your fans, and has six separate PMW fan plugs for increasing your PC's cooling capacity. In addition, it has a 2-channel design, so you can connect two separate RGB strips. They're not included, but the Commander PRO uses a standard, 4-pin design. If that's not enough, the kit also includes four temperature sensors, which can be positioned anywhere inside your PC case for accurate readings. And two USB inputs allow you to connect exterior peripherals.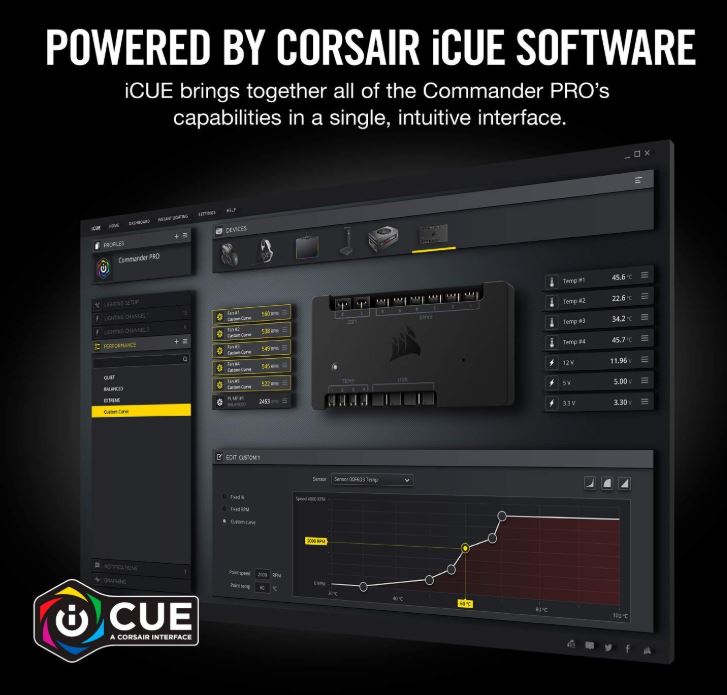 If you have RGB fans, you'll also be able to control them using the iCUE software. And you can also connect RGB mice and keyboards. What this means is that you can sync all of your RGB components through one central location. But what the Commander PRO offers that other RGB controllers don't is a built-in fan controller. Using the iCUE software once again, you can set custom fan and lighting settings based on the readings from the temperature sensors. For example, if your processor risks becoming overheated at 90 degrees centigrade, you can set the RGB lights to shut off at 80 degrees. This way, you can run as many lights as you want without the risk of causing permanent damage to your rig.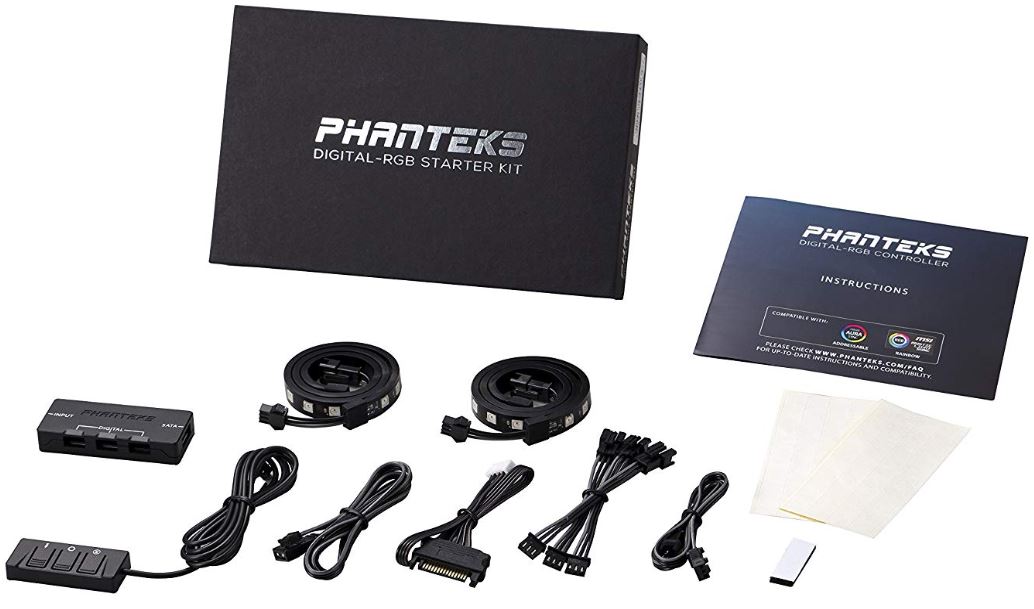 Phanteks Digital RGB LED Starter Kit
The Phanteks Digital RGB LED Starter Kit is a 2-channel controller that includes two RGB light strips. Each one can be individually controlled on its own separate channel using the included software. They call it a "starter kit" for a reason; the kit is expandable, with up to 8 LED strips total, 4 on each channel. Be careful about expanding your setup, though; Phanteks' RGB light strips use a proprietary 3-pin connection, so you'll need to buy Phanteks brand strips to do your expansion.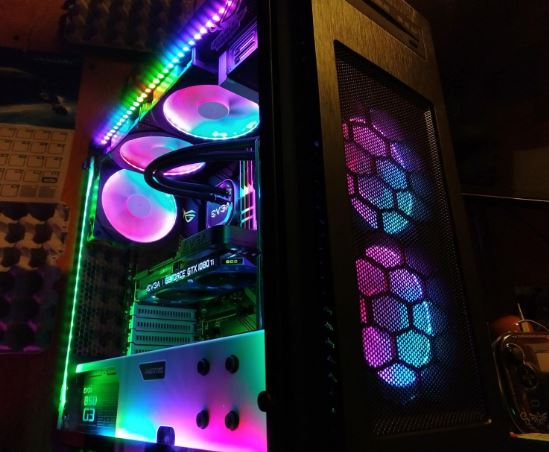 If you already have software for controlling other RGB devices – for example, a mouse and keyboard – you can control all of your devices from that same software by plugging the Phanteks controller into an addressable motherboard. The kit includes an adapter for connecting the controller to a standard 4-pin connection. If you're going to go this route, make sure to check your motherboard's RGB plug to verify that it has a standard configuration. Also, with this method, the Phanteks' 2 separate channels will operate as a single channel, so weigh your options carefully.
One neat thing about the Phanteks controller is that the RGB light strips support patterns, not just individual colors. This advanced option allows you to go beyond a traditional RGB setup, by programming any kind of fun patterns that you desire. Several patterns and modes are already pre-programmed, but you can use the software to create your own lighting patterns if you're not happy with the pre-sets.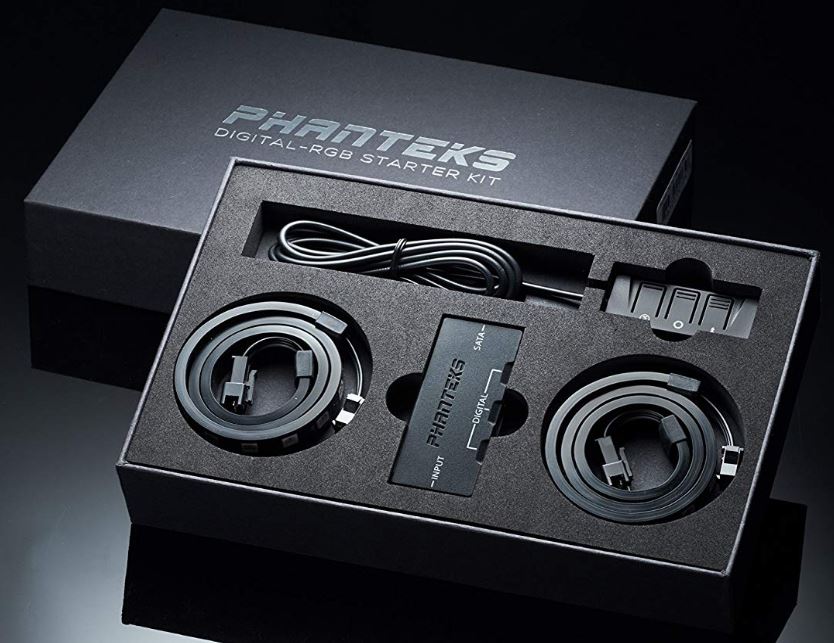 The light strips themselves may be proprietary – which is a little annoying – but they're very well designed. Instead of vinyl or epoxy, they're constructed from a flexible PVC material that's considerably more heat-resistant, and won't crack or lose flexibility over time. In other words, you'll be able to move them to a new case and new configuration when you eventually need to replace your PC case. The LEDs are housed in silicone, which is considerably more durable than standard RGB light material.
Finally, this kit includes a 3-button wired remote control, which can operate your lights from outside the case. The first button will turn all LEDs on, while the second button will turn all LEDs off, and the third button will return your LEDs to their normal programmed routine. This gives you the ability to adjust your lighting in the middle of a game session, without the need to alt-tab to your RGB light software.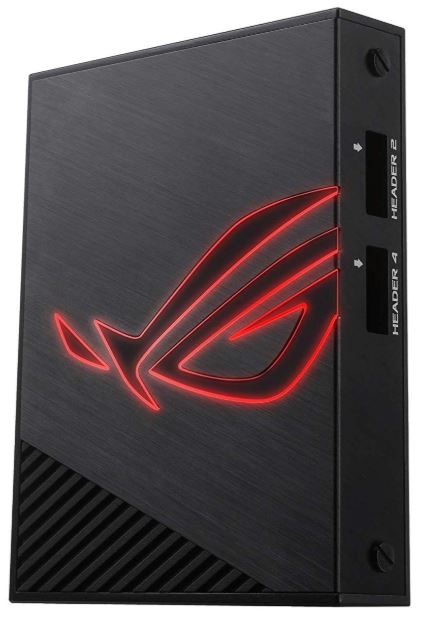 ASUS ROG Aura Terminal
The ASUS ROG Aura Terminal is an RGB controller that's capable of supporting up to 210 LEDs in total. The controller has a 4-channel design, which offers you several options for various lighting configurations. Each channel supports up to 90 LEDs, and the total limit is 210 LEDs. So, you won't be able to put 90 LEDs on each channel, since that would work out to 360 lights in total.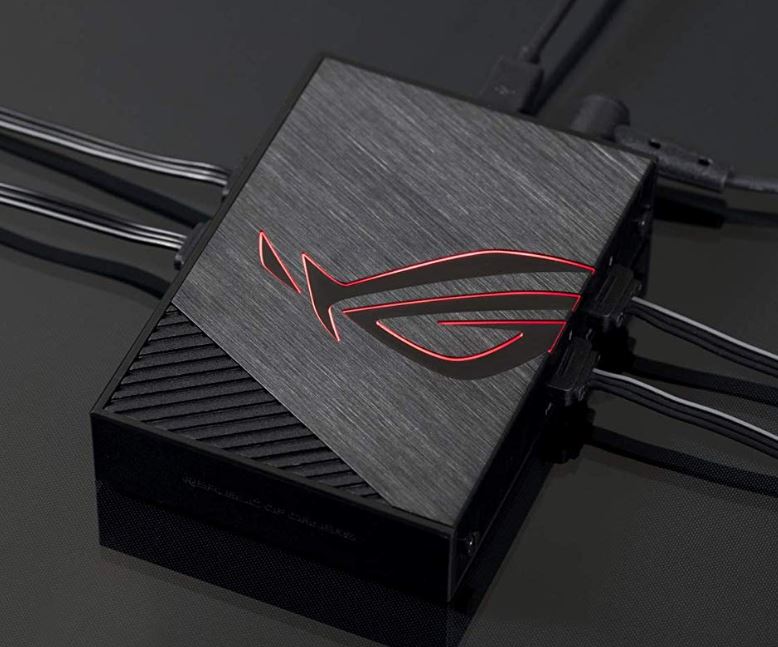 The controller connects to your motherboard directly via a pair of USB 2.0 headers. This allows it to interact with ASUS' Aura Sync software for managing your RGB lights. For power, you get two options. You can either connect into a standard 4-pin RGB power port, or use a 45-watt power brick to plug the controller directly into a wall socket.
The ROG Aura Terminal includes a pair of 30cm RGB light strips, a single 60cm light strip, and three extension cables. You also get some cable ties and a set of adhesive strips for attaching your lights to the inside of the case or the back of your monitor.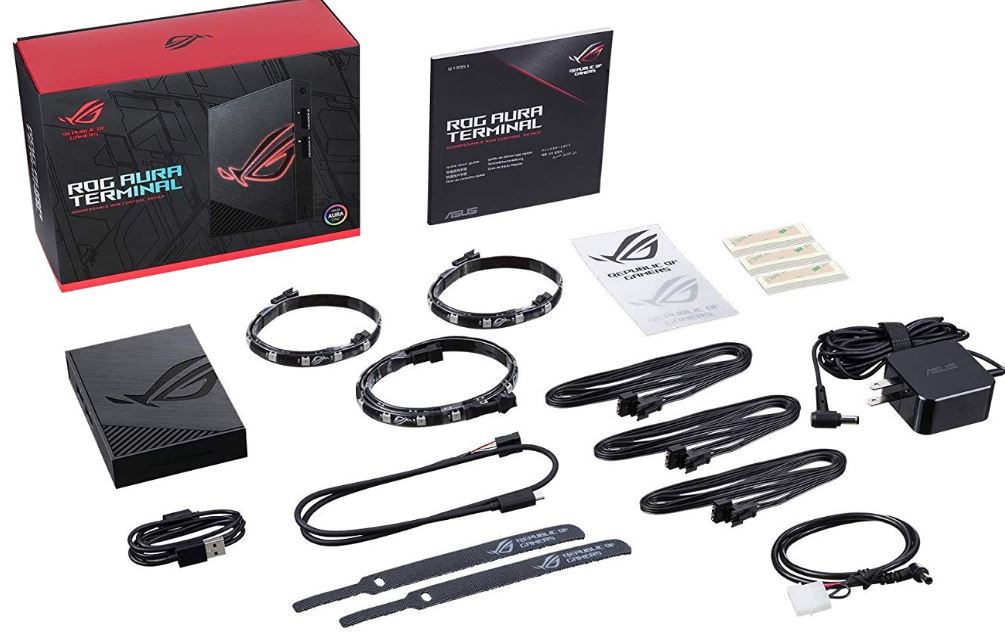 The Aura Terminal gets its name from the Aura Sync software that's used to control the lighting. In addition to the usual options, such as the ability to control light strips individually and adjust color and intensity, Aura Sync also offers an option they call Halo Lighting. If you've installed RGB backlights in the past, this will be a familiar feature. Mount the 60cm strip on the back of your monitor, and use Aura Sync to set that channel as the Halo channel. The software will automatically change those lights to match the colors on the edge of the screen.