If you're serious about gaming, you want to show your competitors that you're a worthy opponent. Modding is extremely common in the PC gaming industry. Several years ago, modding was as simple as cutting a hole in your PC case and using an acrylic window to show off all the powerful hardware you have inside. Today, it's gone much farther than that. Users are using advanced cooling systems with colorful dyes to highlight the complexity of their custom loops, and manufacturers are doing everything in their power to make "form" as much of a priority as "function."
Lighting is perhaps the most overlooked aspect of all PC modifications. After all, if people can't see your hardware they can't appreciate it. Cold cathodes and basic LEDs definitely improve the look of your computer, but nothing looks better than a high end RGB LED system. Today, we'll be looking at the best RGB lighting kits on the market. Then, we'll help you choose the one that's right for you.
NZXT Hue+ Advanced PC Lighting
Anyone who's assembled their own gaming PC is familiar with NXZT. This high-end brand makes some of the best cases on the market. Nobody knows how to make a statement like they do, so we couldn't wait to try out their RGB lighting system.
Maybe you've heard of the Hue lighting system before. But even if you're familiar with the old model, we can promise you that the Hue+ brings about some major changes that bring the product to the next level.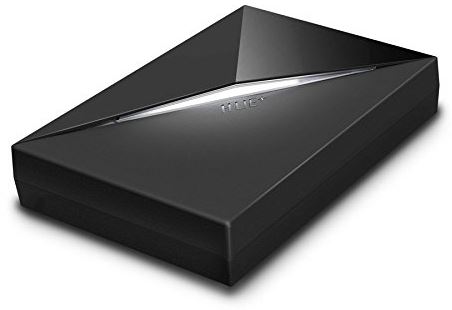 What You Get
When you first open the box of the NZXT Hue+, you'll come across a small box that looks a little like an SSD. But instead of storage, what's inside is a powerful controller that can work with their advanced software to create a visual display unlike anything that you've seen in a PC case before. The long strips of LED lighting are what makes the magic happen. They are magnetically backed, so they're easy to set up in your case. There are eight strips in total, each of which has a male or female connector allowing them to be daisy changed together as you see fit.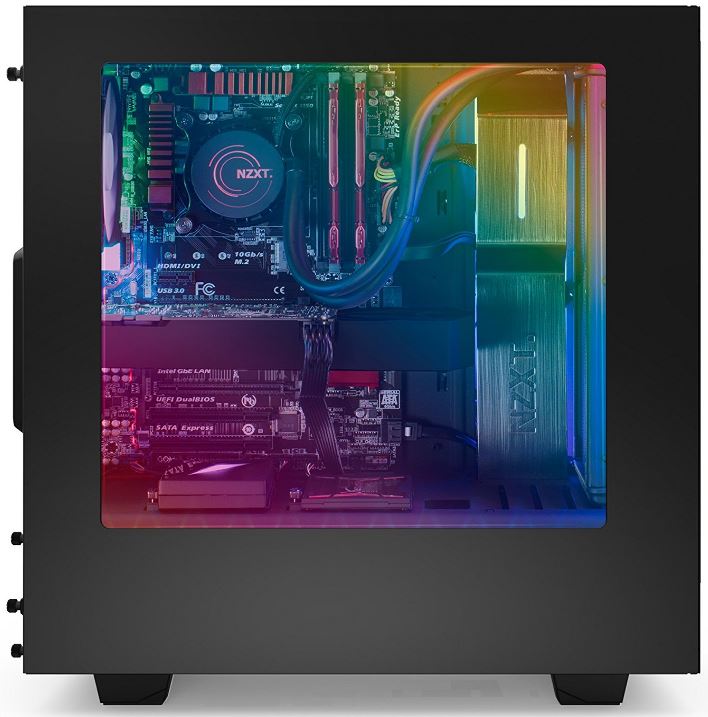 Controller
In the older model, the controller was installed in the 5.25" bay of your computer. It had several knobs on the front that would let you set the lighting modes. Since this is now all handled by software, the controller can be made extremely small. Some manufacturers would tuck this away somewhere hidden, but NZXT likes to make a statement. Although it's just a simple black box, the controller is simply stunning in design. One face is flat, while the rear half is triangular and ever-so-slightly raised. In the tiny little crevasse that is exposed, they've placed a bright white LED. The combination of high contrast and sharp angles gives this seemingly subtle design a powerful look.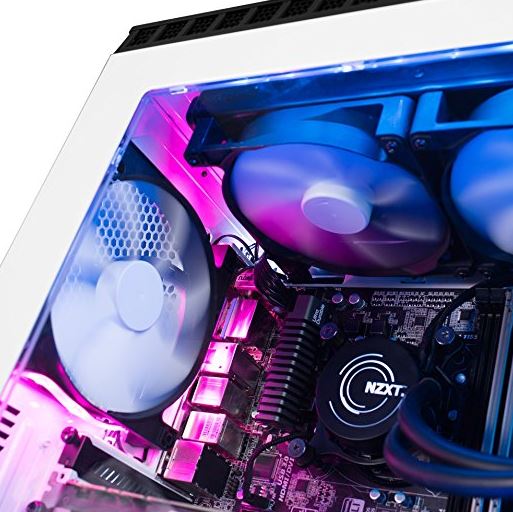 Inside, there is an advanced micro-controller that supports custom programming across two separate channels. Each channel has its own dedicated port on the controller, and you can plug in the lights to either one you like. You could have 7 on one side and one on the other, or four on each, or any combination you can think of. This allows you to set one specific setting for one channel, and use another on the other.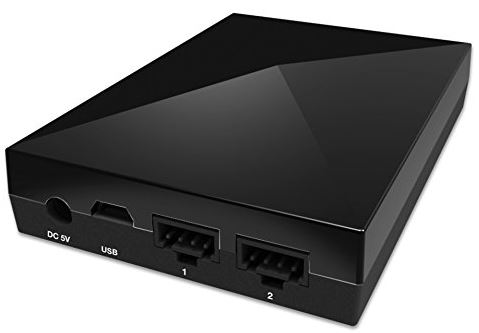 Modes
NZXT's Cam software is what brings the LEDs to live. There are almost too many programs to list included with Cam. They can be broken into two different categories: scripted, and responsive. Scripted is the typical themes that you're used to with high end keyboards. The breathing program where colors slowly shift, fading where the light comes in an out, marquee where light scrolls through the strip as if one color is chasing the other are all examples of scripted designs.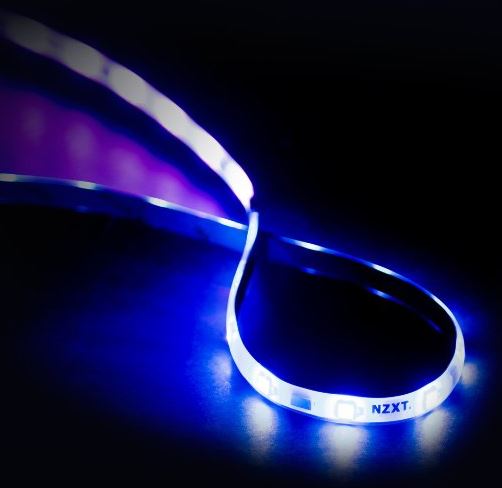 Some of the coolest features come from the responsive programs. These programs change the light depending on specific conditions within your computer. You can use it to keep tabs on your temperature. When cool, the light will be blue. As temperatures rise, the light fades to violet and continues to 'warm up' until it hits red. This means that the Hue+ is more than just a cool looking graphics mod, it's a fully blown system monitor built right into your case. It's not just for temperature either. You can keep track of CPU utilization, memory, frames per second, or virtually any other metric you can think of. We even found a couple neat beta features such as a makeshift spectrometer. Although they're not quite ready for prime-time yet, they're available to anyone just by activating the beta features from the options menu.
DeepCool RGB360
Although not one of the brands you'd typically turn to for your PC upgrades, DeepCool is still considered a bit of a hidden gem within the PC modding community. This is because they're in between two contrasting options. Some people choose the top of the line, "everything but the kitchen sink" types of products, while others go for the "as cheap as you can get" kind. If you want a balance beteen the two, you got for DeepCool.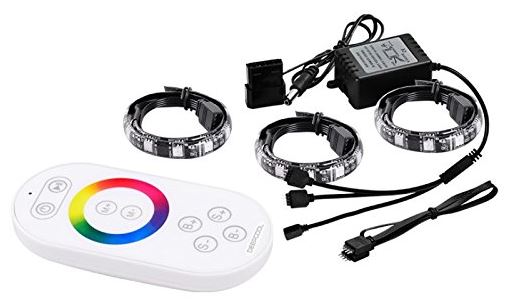 What You Get
Despite the DeepCool RGB360 being an affordable product, you still get a lot of value. At the heart of their RGB LED lighting system is the two long strip lights. Each end has been affixed with molex connectors that let you attach them together. Each strip is 300mm long with 18 individual RGB LED modules. They also include an unlighted extension cable so you can get the strips exactly where you want them. You can place this at the back of the system if you're looking to mount them far away from the power supply, or put them between the two strips if you want to separate them. The power supply uses your standard ATX connector that can be found on every PSU, and the cylindrical connector goes into the LED strip lights themselves.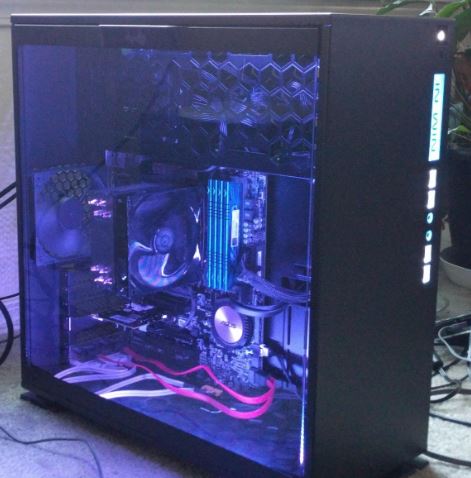 Finally, you're going to need to have a way to control the lights. A very compact remote is included that has 24 different buttons on it. Some control the color, while others control the style. As soon as you pick it up, you know that this is a system with options.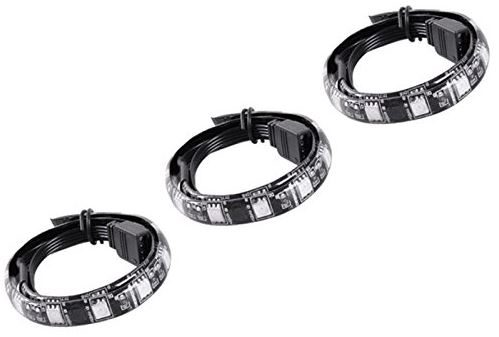 Controller
The controller is housed in the square plastic box attached to the power supply. It's the same model that is being used in many RGB LED strip lights these days, so you may be familiar with its features. The controller is able to vary the voltage going to each LED to get a total of 24 different colors. These are all laid out on the compact remote control. Along the top of the color selection area, you've got red green and blue. Below each one, there are several different hues available. When you first get it up and running, you can simply select a color and have the lights fire right up.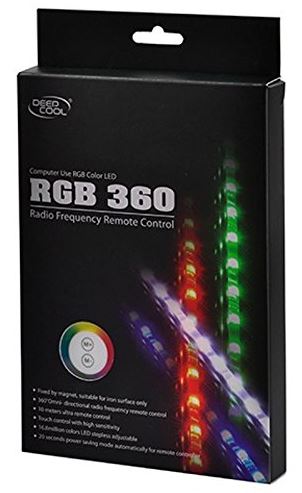 Modes
The fun really starts when you move away from the flat color selection onto the right side. You can choose from flash, strobe, fade, or smooth. Smooth is our personal favorite, and the one that we'd recommend using so that it isn't too distracting. Depending on whether you want bright "in your face" lights or subtle accent lights, you can adjust the brightness on the top right of the controller. We found that this allowed us to use the more aggressive settings such as "strobe" to really bring our computer case to life.
Airgoo Full Computer RGB Kit
If you're looking to save a few bucks, this is the quick n' dirty RGB LED system. It costs much less than any other system on the market, and has almost the same features.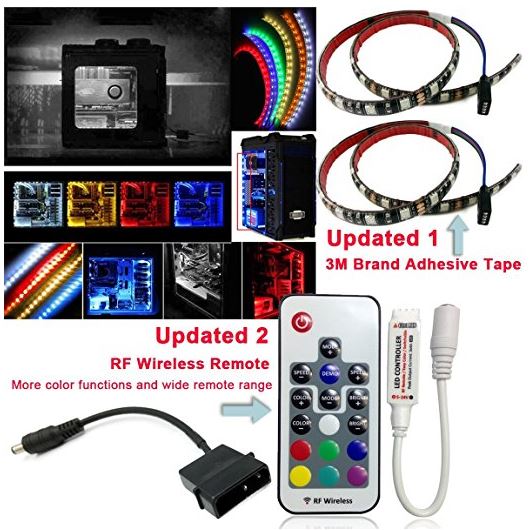 What You Get
Inside the Airgoo Full Computer RGB Kit you get two LED strip lights that are about 10 inches each. Unlike most LED strips which are affixed with magnets, these ones have high quality 3M double sided tape. All you have to do is peel and stick. In some ways, this is a little better. Magnets aren't particularly well known for being stable, and its good habit to keep them away from hard drives.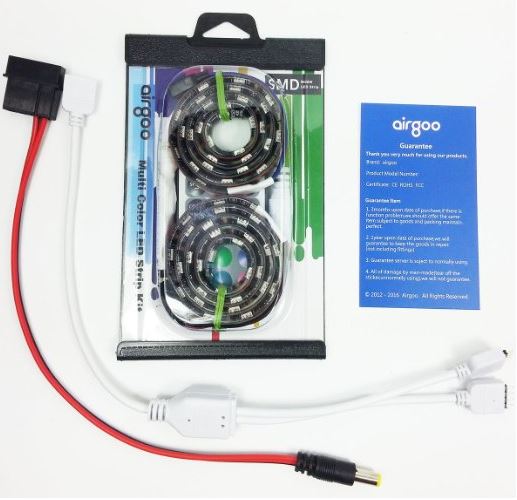 Of course, you can't get by with just the strip lights. When we first opened the package, we thought that they had forgotten the controller. It turns out that the controller is just extremely small. It's actually located inside the extension cable itself. If we hadn't read the label, we never would have noticed it.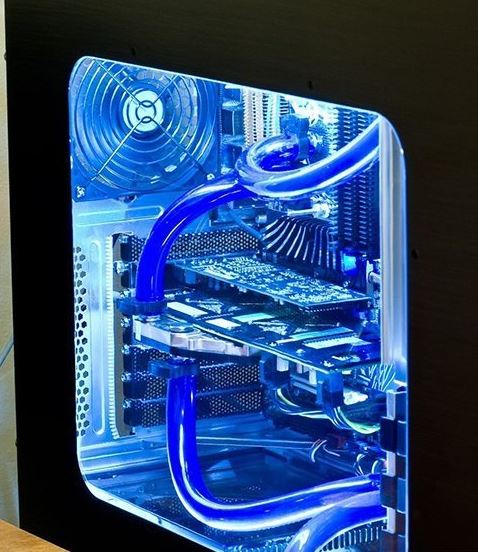 Controller
With technology, often things that seem simple actually require a lot of powerful hardware. Airgoo obviously knew what these things were, as the removal of just a couple features allowed them to produce one of the simplest controllers on the market. It's so compact that it goes in line with the cabling, but still manages to provide a number of features that can be controlled from the included remote. It supports a total of six different colors, all of which can be changed on the fly or manually.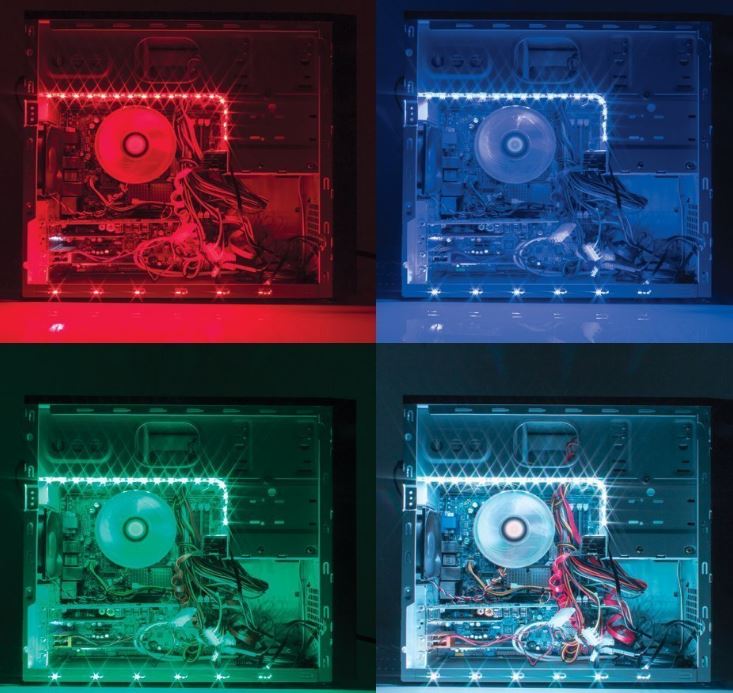 Modes
Some of the basic modes are still available on this LED rope light, but that doesn't mean you cant make them unique. First, you'll choose between one of the built in designs. One fades the lights in and out, each time coming back as a slightly different color. Another slowly transitions through the colors, and finally you can just have a sharp change from one to another. Then, you'll adjust the speed to set the intensity of the effect. You can also manually cycle through the colors, or change the intensity of the effects. If you just want a solid color, all you have to do is press one of the six main buttons along the bottom.
Which RGB Lighting Kit is Right for Me?
We've always been fans of products that are fun to look at, but serve an important purpose. That's why the NZXT Hue+ is one of our favorite RGB LED lighting systems. It's got the ability to help you keep tabs on the way that your computer is performing. When you're locked into a gaming session, the last thing you have time to do is check your video card temperature. So when you can tell it's getting warm just but the warm glow of your case, we can't help but be impressed.
Of course, if you're just looking to add a little color to your PC case we'd suggest going with the simple Airgoo RGB Kit. It's the quickest and easiest way to get RBG lights, and a simple system means that there are less things to set up.
Still not sure which direction to go? Why not get the best of both worlds. The DeepCool RGB360 LED strips are still very affordable, but add a few cool transition styles and have a wider range of color.