Mobile gaming has become more than just a casual pastime; it's a sport, a community. And for some, it's even a career. As gaming on mobile devices evolves, so does the need for accessories to enhance performance.
Finger sleeves have emerged as an essential tool for serious gamers, so we feel it's important to highlight the best of the best. We narrowed down our top 5 picks for your consideration:
These finger sleeves each come with unique features tailored to suit various gaming needs and preferences. Our reviews take an in-depth look at what makes each of these finger sleeves stand out, from quality build and comfort to versatility and value.
Best Overall: MGC ClawSocks Finger Sleeves for Gaming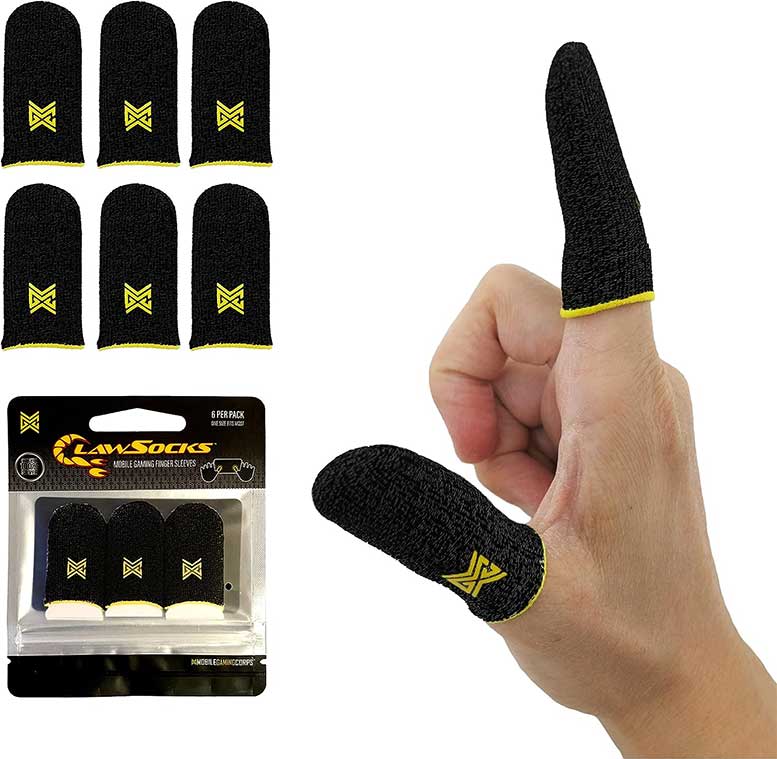 Key features:
Removes friction and gaming drag lag
Made with real carbon fiber
Thin & breathable 18-needle weave
Combat humidity, sweat, dirt, and oil
MGC's ClawSocks Finger Sleeves are more than just a pair of sleeves; they are a technological innovation designed to elevate your mobile gaming experience. So, how did they fare in our rigorous testing? For starters, one of the most impressive features is how they remove friction, effectively eradicating the dreaded "drag lag" that plagues many gamers. This enhancement leads to ultimate touch control precision, consistent with all touchscreen devices.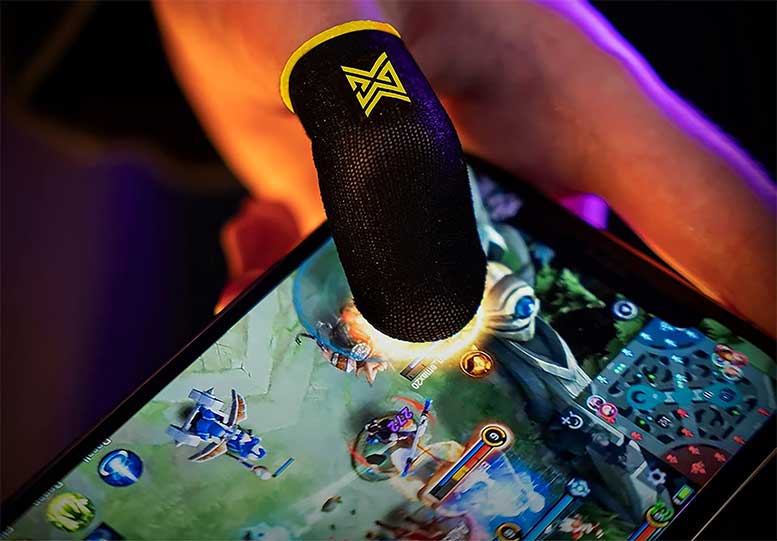 We put this to the test with various rhythm games, and it didn't disappoint. However, we did notice some difficulties with cheaper screen protectors. As such, you may have better performance by removing your screen protector before use. Your mileage may vary, so some trial and error might be needed. We do like how they're made with real carbon fiber, promising a highly conductive touch response and impressive tensile strength.
In our testing, we found that the sensitivity and quality were top-notch, providing a near-flawless touch. The deluxe nylon and durable spandex 18-needle weave ensure long-lasting comfort, and this claim held up during extended gaming sessions. These ClawSocks were designed with thin and breathable materials that prevent humidity, sweat, dirt, and oil from affecting gameplay. Both the comfort and quality of these finger sleeves are high.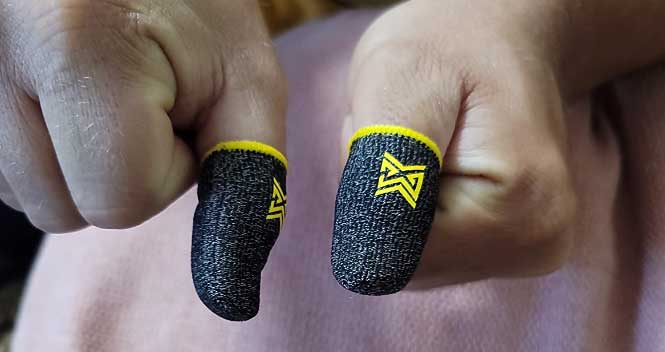 But it's worth pointing out that they might feel a bit too wide for some, although this will likely vary from user to user. Everything else is of the highest quality. And if you're still on the fence about whether you should invest in ClawSocks, they're endorsed by top entertainers and competitors in mobile esports. That should speak to their quality and performance. The only other thing worth mentioning is that if you use these frequently, you may have to replace them sooner rather than later.
What we liked:
Quality build and comfort
Endorsed by professionals
Suitable for all touch devices
Excellent performance
What we didn't like:
Frequent use may warrant frequent replacement
Might be too big for some users
Best Runner-Up: MOMOFLY Gaming Finger Sleeves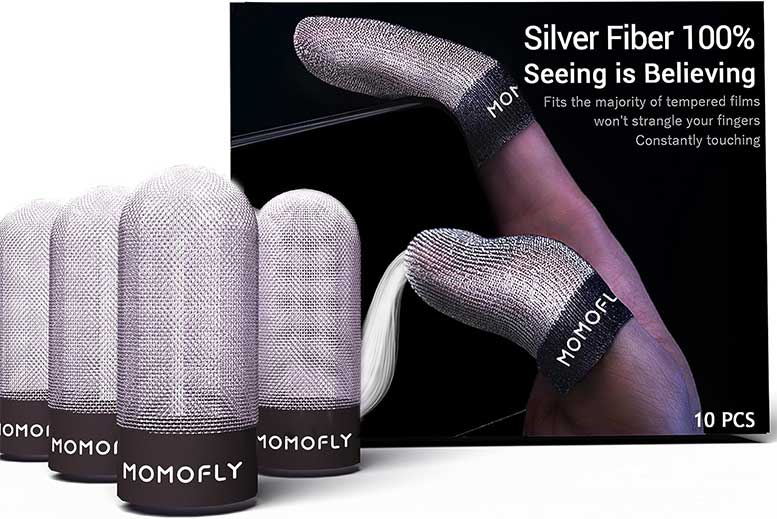 Key features:
Customized for American finger sizes
100% visible silver fibers
Breathable
Sweatproof
Gaming enthusiasts often seek accessories that offer superior functionality without compromising comfort. That's where the MOMOFLY Gaming Finger Sleeves enter the picture. Let's look into the unique features that set it apart and its performance during our extensive testing. MOMOFLY's sleeves are known for having genuine 100% silver fiber construction. This is different from ordinary finger cots made of a blend of conductive fibers and non-conductive yarn.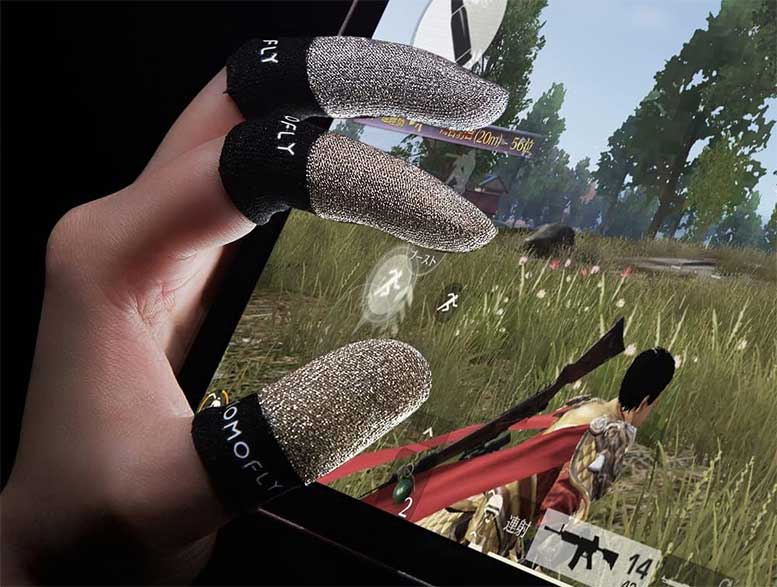 With this combination of high-conductivity silver fiber and comfortable, lightweight carbon fiber, it brings ultra-high sensitivity to gaming while keeping comfort at a premium. How did it fare during intense gaming sessions? Exceptionally well. We've found that traditional finger sleeves tend to concentrate pressure, leading to discomfort and marks on the fingers. The flexible carbon fiber of this product replaces the traditional fixed elastic band, evenly distributing pressure across the entire finger.
This innovative design greatly enhances comfort, as demonstrated during our hour-long testing sessions, leaving only faint marks. Tailored for gamers using large-screen devices, it's engineered to avoid common large-screen problems like static electricity and inadequate finger pressure. During our hands-on test with multi-finger operations, we noticed how it perfectly fits various fingers. This is a nice plus that ensures universal appeal.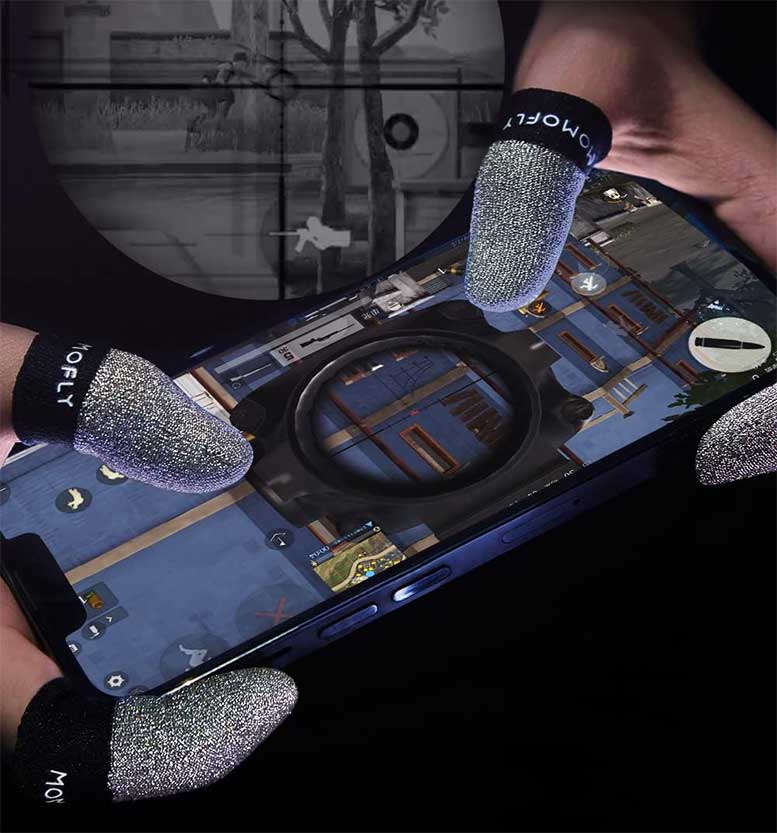 With good elasticity and elastic memory, the carbon fiber and silver fiber threads will not easily become loose or deformed. It's worth noting that the length of the finger cot has been increased. Mediums are now a centimeter bigger, and Larges are 2 centimeters bigger. So if you bought an older version of MOMOFLY's sleeves, you may find these provide a much better fit. Another important notation is that these sleeves work with prosthetic fingers, adding to their overall adaptability.
Though promising, we do have some concerns related to the oxidation of the silver fibers and subsequent decrease in sensitivity. We also found there to be potential issues with the MOMOFLY sleeves sliding off after prolonged use. It's a distraction that we'd rather not see in finger sleeves of this caliber. To be fair, those who game for "normal" lengths of time shouldn't experience such issues. But if you're going on 4 or more hours of non-stop use, you might run into some issues.
What we liked:
Superior conductivity
Comfortable fit
Versatile sizing
Effective on large screens
What we didn't like:
Oxidation over time
May slide off after extended use
Best Alternative: Rinsfox Mobile Game Controller Finger Sleeve Sets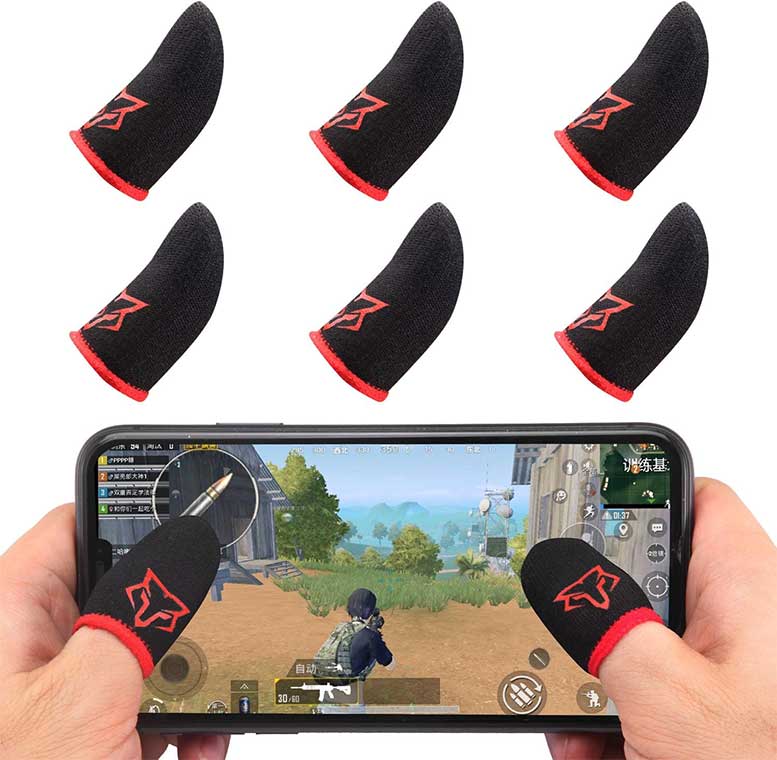 Key features:
Fiber and cotton material
Super-elastic fit
Conductive carbon fiber
Washable and wearable
Ever fumbled over your virtual buttons in the midst of a heated battle in PUBG or Mobile Legends? The Rinsfox Mobile Game Controller Finger Sleeve Sets are here to address those awkward moments by enhancing your gaming performance. Or so they claim. How do these sleeves hold up? We voted them the best alternative for a reason, and that's because they have a lot going for them, given their low price point.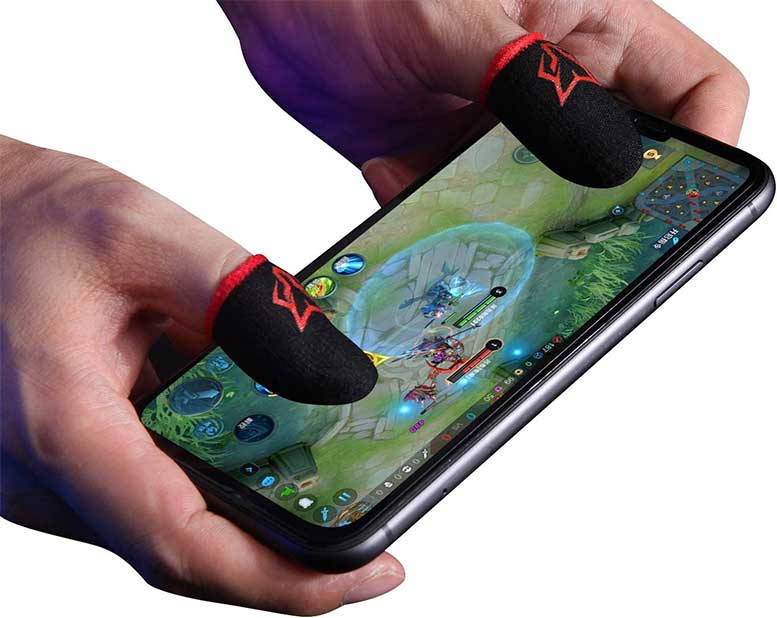 For one, these finger sleeves are crafted from a blend of fiber and cotton, a combination that promises comfort and breathability. During our tests, the thin material felt almost like a bare finger, providing the freedom to move without any noticeable restrictions. They also boast super elasticity that ensures a snug fit across various finger sizes. Our team found no issues with tightness or chafing, which is a big win over other types we tested out. Plus, you can easily slip it into a pocket or bag when not in use.
The conductive carbon fiber adds a touch of sensitivity to the finger sleeves. Our test games displayed improved responsiveness and a smooth gaming experience. Whether you're sniping in first-person shooters or executing precise moves in other mobile games, the tactile feedback is quite impressive. Not restricted to gaming alone, these finger cots can be applied for regular mobile phone usage. They can be washed with water and are abrasion-resistant, assuring long-term usability.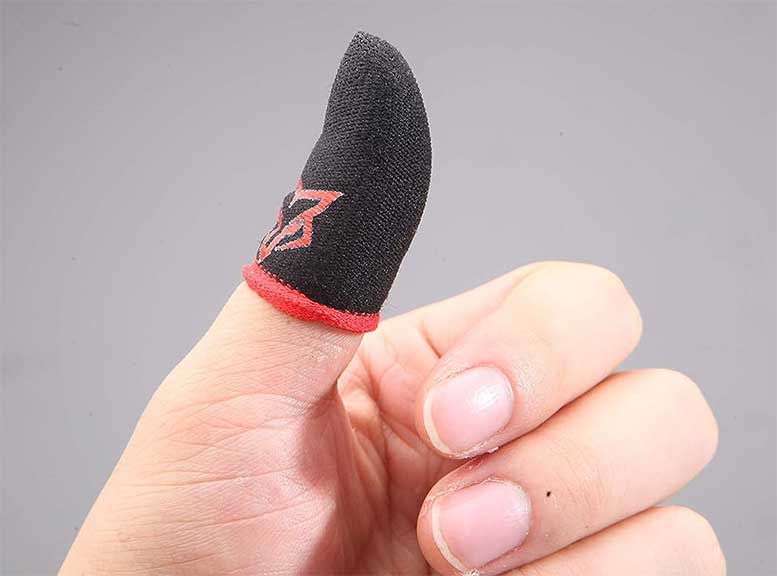 The anti-sweat, anti-fingerprint, and anti-static properties definitely live up to the claims. However, there were instances of slipperiness during testing. It didn't majorly affect gameplay but might be noticeable in specific gaming scenarios. We like that these finger sleeves accommodate various finger sizes without adding any noticeable weight. The Rinsfox might not be as durable as MOMOFLY's silver fiber sleeves, but for the price, you should get your money's worth before you need to replace them.
What we liked:
Enhances gaming experience
Fits various finger sizes
Multifunctional design
Good fit for COD
What we didn't like:
Slipperiness in some scenarios
May wear out fairly quickly
Best High-End: Razer Gaming Finger Sleeves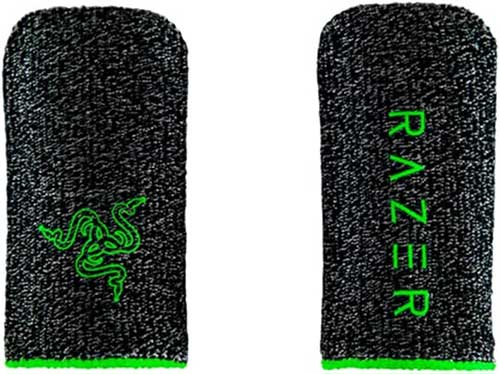 Key features:
Non-slip finger sleeve
Light and breathable
High sensitivity fabric
Wide compatibility
The Razer Gaming Finger Sleeve sets out to redefine the gaming experience for mobile enthusiasts. Crafted from a Nylon Spandex blend, it promises to offer a non-slip experience for the fervent gamer. But does it deliver on its high-end promise? The design appears attractive with its black and green aesthetics, though, one might ask, do looks translate into performance? Weighing in at only 5 grams and dimensions of 0.83 x 1.77 x 0.04 inches, the sleeve is a featherweight champion in its category.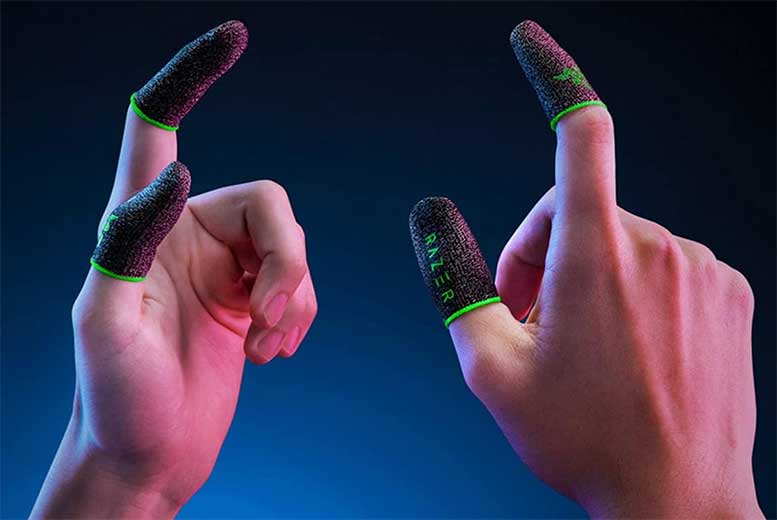 The anti-slip special feature is a thoughtful addition that should be standard on all finger sleeves. While other brands tout the same but fail to hold up in execution, these really do prevent slippage. In our rigorous testing, we found that the fabric provided a smooth and highly sensitive touch. When the game got heated, the lightweight and breathable fabric kept things cool. All that said, the sleeve's durability remains a hot debate.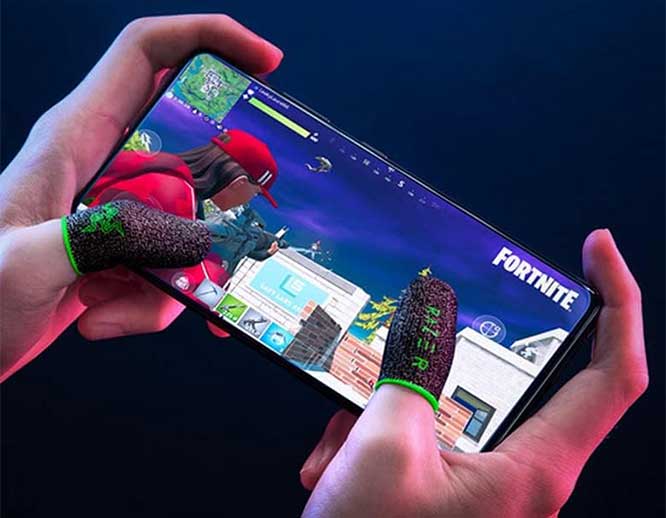 While it survived accidental tugging and stretching, its long-term durability has been a subject of concern. Active phone gamers might find themselves parting with it sooner than they'd like. Though positioned as a high-end product, the Razer Gaming Finger Sleeve may not be the perfect match for the heavy-duty gamer. But for those who crave comfort and sensitivity in their mobile gaming experience, it's a choice that shouldn't be dismissed.
What we liked:
Comfortable wear
Attractive design
Responsive
Good fit
What we didn't like:
Questionable durability
May be overpriced
Best Value (Bulk): HALLEAST Finger Sleeves for Gaming [100 Pieces]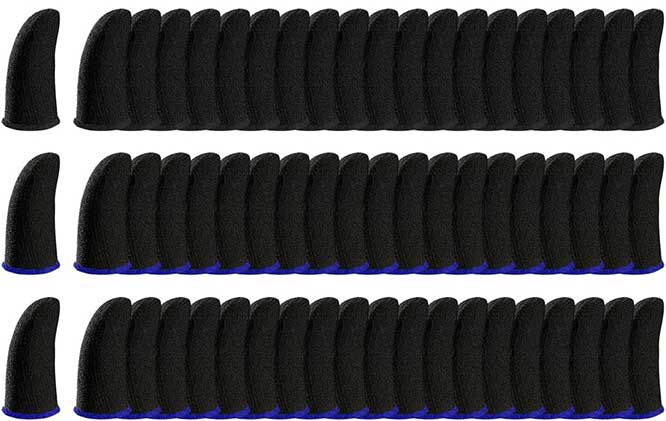 Key features:
Carbon fiber covered
Sweat-absorbent & breathable
Comfortable & anti-off design
Wide compatibility
Navigating the bustling battlegrounds of mobile gaming calls for speed, precision, and comfort. This is where the HALLEAST Finger Sleeves stride into the spotlight. Equipped with carbon fiber coverage, these sleeves provide a heightened touch sensitivity that ensures each swipe and tap is translated into swift action. With dimensions of 1.8 x 0.8 inches and an extremely lightweight build, these gaming sleeves boast impressive comfort.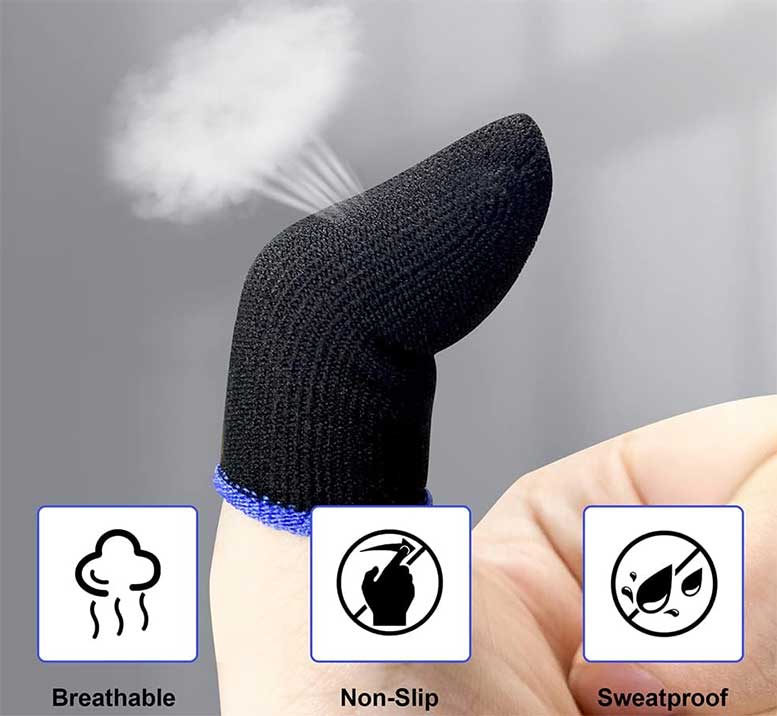 The high-quality carbon fiber material is breathable and good at absorbing sweat, a critical advantage for those who play longer than others. The anti-sweat feature keeps your fingers dry, allowing for better control and an uninterrupted connection with the screen. But what about wear and tear? We tested the sleeves rigorously for a couple of weeks, and they've shown really decent resilience. The comfort seems to grow with use without showing any alarming signs of wear.
The company uses a hidden splicing process that's designed to ensure that there are no uncomfortable protrusions. We can attest to this. It not only delivers a comfortable fit but also prevents unnecessary screen inputs during gameplay. Whether you're playing League of Legends or swiping through your emails, these thumb sleeves work well across numerous applications. Compatible with smartphones, iPads, and tablets, they complement constant touch requirements.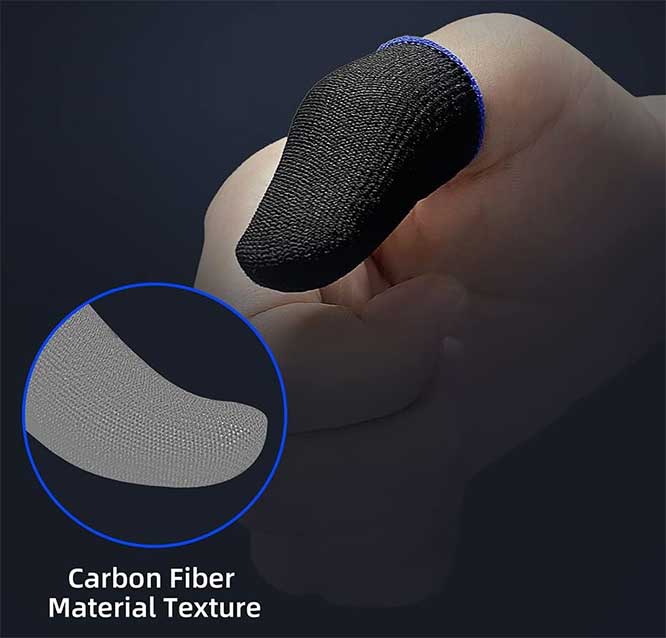 However, a word of caution: we found them to be incompatible with some screen protectors. Therefore, you might experience slightly lower responsiveness. This seems to be the case for most finger sleeves, so keep this in mind going in. At the end of the day, HALLEAST's gaming finger sleeves offer a unique blend of sensitivity, comfort, and durability. And given that you get 100 in this set, you'll have enough to last you a fortnight or two.
What we liked:
High sensitivity
Quality construction
Comfortable fit
Great value in bulk
What we didn't like:
May require adaptation with screen protectors
Inconsistent responsiveness with some devices
Finger Sleeves for Mobile Gaming FAQs
Why use finger sleeves for mobile gaming?
Finger sleeves enhance touch control precision and responsiveness, minimizing friction and drag. They are often designed to combat humidity, sweat, dirt, and oil, ensuring a smooth gaming experience.
Can finger sleeves be used with any mobile device?
Most finger sleeves are compatible with smartphones, iPads, and tablets. However, some might be incompatible with certain screen protectors or specific devices. At worst, you might need to remove your screen protector. Though admittedly, that might not be a viable option if you have an expensive screen protector.
How long do gaming finger sleeves last?
The lifespan of gaming finger sleeves varies depending on the material, usage, and care. Some premium sleeves might last longer, while budget options are far more likely to wear out faster. It's recommended to follow the care instructions provided by the manufacturer to prolong their life.
Final Verdict
So, who came out on top? MGC's ClawSocks secured the title of Best Overall with their impressive build and sensitivity, providing a near-flawless touch experience. They're even backed by endorsements from professionals. MOMOFLY Gaming Finger Sleeves came in as the Best Runner-Up, standing out for their customized fit and superior conductivity. For budget-conscious gamers, Rinsfox's Mobile Finger Sleeves offer a multifunctional and versatile design.
The Razer Gaming Finger Sleeve fits the bill for those seeking an aesthetically appealing and responsive high-end option, though we do have some concerns about longevity. And lastly, HALLEAST's 100 Pieces Finger Sleeves bundle offers a unique blend of comfort and sensitivity at a great bulk value, making them the Best Value option.