Overall Design -

9/10

User Interface -

9/10

Sealing Consistency -

9.5/10

Safety Features -

8/10
Summary
After spending quality time with the INKBIRDPLUS Food Vacuum Sealer (INK-VS02), we can safely say that this unit deserves a thumbs-up. A delightful blend of sleek design, user-friendly interface, and robust performance, this appliance is a strong addition to your kitchen arsenal. It proves that you don't need a culinary degree to master food preservation; you just need the right tools. It's smartly conceived, effectively executed, and built with both novices and experts in mind.
Pros
User-friendly six-button control
Robust -85KPA suction power
Comes with a complete starter kit
Quiet operation below 65 decibels
Cons
No built-in power button
Limited LED status indicators
Welcome to the future of food storage, courtesy of the INKBIRDPLUS Food Vacuum Sealer. Let's make one thing clear: food preservation isn't rocket science, but it could very well feel that way with this sophisticated yet easy-to-use device.
No longer will you have to worry about freezer burns or stale snacks. INKBIRD's little marvel could change the way you store food forever. Let's dig into the nuts and bolts of why this unit deserves a spot in your kitchen.
First Impressions
First impressions, they say, last forever. Or at least until you turn on the machine and start vacuum-sealing everything in sight. When unboxing the INKBIRD unit, the sleek silver design is eye-catching but not overly flashy. Its plastic exterior might not scream indestructible, but it's not cheap, either.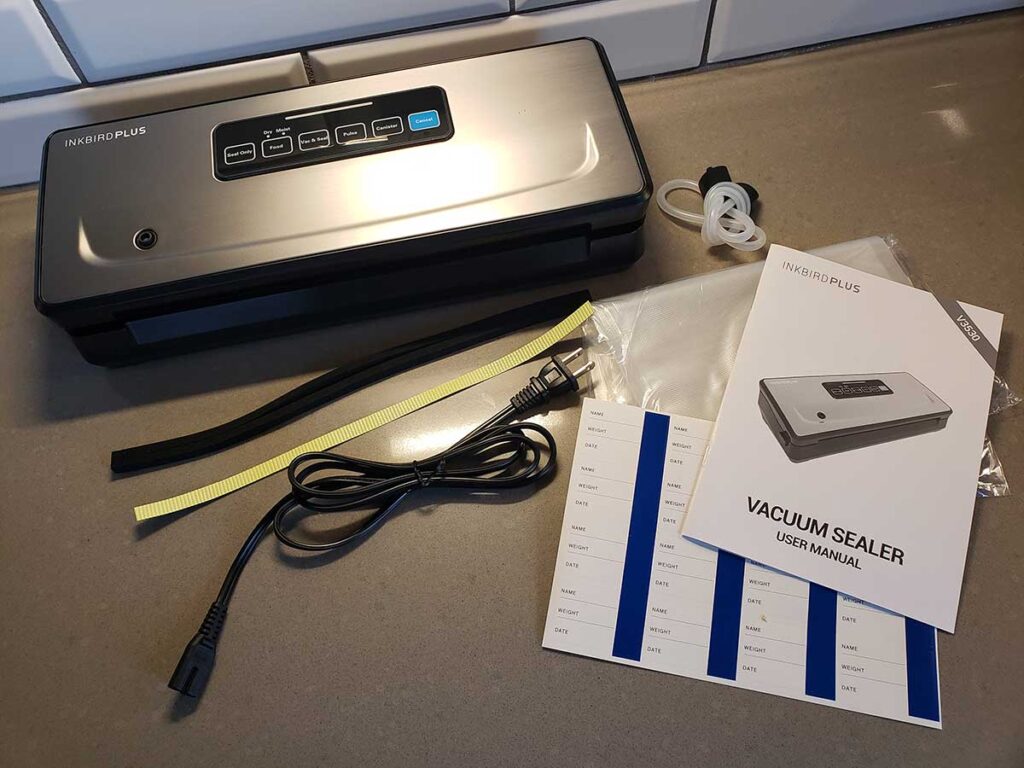 What does catch your eye, however, is the apparent simplicity of the design. A handful of buttons and a few indicator lights are all you have to worry about. We appreciate that, but does the limited interface bode well for users? Let's find out.
User Interface and Operation
If you're one of those people who finds joy in intuitively designed gadgets, this unit is like finding the missing puzzle piece in the user interface landscape. It's important that we break down the sealer's various facets to give you the best idea of its use and operation. Here's how it breaks down:
Controls
When it comes to the control panel of the INKBIRDPLUS Food Vacuum Sealer, less is more. You'll be greeted by a streamlined setup consisting of just six buttons. The layout is straightforward, making it accessible even for those who may be technologically averse. There's a refreshing clarity to this; you don't have to deal with an intimidating dashboard of options. What you see is what you get, and it won't take you long to get it.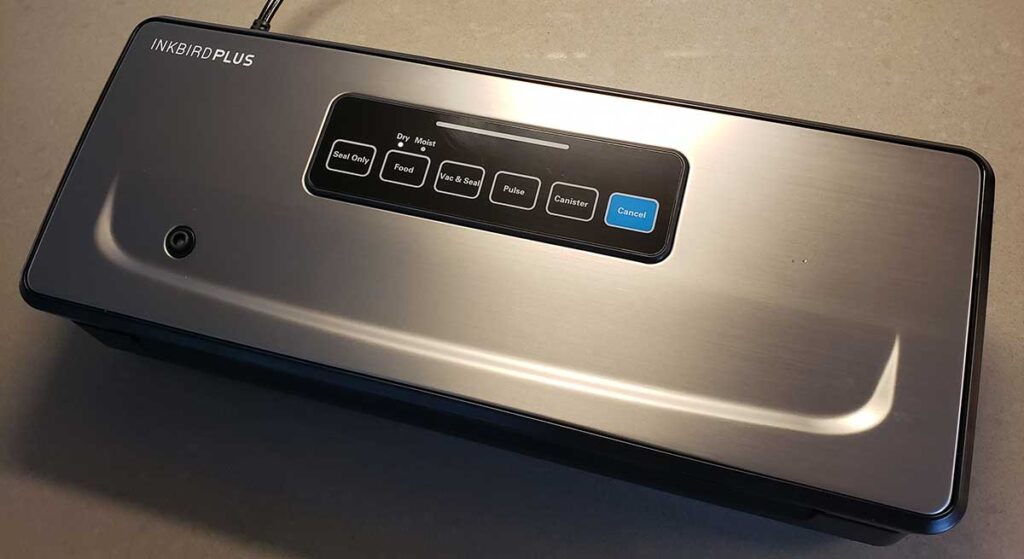 Button Breakdown
Let's get a bit more granular about each button and its designated function:
Seal Only: This button is your go-to for straightforward sealing without the vacuum function. It's a standout choice for items like baked goods or chips, where you want the airtight seal without squashing the contents.
Food: Simplicity shines here. One button serves dual modes: Dry and Moist. That's right; no endless scrolling or digital touch-screen fiddling. Whether you're dealing with garden-fresh veggies or marinated steaks, this button adjusts to meet your specific needs.
Vac & Seal: Consider this the all-in-one button. It initiates both vacuuming and sealing in a single step. This is the Swiss Army knife in your six-button arsenal, taking care of most food items that require both a vacuum and a seal.
Pulse: We might call this the "manual control" button, a godsend for control freaks. If you're one who prefers a hands-on approach, Pulse lets you regulate the vacuum process manually, giving you the reigns over how much air to remove.
Canister: This button doesn't work solo; it's in cahoots with the included air suction hose and accessories. Ideal for jar sealing or specialized vacuum needs, it broadens the machine's utility beyond just bags.
Cancel: Lastly, but equally important, is the Cancel button. Whether you initiate the wrong mode or simply change your mind midway, this button acts as your emergency exit, halting all ongoing processes.
And yes, you may have observed that there's no separate power button. Once you plug this bad boy in, it's all systems go. In a world cluttered with unnecessary complications, INKBIRD knows that sometimes the best feature is the absence of one.
Bag Feed and Locking Mechanism
You don't need a Ph.D. in engineering to figure out how to place the bag. The vacuum channel is as obvious as a green traffic light, telling you to go ahead and feed the bag. The locking mechanism provides a satisfying click when engaged. It just needs a little pressure on both ends until it clicks into place.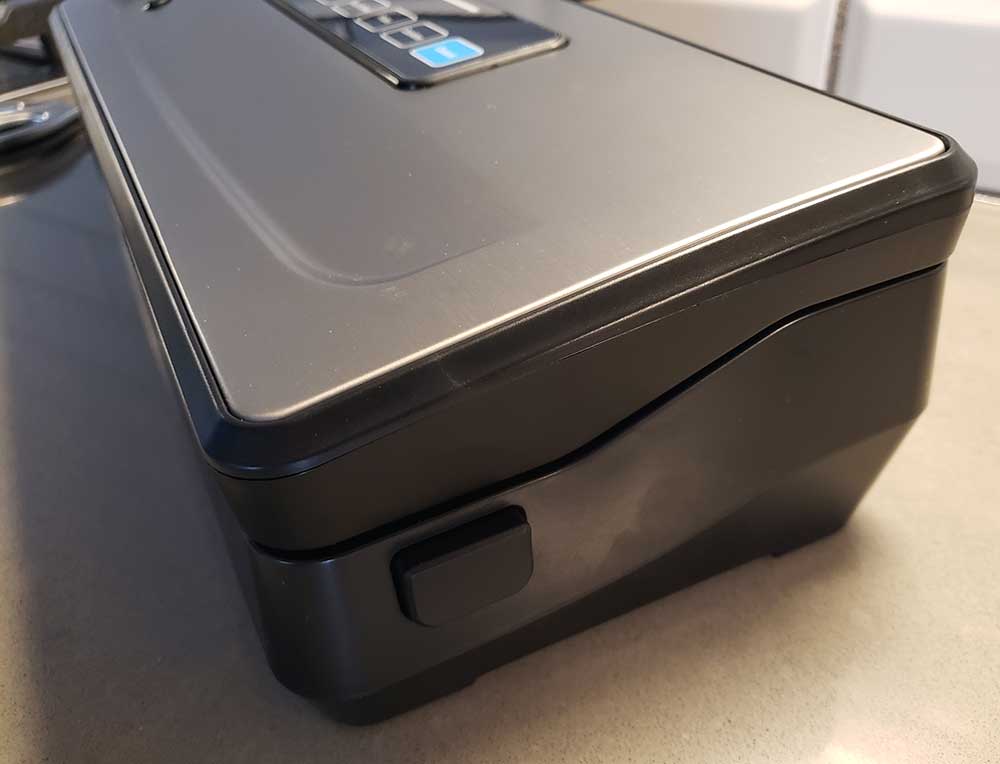 Status Indicator
They say communication is key, and this machine communicates using LED lights. White lights signal that the vacuuming is in progress, while a single red light indicates sealing. The lack of any lights means you're done. And there you have it. That's really it. A user interface that even a tech novice could navigate, combined with ample functionality.
The Full Package
When it comes to the INKBIRDPLUS unit, you're not merely looking at a vacuum sealer; you're encountering a comprehensive solution for food preservation. This unit features a built-in 11.8-inch cutter that spares you the trouble of having to fetch scissors from your kitchen drawer. Even better, it boasts a bag storage compartment capable of holding up to 20 feet of sealing material.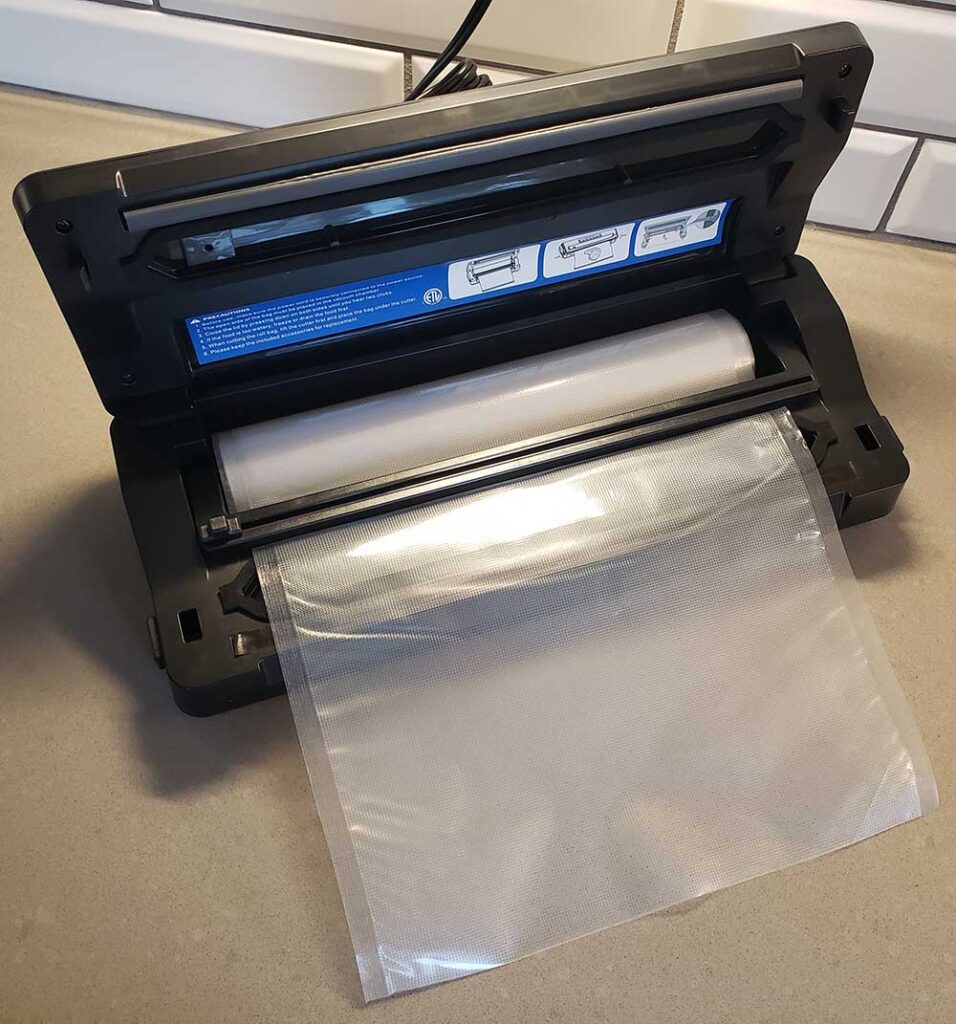 This allows for easy access and a quick process, whether you're securing cuts of fresh salmon or portioning out mixed nuts for easy snacking. Seven operable modes (via the six aforementioned buttons) offer a tailored experience for sealing various types of foods, from meats and fruits to bread and vegetables. It's designed for adaptability, enabling you to not just store but to store smartly.
Power and Performance
The engine is an essential part of any device, and this unit isn't lacking in that department. It brings -85KPA suction power to the table, enough to ensure that your food will maintain its freshness for an extended period. We put it to the test with various food items: meats, fruits, and even liquids in jars. Each time, the device performed up to the mark, displaying its consistent suction power. We like the satisfaction you feel when you successfully seal food. It feels like it's working, because it is.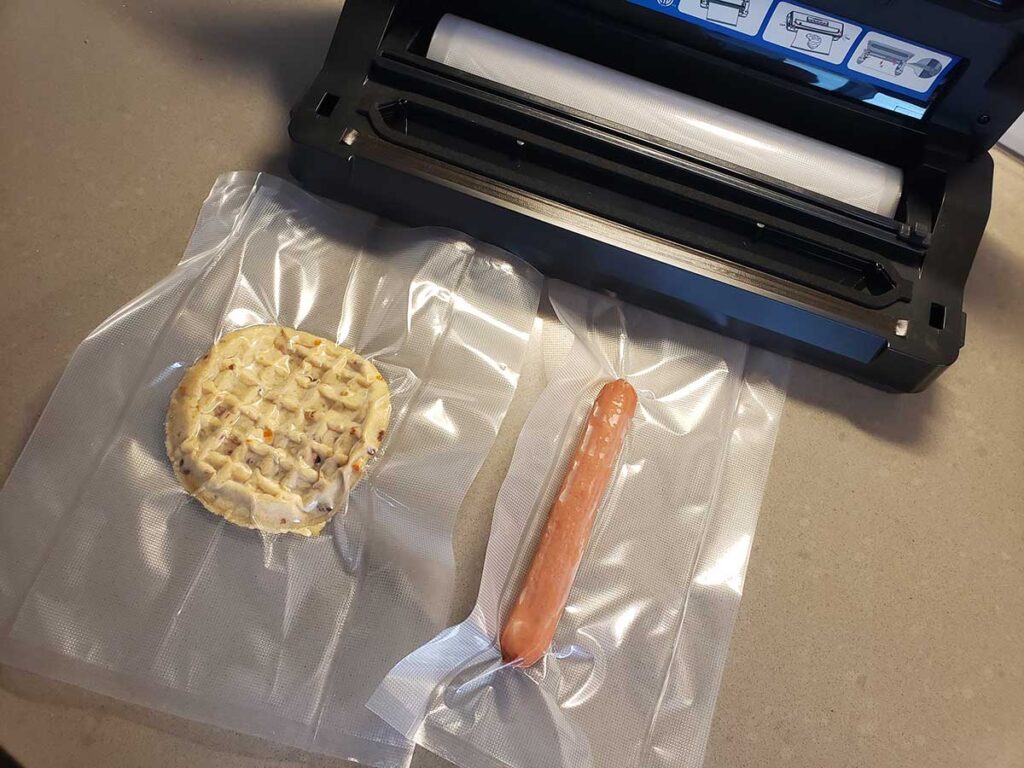 Additionally, safety isn't sacrificed for strength. The unit comes equipped with safety locks on both sides and an overheating protection system. This not only ensures your food's longevity but also keeps the device in tip-top shape. It's like having a security system while also benefiting from high performance; you get peace of mind alongside efficiency.
Speed, Silence, and Certifications
When you have a hungry household or guests on the way, the last thing you want is a device that takes its sweet time. Thankfully, this unit comes to the rescue with impressive vacuuming speed. In dry mode, it seals items within 3 to 5 seconds. In moist mode, that time extends to 12 to 15 seconds. In our tests, we found these timings to be fairly accurate, which makes it a reliable partner in last-minute meal preps or sudden storage needs. And let's talk about noise – or rather, the lack thereof. Operating at less than 65 decibels, it runs decently quiet.
Granted, it's not the quietest appliance you'll own, it can sound a bit loud up close, but for what it does, it more than passes for tolerable. A considerate addition to any kitchen soundscape. If you're wondering about its reliability, the device comes ETL-certified. This certification ensures it meets the necessary safety and quality standards. You're not just taking our word for it; there's an accredited institution vouching for its performance and safety.
The Perfect Size for Practicality
When you're juggling kitchen appliances, the size and weight of each one become crucial. This unit has been designed to give you no such headaches. Its dimensions are 14.7 x 6.1 x 3.15 inches, making it easy to fit into most kitchen setups without hogging too much counter space. We put it next to a toaster and a coffee machine and still had room to spare for preparing ingredients.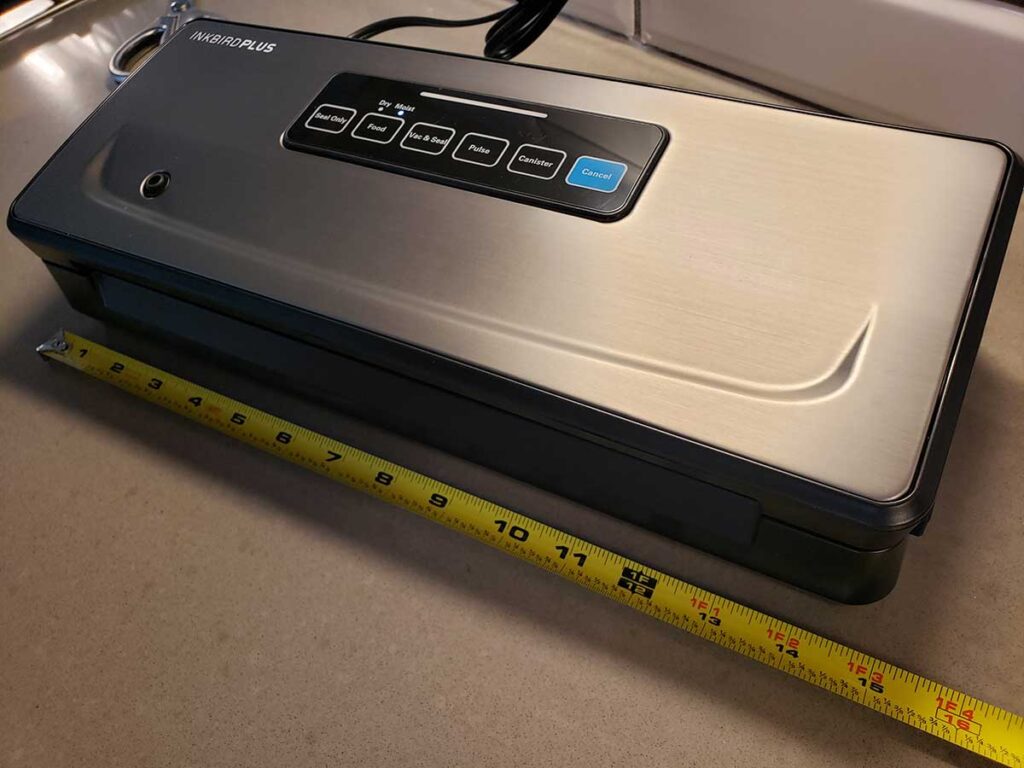 The unit is lightweight, tipping the scales at just 3.96 pounds. This makes it not only easy to store but also convenient to move around if you like to switch up your kitchen layout every so often. So in a kitchen where counter space is highly valued, this device earns its place by offering high performance without demanding too much room.
Get Started Right Away
Unpack this unit, and you're already well on your way to becoming a food preservation guru. The package comes with a full starter kit, which includes sealing strips, foam gaskets, and a roll of bags. These aren't just bonus items; they're essential components that facilitate immediate use of the device. No need to scramble for supplies or place a last-minute online order.
Its power source requirements are quite standard – 110 volts and a wattage of 160 watts – making it compatible with most modern kitchens. So yes, it's more than a product; it's a well-thought-out package designed to get you up and running from day one.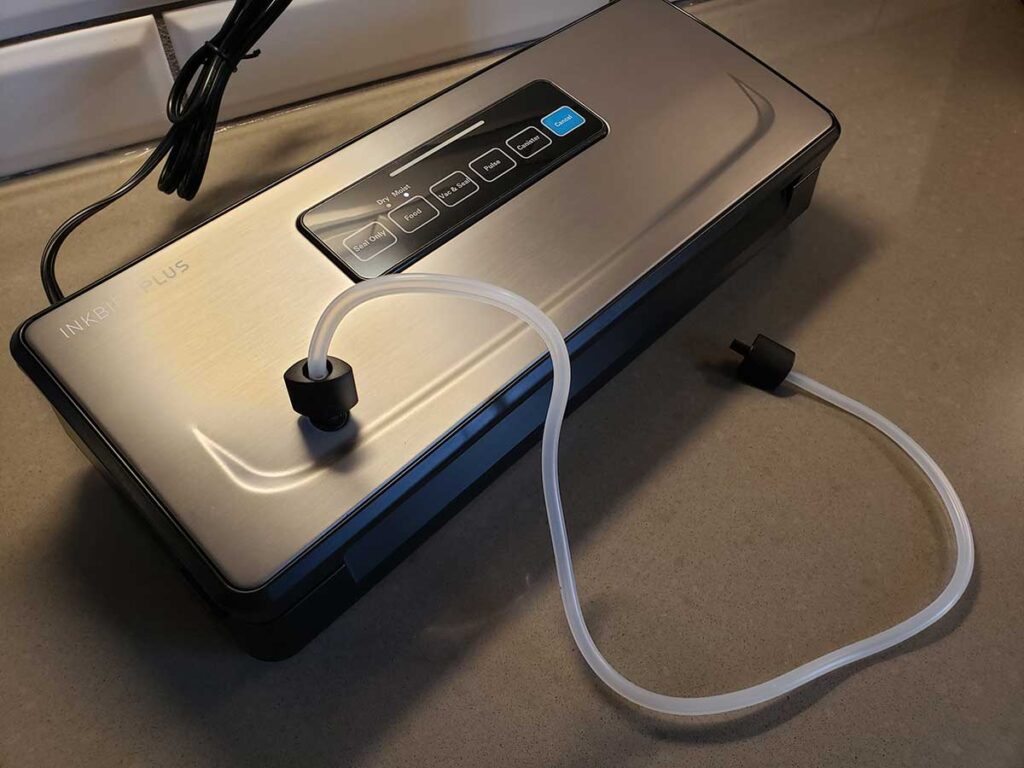 Performance and Reliability
We briefly touched on some of the testing we performed, but let's get a bit more in-depth. Our hands-on approach involved a series of tests to gauge the device's capabilities and consistency. First, we tackled the preservation of fresh fish. One common problem with vacuum-sealing fish is the possibility of air pockets, which can spoil the texture and taste. We also tested it with a hot dog with great results.
This unit's strong suction left no room for such errors, ensuring the fish/meat remained in top-notch condition. Next in line was a loaf of bread and a waffle. To evaluate its effectiveness, we let the vacuum-sealed bread sit for a week. Upon opening the bag, the bread was as fresh as it was on the day it came out of the oven.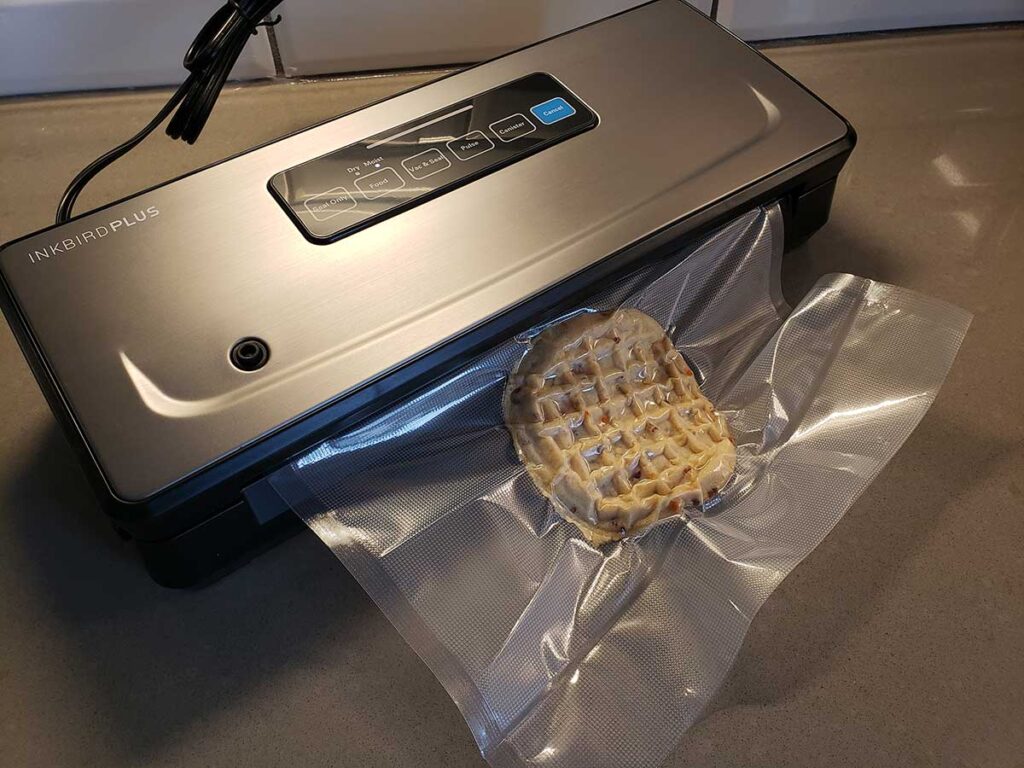 A lesser machine might have shown inconsistency, but this unit held up well through repeated usage. Further adding to its reliability is the overheating protection feature. We used the device multiple times in a row and found that it remained steadfast without any signs of overheating. This is particularly reassuring because the last thing anyone needs is a device that fizzles out when needed the most. Overall, the unit has proven its worth in both performance and reliability.
Final Verdict
After spending quality time with the INKBIRDPLUS Food Vacuum Sealer, we can safely say that this unit deserves a thumbs-up. A delightful blend of sleek design, user-friendly interface, and robust performance, this appliance is a strong addition to your kitchen arsenal. It proves that you don't need a culinary degree to master food preservation; you just need the right tools.
It's smartly conceived, effectively executed, and built with both novices and experts in mind. Whether you're batch cooking for the week or saving yesterday's leftovers, this unit is up to the task. If you're in the market for a vacuum sealer, this one should be on your shortlist.