Looking to take your gaming station to the next level? Look no further than an RGB LED Mousepad. While mousepads are commonly considered to be a strictly visual upgrade, they're actually incredibly useful. Mouse pads can be used in conjunction with laser or optical mice to improve accuracy and performance. For this reason, serious gamers know that this is an accessory that is essential to have.
Why go for an RGB mousepad over one of the many standard options? To put it simply – they look cool. You've already outfitted your computer with stylish lighting and a top tier case, and you've likely made sure that every one of your accessories show your competition that you mean business. Whether you're just looking to create a fun environment to game in, or you want something that will establish yourself at the next LAN party, an RGB mousepad is a great accessory to have.
The question is, how do you separate the high-performance options from models that take a visual-first approach and leave performance second? We're here to help you do that. We've compiled a list of the three best RGB mouse pads available. After we go over all of the differences between them, we'll help you decide which one is right for you.
Razer Firefly Chroma
Razer is one of the most prolific brands in the gaming industry. Their high end products range from fully assembled computers to laptops to input devices. But the one thing they sell that really stands out is their mice. No other company has taken gaming mice quite as far as Razer. They're incredibly accurate, properly weighted, and comfortable to use. But if you really want to take advantage of a Razer mouse (or any mouse, for that matter) you need a mousepad.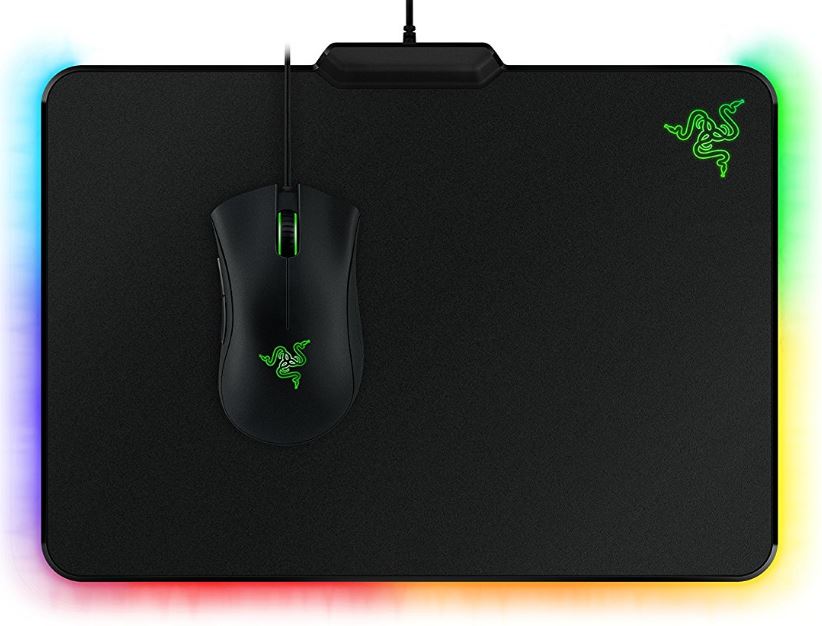 Design
There are two different versions of the Razer Firefly Chroma mouse pad available. The hard surface, as the name implies, is made from a solid plastic. It has a very smooth surface, making it easy to move your mouse around on. The cloth one has a little more resistance, but is soft to the touch. It provides a little comfort for your wrists, helping you to weather extended gaming sessions with ease.
At first glance, you might not notice that there is anything special about this mouse pad. Like the simpler models, the majority of it is the large surface area. But at the top, there is a small black connector with a cable attached. This one little cable unlocks a whole world of performance that you may not have even realized was there.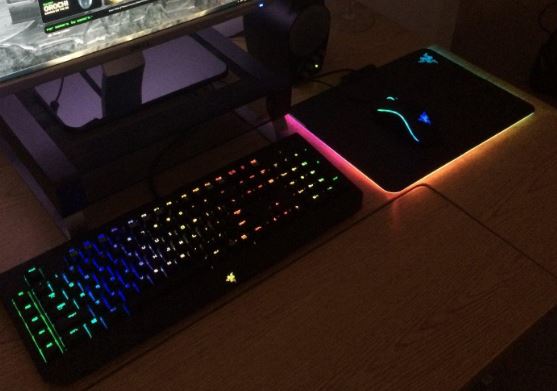 Lighting
This mouse pad lights up on three sides. The top, bottom, and center are all illuminated with color changing RGB strip lights. These same lights also shine through on the Razer logo located in the top corner. These RGB LEDs are capable of producing 16.8 million different color combinations, and the effects line up with every other product in the Chroma line. This means that if you own a Chroma mouse, keyboard, or other peripheral, all of your lighting will be synced up.
The high color depth means that you get very smooth color gradients, giving it a much more professional look than the older style RGB LEDs that can only handle a few colors. Combined with the strong angle of the lighting, it seems like more of a subtle glow than an "in your face" type of look. Think ground FX on a car. This is similar, but for your mouse.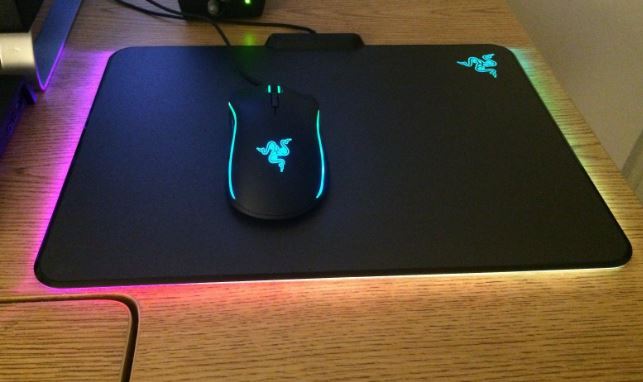 Durability
This certainly isn't the cheapest mouse pad you're going to find, but it's very clear that a lot of time and care went into creating it. It's made from exclusively high quality components, and this makes it one durable pad. It doesn't scratch or scuff like some cheaper models, and can withstand a lot of use and abuse. This is something that you could have for many years, and not have to worry about it.
Outside of the pad material itself, we noticed a few other areas where the quality really shows. The cable is nice and flexible, but also quite thick durable. There is a small rubber extension tacked onto the end, so you're not accidentally going to torque it down when it gets tugged at a strange angle. Overall, we were very impressed with the build quality of this mouse pad.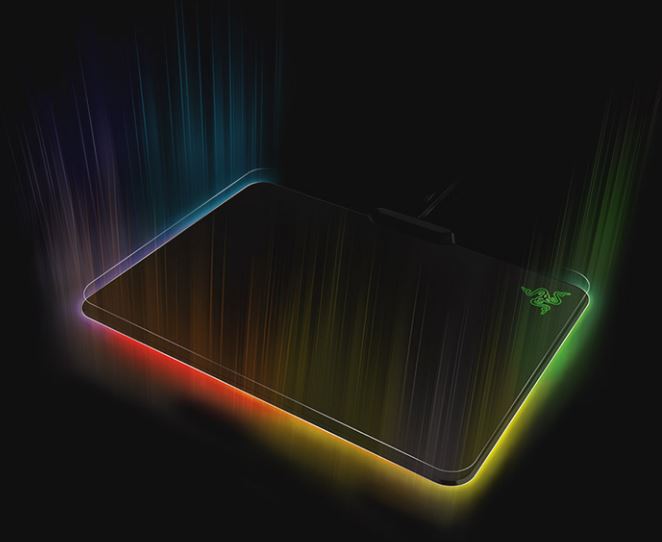 Accuracy
Is a mousepad more accurate than just using your mouse directly on your desk? This is a question that is highly debated. On paper, the answer is no. A clean, new, well maintained desk is no worse off than a specially designed mousepad. But the problem is that desks wear out over time. Take a look at our IKEA special: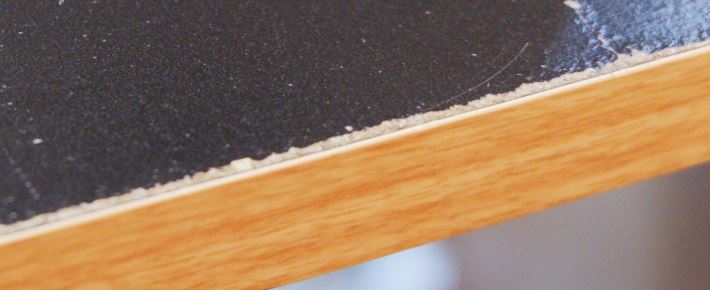 Front a distance, this desk looks great. But when you look up close, you can see that the black material is slowly wearing away. Your laser mouse misreads these little bumps and scratches as movement, reducing your accuracy. While glass desks don't have this problem, finger prints or dirt can cause the same problem.
In our case, this mouse pad made a noticeable difference in the accuracy. Depending on what kind of desk you have, it could make a difference as well.
Corsair Gaming MM800 Polaris RGB
Corsair's claim to fame isn't their peripherals, but their high-end gaming cases. That being said, they're known for quality and reliability. When we learned that they had a mouse pad on the market, we couldn't wait to try it out for ourselves.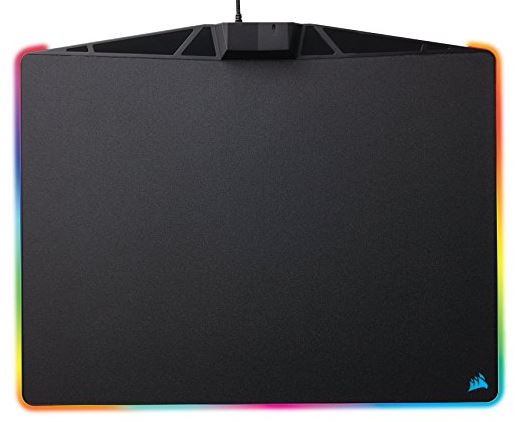 Design
From the moment you open the box, you'll know that the Corsair Gaming MM800 Polaris RGB isn't your ordinary mouse pad. It's got a fully rubberized bottom that prevent it from sliding around on the desk, and a very large mouse surface. How large exactly? 35 centimeters by 26 centimeters, and it's only half a centimeter thick! For most purposes, this is probably going to be the largest mouse pad you'll ever need. That being said, hitting the edge of your mouse pad is the last thing you'll ever want to do during an intense gaming session, so the large surface area will probably be a huge asset to serious gamers.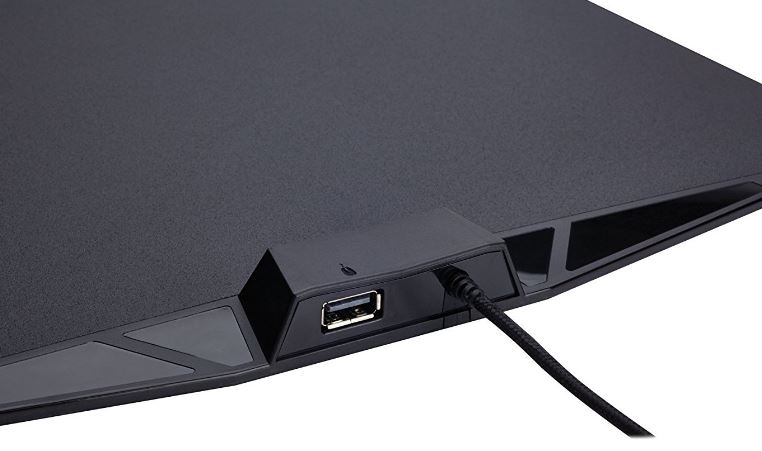 Lighting
The lighting on this mouse pad is extremely unique, and we were quite fond of it. The LEDs are embedded in a large plastic tube that runs around the edge of the pad. This makes them a little more pronounced than the Razer model, but still quite subtle. The LEDs are arranged in a long strip, which is divided up into 15 zones. You can use the included software to choose from one of several settings, or you can custom set every zone and build your own animations. One of the unique things about this lighting system is the fact that it uses pulse width modulation.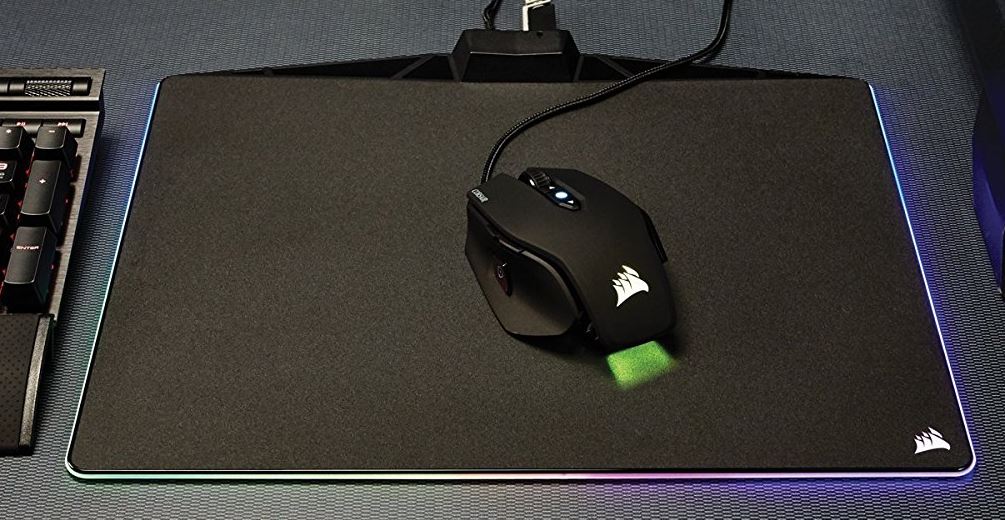 Durability
Where hard mousepads are concerned, this is definitely one of the most well-made models we've tried. Everything is very tight and durable, and it can withstand quite a lot of pressure. The mad itself is coated with a special material that is resistant to scratches and scuffs, so it should last you a very long time.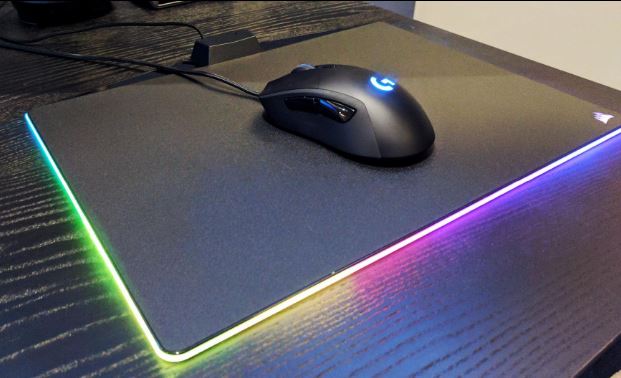 Accuracy
The main advantage of this mouse pad is the micro-textured surface. Although it's optically neutral, it gives your hand a textured feel to slide against as you move. This gave us a noticeable improvement in our precision, and definitely makes controls feel much better than just using our bare desk. But the best part of this pad is the ultra-low rolling resistance. You mouse glides smoothly across the surface, making even precise motions effortless.
Beautiful Tech RGB Mousepad
Although we hadn't come across any of Beautiful Tech's hardware before, we were very impressed with how well this affordable option performed. If you're on a budget, this is definitely something to consider.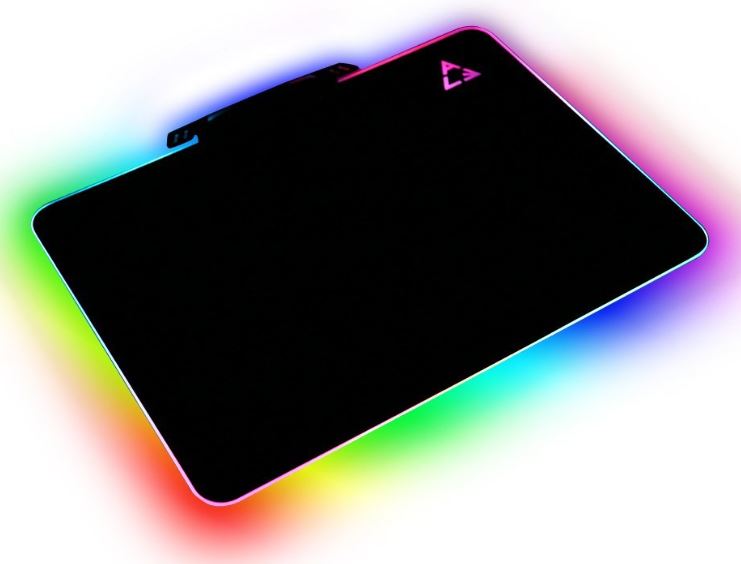 Design
The Beautiful Tech RGB Mousepad is about 13 inches wide by 9 inches tall. It's pretty compact, so you'll have no problem fitting it into a tight space. The cable bracket is bolted right onto the hard mousepad surface, and there is even a touch sensitive button located on the top. It's got a very industrial appearance to it, but still maintains a pretty high tech feel.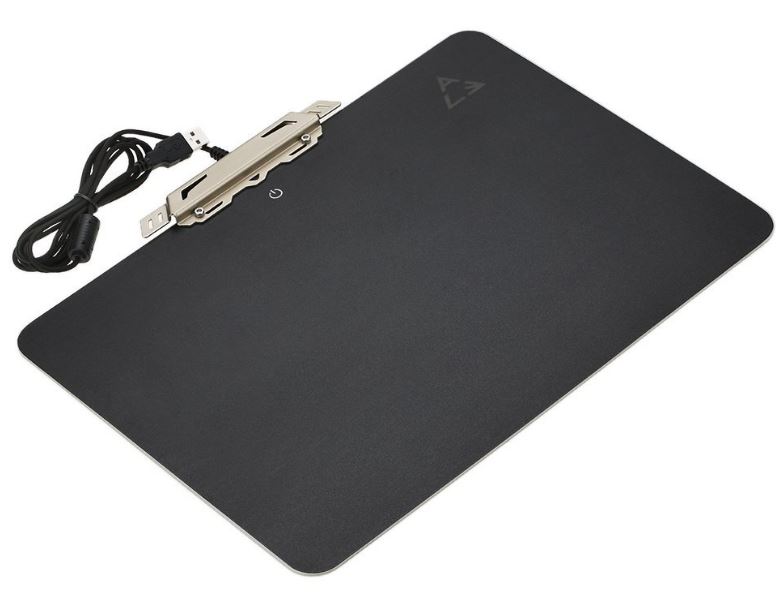 Lighting
Although the lighting system on this mouse pad is a little more basic, it's still pretty impressive. The LEDs can produce several different colors. You can choose from red, green, purple, blue, cyan, and yellow. You can display them as a single solid color, which is a great way to make your mousepad match your case. You can also choose from one of several effects, including a breathing effect, a scrolling effect, and a slowly transitioning rainbow effect.
Durability
This was one of our favorite features of this mouse pad. It was built to a much higher standard than anything else in this price category. It's solid, scratch resistant, and feels like something that would have been put out by one of the major gaming companies. We'd definitely consider this to be a bit of a hidden gem where durability is concerned.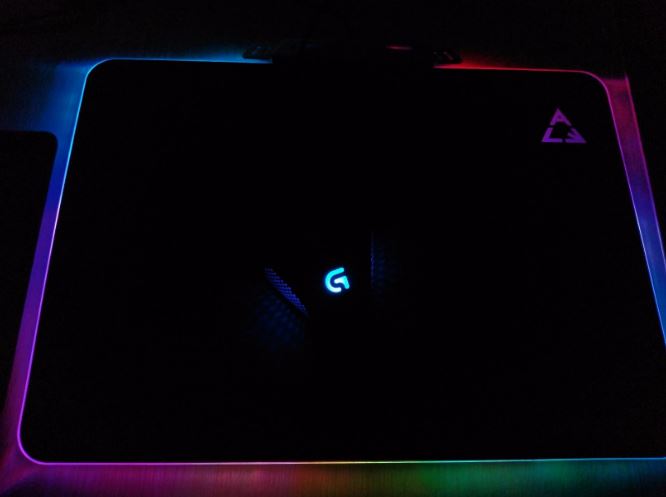 Accuracy
The micro-textured surface on this mouse pad is very similar to the one used on the Corsair pad. It is a little rougher to the touch than theirs, but still has incredibly low rolling resistance. If your desk is showing any signs of wear, you'll definitely be happy with the improvements to accuracy you get with a hard-topped mouse pad.
Which RGB LED Mouse Pad is Right for Me?
After trying a number of different mouse pads, we picked these three as the clear winners. While they were all better than the competition, there were a few differences between them that could affect how well they work for you.
If you're looking for something with a lot of space, we'd highly recommend the Corsair Gaming MM8800 Polaris RGB. This mouse pad has one of the largest surfaces we've used, and the finish on it is simply incredibly. There is no doubt in our mind that this model will beef up your performance, and it will look cool doing it.
If you own any Razer Chroma branded products, then it's a great idea to pair them with the correct mouse pad. The Razer Firefly Chroma syncs up with the chroma control software, making your lighting match your keyboard and mouse. Combined with the incredible build quality of this hardware, this is certainly a great buy for any consumer who wants the best.
On a budget? The Beautiful Tech RGB Mouse Pad might be the option for you. Despite its low price, this RGB Mouse Pad surpassed all of our expectations for this price category. The lighting system might be a little simpler than some, but it will still make your gaming station look better than you ever expected.
Looking for more cool ways to liven up your gaming station? Check out our review of the best RGB lighting kit for your computer case. Although they are incredibly affordable, these kits will help you show off the hardware you worked so hard to get.