Summer is right around the corner, and you know what that means. It's time to get wet! Yes siree, one of the best parts of the summer is taking a trip to the pool with your flippy-flops flapping and your family in tow. When the temperature outside is so excruciatingly hot that you half-expect every thermometer in town to cartoonishly explode in a fountain of boiling mercury, there's nothing quite as refreshing as dipping your burning tootsies into an icy pool.
What would a day at the pool be without your favorite tunes playing in the background? Don't get us wrong, we absolutely love spending time with our family, yet at the same time, we also can't stand when it gets too quiet. Background music works wonders when you're trying to keep your day running smooth. The only problem is that when you have a litter of children splashing and jumping, electronics near any kind of water source is pretty much out of the question.
Trust us, it doesn't matter if you cover a Bluetooth speaker with a towel—young kids will find a way to get it wet. When we're around our kids, we need gadgets that are rugged, gadgets that are tough, gadgets that can withstand the brutal force of a Super Soaker.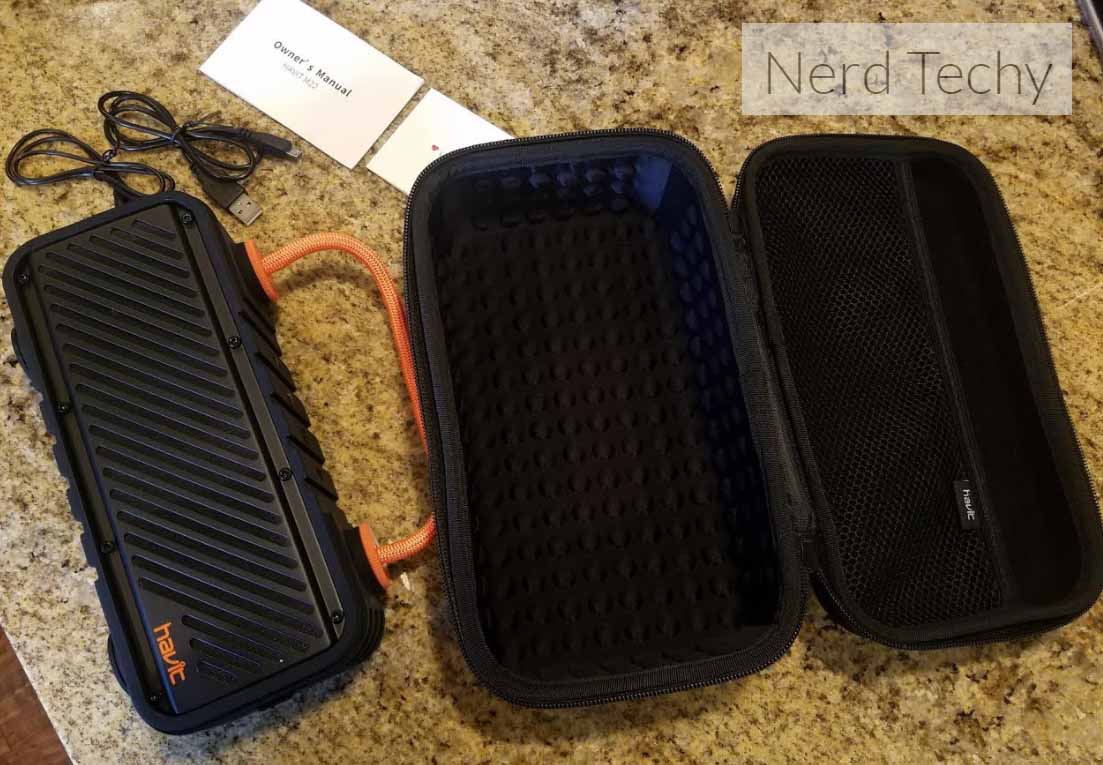 First Impressions
In our quest to find the ultimate tough Bluetooth speaker, we came across the Havit M22, a wireless and portable speaker made for lounging around pool side. Featuring an IPX5 waterproof and shockproof rating, long battery life, support for Bluetooth 4.2 connectivity and a design that looks down-right militant, the Havit seemed to be the potential answer to our musical prayers.
While the device certainly looks super durable, it's hard to really tell how electronics hold up against the elements (and by elements, we mean children under 10) until you take them for a test run. In this review, we'll take a thorough look at the Havit M22's features and sound quality, throw the speaker down a flight of stairs to test its durability, have our kids spray the device with an assortment of hoses, and finally, we'll offer our final verdict.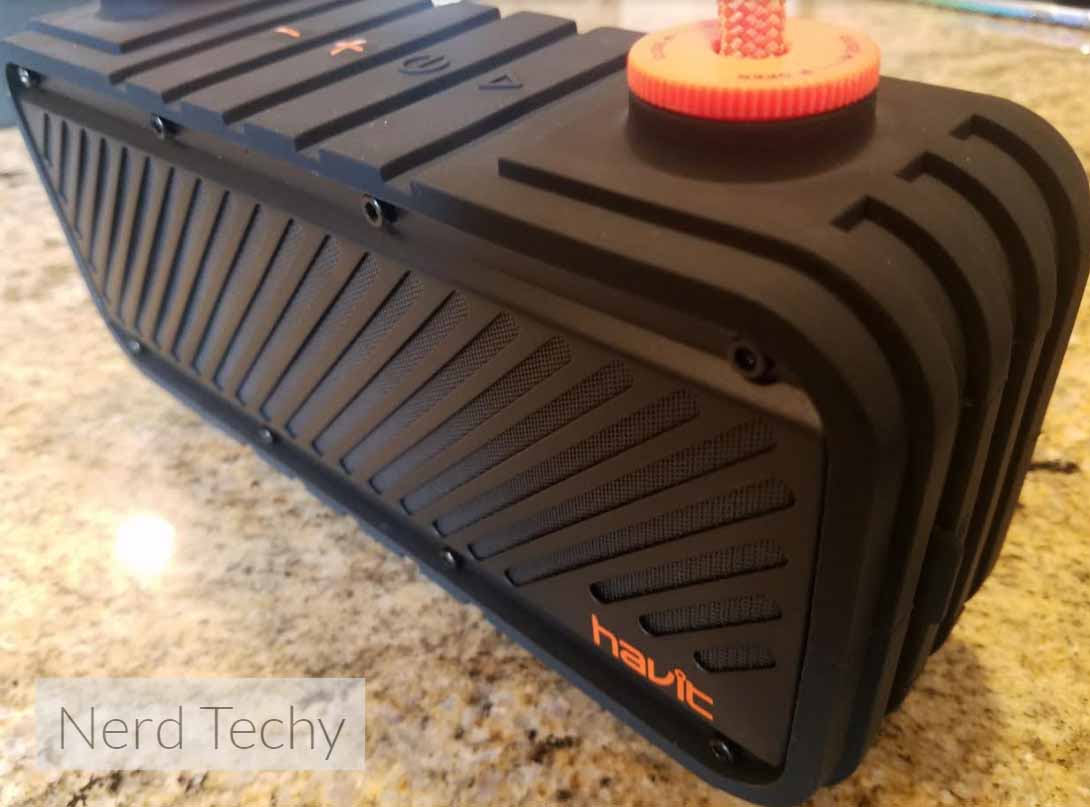 Volume
Sound quality is usually the kryptonite of rugged Bluetooth speakers. When the focus is on making the device as beefy as possible, usually sacrifices need to be made, and sound quality is typically one of them. The biggest problem is that the extra baggage gives the sound a muddy, crunchy sound. Thankfully, this is not the case with the Havit M22. Hidden within the thick walls of the M22's outer shell are two 52mm dynamic stereo drivers featuring precise 10 watt PMPO, with a frequency response of 70 Hz – 20 KHz and 4 Ohm impedance. Not too shabby for a little tank. On the opposite end you'll find a rear bass port.
How does all the hardware measure up to the speaker's performance? For one thing, these babies are surprisingly loud. The speaker's dual 10 watt output produces 20 watts in total. A standard wireless speaker produces about 3 watts, which means that the M22 is about six times louder than an average portable speaker. Now, obviously you're not going to be able to host a house party with the M22 speakers, but they offer the perfect volume range for a concentrated area, such as the pool, the beach, camping, or a room or two in your house.
There was no notable sound distortion even at maximum volume, which as anyone who has ever owned a portable speaker will know, is an important benchmark to meet. Many of Havit's competitors are barely functional, mainly because of their propensity for producing sound so distorted that even Picasso would be saying "that's a little too twisted for me, buddy."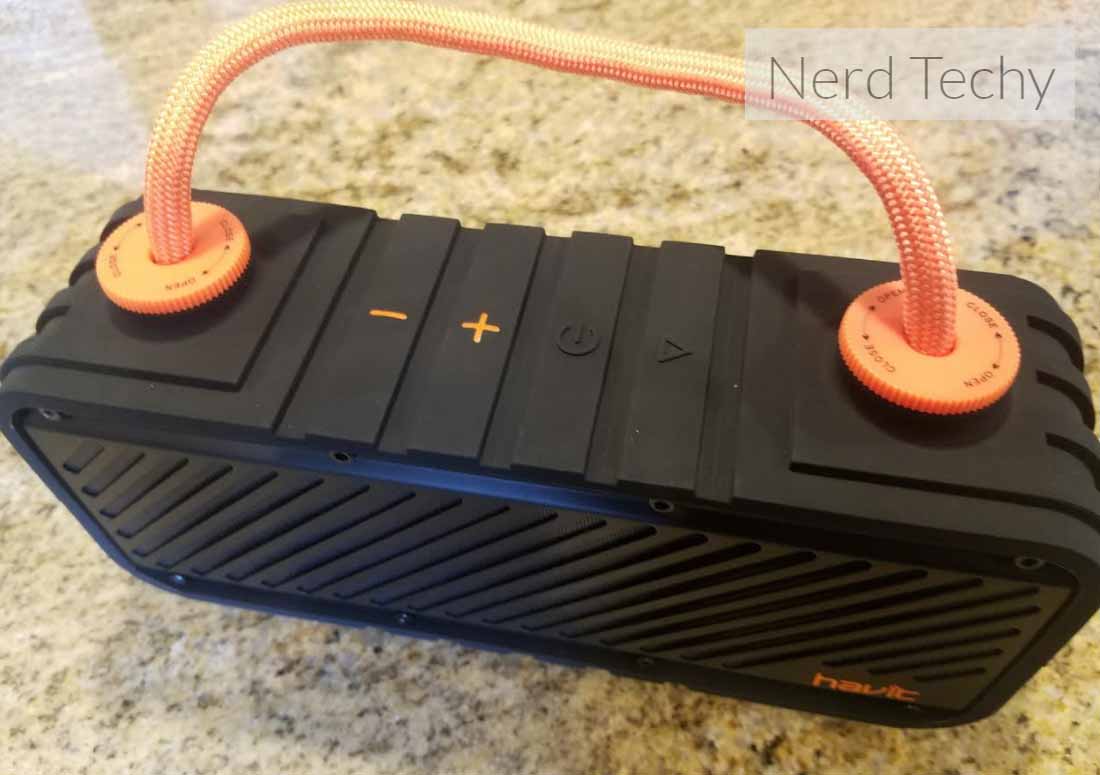 Bass
The M22's passive subwoofers and rear bass ports are, pardon my French, impressionnant. In fact, the bass is so strong that I'm pretty sure it's having an effect on my ability to accurately use figures of speech. But seriously… this babe has got some boom. As I mentioned earlier, Bluetooth headphones have the unfortunate habit of sounding distorted, but not only due to high volumes. Some consumer electronic companies try to shove too much base into too small of a package. The result is a sound similar to that of a truck driving down a gravel road. The M22 features bass that is clear and deep, without sounding muddy or gritty.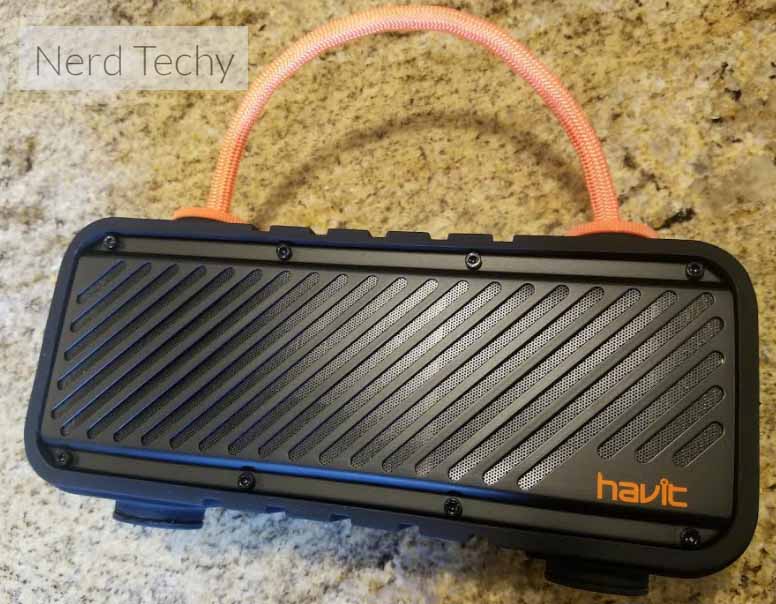 Sound Quality
A loud and rugged Bluetooth speaker is great and all, but what good is loudness if the sound is poor? In the case of the Havit M22, we'll never know, because the sound is solid as heck. With a 360-degree surround speaker range, the overall audio quality was crisp and dynamic. Separate layer tracks sounded distinct and pure. When we compared the sound quality to the Photive M90, which is a competing waterproof Bluetooth speaker unit in the same price range, we felt like the Havit speakers were noticeably punchier, and produced an all-around richer sound.
Battery Life
The whole point of owning a portable speaker is to have the ability to listen to your tunes without having to worry about stopping every few hours to recharge. When you're on vacation, the last thing you want to do is interrupt a perfect afternoon to recharge your speaker. The M22 features up to 20 hours of battery time—that's 20 hours of continual music played at 75% volume.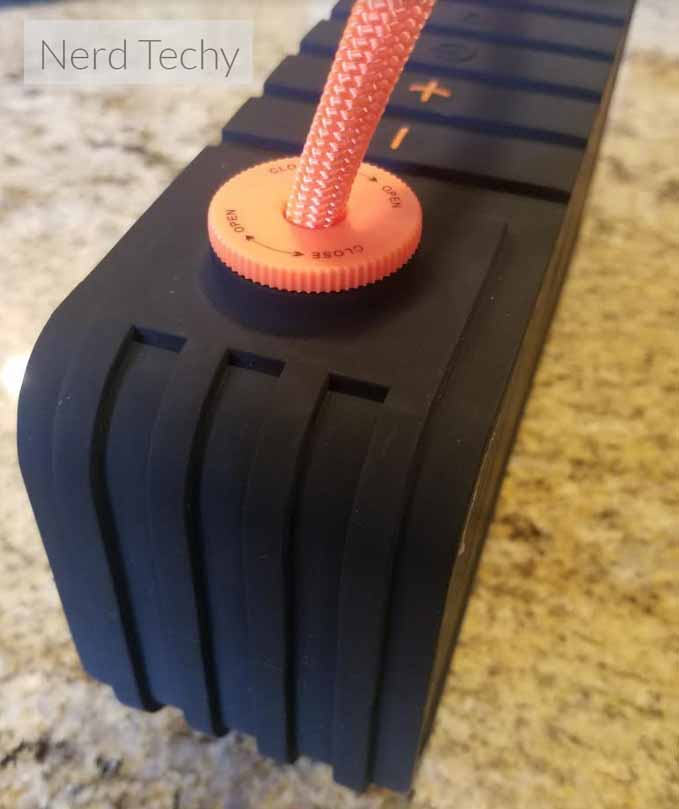 We imagine that if you prefer to listen to your music at lower volumes that the battery life can actually exceed 20 hours. We judged battery life based on how it affected our day, rather than keeping track of every single minute. What we found was that the M22 didn't interfere with our day at all, which is exactly what we were looking for. Even if you forgot to forget to plug the speaker in for a night of charging, you'll likely still have plenty of juice for the next day.
One of our favorite features of the M22 is its ability to act as a rechargeable external battery. Even on days when you don't feel like jamming out to the coolest of tunes, the Havit speaker can still perform a practical task. The M22 doubles as a 5000mAh rechargeable battery, which is enough juice for 2-and-a-half charges for an iPhone 7. Jeez, we're really making it sound like we can't go a second without some sort of digital stimulation. Well, I guess if the shoe fits. Anyway… having a few extra charges on the go is an invaluable tool. You never know when you're going to get stuck somewhere. Having a few extra charges might just be enough to retain your sanity.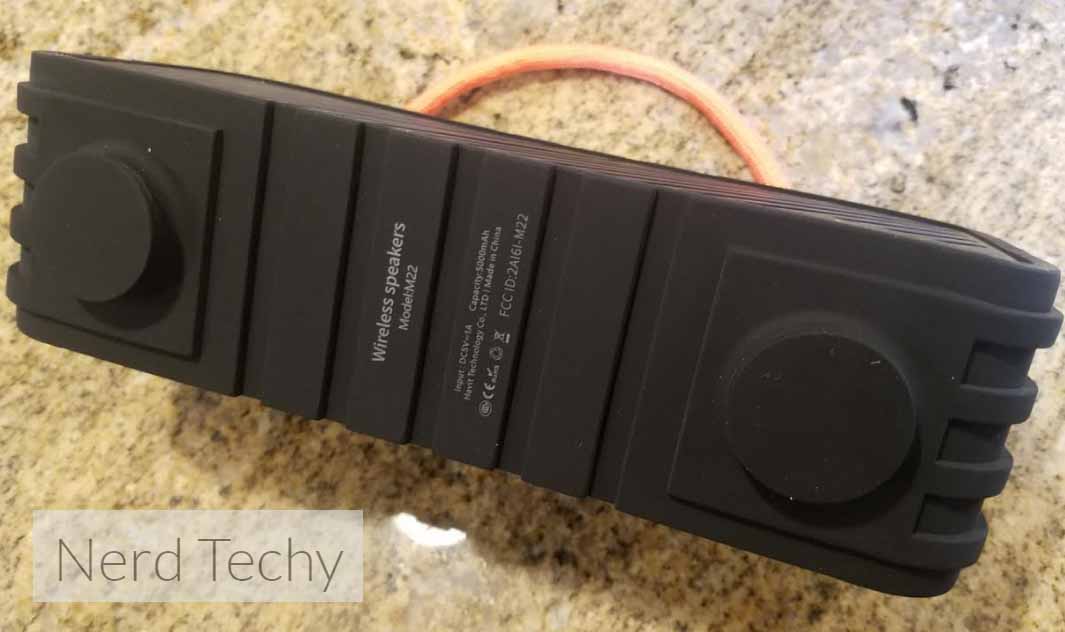 Waterproof Certification
The Havit M22 is IPX5 waterproof certified. Being IPX5 certified means that the M22 can handle water jets from any angle. This would include water guns, general splashing, a weak faucet, or any other stream of water that is similar. Keep in mind that being IPX5 certified does not mean that the speaker is submersible. It's not.
From a technical standpoint, true waterproof doesn't start until IPX7, which allows for submersion up to 3 feet deep. Since the M22 is IPX5 certified, it would probably not be smart to take the speaker in the pool with you. This is just asking for trouble. Though the M22 does a great job of reducing the potential for damage that children, by their very nature, come imbued with.
Mobility
The M22 ships with what they call a detachable "DIY handle," which means that you have the option to detach and reattach the handle in order to hold the speaker either vertically or horizontally. You can even remove the handle completely if you'd like. We weren't terribly impressed with the handle feature, mostly because it feels overly complex. When you add in extra steps, it creates a higher chance of something breaking or a part getting lost. If holding a speaker vertically is important to you, then fine… have at it, but we we're perfectly fine with the handle in the standard horizontal position. We can't think of a practical reason why there are two different options, but if you can think of one, feel free to let us know.
Bluetooth Connectivity
The M22 includes Bluetooth 4.2 connectivity, which means not only is the speaker going to sync with your phone and tablet, but it will also work with your Alexa Echo and smart TVs. The Bluetooth range is advertised at 66 feet, though, in reality, we think the distance is a tad further. We pegged the range as closer to 70 feet. An extra yard might not seem like much unless your at the Super Bowl, but it can mean the difference between music or silence, so it's a pretty few feet. If Bluetooth isn't an option, the M22 also features an AUX jack and a Micro SD card slot. Both of these options are great for playing media which might not be ready for wireless.
Dimensions
The M22 weighs about 2 lbs. and measures in at 9 in. x 2.6 in. x 4.5 in. (22.86 x 6.60 x 11.43 cm). It clearly has some bulk to it length wise, but it is deceptively light. Even though it is rugged and built to take a spill, the speaker isn't clumsy or bulky. The speaker easily fits in most backpacks and won't weight you down, which is particularly helpful when you're commuting on foot.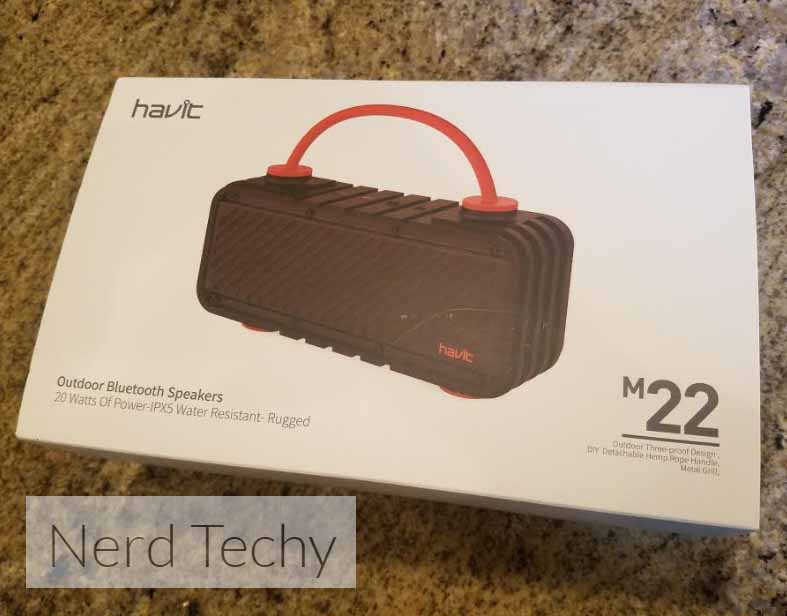 Final Thoughts
The Havit M22 Bluetooth speaker is a waterproof-ish device with some killer oomph. Its dual extra wattage makes it super loud in comparison when many of their competitors, but it doesn't sacrifice sound quality for the sake of loudness or ruggedness. The M22 speaker is a great choice for parents who are tired of having their wireless speakers ruined by splashes and water guns, and for anyone who enjoys lounging by the pool with their favorite tunes blaring. Recommending the Havit M22 speakers is a no brainer.