Many people wonder what the mechanical keyboard hubbub is all about. We were once part of that group. While that's an easy question to answer from a technical standpoint, describing the difference between the keyboards' user experience is a whole other matter. First, let's get technical (please sing this line to the tune of Olivia Newton John's "Let's Get Physical," because that's definitely what we just did).
If you've ever seen a traditional keyboard which is missing a key, you likely would have noticed that beneath each key there is a squishy, little, rubber dome. When you press the button on a standard keyboard, an electrical pad on the inside of that rubber dome gets smooshed into a circuit board located below the keyboard. When the pad and the circuit board meet, a letter magically appears on the screen. The key is pushed back into position by the bouncy, rubber dome.
Note: At no extra cost to you, we may earn a commission for purchases using our links. Learn more.
A mechanical keyboard uses physical switches to trigger keypresses, as compared to the electronic pad of the standard keyboard. Instead of a rubber dome, the key is raised back into place with a spring. The advantages of using a mechanical keyboard are many. First off, they are much more customizable. Different switches offer varied degrees of clicks, detents, and actuation.
Mechanical switches are also more durable than the rubber domes of their keyboard counterparts, and the build quality of mechanical keyboards is typically more solid. The result is a keyboard with a longer lifespan. In addition, mechanical keyboard keys also feature less wiggle because of their stronger mounting. Look at this way: using a mechanical keyboard is like driving a Tesla, while a standard keyboard is more like driving a Subaru Outback.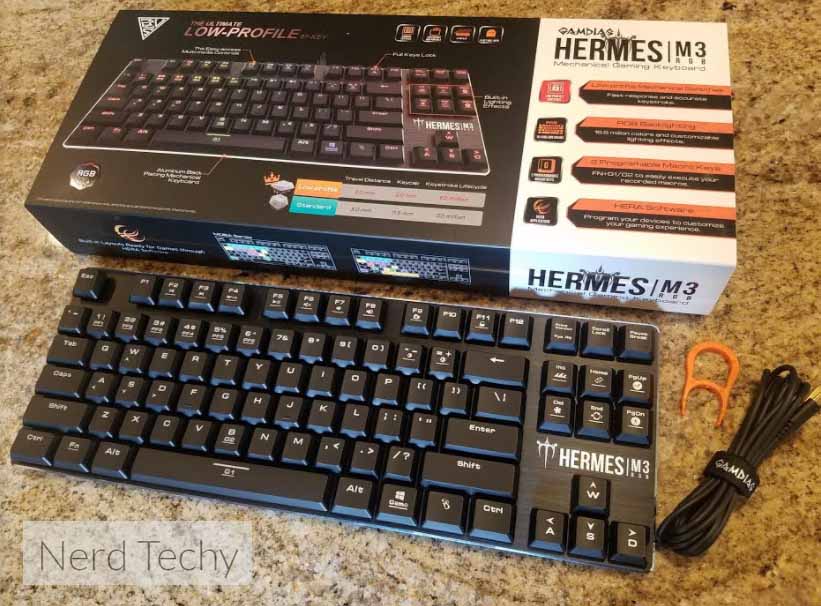 First Impressions
You can imagine our excitement when we were given the opportunity to play around with the new Gamdias Hermes M3 RBG, a low-profile mechanical keyboard made specifically for hardcore gaming. Advertised as the world's first 87 key RGB low-profile keyboard, the M3 features a compact design, an enormous amount of customizable options, a massive number of backlighting colors, powerful processing hardware and top of the line keyboard software.
Dimensions
One of the advantages of an 87 key mechanical keyboard is that it doesn't take up much room when you compare it to models that feature more keys. The M3 measures in at 354 mm x 128 mm x 25 mm (13.9 in. x 5 in. x 1 in.) and only weighs a hair over 1 lbs. We prefer the M3's 87 key format because it lacks the filler that some keyboards contain. They feel like filler to us, anyway. Adding to the keyboard's portability is its removable micro-USB cable. Everything about the size and design of the M3 just screams convenience.
There are certainly people out there that like to have all of their options laid out right in front of them, but we don't mind keeping it simple. 87 keys are plenty to provide us with everything we need, especially considering the resulting low-profile design. The smaller dimensions result in a keyboard that's easy to travel with, which is important if you're often traveling.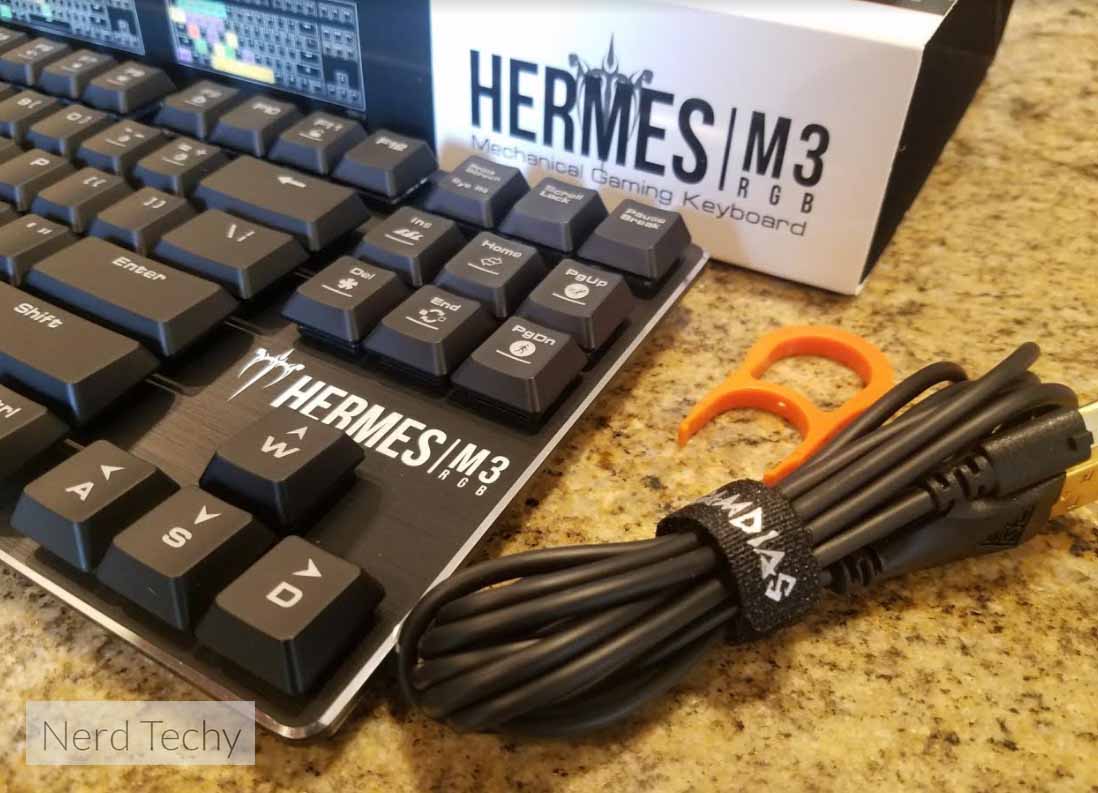 Multiple Key Profiles
The M3 allows users to save up to six different keyboard profiles, which you can easily switch using the hot keys on the 1 through 6 keys. Different games call for different controls. Some people prefer to use different keys for different games. Each of the six keyboard profiles can have customized lighting effects and macro functions. This makes playing multiple games much easier and more immersive. There is something about fooling around with game settings that takes you out of the experience. It's almost like breaking the fourth wall.
Design
Let's talk a little bit about the low-profile design because it is clearly one of the standout features. The Hermes M3 RGB is gorgeous. There is no other way to describe it. Not only does the device look gorgeous, but it feels gorgeous. The design helps keep keystrokes precise, the response fast, and the actuation accurate. The design sort of reminds us of a low rider vehicle. There is something about it, besides the small form-factor, that just works. The keys feel luxurious to the touch and the profile oozes sophistication.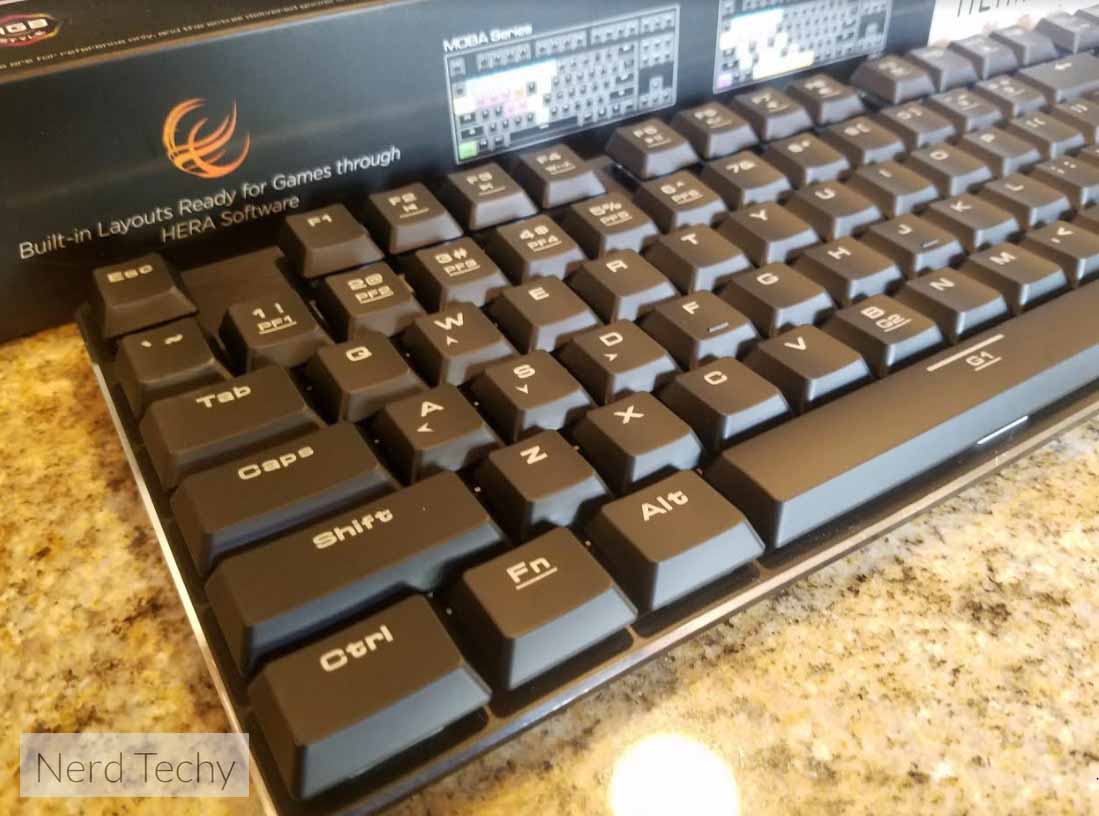 RGB Backlighting
One of the biggest contributors to the M3's awesome design is its RGB backlight color customization. With a palette of 16.8 million RGB color options, the color configurations are nearly endless. You can make the keyboard look as hideous or as sexy as you'd like. Customizable backlight options make the gaming experience so much more immersive. At times we felt like we were in the TRON universe and at other times we felt like we were in a dingy, neon-lit internet café. The point is, you can create your own experience, and gaming is all about the immersive experience. The keyboard has a few on-board pre-programmed effect buttons, just to make things a bit easier. Included are the wave effect, slide in effect and the rotation effect. Our favorite is the wave, just because it reminds us of arcade lighting.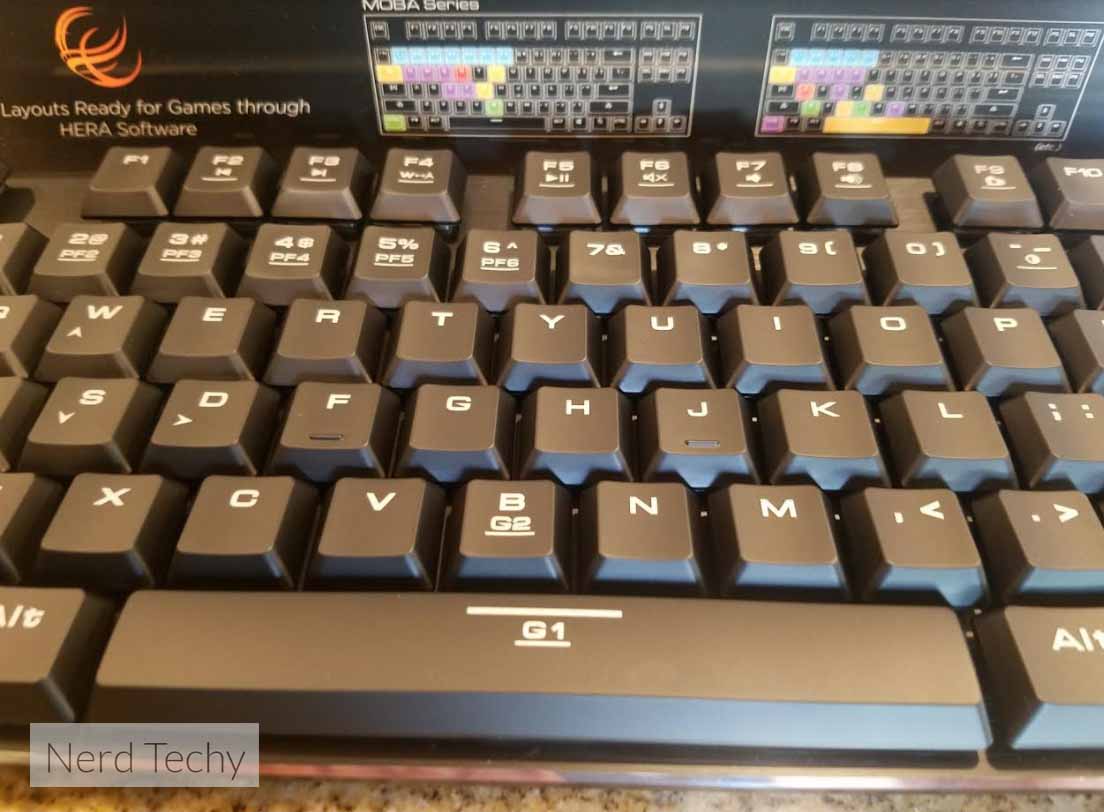 Processor
Contained deep inside the Hermes M3 lives the secret to the keyboard's speedy performance. Built with the latest 32bit Arm Cortex processor, the M3 should never give you any problems with lag or speed performance. During our testing, the M3 seemed so fast that at times it felt like the keyboard was following our commands before we even pressed the key. The speed makes the keyboard feel very intuitive, and helps provide the seamless experience that we look for in our keyboards. The processor also stores all of your configuration and profile information within its banks, so there is no need to keep the software running in the background.

Gaming Features
The Hermes M3 was designed and engineered for hardcore gaming. Gamdias has included some great gaming-focused features within their newest keyboard. N key rollover allows the keyboard to read every keystroke individually, no matter how many keys are being pressed simultaneously. This means that you'll never have a missed keystroke. Gamdias claims that the M3 N key rollover offers 100% protection from ghosting. During our testing we put their claims to the test my intentionally button mashing as obnoxiously as possible. We found that each of our key strokes were read without any missed commands or conflicts.

Software
Gamdias's HERA software is what keeps the keyboard working exactly how you want it to work. Interesting fact: Gamdias named their software HERA, after the wife of Zeus and queen of the ancient Greek gods. In a way, the HERA software makes you a God over your own person gaming kingdom, holding dominion over every macro, color and feature. The HERA software gives you the key to all of the little micro-management features that mechanical keyboard owners love to play around with, including key assignment, macros, RGB lighting effects and sound effects. The software also allows you to control and modify the 6 key board profiles that we mentioned earlier.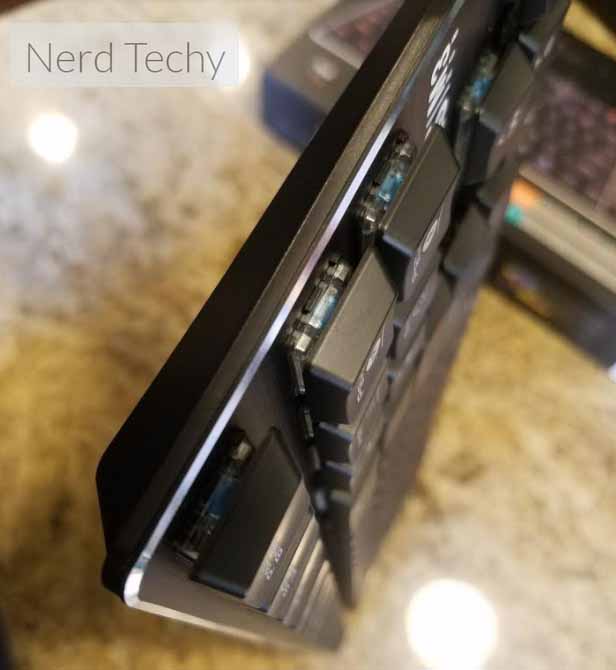 Switch Hardware
We wanted to take a closer look at the actual key hardware, so we went ahead and popped off a few keys. The mechanical switches are a pleasant shade of sky blue, which should give you a better idea of just how much detail went into designing this gadget. One thing you're going to want to keep in mind is that these switches do not appear to be your standard Cherry mechanical switches. The switches in the M3 appear to have their own unique mounting. The switches have a very long lifespan, 60 million keystrokes for each stroke, so when the time comes to replace them, you might be in the market for a new keyboard anyway.
Just keep in mind that replacing the switches might be a little more difficult than replacing a typical mechanical switch. The plastic key stems on the underside of the caps are slightly worrisome as well. We're concerned that removing the keys too often will result in the stems cracking or breaking off, since the two-stemmed design seems a little fragile. We didn't have any issues, but it might be something to consider down the road.
Actuation
The low-profile of the design results in a shorter key travel distance. In fact, the key cap travel distance on the M3 is 5 mm, compared to the 10 mm of an average sized key cap. The switches themselves only have a 3 mm travel distance. The result is an actuation force that, frankly, blew our fricken' minds. Keying the switches on the M3 is so effortless and so smooth and so accurate that we have started to refer to the keyboard as the Miles Davis of mechanicals. Despite the small travel distance, the keystrokes provide a satisfyingly smooth tactile experience, with enough feedback to remind you that you're using a mechanical.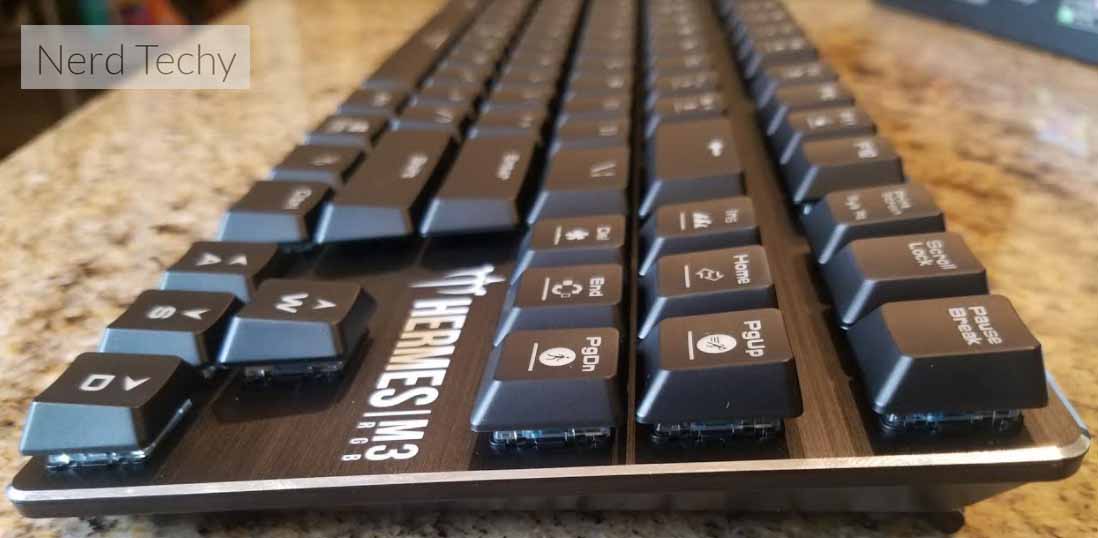 Final Thoughts
The Gamdias Hermes M3 RGB mechanical keyboard left us feeling all warm and fuzzy inside. Could this be love? It's still too early to tell—but this is a killer set of keys. With a combination of a killer design, a compact form factor, a beautiful low-profile silhouette, countless RGB color options, massive customization options through their HERA software, helpful gaming features, such as n key rollover, and a processor that manages to tie it all together in a cohesive bow, the M3 is going to be your new favorite keyboard.
Here's our suggestion for you. Don't hesitate. Not for a second. If you're looking for a no nonsense, no filler, compact and feature-rich mechanical keyboard, the Hermes M3 is the mechanical keyboard you've been waiting for. If you're a fan of first person shooters or MMORPGs, this is the keyboard you've been waiting for. The M3 is a no-brainer. We highly recommend it!
Please consider sharing:
Note: At no extra cost to you, we may earn a commission for purchases using our links. Learn more.