Christmas is right around the corner. It's that time of year again where you'll be picking out gifts for your loved ones. We all know how difficult and time consuming it can be to select a good gift.
If you're like most people, you'll want to choose one that'll be useful to whoever you're giving it to. If you have a new homeowner to gift to, you're in luck!
Why do we say that? Because new homeowners need a lot of essentials. Cleaning supplies and items for their new home are often cherished and can never be overlooked.
Take a vacuum cleaner for example. This is an item that'll definitely be of great use. But an ordinary, upright vacuum is often already owned by every household. If you want your gift to stand out, you'll need to think outside the box.
Simply put, gifting a robot vacuum is much more-ideal. Especially one that's equipped with a wealth of high-end features that actually work well. Rather than needing to manually vacuum your floors everyday, an automated, self-cleaning vacuum cleaner is a premium option that anyone will love.
One such option is from popular manufacturer yeedi. Introducing, the mop station pro. This is a unique, floor cleaning robot combo with a built-in mop washing machine. It's capable of cleaning hard floors, carpets and ultimately maneuvering itself back to its base station for self-cleaning. It aims to take the chore out of keeping your floors clean and automating the entire process.
Today we're going to take a deep dive and see exactly what it offers. We'll examine each of its features and discover exactly what it's capable of. Let's get right into it.
First Look
Offering 3,000pa of powerful suction, the yeedi mop station pro is a premium pick. It's a complete solution for floor cleaning with its very own base station. The vacuum itself carries a standard robot vac design, circular in shape and thin enough for moving underneath most furniture.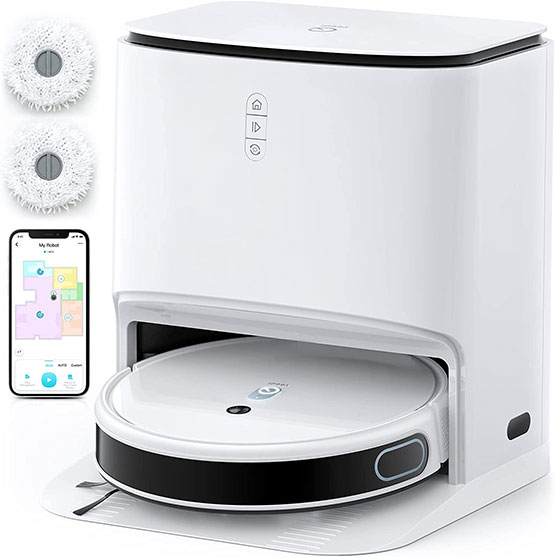 On the base of the vacuum are two ultra-soft mopping pads. They apply 10N of force to the floor while simultaneously spinning up to 180 times each minute. In turn, dirt, debris and grime are effectively lifted from the floor and suctioned into the built-in holding tank. At the same time, vacuum suction is applied to pick up any dirt or loose debris on the floor. It's then transferred to an oversized 750ml dustbin that's much larger than the competition.
Once the yeedi robot vacuum is finished, it'll self-drive itself over to the base station. Here, it docks itself into the "garage" where it's self-maintained for weeks at a time. In fact, each mop goes through a rigorous cleaning routine where it self-washes the pads every ten minutes. In turn, the pads are kept clean and never cross-contaminated with dirty water. Effectively, the entire cleaning process is both hassle and hands-free.
The included mopping pads are extremely absorbent. In fact, they are said to hold 300% more water than average in order to cover more space without leaving any puddles behind. Best of all, once finished cleaning, the pads are self-dried to assure no nasty mildew smell will ever exist.
Self-Navigation
What truly sets the yeedi mop station pro apart from others is the smart visual mapping and navigation system. Built into the robot is a camera that ingeniously detects, navigates and ultimately learns its way around your home.
Using the free mobile app, you can pair the vacuum with your phone to gain insight into exactly what the robot vac is doing. Over time, it'll map the floor with close precision. It can then effectively navigate around without getting lost or without losing its way back to the base station.
In reality, it works very well. The home map it then creates can be fully customized with editable zones. Users are able to set various vacuuming and waterflow levels for different messes. You can then choose a specific cleaning sequence or specific exact rooms or areas to pay special attention to. You can even schedule cleanings, setup no-go zones and more. In fact, it can be paired with Amazon Alexa or Google Home for voice control.
Although it's only compatible with a 2.4GHz WiFi network, it fully supports Apple homekit. Although yeedi highly recommends updating the yeedi app to the latest firmware version, homekit opens up a whole new realm of control for those who want to utilize it.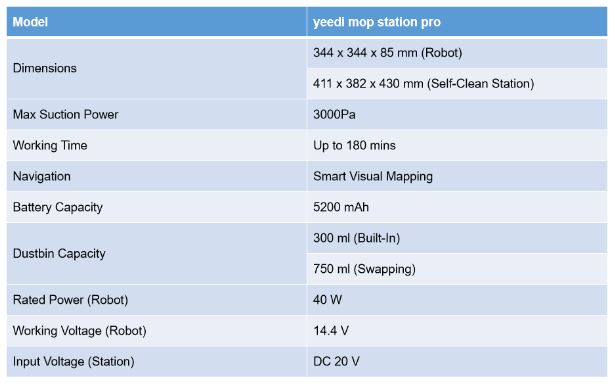 Battery Life and Longevity
Internally, the vacuum is equipped with a 5200mAh rechargeable battery. With a power rating of 40W, the robot can work autonomously for up to 180 minutes before needing to re-charge at the base station. Once it finds its way back to the base station, it'll line-up the charging contacts within the "garage" and keep it topped off for next day's cleaning.
Although the dust bin isn't self-emptying, the base station is equipped with two 3.5L water tanks. One of them stores clean water while the other one stores waste water. The main feature is that the vacuum's mopping pads will automatically wash themselves and stay clean for immediate cleaning when needed.
Each water bin is easy to lift-out and swap when needed. In reality, there shouldn't be a need to maintain it every day. In fact, most users go one or two weeks without manual interference, truly offering hands-free, hassle-free cleaning for a long period of time.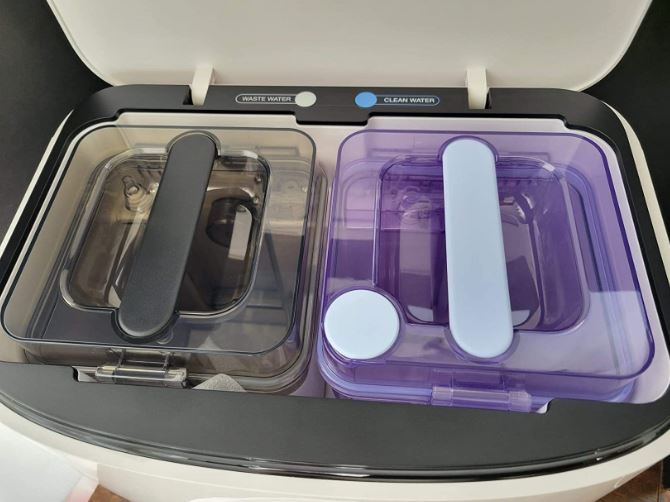 Cleaning Ability
As we stated earlier, the yeedi mop station pro is rated for 3,000pa of vacuuming force. This is incredibly powerful, especially for a self-automated robot vacuum. Ultimately, it means that it can pick up a wide range of debris from microscopic dust particles to loose hair and food.
It works well on both hard and carpeted floors, including medium-pile rugs and relatively dense carpets. Best of all, it intelligently detects the floor type and automatically switches modes when needed. Once it enters carpet, the mop pads will deactivate and the vacuum suction will take over in full-force. Once it returns to a hard floor, the spinning action of the dual mop heads will re-activate.
In reality, the dual mopping and vacuuming functions incredibly well. In our experience, it rarely became confused on floor types and continued to clean until the entire mess until finished. Additionally, not once did it ever become confused and lose its way back to the base station. It truly does offer fully automated cleaning without the hassle and hiccups that other high-end robot vacuums are often plagued by.
Who is yeedi?
As one of the more-popular manufacturers of robot vacuums on today's market, yeedi has been at it since 2019. Since their founding, they've achieved a high level of success through their effective and professional cleaning products. Ultimately, they aim to improve people's lives through the full automation of monotonous cleaning chores.
Over time, yeedi has been listening to consumer demands by taking feedback and applying it to their newest models. Throughout the globe, they've delivered countless robot vacuums to nearly every country in the world.
In fact, they're credited to owning the biggest and most authoritative robot laboratory in the industry. Through their R&D, they design, develop and produce millions of robots each year. In addition, they've built and solid and secure IoT system with the highest industry standard to keep all of their customer data secure.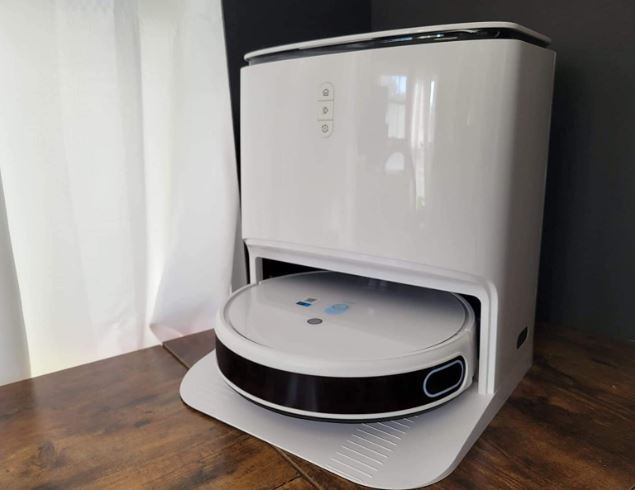 Final Thoughts
For new homeowners, one of the best gifts for Christmas you can choose is a robot vacuum. Not just any robot vacuum, but one that has been proven as a useful and highly rated option, according to thousands of positive reviews.
The yeedi mop station pro is a fine solution for automating cleaning chores throughout any home. New homeowners have a lot on their plate and adjusting to owning a home can be a big task. Right now, the mop station pro is heavily discounted until December 31st, 2022.
Simply put, the best time to purchase is now. Take advantage of the low price and you'll be on your way to providing one of the most sought-after gifts under the Christmas tree.