Instagram has been one of the leading social apps over the past decade. It's now widely used by more people than ever, from all parts of the World. Because of this, more and more users are deciding that privacy is a top priority. Luckily, Instagram makes it very easy to make your profile private in order to fend of prying eyes that may have no business looking at your content.
However, this has created an influx of users that have gone private. In fact, it's now just as common to find a private profile as it is to find a public profile. Ultimately, if you want access to someone's private account, you'll need to send them a follow request. In doing so, you'll then have to wait until the user accepts your request, or flat-out denies it. Often times, users will see your follow request, then leave it in review; basically leaving you hanging there for as long as they, at their own discretion.
Initially, it may be difficult to wait for their decision. Therefore, you may want to see the status of who you've requested to follow; so you can see who's ignored your Instagram follow request. However, before jumping to conclusions, it's important to know that there's a chance that the user hasn't even viewed your follow request, yet.
Regardless, a little bit of patience goes a long way. You'll want to give them a bit of time before you assume they're ignoring your follow request. Let's be honest, many popular Instagram accounts either get bombarded with followers or even take an "Instagram Break" – it's best not to assume they're full-on ignoring you! Give them a chance to see your request before taking any offense to it.
How to See Your Pending Instagram Follow Requests
Luckily, there's a few easy methods to viewing the status of who you requested to follow on Instagram.
View Instagram Follow Requests on iOS or Android (Mobile)
The first method involves using your iOS or Android device. However, some of the most recent versions of Instagram's mobile app may not contain the "Access Data". Because of this, don't get frustrated; simply use the web browser method, instead.
1. Open the Instagram app on your smartphone or tablet.
2. Click on your profile and then click the "Menu" icon. It's the three little lines stacked on top of each other in the top-right corner.
3. Next, select the "Settings" menu.
4. Tap "Security" and then scroll down until it says "Access Data".
5. You will then see "Connections". Proceed by selecting "View all current follow requests".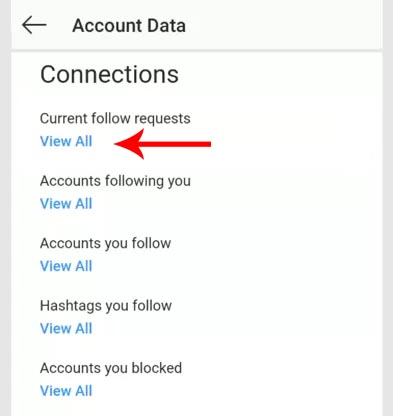 View Instagram Follow Requests on a Computer (Web)
Using your web browser to view your pending follow requests is the most reliable method, by far. It seems Instagram likes to change-around their mobile app quite a bit, but the web-version of Instagram has remained the same for the past few years. Below, we'll give you the steps to manually check, but an even easier method is to just head straight on over to the following URL: https://www.instagram.com/accounts/access_tool/current_follow_requests
1. Head on over to Instagram.com through your favorite web browser.
2. Click on your own profile and select "Settings" by clicking your profile's icon and selecting the third option from the dropdown menu.
3. On the left side column, you'll see "Privacy and Security" as the 7th option from the top. Click it.
4. There will be an assortment of settings to scroll through. The 7th menu is titled "Account Data". Proceed by clicking "View Account Data".
5. In the top-right column underneath "Connections" you should see "Current Follow Requests". Click "View All".
6. From here, there will be a simple text list of each account that you have requested to follow. There's not even a link to each account or a way to cancel each one. There's simply the name of each account, in plain text, with no other links.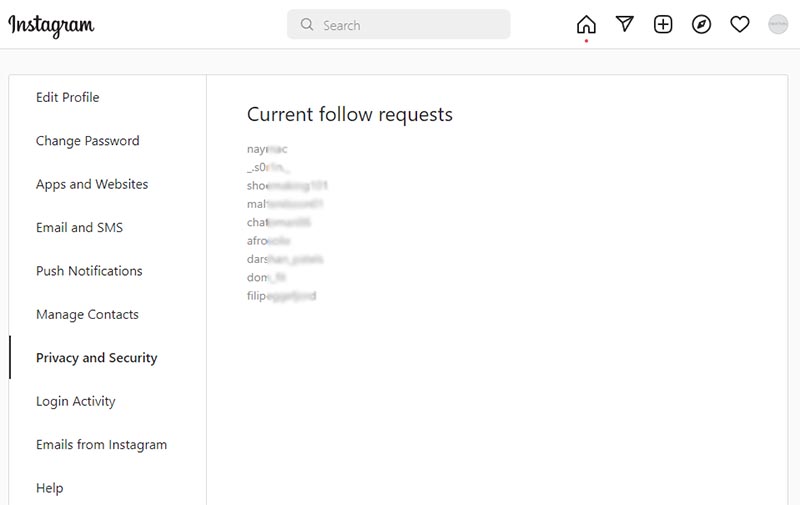 Other Methods to Seeing Who You've Requested to Follow
When you're trying to get more followers on Instagram, many users will simply request to follow each and every account that they can. If you don't want to go through the procedures we outlined above, there are other effective methods to re-trace your steps.
Browse Through Your Own Likes
When you post a video or photo on Instagram, one of the most popular methods to gain more followers is to simply request to follow any account that's given you a "like". Browse through your posts and click on the number of likes for each upload. There will then display a list of all the accounts who liked it.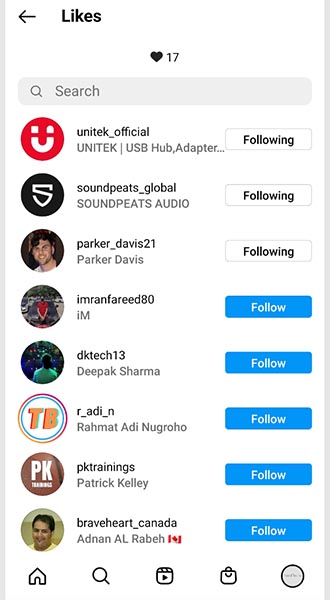 They will be sorted from people you already follow to people you don't follow. Any account that you have not yet requested to follow, or have done so but they denied you, will appear with a blue "Follow" button next to their name. Then, you can quickly determine which of the "likes" are from people you're currently following or have not yet requested to follow.
Going Through Another Users Followers
Often times, finding a popular "third-party" profile and viewing their followers is a quick way to access a list of "new" accounts that you have not yet requested to follow. Whether it's a mutual friend's account or simply one that's similar to your target audience, this method is commonly used to acquire new followers. If this is something you often do, you can go back in a few days to see a list of accounts who've either accepted or denied your requests, just by viewing the followers of the third-party account.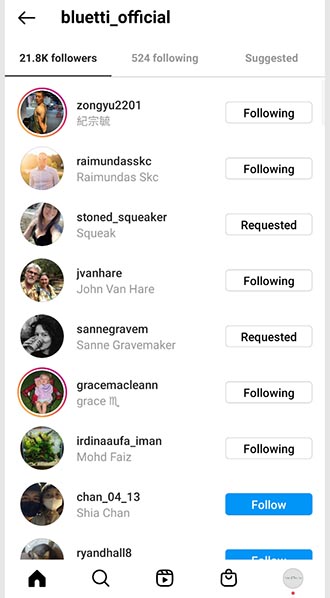 If you've tried this method to find follow requests that you've sent in the past, there's a chance you'll go back in a few days and you won't see them. If this is the case, there's a good chance that they've either accepted your follow request by default, or they've manually accepted it. Rather than having a blue "Follow" button next to their name, there will be a white "Following" icon.
In the event that you've encounter an account you know you've already requested to follow, but there's still a blue "Follow" next to their name, chances are they've denied you. A cancelled follow shouldn't be taken personally, however. Worst comes to worse, you can attempt to DM them or request to follow them, yet again. Keep in mind, however, this may ruffle some users feathers. Simply put, don't be too annoying and constantly re-request; you'll likely do more harm than good and it won't help your case.
Cancelling Instagram Follow Requests
If you've been requesting to follow a large amount of accounts or even just a few, you may find the desire to cancel your request. Often times, leaving a pending follow request can be a bit disheartening. Why don't they want you to follow them? Is it something personal? How do I know they've seen it? Feeling embarrassed? If these are questions that immediately come to mind, cancelling might be a good option.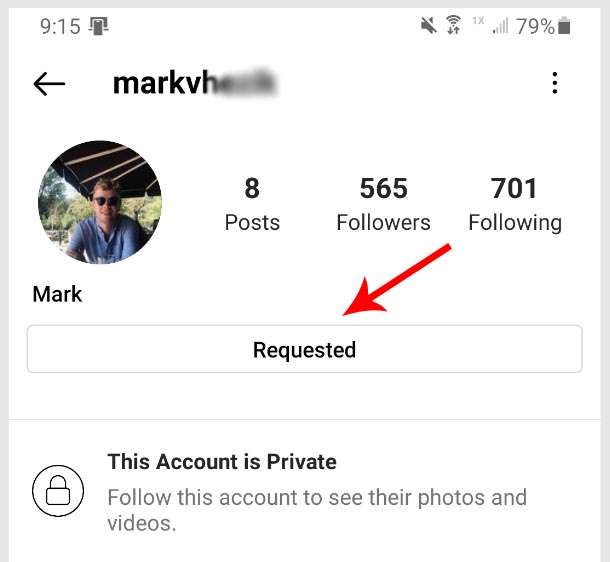 First, head on over to your Instagram account's current follow requests using your web browser. As we described earlier, here is a list of accounts you've requested to follow in the past. Unfortunately, there's no button next to each entry, so you'll need to copy and paste each account name to find their profile. Once their profile loads, click the "Requested" button; the large white button on top of their profile, directly above where it says "This Account is Private". Clicking it will immediately cancel the follow request. As a result, the button will go from "Requested" to a blue background button that says "Follow".
Cancelling All Sent Follow Requests on Instagram
It would be great if there was a way to automatically cancel every sent follow request you've made on Instagram. However, there's not a way to do this. Unfortunately, the only way to do this is to manually go one by one through your current follow requests and painstakingly individually cancel each one.
As of now, there's not even an application or third-party software that's capable of cancelling all sent follow request simultaneously. Ultimately, Instagram prevents this data from being scraped and/or collected.
View Deleted Follow Requests on Instagram
When your account receives a new follower request, it's very easy to mistakenly delete their follow request. Being that the "Confirm" button is right next to the "Delete" button, it's very easy to accidently hit the wrong one. Because of this, some users may want to know if there's an easy way to view deleted follow requests.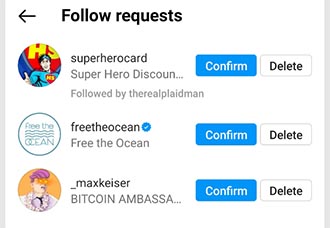 Unfortunately, Instagram doesn't offer any way to see which requests you've deleted; accident or not. Simply put, once the request is deleted, it's gone forever! The only plausible way to find a deleted follow request is through memory. If there's a chance you remember the accounts you previously deleted, you're still able to simply search their username to pull up their account. Yes, this relies on memory, but it's the only realistic way to have another chance of them requesting to follow you once again.
The best and only method is to search their username and request to follow them. Then, they'll see your request and likely hit "follow" on your account since they're probably already familiar with who you are. In the event that you don't want to follow them first, simply drop them a direct message and explain the situation. There's a somewhat good chance they won't even notice your DM, but it's worth a shot!
From "Requested" and Back to "Follow"
If you're waiting to gain following access to someone's account and you've already requested to follow them, you may notice the button on their profile go back to "Follow". If this is the case, it likely means that they've denied your request. This doesn't mean they've blocked you, rather, they've canceled your follow request for one reason or another. Ultimately, you'll need to re-request to follow them. Sure, they'll see it again and may deny you a second or third time, but it doesn't mean they've blocked you. After all, if they blocked your account from their own, you wouldn't even be able to see their account at all (unless you're logged out).