If you're a content creator, or even if you just like making videos, a smartphone gimbal is a valuable tool. For one thing, it can be used to stabilize your camera while you're in motion. For another thing, gimbals can also be used for tracking. With face tracking technology, they can follow you around the room. Depending on your needs, you can turn your smartphone into a fully-automated camera.
Hohem is one of the biggest brands in the gimbal business. They produce all kinds of gimbals, from office-style tripod stands to handheld stabilizers. Today, we'll be looking at four of their best. These are:
Of course, this just scratches the surface of what each gimbal is capable of. Let's take a closer look, and see how they all compare.
Hohem iSteady X2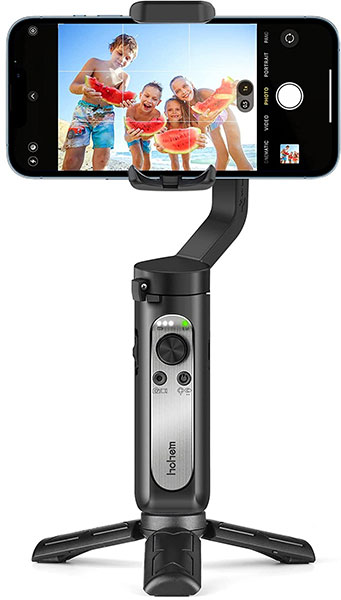 Key features:
3-axis stabilization.
4 tracking modes.
10-hour battery life.
The Hohem iSteady X2 has a fully collapsible design. It folds down to 7.04 inches long, 3.11 inches wide, and 1.54 inches thick. That's thin enough to slip into your pocket, and it weighs just 0.57-pound. It will support a 0.62-pound smartphone, which includes most phones on the market. And you can choose black or white to suit your preferred aesthetic.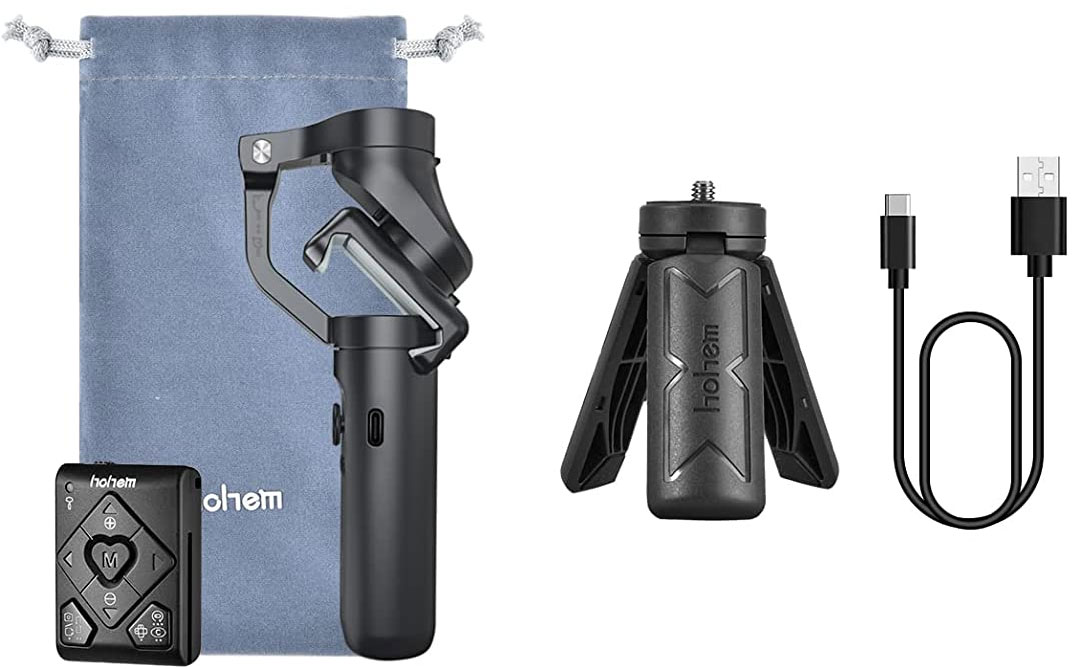 When the X2 expands, it can be used in two modes. To begin with, it can be a simple handheld gimbal. There's a full set of controls on the front and side that are easy to operate. You can turn the power on and off, or pivot, tilt, and zoom your smartphone. You can also change tracking modes, all with the press of a button. The handle is smooth and comfortable to grip. And it won't slip out of your hand while you're in motion. The kit also includes a small handheld remote, with buttons for all the same functions.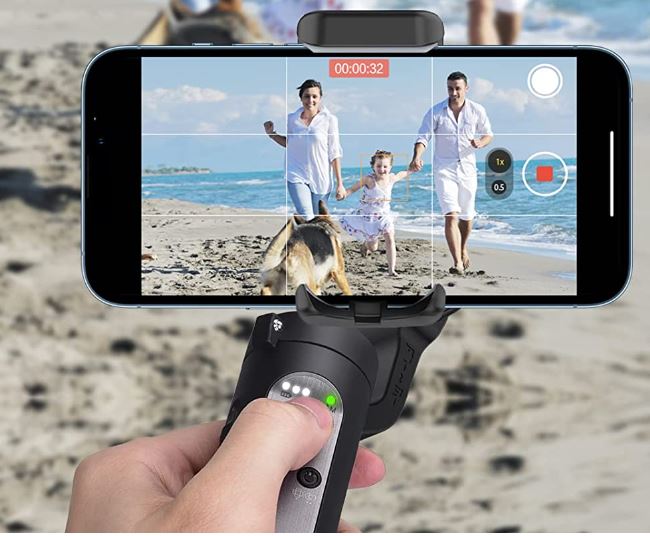 Alternatively, you can use the gimbal as a tripod. There's a little three-legged plastic stand that screws right into the bottom. Either way, your phone will have excellent support in a well-padded frame. The clamp is very secure, but it won't accommodate large cases like an Otterbox.
Performance and Ease of Use
The iSteady X2 provides three-axis stabilization when you're in motion. If at all physically possible, it will remain pointed in the same direction. This function works very well most of the time. However, some large smartphones can prevent it from rotating a full 360 degrees. This is unfortunate, since it could be fixed with a slightly larger bracket. Even so, you get good stabilization with most phones. Built-in vibration detection also keeps your camera from shaking around too much. This is an essential feature for taking smooth action shots.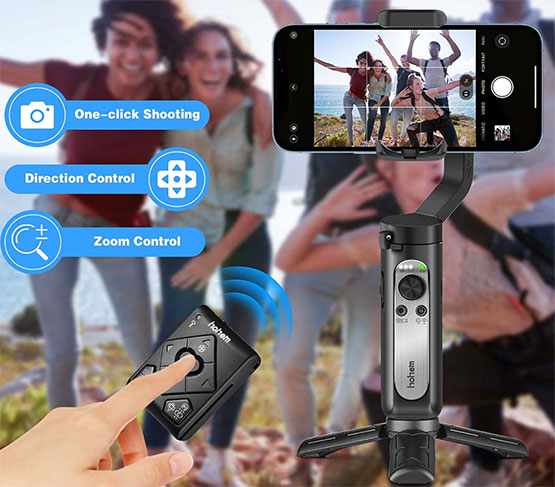 When you're connected via the Hohem app, you can access a number of other useful features. To begin with, there are four filming modes. Using object and face tracking, it can follow you in pan and tilt mode. Or you can set it to pan only so the camera's horizon line remans flat. All follow mode can follow multiple objects as they come in and out of view. And lock mode will hold the camera fixed on the same target as you move around it. The app also unlocks several templates such as a panorama mode and a Hitchcock dolly zoom.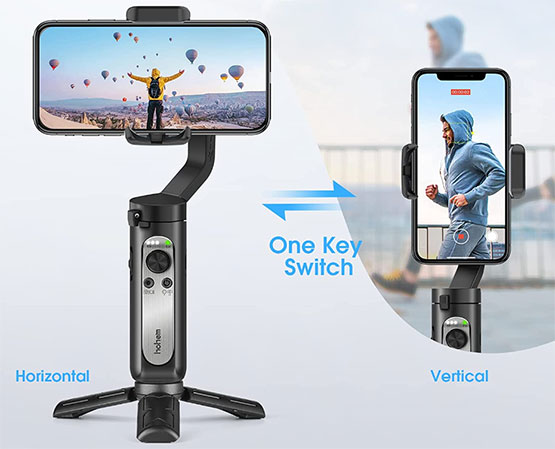 The internal 2,800mAh battery provides enough capacity to run for 10 hours. That's probably more than you'll ever need. Furthermore, the iSteady X2 doubles as a portable power bank. You can plug in your smartphone to get an emergency recharge. And when the gimbal runs dry, it will fully charge in just 2 ½ hours via USB Type-C.
What we liked:
Effective stabilization and anti-shake technology.
Straightforward controls and powerful smartphone app.
Very compact.
Doubles as a power bank.
What we didn't like:
Won't fit over Otterbox cases.
Limited roll performance.
Hohem iSteady Q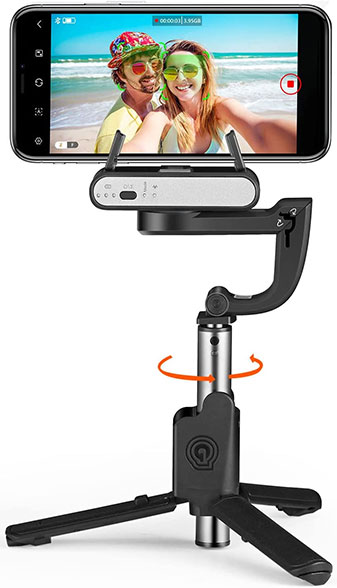 Key features:
2-axis stabilization.
Desktop tracking mode or on-the-go tracking.
3-hour battery life.
The Hohem iSteady Q is the most lightweight gimbal of the bunch, tipping the scales at a mere 0.43-pound. Despite this, it has the same 0.62-pound capacity as the X2. It's also very compact, at just 5.52 x 2.13 x 1.42 inches when fully collapsed. And you can order it in black or white to suit your preferences.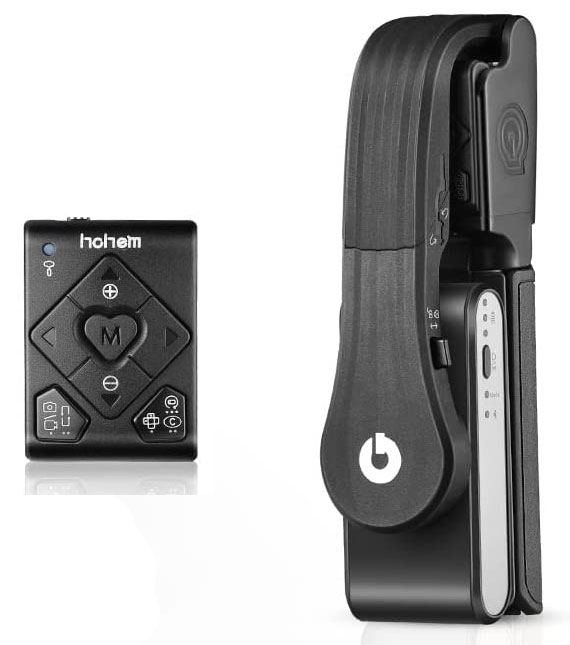 Like the X2, it works in two different modes. In one mode, the bottom opens up into a tripod, and the top bracket lays sideways. Instead of fitting into a clamp, a pair of rubber flaps cradle your phone in a pair of grooves. In this mode, your phone can pan 360 degrees around the room. You'll see a power button on the front for easy operation, alongside a row of three battery meter pips.
Alternatively, you can use the iSteady Q in handheld mode. When closed, the tripod forms a comfortable, three-sided handle. The phone, meanwhile, sits in a proper bracket between a pair of rubber grips. This keeps it reasonably secure when you're in motion.
The controls are located on a small removable remote. The remote can take one-click photos, begin and end recordings, pan, zoom, and change the camera mode. When you're using the gimbal as a handheld device, the controller snaps into a bracket on the front. This makes it easy to operate the buttons with your thumb.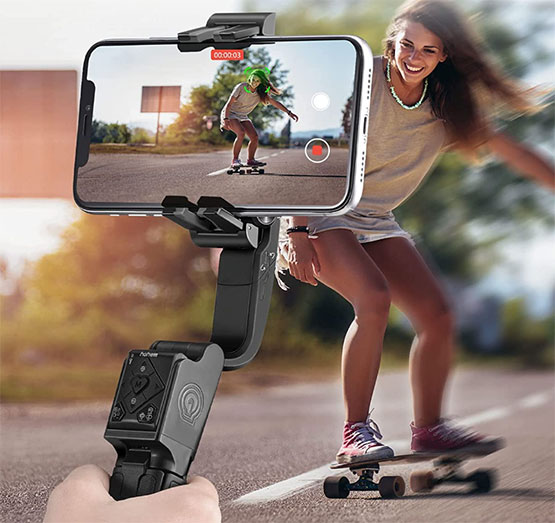 Performance and Ease of Use
The iSteady Q provides 2-axis stabilization. This means it will remain level and pan left or right to follow a subject. However, it won't stabilize along the vertical axis. If you pan up or down, the gimbal won't correct you. That said, the anti-shake technology works well enough if you're not moving around too much.
Tracking mode will work when you install the Hohem app on your smartphone and connect via Bluetooth. When used as a tripod, this mode will follow you 360 degrees around the room. It's great for giving presentations or demonstrating a process. As with the X2, the app will allow you to trigger a handful of automatic shooting modes. You can access everything from a dolly zoom to a 600-degree auto-rotation.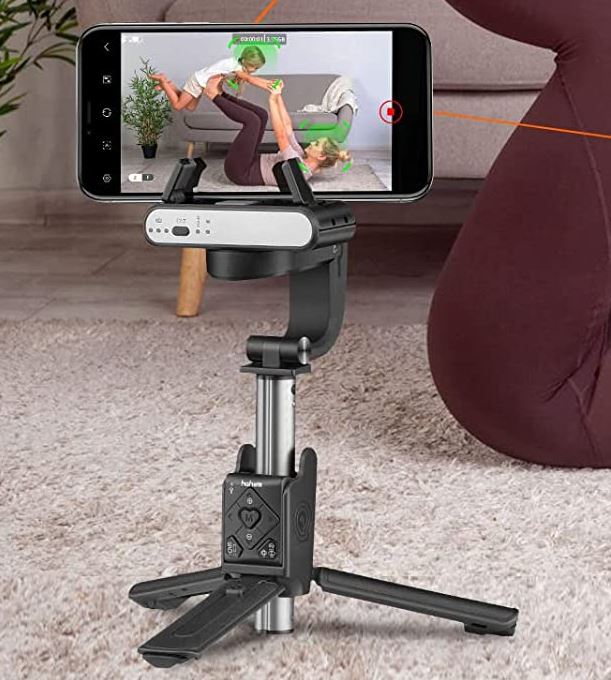 The 460mAh rechargeable battery is only rated to last for three hours. If you're looking for an all-day gimbal, this isn't it. That said, the USB Type-C charger will top off the battery in just 45 minutes. You can charge the iSteady Q while you're eating lunch and get three more hours of use in the afternoon.
What we liked:
High-quality design and excellent stabilization.
Powerful app controls.
Compact and lightweight.
Very affordable.
What we didn't like:
Setup can be a headache.

Short battery life.
Hohem iSteady Mobile Plus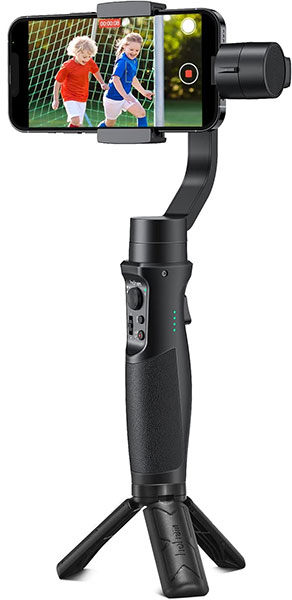 Key features:
3-axis stabilization.
2 tracking modes.
13-hour battery life.
The Hohem iSteady Mobile Plus is a bigger, beefier gimbal. Even when collapsed, it measures 13.3 inches long, 5.8 inches wide, and 2 inches thick. Needless to say, you're not fitting this bad boy into your pocket. Fortunately, it comes with a carry case with thick, molded padding and a semi-rigid shell. Despite its size, it weighs in at just 1.09 pounds. And it can support a 1.04-pound phone, which allows for even the largest phones and fattest cases. The spring-loaded bracket is very secure, and will retain your phone even during strenuous activity. It's also well-padded, which keeps your phone safe from damage.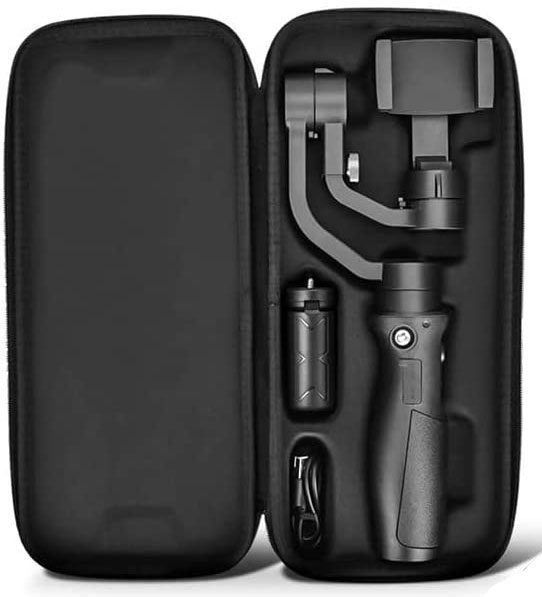 The Mobile Plus is made from a sturdy black plastic, and is contoured for a comfortable grip. The handle is slightly textured, which makes it easy to hold onto. And the buttons near your thumb allow you to perform several useful functions. You can take pictures, stop or end recording, pan, tilt, zoom, and change your tracking mode.
The kit includes a small tripod base, which screws into a threaded hole on the bottom. The threading is standard, so you can also use it on any ordinary tripod.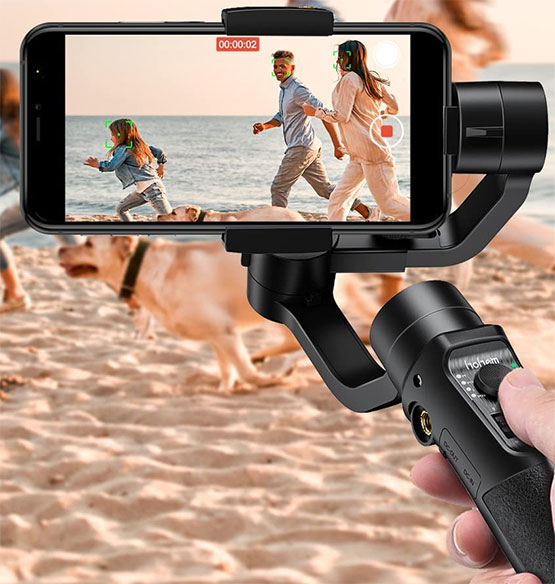 Performance and Ease of Use
The iSteady Mobile Plus relies on the Hohem smartphone app for operation. It's capable of face and object racking, with a wide, 600-degree rotation range. It can move and stabilize your camera across all three axes. The anti-shake function is superb, and works very well during action shots. You can run, bike, or ride a skateboard and the camera motion will remain nice and smooth. You can also set the gimbal to pan mode only, or to remain fixed on a single point.
As with the other gimbals, you'll have access to Hohem's multiple video templates. However, you'll also have access to a unique beauty touch-up function that works similarly to an Instagram filter. That's a puzzling feature for an action camera gimble. But it's still a nice extra touch.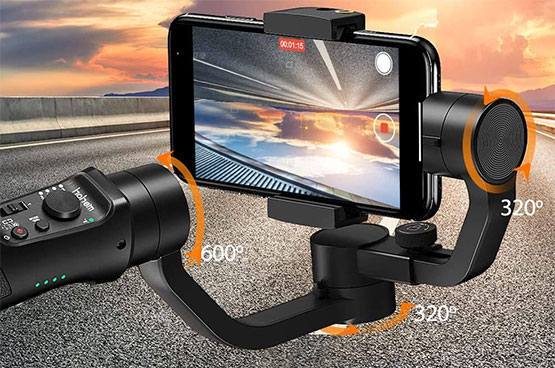 The 3,600mAh battery will last for an impressive 13 hours. It can also function as a power bank to top up your phone in an emergency. Unfortunately, the iSteady Mobile Plus uses Micro USB to recharge, so charging takes 90 minutes.
What we liked:
Exceptional stabilization.
Powerful smartphone app.
Ergonomic grip with straightforward controls.
Doubles as a power bank.
What we didn't like:
Charges via Micro USB.
Won't accommodate fatter phone cases.
Hohem Go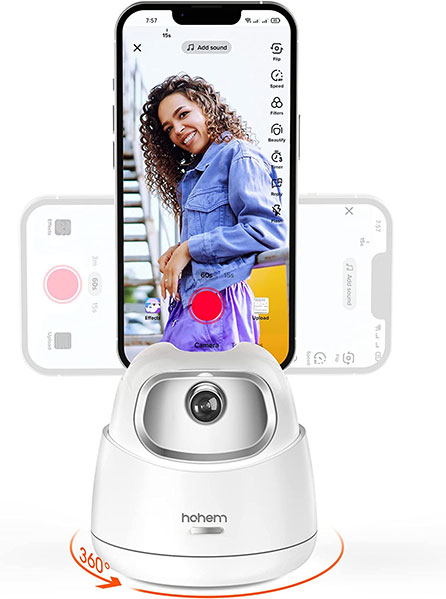 Key features:
2-axis tracking.
360-degree desktop stand.
8-hour battery life.
The Hohem Go is a small white pod that's designed to sit flat on a surface. It measures 3.5 inches in diameter and stands 3.5 inches tall, with a padded slot in the top. The slot is designed to accommodate a smartphone or tablet up to 0.51-inch thick and 11 inches in size. It can also support 1.06 pounds, which will include any tablet that would fit.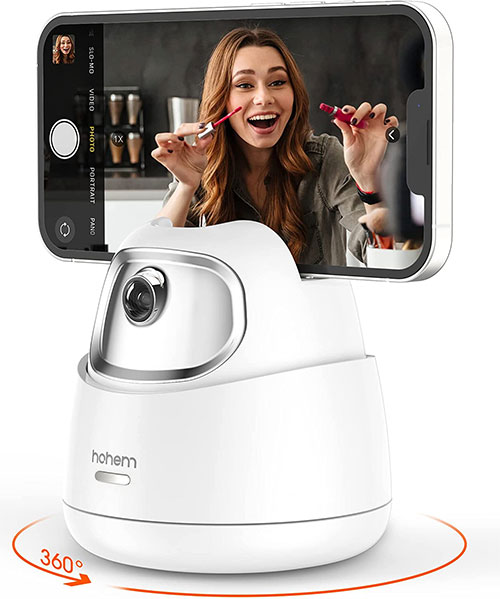 If you don't have a surface handy, the Go will also mount on a tripod. It has a standard ¼-inch threaded hole in the bottom for just that purpose.
Performance and Ease of Use
The Hohem Go tracks your face in a 360-degree rotation, as well as 30 degrees vertically. There's a camera built into the front, so no smartphone app or Bluetooth connection is require. Instead, you start and stop tracking with simple hand gestures.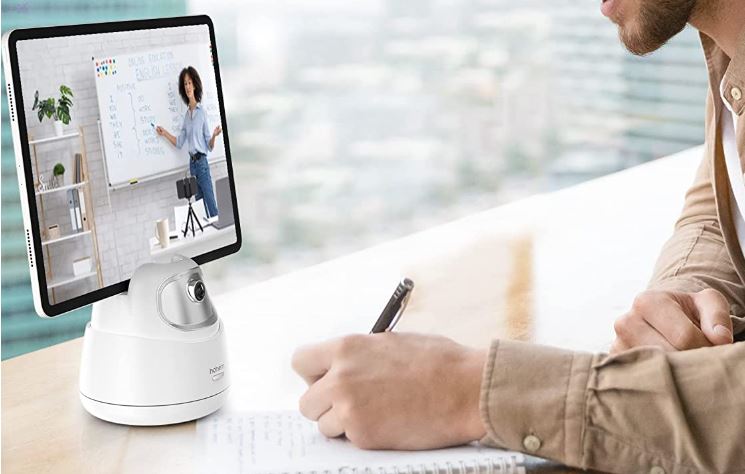 The battery has a capacity of 2,000mAh, which is enough to last for eight hours of operation. It charges in two hours via USB Type-C.
What we liked:
No app or Bluetooth required.
Supports phones or tablets.
Simple gesture controls.
Great for presentations.
What we didn't like:
No advanced features.
No app controls.
Final Verdict
All four of these Hohem gimbals could be the right choice for some people. But which one is the best for you? Let's recap what we learned about each one.
We started out with the Hohem iSteady X2. This is the best generalist of the group, with a good balance of all-around features. It's not the best for any one task. But if you want a gimbal that's equally well-suited for stationary and action shots, this is it.
The Hohem iSteady Q was second on our list. This is an affordable, lightweight gimbal that's more of an entry-level model. That said, it's small enough to carry in your pocket, and it works very well in tabletop mode. It's not ideal for handheld use, but at least you get access to Hohem's app features.
The Hohem iSteady Mobile Plus is the best choice if you're looking for a pure action camera gimbal. It's pricier than the others, but it's tough, rugged, and offers top-tier anti-shake performance.
The Hohem Go is just the opposite. While it's not suitable for use as an action camera, it's great for tabletop or tripod use. If you want the perfect gimbal for presentations, look no further.
Meet Derek, "TechGuru," a 34-year-old technology enthusiast with a deep passion for tech innovations. With extensive experience, he specializes in gaming hardware and software, and has expertise in gadgets, custom PCs, and audio.
Besides writing about tech and reviewing new products, Derek enjoys traveling, hiking, and photography. Committed to keeping up with the latest industry trends, he aims to guide readers in making informed tech decisions.