You've just built yourself a PC. You've hand selected every component, nearly organized your cables, and paid a little extra for a nice windowed case that shows off all of your hard work. When we create something, there is a sense of pride. It only makes sense that you'd want to show it off.
Alternately, perhaps you're a little tight on desk space. You need your work space to be clean and efficient. That means having the computer tower mobile so you can push it out of the way when your boss brings by another tedious stack of paperwork to deal with.
Both of the issues we've described are easily solved with an inexpensive computer tower stand. The question is, which one do you buy? Let's take a look at the three best models on the market. We'll help you find the one that best suits your needs, and explore the differences between them.
Monoprice Multi Media Desktop Stand
If you're a price conscious shopper, you've likely heard of Monoprice. They got their start in the cable industry. At the time, this industry experienced extreme price gouging. For example, Wal-Mart once stated that they make more money selling you the HDMI cable to hook up your PS3, than they did on the PS3 itself. Monoprice went manufacturer direct, selling the cables for only a few dollars apiece. Today, they offer a wide range of high tech products across all ranges, and this multimedia desktop stand is the next entrant in their affordable yet high quality lineup.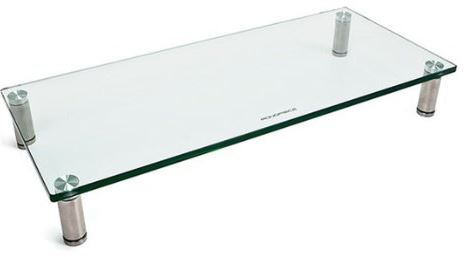 Design
Visual appeal is one of the main selling points of the Monoprice Multi Media Desktop Stand. The base is made from a solid piece of glass. It's supported by four bonded aluminum pillars, making it look like a premium coffee table. The simple yet well stated appearance of this stand highlight the already stylish look of your case, making your desk look much more elegant.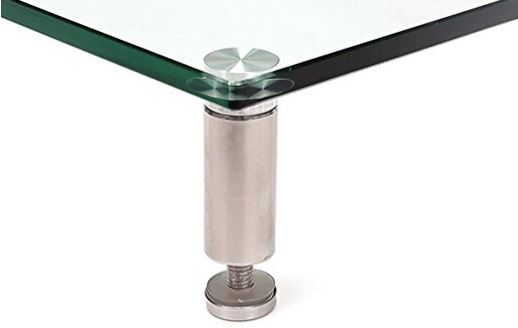 This model looks especially nice if you're using it with a glass top desk. The stand looks more like an extension of your existing desk, rather than an addition. If you're looking for something a little more aggressive looking, there is also black dyed glass. It has the same shiny finish, but isn't transparent. For certain environments, you might find that model more attractive.
Overall, the sleek look makes this the most stylish model on our list, and it would make a great addition to any environment where appearance is important to you.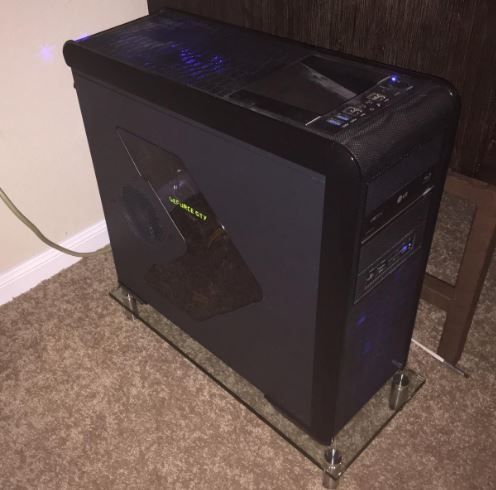 Functionality
Although this is sold primarily as a computer tower stand, it's actually quite versatile. You can place your monitors on it, freeing up space to slide your keyboard underneath when not in use. They also have several different sizes available, making it suitable for different applications. There are two different widths available – 9.5 inches and 11 inches. If you're placing a computer case on it, the 9.5 inch design is a little more subtle, while the 11 inch version will stick out on either end of the case. For monitors, you should quickly measure your stand to see which one best suits your needs.
The smaller width comes in lengths of 22 inches or 25.6 inches. If you go for the wider one, you can choose from 27 inches or 30.8 inches. These larger models are ideal if you want to put speakers, pen holders, or anything else next to your monitors.
No matter which model you choose, the height is always adjustable. The four legs have a threaded base. Unscrewing them increases the height, and tightening them lowers it. This is fantastic if you plan to store anything under the stand, or if you have a smaller case that you want to raise off the table a little more.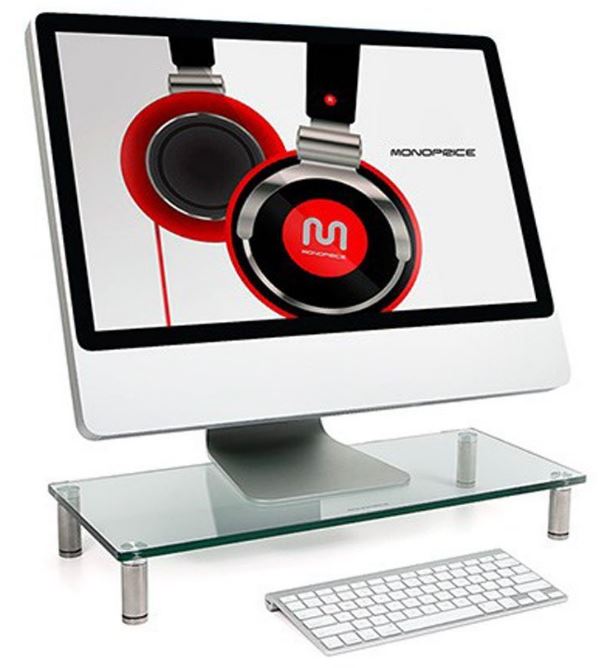 Durability
Glass is always considered to be a pretty fragile material. But in this circumstance, it's actually quite strong. For starters, the glass is quite thick. Much thicker, in fact, than your typical household window. Because it's not mobile, it's highly unlikely that any harm will come to it. It doesn't matter if you accidentally drop something onto it from a short distance or knock it against something, cracks are unlikely. While we wouldn't recommend dropping it from afar, it's certainly built well enough for this application. The main reason that this works so well is the fact that it's a stationary stand. When you're not going to be carting it around all over the place, you have a lot more flexibility with what materials you use to build your stand.
Kantek CS200B Mobile Stand
Kantek is an importer that provides high quality, reliable components to the users who need them. While most of their product line is business centric, they've recently begun promoting a number of consumer goods. For you, this means a few things. This stand will have the features that appeal to both the business and consumer marketplace: it's affordable, lasts a long time, and still reasonably stylish. It also means that this stand is adaptable, designed to be used in a number of different situations.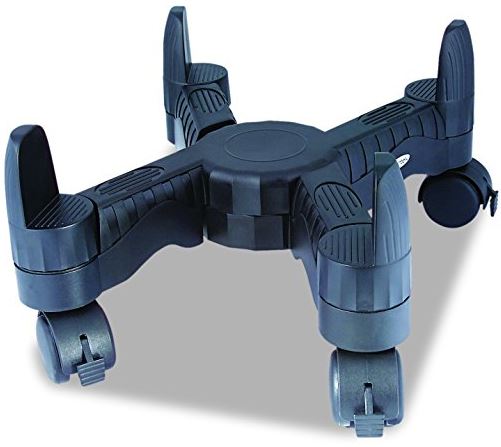 Design
The appearance of the Kantek CS200B Mobile Stand is reasonably utilitarian. Everything serves a purpose. That being said, it's very clear that some effort was put into making it look decent. The upper feet have large, rounded boundaries that hold your case in place. If you were to remove the computer, you'd see that the entire thing looks like a large X. This is hinged, so it can expand to suit any size case.
We were particularly font of all the rounded edges. It makes the stand look like it's supposed to be a part of your case. Not so much like an accessory, but something that was intentionally integrated. It's very unassuming. It doesn't bother the eye, but it certainly won't make any unnecessary effort to capture your attention. It doesn't matter whether you've got a generic beige box or a stylish gamers case, this stand won't take attention away from where it's due.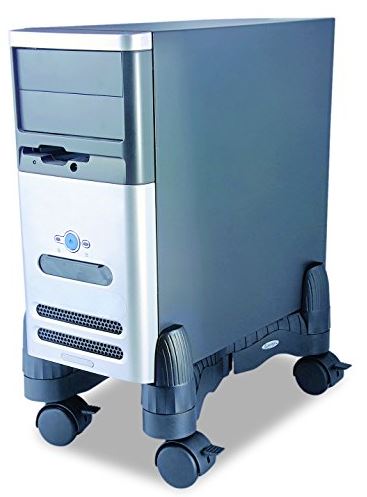 Functionality
Using this stand is very simple. Once you unpack it, you'll find that it's quite compact. You just grab two sides of the stand and pull it apart, spreading the separate brackets. Once you've got it large enough, you can plop your case down on top. Even if the supporting brackets aren't close enough, the flat top is still secure enough for your case to stand without any risk of it toppling over. You can now gently close the sides of the case and the grippy ends will automatically pinch the case, keeping it supported.
This style of case is especially useful for an environment where you might need to move your computer around. The four wheels on the bottom are reasonably large, allowing it to be transported across both carpeted and solid ground. When you're ready to keep it stationary, a separate lock is located on each wheel. We were surprised how sturdy the case was when locked, so there should be no concerns over it rolling away.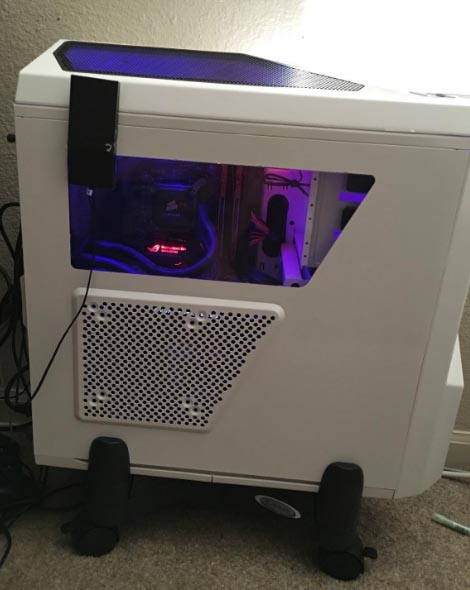 Durability
Although it's made from plastic, the build makes it surprisingly durable. The plastic has been corrugated internally, which allows the manufacturer to create something structurally sound, but also very lightweight. There are some hinged mechanisms, but this is simply conjoined plastic sliding against itself. Overall, it's a very durable system that can take more abuse than your typical stand.
3M Adjustable CPU Stand
3M is a company that's known for their high-end business products. Most of their clients are after strictly utilitarian products, with durable, no-nonsense finishes. And that's exactly what you get. Something that can last for a very long time, and function well in a variety of situations.
Design
While this is strictly a no-frills stand, closer inspection will reveal that a lot of care went into the design. Every moving part of the 3M Adjustable CPU Stand is connected on at least two pivots. This allows for minimized wear and tear, and additional usage scenarios. For example, the elongated bars will support a full-size tower. These tall towers need additional support on the bottom to reduce the risk of toppling over, especially when they are being moved.
Functionality
This is one of the areas where the 3M stand really excels. The width of this stand is adjustable from 3.75 inches all the way up to 9.25 inches. This allows it to contain anything from the largest server-grade towers to the ultra-compact MITX PCs. The castors have a lot more clearance than the previous model, and the brakes are much sturdier. This allows improved performance in tough environments, with a greater focus on reliability.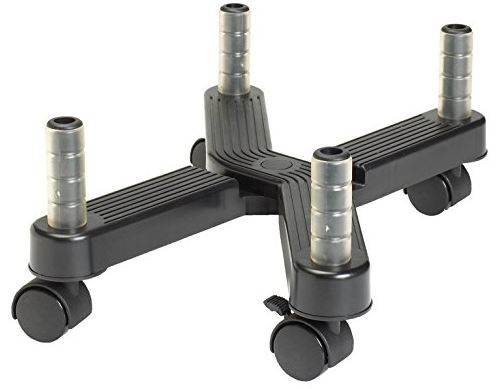 Durability
It might not look like much from the images, but this is one durable stand. It can support a whopping 50 lbs – a weight that very few computers have. When opening and closing the mechanism, the smooth and solid motion clearly demonstrates that this stand is much more durable than any other stand we've tested. The metal arms are also quite well made. Since these are what will take the most pressure, it's nice to see that they're made from such a reliable material. We're also impressed with the plastic caps that are placed on top. In the event everything isn't lined up when you stick your computer in, these caps will prevent the stands from scratching your nice expensive tower.
Which Computer Tower Stand is Right for Me?
With these three models, we've seen quite a few different approaches to solve a common problem. Which one you choose depends on how you intend to use the tower, and how much reliability you expect from it.
For the consumer market, our top choice would be the Monoprice Multi Media Desktop Stand. It's by far the most attractive of the bunch. If you've selected a stylish computer case, the metal and glass construction will really add to the visually appealing environment you've created. That being said, Monoprice has taken a lot of steps to ensure that these stylish materials are also quite durable, so you don't have to worry about any damage coming to you new purchase.
Plan on moving your computer around? In this case, we'd recommend upgrading to a stand that has wheels built in. The first one you should look at is the Kantek CS200B Mobile Stand. This is one of the most conservative looking stands. Almost all of the structural components are hidden underneath your tower, so all you really see is the supporting brackets and four little wheels sticking out the bottom. This stand has four castors, so you're able to move it around when necessary, or lock it in place when you need. But the Kantek is ideal for more compact cases, standard ATX or below.
If you've got a full-tower case or a lot of heavy equipment inside, the 3M Adjustable CPU Stand is a better option. It's much more durably made, and the metal supporting bars are taller, allowing for it to comfortably support a taller tower. If durability and reliability are your key features, then 3M is the way to go.