If you're a PC user, chances are you've seen a lot of setups with the tower on the desk. But what if you don't have room for that?
The next best option is going to be putting your PC on the floor. However, you shouldn't put it directly on the ground. Instead, you should use a computer tower stand.
Reasons to use a Tower Stand:
Increase airflow to improve the internal temperature
Reduce dust intake
Makes it easier to move when needed
Important Considerations:
Materials: The materials used need to be high quality and durable, to make sure they don't break while in use or if your computer is moved.
Looks: A good setup elevates to great based on looks. We wanted to find tower stands that didn't take away from the aesthetics of your setup.
Size: PCs come in all shapes and sizes, so making sure the stand you select will fit, is critical.
Weight Capacity: How much weight can it support? PCs can be very heavy, so making sure that the capacity is up to par is a consideration that should be prioritized.
Best Overall: EUREKA ERGONOMIC Height Adjustable Computer Tower Stand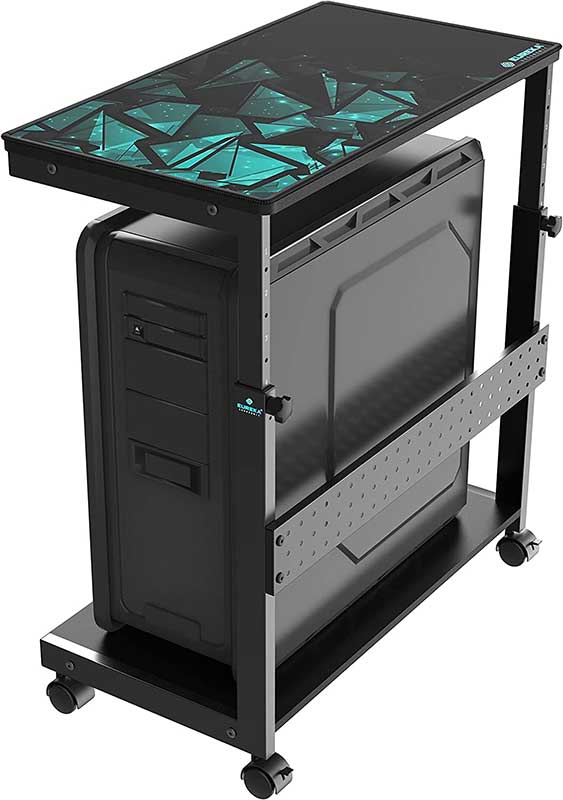 Key Features:
Durable metal construction
Adjustable height
25.2" L x 13.8" W
17.64 pounds
Bottom shelf can hold up to 88.2 pounds, top shelf can hold up to 69.9 pounds
Our most unique pick for the list is the Eureka Ergonomic Height Adjustable Computer Tower Stand. With its adjustable height (22.6 to 32.7 inches) and its high weight capacity (88.2 pounds), you can be sure that it can handle just about any tower.
One aspect that sets it apart from the rest is its organizational features. The side comes with metal pegboard organization area so that you can hang headphones, baskets, and other accessories from it. The top is an adjustable height shelf that comes with an optional stitched edge non-slip mousepad.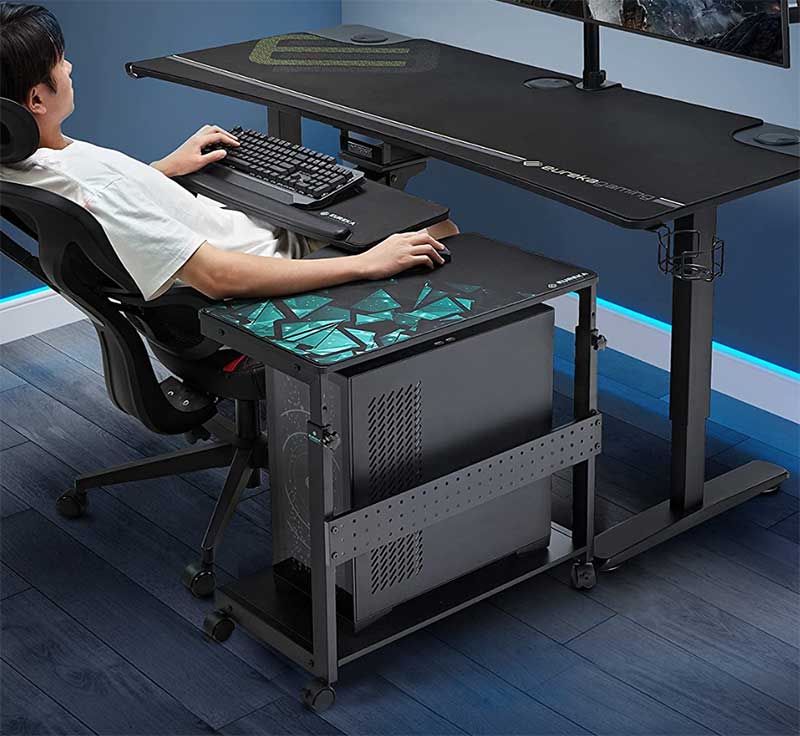 The typical use for this top shelf is a place for a printer, general storage. It can even be used as an area to lounge back and use your mouse on. The adjustable height also assists with heat dissipation so you don't completely box-in your case.
Best of all, it's made from a powder-coated steel frame to help with the high weight capacity. It also comes with four lockable wheels to make moving this whole setup a breeze. The materials used in its construction are designed to help reduce wear and tear.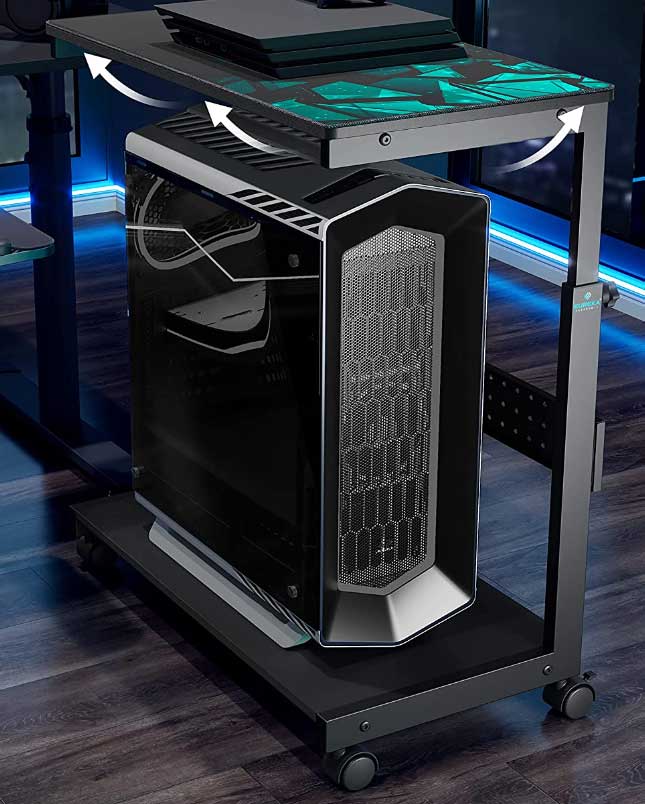 When it comes to looks, the Eureka Ergonomic Tower Stand comes in a standard black powder-coated finish. As a free bonus, there's also a black and greenish-blue mousepad (which may or may not match your setup depending on the style you're going for). While it won't necessarily blend in, the all metal construction gives it an industrial look that can compliment any computer quite well. In our opinion, this is a great addition to any setups that have black as a primary color.
Pros:
Great weight capacity
Comes with a free mouse pad
100% money-back guarantee within 30 days.
Keeps your whole setup organized, not just the PC
Cons:
Bulkier construction
No raised side panels, only side protection is from the peg board
Most expensive
Best Alternative: ORICO Computer Tower Stand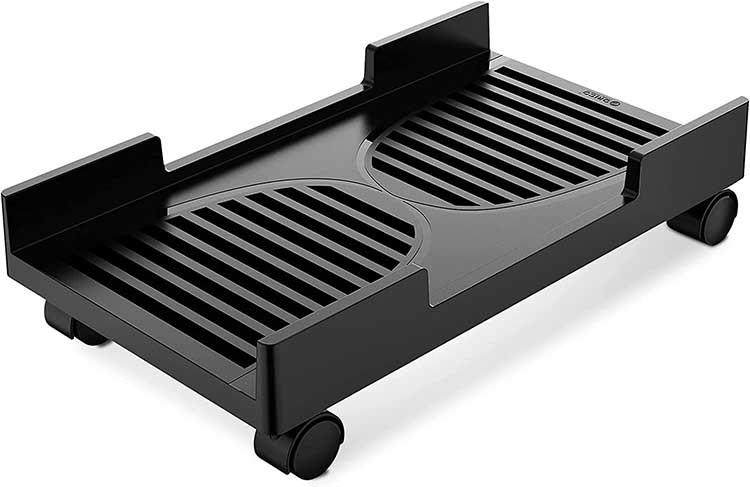 Key Features:
Durable ABS plastic construction
18.11 x 10.24 x 1.77 inches
1.6 pounds
Holds PC's up to 44 pounds
The ORICO Computer Tower Stand is a great option to elevate your PC. It's made from durable ABS plastic to ensure your case won't crush it. This plastic is hollow on the bottom, which helps to control temperatures inside the tower. If your temperatures do get high for any reason, the plastic used is high-temperature tolerant so deformation or melting simply won't occur.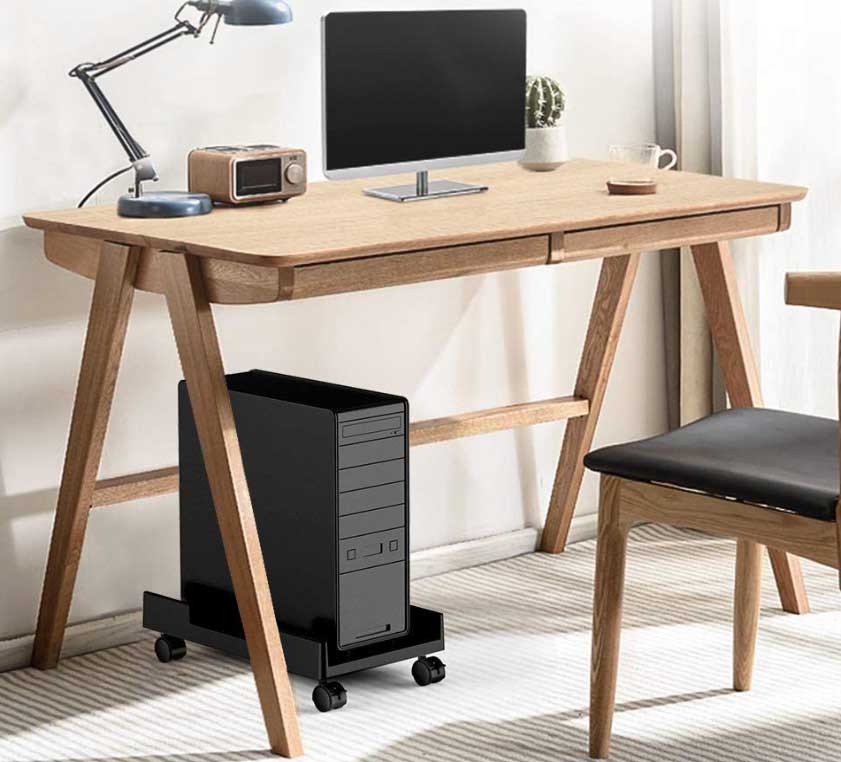 Compared to our other picks, the edges of the tower stand have one of the highest elevation. This helps box-in your case and keep it from falling off the sides. It also has 4 wheels on the bottom, however, only two of them have locking mechanisms. Because of this you'll have to make sure you set it up in a place that it won't easily be bumped.
When it comes to aesthetics, this is a good-looking option. It's completely black in color, which blends in nicely with most setups. Since it doesn't surround the PC like the EUREKA, it shouldn't stick out nearly as much. Based on that, we would recommend it for virtually any setup.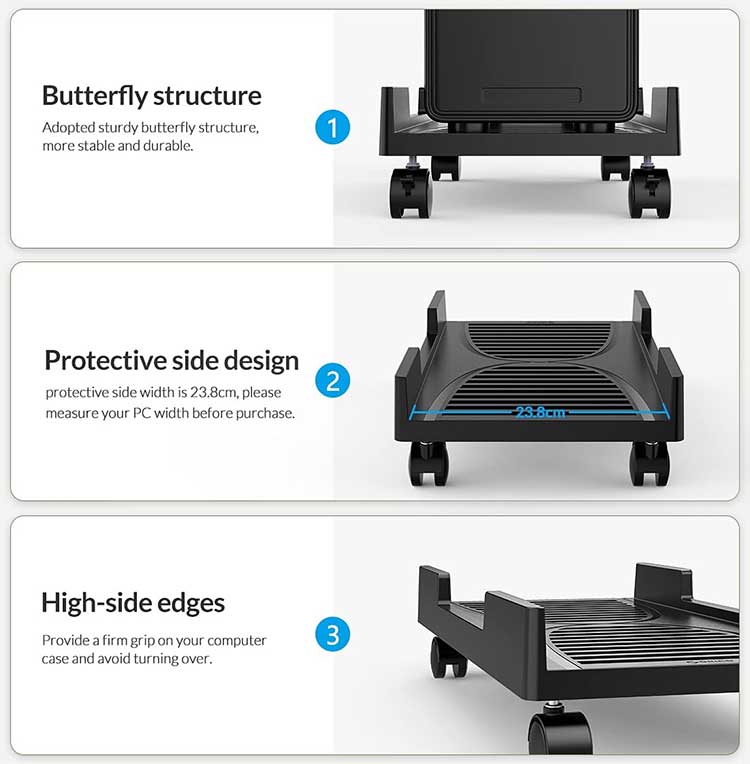 The ORICO comes in a middle of the road spot in regards to how much it can hold. While it is durable, its maximum weight capacity is 44 pounds. This should be plenty for most normal workstation PCs and low to mid-range gaming rigs. However, for larger cases/towers with more components, this might not be your best option.
Pros:
Comes with wheels to make moving easy
Extremely durable plastic construction
Raised sides to secure your PC
Cons:
Manufacturer claims it can hold both 44 and 55-pound PCs which is confusing, so stick with 44-pound limit to be safe.
Best for Heavy Computers: BYTESIUM PC Tower Stand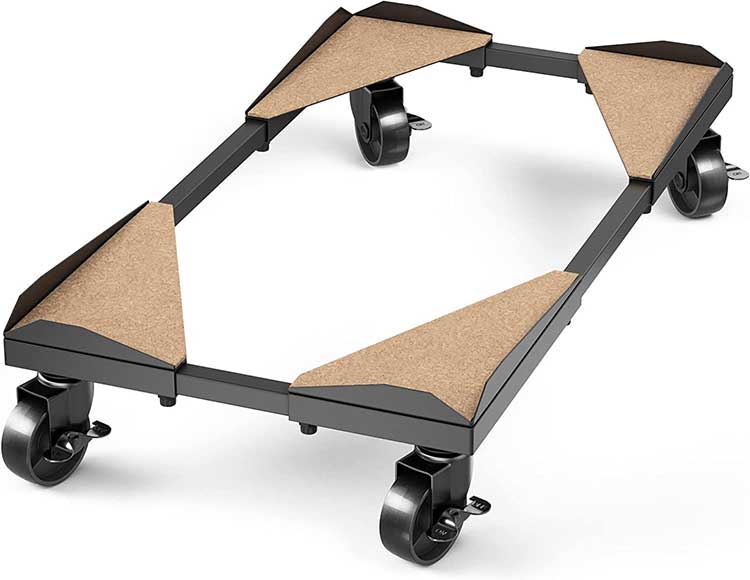 Key Features:
Cork anti-slip padding
Adjustable length and width
Raised corners for computer safety
(14.17 to 25.39) x (7.87 to 14.17) x 3.42 inches
Weighs 4.54 pounds
Can hold up to 110 pounds
If you want the best blend of durability and customization, the Bytesium PC Tower Stand is for you. It's the first (but not only) stand on our list featuring both length and width adjustments. This custom width adjusting means virtually any computer case will fit perfectly into place. The design makes this process extremely easy. Just unscrew the size adjustment screws, fit it to your case size, and screw them back into place.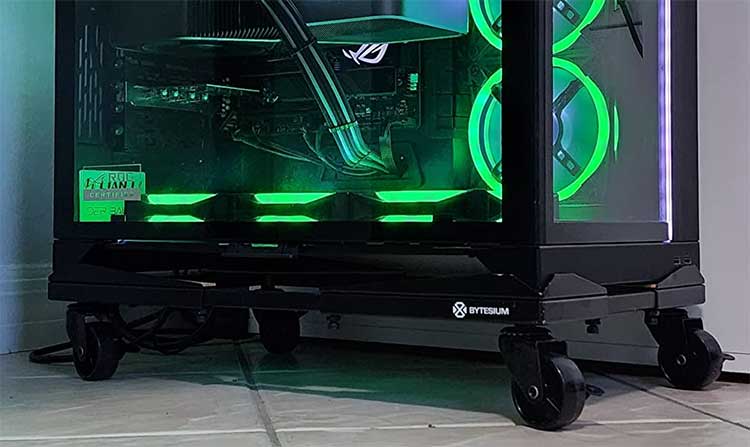 The bottom of the BYTESIUM is an open concept except for four triangle metal corners. These corners hold up the entirety of your PC. At first glance, it almost seems like it won't hold much weight. However, it can hold up to 110 pounds, giving it the highest weight capacity featured here. This makes it a great choice for those who have high-end gaming rigs in heavy, bulky cases. The open bottom is also perfect for improving airflow to your PC.
To make sure the computer doesn't fall off, it has a couple different features. The first is raised edges to help the case from tipping off the sides. Our only issue with these edges is that they only raise in the corners, not the entirety of the stand. There's also cork padding at each point of contact in order to help reduce case slippage. The last security feature is four high quality caster wheels that can each be independently locked.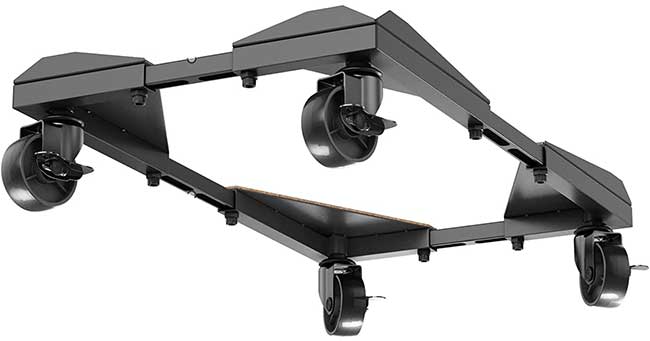 The Bytesium PC Tower Stand is another great option if you're looking for something discreet. It comes in a black powder-coated finish that blends in nicely with your case. However, it is a bit more noticeable than others when it comes to the corners. The only part that isn't black is the cork padding, but that'll be under your case anyways, so it shouldn't affect appearance.
Pros:
Highest weight capacity on the list
High-quality locking caster wheels
Solid metal construction
Widest range of length and width for wide customization
Cons:
Only available in black
The only raised side protection is on the corners
Assembly can be a headache
Best Side Panel Security: VIVO Computer Tower Stand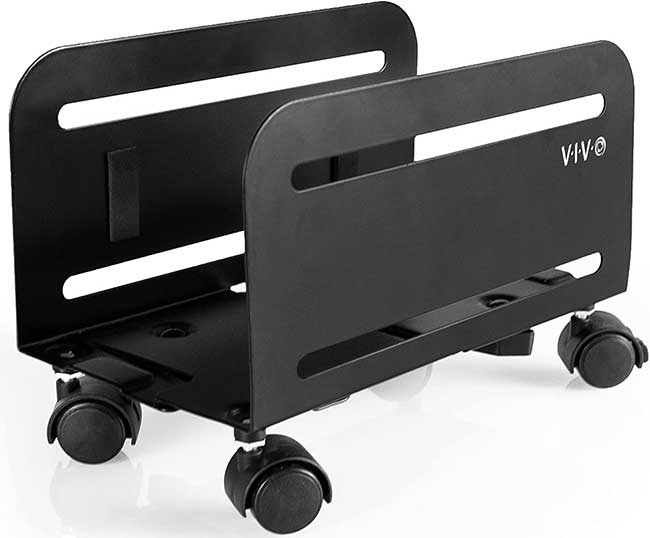 Key Features:
Adjustable width to fit a variety of case/tower sizes
Two different versions of the stand
10.3 x (4.7 to 8.2) x 5.2 inch dimensions
3.3 pounds
22-pound PC capacity
The VIVO Computer Tower Stand is a great option for those with a wider PC case. It's unique in that it has a fully closed base that can widen from 4.7 to 8.2 inches on the standard model, and 7.8 to 14 inches on the larger model. The bottom has two screws with grips to loosen and fasten the case when adjusting the width. You're also able to have your case straddle the top of the stand since it has no front edges. Simply put, don't worry if your PC is longer than 10.3 inches.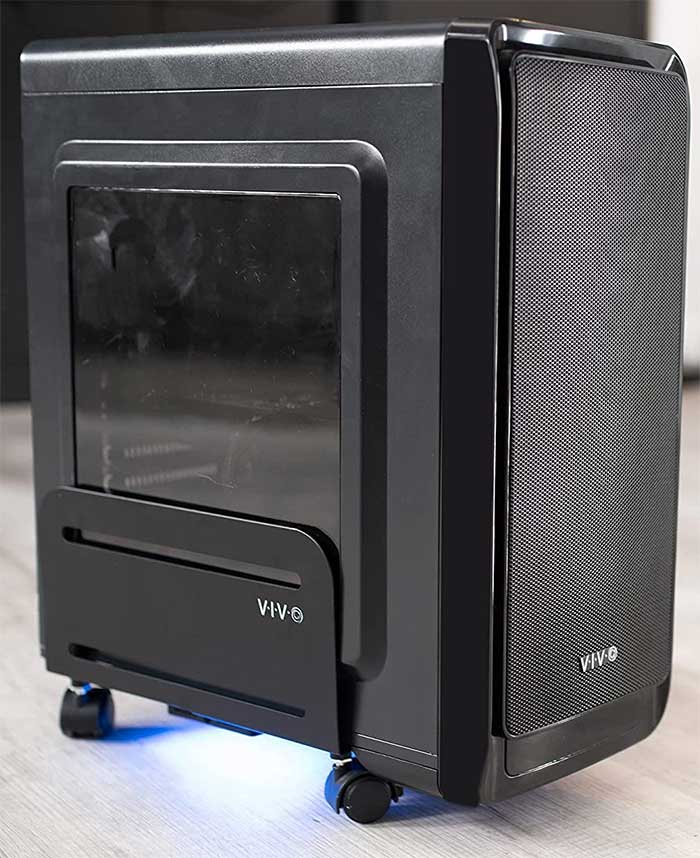 Made completely out of steel and included with four locking caster wheels, it's durable to a point. The smaller version can only hold towers up to 22 pounds, but the larger version can go all the way to 66 pounds.
This stand features the highest side panels of any option on this list. These panels are also generously padded to keep your case from moving and scuffing. While it does have a metal bottom, it's designed with a slot in the middle to improve airflow and keep your system from overheating.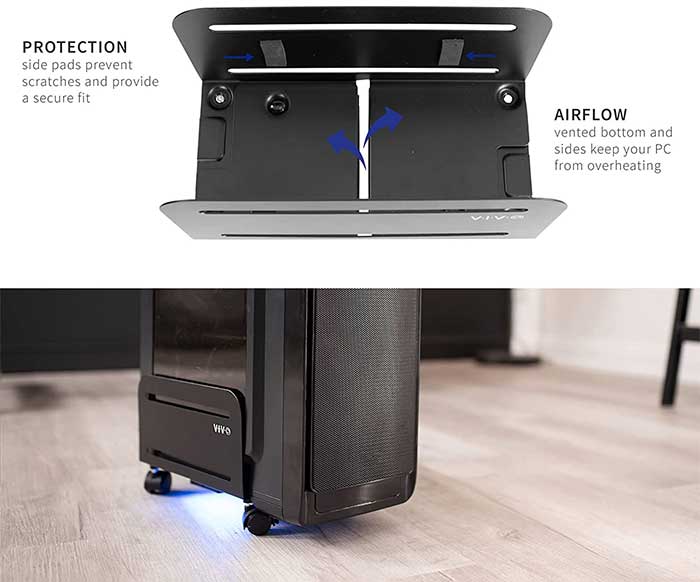 For the smaller model, you can purchase in both black and white color schemes. However, if you want the larger of the two, you'll only be able to purchase it in black. The VIVO Computer Tower Stand is a good-looking choice. But if you have a gaming computer with a tempered glass side panel, you may have some of the internals blocked by the raised sides.
Pros:
Comes in both black and white color schemes
Sides are raised extremely high for ideal stability
Custom width adjustment
Padded side panels
Very affordable; good quality for the price
Cons:
Relatively low weight capacity
Raised sides may not be for everyone
Best Budget: Liitrton Mobile Computer Tower Stand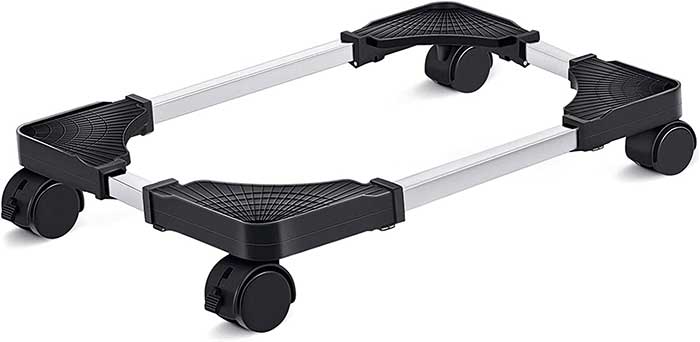 Key Features:
Extremely discreet
No side panels
Adjustable length and width
(16.93 to 22.44) x (9.06 to 14.57) x 2.76 inches
1.48 pounds
The Liitrton Mobile Computer Tower Stand is a great option if you want a budget stand that blends into your setup perfectly. Coming in at only 2.76 inches tall and with no raised sides, once your tower is on top of it, you'll hardly know it's there. The manufacturer doesn't list a weight capacity. However, with some further research into questions and reviews from others, it seems to be able to hold ~50 pounds. When it comes to airflow, this is a great choice as it has no bottom base, keeping air moving nicely.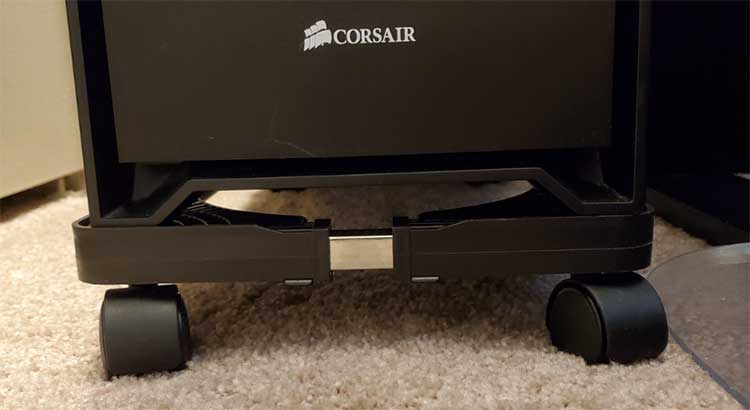 This is the second option on our list that has length and width adjustments. Although it has a smaller range than the BYTESIUM, the way you adjust the size is much easier. Each corner has a plastic latch that you open to unlock the sides, then simply slide to your desired size and close the latch.
The frame is made of metal, with the corners covered in a non-slip ABS plastic. This plastic is designed to hold your computer in place while resting on top. Similar to all the other options on this list, four caster wheels are included. Unfortunately, only two of them are locking.
Its lack of raised sides does help it to blend in, but it also has an increased risk of the tower falling off the sides. The plastic should combat this, but just make sure to put it in an area where it won't get bumped on accident – just to be safe.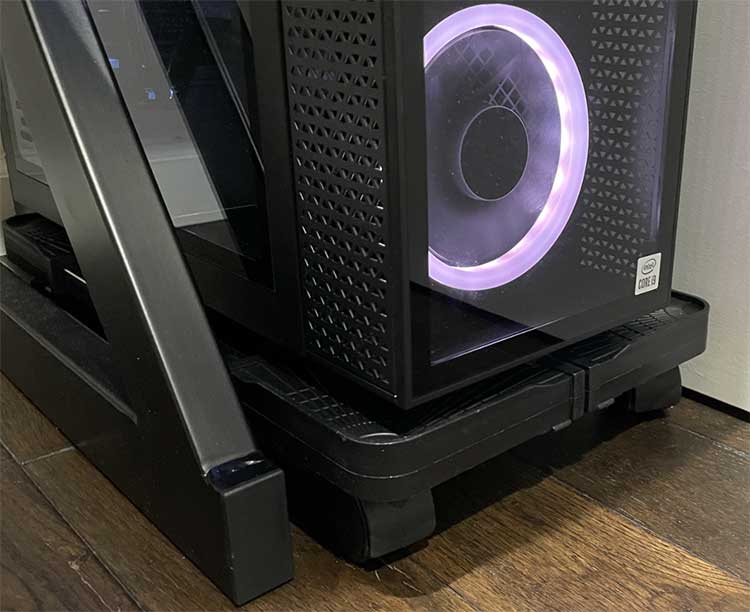 With three different color options (black, white, and grey) available, there's likely an option to make it flow with your style. That said, the Liitrton is by far the most-discreet option on this list, so it'll likely go well with virtually any setup.
Pros:
Adjustable length and width
Non-slip surface material
Low profile design
The cheapest option
Cons:
No listed weight capacity
No protective sides