Have you been dreaming of the perfect solution to maintain your pool's pristine condition with minimal effort? You've come to the right place.
We've dived deep into the world of battery-powered cordless robotic pool cleaners and emerged with a list of top performers that cater to various preferences and budgets. Get ready to make your pool maintenance hassle-free and efficient with these remarkable devices:
Now, let's dive into the detailed reviews of each product, where we discuss their key features, advantages, and potential drawbacks. Discover the perfect cordless robotic pool cleaner that will make your pool maintenance a breeze and transform your swimming experience!
Best Overall: Ofuzzi Cyber 1200 Pro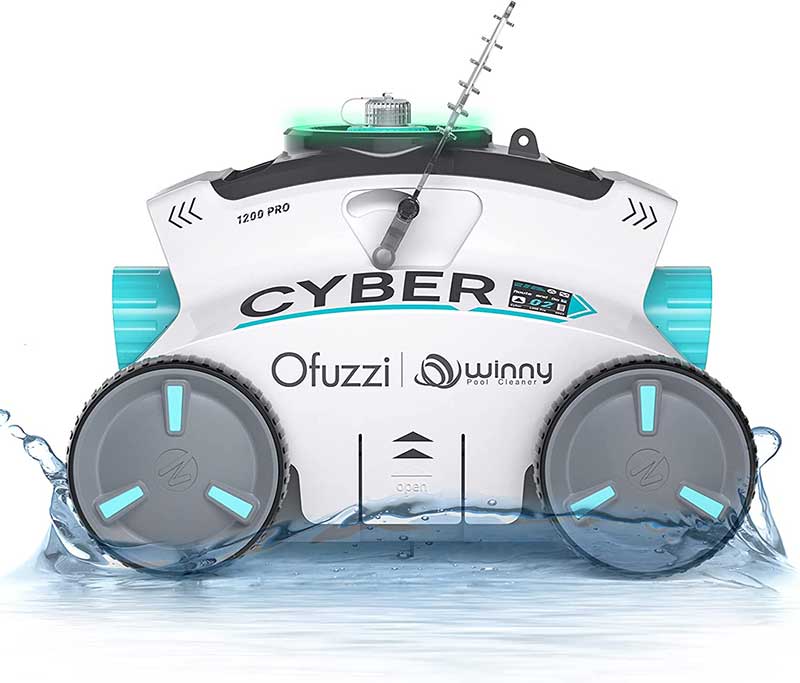 Key features:
Intuitive lighting system for easy status monitoring
Smart double navigation for complete pool coverage
Enhanced suction power with dual motors
User-friendly design and self-docking capability
Our team recently tested the Ofuzzi Cyber 1200 Pro, a wireless robotic pool cleaner suitable for above-ground flat-bottomed pools up to 1,076 square feet. This model is available in two colors: blue and orange.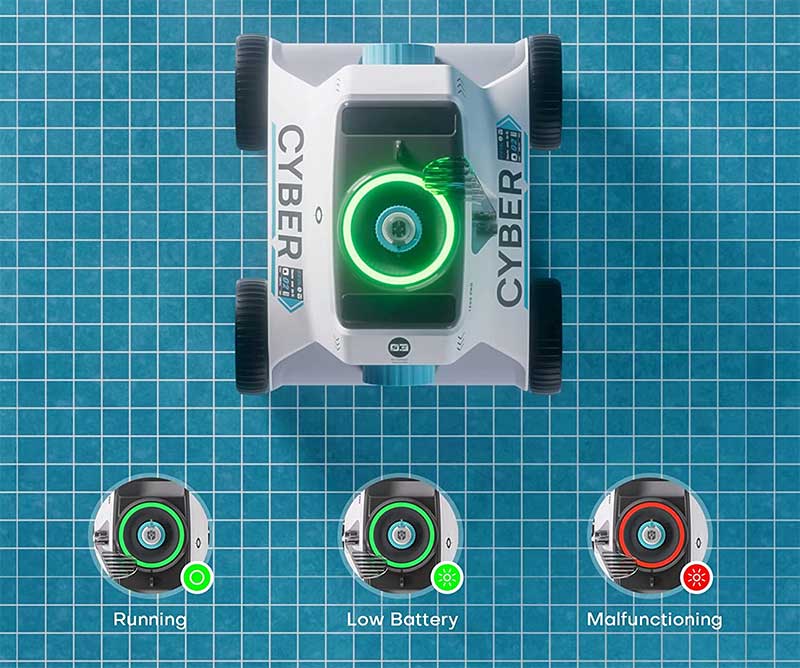 A standout feature of this pool cleaner is its intuitive lighting system. The lights on the device change according to its status: normal operation is indicated by a flashing green light, a rapidly flashing green light signals a low battery, and a flashing red light means there's an issue.
During our tests, the unit charged in just three hours, enabling us to complete three full cleaning cycles in one day. It is designed with a smart double navigation system, which ensures comprehensive cleaning coverage. As it reaches the edge of the pool, it changes direction and retraces its path, guaranteeing no areas are left uncleaned.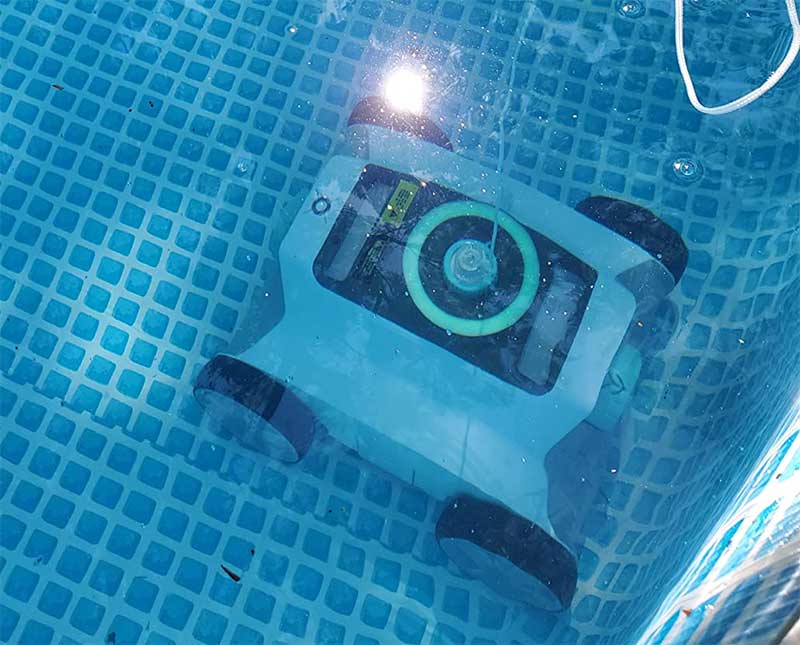 The Cyber 1200 Pro is equipped with an enhanced suction mechanism, incorporating dual suction adaptors and two 50W motors, offering 1.5 times more debris removal compared to previous models. We observed that it efficiently picked up debris from the pool.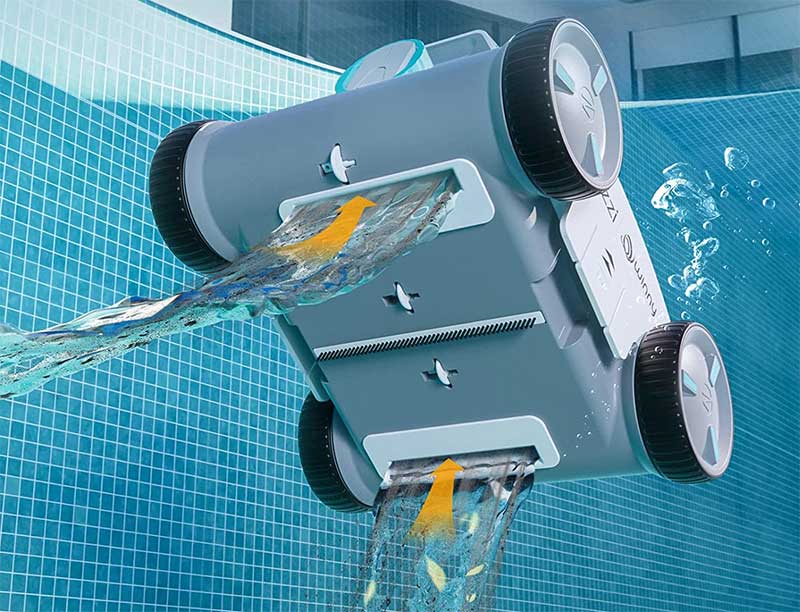 One of the key advantages is the self-docking function. When the cleaning cycle is complete, or the battery is low, it moves to the pool wall, where it can be easily removed using its hook or floating handle. The device is also incredibly user-friendly – simply turn a knob to start the cleaning process.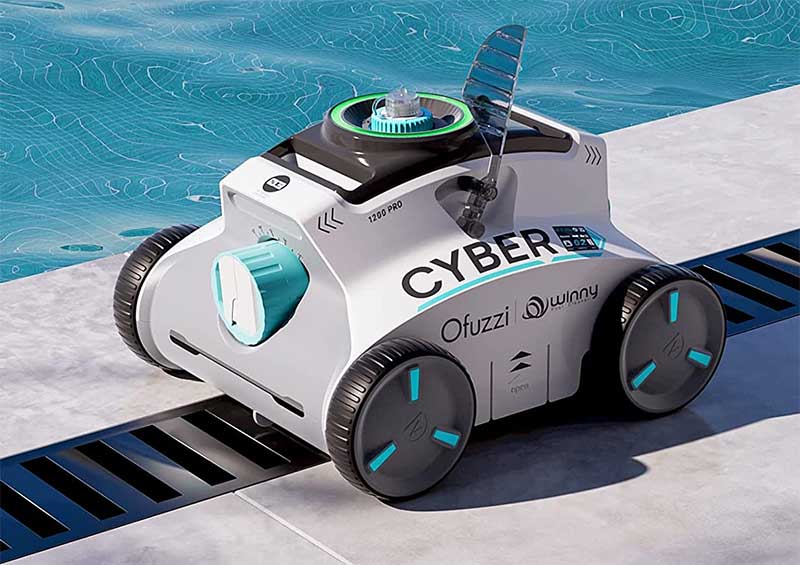 The Ofuzzi Cyber 1200 Pro is compatible with various pool shapes, including large semi-above/in-ground flat-bottom pools with depths up to 6.56 feet (2 meters). Maintenance is a breeze – after use, just rinse the filter and the base of the machine with water.
What we liked:
Quick charging for multiple daily cleanings
Suitable for various pool shapes and sizes
Low maintenance with easy filter rinsing
Cordless design for hassle-free operation
What we didn't like:
Doesn't climb walls or steps
Must dry charging port before charging
Best Budget: Moolan Cordless Pool Vacuum Cleaner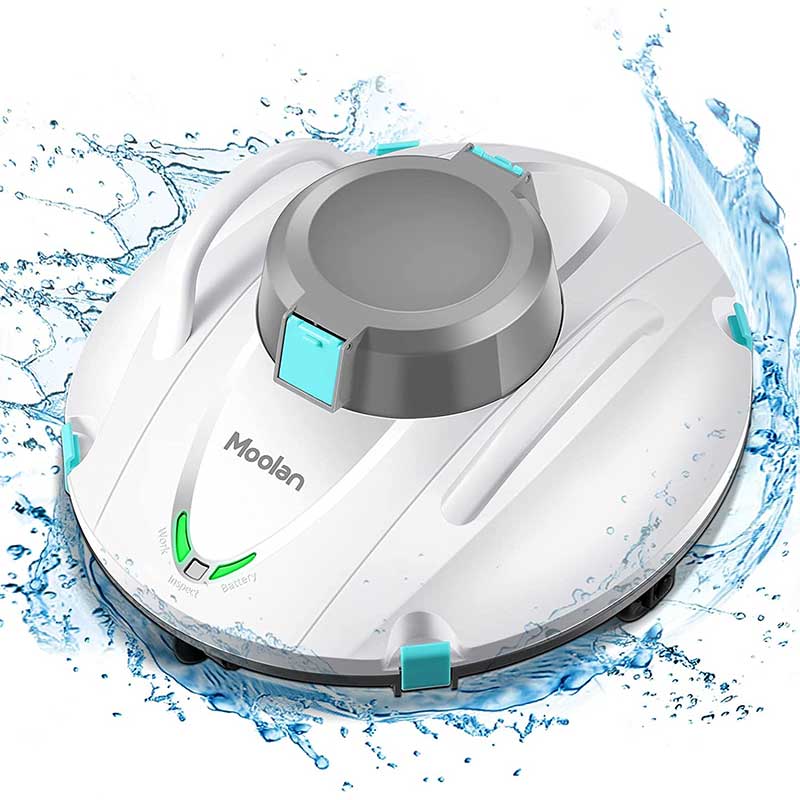 Key features:
Cordless and safe cleaning experience
Powerful dual-motor system
Large 5000mAh rechargeable battery
Self-parking function
When it comes to keeping your pool clean and debris-free, the Moolan S1 Cordless Pool Vacuum Cleaner is an excellent option. As a robotic pool cleaner, it offers a safe and convenient cleaning experience, with no cords to worry about or filter systems to connect. We tested the device in various pools, including above-ground, in-ground, and framed swimming pools, and found it to be suitable for flat pool surfaces up to 1,200 square feet.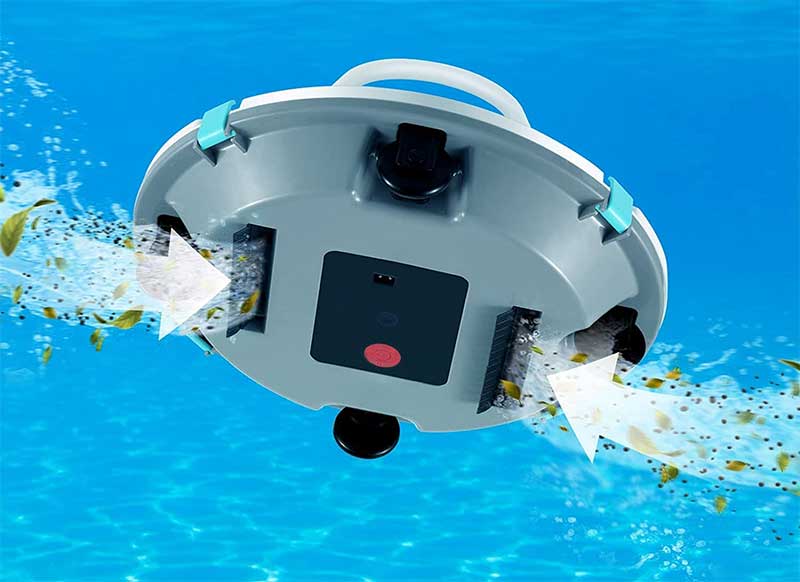 Moreover, the Moolan features a powerful dual-motor system, which provides increased durability and enhanced cleaning capabilities. During our tests, we noticed that the two large water inlets and two scrapers efficiently removed debris, leaves, and small stones, leaving the pool impeccably clean.
One of the standout features is its large 5000mAh rechargeable battery. We were impressed by its ability to run for up to 140 minutes, which was more than enough time to clean the entire pool. Moreover, the fast-charging capability meant the device was fully charged in just 2.5 to 3 hours.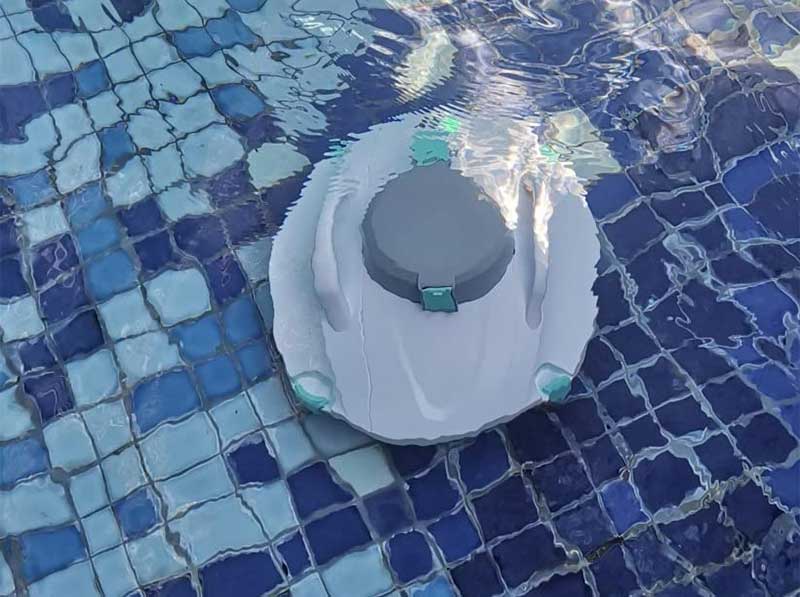 Another innovative feature is the self-parking function, which we found extremely useful when the battery was running low. The cleaner parked itself near the pool wall, allowing us to easily retrieve it using a hook. This thoughtful design made handling and storing the device a breeze.
When it comes to ease of use, the Moolan S1 excels. We found that with just one click, the cleaner was ready to go. Simply toss it in the pool and let it work its magic. Additionally, cleaning and assembly were straightforward – just open the unit in two steps and flush all parts with water.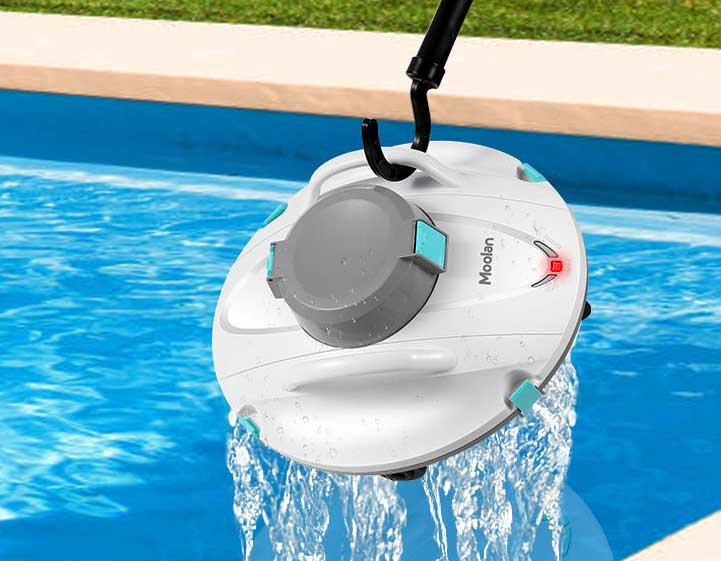 It's important to note that this robot does not climb walls and is designed for pools with a slope below 15 degrees at the bottom. Still, we were highly satisfied with the device's performance and features. Backed by a 1-year warranty and 24-hour customer service, the Moolan S1 Cordless Pool Vacuum Cleaner is a fantastic addition to any pool maintenance routine.
What we liked:
Efficient debris and leaf removal
Fast-charging capability
Easy assembly and cleaning
Suitable for various pool types
What we didn't like:
Cannot climb walls
Limited to 15-degree slopes
Best Runner-Up: AIPER Seagull Pro Cordless Robotic Pool Cleaner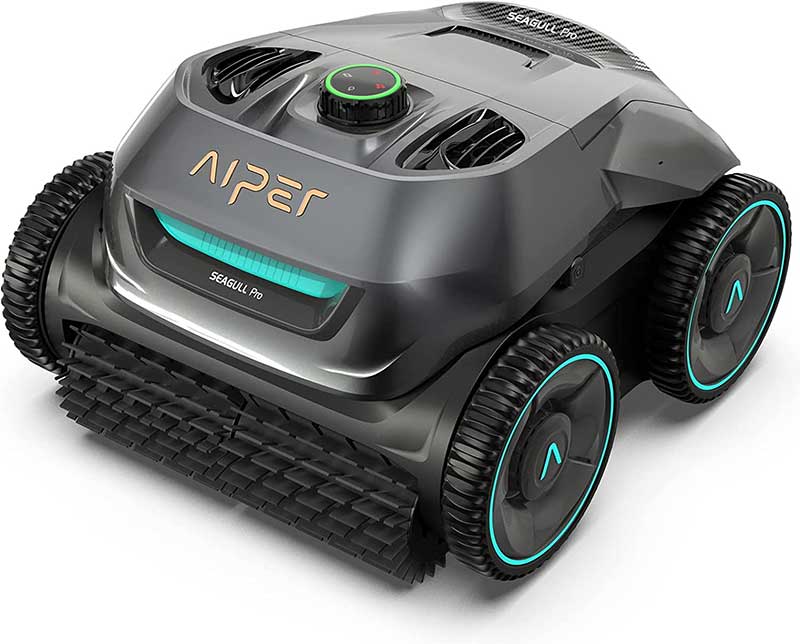 Key features:
Four-motor system for powerful cleaning
Smart WavePath Navigation technology
Impressive 180-minute battery life
Versatile 4-wheel drive wall climbing
The AIPER Seagull Pro is an upgraded device designed to address pool cleaning needs with efficiency and ease. As we tested it, we found some notable features that make it stand out from other pool cleaners on the market.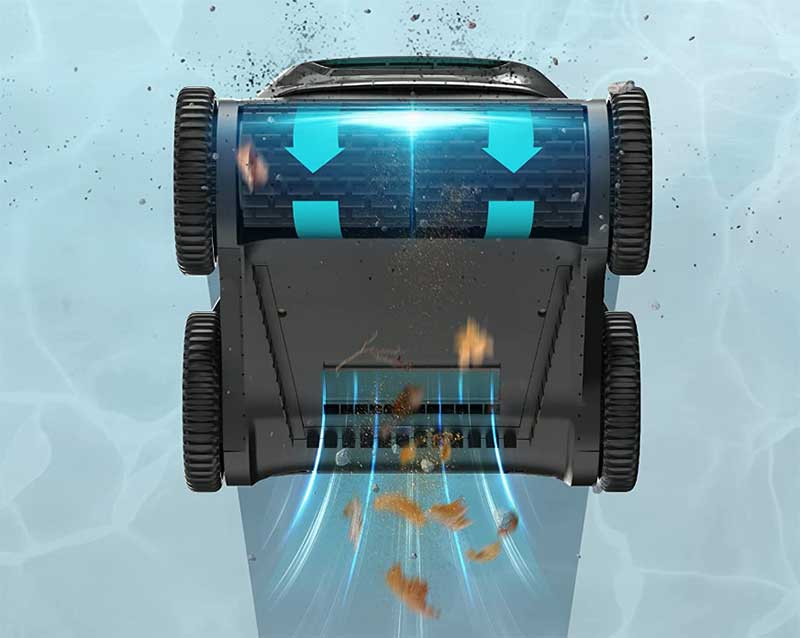 One remarkable feature that we liked is the four-motor system, which allows for an impressive 200 watts to filter up to 130 gallons of pool water every minute. During our testing, it effectively captured various types of debris, from leaves and sticks to dirt and pebbles.
The unit's navigation technology by WavePath is another standout feature. Instead of using a random pattern, like many traditional pool cleaners, it follows a fixed pattern to cover more pool area while consuming less energy. This smart navigation system proved efficient in our tests, ensuring comprehensive pool coverage.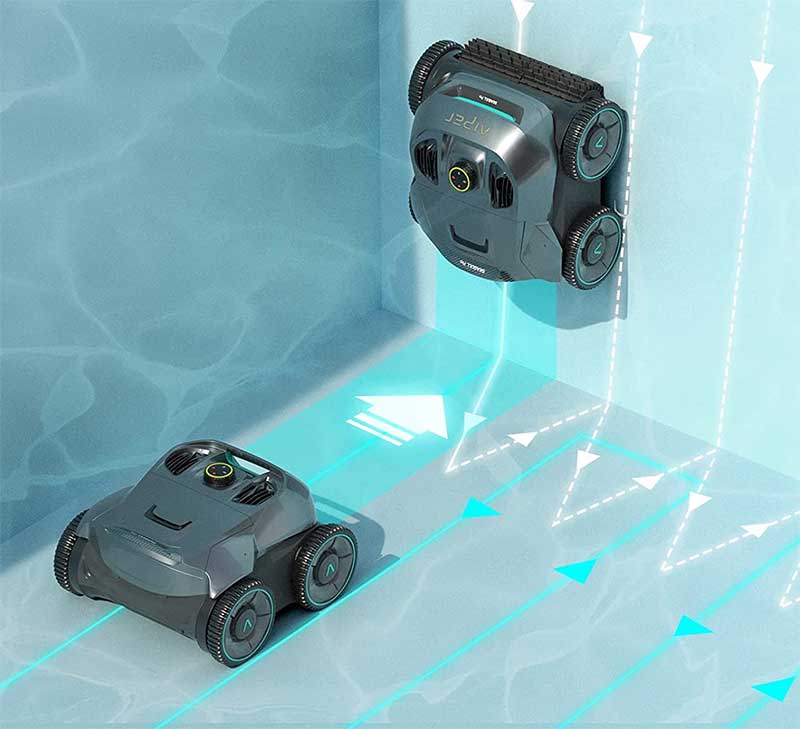 Additionally, this unit is designed with a 4-wheel drive system that enables it to climb walls and scrub the waterline effectively. We found that it tackled walls with ease, and the three cleaning modes allowed us to target specific problem areas in the pool.
Battery life and charging time are crucial factors when choosing a robotic pool cleaner, and this device doesn't disappoint. It is equipped with an internal 9000mAh battery, which provides up to 3 hours of cleaning time, outlasting many competitors. Furthermore, the charging time is reduced to 90 minutes, making it ready for action in a relatively short time.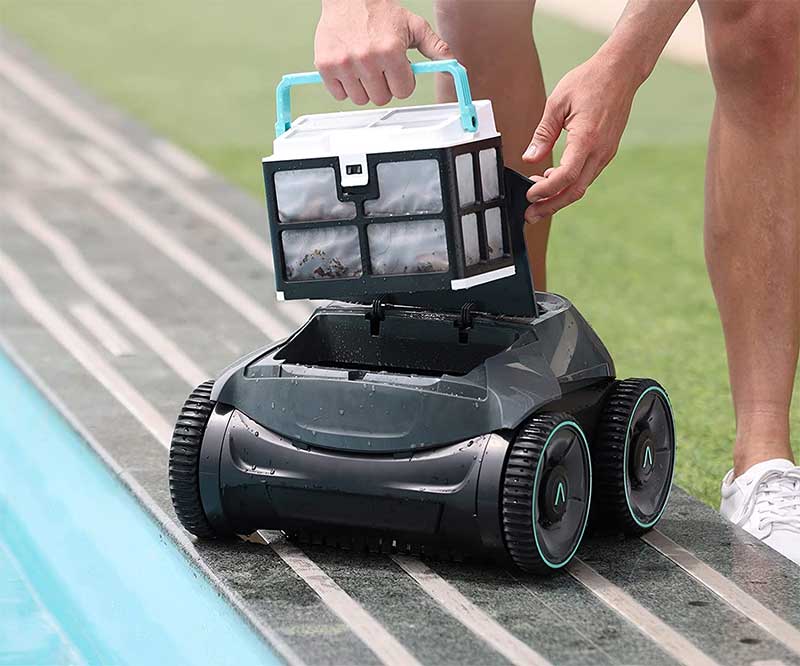 The Seagull Pro's cordless design is another advantage, as it eliminates tangled cords and complicated accessories. In our experience, this made using the device more convenient and hassle-free. And while it is suitable for in-ground pools up to 3,200 square feet, it can also accommodate various pool shapes and above-ground pools. Its versatility makes it a viable option for a wide range of pool owners.
What we liked:
Efficient debris collection and filtration
Three customizable cleaning modes
Short 90-minute charging time
Cordless design for hassle-free operation
What we didn't like:
May struggle with certain pool shapes
Limited availability in the market
Best Premium: Scrubo Pro Cordless Swimming Pool Cleaner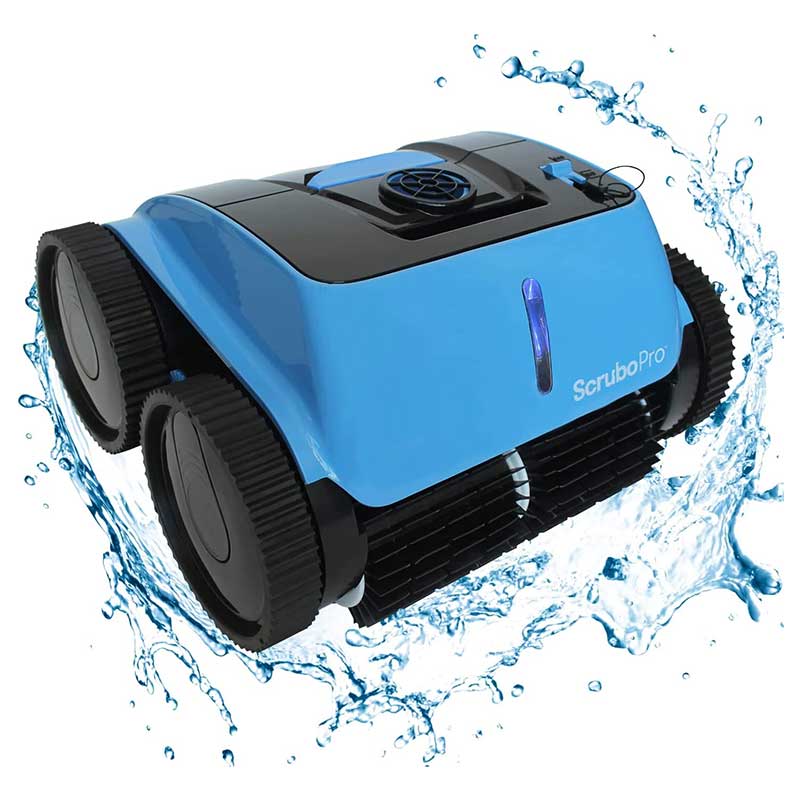 Key features:
Cordless design for hassle-free cleaning
Triple-motor system for superior cleaning power
Intelligent cleaning system with gyroscope and accelerometer
Self-parking technology for easy removal from pool
The Aquamoto Scrubo Pro is an innovative robotic pool cleaner that packs numerous features, promising to keep your in-ground pool clean and well-maintained. With a focus on convenience and efficiency, this cordless cleaner is an excellent addition to any pool owner's cleaning arsenal.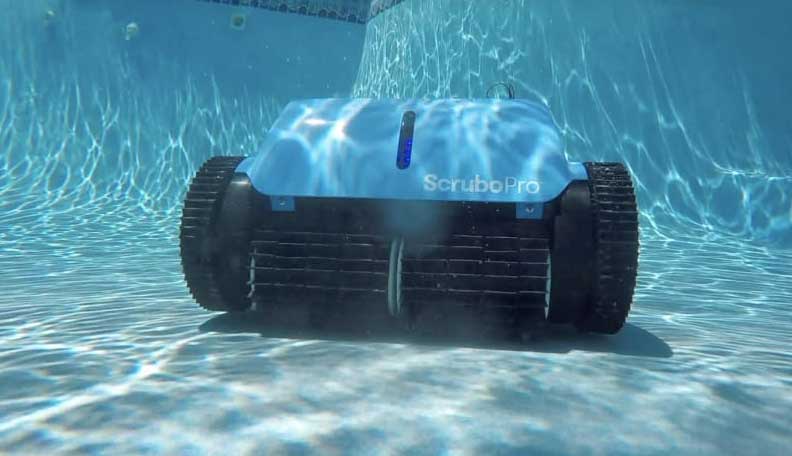 Equipped with a 4-wheel drive system, it can effortlessly climb pool walls and scrubs tiles, ensuring every inch of your pool is spotless. Its triple-motor design offers superior cleaning capabilities, while its 8600mAh battery delivers an impressive 90-minute runtime – more than enough to clean most pools up to 50 feet in length.
During testing, we found that the dual scrubbing brushes effectively vacuumed and cleaned dirt and debris from the pool floor, walls, and tile line. The top-load filter design made it easy to access and replace the filter, streamlining the maintenance process.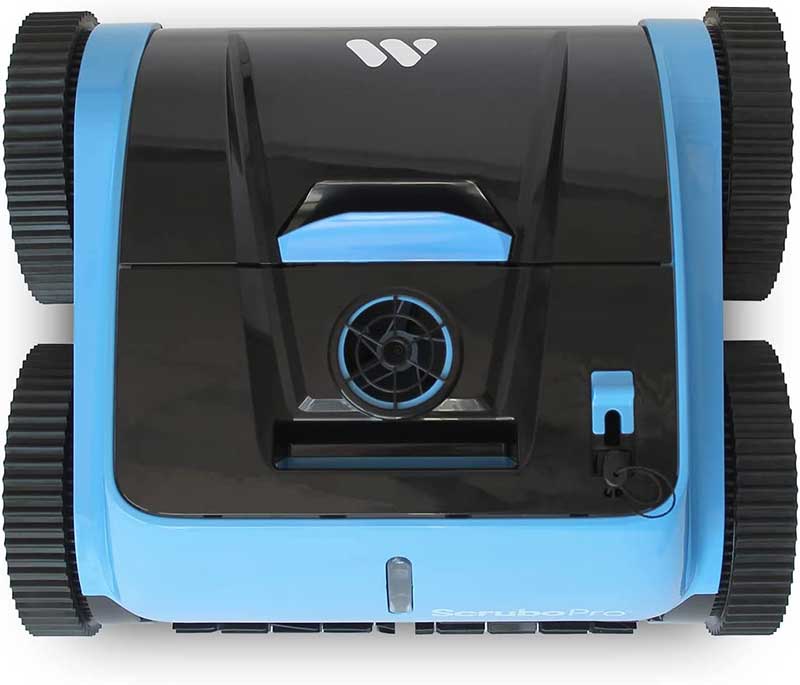 One of the standout features of this unit is its intelligent cleaning system. The onboard computers utilize an internal gyroscope and accelerometer to calculate the pool's shape and determine the optimal cleaning path, ensuring maximum coverage. This feature truly sets this one apart from other pool cleaners on the market.
The device is also incredibly user-friendly, requiring no assembly and offering a plug-and-play design. Users can simply drop the cleaner into the pool, press the power button, and let it do its job – no need to deal with cords, wires, or booster pumps.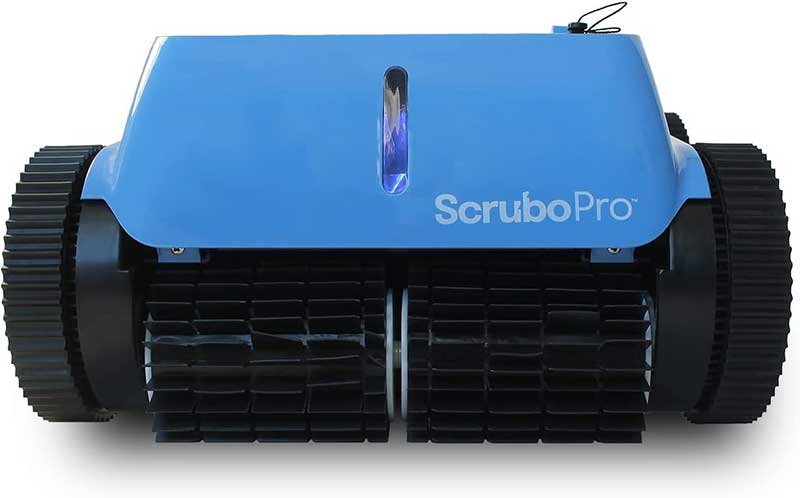 Furthermore, the built-in self-parking technology ensures that the device parks itself next to a wall when finished cleaning, making it easy to remove from the pool. This thoughtful feature adds to the overall convenience of the product.
Aquamoto's Scrubo Pro is a powerful and intelligent pool cleaner that delivers top-notch cleaning performance. Its cordless design, wall-climbing capabilities, and advanced features make it an excellent choice for in-ground pool owners who prioritize convenience and efficiency.
What we liked:
Excellent cleaning performance
Intelligent cleaning system optimizes cleaning
Hassle-free plug-and-play design
Self-parking technology
What we didn't like:
Higher price point compared to some other pool cleaners
Heavier and bulkier than some other models
Best Alternative: AiDot Enhulk Cordless Pool Vacuum
Key features:
Non-robotic alternative
Powerful 40wh motor with a 20V battery
Suction rate of 4200 L/h for up to 60 minutes per charge
7.3 ft. telescoping pole for excellent reach
Incredibly simple operation
Cordless robotic pool cleaners are excellent to have around in most scenarios. However, for those who need to manually reach into the depths of their dirty pool or spa with precision, look no further than the AiDot Enhulk Cordless Pool Vacuum. Although it isn't technically robotic, we found it to be the best alternative to any of the aforementioned options in this article.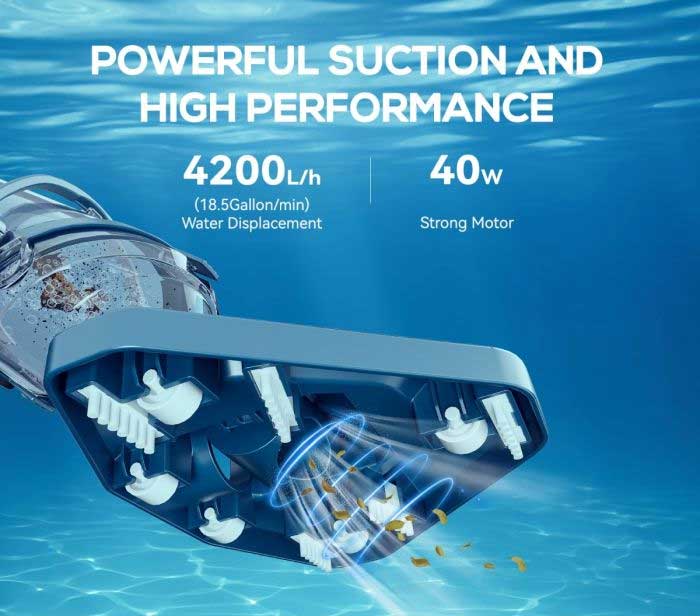 Think of the Enhulk as an upright vacuum that you use underwater; because that's exactly what it is. Equipped with a 9.25 inch vacuum head, it boasts the capability to quickly and precisely spot-clean anything that your pool robot mistakenly left behind. Simply activate the single button, attach to any telescoping pool pole and dip it into depths of nearly 8 feet without worry. With its 4200L/h suction rate and 40wh motor, users are pleased with the powerful suction and precise cleaning capabilities that it boasts.
The AiDot Enhulk comes included with two different types of filter bags. One that's designed specifically for sand and another one that's perfect for general debris, bugs and leaves. Although it's not suitable for cleaning algae, the included crevice nozzle sets it apart with fine precision. Unlike robotic pool cleaners that make a general sweep of your pool or spa, the Enhulk can be carefully pinpointed into any corner, ladder or crevice without any frustration.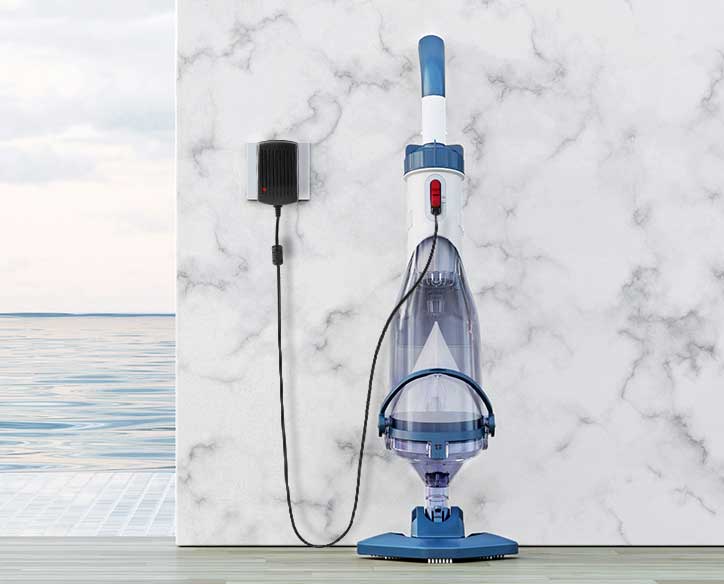 When we tested the vacuum, we were very pleased with its performance and cordless capabilities. The suction had no trouble with any sort of debris we put in front of it. Sand, small pebbles and dirt on the bottom of our pool was satisfyingly picked-up without a second pass. Notably, it excelled in the tight spaces of the built-in stairs on the deep end side of our in-ground pool. With the included telescoping pole, on the fly adjustment was quick and nearly effortless, enabling us to reach into the depths without frustration.
The 20V battery seems to provide all the power needed for up to an hour of continuous use. Best of all, the re-charging time is only 90 minutes; ultimately meaning that you can plug it into the charger and use it again to its full ability with minimal downtime. Just make sure you dry the charging port before charging! All in all, the AiDot Enhulk is the perfect alternative to have on-hand if you're questionable about the usability and practicality of a traditional robotic pool cleaner.
What we liked:
Plenty of suction power for a wide range of debris
Incredibly fast re-charge time
Up to 60 minutes of use on a single charge
Comes with a crevice feature for hard to reach areas
Relatively lightweight and well-balanced
What we didn't like:
Not actually robotic
Rubber on/off switch may need eventual replacing
Cordless Robotic Pool Cleaner FAQs
How do cordless robotic pool cleaners work?
Cordless robotic pool cleaners operate on rechargeable batteries, eliminating the need for cords and hoses. They use advanced navigation systems, suction power, and brushes to clean the pool floor, walls, and waterline, collecting debris in a built-in filter.
How long do cordless robotic pool cleaners typically run on a single charge?
The runtime of cordless robotic pool cleaners varies depending on the model and battery capacity. Generally, they can run between 90 to 180 minutes on a single charge, providing ample time to clean most residential pools.
How do I maintain my cordless robotic pool cleaner?
Maintenance for cordless robotic pool cleaners typically involves rinsing the filter and the base of the machine with water after each use. Periodically check for wear and tear on the brushes, wheels, and other components, replacing them as needed.
Wrapping Up
Our top selections for battery-powered cordless robotic pool cleaners are based on their performance, features, and value for money. The Ofuzzi Cyber 1200 Pro stands out as the best overall due to its user-friendly design, efficient cleaning capabilities, and compatibility with various pool shapes and sizes. Its intuitive lighting system, smart double navigation, and enhanced suction power deliver outstanding performance.
Next, the Moolan Cordless Pool Vacuum Cleaner is our best budget pick, offering impressive cleaning performance at an affordable price point. Its powerful dual-motor system, large 5000mAh rechargeable battery, and easy assembly make it an excellent choice for budget-conscious pool owners who don't want to compromise on quality. But regardless of which one you pick, all of these battery-powered cordless robotic pool cleaners will keep your swimming pool looking pristine with minimal effort.
The AIPER Seagull Pro, our best runner-up, boasts a powerful four-motor system, efficient Smart WavePath Navigation technology, and a long-lasting battery life, making it an exceptional choice for pool owners seeking top-notch cleaning performance. Its customizable cleaning modes and cordless design add to its overall appeal.
For those willing to invest in a high-end product, the Scrubo Pro Cordless Swimming Pool Cleaner is our best premium choice. It features an intelligent cleaning system that utilizes a gyroscope and accelerometer for optimized cleaning. The triple-motor system and self-parking technology further enhance its value.
Meet Derek, "TechGuru," a 34-year-old technology enthusiast with a deep passion for tech innovations. With extensive experience, he specializes in gaming hardware and software, and has expertise in gadgets, custom PCs, and audio.
Besides writing about tech and reviewing new products, Derek enjoys traveling, hiking, and photography. Committed to keeping up with the latest industry trends, he aims to guide readers in making informed tech decisions.