Key Takeaways:
#1 – MELIFO Curved Monitor Light Bar – Specifically design with 1000R curvature in mind and suitable for monitors up to 49″. Multiple lighting modes with 100 individual LEDs give off a huge amount of light. It's even equipped with RGB to further enhance any unique workspace.
#2 – ONWAY Curved Monitor Light Bar – At half the price of the MELIFO, it's another strong contendor. While only suitable for curved monitors up to 34″, it boasts a unique 3-piece base that's more stable than the MELIFO.
#3 – EPABINA Transformable LED Desk Lamp – The largest curved monitor light bar available. An incredibly unique option that bends to virtually any setup. With 6 rotating joints, you can cast light in a custom-like array.
In the today's world, where screens have become an integral part of our daily lives, ensuring an optimized and comfortable viewing experience is paramount. Curved monitors, celebrated for their immersive visuals and ergonomic advantages, have grown immensely in popularity.
But with unique form comes the challenge of even and strain-reducing illumination. Introducing, curved monitor light bars. These are specifically designed to cast uniform, glare-free light across the expansive screen real estate of curved monitors, enhancing both functionality and aesthetics.
Today, we're going to explore three of the best curved monitor light bars available right now. Ultimately ensuring your workspace not only looks good but also promotes productivity and comfort. Let's get right into it.
#1 – MELIFO Curved Monitor Light Bar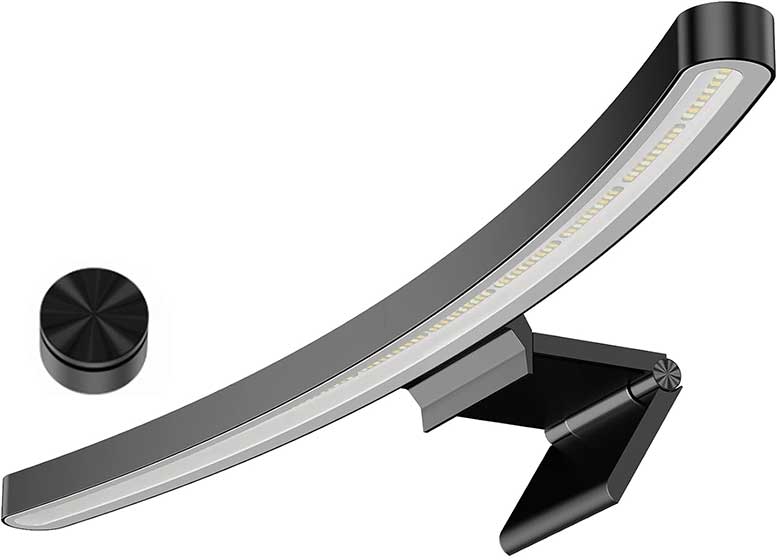 Key Takeaways:
Compatible with monitors up to 49″ wide.
1000R curvature.
3 color temperatures, 3 lighting modes.
100 individual LEDs, 40 of them are RGB-capable.
Having had the privilege to test the MELIFO Curved Monitor Light Bar, it became clear from the outset that this device is not just another accessory but rather an intelligent fusion of design and innovation. Its R1000 wide curvature seamlessly blends with curved monitors, accommodating sizes up to 49 inches.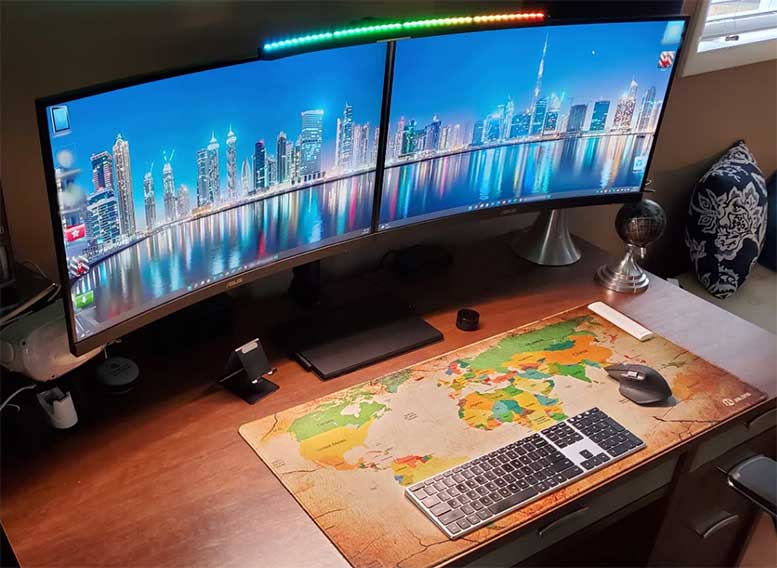 Measuring nearly 22″ wide, its ability to rest securely atop the monitor without any risk of it slipping or obstructing the screen view, is wonderful. While some reviewers mention that there's a risk of tipping, if you're not careful, we didn't experience this. It seemed to rest evenly, sturdily and without any fall risk.
In terms of connectivity, the USB-C power source is commendable, ensuring compatibility with virtually any setup. But it's the illumination where the MELIFO truly shines, pun intended. With 100 individual diodes at its disposal, it's hard to miss the radiant spectacle, especially when 40 of these are RGB capable.
The resulting light display is not just impressive but also functional. The diodes are positioned in such a manner that they don't intersect the screen, eliminating unwanted reflections and offering a concentrated light that reduces strain on the eyes.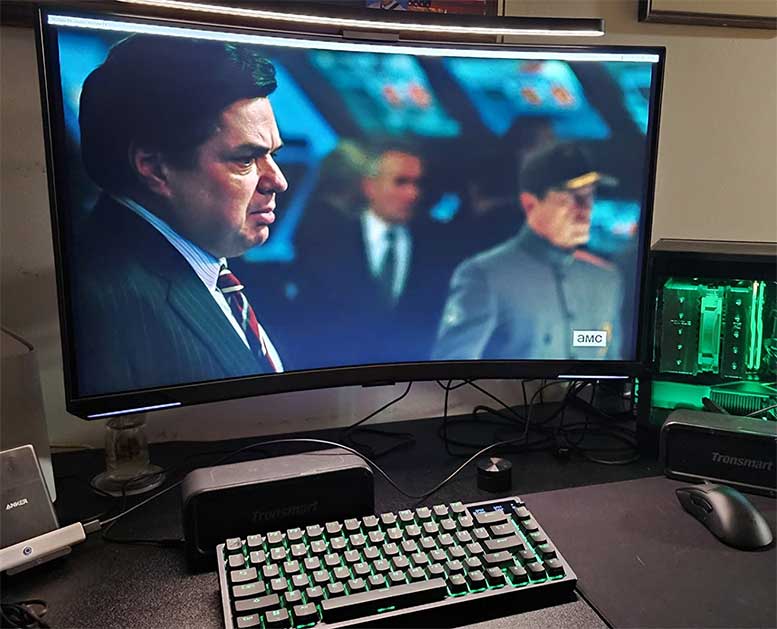 The inclusion of a wireless, mini cylindrical remote is a game-changer. Sleek and efficient, this remote provides users with the flexibility to switch between various modes. Whether you're in the mood for a static ambient light or a pulsating rhythm to your favorite tunes, MELIFO has got you covered.
With three distinct color temperatures – 3000K, 4000K, and 6000K – users can tailor the ambiance to their liking. And the lighting patterns? They add a dynamic touch, especially the sound-sensitive mode, which brought a concert-like feel to our music listening sessions.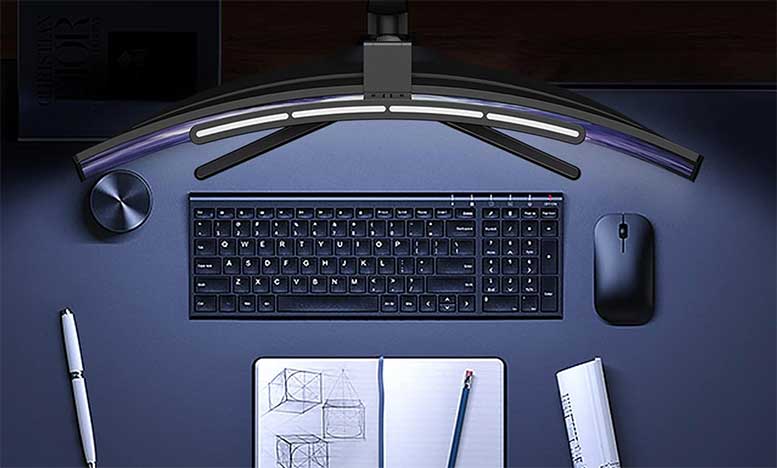 Lastly, the built-in memory feature is an astute addition. In our fast-paced world, it's the little conveniences that make a difference. Being able to power on the light bar and have it remember our last setting eliminates repetitive manual adjustments, making the experience all the more seamless.
All in all, the MELIFO Curved Monitor Light Bar is not just a device, it's the perfect upgrade. It addresses practical needs while adding a splash of vibrancy to your workspace. Whether for professional use or personal enjoyment, it's a worthy addition to any curved monitor setup.
#2 – ONWAY Curved Monitor Light Bar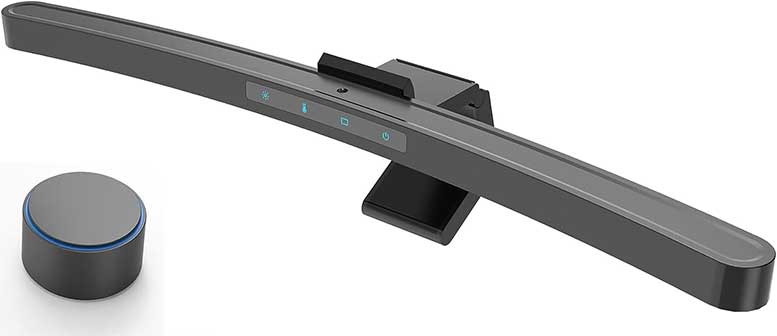 Key Takeaways:
Half the price of the MELIFO.
Suitable for curved monitors up to 34″.
Unique 3-piece base fits ultra-thick monitors.
Comes with wireless remote.
In the ever-evolving realm of workspace accessories, price and performance often dictate choices. The ONWAY Curved Monitor Light Bar, which we recently had the pleasure to test, firmly plants its flag in this competitive landscape, offering exceptional value for money.
At half the price of competitors like the MELIFO, one might wonder about compromises. Yet, during our hands-on experience, the ONWAY consistently delivered, proving that budget-friendly doesn't necessarily mean cutting corners.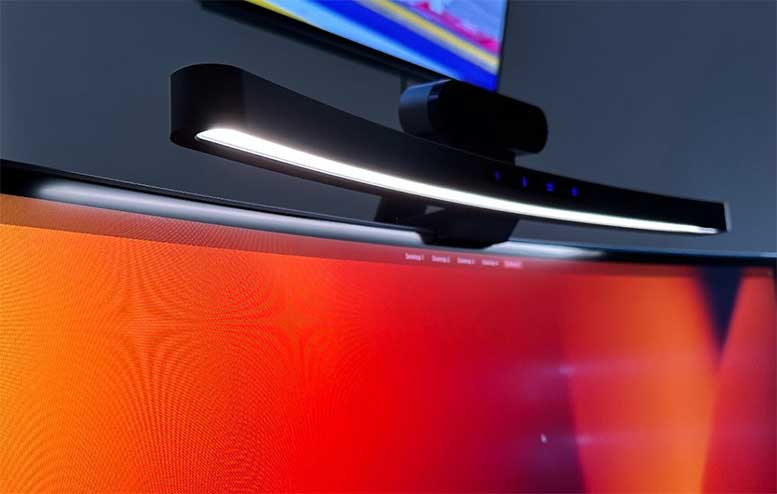 Its compatibility with curved monitors up to 34 inches, paired with its 16.5″ width housing 48 diodes, makes it a suitable choice for most average-sized workstations. The illumination is even and bright, with the USB-C power connectivity ensuring hassle-free operation.
One of ONWAY's differentiating features is its unique 3-piece base. In our trials, this base showcased immense adaptability, fitting comfortably on monitors ranging from a slim 0.12″ to a robust 2.36″. Such flexibility underscores ONWAY's commitment to catering to a wide range of users.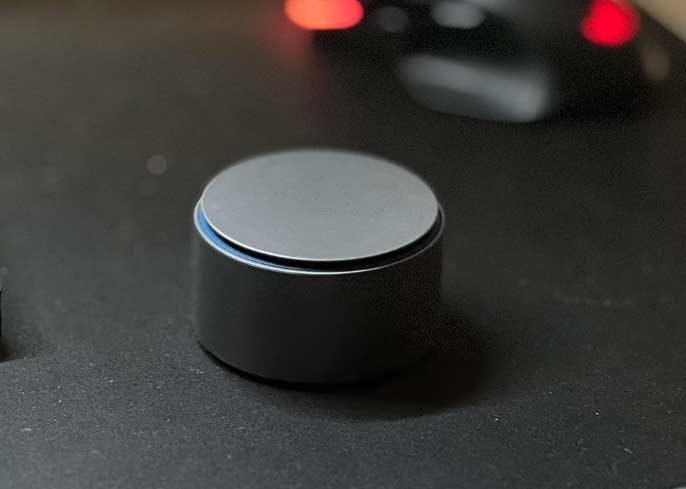 The included wireless remote, reminiscent of the MELIFO's, is intuitive and sits unobtrusively on the desktop. We especially enjoyed the liberty to adjust brightness, tweak color temperatures between a warm 3000K and a cool 6500K, and set timers, all from the comfort of sitting. However, for those who prefer a more tactile approach, the touch controls on the light bar itself are responsive and easy to navigate.
But where the ONWAY truly differentiates itself is its intelligent built-in light sensor. In our testing, the sensor promptly gauged the ambient room light, auto-adjusting the bar's brightness to provide optimal illumination.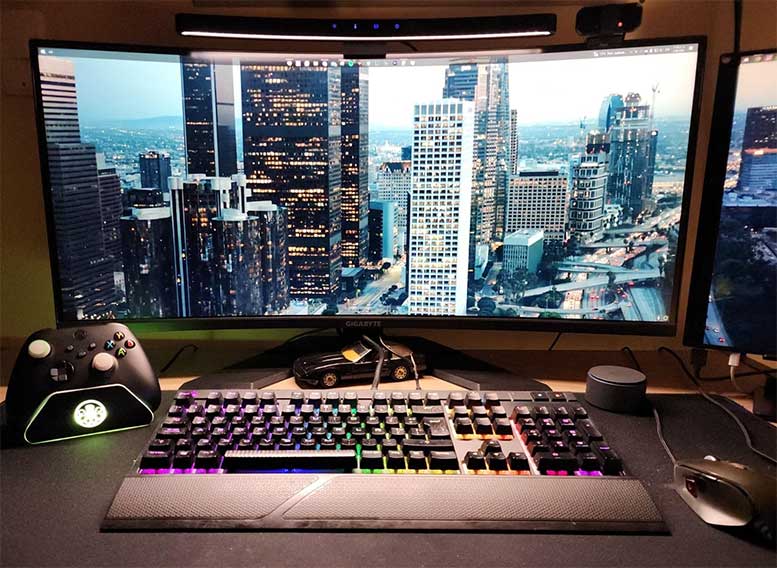 A clever addition we found particularly useful was the unique crossboard design. As more professionals and creators lean into video calls and content creation, having a dedicated space to rest a webcam is invaluable. ONWAY's design ensures that your webcam can sit on top, at an ideal height for clear and flattering visuals.
Overall, the ONWAY Curved Monitor Light Bar is a testament to the idea that quality doesn't always come with a hefty price tag. With its array of user-friendly features, adaptability, and intelligent design, it's a must-consider for those looking to enhance their workspace without breaking the bank.
#3 – EPABINA Transformable LED Desk Lamp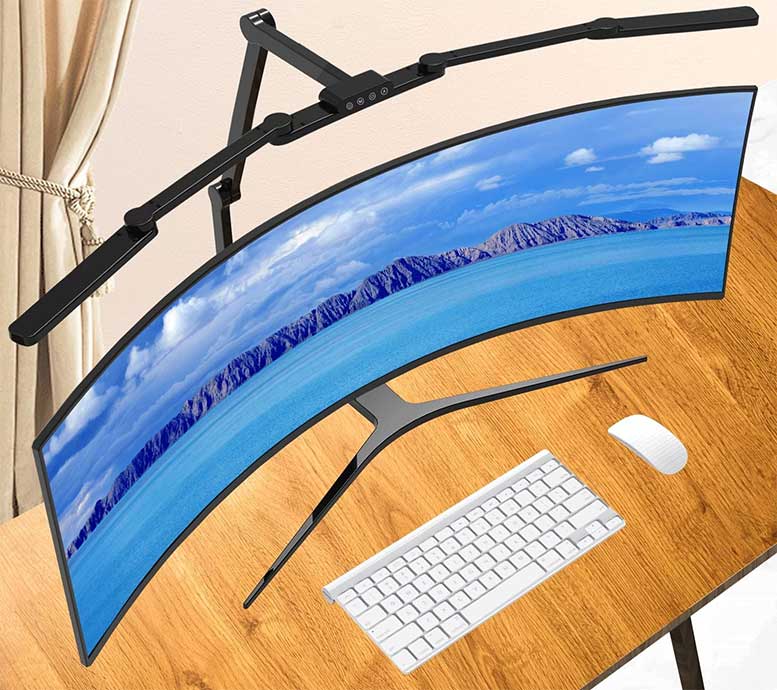 Key Takeaways:
Unique bendable design for catering to large setups.
Clamps onto the back of your desk.
Adjustable brightness, color temperature and built-in memory.
The largest curved monitor lightbar at 41.5″ wide.
In a market saturated with more traditional and static designs, the EPABINA Transformable LED Desk Lamp is a breath of fresh air. After spending time with this truly innovative lamp, its adaptability and design intricacies stand out in remarkable ways.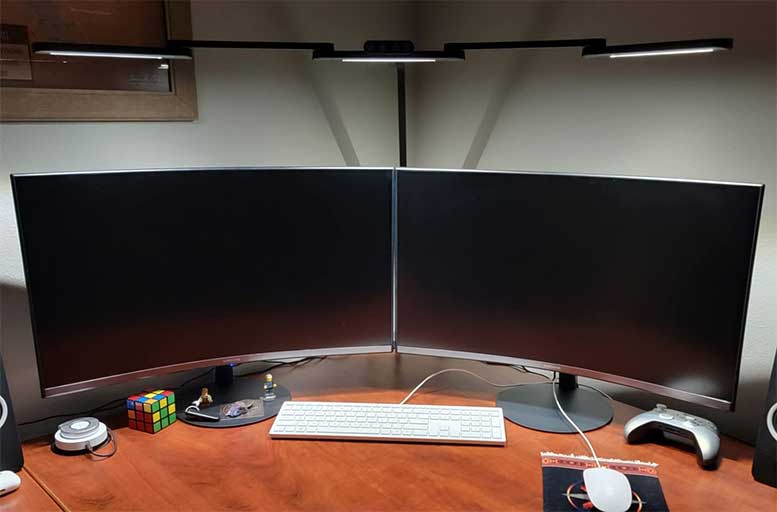 The "transformable" descriptor is no marketing gimmick. The lamp's six distinct damped joints, divided among three individual light bars, exhibit a level of flexibility rarely seen in desk lamps. Whether you're working with a standard desktop, an expansive curved monitor, or even an L-shaped desk, the EPABINA gracefully conforms to the challenge.
Its ability to swivel up to 260-degrees horizontally and bend at a staggering 340-degree angle vertically ensures tailored illumination regardless of the height or curve of your setup. Its reach, both in terms of width and height, is generous, casting a broad and even light across any deskspace.

While the clamp-on design, suitable for desks up to 2.5″ thick, provides stability, it's the lamp's smart features that stood out. Like the ONWAY, EPABINA houses an ambient light sensor, adjusting the brightness in real-time to complement your room's natural light. This is a feature particularly useful as daylight changes or as evening approaches. The built-in memory, akin to the MELIFO, is a thoughtful addition. It's a small convenience, but one that makes a big difference by remembering our preferred settings upon each use.

The touch-activated settings atop the light bar are great. While there's no wireless remote included, adjusting brightness levels or changing color temperatures felt effortless. That said, there's a dimming range from 20-100% and a light spectrum from a cozy 3000K to a crisp 6500K. While we were initially apprehensive about the AC power adapter, any reservations were quickly dispelled upon use. Sure, USB-C power might be tidier, but the included adapter is perfectly functional.
Aesthetically, the available black or white colorways allow the EPABINA to fit effortlessly into a range of interior designs. Its sleek silhouette, combined with its adaptive nature, makes it not just a functional tool but also a striking design element for any space.
FAQs on Curved Monitor Light Bars
Can you use a light bar on a curved monitor?
Yes, you can use a light bar on a curved monitor. The specific light bars we've introduced above are specifically designed to fit and complement the curvature of such monitors, providing even and glare-free illumination. If you use a standard straight light bar with a curved monitor, you're likely going to experience glare from the uneven light that's casted downwards.
What are the main benefits to using a light bar with your curved monitor?
Using a light bar with your curved monitor reduces eye strain by providing even illumination, eliminating screen glare, enhancing workspace aesthetics, and ensuring optimal visibility without occupying desk space.
What is the best color temperature to use with a light bar?
The best color temperature for a light bar largely depends on the intended task and personal preference. For relaxing or creative tasks, a warmer temperature (around 3000K) can be more comfortable and soothing. For reading, working, or tasks requiring concentration, a neutral to cool white (4000K to 5000K) is often preferred as it can promote alertness.
Meet Derek, "TechGuru," a 34-year-old technology enthusiast with a deep passion for tech innovations. With extensive experience, he specializes in gaming hardware and software, and has expertise in gadgets, custom PCs, and audio.
Besides writing about tech and reviewing new products, Derek enjoys traveling, hiking, and photography. Committed to keeping up with the latest industry trends, he aims to guide readers in making informed tech decisions.