Whether you're a savvy woodworker, or just somebody looking to do a little maintenance work around your house, a protactor is one of the most useful tools you can have. They're used for everything from wood joints to cutting angles. Unless you don't plan on building anything fancier than a box, you're certainly going to need to measure an angle sometime in the near future.
There is an old saying that goes "measure twice, cut once". Raw materials are expensive, and a measurement error can drastically increase the costs of your DIY project. But if you're new to the trade, the saying should be something more along the lines of, "Measure three times, go to cut, to back to measure again, doubt yourself, then make the cut incorrectly anyway."
Note: At no extra cost to you, we may earn a commission for purchases using our links. Learn more.
We've all been there at once time or another. If only there was a nice easy way to guarantee that our measurements could be just a little more accurate.
Fortunately, there is. Digital angle gauges use an electronic sensor to measure the distance between two measurement points. No matter how accurate your eye is, it will never be as accurate as one of these handy little sensors. Modern angle gauges are re-settable, so you can always ensure that they are calibrated correctly. But the best part of all? They're surprisingly affordable.
If you're the old school type that likes to keep things simple, you might not be ready to fully commit to a digital system. But we wanted to know if these really are better than the old ways, so we decided to test out the three best digital angle gauges on the market. Let's take a look at the differences between them, and see if one of these handy tools has a pace in your home toolbox.
Accuremote Digital Electronic Magnetic Angle Gauge
Accuremote is a company that focuses on digital measurement equipment for industrial professionals. While some of their products won't be useful for anyone outside of the tradesmen who are willing to pay for a top quality product, this particular magnetic angle gauge is surprisingly affordable. It's one of the easiest models to use, leading to it's widespread adoption from both professionals and hobbyists.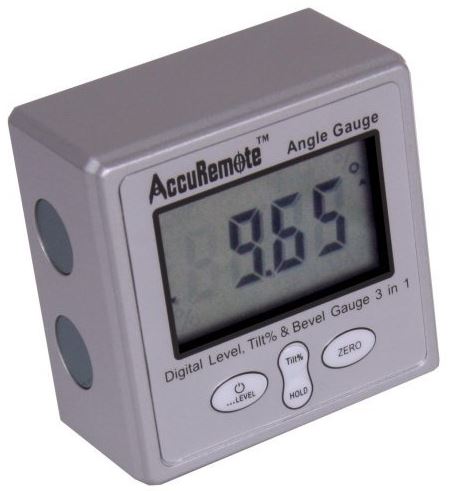 Design
The Accuremote Digital Electronic Magnetic Angle Gauge doesn't seem like much from the outside. At first, we almost thought that it was more of a display for another unit. Believe it or not, this is an all includsive unit, and everything you need to measure angles easily is right there in the palm of your hand.
It comes in a sturdy, yet stylish silver case. The sides and top are made from thick plastic, which is resistant to damage from being dropped of knocked around. Anyone who's spent some time next to a work bench knows that this is unavoidable, so it's nice to see something that is built to last. The large LCD display is easy to read, even in bright sunlight. While this style of display has fallen out of style recently, the visibility is better than any OLED display we've come across recently.
There is a thick scratch resistant cover over the LCD, which prevents the screen from getting banged up while you're carrying it around in your tool bag. Coupled with the stylish leather and fabric carrying case it ships with, this is certainly not something that's going to break in short order.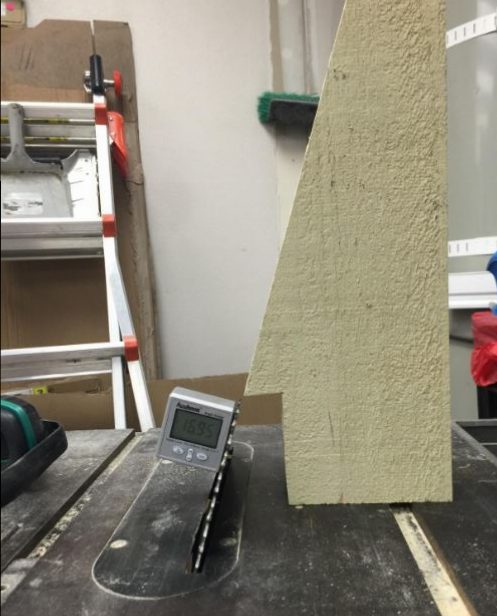 Functionality
Because the design is so unique, it took us a minute to understand how this gauge works. There are two powerful magnets on both the side and the back. This is to enable you to clip it onto your blade or standard carpenters ruler, holding it flush. On the left, there is a power button. When you hold the button down, it will re-level the unit. On the right is a Zero button.
What exactly is the difference between leveling it and zeroing it? As an electronic device, it will need to be re-calibrated occasionally. It's good form to give it a quick zero when in use. Holding down the "level" button tells the sensor "this is a completely level surface". It's used to determine the true zero, which is stored in internal memory.
Zeroing it, on the other hand, is simply telling it to remember a reference angle. Let's look at how this all comes together in a real world example.
You turn on the power, and place it on a flat, level surface. You hold down the power button to level the sensor. Now, you can clip it onto your ruler and lay it flat against a wall. The display will now read 90 degrees. Let's say that you have a support beam coming out of this wall at an angle. You want to know the difference, in degrees, of the angle from the wall. While it's against the wall, you can hit zero. Now everything that you measure will be considering the wall to be the 0 degree point. This is a relative angle. At any time, you can press a single button to find out the absolute angle, using true level as a difference. This is why it's important to have these handy features.
The two buttons in the center give you the ability to hold the angle, which keeps the last reading on the display even if it moves, so you can carry it with you as a reference. Or, you can show the tilt in terms of percentage. Tilt is relative to a 90 degree angle. So a 45 degree angle would be a 50% tilt, and so on.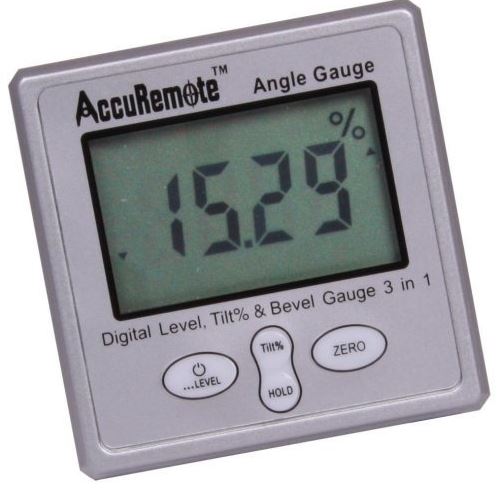 Accuracy
With a resolution of 0.05 degrees, this will give you the details needed for even CAD or design purposes. The true accuracy of the meter is plus or minus 0.2 percent, which is surprisingly good for something like this. But the most important factor in the accuracy is the fact that it won't go out of calibration over time. With no moving parts to bend or break, this is something that you can use for many years to come.
General Tools Digital Angle Finder
General Tools, as their name implies, produces tools for the average guy. This isn't to say that they are poor quality. That is simply not the case. What they mean is that they are accessible. Easy to use and reliable, General Tools generally produces something that any man can add to his tool bag.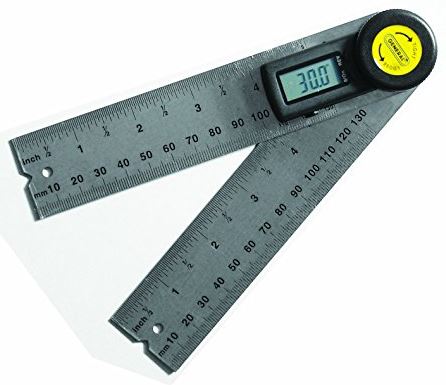 Design
Of all the designs we tried, this type was the easiest to pick up and use without any prior reading necessary. The General Tools Digital Angle Finder looks to be made out of two metal rulers attached on a pivot. You position the two rulers against the angles you want to measure, and the readout will appear on the screen. It couldn't be easier.
The screen is nice and easy to read, and there are a few different versions available. The rulers come in 5 or 10 inch length, making them suitable for different types of projects. There is even a Bluetooth model available, which can save all measurements to a paired mobile device.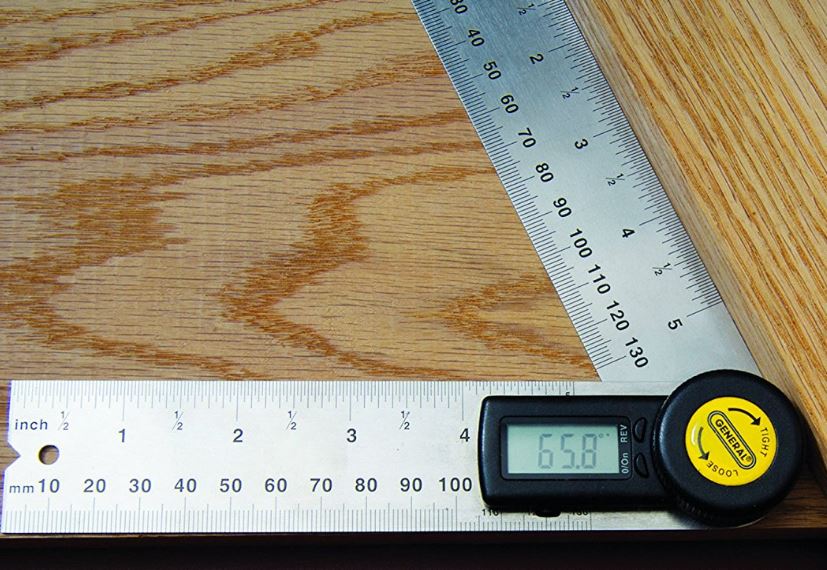 Functionality
Measuring angles couldn't be easier. Because of the large rules attached, you're able to get a pretty good visual of how something will look while you take measurements. If you're trying to measure something that is already built, the flat rules allow you to ensure that you're getting an accurate reading.
But our favorite feature was the ability to take the inverse angle. Simply measure something, and hit the inverse button to find out the complimentary angle. For example, if you were measuring a 30 degree angle, the unit would indicate that you'd need another 60 degree angle to make a square. This is extremely important when you're setting the angle on your chop saw, or constructing beam supports.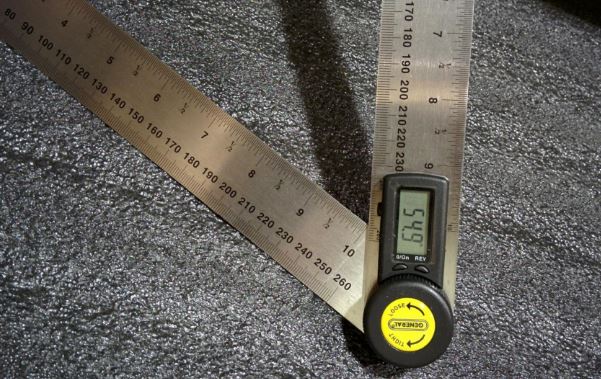 Accuracy
Although it's not the most accurate measurement instrument on the market it's more than suitable for standard woodworking projects. Measurements are accurate to within a tenth of a degree, which is pretty reliable. If you've got older mechanical tools, this digital instrument is definitely more accurate than them.
Igaging Digital Protractor
Looking for a quick and easy way to jot down a large number of measurements, or verify your existing cuts? Igaging has the solution for you. This is the cheap and cheerful alternative to the angle gauge above, making it ideal for those who do not need to use it to do calculations.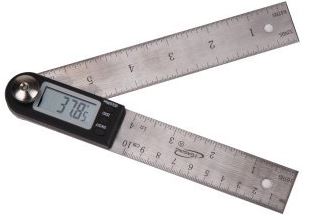 Design
The Igaging Digital Protractor is almost identical in design to the one above, with a few key features. The bearing that connects one ruler to the other is made from stainless steel, which is less likely to wear out over time. To keep the measurement simple, the display is mounted on one specific ruler, making it easy to keep at eye level.
Another nice addition to the design of this model is the rulers. They are removable, and it includes both 4" and 7" versions on hand. This allows you to get into tight spaces when needed, or bust out the big tools when necessary.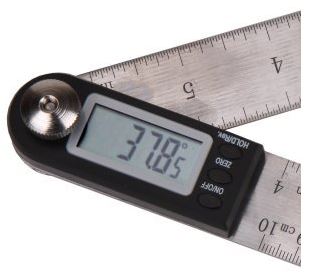 Functionality
This particular protractor is a little more basic that some models. Get it in position, and the angle is displayed on the screen. But it does have a few tricks up it's sleeve. By pressing the button in the upper right, you can switch between the measurements on the inside of the ruler, or the outside. This is incredibly handy for certain applications.
Another handy feature is the fact that it will automatically shut off after 5 minutes of inactivity, keeping your battery charged up for a long period of time.
Accuracy
Despite it's affordable price, this is one of the more accurate options on the market. Measurements are repeatable down to 5/100ths of a degree, which is certainly remarkable.
Which Digital Protractor is Right for Me?
Depending on how you intend to use it, some of these tools will perform better than others. If you're in the construction industry, accuracy holds importance above all. In this case, we highly recommend the Accuremote Digital Electronic Angle Gauge. Not only is it one of the most accurate tools on our list, but it's incredibly easy to use. This particular tool is ideal for measuring angles of things that are already there. You clip it to your ruler, hold it against something, and you get the exact measurement you're looking for. It's not easy to take a measurement of a line drawn on a board, but for anything that's already in place, this is the tool you want.
If you're looking for something better suited for DIY projects, you're probably looking for a tool that has its rulers built in. In this case, you've got two options. The General Tools Digital Angle Finder is for those who want to make their calculations simpler. Because it can find the inverse of certain angles, it's ideal for making cuts, calculating complimentary angles, or figuring out the next step in your project.
If accuracy is more your thing, the Igaging Digital Protractor is a great option. With twice the precision of the general tools model, this is a great choice for anyone who wants to run their own numbers, and who values accuracy above all other metrics.
Note: At no extra cost to you, we may earn a commission for purchases using our links. Learn more.