Keeping your ears clean and dry is no laughing matter. For most of us, this might mean cleaning our ears with a Q-tip after getting out of the shower. But if you swim – or if you're prone to excessive ear wax buildup – it can be more of a challenge. Without the right everyday cleaning regime, you might find yourself making frequent trips to the doctor.
Electric ear vacuums are designed to remove earwax from your ear canals. These devices come in many varieties. Some are simple vacuums, while others have a heating function for drying. Other devices use water to irrigate your ears and loosen up trapped wax. Which type is right for you will obviously depend on your personal needs.
Today, we're going to review four of the best electric ear vacuums and dryers we could get our hands on. If you don't have time to read all of the details, here's the short and sweet version:
Of course, there's a lot more that goes into each of these ear cleaning devices. To get a full understanding, we'll have to dig a bit deeper. Let's get started, and see what we find!
1. EVAWOO Electric Ear Wax Remover Tool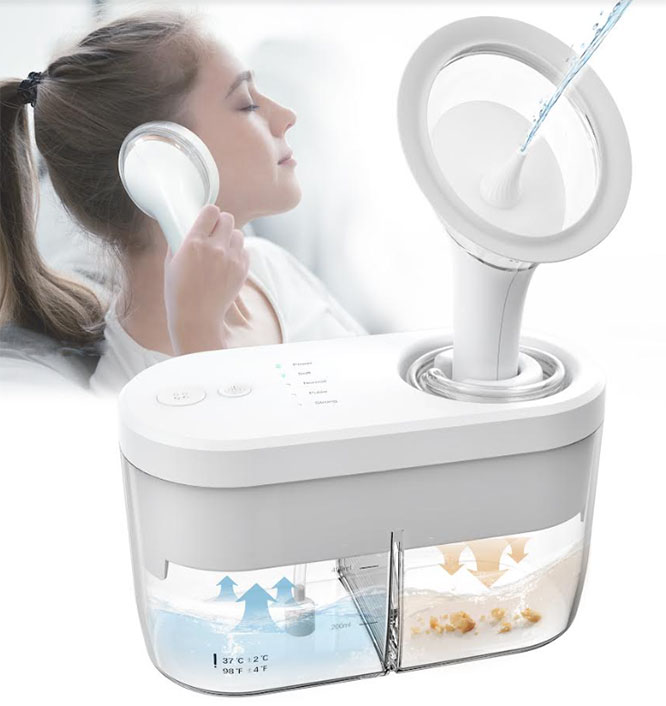 Key features:
Ear irrigator with clean and dirty water tanks.
Four cleaning modes.
IPX5 water-resistant.
The EVAWOO Electric Ear Wax Remover Tool isn't so much a vacuum as a full-featured irrigator. It has a rectangular plastic base with a mostly transparent housing. This allows you to see how much water is in each of the 400ml reservoirs. One contains the clean water, while the other contains the dirty water you collect. The top portion of the housing is white, and is removable for accessing the reservoirs.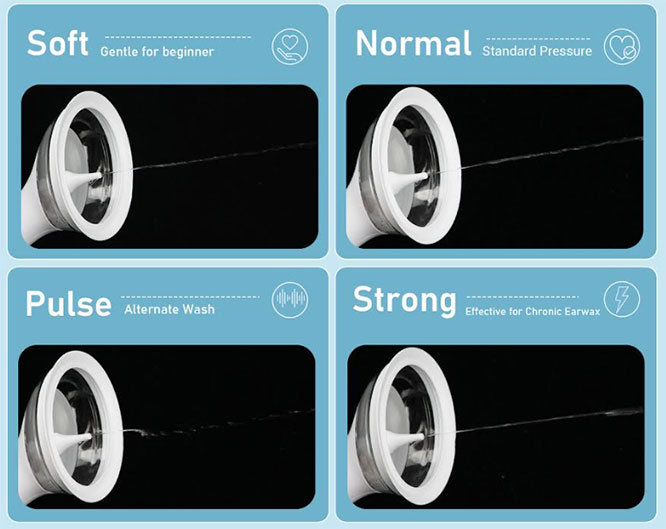 The ear cleaner itself is a large plastic cup that fits over your ear. It has a silicone outer ring that forms a seal and prevents dirty water from leaking. Inside of this is a smaller silicone cone that goes into your ear canal and sprays water. Meanwhile, there's a set of holes in the back of the outer cup next to the cone. These holes are supplied with suction, and pull dirty water out and into the appropriate reservoir.
The ear cleaning unit has a tapered base, and sits in an indent in the top of the housing. It's connected by a clear silicone hose that coils up in a convenient circular indent. The main unit itself is rated IPX5 for water-resistance. If you spill or splash any water on it, it's not going to get damaged.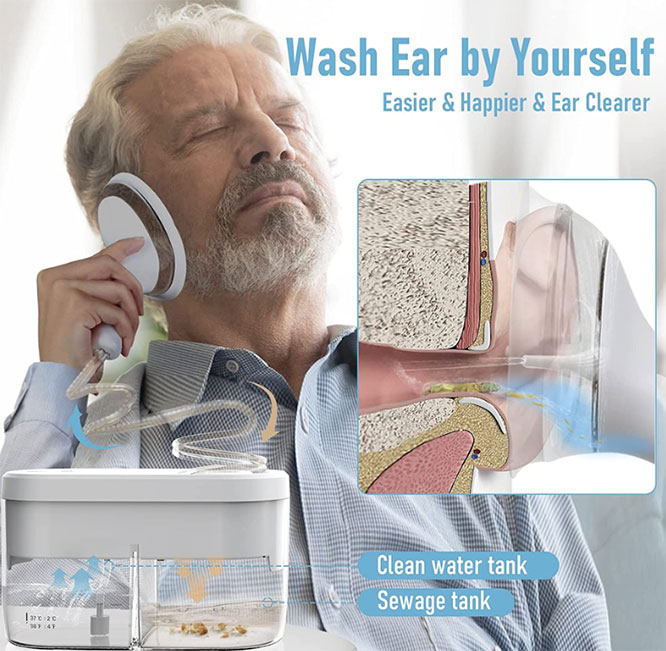 On top of the housing is a power button, as well as a button to change the cleaning mode. Next to these buttons is a row of five green LED indicators. The top one lights up whenever the power is turned on. The other four tell you the current cleaning mode. You can cycle between three pressure levels, ranging from 8 to 15 PSI. There's also a pulse mode that runs at the medium pressure setting.
The 1,200mAh internal battery is enough to run for six to eight hours, depending on your settings. It charges in less than two hours via USB Type-C. The kit includes a set of three extra ear cones that are both replaceable and washable. You also get a packet of cotton swabs, along with a bulb-shaped syringe for manual irrigation.
What we liked:
Effective irrigation and wastewater disposal.
Easy to use and keep clean.
Water-resistant design.
Long-lasting battery.
What we didn't like:
Only one size ear tip.
Not suitable for travel.
2. EVNRH Ear Vacuum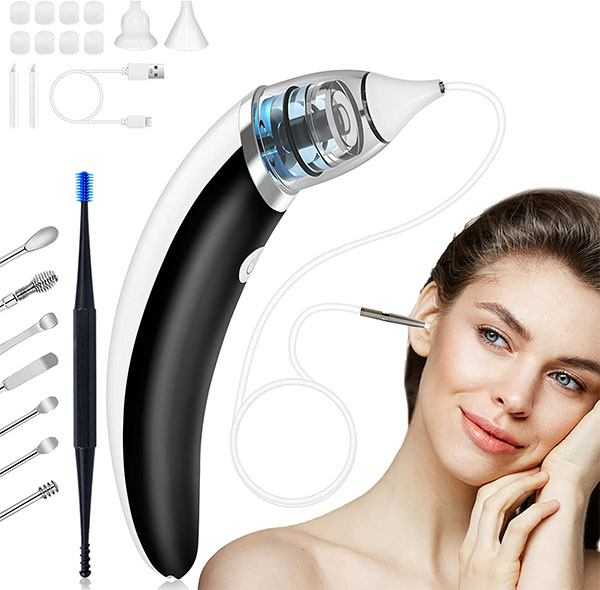 Key features:
Dry vacuum with ear wax removal spoons.
11 interchangeable cleaning attachments.
Five suction levels.
The EVNRH Ear Vacuum is constructed from a matte plastic that's easy to hold and keep clean. It's shaped like a banana, so it's ergonomic, and it has a two-tone black and white design. At the front end is a clear vacuum chamber with a sponge filter, and a 28-inch clear silicone vacuum tube.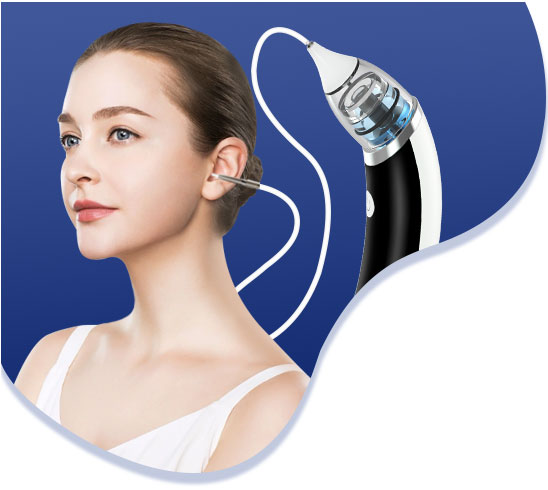 On the front of the housing is a control button, which is designed to be operated with your index finger. Press the button once to activate the lowest power level, which is gentle enough for babies. Press it up to four addition times to cycle through five power levels. The most powerful setting is strong enough for almost any cleaning job. A sixth press turns the power off. Even on the loudest setting, the vacuum is very quiet. It produces a maximum of 30dB, which sounds like someone whispering in your ear.
The kit includes a number of attachments that you can use. You can attach them to the end of the vacuum tube, or remove the tube and put them directly on the housing. The default attachment is a simple silicone spoon that gently removes loose wax and pulls it towards the nozzle. There are eight extra silicone spoons, so you don't have to worry about one or two of them wearing out.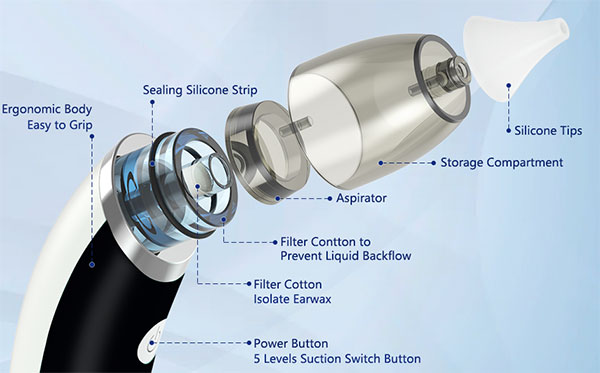 If that's not enough, there's a set of six stainless steel scoops. These come in various shapes and sizes to meet a variety of needs. You also get a stainless steel spring that makes quick work of most wax, along with a 360-degree silicone brush. This brush is very gentle, and is designed for people with sensitive ears. Regardless of what attachment you use, EVNRH recommends using drops to loosen the wax before you clean your ears.
The internal rechargeable battery will last for several uses, depending on your settings. When fully drained, it takes about 2 ½ hours to charge via the included USB cable.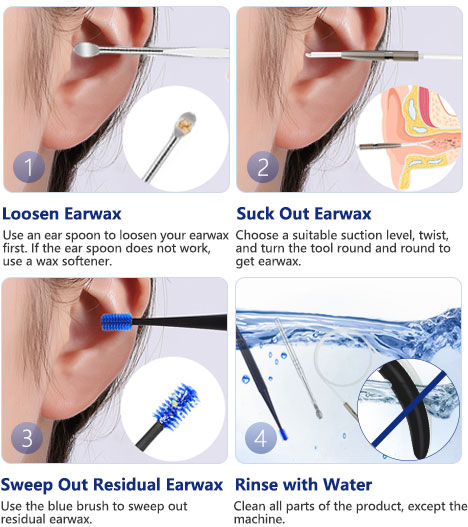 Along with the ordinary attachments, there's a pair of broad, cone-shaped silicone heads. The smaller of these heads is designed to be used as an extractor for baby's noses. The larger one is a bit larger, and is suitable for small children.
Maintenance is simple. You just replace or clean the filter sponge when you start to lose suction. There are 30 extra sponges included in the package, which should be plenty for long-term use. You also get the benefit of a 12-month warranty. If anything fails prematurely, you'll get a refund or replacement.
What we liked:
Plenty of attachments.
Five suction levels.
Suitable for use on children and pets.
Easy to operate and maintain.
What we didn't like:
Stainless steel attachments don't have a silicone coating.
No good way to store all the attachments.
3. Mack's Ear Dryer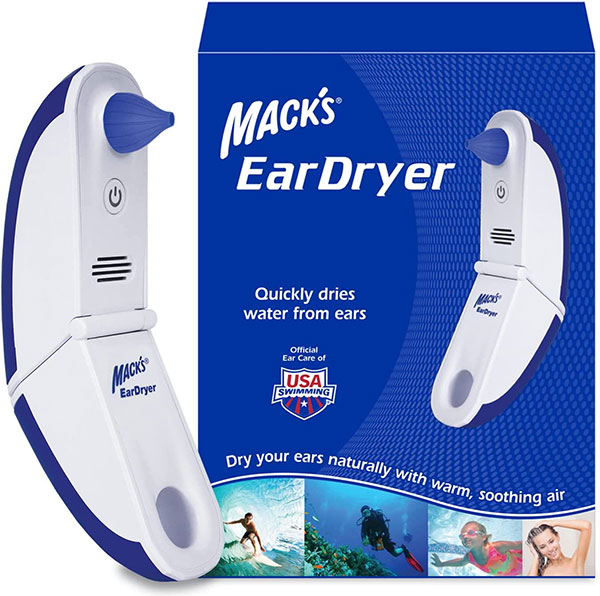 Key features:
Warm air dryer for your ears.
Four color-coded silicone tips.
Folds up for transport and storage.
Mack's Ear Dryer has a somewhat fatter form factor. The back edge is curved and forms an arc of approximately a third of a circle. The front has two flat faces that meet at a wide obtuse angle. At the center is a hinge, which allows you to fold the unit up for storage. The housing is constructed from plastic, with a blue back and a white front portion.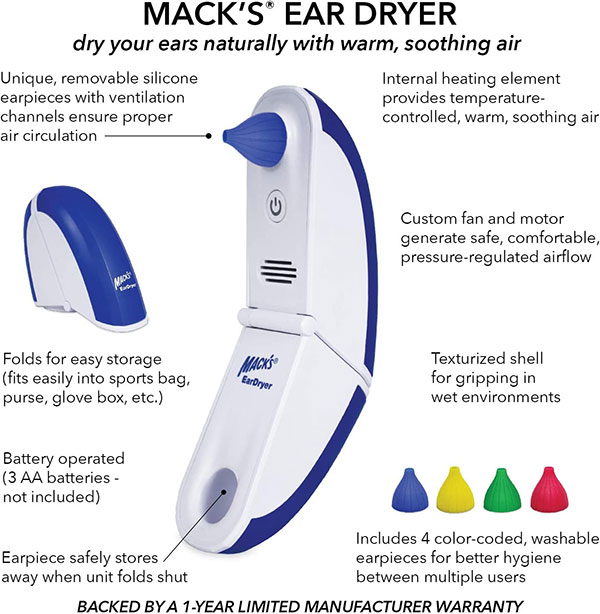 There's a silicone cone near the top of the front face, which inserts into your ear. It's soft and comfortable, as well as interchangeable. There are four color-coded tips for four users, in blue, yellow, red, and green. There's a corresponding conical indent in the bottom of the front face. When you snap the dryer closed, the ear cone will fit right into the indent.
The cones are sized to fit most ears, and they're very flexible. You can also remove them and wash them with soap and water or alcohol to keep them sanitary.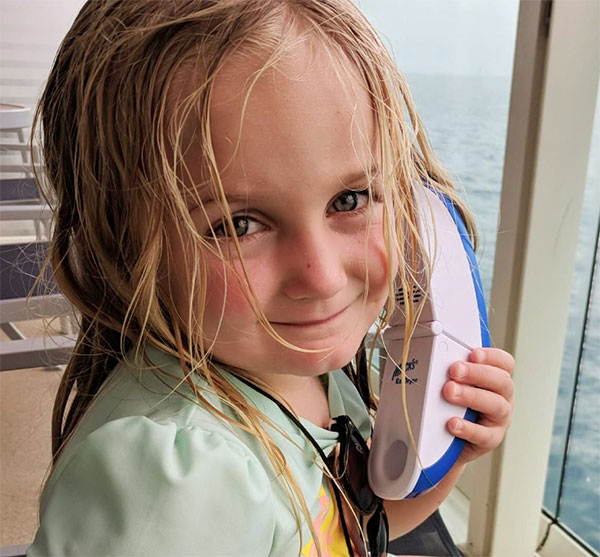 Beneath where the cone attaches is a large white power button. Press it, and it will initiate a drying cycle. At first, it will blow cool air, but eventually the air will heat up. After a couple of minutes, it will shut off. The system is computer controlled, which is both a good thing and a bad thing. On the one hand, it's very safe, and it won't damage your ears. On the other hand, you can't customize the cleaning cycle. This is a pain if your ears are exceptionally damp and need additional cleaning.
This ear dryer takes a set of three AA batteries, which are enough for several weeks of regular use. It's backed by a 12-month warranty, so you'll have plenty of time to make sure it's in working order.
What we liked:
Color-coded tips for multiple users.
Runs quietly.
Blows warm air without being too hot.
Convenient, collapsible design.
What we didn't like:
Takes a minute to heat up.
Underwhelming drying power.
4. DOMIG Electric Ear Wax Removal Kit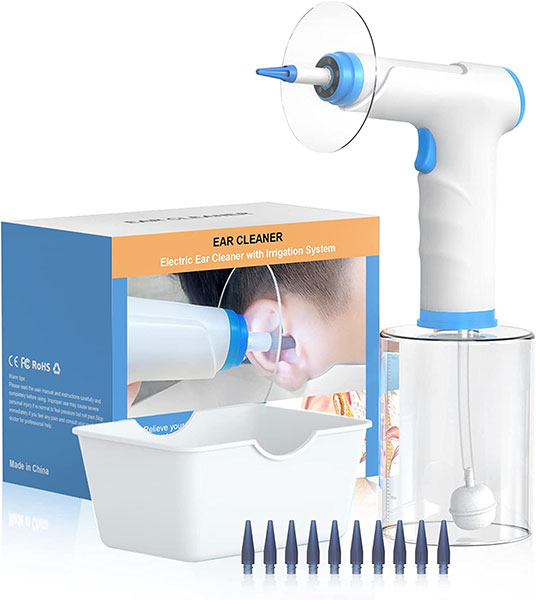 Key features:
Ear irrigator with 500ml clean water tank.
Four cleaning modes.
Comes with 10 replacement cleaning tips.
The DOMIG Electric Ear Wax Removal Kit is a white irrigator that looks like a spray bottle. It has a blue activation trigger and accents, and a transparent reservoir at the bottom. This reservoir has a capacity of 500ml, and can be used at any angle thanks to a gravity-weighted siphon.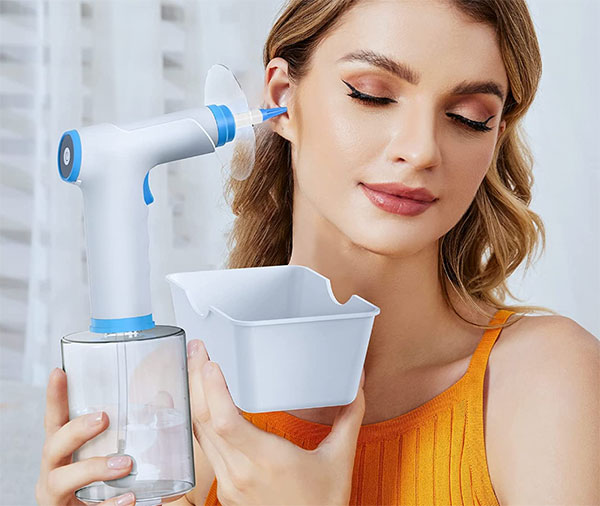 At the front of the unit is a soft plastic tip that's narrow enough for even small children. The package includes a set of 10 extra tips, and they're easy to screw in and swap out. They're also easy to clean when they get dirty. Behind the tip is a clear circular deflection plate. This deflects any water spraying out of your ears. However, there's no collection mechanism. You just have to hold your head over a sink or over the included collection pan.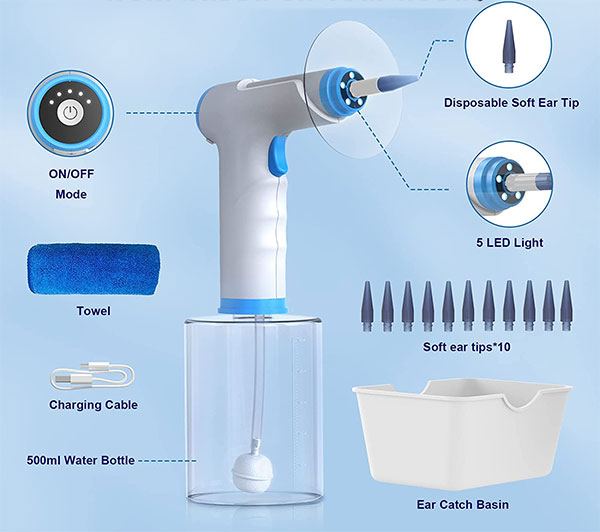 Much like the EVAWOO irrigator, there are four settings, which you cycle through with a power button on the back. The only difference is that you get a wider range of pressures – ranging from 7 to 24.5 PSI. The 2,000mAh battery is powerful enough for several cleanings, and charges easily via USB Type-C.
What we liked:
Effective cleaning performance.
Straightforward and easy to use.
Large water reservoir.
Suitable for children and adults alike.
What we didn't like:
No suction mechanism for dirty water.
Not suitable for travel.
Final Verdict
These are all well-designed ear cleaning machines. But which one of the four is the right choice for you? Here's what we've learned about each one.
We started out by looking at the EVNRH Ear Vacuum. This is a dry vacuum for suctioning wax out of your ears. It doesn't have any heating function, and it won't spray water into your ear canal. However, the multiple attachments make it versatile enough to meet a whole slew of needs. It can even be used to clean up a baby's nose. If you want a straight-up ear vacuum that's good for the whole family, this is a solid choice.
Next, we examined Mack's Ear Dryer. This is a simple dryer with a built-in heating function. It blows air through damp, waterlogged ears and dries them out in a hurry. We liked the interchangeable, color-coded tips, which make it easy to share between multiple users. We also liked the fact that you can fold it in half, which makes it easy to store and carry.
After that, we checked out the EVAWOO Electric Ear Wax Remover Tool. This irrigating device both sprays water and collects the dirty outflow into a neat reservoir. It's easy to use, and does a good job of flushing out your ears. As long as you don't need a travel irrigator, you're looking at a good choice.
Fourth on our list was the DOMIG Electric Ear Wax Removal Kit. This is a more straightforward irrigator that's suitable for both adults and children. It doesn't collect the dirty water, but it does have a large, 500ml reservoir. Even so, it's small enough to take on the road.
Meet Derek, "TechGuru," a 34-year-old technology enthusiast with a deep passion for tech innovations. With extensive experience, he specializes in gaming hardware and software, and has expertise in gadgets, custom PCs, and audio.
Besides writing about tech and reviewing new products, Derek enjoys traveling, hiking, and photography. Committed to keeping up with the latest industry trends, he aims to guide readers in making informed tech decisions.