Are you tired of scrubbing your bathroom and shower by hand? Electric cordless spin scrubbers may be the solution you've been looking for! We've tested and compiled a list of the top performers on the market to help you choose the best one for your needs. Here are our top picks:
In this article, we'll take an in-depth look at each of these spin scrubbers and discuss their unique features, advantages, and potential drawbacks. Whether you're looking for a powerful cleaner to tackle tough stains or a compact and lightweight option, we've got you covered. Let's get started!
Best Overall: Oraimo Electric Spin Scrubber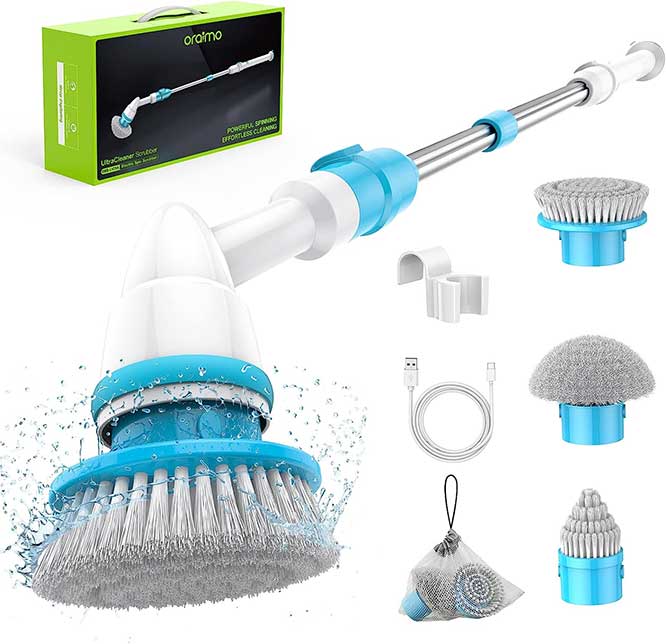 Key features:
Dual speeds with up to 430 RPM
One-click brush detachment
Well balanced design
Charges in about 40 minutes
As our top choice for the best overall option, the Oraimo Electric Spin Scrubber is well-designed in many aspects. Available in either blue or purple color schemes, it boasts an impressive 430 RPM for effective scrubbing with minimal effort. In addition, it's well-balanced, easy to use and moderately priced for a wide audience.

Other than the impressive rotational speed of the brush head, the Oraimo is unique due to it's one-click brush head release mechanism. It takes any grunt work out of changing-out any of the three included brush heads. Simply hold it from the main shaft and press your thumb to pop the brush off. This is great for maintaining the cleanliness of the brush heads, but also for quickly switching between large and small brushes. While the included brush heads are good enough, they will eventually need replacing if you use it on a regular basis.
With a minimum length of 24.80 inches, this spin scrubber can extend all the way up to 44.88 inches. At nearly four feet, it increases your reach by a significant amount, meaning less bending over and grunting to reach all the nooks and crannies.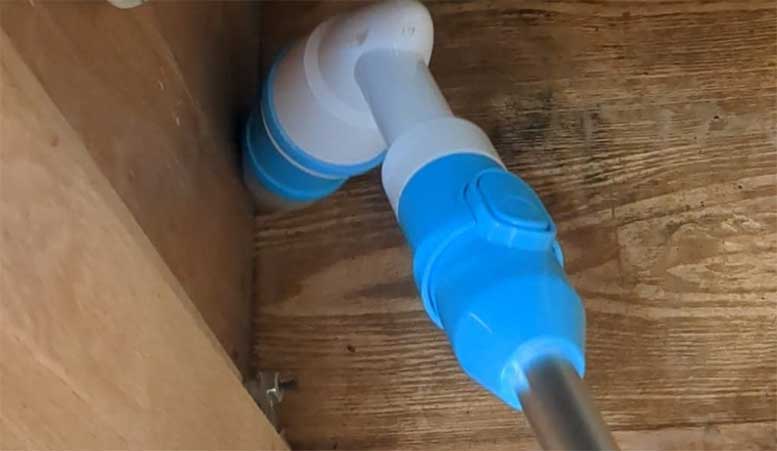 While testing out the Oraimo spin scrubber, we were pleased with the amount of power it delivered. It seemed to lift off grime with ease, especially when used in conjunction with bleach, scrubbing bubbles or whichever cleaner of your choice. Soap scum, mold/mildew, smudges and nastiness lift off nicely when used as intended. With a soft-start feature, it boots up smoothly and operates for about 2-3 hours between charges, depending on which mode you use.
While this battery life is a bit lower than average, the increase in speed and efficiency that the scrubber brings you, means you'll probably never need to use it for any duration longer. It's much more powerful than your run of the mill spin scrubber, and especially quicker than rolling up your sleeves and manually scrubbing. Best of all, once the battery is dead, it only takes around 40 minutes to fulfill a full charge when plugged in using the provided cable.

The Oraimo Electric Spin Scrubber (5% discount code: nerdtechyy) brings a lot of great function to the household. If you're looking for an all-around good pick, look no further. While we weren't able to distinguish its exact IPX waterproof rating, it held up just fine while the brush head was mostly submerged. Overall, it's powerful in performance, comfortable in use and priced well for the average layman.
What we liked:
Powerful motor with excellent spin-speed
Well balanced design; feels solid
Brush heads easy to remove
Charges-up quickly
3 included brushes for a variety of tasks
What we didn't like:
Battery life is "good enough" but not excellent
Brushes may not last very long
Best Runner-Up: kHelfer Electric Spin Scrubber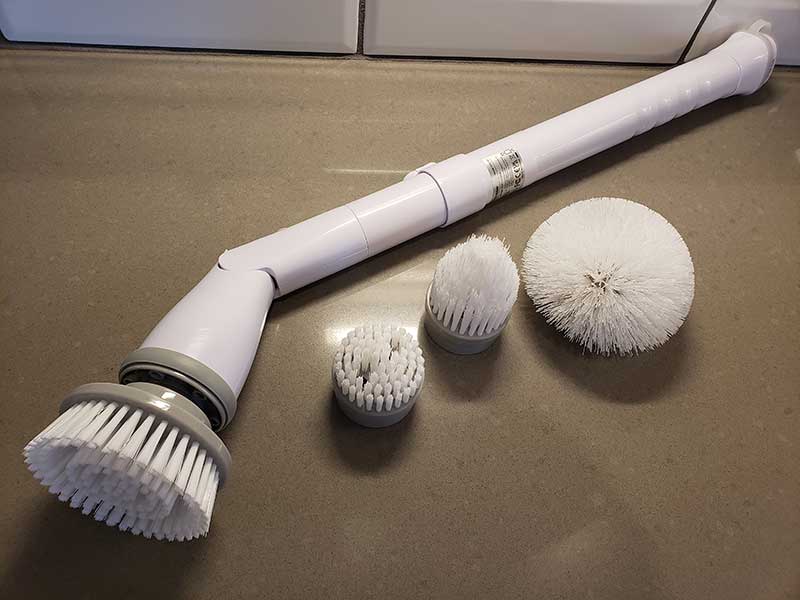 Key features:
Dual-speed scrubbing for versatility
Four detachable brush heads
Retractable handle for ergonomic use
Fast charging, impressive battery life
Earning the top spot as the second best overall option is the kHelfer KH8W Electric Spin Scrubber, a brand new cordless shower cleaner designed to make your bathroom cleaning routine a breeze. It measures 17 x 6 x 5 inches and weighs 3.6 pounds, so it has good balance and reach to it – perfect for tackling stubborn stains and soap scum, as well as getting to that nasty grout on your bathroom floor, shower, and bathtub.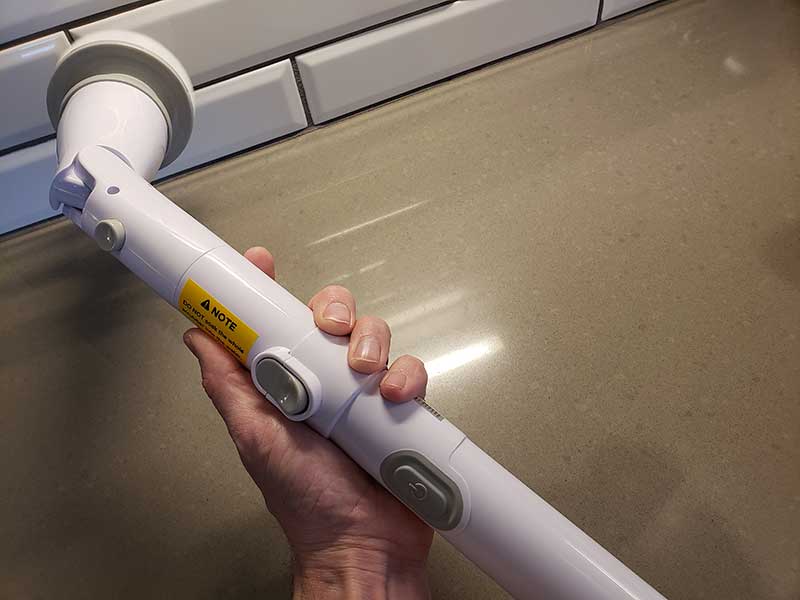 Our testing revealed that the unit's dual-speed feature significantly reduced cleaning time. With a single click, users can choose a low speed of 300 RPM for everyday cleaning, while a long press activates a 350 RPM mode for more challenging tasks. The adjustable speeds make the scrubber versatile and efficient.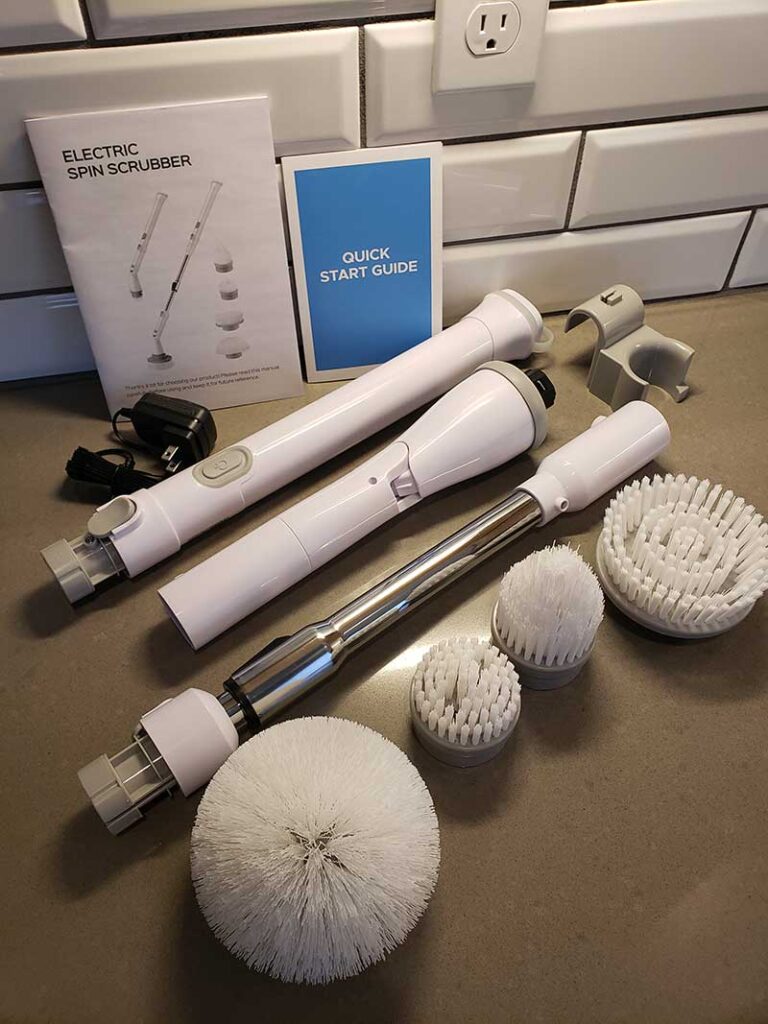 One of the standout features of this device is its four detachable brush heads. The Dome brush is ideal for cleaning bathtubs and toilets, while the Large flat brush works well on showers and floors. The Small flat brush is perfect for detail work, and the Corner brush excels at cleaning baseboards and door frames with deep grout. Each brush head is designed to reach nooks and crannies, making it an effective cleaning tool.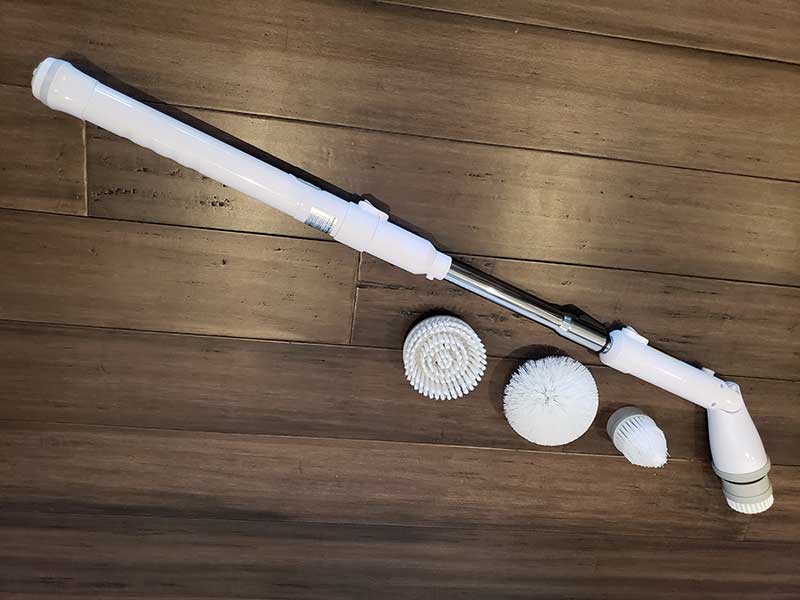 For those with back or knee issues, the retractable handle is a lifesaver. It can be extended to three different lengths, allowing users to clean without bending or kneeling. The scrubber's adjustable brush head angle also ensures that it can adapt to hard-to-reach places, such as showerheads and faucet gaps.
The KH8W's fast-charging feature and impressive battery life set it apart from the competition. A single charge provides up to 1.5 hours of continuous use, which we found to be sufficient for up to three complete bathroom cleanings.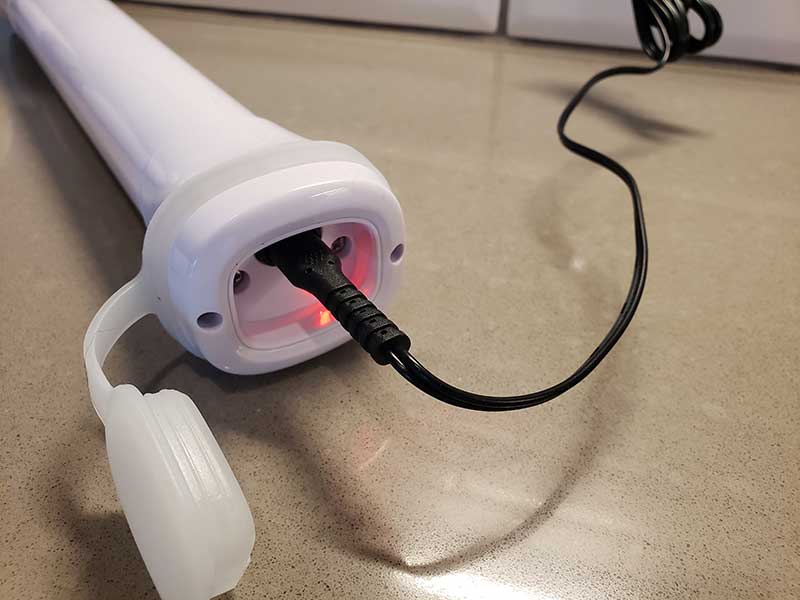 Durability is another advantage of this scrubber. Its bristles, made of stiff PP material, are designed to resist shedding and efficiently clean stubborn stains without scratching surfaces. Additionally, its IPX7 waterproof rating guarantees safe daily use and a longer lifetime.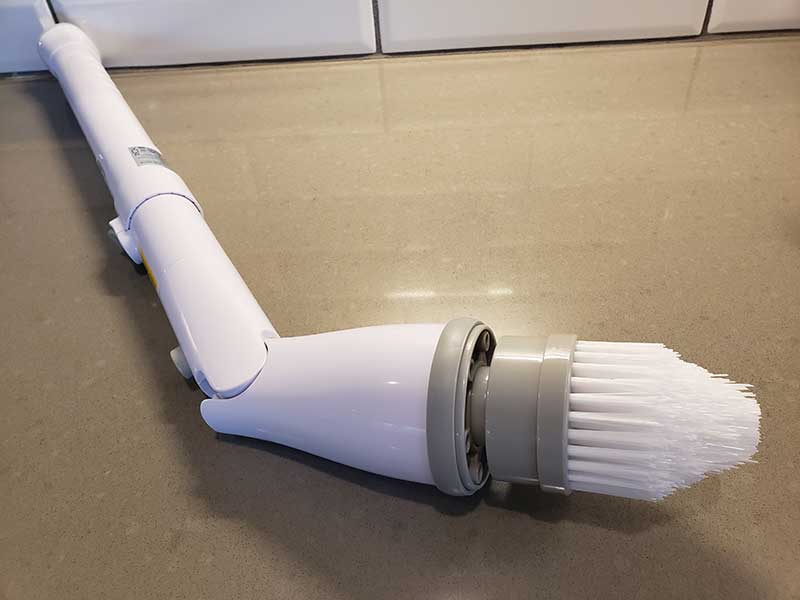 At the end of the day, the kHelfer KH8W Electric Spin Scrubber proves itself an excellent investment for those seeking an efficient and versatile bathroom cleaning tool. With its dual-speed options, variety of brush heads, and user-friendly features, it simplifies and enhances the cleaning process – precisely what you want from a bathroom spin scrubber.
What we liked:
Reduces cleaning time significantly
Adapts to hard-to-reach places
Durable, anti-scratch bristles
IPX7 waterproof for safe use
What we didn't like:
May struggle with extremely stubborn stains
Higher RPM mode drains battery faster
Best Premium: Bomves Cordless Spin Scrubber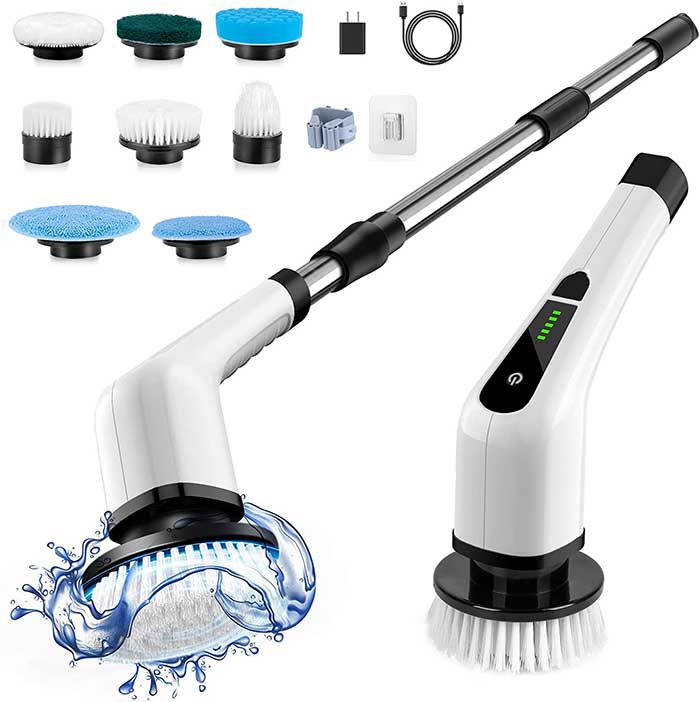 Key features:
Cordless design for unrestricted movement
3 adjustable sizes for ergonomic cleaning
Dual-speed motor for tailored cleaning
8 replaceable brush heads for versatility
The Bomves Electric Spin Scrubber is a versatile and powerful cordless cleaning brush that aims to revolutionize household cleaning. In designing this device, the creators took into account user feedback from across the internet and advice from top designers to craft an ergonomic scrubber that is both user-friendly and effective. With a 5000mAh battery capacity, you can get a full charge in about 3.5 hours. What's more, you can work for about an hour and a half on a single charge. The five power indicators conveniently display the remaining battery level, so you always know how much power you have left.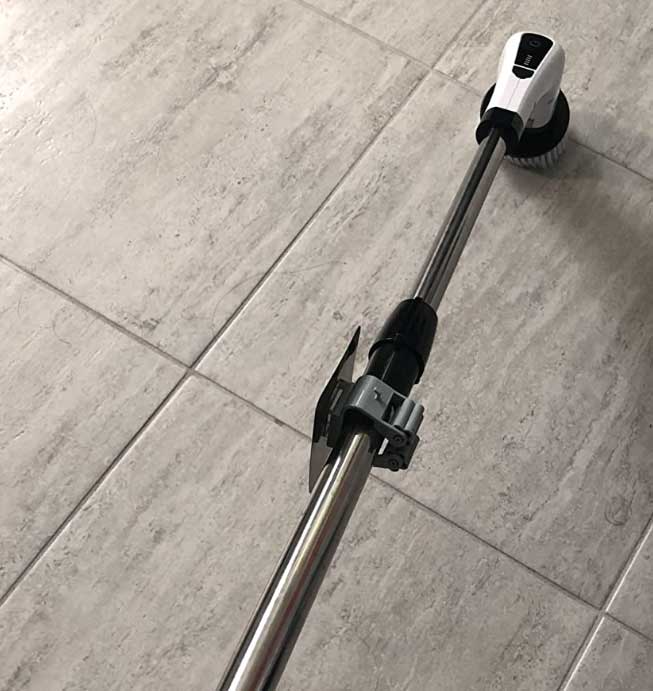 One of the standout features of this scrubber is its three adjustable sizes, with lengths of 12, 43, and 54 inches. The handle can be adjusted by simply rotating and pulling it out, allowing users to clean hard-to-reach areas, keeping you from bending or kneeling down. This design is particularly beneficial for the elderly and those with waist problems, making cleaning tasks less physically taxing.
The Bomves scrubber boasts an IPX5 waterproof rating, making it safe for use in humid environments or when washing brush heads. It can effectively clean various surfaces, such as showers, bathrooms, and bathtubs. It's also ideal for tackling stone tile, grout, and all the various grooves in your bathroom. Its cordless design provides unrestricted movement and faster cleaning speeds.
The scrubber's internal motor features two speeds: low (250 RPM) and high (350 RPM), which can be easily switched between with a long press. This dual-speed design allows users to select the appropriate cleaning method for their needs, significantly reducing manual cleaning time.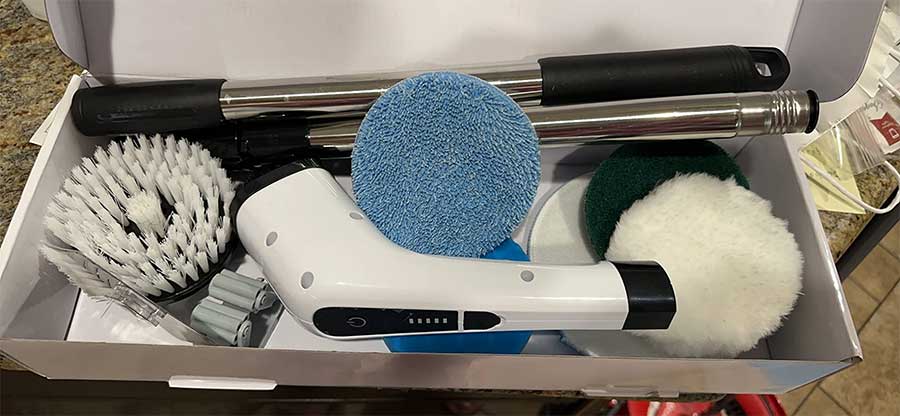 The package includes eight replaceable brush heads, catering to multiple cleaning scenarios, along with chargers and hooks. These brush heads can be used on a variety of surfaces, including bathrooms, kitchens, tile and wood floors, tires, cars, and glass. The soft, high-quality bristles prevent scratches on tiles, glass, and vehicles. With compact dimensions of 9 x 4 x 2 inches and a light weight of 2.67 pounds, the Bomves Electric Spin Scrubber is a small yet powerful cleaning solution for any home.
What we liked:
Powerful 5000mAh battery for longer usage
IPX5 waterproof rating for wet environments
User-friendly with adjustable handle lengths
Soft bristles protect surfaces from scratches
What we didn't like:
Charging takes 3-4 hours
Handle not fully submersible in water
Most Compact: IEZFIX Electric Spin Scrubber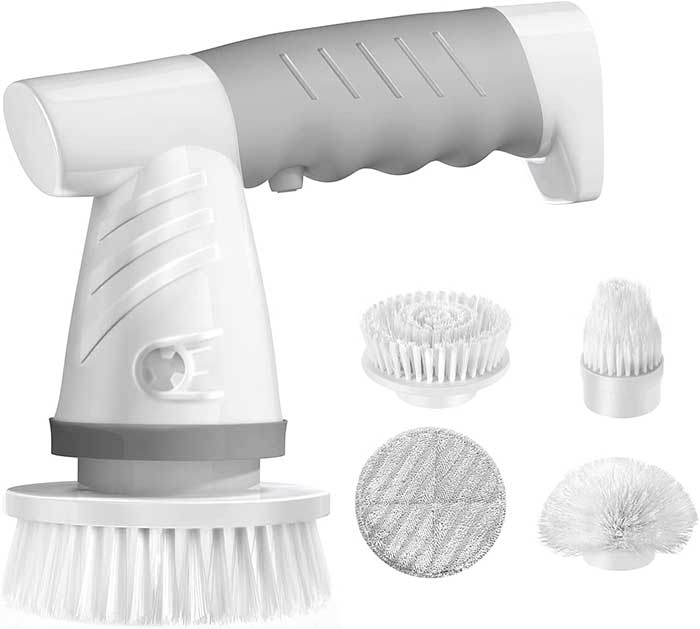 Key features:
Cordless and lightweight design
Four replaceable brush heads
High-torque 350 r/min spin
Ergonomic anti-slippery handle
The IEZFIX Electric Spin Scrubber is a versatile, rechargeable cleaning tool that makes scrubbing surfaces hassle-free. This scrubber weighs less than 2 pounds, so it's designed for effortless use – a great addition to your cleaning arsenal. What's more, it measures 10.79 x 6.42 x 3.98 inches; plenty of reach for stubborn cleaning tasks.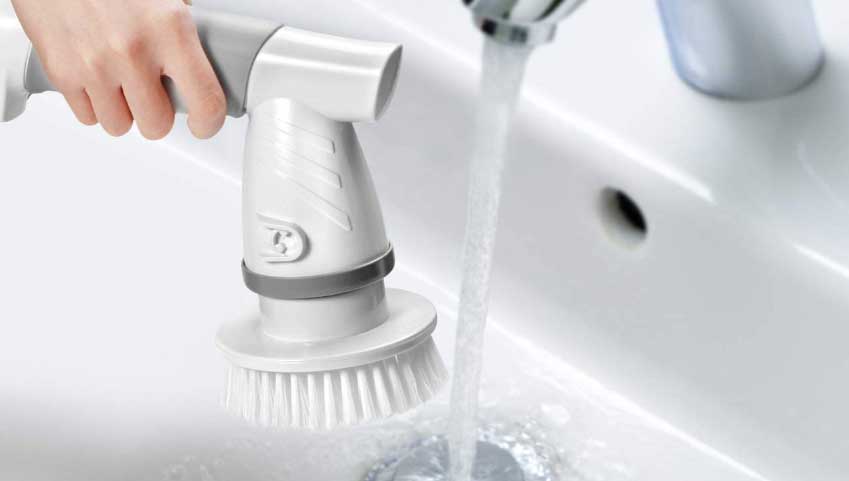 We put it to the test in various cleaning scenarios, and it did not disappoint. It comes equipped with four replaceable brush heads, each designed for different cleaning tasks. The dome brush works wonders on bathtubs and sinks, while the flat brush tackles floors, tiles, ovens, and stoves. The pointed corner brush excels at cleaning window sills, tight spaces, corners, and even bicycle wheels. Lastly, the cloth brush is ideal for flat surface cleaning and drying.
One of the standout features of this scrubber is its powerful performance. It operates at a high-torque handheld spin of up to 350 r/min, making cleaning tasks efficient and easy. The ergonomic design of the handle, coupled with its anti-slippery grip, ensures comfort during use, helping to alleviate strain on your knees and back.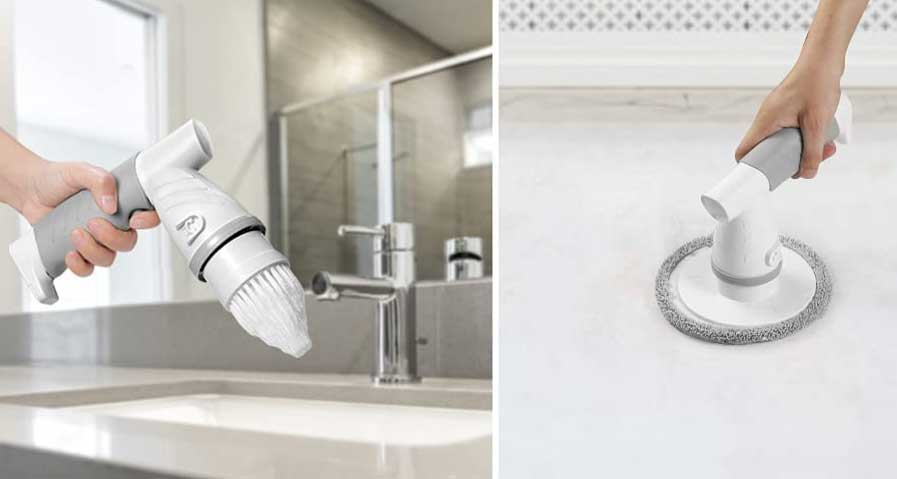 During our testing, the scrubber successfully removed stubborn scum and grime, saving us considerable time and effort. The device's ability to reach narrow spaces and gaps between tiles was particularly impressive, leaving no spot untouched.
Charging the unit is simple: just open the battery cap and use the provided adapter. After approximately 3 to 4 hours of charging, the green light will indicate that it's ready for use. Press the on/off button to activate the spin scrubber and start cleaning.
Overall, the IEZFIX Electric Spin Scrubber is an excellent tool for tackling a variety of cleaning tasks. Its powerful performance, combined with its lightweight design and ergonomic handle, make it a valuable addition to any home. Rest assured that even the most stubborn stains and grime won't stand a chance.
What we liked:
Efficient and powerful cleaning
Reaches narrow spaces easily
Time-saving performance
Comfortable and strain-free use
What we didn't like:
Longer charging time (3-4 hours)
Brushes may wear out over time
Best Budget: Hivita Electric Spin Scrubber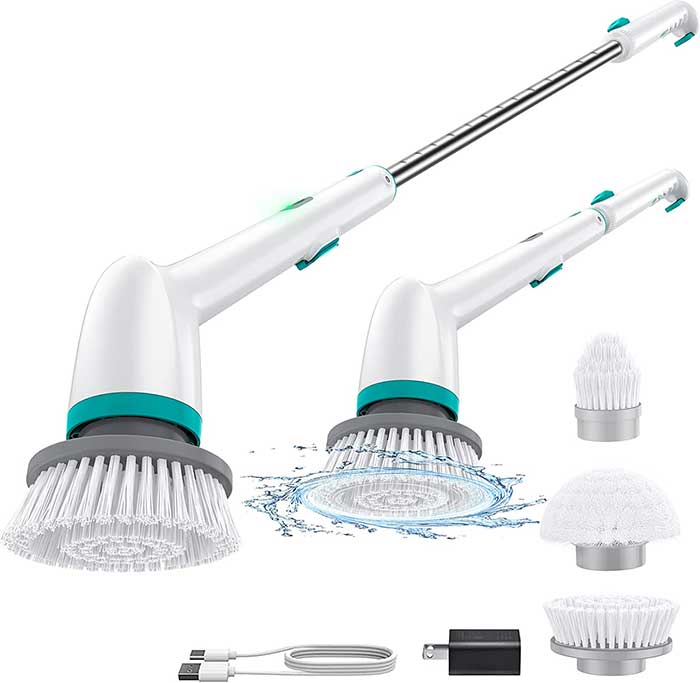 Key features:
Cordless design for unrestricted movement
IPX7 waterproof rating for submersion in water
Dual-speed mode for efficient cleaning
Adjustable extension handle for hard-to-reach areas
The 2023 New Version Electric Spin Scrubber from Hivita is a versatile cordless cleaning tool that elevates your bathroom cleaning experience. It comes equipped with USB-C charging, IPX7 waterproofing, and an adjustable extension handle, making it perfect for tackling hard-to-reach grime in your bathtub, sink, and bathroom grout.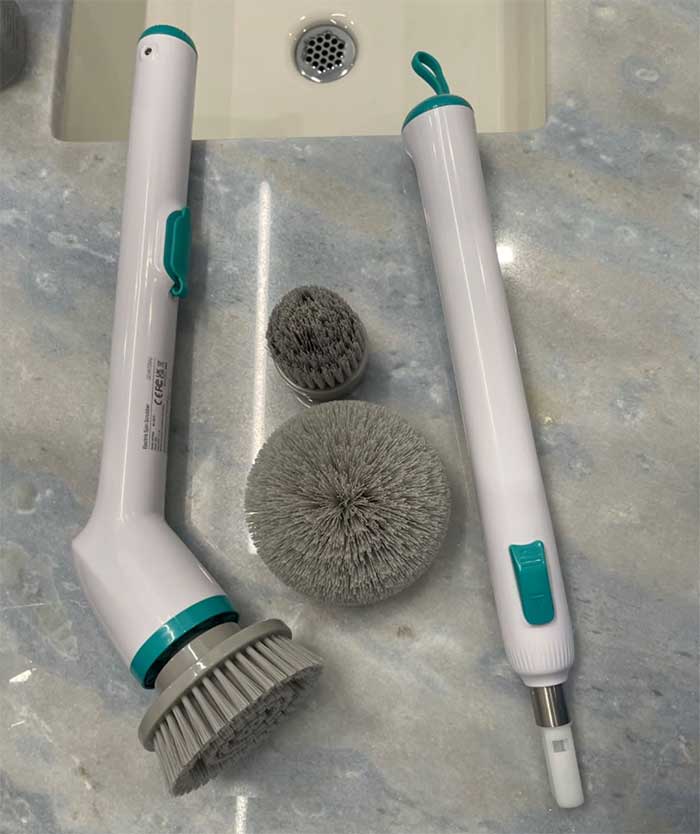 During our testing, the device demonstrated impressive power, thanks to its upgraded torque and brush head speeds. The dual-speed mode allows you to choose between 300RPM and 350RPM, ensuring a deep clean even on the most stubborn stains. The scrubber is energy-efficient, with a light, non-splash speed that makes it an essential tool for household chores.
Safety is a priority for the Hivita Electric Spin Scrubber. Its IPX7 waterproof rating allows the entire unit to be submerged in water without worry, while its over-temperature and overcharge protection features provide additional peace of mind.
The cordless design of the scrubber frees you from the limitations of traditional cleaning tools. It can be fully charged in just 3.5 hours and boasts a 90-minute runtime, allowing you to clean your entire bathroom without being tethered to a power outlet.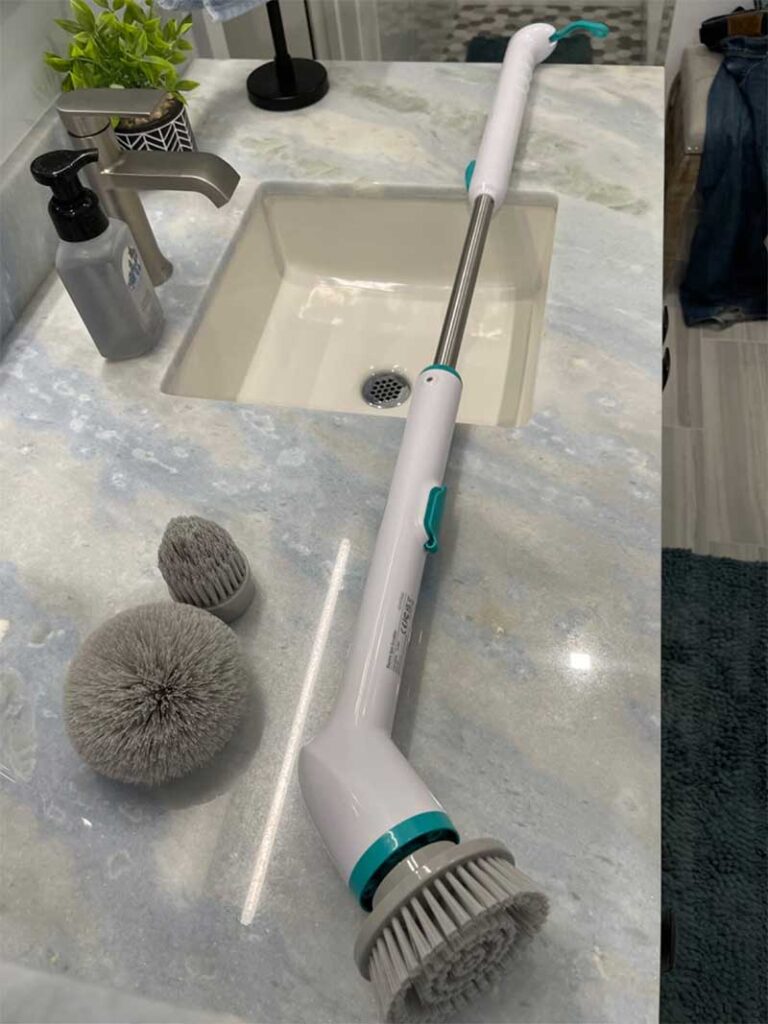 The adjustable extension handle makes this scrubber adaptable to various cleaning scenarios. The 17.09 x 5.83 x 5.12 inches scrubber can be extended from 18.5 inches to 49.2 inches to reach any area with ease. And with a total weight of less than 3 pounds, you'll have no trouble getting the job done. The package includes three brush heads designed to meet different cleaning needs, making it a true all-around solution for your home.
Bottom line, the Hivita Electric Spin Scrubber is a powerful and versatile cleaning tool that ensures a deep clean for your bathroom. Its advanced features, like dual-speed settings, adjustable extension handle, and IPX7 waterproof rating, make it a must-have for any household.
What we liked:
Long battery life for extended cleaning
Versatile brush heads for various cleaning needs
Powerful torque for effective cleaning
Over-temperature and overcharge protection for safety
What we didn't like:
May not be suitable for heavy-duty cleaning
May be heavier than traditional cleaning tools
Best Alternative: VacLife Cordless Electric Spin Scrubber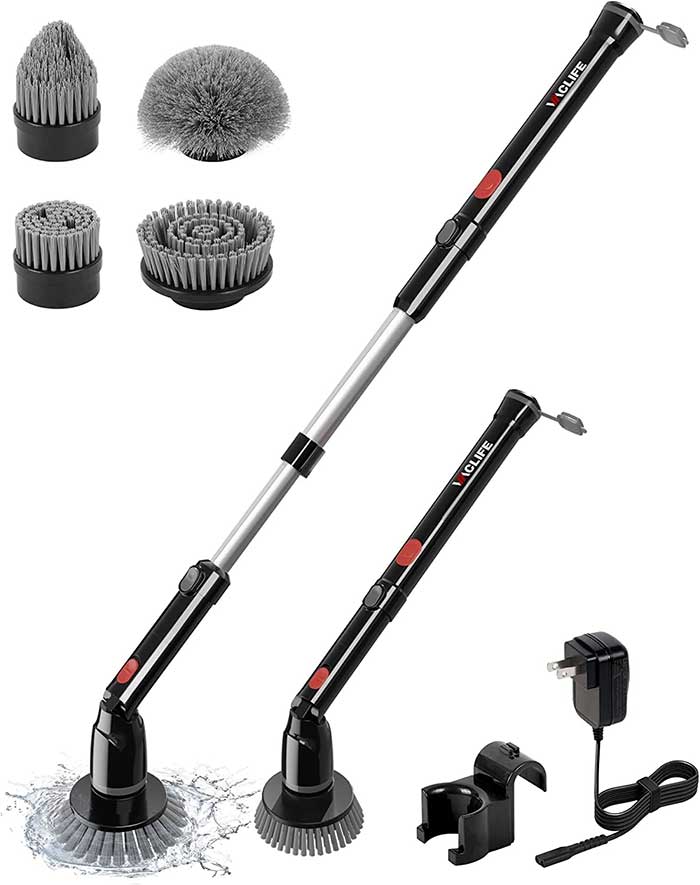 Key features:
High-performance motor for deep cleaning
Four replaceable brush heads for versatile cleaning
Adjustable handle and brush head for convenience
Water-resistant for safe indoor and outdoor use
The VacLife Cordless Electric Spin Scrubber is a highly effective cleaning device that helps to eliminate stubborn stains and dirt with minimal effort. The high-performance motor allows the unit to spin up to 418 RPM, providing a level of deep cleaning power that is superior to other scrubbers. You get two speed modes to choose from, making it easy to adjust the device to suit your cleaning needs.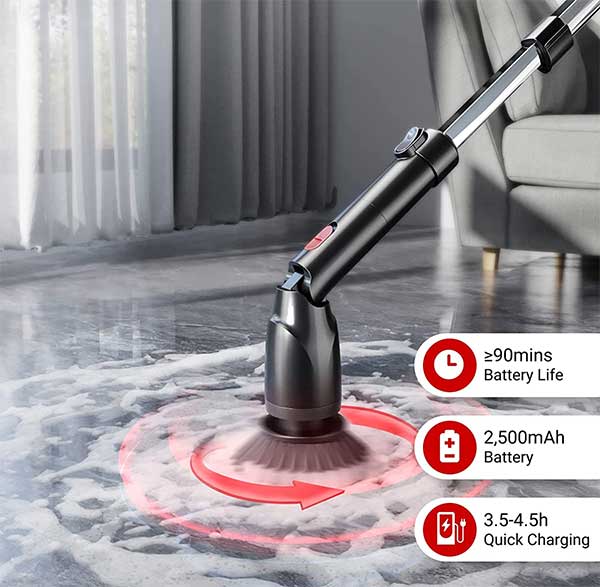 The unit comes with four different brush heads to cater to various cleaning tasks. The dome brush is suitable for tiles, tubs, and walls, while the flatter large brush is perfect for floors and staircases. The smaller flat brush is designed for sinks, counters, and toilets, and the corner brush works wonders for tight spaces and grout.
This scrubber is designed with convenience in mind. It has a telescopic handle that can reach between 26 and 45 inches, making it easy to clean out-of-reach areas without bending or kneeling. The brush head is adjustable and can be angled at three different positions, providing extra versatility. The unit comes with a hanging hook, making it easy to store when not in use.
The electric spin scrubber is water-resistant, making it safe for indoor and outdoor use. However, it's important to note that the unit should not be completely submerged in water. To achieve optimal cleaning results, it's recommended that you apply detergent to the stains before using the spin scrubber.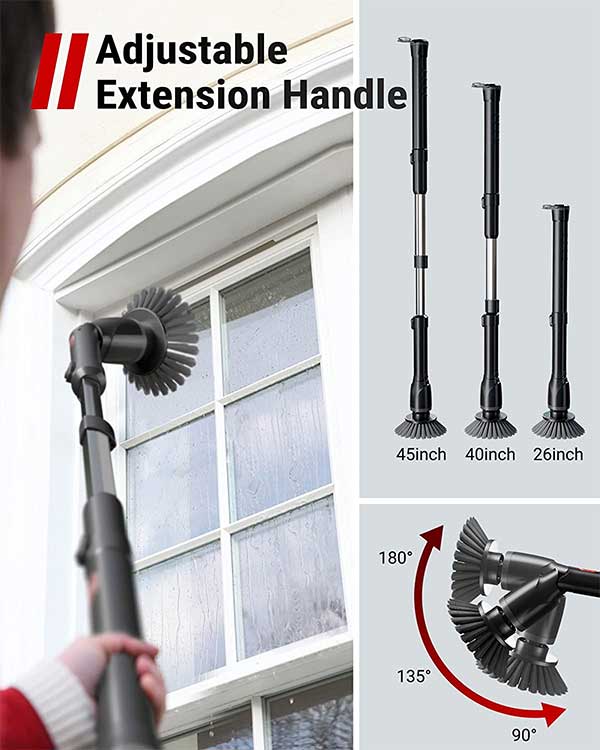 It's powered by a rechargeable battery that can provide 90 minutes of continuous use after a fast charging time of 3.5 to 4.5 hours. The cordless design allows you to move the unit from each room with ease, and it measures 16.45 x 6.3 x 5.47 inches and weighs 3.8 pounds, making it lightweight and easy to maneuver.
Overall, the VacLife Cordless Electric Spin Scrubber is an excellent cleaning device that provides efficient and effective cleaning results. It makes cleaning a breeze and is a must-have for anyone looking to keep their home sparkling clean with minimal effort.
What we liked:
Saves time and effort while cleaning
Versatile brush heads suit different surfaces
Cordless design allows for easy movement
Long-lasting battery for extended cleaning sessions
What we didn't like:
Not ideal for heavy-duty cleaning tasks
Charging time may take longer than desired
Electric Cordless Shower & Bathroom Spin Scrubber FAQs
Are electric cordless shower and bathroom spin scrubbers waterproof?
Most are designed to be waterproof, allowing you to use them safely in wet environments without damaging the device.
How long do the batteries of electric cordless shower and bathroom spin scrubbers last?
Battery life varies depending on the model and usage, but most electric cordless shower and bathroom spin scrubbers have a battery life of around 1 to 2 hours on a single charge.
Can electric cordless shower and bathroom spin scrubbers be used for cleaning other surfaces besides the shower and bathroom?
Yes, some come with different brush heads that can be used for cleaning other surfaces like kitchen tiles, grout, and even car tires.
Final Verdict
Of our six picks, the Oraimo Electric Spin Scrubber tops the list as the overall best choice. With fast rotation, one-click brush removal and a nice design, it's easy to recommend. As a close second, the kHelfer Electric Spin Scrubber is the second best option with dual-speed scrubbing, four detachable brush heads, and impressive battery life. But Bomves' Cordless Spin Scrubber is an excellent runner-up with its cordless design, adjustable sizes, and eight replaceable brush heads.
The IEZFIX Electric Spin Scrubber is the most compact of the bunch, with its cordless and lightweight design, four replaceable brush heads, and high-torque spin. Hivita's Electric Spin Scrubber takes the spot for best budget option, thanks to its adjustable extension handle and IPX7 waterproof rating. And lastly, VacLife's Cordless Electric Spin Scrubber is a fine alternative with a high-performance motor and water-resistant design. All these electric cordless shower and bathroom spin scrubbers offer efficient and versatile cleaning, making them valuable additions to any home.
Meet Derek, "TechGuru," a 34-year-old technology enthusiast with a deep passion for tech innovations. With extensive experience, he specializes in gaming hardware and software, and has expertise in gadgets, custom PCs, and audio.
Besides writing about tech and reviewing new products, Derek enjoys traveling, hiking, and photography. Committed to keeping up with the latest industry trends, he aims to guide readers in making informed tech decisions.