In the ever-evolving world of technology, the ability to print on the go has transformed from a luxury into a necessity for many professionals and hobbyists. And with the advent of handheld inkjet printers, printing has never been more versatile and convenient.
This article puts the spotlight on some of the best handheld inkjet printers on the market. We explore their unique features, strengths, and even a few drawbacks to give you a comprehensive guide for your buying decision. Here are our top picks:
In the following reviews, we will explore each of these handheld inkjet printers in more detail, taking into account their design, performance, and overall user experience.
Best Overall: TOAUTO HP-003 Portable Intelligent Upgraded Handheld Inkjet Printer
Key features:
3.7-inch vibrant LED touchscreen
360-degree printing capabilities
Multiple print precision modes
Supports 14 different languages
The first of our top picks is TOAUTO's HP-003 Portable Intelligent Handheld Inkjet Printer. It's a formidable tool that accommodates a wide variety of printing needs. An evolution of the handheld printer, this unit is designed to tackle a multitude of printing hurdles effortlessly. The 7.09 x 5.12 x 4.96-inch device weighs a comfortable 2 pounds, making it compact and easy to handle. What strikes you next is the vibrant 3.7-inch LED touchscreen. It's a hub of creativity where you can customize your content.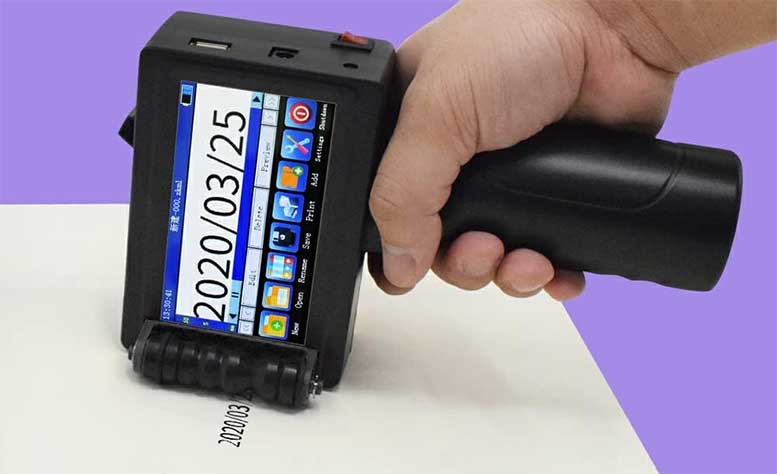 The printer comes equipped with a USB slot that makes importing texts and images a cinch. The same is true for customizing your prints. Consequently, the printing process is versatile and adaptable, a testament to the intelligent design. It's capable of 360-degree printing, meaning it can smoothly glide over a variety of surfaces, ranging from smooth office papers to textured plastic pipes or even rough stones.
The built-in roller sensors enhance its adaptability, rendering smooth and quality prints even on uneven terrains. Under the hood, it boasts three adjustable print precision modes: SD 300 DPI, GD 400 DPI, and HD 600 DPI. This array of options allows you to choose between speed and quality, making it suitable for an assortment of printing tasks. What's more, the ink used is original high-definition quick-drying ink, ensuring vibrant and durable prints that can withstand the test of time and elements.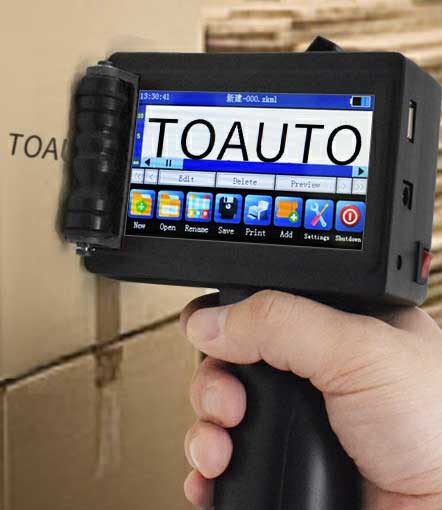 A 2800mAh battery powers everything and lasts roughly 9 hours on a single charge. So there's enough juice to handle prolonged sessions of creative indulgence. Fourteen different languages are supported, as well, making it a truly global device. We love that the text editor comes loaded with numerous options, like font selection and size alteration. Thanks to the customizable nature of the printer, we were able to make each print truly our own.
As nice as it is to have all of these options at your disposal, the printer isn't devoid of shortcomings. We experienced occasional ink cartridge jamming and limited font customizability. These issues made our overall experience less than perfect. And yet, the pros far outweighed the occasional cons. By our estimation, the TOAUTO HP-003 is a valuable addition to your tech arsenal.
What we liked:
Quick and responsive touchscreen
Intuitive interface with easy customization
Detachable from power cord for mobile use
High-quality print resolution
What we didn't like:
Occasional ink cartridge jamming
Limited font customization options
Best Runner-Up: v4ink BENTSAI Handheld Printer BT-HH6105B2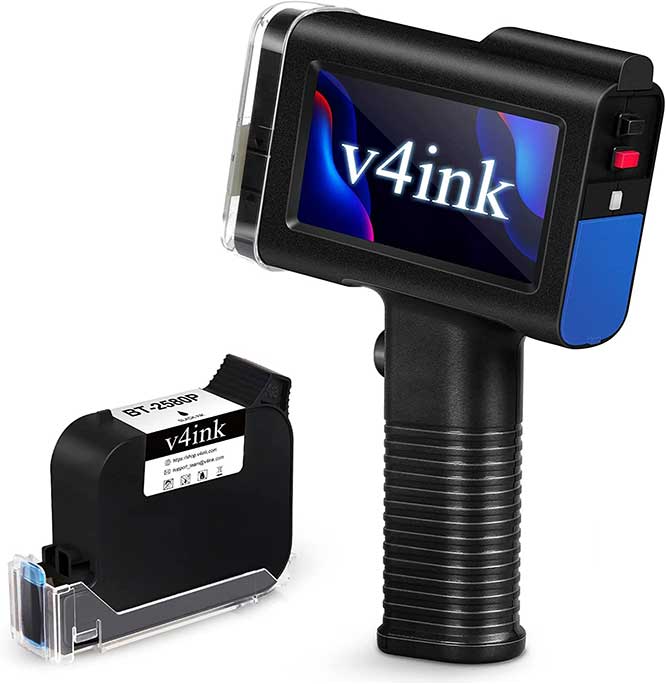 Key features:
All-surface compatibility
Customizable print parameters
Supports 17 languages
Includes comprehensive accessories package
The v4ink BENTSAI BT-HH6105B2 Handheld Printer is a compact powerhouse, pushing handheld printing boundaries. It combines numerous features into a device measuring only 1.96 x 5.31 x 8.46 inches, weighing under a pound. Standout traits include all-surface compatibility with its Quick-Drying solvent ink cartridge, letting you print on any material, from glass to fabric, with waterproof ink. This printer's versatility is impressive, handling text, graphics, QR codes, and more.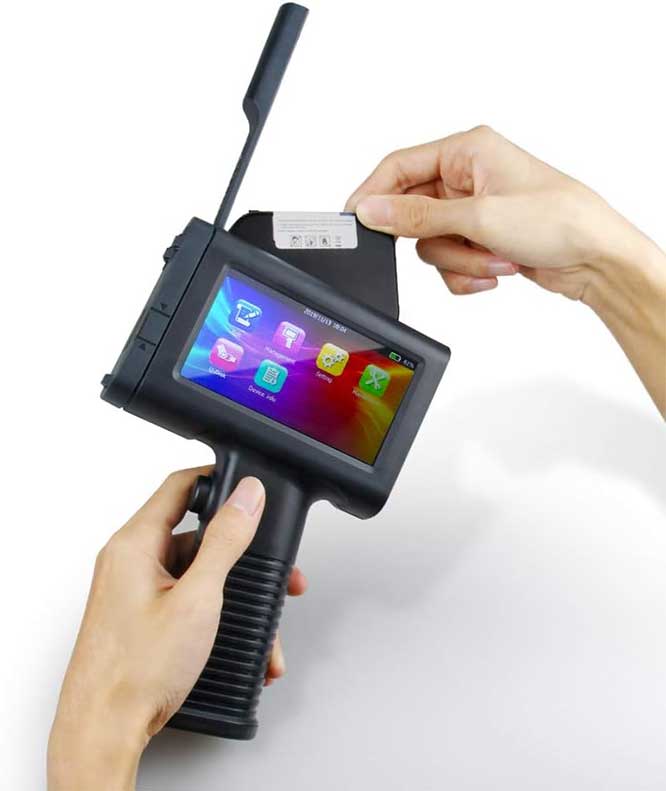 With adjustable printing parameters of 1 to 5 lines, a max height of 0.5 inches, and a max length of 15.98 inches, this is an adaptable printer made for diverse industrial uses. A 4.3-inch high-definition LED touchscreen eases customization, and multilingual support enhances usability. Its package includes a power adapter, black ink cartridge, photoelectric sensor, USB flash disk, roller, and more, providing value for your investment.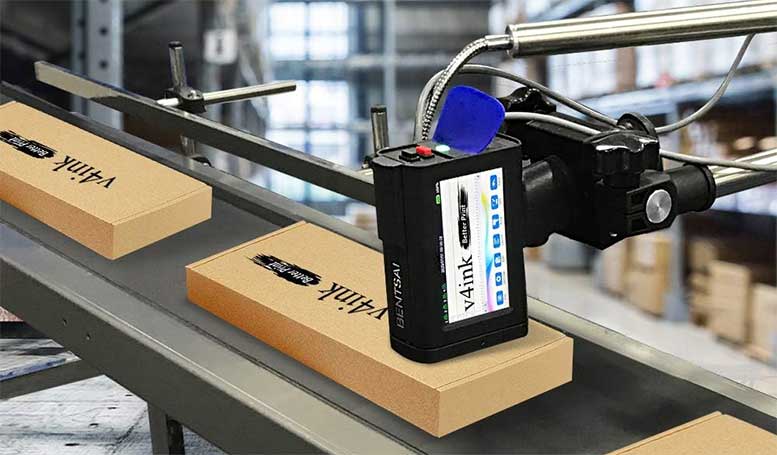 Despite its merits, it has a few setbacks. There's no app for streamlined use, and it sometimes forgets date and time settings after shutdown. These are issues we don't expect to see in a printer of this caliber. Thankfully, they aren't deal-breakers. If you need a compact, versatile printer that maintains excellent performance, the BENTSAI BT-HH6105B2 is a worthy consideration.
What we liked:
Prints on diverse materials
High-resolution printing
Lightweight and compact
Value-adding accessories included
What we didn't like:
No app for streamlined use
Forgets date/time settings after shutdown
Best Alternative: NUOKER MINI127 Portable Handheld Inkjet Printer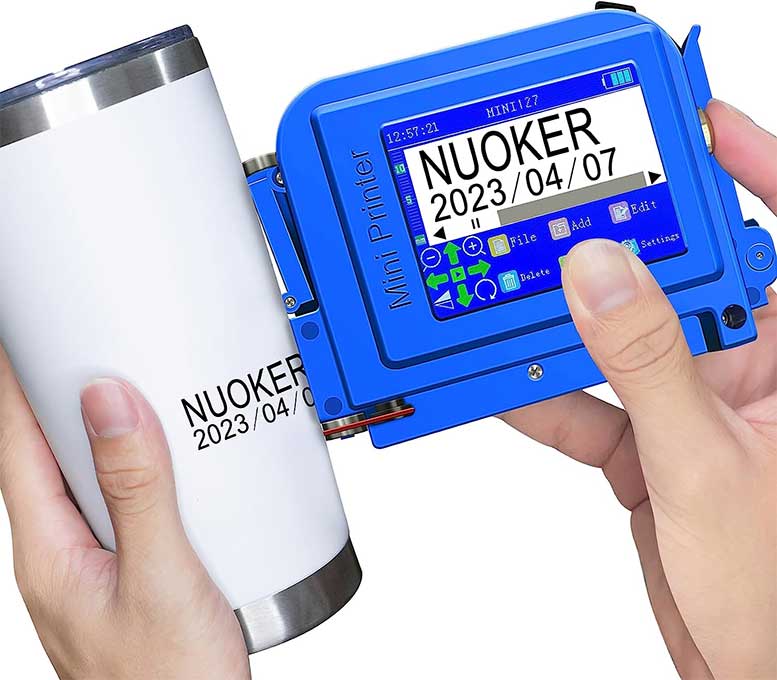 Key features:
Portable and lightweight
600 DPI printing resolution
42ml quick-drying ink cartridge
Versatile printing on various surfaces
For those in search of a pocket-sized yet powerful printing solution, the NUOKER MINI127 Portable Handheld Inkjet Printer is worth your attention. The device manages to cram a lot of punch into a lightweight 0.55-pound unit, with dimensions that sit at a mere 3.9 x 1.5 x 2.8 inches. The MINI127 proves that it's not just about the size. Fitted with a 2.4 Inch LED touchscreen, this handheld printer provides an impressively straightforward and user-friendly experience.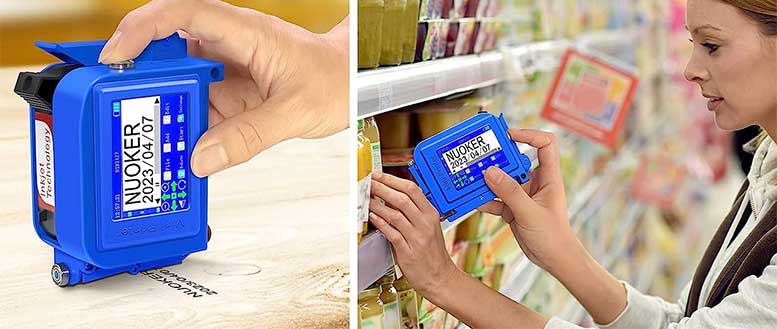 Unleashing your creativity is as easy as a swipe and a tap. Flexibility is another highlight of this printer. The MINI127 doesn't play favorites with printing materials. Whether you're marking your business logo on paper bags, personalizing wood crafts, or adding QR codes to your product packaging, this unit delivers. We've even tested it on less conventional surfaces like leather, stone, and metal, all with clear, crisp results.
Equipped with a 42ml quick-drying ink cartridge, the MINI127 churns out sharp, highly adhesive prints in a matter of seconds. You can even switch up the ink color according to your needs – black, white, red, yellow, or blue. What sets this device apart is its waterproof printing. The quality of waterproofing varies based on the material used, providing superior water resistance on absorbent surfaces. Another compelling feature is its ability to print not just text but images, QR codes, barcodes, and more.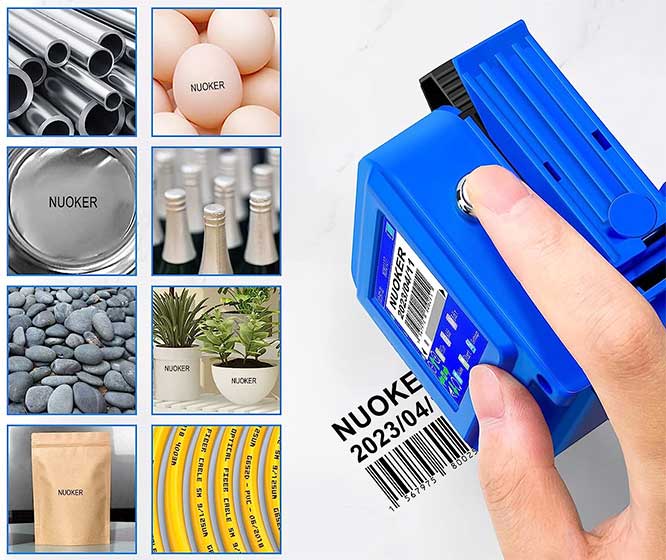 This enhances its use beyond just home or office, opening up possibilities for arts, crafts, and even industrial use. Moreover, despite its compact size, it's a power-packed device that supports multi-line print. The NUOKER MINI127 doesn't just stop at being an innovative printer – it's the complete package, including commendable after-sales service.
What we liked:
Easy to navigate LED touchscreen
Great print quality with quick-drying ink
Ability to print on multiple surfaces
Variety of available ink cartridge colors
What we didn't like:
Some learning curve with setup
Requires careful maintenance of the ink cartridge
Best High-End: BENTSAI B85 Wide Format Handheld Inkjet Printer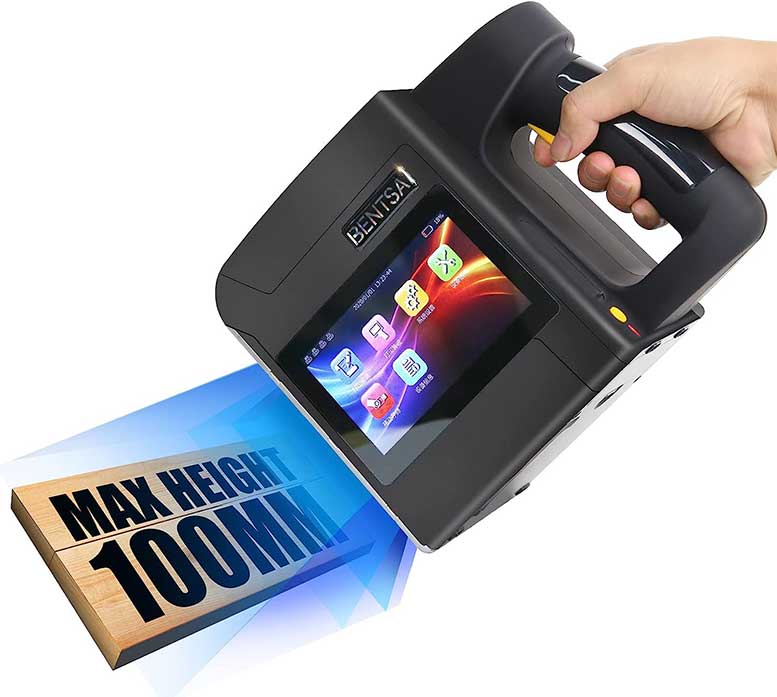 Key features:
Wide format with 10mm to 100mm print height
Combinatorial ink feature with multicolor capacity
5-inch Full HD touchscreen interface
Quick and precise printing with positioning plate
The BENTSAI B85 Wide Format Handheld Inkjet Printer is a high-performance device masterfully engineered for large character coding. It can print from 10mm to 100mm across and up to 40 lines. Its versatility stands out when printing on a range of surfaces, from packages and building materials to pipework, demonstrating adaptability beyond the ordinary.
The B85 is prepared for any content you require, whether it's text, symbols, images, real-time data, variable QR codes, barcodes, and more. It even accepts a variety of inks, such as black, red, yellow, blue, and even invisible. Its individual ink slots allow for diverse color combinations, while the 42ml fast solvent ink cartridge guarantees high-quality print results. Despite its impressive functionalities, the B85 excels in user-friendly features.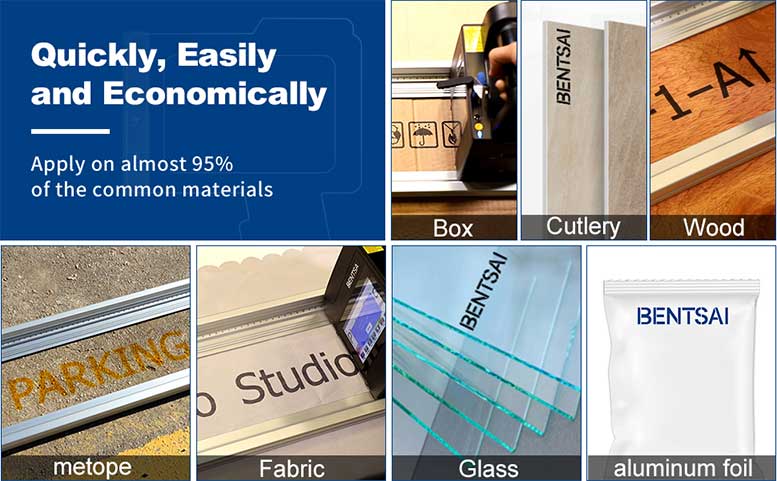 An intuitive 5-inch Full HD touchscreen simplifies the operation process, while multiple connectivity options offer effortless file transfer and printing. The unit's compact size of 14.84 x 7.05 x 9.41 inches, combined with a weight of just 2.75 pounds, makes it a highly portable solution. Performance-wise, the B85 delivers speed and precision.
The included positioning plate ensures accurate printing, while the 300DPI print resolution combined with a print speed of 10m/min results in sharp graphics and clear text. The only minor drawback is the requirement for proprietary cartridges from BENTSAI, limiting ink sourcing options. But despite this, the B85 delivers a powerful, versatile, and user-friendly printing solution that impresses in its class.
What we liked:
Prints on almost any surface
Versatile content printing
Portable with 2.75-pound weight
High-speed assembly line functionality
What we didn't like:
Requires company's original cartridges
Does not mention wireless connectivity
Best Budget: Phezer P15 Handheld Inkjet Printer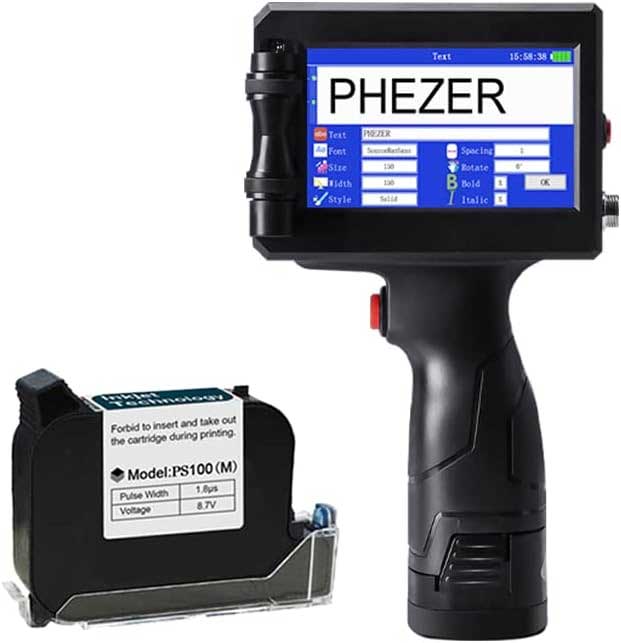 Key features:
Cortex-A9 quad-core CPU
Mobile 4.3-inch LCD touchscreen
360-degree all-round printing
Includes 42ml quick-drying ink cartridge
The Phezer P15 redefines the concept of handheld inkjet printers, packing powerful performance in a compact body of just 4.33 x 5.51 x 8.86 inches and 1.19 pounds. Equipped with a mighty Cortex-A9 quad-core CPU, it operates independently without the need for a connected app or computer, offering smooth, reliable use for hours. With the P15, the convenience of your office is literally in your hand.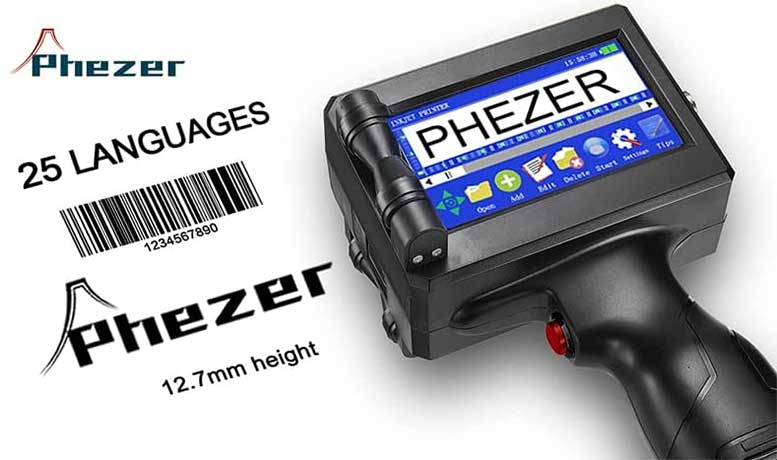 It offers the versatility to print on diverse materials such as glass, cloth, wood, and carton boxes, no matter where you are. It's powered by a 2000mAh rechargeable battery and designed with an independent system, making it highly portable. This small gadget is feature-packed. Its 4.3-inch LCD capacitive touch screen offers a user-friendly interface for creating custom text, labels, QR codes, barcodes, dates, and logos, and it supports over 25 languages.
It caters to most printing needs with 360-degree printing and an adjustable height ranging from 2 to 12.7 mm, offering flexibility and adaptability. We tested the P15 on a variety of materials and surfaces. The printouts were consistent, complete, and legible on flat surfaces, even at varying speeds. It requires practice on uniquely shaped surfaces, but once mastered, it delivers decent performance.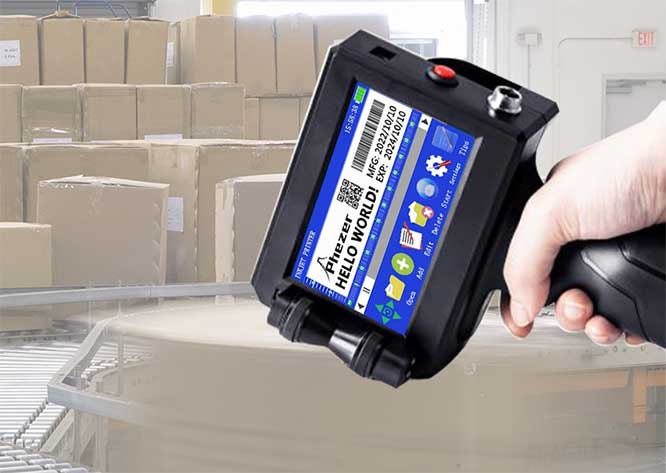 A key feature of the P15 is the inclusion of a high-definition, quick-drying 42ml ink cartridge available in multiple colors. This feature helps avoid common printing hitches like ink leaking or nozzle blocking. Despite a learning curve, the Phezer P15 handheld inkjet printer is a standout product offering convenience, versatility, and an array of functions. With its high-quality performance, it's certainly an investment worth considering.
What we liked:
Lightweight and mobile
Versatile printing on various materials
No app or computer required
Rechargeable 2000mAh battery
What we didn't like:
Learning curve for new users
Difficulty printing on uniquely shaped surfaces
Handheld Inkjet Printer FAQs
Are handheld inkjet printers reliable?
Handheld inkjet printers offer flexibility and convenience, allowing you to print on various surfaces with high-quality results. However, the reliability can depend on the specific model and how it is used and maintained.
Can handheld inkjet printers print on any surface?
Most handheld inkjet printers can print on a wide variety of surfaces, including paper, metal, wood, glass, fabric, and even certain types of plastic. The quality and durability of the print might vary depending on the surface and the type of ink used.
How long do handheld inkjet printers typically last?
The longevity of a handheld inkjet printer depends on a variety of factors, including usage, maintenance, and the quality of the printer itself. With proper care and regular maintenance, a good quality handheld inkjet printer should last for several years.
Final Verdict
The TOAUTO HP-003 emerged as a top pick for its blend of intelligent design and adaptability, accommodating a wide range of printing needs. The v4ink BENTSAI Handheld Printer, with its comprehensive accessories package and all-surface compatibility, offers excellent value for the price. The NUOKER MINI127 stands out as a pocket-sized power pack, delivering impressive print quality on multiple surfaces.
The BENTSAI B85 is an ideal choice for large character coding with wide format printing and rapid speed. Lastly, the Phezer P15 shines with its convenient and feature-rich design, offering a truly mobile printing solution. Each of these printers was selected based on their unique features, capabilities, and overall performance. No matter what your specific needs may be, there's a handheld inkjet printer on this list that will suit you perfectly.