When traveling in an RV with pets, ensuring their safety and comfort becomes a priority. Temperature and humidity monitoring systems can be crucial in maintaining a comfortable environment for our furry companions. Thus, choosing the best system is paramount.
To lend you a helping hand, we've rigorously tested several devices and narrowed them down to the best wireless remote RV pet safety temperature monitors:
Each of these devices has unique features, catering to different preferences and requirements. So let's jump right into our detailed reviews to better understand how each of these pet safety temperature monitors can help ensure the safety of your pets during your RV adventures.
Best Overall: Waggle Pro Wireless Pet Monitoring System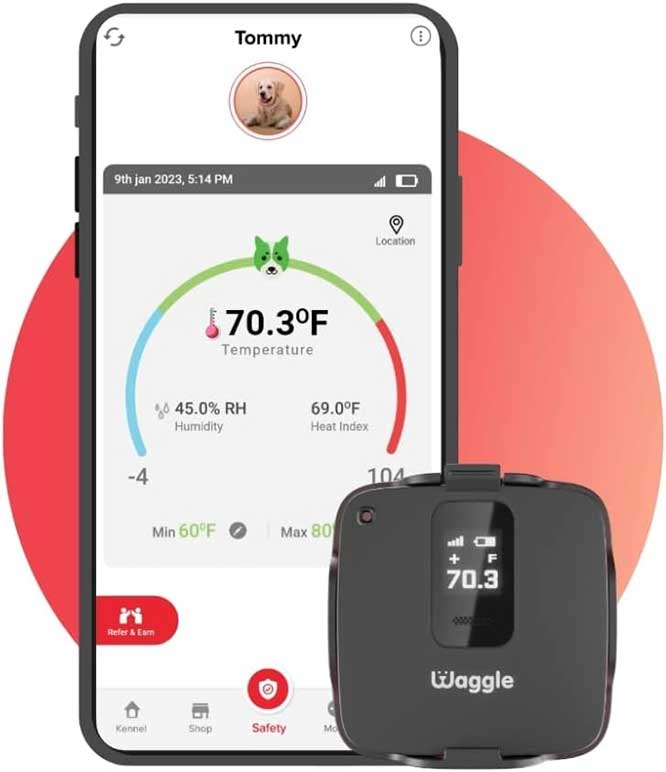 Key features:
Real-time ambient temperature/humidity alerts
Geofencing for vehicle safety
Long-lasting rechargeable battery
Instant alerts via smartphone
Waggle's Pro Wireless Pet Monitoring System is a well-thought-out option that's all about ensuring the safety of your furry friends. Compact and lightweight, it measures just 0.66 x 2.91 x 2.91 inches and weighs a mere 3.52 ounces, making it effortlessly portable for your RV travels. One of the standout features of the Waggle Pro is its wireless connectivity via Verizon's network. This enables it to send real-time updates and instant alerts regarding ambient temperature and humidity changes directly to your smartphone.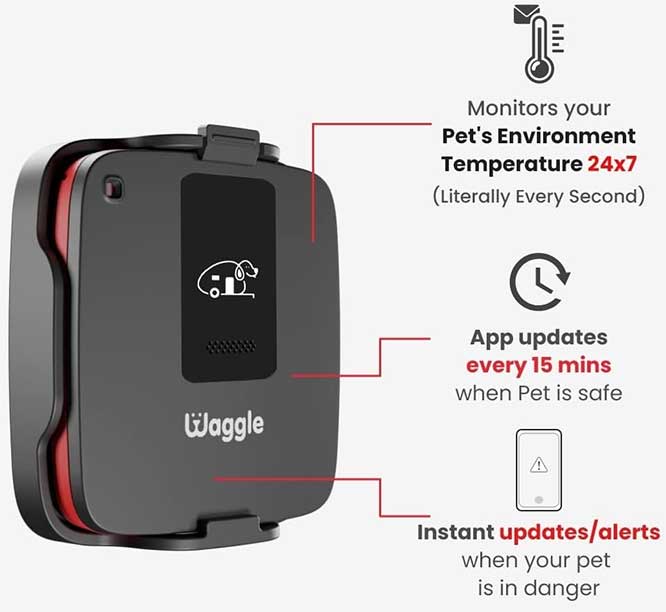 During testing, we found this feature invaluable when ensuring the comfort of our test pet, especially in changing weather conditions or unpredictable HVAC performance. It's worth noting that a subscription is required for this functionality, but the peace of mind it brings seems worth the commitment. The Waggle Pro also comes with built-in GPS and Geofencing features. During our road tests, we found these features added a layer of safety by alerting us when our RV moved beyond the designated virtual boundary.
This function provides a real-time overview of your vehicle's location, a handy feature for any road tripper. Another noteworthy aspect is the built-in rechargeable battery, which we found to last for around 4 to 6 days on a single charge. This kind of longevity can make a difference on extended trips, ensuring continuous pet safety monitoring without the need for frequent recharges.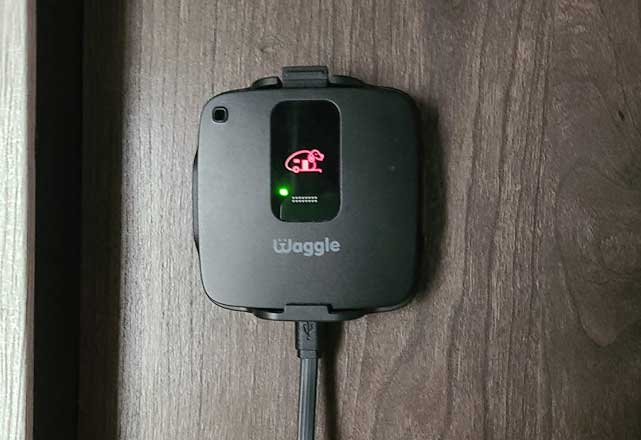 Now, onto some room for improvement. While it offers text and email alerts, we felt the addition of an audible alarm would significantly enhance its effectiveness, ensuring no crucial alerts are overlooked amidst a flurry of notifications. Another minor issue we experienced was with the battery's charge-holding capacity; it was sometimes inconsistent, but this did not hugely impact the overall utility of the device.
What we liked:
Compact and portable design
Continuous pet safety monitoring
Detailed real-time updates
Useful for various environments
What we didn't like:
No audible alarm for alerts
Subscription required
Slight inconsistencies in battery performance
Best Runner-Up: MarCELL Cellular Temperature, Humidity & Power Monitor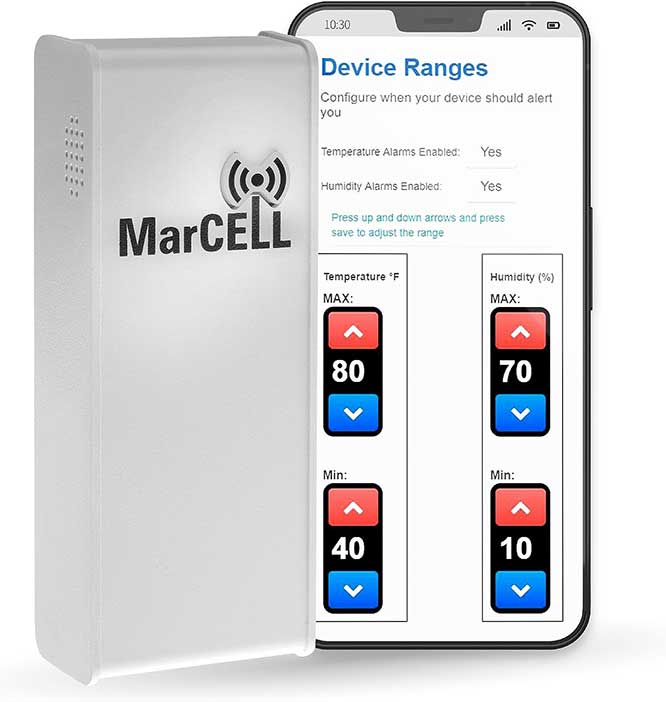 Key features:
Cellular connectivity for constant monitoring
Instant alerts for temperature and humidity
Reliable operation during power outages
User-friendly app for data review
MarCELL's Cellular Temperature, Humidity & Power Monitor is a nifty little entry that does a heck of a lot more than meets the eye. This US-made unit was designed with one clear goal: to provide RV owners, pet parents, and property managers with peace of mind when they can't be physically present. It's not a huge gadget by any means, tipping the scales at just 9.6 ounces and boasting a compact form factor of 5.75 inches. Yet, don't let its size fool you.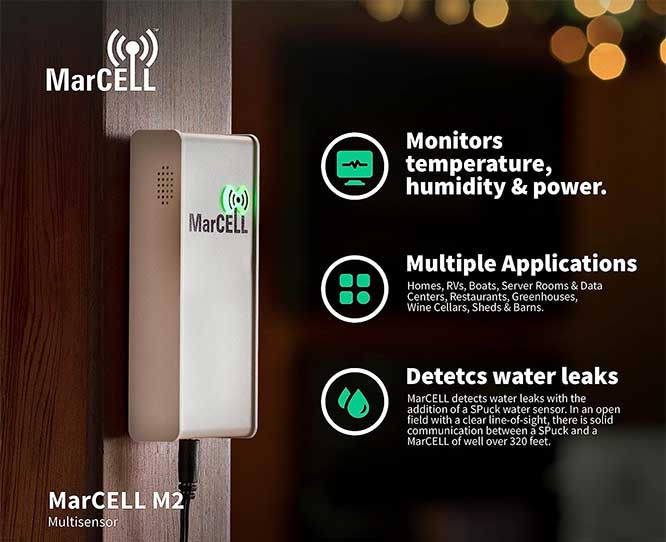 This device has been tested in a myriad of environments, from temperamental RV trips to monitoring the delicate balance in greenhouses, and it's consistently come through. Key to the MarCELL unit's reliability is its cellular connection. It doesn't rely on WiFi, which can be notoriously patchy in certain areas. Instead, it connects to a cellular network, meaning as long as there's cell coverage, it can send alerts and updates.
This ensures it continues to function even during power outages, a feature tested when the power tripped in the office over the weekend. The backup lithium-ion battery kicked in seamlessly, and alerts were received on time every time. The monitor offers real-time alerts for temperature and humidity levels, instantly notifying the user when critical thresholds are reached. During testing, it performed admirably in a range of settings, providing accurate and timely data that was easy to access and interpret via the user-friendly app.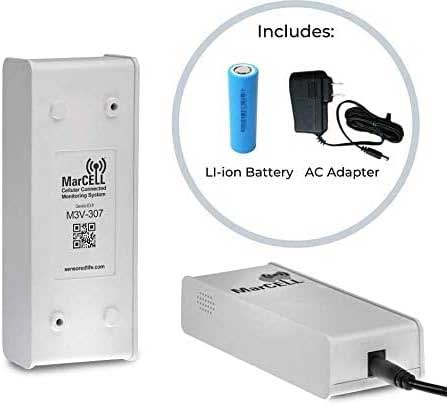 However, it wasn't all smooth sailing. During one RV trip, there was limited cell service, and the monitor struggled to maintain a consistent connection. This may not be a deal-breaker if you're mostly in areas with strong cell coverage, but it's something to be mindful of if you frequent off-the-beaten-path locations. In essence, the MarCELL offers a versatile monitoring solution that performs reliably in a range of scenarios. Its cellular advantage, coupled with a reasonable subscription plan, ensures you're always connected and informed about your environment.
What we liked:
Compact and lightweight design
Performs well in varied environments
Strong customer service
Accurate real-time alerts
What we didn't like:
Struggles in low cell service areas
Relies on subscription for functionality
Best Budget: Govee WiFi Thermometer Hygrometer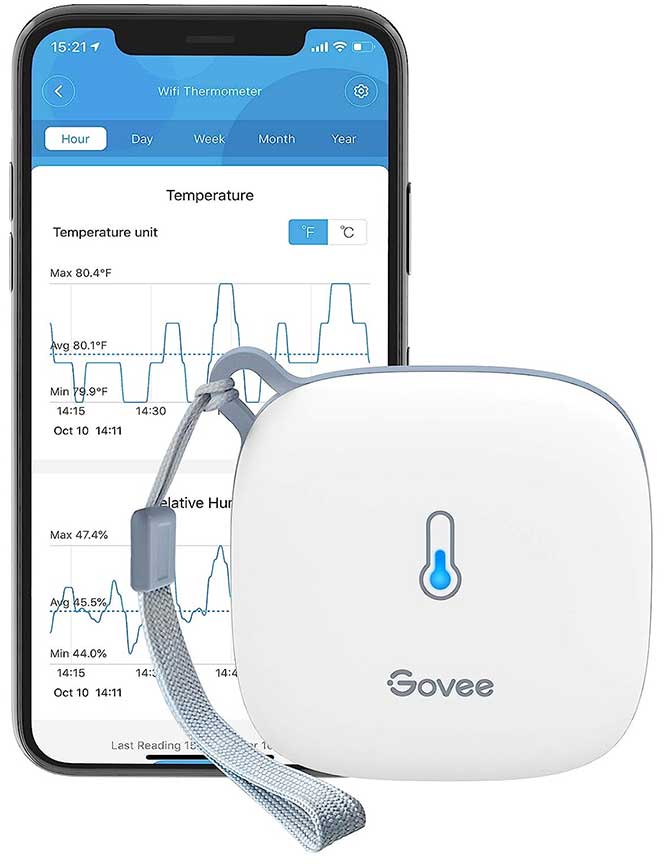 Key features:
Smart WiFi and Bluetooth connectivity
Fast, precise Swiss sensor
Real-time alert function
Free data storage and export
For our next pick, the Govee WiFi Thermometer Hygrometer emerges as a truly versatile tool. It's packed with an array of features designed to ensure peace of mind for pet owners on the road. A smart device in the truest sense, this unit is capable of keeping tabs on temperature and humidity in real-time from just about anywhere. What strikes us most about this monitor is its superb connectivity.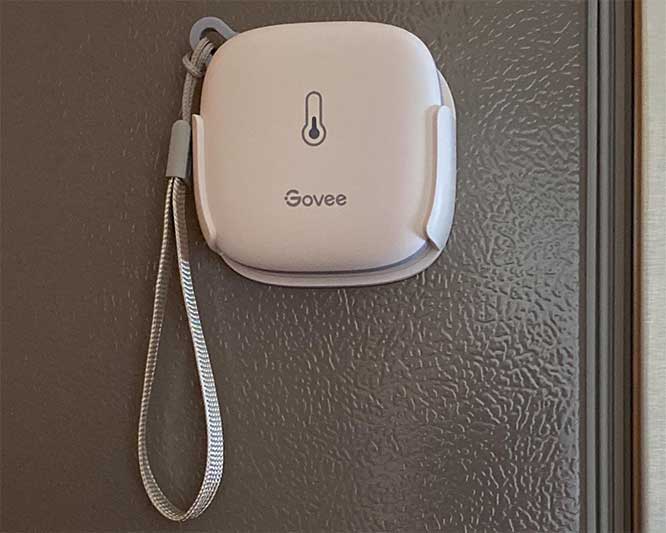 Through a solid Bluetooth and WiFi connection, it links up with the Govee Home app, offering swift, seamless data monitoring. No 5G WiFi support, though, so ensure you have your 4G game strong. This unit didn't skimp on precision, either. It comes with a Swiss-made sensor, delivering spot-on temperature readings accurate to ±0.54°F/±0.3°C and humidity readings within ±3%RH. It refreshes data every 2s, keeping us up-to-date at all times. We also tested the newly introduced widget function, which worked like a charm.
As a standout feature, we were impressed by the alert function that instantly notifies us whenever the temp or humidity levels deviate from our preset range. We found this particularly useful in reacting to sudden changes in our test RV. The free data storage and export feature is a massive bonus, saving 20 days of data online, and up to 2 years' worth can be exported. It is relatively small, measuring 2.83 x 2.83 x 0.94 inches and weighing in at 4.16 ounces, making it compact and unobtrusive in any RV setting.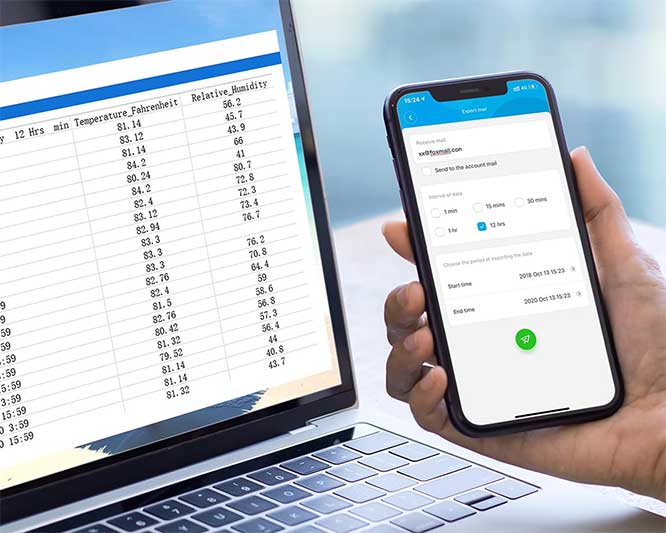 However, during our extensive testing, we did notice that the device took a bit longer than we'd like to match up with changes in the environment, which could lead to slight ecosystem disruptions if linked with other equipment. And the need for frequent recalibration is a tad disappointing. Nevertheless, the Govee WiFi Thermometer Hygrometer remains a commendable choice for pet owners in need of reliable RV environmental monitoring, delivering a comprehensive package of convenience and precision.
What we liked:
Compact and lightweight
Powerful alert system
Useful widget function
Solid battery performance
What we didn't like:
No support for 5G WiFi
May require frequent recalibration
Best Alternative: SensorPush HT1 Wireless Thermometer/Hygrometer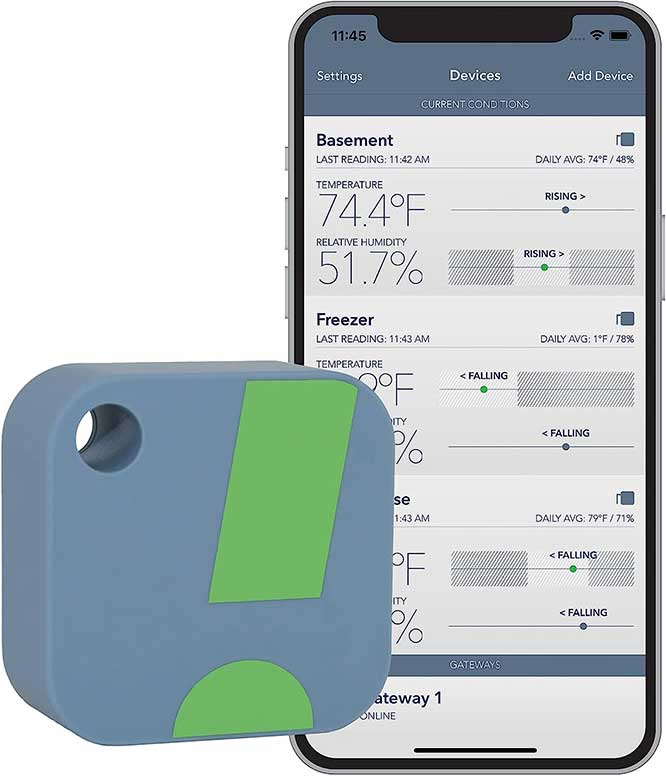 Key features:
Accurate temperature and humidity monitor
Compact and lightweight design
Wide Bluetooth range
Easy setup and versatile app
The SensorPush HT1 is your handy, wireless companion for monitoring temperature and humidity. Designed in the USA, this compact smart sensor isn't just small in size; it's big on performance, delivering reliable and quality monitoring for various environmental conditions. With an accuracy of ±3%RH for humidity and ±0.3°C / 0.5°F for temperature, the SensorPush HT1 is meticulous in its duty. We put it to the test in numerous environments, from a bustling kitchen to a humid greenhouse, and it continued to provide precise data at every turn.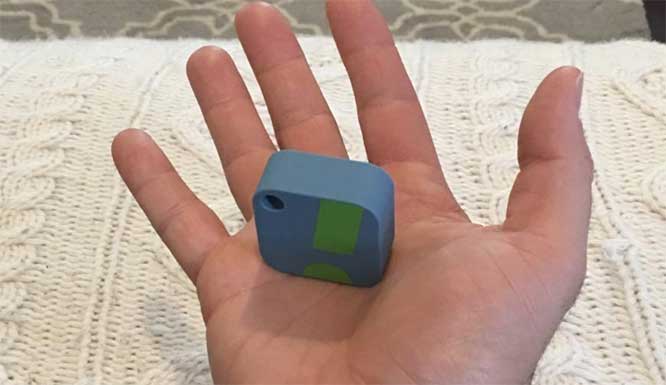 But what makes this sensor really stand out is its adaptability. Be it inside a refrigerator, wine cellar, instrument case, or even outdoors as a mini weather station, this little meter fit right in and got to work. Weighing only 1.44 ounces and measuring just 2.83 x 2.83 x 0.94 inches, the SensorPush HT1 doesn't demand much space. Its Bluetooth range of 325 feet ensures you stay updated even if you're on the other side of your house.
It's battery-powered, sporting a Lithium Metal battery that runs for over a year under normal conditions. However, do remember that extreme cold could reduce this lifespan. To our delight, the unit worked flawlessly with both iPhone and Android devices. The initial setup was a breeze, thanks to its well-designed free app that presented a digital summary of current conditions for all connected SensorPush devices.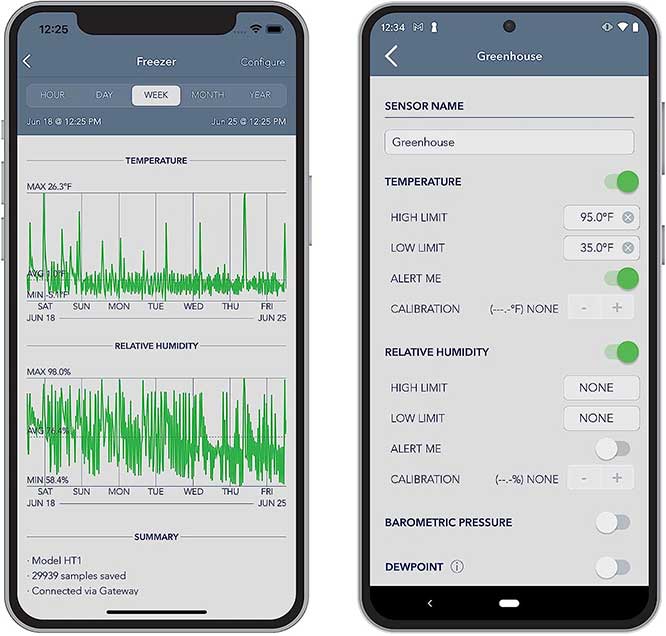 More so, it supports unlimited in-app data storage and easy export of data recordings to CSV for further analysis. The SensorPush HT1 is all about providing convenience and peace of mind. Even while you're away, it diligently monitors conditions and alerts you promptly upon your return. And for those who like to keep an eye on things from afar, you might want to consider pairing this sensor with the SensorPush G1 WiFi Gateway. It's a separate purchase, but you'll be all set for constant remote monitoring.
What we liked:
Versatile across various environments
Long-lasting battery life
User-friendly app
Reliable and prompt alerts
What we didn't like:
Not waterproof
Gateway for remote access sold separately
Wireless Remote RV Pet Safety Temperature Monitor FAQs
Why do I need a wireless remote RV pet safety temperature monitor?
When you travel in an RV with pets, maintaining a comfortable temperature and humidity level is critical to their well-being. These monitors help you keep track of these environmental conditions in real-time, allowing you to make necessary adjustments and keep your pets safe and comfortable.
Can these devices work without an internet connection?
While some of them, like the Govee WiFi Thermometer, rely on WiFi, others, such as the MarCELL unit, utilize cellular networks. However, uninterrupted operation would typically require some form of internet or network connection.
What is the range of these devices?
The range can vary from device to device. For instance, the SensorPush HT1 boasts a Bluetooth range of 325 feet. As always, it's important to check the product specifications to ensure the monitor meets your specific needs.
Are these temperature monitors easy to set up and use?
Yes, most of these temperature monitors are designed to be user-friendly. They usually come with straightforward instructions for setup and operation, and many feature intuitive mobile apps for easy monitoring and control.
Can I use these temperature monitors in other environments besides an RV?
Absolutely. They're quite versatile and can be used in various settings, including homes, offices, greenhouses, wine cellars, and more. However, it's always best to check the manufacturer's guidelines to ensure proper use in different environments.
Final Verdict
After thorough testing and analysis, it's clear that these pet safety temperature monitors stand out for their unique strengths. The Waggle Pro is ideal for those who value instant real-time updates and a compact design. MarCELL's unit is a reliable choice for those traveling through areas with robust cellular coverage, ensuring continuous functionality even in the event of power outages.
The Govee Thermometer shines with its smart WiFi connectivity and precision, while the SensorPush HT1 impresses with its versatile application and user-friendly app. With any of the options presented here, you can be sure to provide optimal care for your pet. To ensure you make the right investment for your needs, your final choice should align with the environmental conditions your pets are most likely to encounter.