Not every laptop or computer comes loaded with all the features you may need. Sometimes you might want more storage, additional USB ports, or even a more powerful disk drive. Rather than purchasing an entirely new computer just to compensate for the missing features or capabilities, you can purchase external accessories that you can simply hook up whenever and wherever you need them. Hard drives, printers and even disk drives are all realistic options when it comes to external hardware, and are usually readily available.
Most recently, external Blu-Ray writer-reader combination optical drives have hit the market and, much like a standard external DVD drive, can be plugged right into your computer via a USB port. Considering that Blu-Ray has practically become the standard for video since VHS and then DVD, this is a huge advantage to the average person looking to either write content to a Blu-Ray disk, or watch Blu-Ray content on an existing computer that doesn't already have the necessary hardware built in.
Like any piece of technology, there are some downsides, but generally the ability to watch Blu-Ray disks is really convenient, not to mention money-saving. Also, for creators looking for the best possible quality for their work, being able to burn movies or video files onto a storage format like a Blu-Ray is hard to resist. Until recently, the technology associated with Blu-Ray disks wasn't easy to shrink down for the average consumer, but with external Blu-Ray burners, they are no longer out of reach.
We had a chance to look at three really impressive Blu-Ray writers and gave each one careful consideration to figure out which was really the best. We took a look at the design, and the special features in each drive for a fully comprehensive comparison.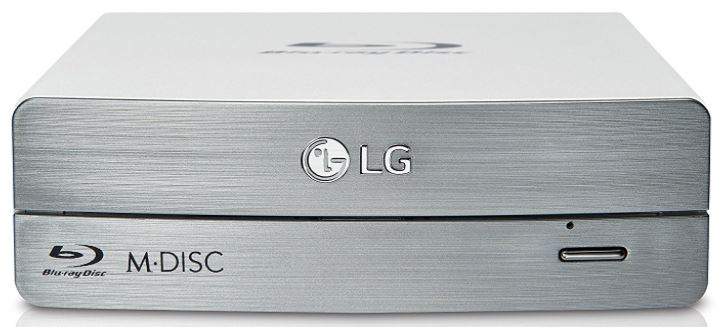 LG Electronics BE16NU50 External Blu-ray Writer
The LG BE16NU50 External Blu-ray Writer has a sleek design, but isn't the kind of optical drive you'll want to be carrying around. It measures 8.7 x 6.3 x 2 inches and weighs about 2.3 pounds, so you may have more of a hard time putting in your laptop bag or briefcase. This doesn't mean you can't take it with you if really have to, but it's worth noting that it won't be the most convenient accessory to pack up and reconnect if you change locations.
The majority of it is white and made of a sturdy plastic material, while the disk drive itself is painted silver and has the LG logo on the front. On the top, you'll see the Blu Ray logo as well. There's a single eject button located on the front, as well as ports for both a USB connection and the included DC power cord on the back. We did notice a small space on the door of disk tray, even when it was closed, but it didn't seem to affect performance once we turned it on. Overall, the design was simple, basic and had the standard look of an external disk drive.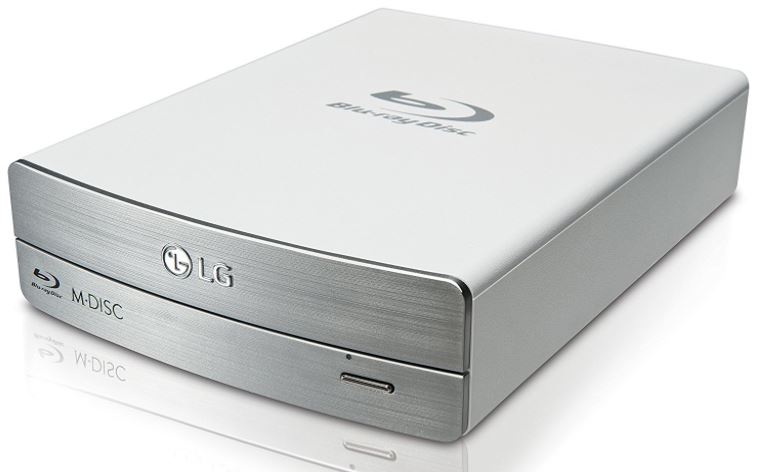 Compatibility and Features
The LG BE16NU50 has some pretty useful built-in features, and is also compatible with a variety of different media formats. We were really impressed by its ability to reduce if not completely eliminate disk spinning noise during playback. Considering how powerful it is, we were thrilled to see how quiet it could be, especially since other drives can create lots of noise during use.
It's also capable of eliminating jams caused by smudged or scratched disks. For example, it'll attempt to play damaged disks without locking up or jamming. Lastly it's also compatible with a variety of disk formats, including DVD+R, RW DVD-R, RW DVD-RAM, CD-R and, of course Blu-Ray disks.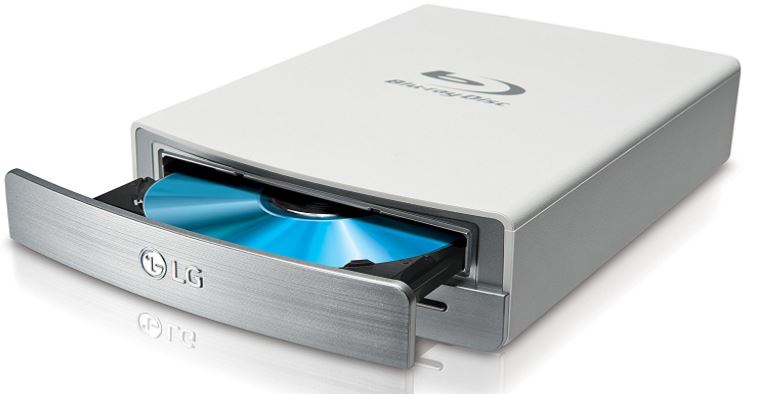 Specifically, the drive offers M-DISC support for those who prefer this higher quality disk. M-DISCS were introduced in 2009, and are a type of Blu-Ray or DVD disk that offer up to 1000 years of protection for recorded files. It may seem a little excessive, but for those that are extremely serious about preserving their data and can't afford for it to get lost, the built-in M-DISC support is definitely an attractive feature.
Lastly, the LG BE16NU50 is compatible with BDXL disks, which are a type of Blu-Ray disk that offer anywhere from 100 to 128 GB of storage, or about 27 times the storage of a single DVD. It's worth noting that it's compatible with both Windows and Apple computers. However, when it comes to overall compatibility and features, we found the LG BE16NU50 to be both extremely versatile in a number of scenarios.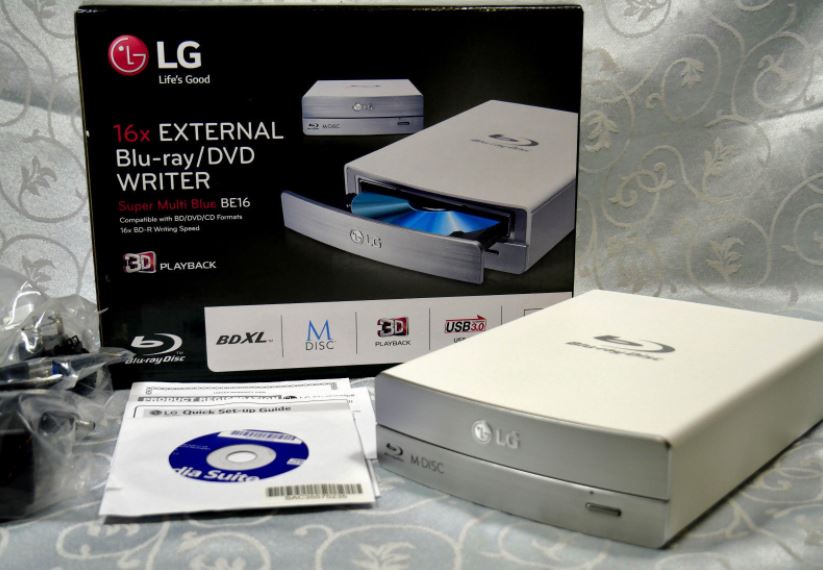 Speed
The LG BE16NU50 also has two speeds depending on your existing USB connection. It can write at a 6x BD-R speed with a USB 2.0 connection and a 16x BD-R write speed with a USB 3.0 connection. We would highly recommend using a USB 3.0 connection for best performance, mainly because it will allow you to transfer data at speeds up to 5 Gbps. This is a whopping ten times faster than using a standard USB 2.0 connection.
The actual read and write speeds will also vary depending on the type of disk you choose for your media. For example, BD-R (SL) disks have a write speed of up to 16x with the drive's USB 3.0 while a DVD-RW disk can vary from speeds of 2x to 6x. To give you an idea of the range of write speeds, 2x is at the lower end, while 16x is among the fastest available. The LG BE16NU50 has a large spectrum of speeds, but like most similar drives, its performance depends on the media format you choose, your USB connection as well as the amount of data you wish to transfer. Still, it's capable of writing at the highest current speed available, given the right parameters.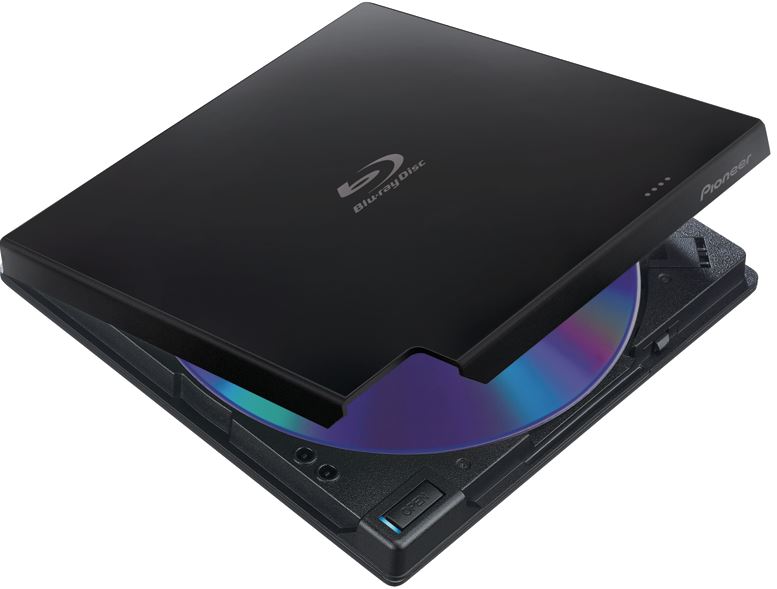 Pioneer Slim BDR-XD05 External Blu Ray Writer
The Pioneer Slim BDR-XD05 External Blu-Ray Writer had an incredibly compact design. It measures in at 5.24 x 5.24 x 0.58 inches and weighs only .51 pounds. It comes in a plain black color that didn't give it the most stylish appearance, but packed plenty of functionality and portability.
On the top you'll find a single button to open the drive, a row of indicator lights, as well as the Pioneer logo. You'll also find the Blu-Ray logo printed clearly on the face of the top portion. On the back you'll find a single USB port but no DC power input. However, the most impressive part was the clamshell design. Unlike traditional disk drives, there's no sliding disk tray. Instead, the entire drive opens and allows you to place the disk inside before closing the lid. We thought that this unique layout made the entire drive more convenient, easy to travel with and a snap to use.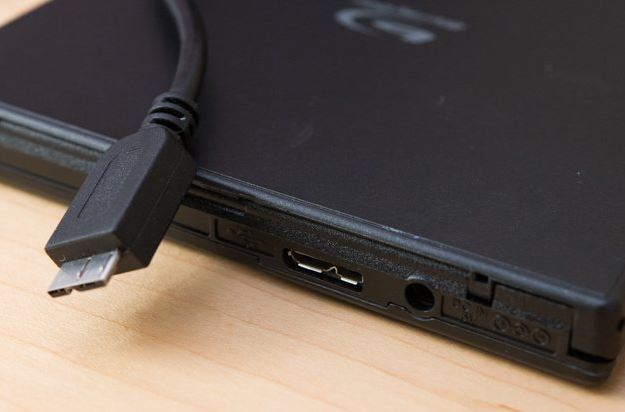 Compatibility and Features
Considering its size, the Pioneer Slim BDR-XD05 is incredibly efficient and manages to condense a lot of really noteworthy capabilities into a small package. Firstly, it's compatible with just about every Blu-Ray, DVD and CD disks. When it comes to Blu-Ray disks specifically, it can read and write to nearly every available format. It's capable of handling BD-R triple-layer 100GB media disks, BD-R quad-layer 128GB disks, BD-RE triple layer 100GB disks. As far as DVDs are concerned it is capable of writing to DVD-R, DVD+R, DVD-R DL and DVD+R DL disks and also reading DVD-ROM, DVD-ROM DL, DVD-R, DVD+R and DVD-R DL disks.
The Pioneer Slim BDR-XD05 Blu-Ray Writer is packed with some really cool features. It has something called PowerRead, which ensures smooth playback even on disks with fingerprints or surface scratches. We found this to be a nice addition, mainly because it means that even if you have a damaged disk, you'll still be able to use it with this drive.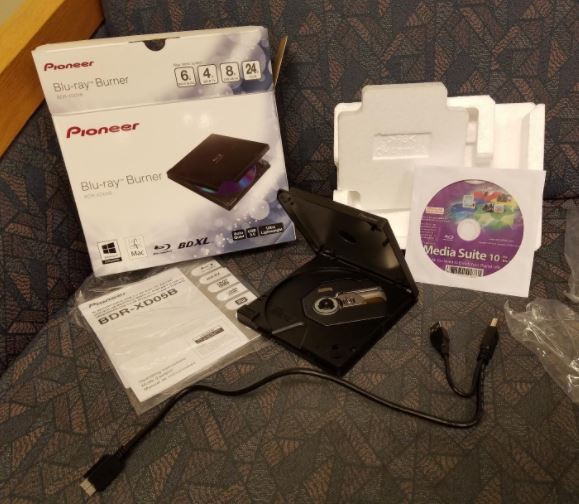 It also has Auto Quiet mode, which is designed to make adjustments to the disk speed in order to reduce operational noise. We tested it out and the drive was, in fact, extremely quiet. There was some minor whirring, but nothing that severely impeded our experience. The last feature worth mentioning is Pure Read, which is more of an audio feature. Essentially, it periodically adjusts the drive to prevent skipping or sound distortion during playback. Given that it's so small, the fact that it not only had these additional features but that they also worked well, gave us the feeling that it's extremely well-made.
Last but not least, the Pioneer Slim BDR-XD05 is ideal for portability. The absence of a DC power port on the back means that it's fully operable without plugging it into a power outlet. The USB connection doesn't just provide a way to transfer data, it powers the drive too. Ideal for laptop users, this is what truly set it apart from the other two options we reviewed.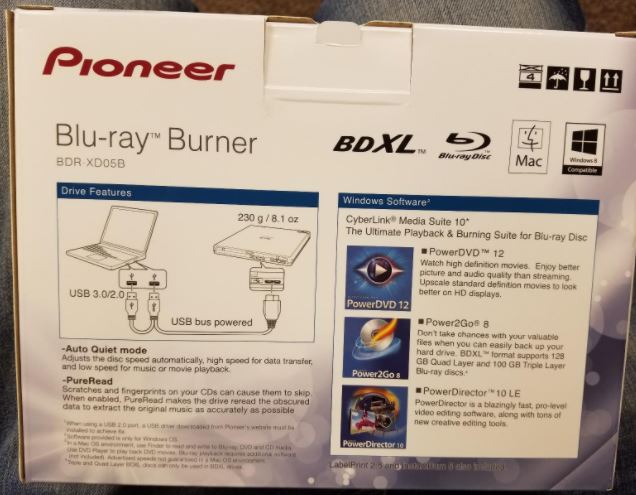 Speed
The Pioneer Slim BDR-XD05 only has a write speed of 6x on single-layer and dual-layer BD-R & BD-R disks and 4x write speed on triple-layer and quad-layer disks. This makes it a little slower than some other external Blu-Ray drives on the market, but this felt like a worthy trade-off for its size.
However, like the other models on our list, the Pioneer Slim BDR-XD05's speed will be affected by the specific disk used. It's capable of speeds up to 8x and even 24x, but this applies to DVD and CD-R disks, respectively. When it comes to Blu-Ray disks, it moves much slower despite having a high-speed USB 3.0 connection. However, its absolute slowest speed is 4x, while some others on our list could run as slow as 2x depending on the disk used.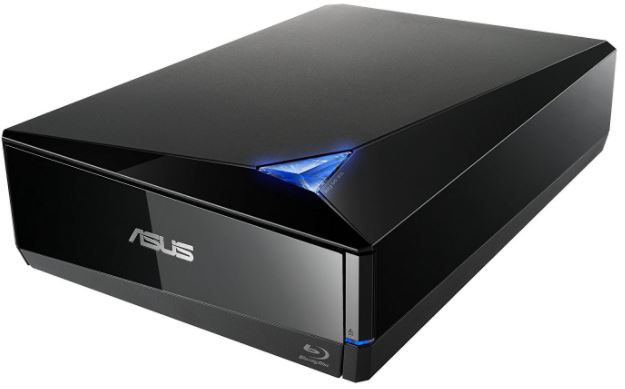 ASUS BW-16D1X-U 16X Blu-ray Drive
Of the three on our list, the ASUS BW-16D1X-U 16X Blu-ray Drive had the most eye-catching, robust design. It had a shiny, rectangular exterior, a single eject button on the front and a really stylish indicator light that had the look of an ice crystal. There's also a separate, smaller power light next to the eject button.
For a little added flair, ASUS even printed the words "Ice on Fire", under the indicator light along with the ASUS logo on the front in silver. It's on the larger side and is definitely not as as the Pioneer Slim, but still had its advantages. It measures in at 9.5 x 2.5 x 6.5 inches, and weighs a total of 2.6 pounds. Unlike the Pioneer Slim BDR-XD05, it has a traditional disk tray that opens when the eject button is pushed, but it did seem to have the most secure mechanism for keeping the tray door closed while a disk was inside. Additionally, it can be positioned flat, or on its side, even though we felt like it worked best set up horizontally.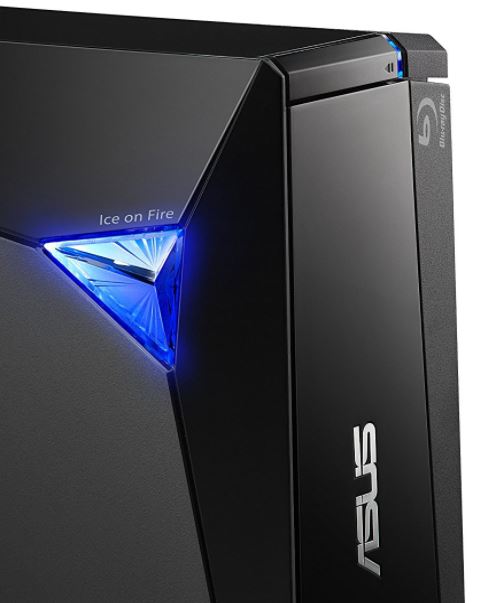 Compatibility and Features
While the ASUS Blue-Ray Drive is too big to be the kind of accessory you'll be taking out of the house, it's very versatile. The drive can read nearly all BD disk types, DVD+R, DVD-R, DVD-RW, DVD-ROM disks, as well as CD-R, CD-RW, and CD-ROM drives, among many others. It's also compatible with both Windows and Mac computers.
There was no noise-reduction feature, nor was there an advertised feature that ensured that we could use damaged DVDs or Blu-Rays, but the drive was still fairly quiet, and even performed well with disks that had mild scratches on them.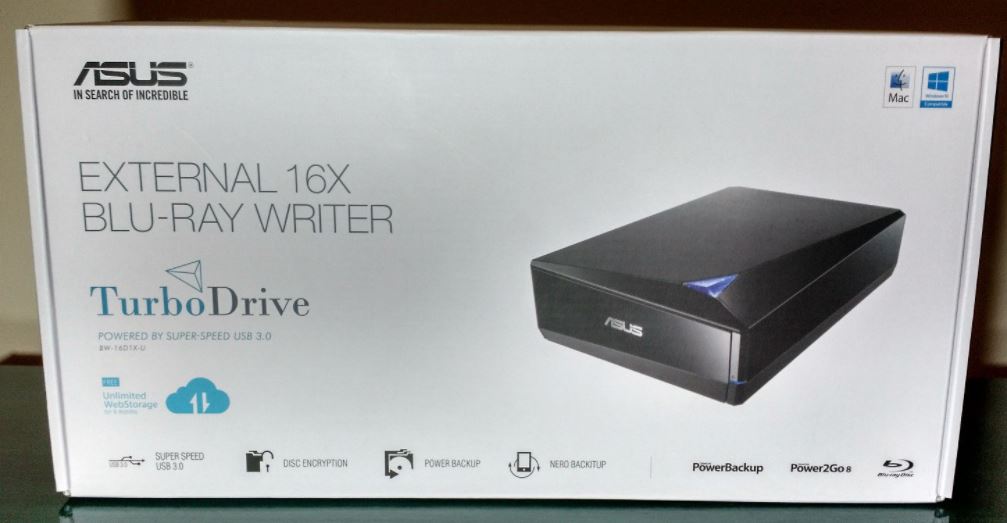 When it comes to features, you won't find much that isn't absolutely necessary, mainly because the ASUS drive is primarily focused on delivering speed and quality. However, it does have some included backup software that ensures your files won't be lost during reading or writing. With the addition of Nero BackItUp and Power Backup you'll be able to enjoy optional encryption capabilities to protect valuable information. In addition, there's also an online backup option that is compatible with Android phones or tablets.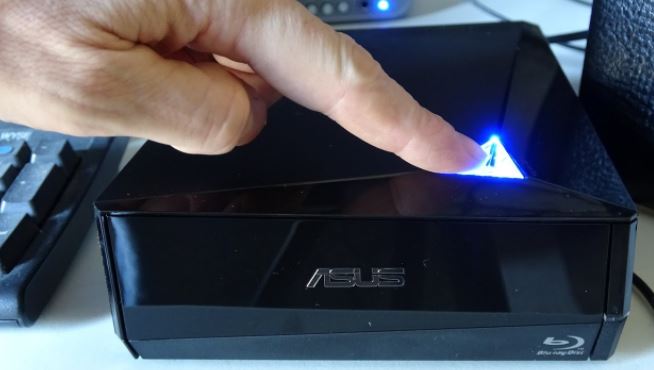 Speed
The ASUS BW-16D1X-U uses a USB 3.0 connection, has a read speed of 12x for BD-R disks and an even faster read speed of 16x for standard DVD-R disks. Its lowest read speed is 4X for BD-RE disks; however, it still offered the most versatility when it came to the kinds of disks it could handle.
It also has a write speed of 16x for BD-R disks, with a bottom limit of 2X for BD-RE disks. It may have had a slow lower limit when it came to writing data, but this came as a result of the fact that it was able to process formats that the others couldn't, specifically BD-RE (DL) and BD-RE(TL) Blu-Ray disks. Of the three, it had the highest range of speeds, combined with the largest range of compatibility.
Final Thoughts
It was a tough decision but we were the most impressed by the portability of the Pioneer Slim BDR-XD05. It may not have been the fastest on our list, but it had the best blend of performance, convenience and portability. Being able to use it without a power cord and just a simple USB connection made it stand out.
The ASUS BW-16D1X-U was indeed the most powerful and the most robust of the three. However, it was much larger and difficult to carry around. Simply put, this made us feel like it wouldn't be the best choice for those who need to travel with it. Keep in mind though, if burning speed is most important to you, we would recommend going with the ASUS BW-16D1X-U over the Pioneer.
The LG BE16NU50 was still a fantastic option. Much like the ASUS model, it was a little on the bulky side and required a power cord to use. However, the 16x BD-R burn speed and similar features to the ASUS model made it a great runner-up choice.