LED message boards offer a creative and interactive way to communicate, advertise, and express yourself. Whether for personal use, business promotion, or educational purposes, these boards provide a variety of features and designs that cater to different needs.
We wanted to see which ones offer the best bang for your buck, so we compiled a list of the best LED message boards for writing, drawing, painting – you name it. Here's a quick rundown of our top picks:
We delve deeper into each of our five picks below, where we uncover their strengths, weaknesses, and all the features that they bring to the table. So join us below to find out which LED message board is best suited to your needs.
1. Hosim LED Message Writing Board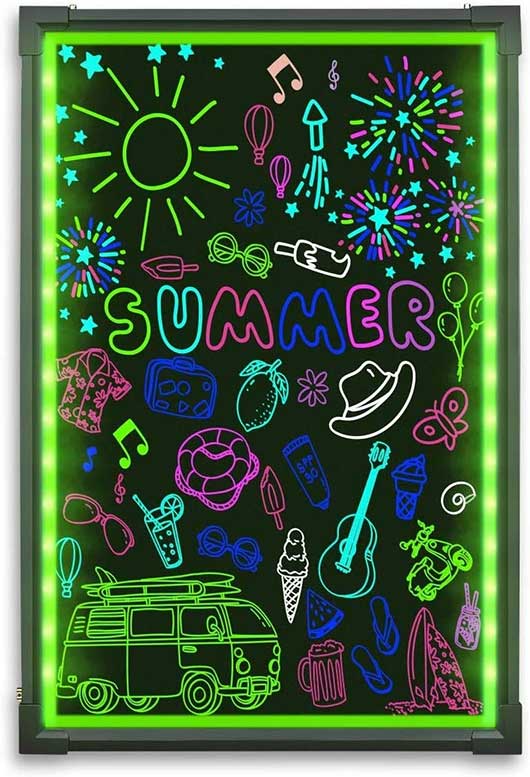 Key features:
Versatile LED writing surface
Seven lighting colors, 48 flashing modes
Easy to write, erase, and adjust brightness
Horizontal or vertical hanging options
The Hosim LED Message Writing Board is a versatile and innovative product that can serve a multitude of purposes, from advertising in restaurants and retail shops to providing a fun and interactive writing surface for children. Measuring 24 x 16 inches and weighing 5.94 pounds, the unit is constructed with an aluminum frame and an imported acrylic panel, ensuring durability and longevity.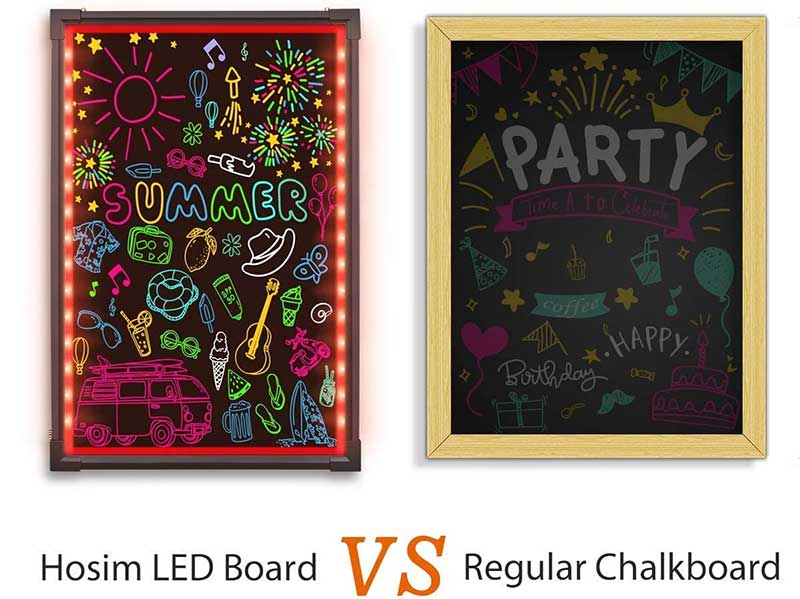 Equipped with the latest LED technology, the board offers seven lighting colors and 48 various flashing modes for multi-color combinations. This creates a neon light effect that is ideal for attracting attention to promotions or specials in various establishments, such as cafes, hotels, shopping malls, and nightclubs. And all the lighting features are controlled via a handy remote with USB connectivity.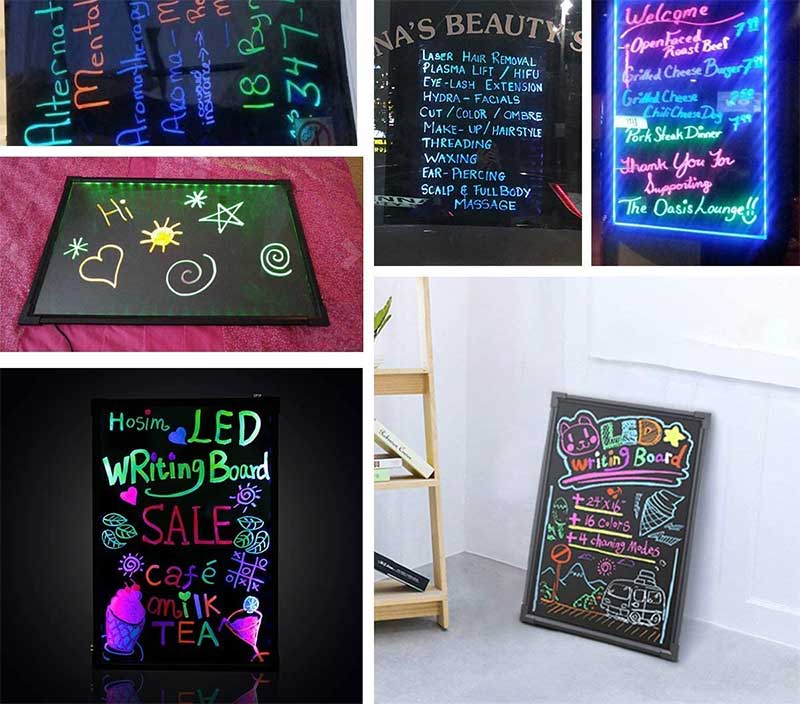 Writing and erasing on the board is a breeze, thanks to its easy-to-use design. Simply use one of the 8 included fluorescent markers to draw or write your message, and erase it with the provided microfiber cloth or a damp paper towel when needed.
Another appealing feature of this LED writing board is its flexibility in mounting options. Users can choose to hang it either horizontally or vertically, depending on their preference or available space. The energy-saving design makes it environmentally friendly while maintaining long-lasting performance, with an LED lifespan of 100,000 hours.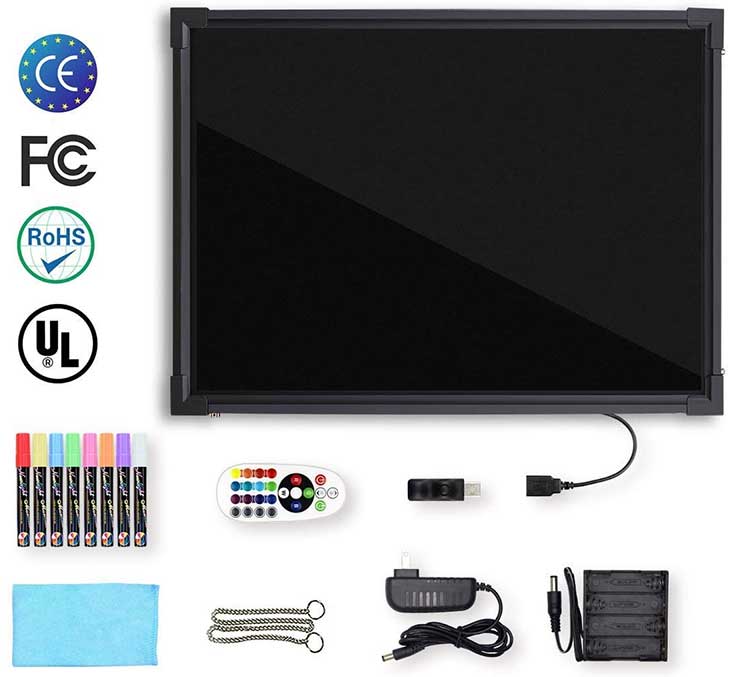 Hosim's LED Message Writing Board is a versatile, eye-catching, and easy-to-use tool that can cater to various needs, from business promotions to children's entertainment. Its durable construction, energy-saving design, and multiple lighting options make it a valuable addition to any establishment or household.
What we liked:
Great attention-getter for businesses
Durable aluminum frame and acrylic panel
Environmentally friendly, energy-saving design
Encourages creativity in children
What we didn't like:
Cleaning is a bit of a chore
Limited to fluorescent markers
2. Woodsam Dry Erase LED Board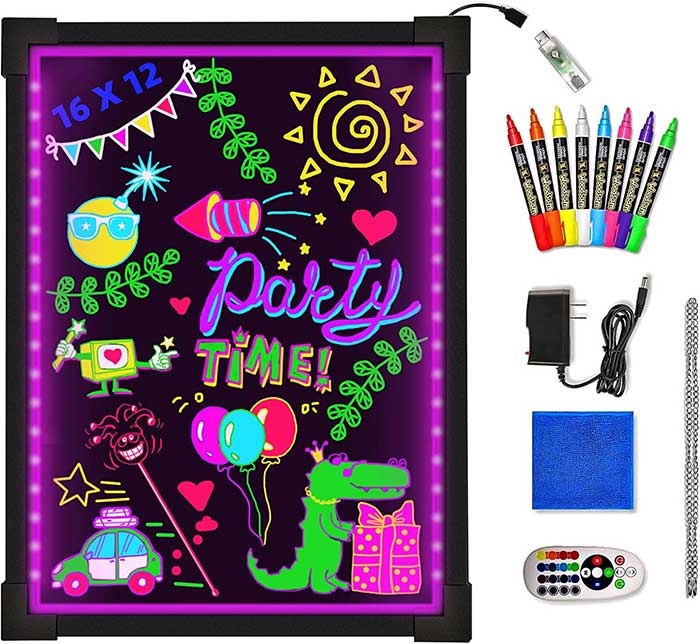 Key features:
16 neon colors, 4 flashing modes
Easy mounting, indoor/outdoor use
Clean, dust-free liquid chalk markers
Adjustable brightness, non-porous surface
The Woodsam Dry Erase LED Board is a versatile and innovative message board that offers a range of features to keep you engaged and entertained. Measuring 16 x 12 inches with a 1-inch thickness and weighing 3.84 pounds, it has a size and feel to it. And thanks to its tempered glass panel and aluminum frame, you can expect durability and stability.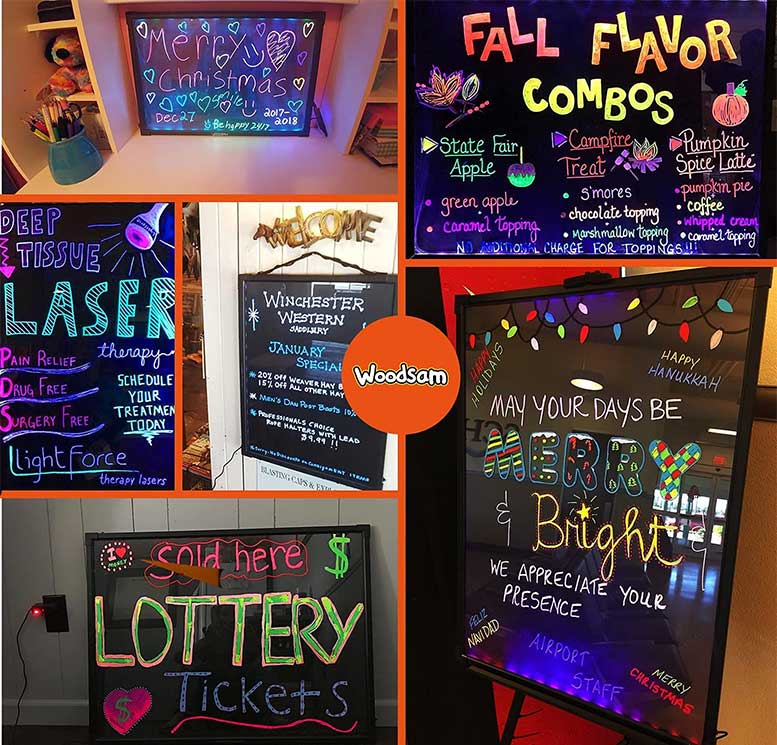 Designed to replace traditional chalkboards, this board offers a clean and healthy alternative, eliminating the need for chalk and pesky chalk dust. It comes with 2 liquid chalk markers that can be easily wiped clean, leaving no residue.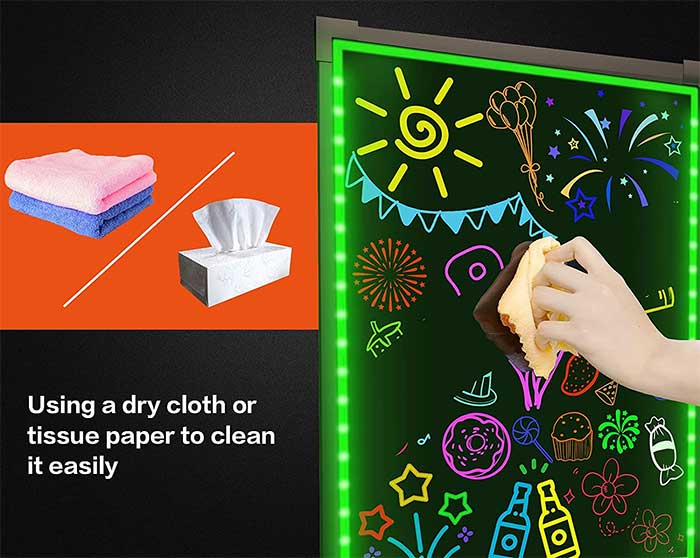 What sets the Woodsam LED Board apart is its fun and attractive design. There are 16 different neon colors, 4 flashing modes, and 5 brightness levels. This versatility makes it perfect for a variety of settings, including home decoration, business promotion, and event hosting. The board can be placed on a table or mounted on a wall, making it suitable for both indoor and outdoor use.
In our testing, we found the board's LED lights to be attention-grabbing, while the adjustable brightness allowed for customization based on the environment. The hassle-free mounting system made installation a breeze, and the non-porous glass surface ensured easy cleaning without any staining or ghosting.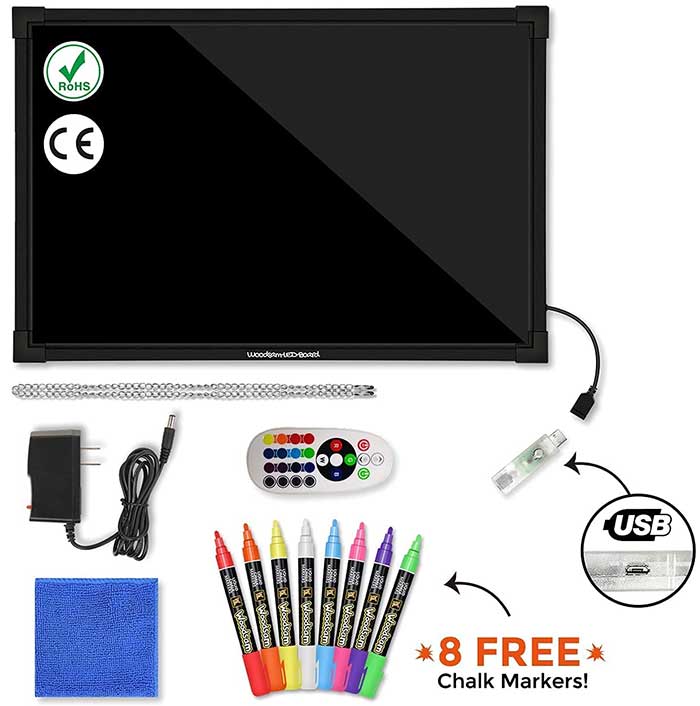 Ultimately, Woodsam's Dry Erase LED Board offers a creative and engaging solution for displaying messages, artwork, and promotions. With its vibrant colors, flashing modes, and ease of use, this board is a valuable addition to any home, business, or event.
What we liked:
Versatile for home, business, events
Durable tempered glass, aluminum frame
Quick, effortless installation
Effortless cleaning, no staining
What we didn't like:
Limited size options
Markers may require frequent replacement
3. Alpine Industries LED Illuminated Hanging Message Board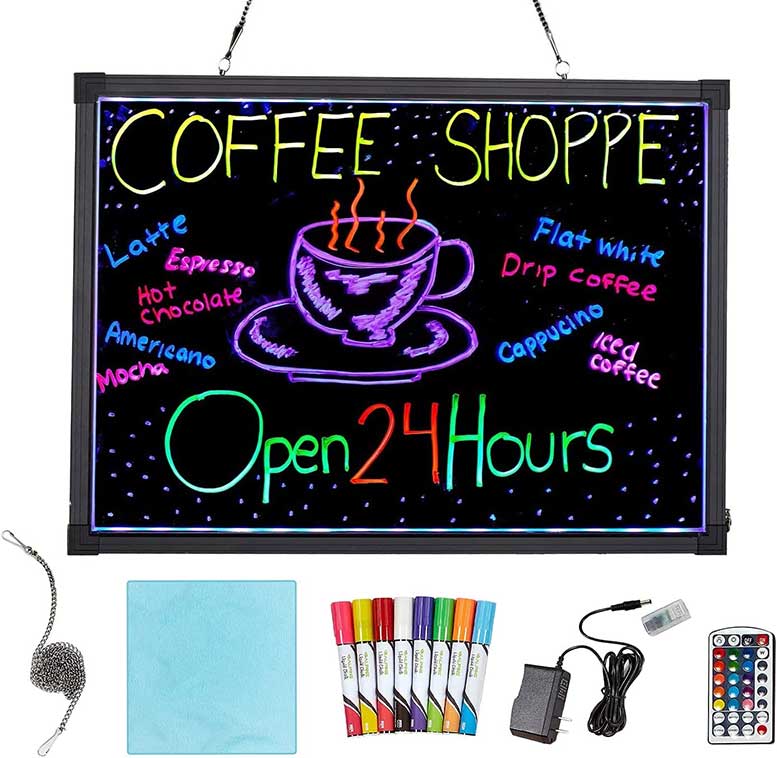 Key features:
Durable tempered glass and aluminum frame
48 flashing LED and fluorescent styles
Versatile indoor and outdoor use
Easy setup with included accessories
The Alpine Industries' LED Illuminated Hanging Message Board offers a unique and eye-catching way to display messages in various settings such as restaurants, cafeterias, schools, and stores. The tempered glass and aluminum frame give it a robust feel, and its versatile design makes it perfect for long-term use both indoors and outdoors.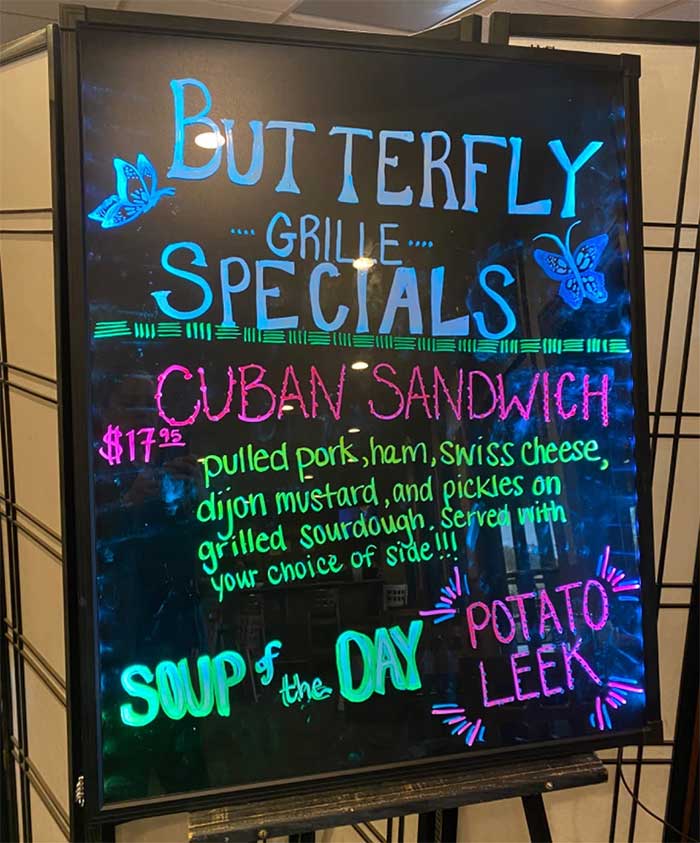 The board allows users to create their own neon signs using flashing LED and fluorescent colors, making it perfect for announcements and promotions. It comes with 48 flashing styles to help attract customers and stimulate interest. We like that you get a remote control, 8 colored pens, and mounting hardware to get you started.
The standard 20 x 28-inch board weighs 9.03 pounds, so it's a bit heavier than others we looked at. Of course, that can have its perks, especially if you're using it outside. There are five different sizes to meet various needs, and each size can be used horizontally or vertically. This board serves as an excellent promotional tool for businesses and can also be used at home for artistic neon-like expressions.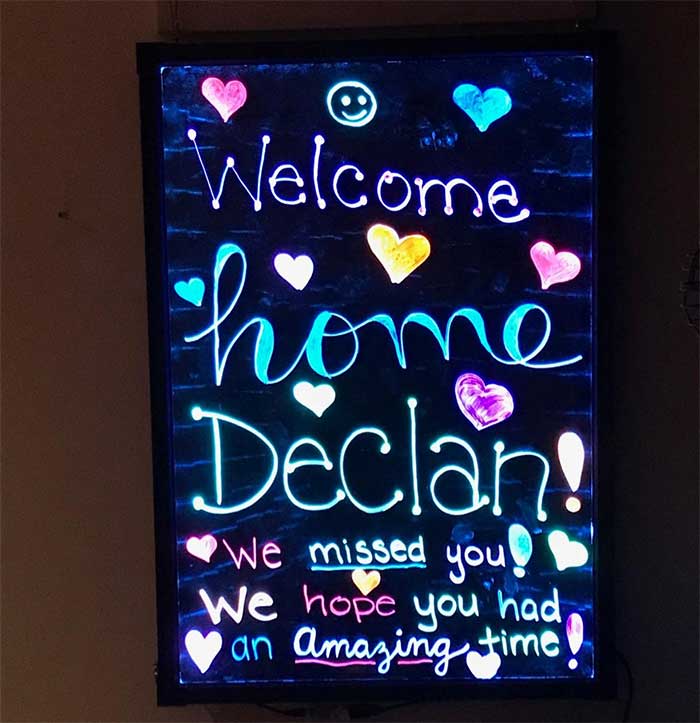 Using it is simple and straightforward. Messages can be effortlessly removed with the erasing towel, allowing for quick updates and changes. And thanks to the included chain, you can hang the board with minimal effort. Overall, Alpine Industries' LED Board is a dynamic and captivating display solution for various applications.
What we liked:
Attracts customers with vibrant colors
Multiple size options available
Horizontal and vertical orientation options
Simple message updates and changes
What we didn't like:
Limited to neon-like colors
May require frequent cleaning
4. CELLANAN LED Message Writing Board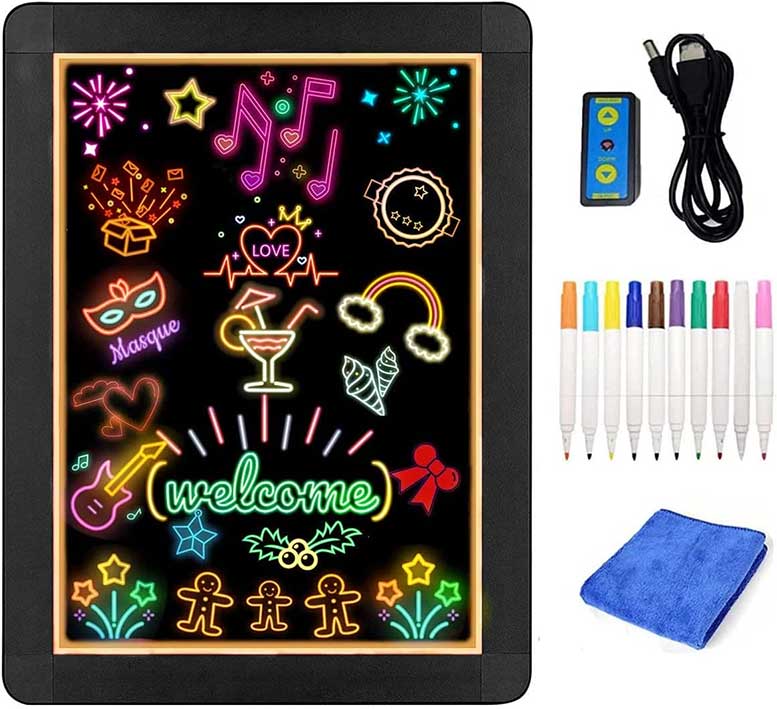 Key features:
Stimulates creativity with vibrant colors
36 unique flashing modes
Lightweight aluminum frame
Easy to clean and maintain
Next we have the CELLANAN LED Message Writing Board. Although not quite the quality as our previous entries, it's still a good fit for various settings such as kitchens, supermarkets, bars, and even weddings. This lightweight board boasts dimensions of 15.75 x 11.81 x 0.63 inches and a weight of 28 ounces, so it's both lightweight and portable.
The main attraction here is the 10 colored markers that you get with the board. This is more than what many other similar boards offer. With all that you can create with this set, it's an attractive alternative to conventional chalkboards. It's also eco-friendly, reducing paper waste and keeping walls spotless.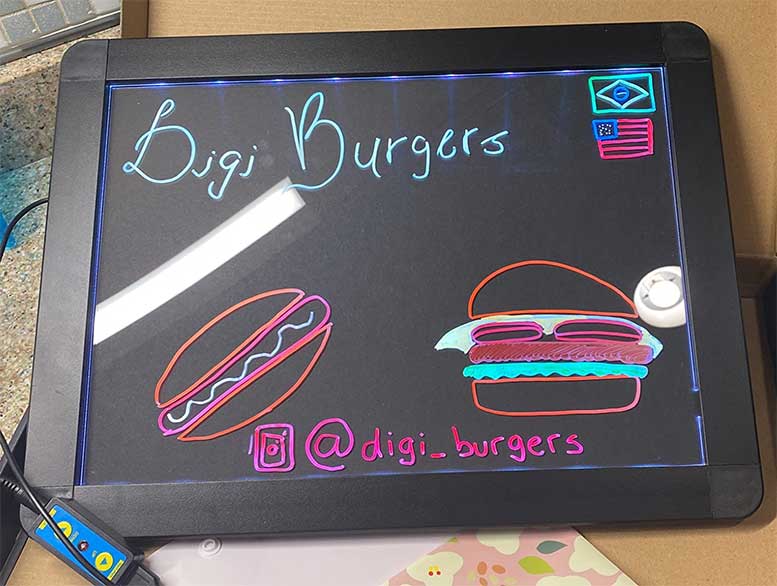 Another distinguishing feature of this entry is its 36 distinctive flashing modes. These modes illuminate the drawings with a range of lighting effects and colors, adding a dynamic element to your creations. The board operates via a USB connection, with an input of 5V-2A and an output of 12V-800mA.
To use the drawing board, simply remove the protective cover, connect the power source, and start sketching with the fluorescent markers. If you want to modify the glow effect, press the USB controller button to explore the 36 different modes.
Maintaining the board's cleanliness is a cakewalk. Just wipe it with a damp cloth, followed by a dry, soft paper or cloth. Keep in mind that the board is not water-resistant, so avoid exposure to water or other liquids. Remember to replace the pen top on the markers after use and store the board in a secure location.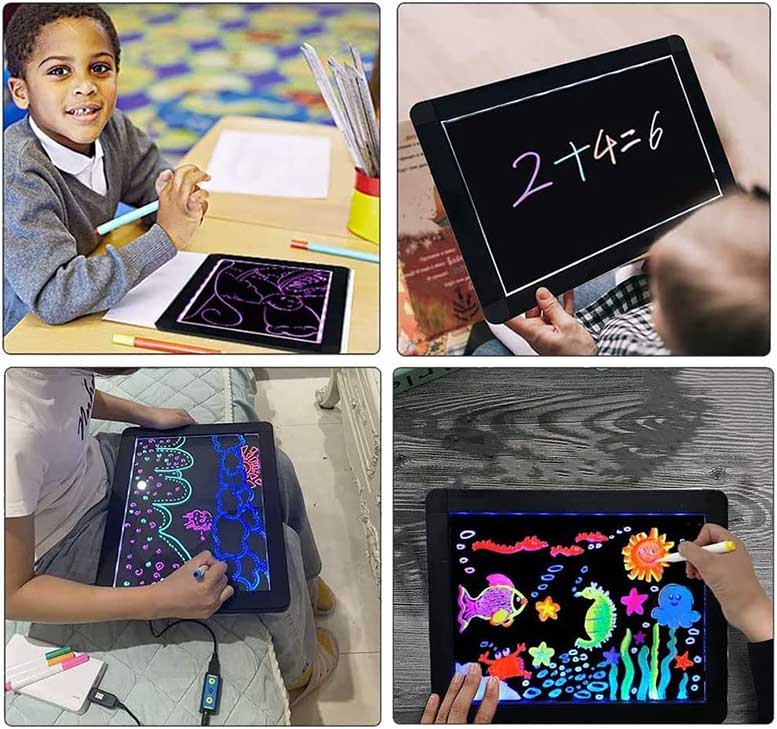 To get you started with the drawing board, CELLANAN gives you the 10 neon markers we discussed above, a charging cable, and a USB controller. You also get 6 tracing images to kickstart your artistic endeavors. So if you're a beginner, this one might be perfect for you.
What we liked:
Eco-friendly alternative to paper
Ideal for various settings
USB-powered for convenience
10 included color markers
What we didn't like:
Not waterproof
Easy for lint to get under board
5. SHOOFFICE Acrylic Dry Erase Board with Light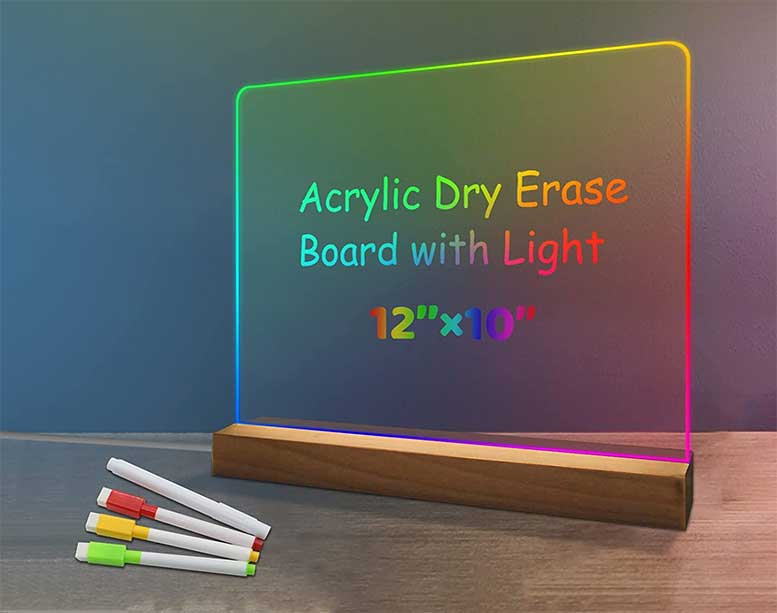 Key features:
Color-changing LED light strip
High-quality, durable acrylic surface
Compact, lightweight design
Multiple applications and uses
The SHOOFFICE Acrylic Dry Erase Board with Light is a versatile and visually appealing addition to any home, office, or school environment. Measuring 11.8 x 9.84 x 0.12 inches and weighing just 1.81 pounds, this lightweight and compact whiteboard is a perfect fit for any desk or tabletop. We like how the built-in color-changing LED light strip is embedded in the wooden base.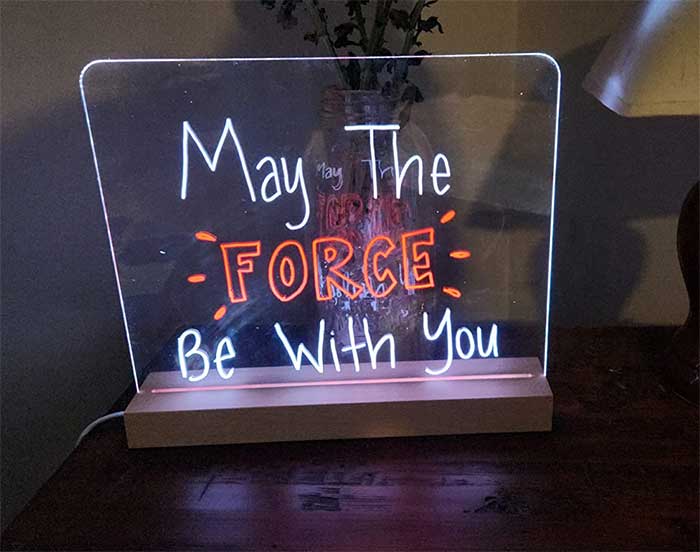 Users can adjust the brightness and color of the light, as well as set it to blink mode. This unique feature adds a touch of creativity and personalization to the workspace. Constructed from high-quality acrylic, the board is smooth, transparent, and offers a clear field of vision. Its surface is resistant to wear and corrosion, ensuring it remains durable and long-lasting. Writing on the board is a breeze, and it easily wipes clean with the included small towel and spray bottle.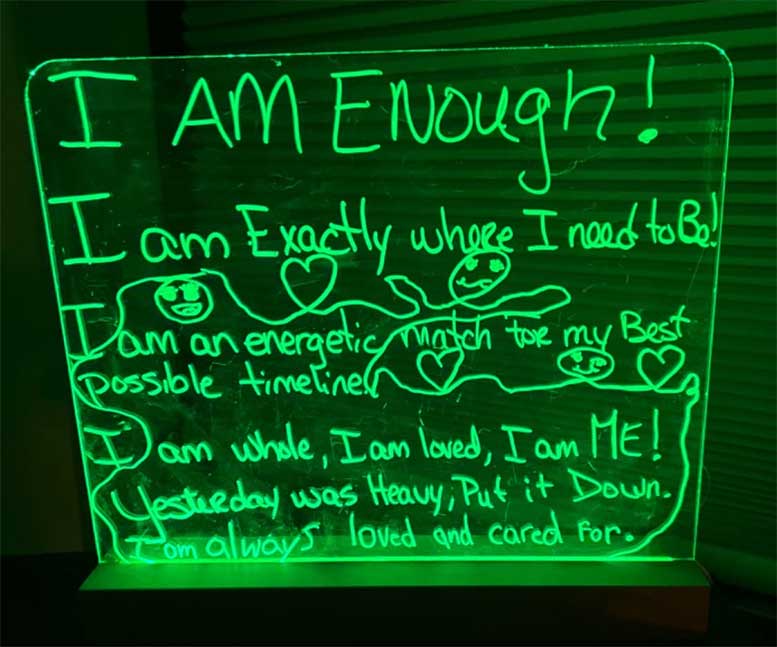 The package contains everything needed to get started: the acrylic dry erase board with a wooden base, 4 dry erase pens, a small spray bottle, and a small towel. With its multiple applications, this device can be used as a doodling board, drawing board, planning board, memo/calendar, or even as an attractive room decoration. Overall, it's a good combination of functionality and aesthetics, and its budget-friendly price is sure to be appealing.
What we liked:
Adjustable brightness and color modes
Easy to write on and clean
Comprehensive package with accessories
Stylish wooden base
What we didn't like:
Only 4 markers included
Limited size options
LED Message Boards for Writing, Drawing and Painting FAQs
Can I use regular markers on an LED message board?
No, it's recommended to use only fluorescent or neon markers specifically designed for LED message boards. Using regular markers may damage the surface and make it difficult to erase your writing or drawings.
How do I clean and maintain my LED message board?
Simply use a microfiber cloth, a damp paper towel, or the provided erasing towel to gently wipe the surface. Avoid using abrasive cleaners or chemicals that may damage the board, and always make sure the board is completely dry before writing on it again.
Are LED message boards suitable for outdoor use?
Many are, while others are strictly for indoor use only. But even if it's suitable for outdoor use, you should always make sure the board is protected from extreme weather conditions and direct exposure to water or moisture.
Final Verdict
As you can see, the LED message boards we selected offer unique features and benefits that cater to various user needs.
For instance, the Hosim LED Message Writing Board is a versatile choice with multiple lighting options, making it a great attention-getter for businesses while also being an excellent fit for children.
Woodsam's Dry Erase LED Board, with its 16 neon colors and effortless mounting options, offers versatility for home, business, and event settings.
Next, the Alpine Industries LED Illuminated Hanging Message Board stands out for its durable construction, multiple size options, and vibrant colors, perfect for businesses and artistic expression.
CELLANAN's LED Message Writing Board, on the other hand, delivers an eco-friendly and creative alternative with its 10 colored markers and 36 flashing modes.
Lastly, SHOOFFICE's Acrylic Dry Erase Board with Light combines aesthetics and functionality with its adjustable brightness and color modes, making it an appealing choice for any workspace.
Ultimately, our selection aims to cater to a diverse range of needs and preferences, ensuring that you can find the perfect LED message board for your home, business, or creative pursuits.
Meet Derek, "TechGuru," a 34-year-old technology enthusiast with a deep passion for tech innovations. With extensive experience, he specializes in gaming hardware and software, and has expertise in gadgets, custom PCs, and audio.
Besides writing about tech and reviewing new products, Derek enjoys traveling, hiking, and photography. Committed to keeping up with the latest industry trends, he aims to guide readers in making informed tech decisions.