In today's world, we tend to use a lot of electronics in our day-to-day lives. Whether you're in your kitchen, living room, or office you're sure to find a pile of cables somewhere.
Sure, you probably tried your best to hide them. Most people stuff them behind furniture, hoping to just forget they're even there. But, then when you need to access them it's a tangled mess, so that's not the best way to solve this problem.
Want to know what is the best way? It's a cable management box! These boxes are designed to hold and organize your various power strips and cords to keep them from becoming an overwhelmingly messy eyesore. If you're interested in picking one up for yourself, here are a few things to consider:
Size and Durability: Making sure the cable management box you choose can accommodate the cables you want to store in it is important. You'll also want to make sure it can fit wherever you're planning on storing it. Durability is important as well, making sure it won't break easily on you while in use.
Aesthetics: Sometimes you will be able to hide these away and looks won't matter too much. Other times, however, you'll have to have the box out in plain sight. When you have to see it, it's probably better that it at least looks good. With various styles, materials, and colors available you'll have a lot of options to choose from to match your home's style.
Additional Features: While doing our research, we found that each cable management box typically has something that sets it apart from the rest. These unique features are added bonuses that can help make them even better choices for you depending on how you plan to use them.
If you've been looking for the perfect cable management box for your home, office, or anywhere else, then you may want to keep reading below.
Best Overall: HomeBliss Walnut Large Cable Box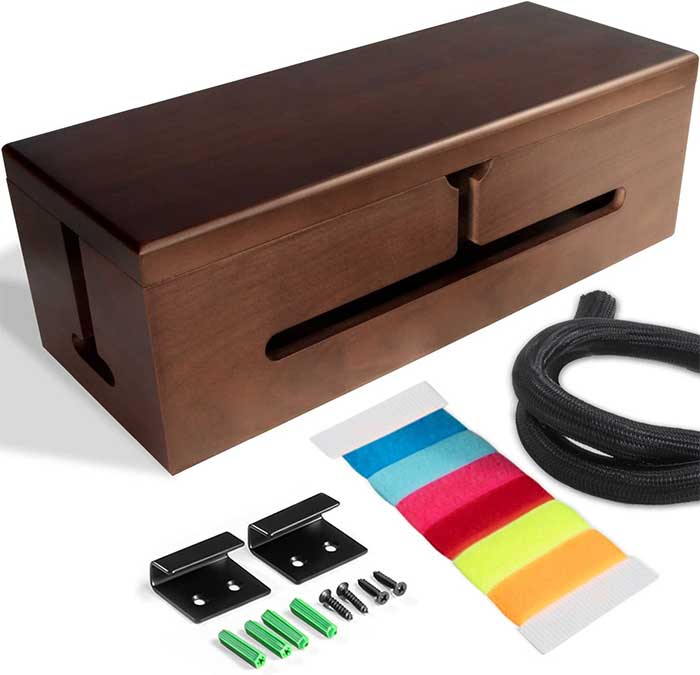 Key Features:
All wood construction
3 colors to match your style
3 large slots for cable routing
The HomeBliss is a large cable management box that is also extremely durable. Coming in at 15.9 x 6.1 x 5.3 inches, you will have a ton of space for storing and organizing cables. The box itself is made with a solid wood construction. This helps it to be a strong and sustainable option to choose. Some users even store their monitors on top of it, so it can hold up to quite a bit of weight.
The HomeBliss is a very nice-looking box with three different colors to choose from. The standard choice is a dark brown walnut color, with additional choices of either black or a light wood color. While it is a large piece, it can still be incorporated into your home or office aesthetic easily.
This cable management box has a few extra features thrown in that are a nice touch. The first is the extra included accessories. Along with the box, you get 1 cable sleeve, 6 cable ties, and 6 cable clips. These accessories will help you further organize your setup. Another cool feature of the HomeBliss is the mounting system. Two mounting brackets are included for you to hang on your wall. They allow you to attach the box to them and hang it from your wall to use as a shelf.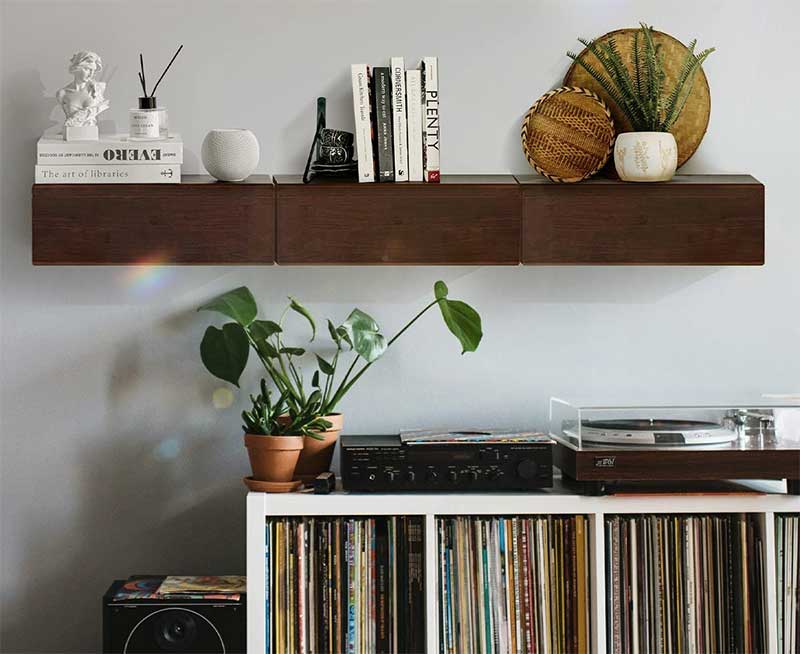 In our opinion, the cable management box from HomeBliss is a solid choice. It's large enough to accommodate lots of cables and has an aesthetic that blends in well with many different styles. The bonus accessories and wall mounting system are both great additions that help set it apart. We'd recommend this to anyone looking for an option that looks great and is extremely durable.
Pros:
Wall mounting system
Large storage capacity
Extra accessories included
Cons:
Some reviewers note it gets hot sometimes while in use
Best Alternative: BamBox Premium by TEYGA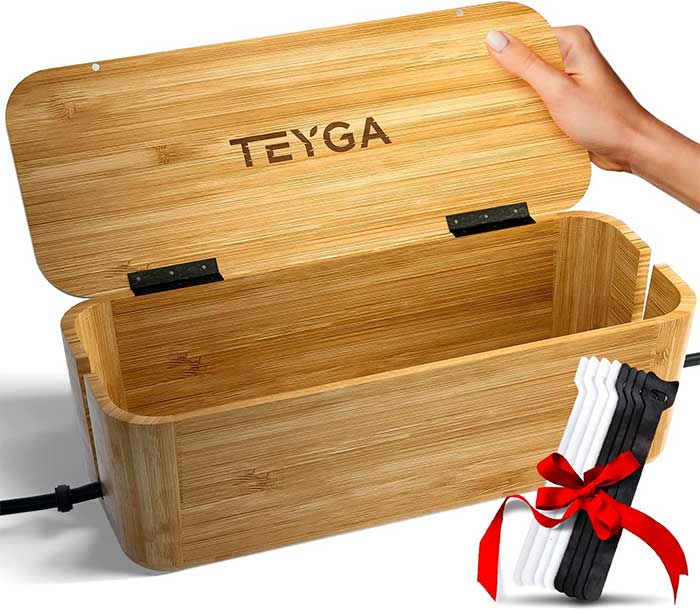 Key Features:
All bamboo construction
5 color choices
2 cable slots
The BamBox by TEYGA is a solid cable management box. Its body is constructed using strong and sturdy bamboo to help it last for a long time. There are three size options to choose from. Premium is 16 x 6.5 x 5.5 inches16 x 6.5 x 5.5 inches, big is 15.8 x 5.8 x 4.8 inches, and small is 15 x 4.5 x 5.2 inches. Each of these sizes is still fairly large and provides you with lots of space for cables.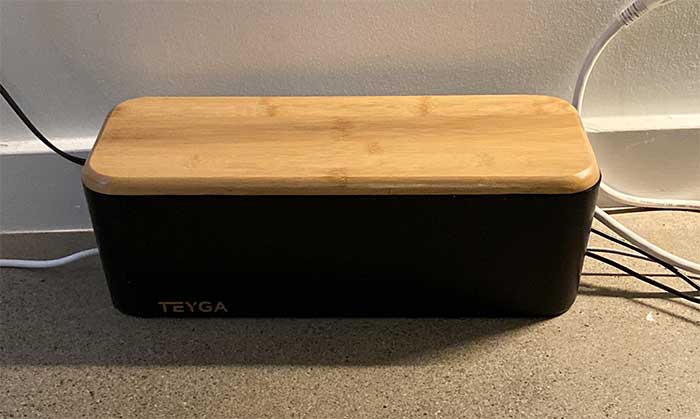 There are a lot of choices for the BamBox when it comes to style. You can choose from 5 different color options, including natural bamboo, antique brown, black with bamboo top, cherry brown, and white with bamboo top. Each choice is still made entirely from Bamboo, with different paints and stains to give it color.
One unique feature is its lid. The top has a hinge on both sides to allow you to open and close it easily. The lid secures to the top of the box using two small magnets that hold it in place. Additionally, there are cable ties included in the package to help with cable management.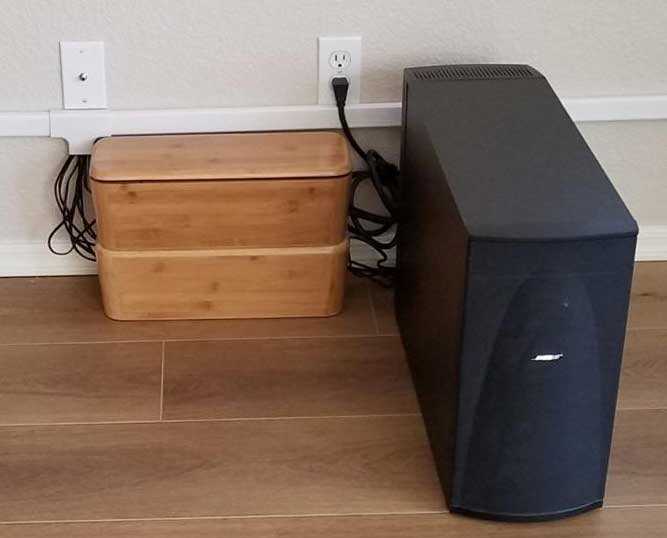 In our opinion, the BamBox by TEYGA is a great choice if you want a variety of colors to choose from with a solid construction. The hinged top is a unique feature. One downside to it is the number of slots for routing cables. There are only two slots, one on each short end, with nothing on the long ends. This could make routing multiple cables difficult. However, if this is the cable management box that speaks to you don't let that stop you from picking one up.
Pros:
Hinged top
Lots of color options
Three size choices
Cons:
The highest price on the list
Only two slots for cables
Best Multi-Slots: Cable Management Box by Baskiss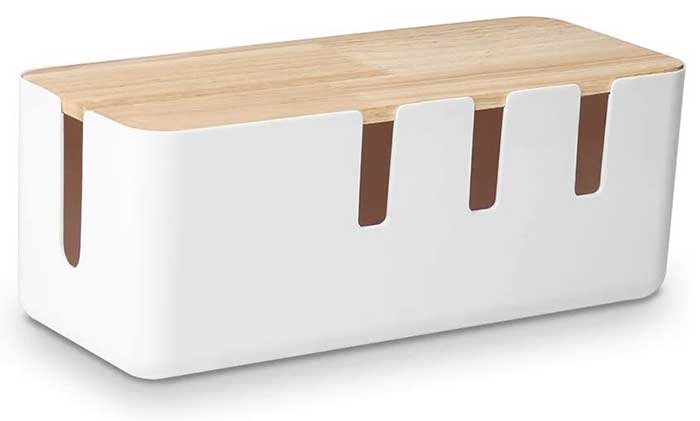 Key Features:
Wood and Plastic
White and Wooden style
7 slots for cords
The Baskiss cable management box is a very stylish option for your home or office. Its dimensions are 12x5x4.5 inches, so existing power strips will need to be smaller than that in order to be compatible. The top lid is made out of wood, with the surrounding base material being plastic. This combination makes it a lightweight yet sturdy option to keep your cables organized and safe.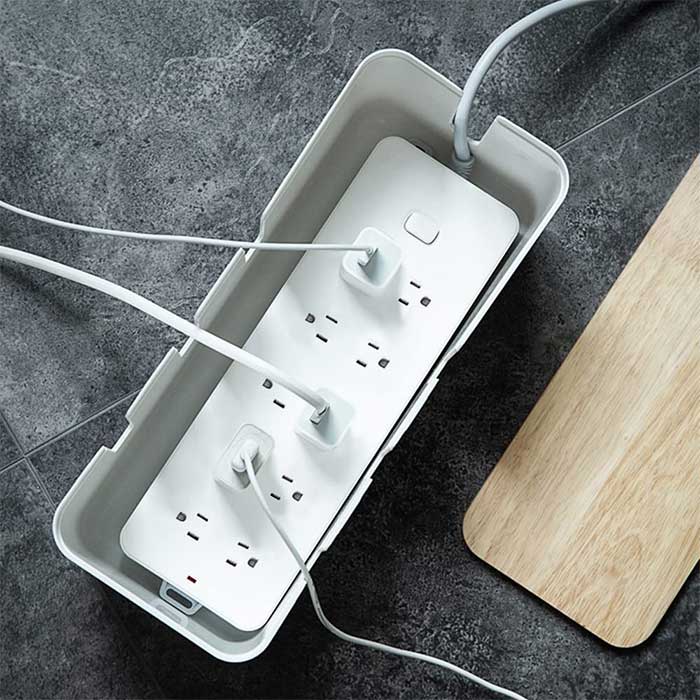 Aesthetically this is a great-looking cable management box. The wood top pairs extremely well with the white plastic base. This is the only color option available. While you could hide it away, it's not difficult to keep it out in plain sight, especially with the modern design style of today's world.
As for additional features, it doesn't have too many. It does its job really well and doesn't stray far from that. Once you have your power cord in the box, you have 7 slots around the perimeter of the box to route cables through. If you need to store anything on top of it, you can expect it to safely hold up to 8 pounds.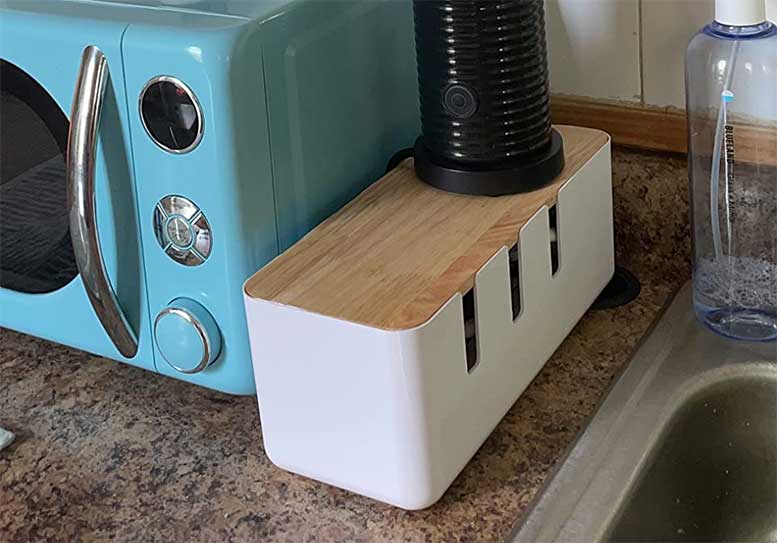 In our opinion, the Baskiss cable management box is a fantastic cable management box for those looking for one that will blend into their home or office style. It doesn't have fancy extras, it's simply a great-looking box and lid. That isn't a knock on this product, we love when an item's form meets its function and excels at both. This is a perfect choice for you if you're someone who wants a modern-looking cable management box to have out in plain sight.
Pros:
The white plastic base and wood top look great together
7 total slots for routing cables
Can hold up to 8 pounds on top
Cons:
Smallest single-box option
Best Style: FABROK Cable Management Box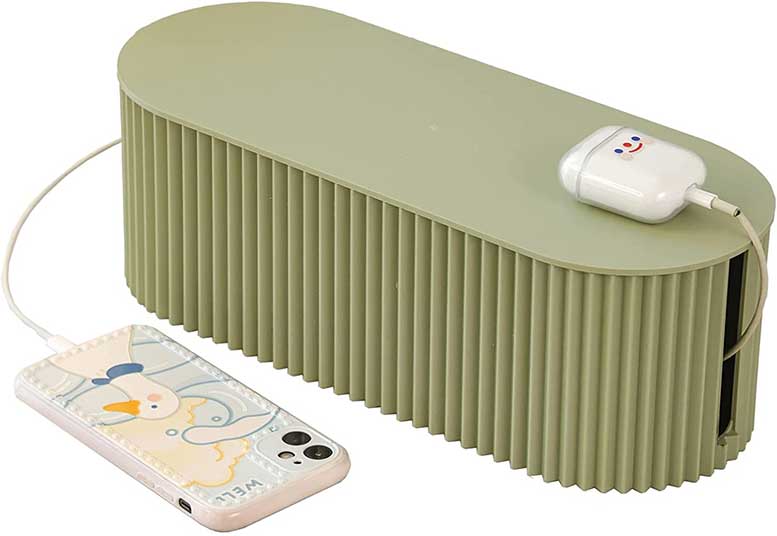 Key Features:
All plastic construction
2 color choices
2 cable slots
The FABROK Cable Management Box is one of the most unique-looking options on our list. It has dimensions of 12.99 x 5.16 x 4.37 inches, making it a compact storage option. It's constructed using premium plastic material that helps to dissipate heat and reduce the chance of fire from your electronics.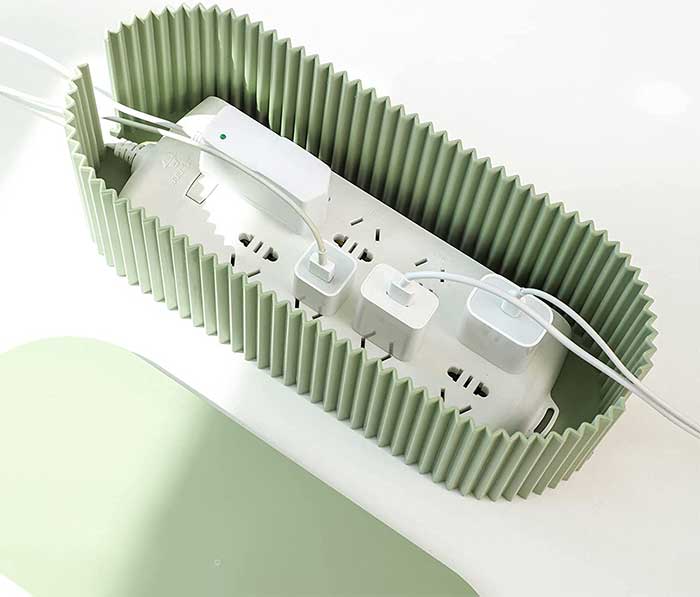 The look of this cable management box is what sets it apart. It has a ribbed design on its body, adding texture and depth to its look. The top is a contrasting plain piece of plastic. You can choose to get either a green color or a white option. Either way, the FABROK is designed to be out on your desk or entertainment center to be shown as a style piece.
While it's constructed with plastic, you can still set various items on top of it. Using it as a shelf for pictures, clocks, and other small interior design items helps to tie it into the overall look of your room. Additionally, there are 10 reusable cable ties included to help you organize your cables.
In our opinion, the FABROK Cable Management Box is the best option if you want a cable management piece that makes a statement. Its design is extremely unique and can be added to your home or office aesthetic easily to enhance it. We would have liked to have seen more than two slots for cable routing on it, however leaving the long sides the way they are enhances the looks. This is a great option if you don't have a way to conceal a box like this.
Pros:
Unique design
Durable plastic
Compact size
Cons:
Only two cable routing slots
Best Multi-Pack: Chouky Cable Organizer Box Set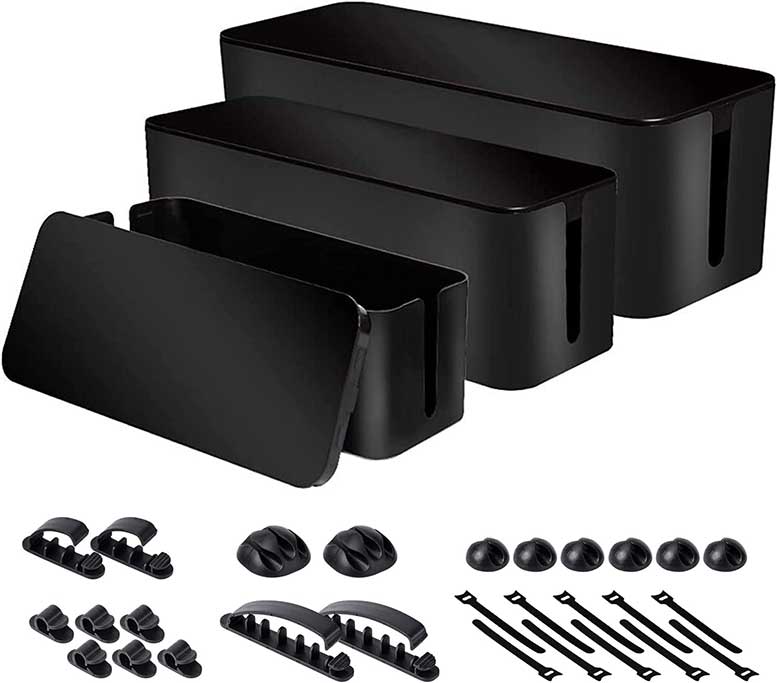 Key Features:
Plastic construction
2 color choices
2 cable slots
The Chouky Cable Organizer Box Set is the most basic option we picked. This set comes with 3 total boxes. The large is 16.0 x 6.2 x 5.4 inches, the medium is 12.6 x 5.3 x 5.1 inches, and the small is 9.0 x 4.3 x 4.7. Each box is made from strong and impact-resistant plastic. This also helps with electric insulation to keep shocks from happening to kids and pets. They aren't as durable as some of the wooden options, so be careful with any weight you decide to store on top.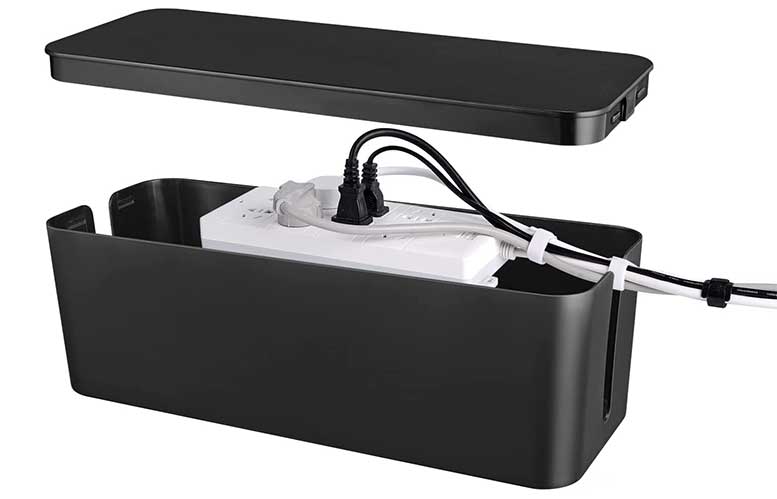 The look of the Chouky is pretty plain and simple. Each set can be purchased in either all-black or all-white. The lids are the same colors as the base to give it a uniform look. This makes it great to sit out and blend in, or hide away from sight.
Having 3 different boxes included for less than the price of one box in some cases is a great feature. This allows you to cable manage multiple areas of your home or office easily. Additionally, there are a ton of accessories included. There are 6 One Slot Cable Clip Holders, 2 Triple Slot Cable Clip Holders, 2 Six Slot Cable Clips Holders, 2 Triple Slot Cord Clips, 6 One Slot Cord Clips, and 10 Reusable Cable Ties. These all help you further cable manage your areas.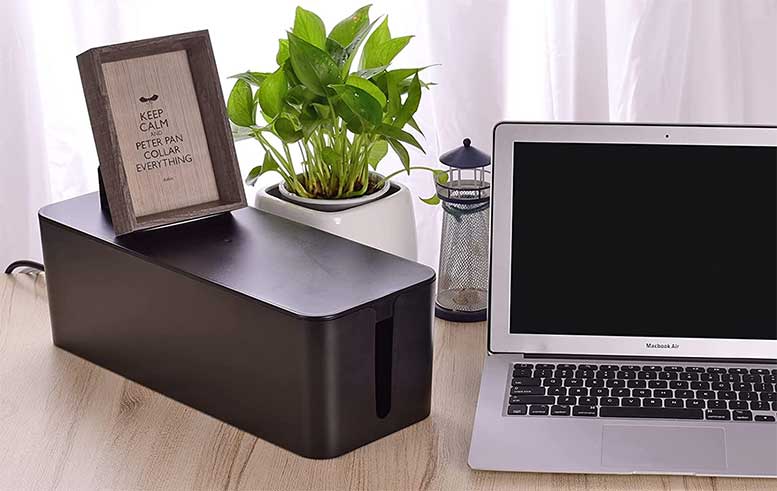 In our opinion, the Chouky Cable Organizer Box Set is a fantastic choice for people looking for a simple option. There are no fancy extras included, they are just plastic boxes that function as they should. With three included sizes you'll be able to find one that best suits your needs. Additionally, since they are solid black or solid white, you can easily leave them out or hide them away depending on your preference.
Pros:
3 boxes included in the set
28 pieces of cable management accessories
Cons:
Only 2 slots for cable routing