Overall Design -

9/10

Precision -

9.5/10

Build Quality -

8/10

Compatibility -

8.5/10
Summary
SCULPFUN's S30 Pro Max is an exceptional laser engraving and cutting machine with a plethora of impressive features. Whether you're creating intricate gifts, working on personal projects, or producing professional designs, the S30 is a fantastic choice that will undoubtedly elevate your creative endeavors.
Pros
Automatically controlled air assist system
Replaceable protective lens
Expandable engraving area
Lots of included components
Cons
Assembly can be time-consuming
Expansion kits sold separately
Technology as a whole is moving at breakneck speeds, and with that comes a ton of new and updated gadgets, like laser engravers. Today's offerings deliver incredible precision and speed, making what was once a tedious and time-consuming task fast and efficient.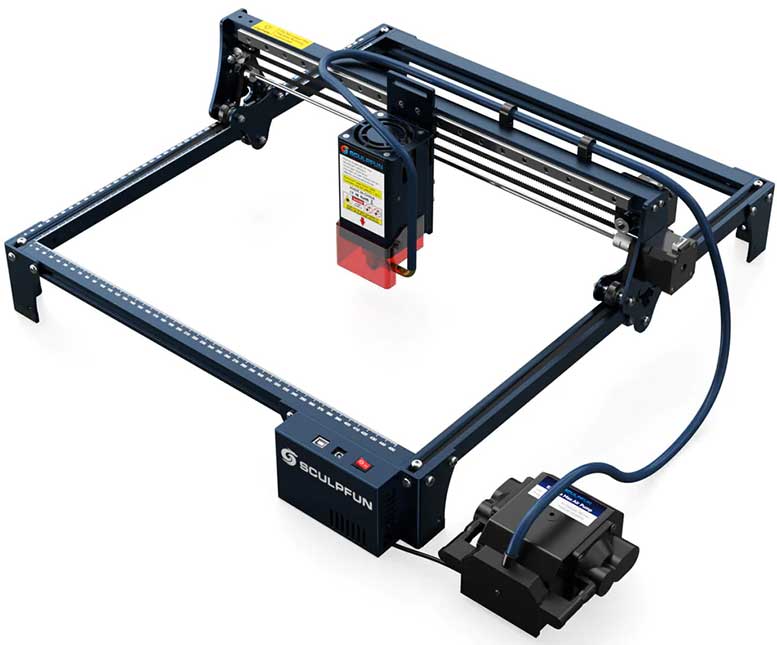 I recently got my hands on the SCULPFUN S30 Pro Max, and I must say it has blown me away with its incredible features and performance. In this review, I'll be discussing the various features and benefits of the device, as well as detailing my personal experience while testing it.
Unboxing the SCULPFUN S30 Pro Max
SCULPFUN gives you an array of components and accessories, providing everything needed to get started with the laser engraver. Here's a detailed breakdown of the items included in the package:
S30 Pro Max Laser: The main unit, featuring a powerful 20-watt diode laser for precise engraving and cutting.
Laser Repair Kit: A handy kit containing essential tools and spare parts for maintaining the laser's performance.
12V automatic air pump: A motherboard-controlled air pump that aids in keeping the engraving and cutting process clean and efficient.
3 x A4 size 3 mm wooden boards: A set of wooden boards to kickstart your engraving projects right away.
2 x Limit Switches: Components that help to define the engraving boundaries and ensure safe operation.
12V 7A power adapter and power cord: The necessary power supply components to keep your engraver up and running.
USB cable: For connecting the laser engraver to your computer, ensuring smooth data transfer and control.
Air tube: A flexible tube for directing the air flow from the air pump to the engraving area.
Installation Tool Kit: A set of essential tools required for assembling and adjusting the machine.
Laser Goggles: Protective eyewear to safeguard your eyes from laser exposure during operation.
A4 metal backing plate: A steel pad to protect your work surface from potential laser damage and isolate fire hazards.
Step 1-6 Install the package: A set of numbered packages containing parts and components for easy assembly.
Manual: A comprehensive guide to help you set up, operate, and maintain the laser engraver.
X-axis assembly, X profiles, and Y profiles: Components for assembling the X and Y axes of the machine, ensuring smooth and accurate movement during operation.
Control Box Assembly: A unit containing the motherboard and other essential electronics that control the laser engraver.
3 x support feet: Sturdy feet for stabilizing the machine and ensuring a secure working platform.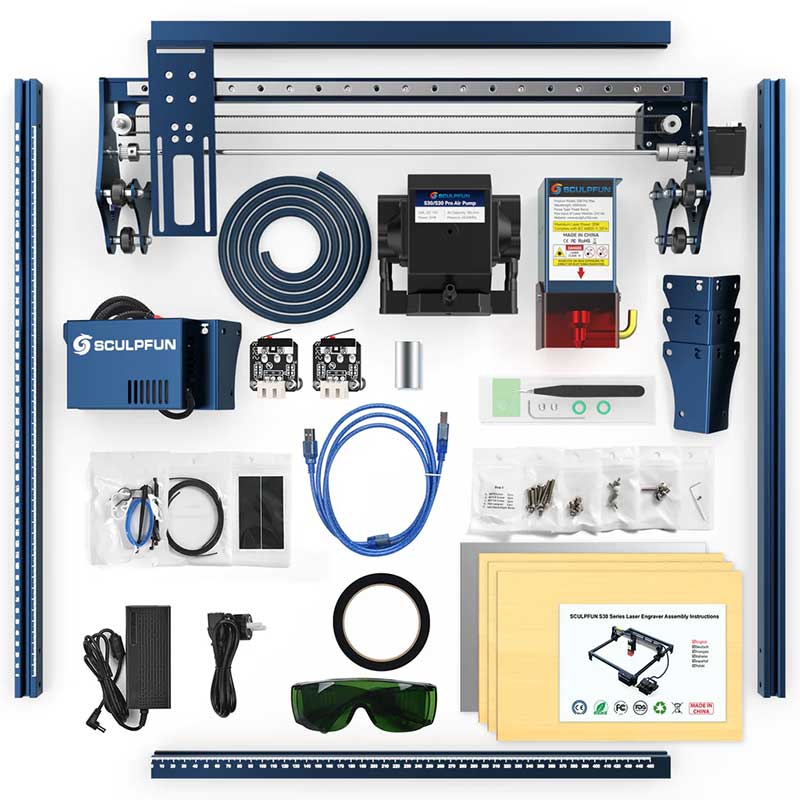 This comprehensive set of components and accessories make it easy for users to get started with their laser engraving and cutting projects. The inclusion of a manual and an installation tool kit further simplifies the assembly process, ensuring a seamless experience for both beginners and experienced users alike.
Enhanced Precision with Automatically Controlled Air Assist System
The automatically controlled air assist system sets this one apart from many other laser engraving machines on the market. The integration of a control-type air pump and a 32-bit motherboard specifically designed for air-assist functions allows for precise control over the airflow during the engraving process. This is particularly useful when working with delicate or intricate designs, as it helps to achieve a higher level of accuracy and detail.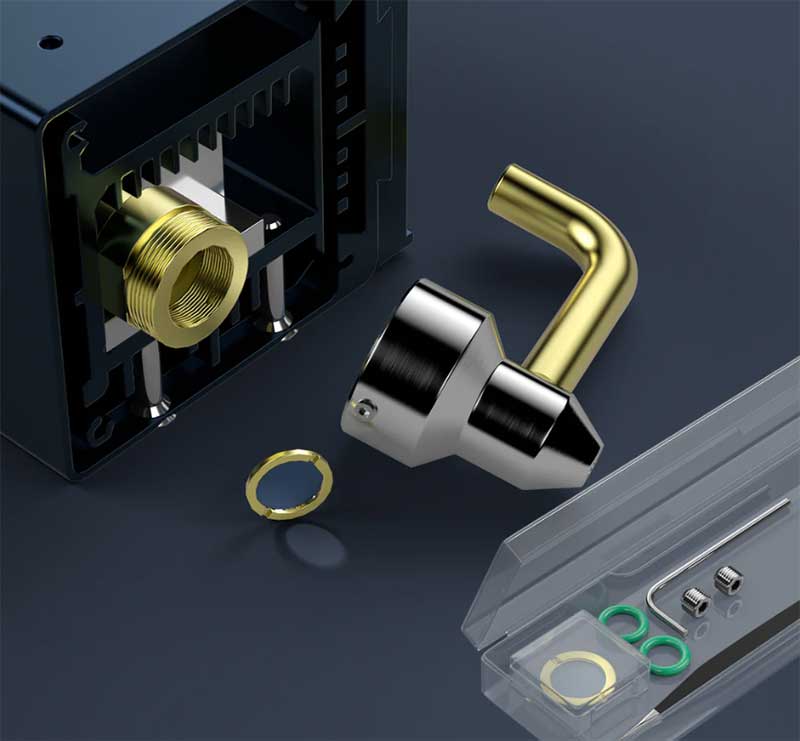 By clicking on LightBurn's M8 button, I was able to seamlessly manage the air-assist switch while engraving. This feature enables users to selectively apply the air assist, providing a cleaner and more accurate result by minimizing smoke and debris accumulation. Traditional engraving machines often leave behind a smoky residue or a fuzzy fog that can obscure the engraved design. However, the S30 eliminates this issue, resulting in crisp, clean, and detailed engravings.
During my hands-on experience, I was impressed by how the automatically controlled air assist system significantly improved the engraving quality. The difference was particularly noticeable when working on intricate designs for custom-made gifts or delicate materials that require a high level of precision. The air-assist system ensured that the engraved patterns remained sharp and clear, without the need for additional cleaning or post-processing.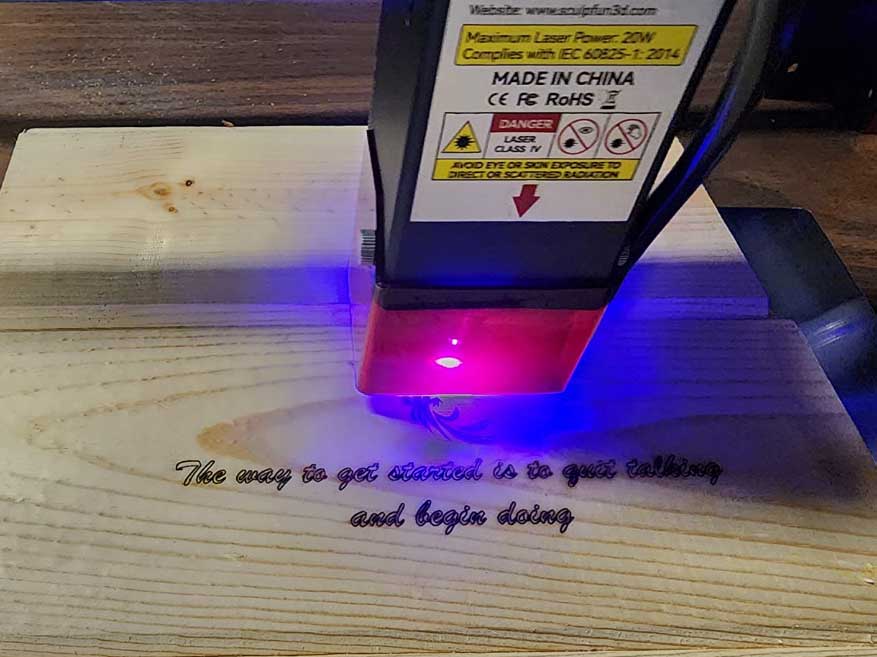 Furthermore, the air assist system contributes to better overall cutting performance. It helps to keep the cutting surface free from debris and residue, enabling cleaner cuts with less charring on the edges. This is especially beneficial when working with materials like wood or acrylic that are prone to burning or melting during the cutting process.
Prolonged Performance with Replaceable Protective Lens
One key advantage here is the replaceable protective lens feature, which ensures an extended service life for the laser. Traditional laser engravers tend to have a limited lifespan due to the gradual wear and tear on their lenses. And it's an ongoing expense that consumers have long wished would disappear.
However, SCULPFUN addresses this issue with an innovative design that allows users to easily replace the lens when needed, effectively prolonging the life of the laser by more than 10 times compared to other general lasers.
During my testing, I appreciated the peace of mind provided by knowing that the lens could be replaced if it were to get damaged or degrade over time. This feature not only ensures consistent cutting power but also reduces long-term maintenance costs, as there is no need to replace the entire laser unit.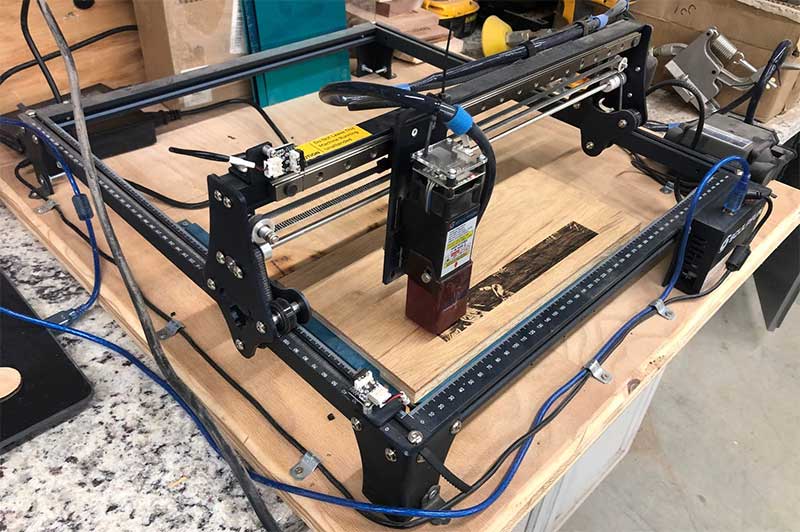 And as an added bonus, there's a free lens included, allowing users to have a spare lens on hand for immediate replacement. This is particularly beneficial in situations where a lens may become damaged unexpectedly, ensuring that work can continue with minimal downtime. Moreover, SCULPFUN offers additional lenses for purchase, making it easy for users to maintain their device and keep it functioning at optimal performance levels.
The replaceable protective lens feature is a welcome aspect that sets it apart from other laser engravers on the market. By allowing users to easily replace the lens and maintain cutting power, this feature significantly extends the service life of the laser and reduces long-term costs.
Enhanced Versatility with Expandable Engraving Area
The S30 Pro Max also offers an innovative expandable engraving area that caters to a wide range of project sizes. The base engraving area is already generous at approximately 370 x 363 mm, but for those who need more space, there are options to expand further.
By purchasing a Y-axis expansion kit, you can increase the engraving area to 935 x 400 mm. And for even larger projects, the XY-axis expansion kit allows you to upgrade the engraving area to a remarkable 935 x 905 mm.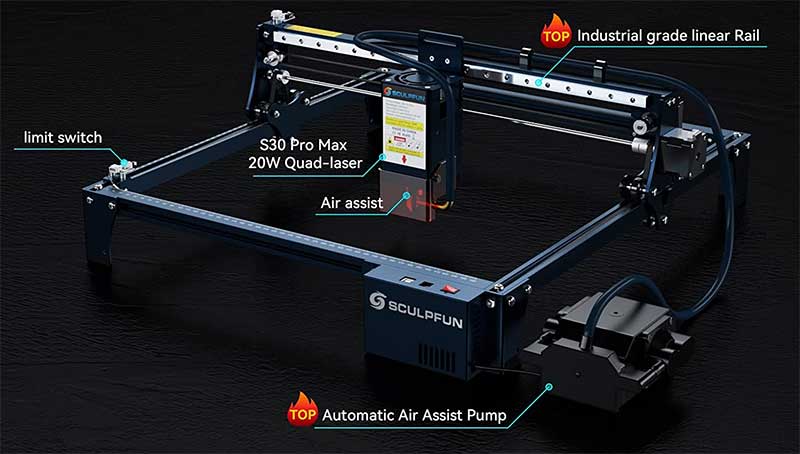 The expandable engraving area proved to be extremely beneficial when working on larger projects, as it allowed me to handle extensive engraving and cutting tasks with ease. This feature offers greater flexibility and adaptability, making this unit an ideal choice for both hobbyists and professionals with diverse project requirements.
I also really liked that I could easily duplicate and reprint my designs without any hassle. This feature was particularly useful for creating multiple copies of a design for gifts or personal projects.
Industrial-Grade Precision Cuts
The S30 Pro Max boasts a high-precision linear slide rail X-axis, ensuring industrial-grade engraving accuracy. As I worked on intricate designs and compared the results to those from other engraving machines, I noticed that the S30 didn't display the wavy patterns typically found in engravings produced by ordinary machines. This level of precision is critical for producing high-quality, professional-grade work, and it's one of the many areas this machine shines.
Detachable Laser Eye Shield and Safety Design
SCULPFUN places a strong emphasis on user safety. The laser engraver comes equipped with a detachable laser eye shield, which protects users from being dazzled during operation, even without wearing protective glasses. The eye shield can be easily adjusted or removed as needed, ensuring both comfort and safety while using the device.
Additionally, it includes an A4 size steel pad, which serves to protect your work surface from potential laser damage and isolate fire hazards. This safety measure allows you to focus on your work without worrying about potential accidents or damage to your workspace. The machine also features a highly visible and safe power switch, making it easy to quickly and directly turn off the power in case of emergencies.
What's more, it's made from high-strength aluminum alloy, so the frame can withstand up to 50KG of weight without damage. This sturdy frame contributes to the device's long-lasting durability and high precision. The right-angle measuring ruler, with precise scale lines on the X-axis and Y-axis, enables quick measurement of the engraved object's size.
High Compatibility with Materials and Software
I absolutely love how versatile this system is. It's compatible with a wide range of engraving and cutting materials – for engraving, it works with various types of wood (including high-density woods like walnut and cherry, among others). That's a plus in itself, but you can also use MDF, plastic, zigzag, cardboard, aluminum oxide, leather, ceramic, PCB board, 304 stainless steel, and even dark stone. And for cutting, it can handle different kinds of wood, as well.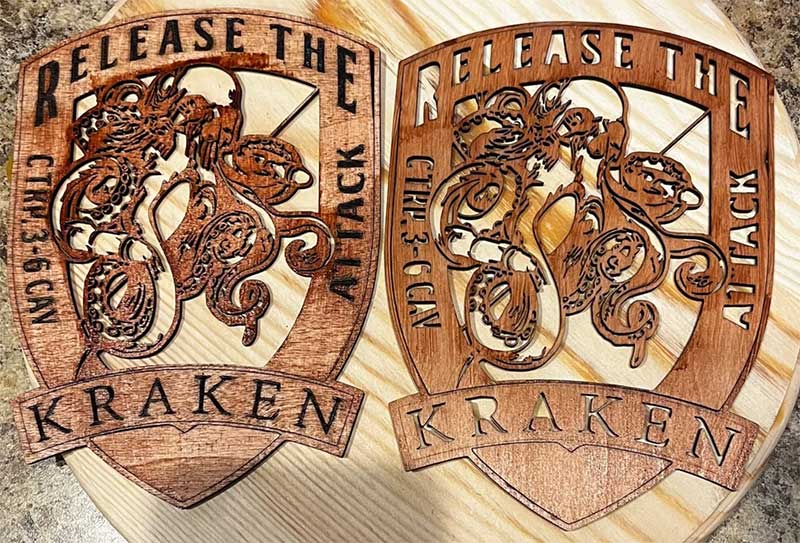 It can also accommodate MDF, cardboard, acrylic board, non-woven, leather, bamboo, some plastic boards, and PCB boards. This versatility allowed me to work on multiple projects using different materials without any limitations. And on the software side, it's compatible with popular picks like LightBurn and LaserGRBL. System-wise, it supports Windows (XP to W10), Linux, and Mac OS, and is compatible with file formats such as JPG, PNG, BMP, DXF, and NC.
Final Verdict
SCULPFUN's S30 Pro Max is an exceptional laser engraving and cutting machine with a plethora of impressive features. Its automatically controlled air assist system, replaceable protective lens, expandable engraving area, and industrial-grade cutting accuracy are all commendable. As is the detachable laser eye shield, safety design, a sturdy and durable frame, built-in high-pressure air assist nozzle, and compatibility with various engraving and cutting materials that make it a versatile and powerful tool for hobbyists and professionals alike.
After thoroughly testing it, I am confident in recommending it to anyone in search of a reliable and efficient laser engraving and cutting solution. Whether you're creating intricate gifts, working on personal projects, or producing professional designs, the S30 is a fantastic choice that will undoubtedly elevate your creative endeavors.
Meet Derek, "TechGuru," a 34-year-old technology enthusiast with a deep passion for tech innovations. With extensive experience, he specializes in gaming hardware and software, and has expertise in gadgets, custom PCs, and audio.
Besides writing about tech and reviewing new products, Derek enjoys traveling, hiking, and photography. Committed to keeping up with the latest industry trends, he aims to guide readers in making informed tech decisions.