Overall Design -

9/10

Sound Quality -

9.3/10

Comfort & Fit -

8.4/10

Build Quality -

9/10
Summary
TOZO's Golden X1 Wireless Earbuds offer an impressive combination of advanced audio technology, seamless connectivity, and a comfortable ergonomic design. With a convenient app and plenty of useful features, these earbuds truly stand out in the competitive world of wireless audio technology.
Pros
Balanced sound and comfort
Versatile charging options
Customizable EQ modes
Waterproof
Cons
Moderate battery life
Some EQ modes better than others
In the ever-evolving landscape of wireless audio technology, the quest for the perfect blend of sound quality, connectivity, and comfort has become the Holy Grail for both manufacturers and consumers.
The TOZO Golden X1 Wireless Earbuds set a new benchmark in premium audio experience, combining cutting-edge features and an ergonomic design that caters to the most discerning audiophiles.
In this review, we delve deep into the Golden X1's many features and performance. Join us as we uncover what makes them a game-changer in the world of affordable wireless audio.
Unboxing and First Impressions
Upon unboxing the TOZO Golden X1 Earbuds, you're immediately greeted with a thoughtfully packaged set of components designed to enhance the user experience. Here's what's inside:
Golden X1 earbuds
Charging case
USB-C cable
6 assorted eartips
User manual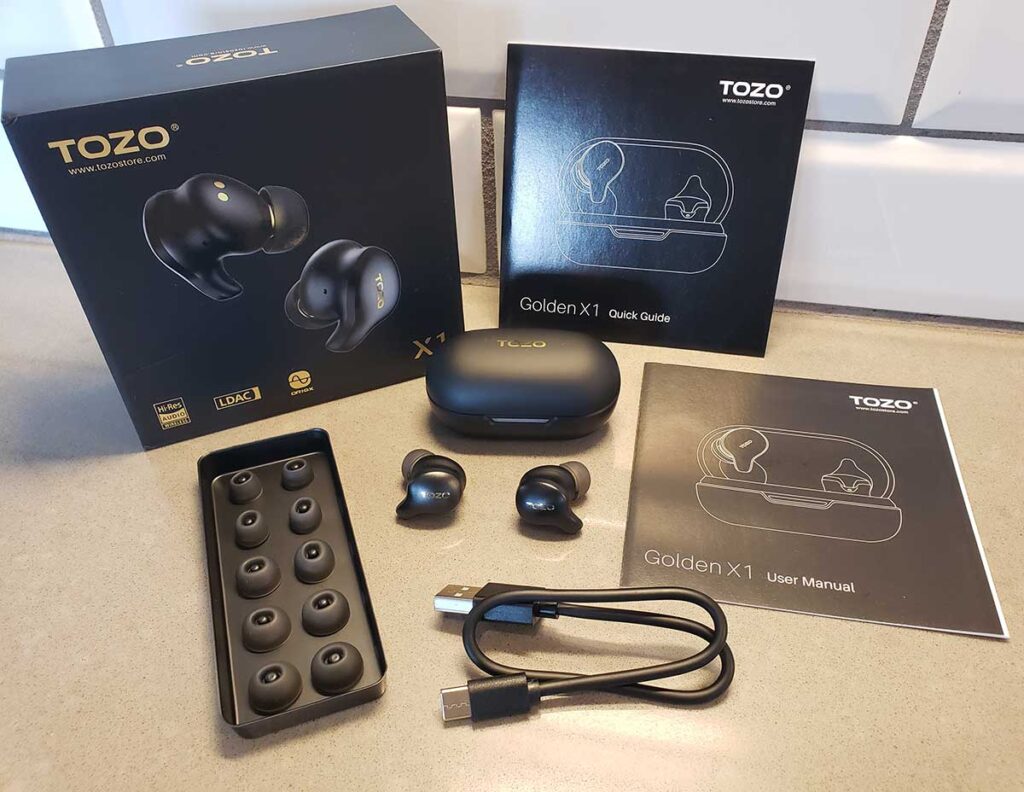 The sleek black earbud design exudes a premium feel, while the charging case showcases a sense of durability and sophistication. We like the compact size, too, as it measures a mere 2.76 x 1.97 x 1.97 inches and weighs just 6.6 ounces.
The inclusion of six different pairs of eartips ensures that users can easily find the perfect fit for their ears, catering to a wide range of individual preferences. The USB-C charging cable was a welcome addition, as it's the superior option for charging. The user manual is your standard fare – nothing special, but it gets the job done.
Hybrid Dynamic Driver & Balanced Armature Driver
The buds offer a remarkable audio experience, thanks to the combination of Hybrid Dynamic and Balanced Armature drivers in each earbud. This unique blend results in wide frequency response, allowing the earbuds to reproduce an array of sound details with clarity and precision.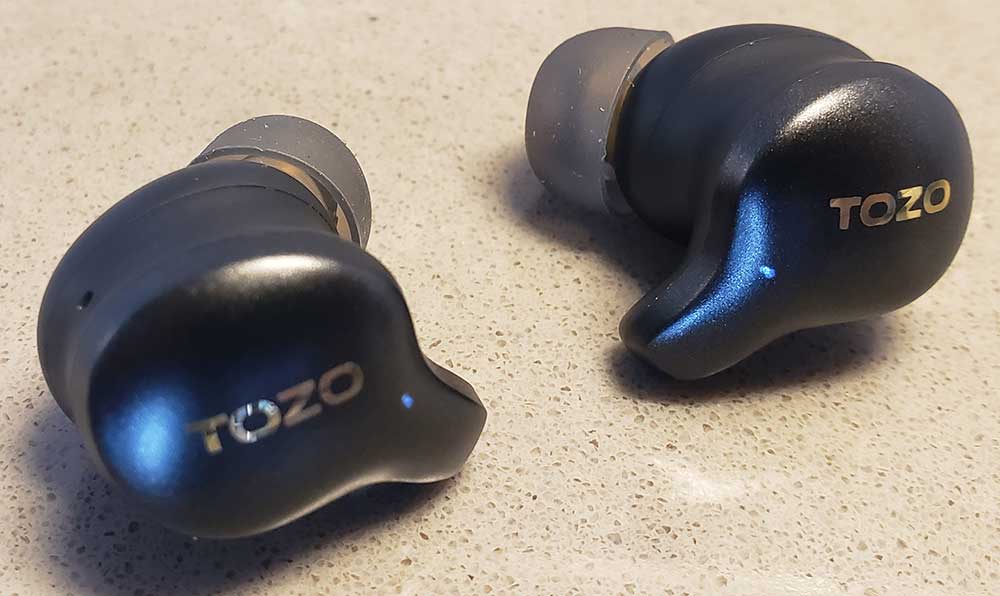 Their ability to capture the subtle nuances of various instruments and ambient sounds is impressive. They accommodate a wide range of sounds, and that's definitely something you want to see (or in this case, hear) in your earbuds.
Trebles sound crisp and detailed without shattering your eardrums, and bass is handled with bravado thanks to the 12mm in-ear subwoofer. They come together to ensure the listener feels like they're surrounded by the sounds they're listening to. It's all very high-end, which is impressive in itself, given the more budget-friendly price range. Plus, there's a lot of sophisticated tech working behind the scenes to deliver such an engaging experience.
Another area in which these earbuds set themselves apart is with their Hi-Res Audio capability. This certification ensures that the overall sound quality remains top-notch. It allows the buds to deliver a complete and well-rounded audio experience that satisfies a broad range of music preferences and styles.
Together, these features contribute to a truly immersive listening experience that captures the essence of each song and transports the listener right into the heart of the music.
LDAC and OrigX Pro
Furthering the audio experience is the inclusion of LDAC technology. This advanced feature allows for high-resolution streaming at 24bit/96kHz via Bluetooth, with data transmission speeds reaching 990 kbit/s.
What this means for the listener is that they'll enjoy a richer and more detailed wireless sound experience, surpassing the quality offered by conventional Bluetooth SBC connections.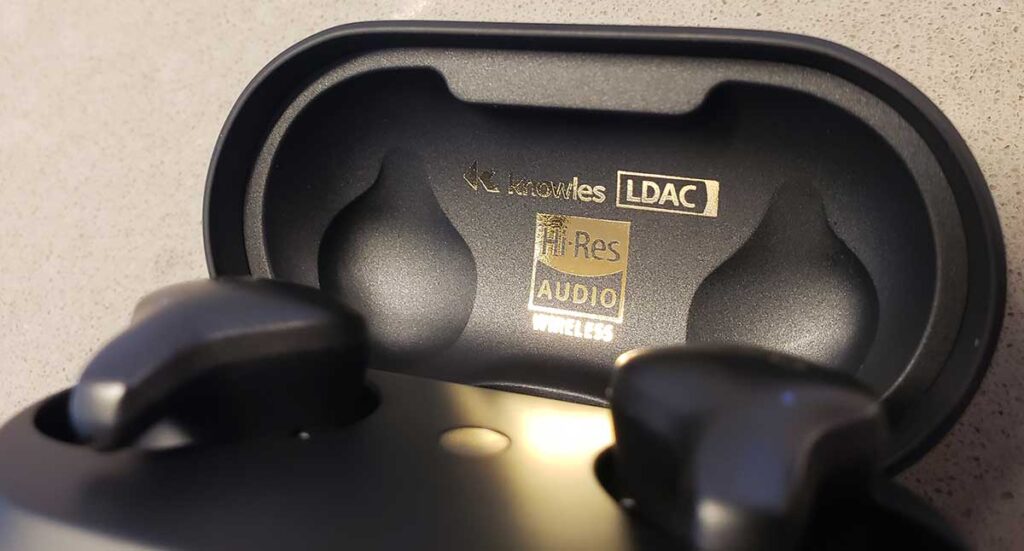 Complementing the LDAC technology is the OrigX Pro high-quality sound system. This cutting-edge feature supports the wide frequency response mentioned a moment ago. And it's capable of hitting a range from 12Hz to 44.1kHz, ensuring optimal sound aesthetics across various musical genres.
With the OrigX Pro, you can expect an immersive listening experience that stays true to the original recording. It's an effective remedy that plagues many earbuds, headphones, and speakers. Fortunately, TOZO found a solution that works well and sounds great.
Noise Cancellation Technology
The Golden X1s go beyond the norm when it comes to Active Noise Cancellation. There's an advanced noise isolation system present that ensures you can fully immerse yourself in your music or calls, even in noisy environments.
With six microphones on board and sophisticated noise-reduction technology, this pair excels at minimizing distractions. To achieve this, they intelligently adapt to your surroundings, providing an impressive noise reduction of up to 42dB.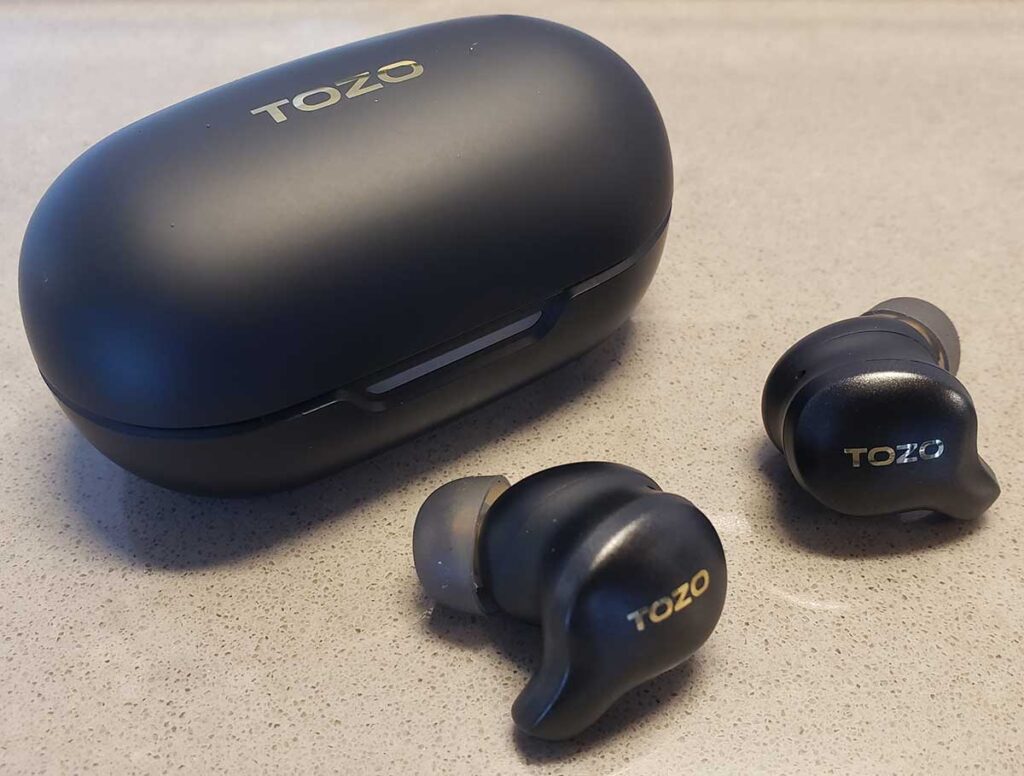 This powerful noise-cancellation function allows you to enjoy crystal-clear communication during calls while also preserving the quality and volume of your music. In our tests, we found that they effectively neutralized a wide range of background noises, delivering an uninterrupted and immersive listening experience. We like the control you're given over the Active Noise Cancellation feature.
It can be easily toggled on and off, giving you the flexibility to adjust the noise isolation according to your preferences and environment. This adaptability makes sure you remain aware of your surroundings when necessary while still enjoying the premium audio quality that the earbuds offer.
Moreover, calls sound incredibly clear – on both ends. When listening to the receiving end of our calls, we didn't detect any distortion or flatness. And we could clearly hear those speaking on the other end. In short, two-way communications work wonderfully here.
Charging Compatibility & LED Digital Display
During our time with the earbuds, we put their charging capabilities and LED digital display to the test, and the results were impressive. Users are given a couple of charging options, ensuring that you can always keep your earbuds powered up, regardless of your charging preferences.
For our tests, we utilized both the USB Type-C and wireless charging methods and found the USB Type-C charging to be quick and efficient, thanks to its fast charging capabilities. It's easy to connect the charging case to a compatible power source using the included USB-C cable.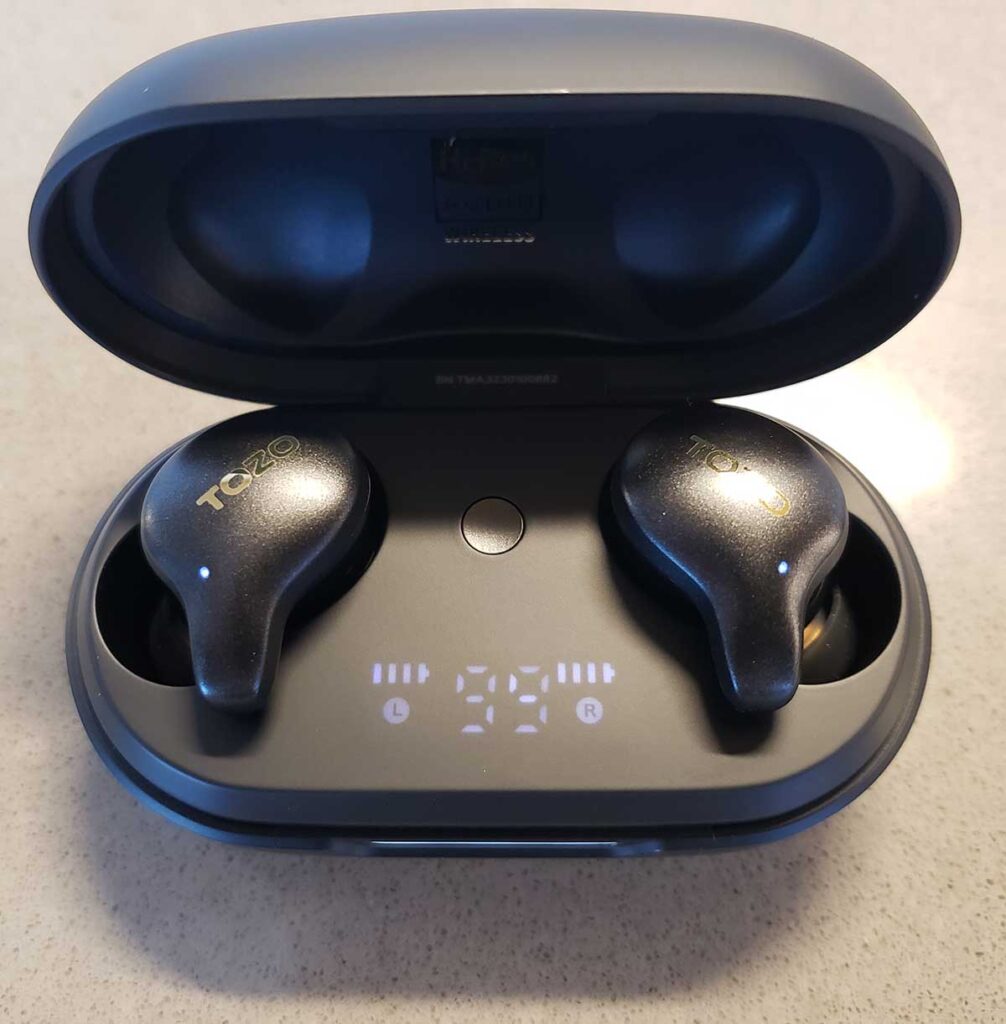 Next, we tested the wireless charging feature by placing the charging case on a Qi-compatible wireless charging pad. The earbuds charged effortlessly without the need for any cables, making it a convenient option for those who prefer a clutter-free charging experience.
The charging case also features an LED digital display that proved to be quite useful. The display shows the battery level of the earbuds in real-time, so you can keep track of your earbuds' power status at a glance. This feature eliminates the guesswork in knowing when it's time to recharge, which means you're less likely to run out of battery unexpectedly.
And speaking of battery, this is one of the areas that may disappoint some, depending on your use and expectations. On average, you can expect around 8 hours of continuous use. But keep in mind that using Active Noise Cancellation will reduce that to around 4 or 5 hours.
Recharging takes anywhere from 30 minutes to an hour, depending on your method of choice. We used a 60-watt charger and got a full charge in 30 minutes. If you do find yourself in a pinch and in need of power, the charging case provides 24 hours of additional battery life.
TOZO App & 16 Preset EQ Modes
The TOZO App for the Golden X1 earbuds is a valuable addition that brings customization and personalization to the table, enabling users to tailor their listening experience according to their preferences.
We explored the app's features and found it to be user-friendly and intuitive. One of the main highlights of the TOZO App is the ability to switch between 16 preset EQ modes, each designed to cater to a specific music style, including rock, classical, jazz, hip-hop, and more. We experimented with various EQ modes. While not perfect, they do a commendable job of enhancing the audio output.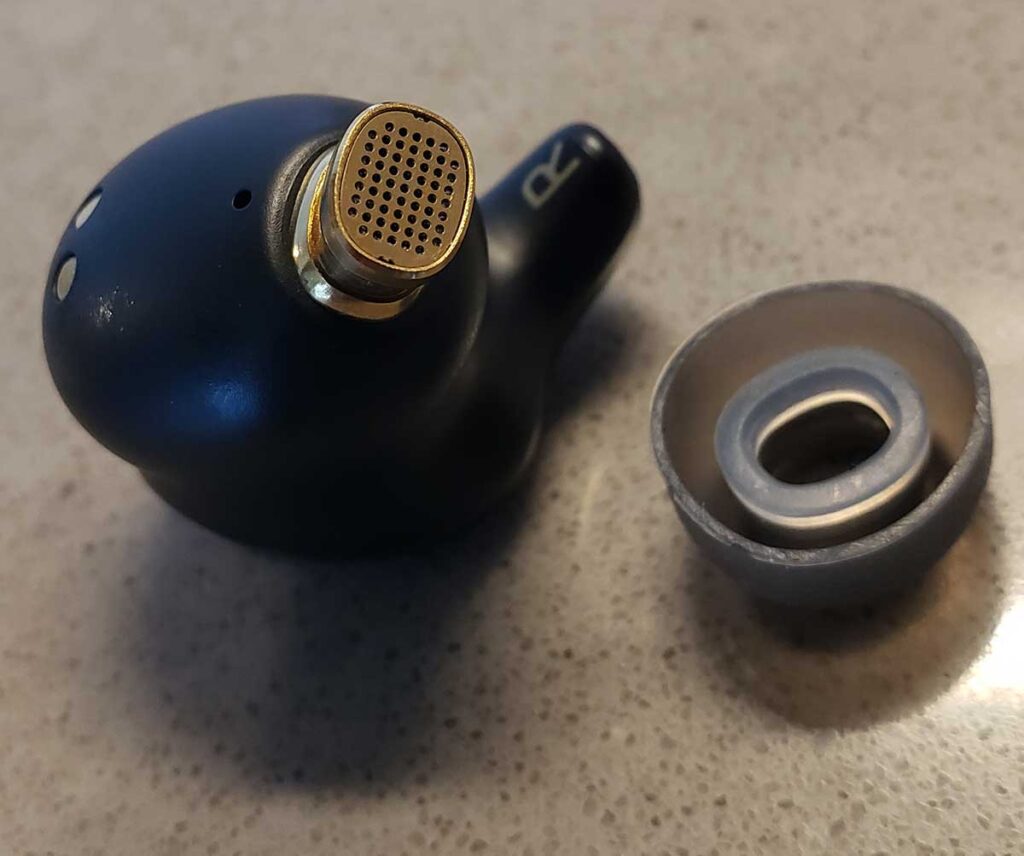 Some are more discernable than others in making certain genres sound more authentic and immersive. But that's often the case with preset EQs. You will likely find your favorite presets and stick with them. The ones that work do so really well, standing out as essential modes in your listening experience.
Another useful feature of the app is the option to save customized EQ curve settings. This feature lets users create their own unique sound profiles, which can be saved and accessed quickly when desired. You're also treated to TOZO's EarPrint technology, which works to compensate for your hearing ability. The result is customized sound delivery for all hearing types.
Bluetooth 5.3 Technology and Long-Distance Connection
We talked about how the advanced Bluetooth 5.3 technology provides a better listening experience, but it also greatly enhances connectivity capabilities. Instant pairing works without delay – our earbuds connected with our devices effortlessly and quickly, providing stable transmission without any interruptions.
They support HSP, HFP, A2DP, and AVRCP protocols, which translates to wide compatibility with various devices. You should have no problem connecting your smartphones, tablets, and laptops.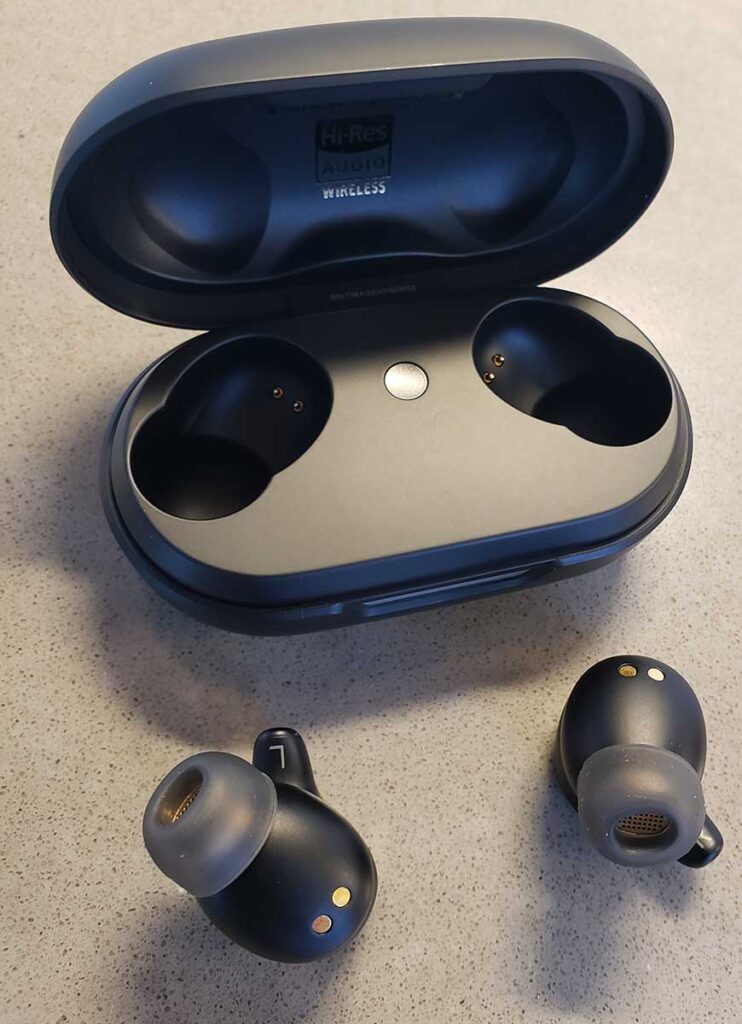 Also, the rod-type antenna design of the earbuds plays a crucial role in maintaining a strong RF signal. In our tests, we were able to experience smooth music playback and calls without any disconnection within a 15-meter connection distance.
This long-range connectivity proved to be an excellent feature, especially for users who need to move around without carrying their connected devices with them.
Ergonomic Design
As you can see, there are lots of features and technology at work here that make these buds a top contender. But just as important as sound quality is comfort. We're happy to report that the ergonomic design ensures a comfortable and secure fit within the inner curve of the ear.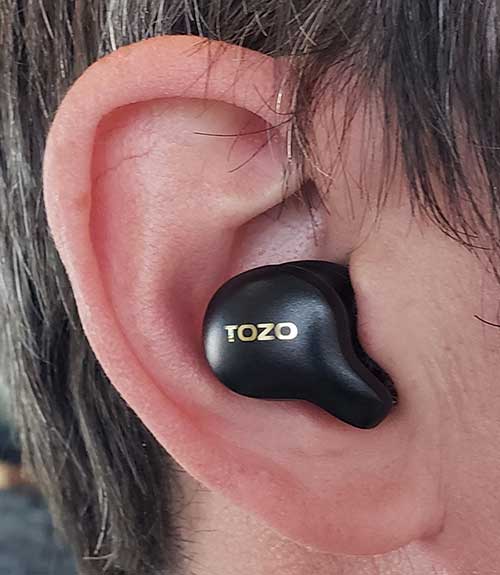 The compact size of the earbuds, combined with the provided additional eartips, allows for a customized fit tailored to individual users. During our testing, we found the earbuds to be both comfortable and secure, even during extended listening sessions or physical activities.
In fact, we had no issue leaving them in for hours at a time. They're that comfortable and lightweight. With the right eartips you barely notice you have them in your ears. That's the mark of quality earbuds, and TOZO's earbuds clear the bar. Add in the IPX6 waterproof nano-coating, and you're left with a durable set that protects your buds from rain and sweat.
Final Verdict
TOZO's Golden X1 Wireless Earbuds offer an impressive combination of advanced audio technology, seamless connectivity, and a comfortable ergonomic design. With a convenient app and plenty of useful features, these earbuds truly stand out in the competitive world of wireless audio technology.
Meet Derek, "TechGuru," a 34-year-old technology enthusiast with a deep passion for tech innovations. With extensive experience, he specializes in gaming hardware and software, and has expertise in gadgets, custom PCs, and audio.
Besides writing about tech and reviewing new products, Derek enjoys traveling, hiking, and photography. Committed to keeping up with the latest industry trends, he aims to guide readers in making informed tech decisions.