Whether you're a seasoned professional or a burgeoning entrepreneur, your office needs to be comfortable and convenient. One of the primary issues faced is desk chairs on carpet floors. The two simply don't gel.
Thankfully, there's a simple solution: the office chair floor mat. If you're craving a high-end look and unparalleled durability, glass floor mats are the answer. To help you weed through the many offerings out there, we've narrowed down the best glass floor mats for office chairs.
Key Takeaways:
In the reviews ahead, we take a deep dive into the specifics of each mat, breaking down their features and pros and cons. Let's get started with our Best Overall pick. We've also some excellent alternatives and even a budget-friendly option. So be sure to stick around for our thoughts on each.
Best Overall: GLSLAND Office Chair Mat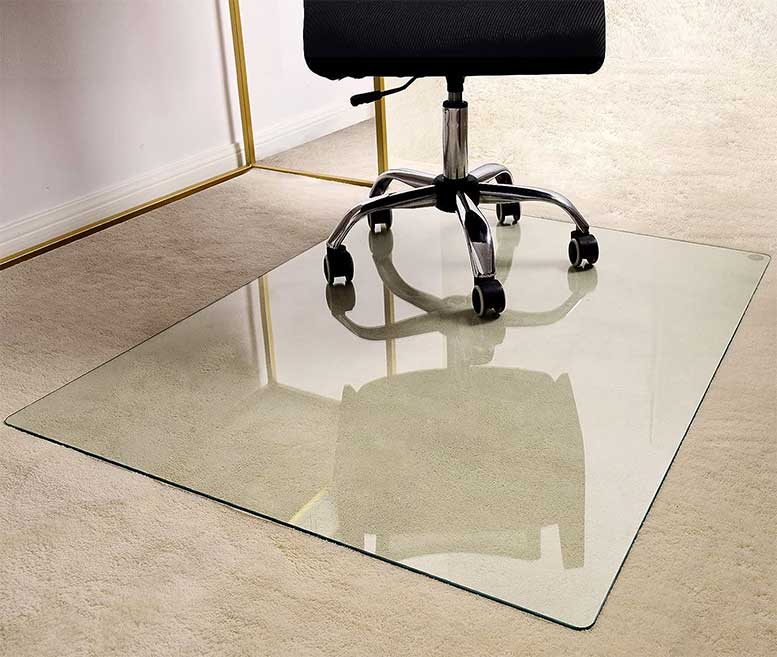 Key features:
100% pure tempered glass
Highly transparent design
Smooth, rounded corners
Anti-slip pads for stability
The GLSLAND Office Chair Mat ranks as the top contender in glass floor mats, with its emphasis on durability, aesthetic appeal, and protective features. Crafted from 100% pure tempered glass, it combines transparency with ruggedness, allowing the beauty of your floor to be on full display while ensuring the mat itself remains resistant to cracks, breaks, and discoloration under standard use. The mat's dimensions are 46 x 36 x 0.2 inches, offering substantial coverage for your office chair.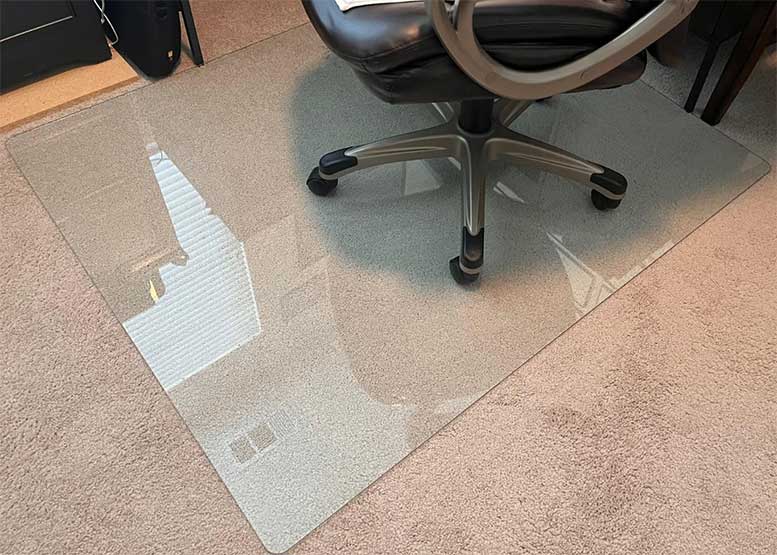 Weighing in at 33.2 pounds, it maintains stability and ensures a secure grip on the carpet, attributed to its four anti-slip pads. These pads prevent unnecessary movement and provide a stable and secure base for the chair. The stability provided made it noticeably safe to walk on, reducing the risk of slips and falls. Our tests revealed that it's able to withstand substantial pressure, up to 1,200 pounds, a true showcase of its formidable strength.
In terms of design, it features smooth, rounded corners. It's a thoughtful touch that minimizes risk of injury while adding a polished look to the overall design. The round edge design not only protects users but also ensures the mat blends seamlessly with various interiors. Another key highlight is its smooth surface, which we found to be exceedingly easy to clean. Whether it was food residue or crayon marks, a simple wipe was sufficient.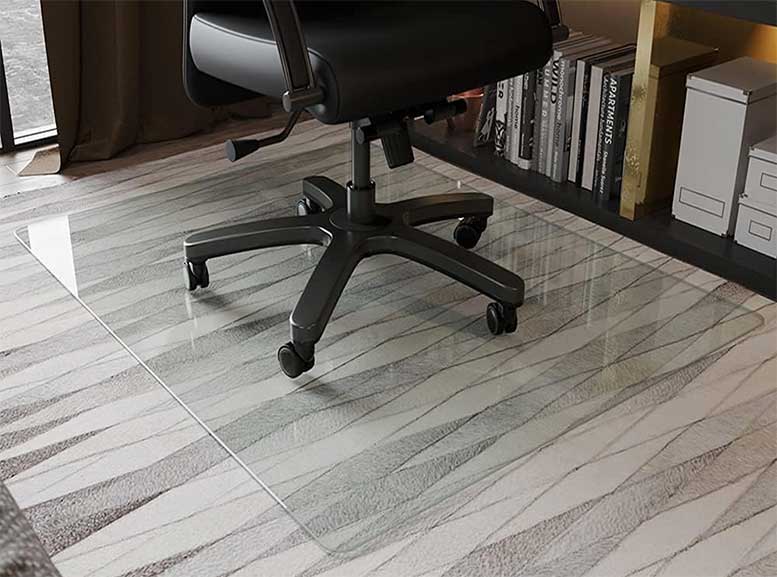 This feature adds to its versatility. It's apt for use under dining tables or in children's play areas, in addition to its primary function in the office environment. Despite its numerous advantages, it is quite heavy, and the packaging could be a bit overwhelming for some consumers. But these are ultimately only minor issues compared to the benefits it provides. You're getting superior floor protection and appealing aesthetics.
What we liked:
Versatile and aesthetically pleasing
Easy to clean smooth surface
Resistant to cracks and discoloration
Secure and stable grip
What we didn't like:
Overwhelming packaging
Quite heavy
Best Runner-Up: Natsukage Glass Chair Mat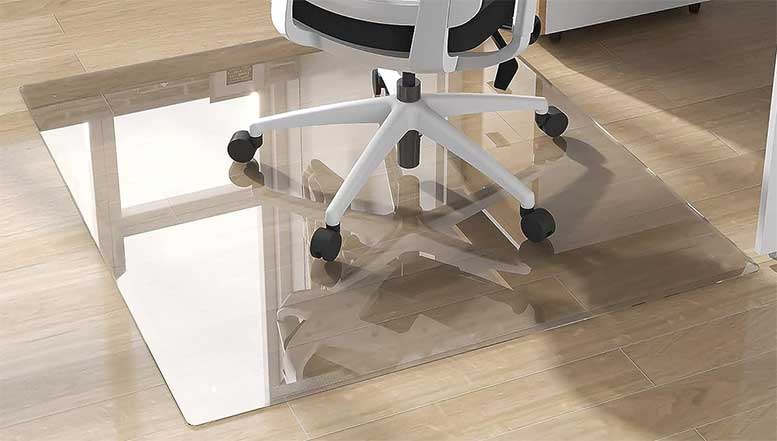 Key features:
High-grade tempered glass
Withstands 1,000 pounds of pressure
Smooth rounded corners
Easy-to-clean surface
Natsukage, a brand renowned for quality, takes the second spot on our list with its tempered Glass Chair Mat. Measuring 53 x 46 x 0.25 inches, this mat is a sizable yet sleek option weighing in at nearly 50 pounds. Crafted from high-grade tempered glass, it's transparent, rectangular, and most importantly, designed for multi-surface usage. Given its weight, we recommend you have an extra set of hands assisting you with installation.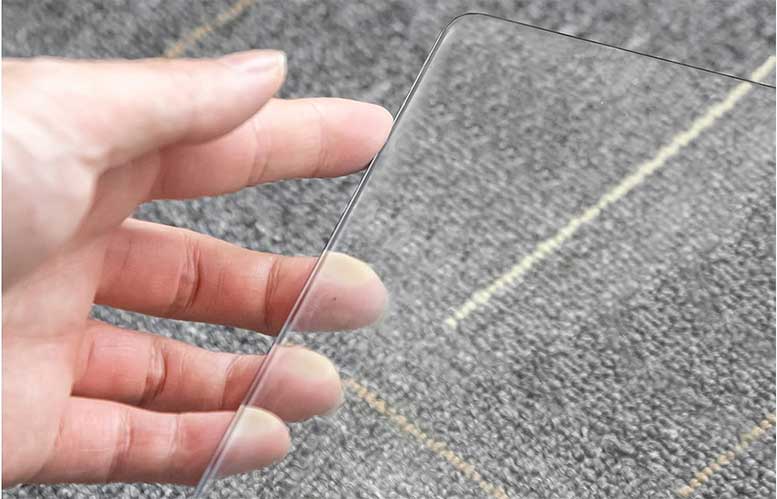 Weight aside, this mat is made to withstand up to 1,000 pounds of pressure, so durability is of no concern here. If you're weary of carpet dents that thwart chair movement, this mat eliminates such concerns. Moreover, its surface is scratch-resistant, adding to its long-term appeal. While square corners may be trendy in design aesthetics, Natsukage decided to prioritize safety. Each corner is polished to create a smooth, rounded finish.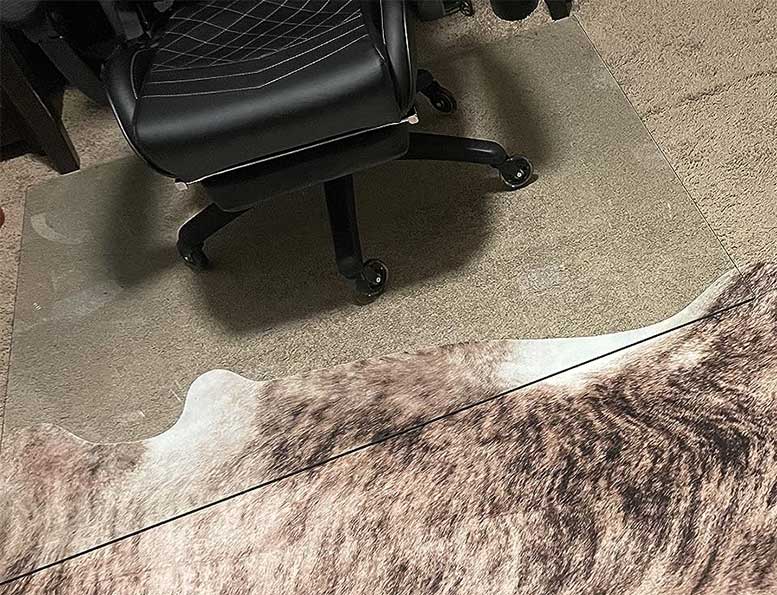 Additionally, it comes with four non-slip pads. These serve to make sure your mat stays securely in place. And lastly, we need to point out that this chair mat excels in practicality. The surface is easy to clean, making it an ally in maintaining workplace hygiene. Little more than a quick wide down restores this mat to its natural luster.
What we liked:
Exceptional durability
Safety-enhanced corners
No-slip grip pads
Hygienic and low-maintenance
What we didn't like:
Heavy to move
Corners could be softer
Best Alternative: Clearly Innovative Premium Tempered Glass Chair Mat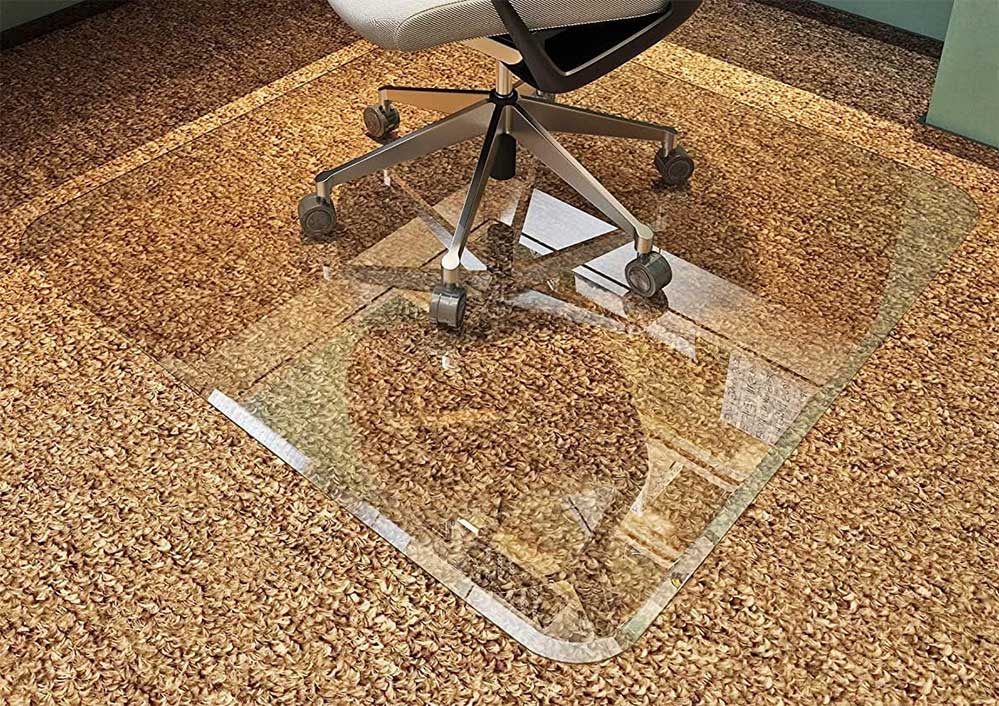 Key features:
Patented 1-inch beveled edge
Transparent and sleek design
High weight capacity
Eco-friendly material
Clearly Innovative's Premium Tempered Glass Chair Mat is a striking union of aesthetics and practicality, bringing forth a modern, high-functioning, and eco-friendly solution to workspace necessities. The mat boasts a sleek, transparent, and contemporary design, with a substantial size of 36 x 46 x 0.25 inches. Thus, it'll fit harmoniously within various office settings without overshadowing other décor elements.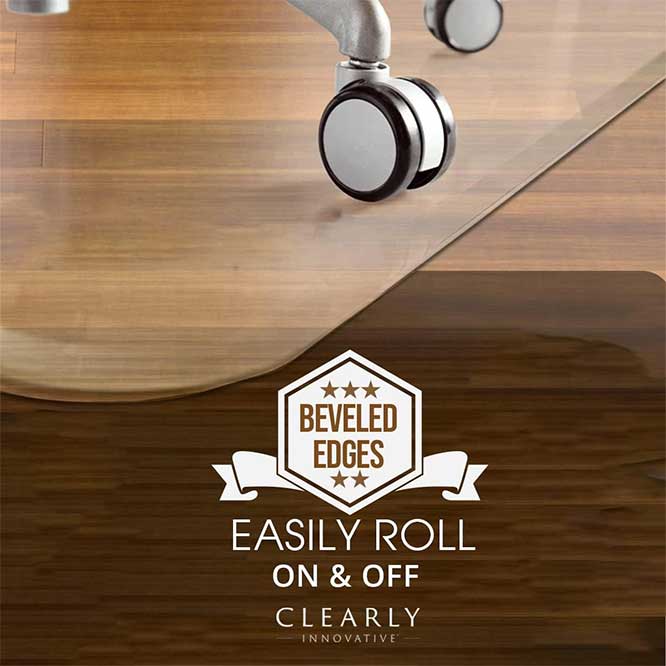 Moreover, it exceeds in its ergonomic and sleek design, boasting patented 1-inch beveled edges and 3-inch radius corners. This feature ensures easy and smooth transitions, allowing users to roll their chairs on and off the mat without the disruption of grooving or cupping wheels. We rigorously tested the mat on different floor types, such as carpets and hard floors like tile and wood. The mat performed flawlessly, handling up to 1,000 pounds of weight with ease.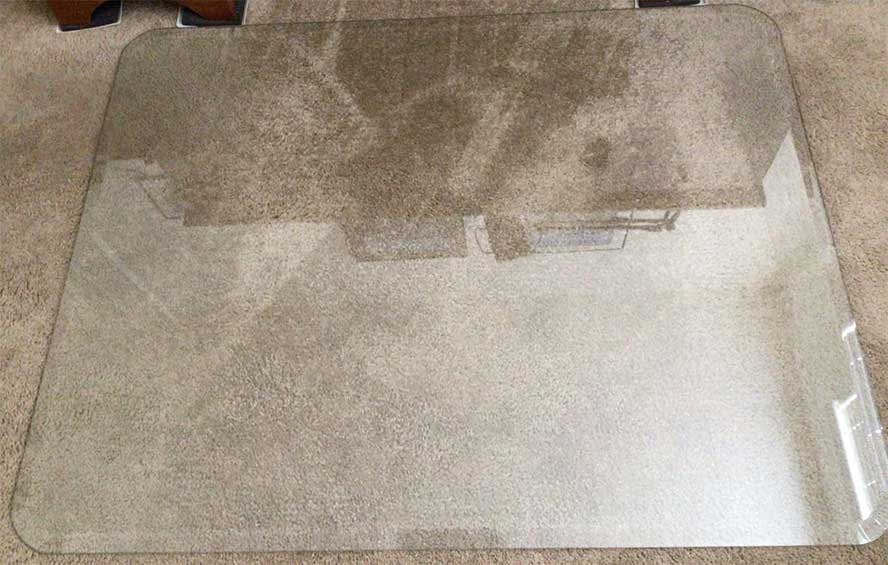 Sustainability is an inherent part of this glass mat. It is meticulously crafted from renewable natural silica sand and recycled glass, making it a responsible choice for eco-conscious consumers. This is in stark contrast to many alternatives which are often made from environmentally harmful, chemical-laden materials. Additionally, it is backed by a lifetime warranty, reflecting the brand's confidence in the product's longevity and offering peace of mind to the purchasers.
What we liked:
Durable and long-lasting
Smooth transitions on surfaces
Aesthetically pleasing
Planet-friendly choice
What we didn't like:
Might be too smooth
Considerable weight at 48.5 pounds
Best 2nd Alternative: Lorell Tempered Glass Chairmat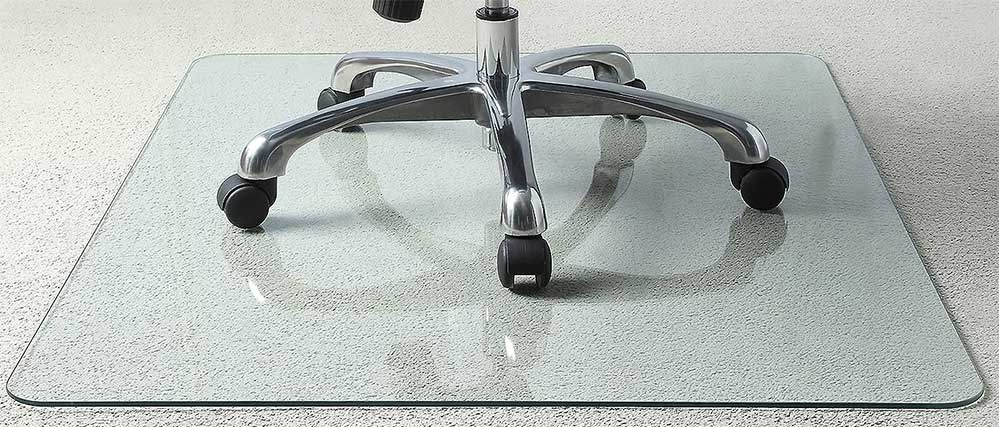 Key features:
Tempered glass material
Supports up to 1,000 pounds
Easy-to-clean design
Limited 5-year warranty
Tired of your chair casters getting stuck in the carpeting underneath you? Wish your chair could slide effortlessly over the floor? Your days of dreaming are over, thanks to Lorell's Tempered Glass Chairmat. This unit is constructed of tempered glass, offering a robust and resilient workspace under your chair. It's also scratch-resistant, ensuring a smooth ride day in and day out.
The mat can bear an impressive load of up to 1,000 pounds. That means if you're working in an office environment and a coworker happens by your desk, you won't have to worry about the glass breaking. In fact, you, a coworker, and your boss could all be on the Chairmat at the same time, and it would stand up to the weight. So, we know durability is good, but what about dimensions?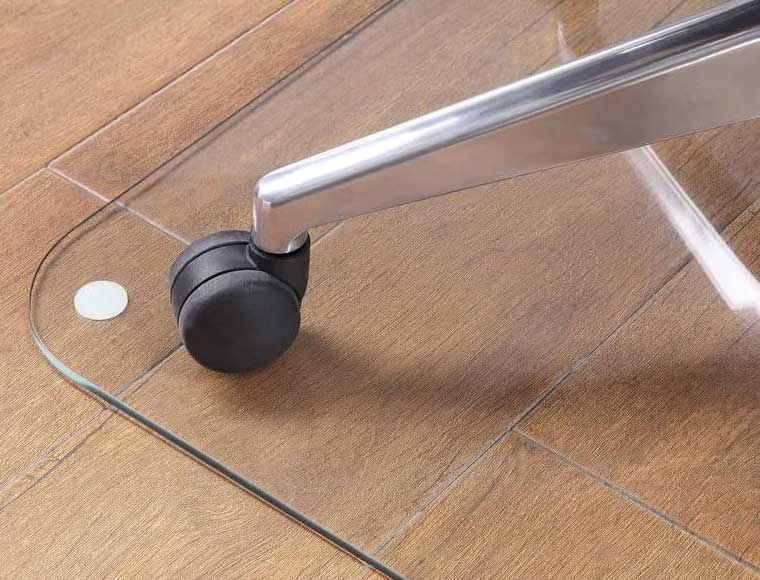 It measures a spacious 60 x 48 inches, with a thickness of 0.25 inches. This size makes it versatile for various chair models. Now, while it is easy to wipe down, keeping it spotless might prove more challenging. Given its clear color, a stray food particle or random footprint becomes all too evident under certain lighting conditions.
And while it's designed for all floor types, you may find it tends to "drift" over time on carpeting. The culprit? Uneven distribution of pressure as you sit or stand. One workaround is applying transparent anti-slip tape to the bottom to ensure your Chairmat remains a reliable, stationary platform. And let's not forget it comes with a limited 5-year warranty, which adds another layer of assurance to your purchase.
What we liked:
Highly scratch-resistant
Spacious dimensions
Versatile for all floors
Long-lasting construction
What we didn't like:
May drift on carpet
Visible dirt under light
Best Budget: MIRUO Tempered Glass Office Chair Mat

Key features:
1/6-inch thick tempered glass
Suitable for carpeted surfaces
Detachable hidden non-slip pads
Easy-to-clean surface
Chair mats are crucial silent partners in our daily grind. But what if you can't afford to spend hundreds of dollars on a mat? That's where MIRUO's Tempered Glass Office Chair Mat comes in. It offers a balance of durability and sophistication, all at an affordable price. It is a bit smaller than other options, measuring 36 x 36 x 1/6 inches and weighing 21.1 pounds, but that doesn't make it any less beneficial. What's more, the compact size means it can fit snugly under virtually any desk and chair.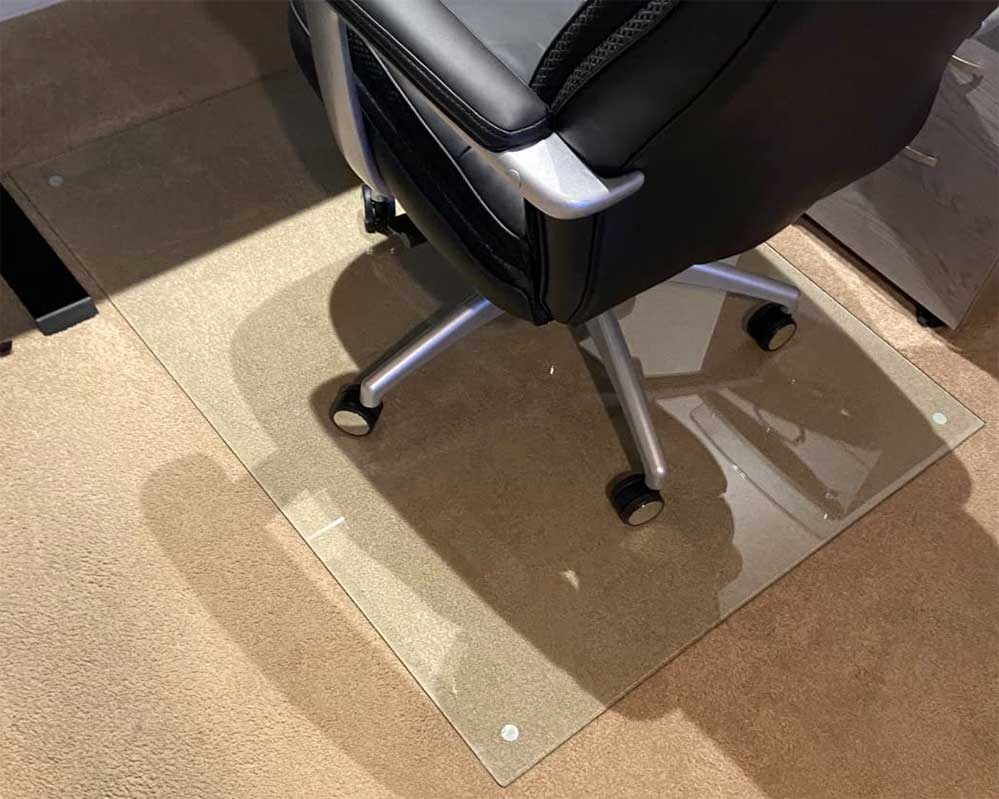 The mat is crafted from 1/6-inch thick tempered safety glass, so it's plenty robust. In fact, it can support more than 1,000 pounds, just like its premium counterparts. Despite its strength, it's transparent, which means it won't clash with your existing office décor. Additionally, the pleated corners give it a discreet touch of style without straying too far from the norm.
One key advantage here is the reduced noise from chair casters. Those irritating scraping sounds? Say goodbye to them. Even when we rigorously rolled a loaded office chair over it, the mat remained unfazed. We also appreciate that it comes with four detachable hidden non-slip pads. These keep your chair mat securely in place. And when it comes to cleanliness, the MIRUO mat requires minimal effort. It's designed not to crack, curl, break, or discolor. Just a simple wipe and it's good as new.
What we liked:
Minimal noise from chair movement
Complements existing décor
Robust weight-bearing capacity
Low maintenance requirements
What we didn't like:
Not ideal for hardwood floors
May require repositioning on carpets
Glass Floor Mat FAQs
Why choose a glass floor mat over a traditional plastic mat?
Choosing a glass floor mat comes with the promise of enhanced durability and an upgraded aesthetic that can level up any office space. While plastic mats are known to crack, dent, or discolor under the pressures of daily use, their glass counterparts display remarkable resilience. Not only do they maintain their integrity over time, but they also present themselves as a more cost-effective investment when you consider their lifespan.
Are glass floor mats safe for all floor types?
For the most part, yes, glass floor mats are safe for a variety of floor types. That said, some models might drift if placed on carpeting. Also, softer floor materials could be vulnerable to scratches. A select few glass mats might not be best friends with hardwood floors, either. A little research can go a long way in ensuring you choose a mat that's compatible with your flooring.
How do I maintain and clean a glass floor mat?
All it takes to keep your glass floor mat in pristine condition is a quick wipe-down with a damp cloth or a few spritzes of standard glass cleaner. It's that easy. The non-porous nature of glass ensures that it doesn't become a haven for dirt, dust, or bacteria. This makes it not only easier to clean but also a superior option for maintaining a hygienic workspace.
Final Verdict
You deserve the highest quality in any investment, and that's precisely what we've presented here today with our reviews of the best glass floor mats for office chairs.
The GLSLAND Office Chair Mat emerges as our top pick for its blend of aesthetic charm, high-end tempered glass, and anti-slip pads. Meanwhile, the Natsukage Glass Chair Mat offers a stylish and sturdy second option that excels in safety and durability.
For those considering eco-conscious choices, Clearly Innovative brings to the table a chair mat crafted from renewable natural silica sand and recycled glass. The Lorell Tempered Glass Chairmat is a tried-and-true workhorse that's armed with durability, while MIRUO's Tempered Glass Office Chair Mat provides a budget-friendly but stylish option that minimizes noise.
Meet Derek, "TechGuru," a 34-year-old technology enthusiast with a deep passion for tech innovations. With extensive experience, he specializes in gaming hardware and software, and has expertise in gadgets, custom PCs, and audio.
Besides writing about tech and reviewing new products, Derek enjoys traveling, hiking, and photography. Committed to keeping up with the latest industry trends, he aims to guide readers in making informed tech decisions.