In the world of outdoor pursuits, whether it be sailing, hiking, or scientific research, having precise and up-to-date wind measurements is paramount. Enter the digital handheld anemometer, a versatile tool that has revolutionized the way we assess wind speed.
With an array of options available, choosing the right anemometer can be a daunting task. In this article, we'll sift through the offerings to unveil the best ones. Thus, ensuring you have the most accurate and reliable wind data at your fingertips.
Our Picks of the Best Amemometers:
| | | | | | |
| --- | --- | --- | --- | --- | --- |
| | Size | Weight | Batteries | Waterproof | Main Features |
| Best All-Around: Kestrel 2000 | 6 x 1 x 3″ | 22.65g | 1 x CR2032 | Yes – floats | Wind Speed, Temperature, Made in USA, Replaceable Impeller |
| Best Runner-Up: Extech 45118 | 5.3 x 2.8 x 0.8″ | 100g | 1 x CR2032 | Yes – floats | Wind Speed, Temperature, Foldable Design |
| Best for HVAC: Testo 405i | 8 x 1 x 2″ | 119.6g | 3 x AAA | No | Bluetooth Data Logging, Wind Speed, Temperature, Duct Flow, Volume Flow |
| Best Budget: HoldPeak 866B | 6.5 x 3.34 x 1.49″ | 153g | 2 x AA | No | Wind Speed, Temperature, Wind Chill, Affordable |
Factors to Consider:
Accuracy: Accuracy is of paramount importance when it comes to wind measurements. Look for an anemometer with a high degree of accuracy, usually expressed as a percentage of error. Ensure that it provides reliable wind speed readings, especially for applications where precision matters, such as aviation, weather monitoring, or scientific research.
Wind Speed Range: Consider the range of wind speeds you anticipate measuring. An anemometer should be able to accurately measure both low and high wind speeds within your specific application. Ensure it covers the full spectrum of wind speeds you expect to encounter.
Units of Measurement: Determine whether the anemometer provides wind speed measurements in units that are compatible with your needs. Common units include meters per second (m/s), kilometers per hour (km/h), miles per hour (mph), and knots (nautical miles per hour). Choose one that suits your preferences and application.
Display: Check the clarity and readability of the display. The screen should be easy to read in various lighting conditions, including bright sunlight or low-light situations. Examine the size and layout of the display, as it should be user-friendly and provide clear information.
Wind Direction: Some anemometers also measure wind direction, which can be valuable in various applications, such as navigation or weather monitoring. Ensure that the device includes a wind vane or sensor for this purpose if it's relevant to your needs.
Data Logging: Consider whether you require the anemometer to log and store wind data over time. Some models come equipped with built-in data logging capabilities, allowing you to review and analyze wind patterns and trends later.
Best All-Around: Kestrel 2000 Pocket Anemometer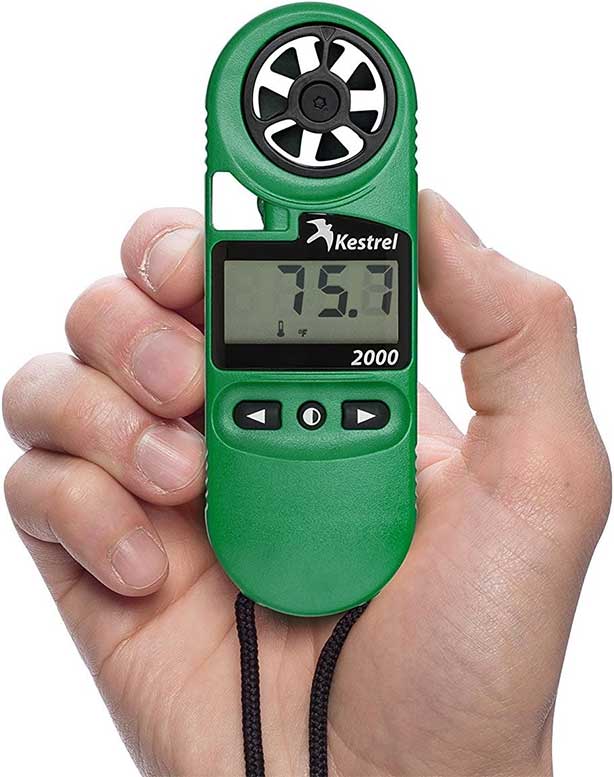 Key Features:
Size: 6 x 1 x 3 inches
Weight: 22.65 grams (0.79 ounces)
Powered by one CR2032 battery
IP67 waterproof, floats and drop-tested
Displays wind speed and temperature
The Kestrel 2000 Pocket Digital/Thermo Anemometer is a well-designed handheld wind/airflow meter that excels in accuracy and durability. This rugged device features a large and easily replaceable impeller and high contrast, back-lit display, making it a reliable tool for a wide range of applications.
This anemometer goes beyond just measuring wind speed. It also provides valuable information on maximum, current, and average wind speed, wind chill, and air/snow/water temperature, all displayed on a clear and user-friendly LCD screen. The temperature sensor is highly responsive, ensuring precise temperature readings in both Fahrenheit and Celsius.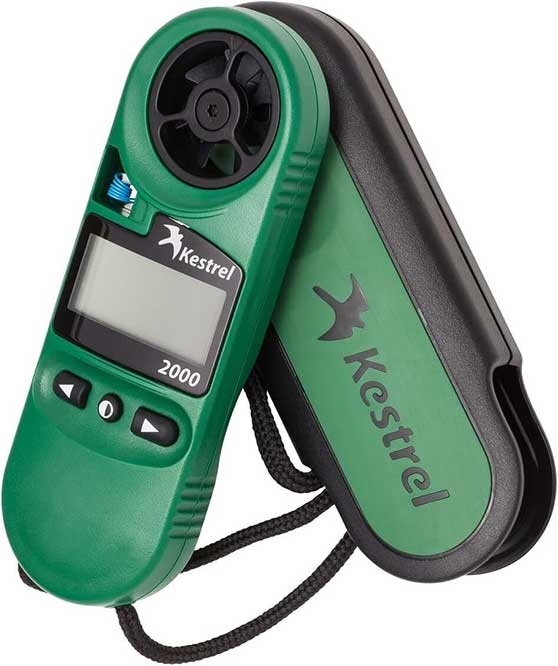 Built to withstand harsh conditions, the Kestrel 2000 boasts an impressive waterproof rating (IP67), allowing it to float when submerged. Its military-standard drop test certification (MIL-STD-810G) ensures it can endure the rigors of outdoor use. Users can rely on this anemometer to provide accurate data when and where they need it most. Holding it in your hand, you can tell it's a well-built device.
Included with the Kestrel 2000 is a practical slip-on protective cover and a neck lanyard, making it easy to carry and protect. These are nice extras. The device is powered by a CR2032 coin cell battery, ensuring long-lasting performance even in remote locations. To further instill confidence in its quality, the Kestrel 2000 comes with a generous 5-year warranty.
From research and education to snow sports, kite boarding, agricultural spraying, livestock temperature monitoring, and crop harvesting, it finds its utility across various fields. Proudly made in Pennsylvania, USA, the Kestrel 2000 embodies American craftsmanship and commitment to excellence.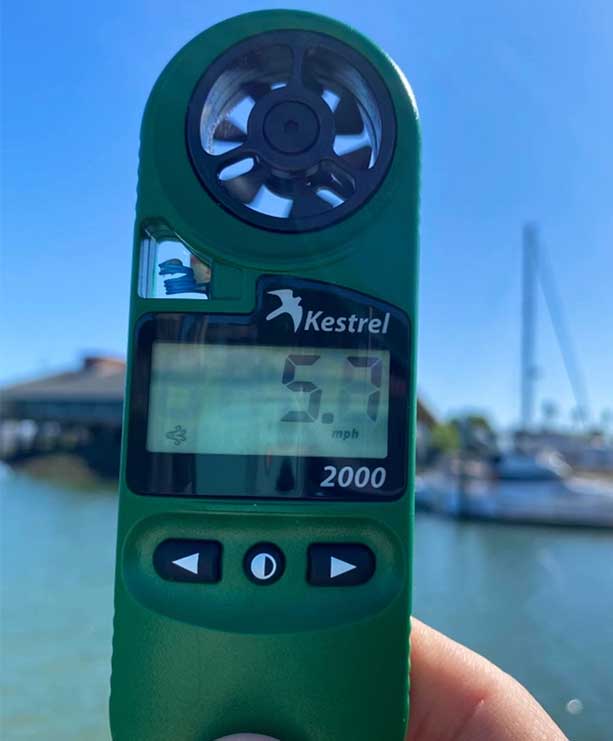 It's worth noting that this model is exclusively available in a distinctive green color, making it easily recognizable in the field. However, it may not fit everyone's tastes. Compact in size, measuring just 6 x 1 x 3 inches and weighing a mere 22.68 grams, the Kestrel 2000 is a reliable, well-built anemometer that's the best all-around option available.
Pros:
Fantastic built quality and durability.
Built in the USA and covered by a 5 year warranty.
Extremely portable design.
Very accurate readings.
Impeller can easily be replaced.
Comes with a handy slip-on cover for stowing away.
Cons:
Only available in a green color scheme.
A bit expensive for some budgets ($100.)
Best Runner-Up: Extech 45118 Mini Waterproof Thermo Anemometer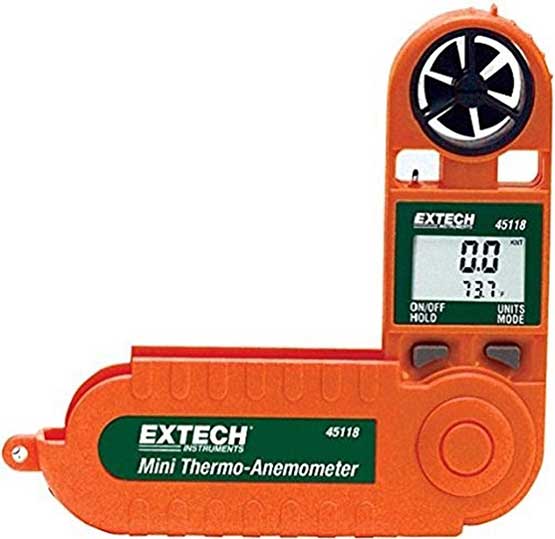 Key Features:
Size: 5.3 x 2.8 x 0.8 inches (when folded)
Weight: 100 grams (3.53 ounces)
Powered by one CR2032 button battery
Pocket-sized design with a flip-style case
Waterproof; floats
Displays wind speed and ambient temperature
The Extech 45118 Mini Waterproof Thermo Anemometer is an excellent runner-up choice. It's a compact and highly portable device designed to provide accurate wind speed and ambient temperature measurements with ease. Its ingenious flip-style case not only acts as a protective cover but also doubles as an extension handle, making it easy to use and store while not in use.
With a streamlined interface consisting of just two buttons, the Extech 45118 ensures a simple user experience. Its folded dimensions of 5.3 x 2.8 x 0.8 inches make it incredibly easy to carry in a pocket and stow away when not needed.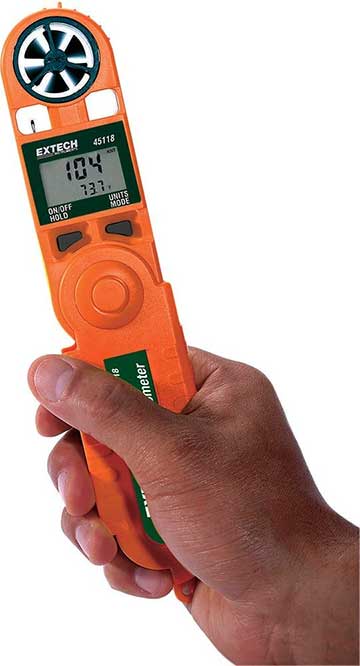 The backlit dual display vividly presents air velocity and ambient temperature readings, even in low-light conditions. With an impressive measuring range of 100 to 5500 feet per minute, it covers a broad spectrum of wind speeds. That said, users have the flexibility to choose readings in feet per minute, meters per second, kilometers per hour, miles per hour, or knots. Thus, catering to their specific needs and preferences.
Durability is a hallmark of the Extech 45118, thanks to its rugged build quality and water-resistant housing. Notably, the device is designed to float, ensuring it remains retrievable in wet or aquatic environments. Powered by a single CR2032 button battery, it offers reliable and efficient performance. This gives it enough juice to last up to 12 hours per battery.
One minor drawback for some users might be the auto-shutoff feature, which turns the device off after 5 minutes of inactivity. While this feature conserves battery life, it may be perceived as somewhat annoying by individuals who require continuous monitoring over extended periods. However, this can be easily mitigated by activating the device when it's actually needed.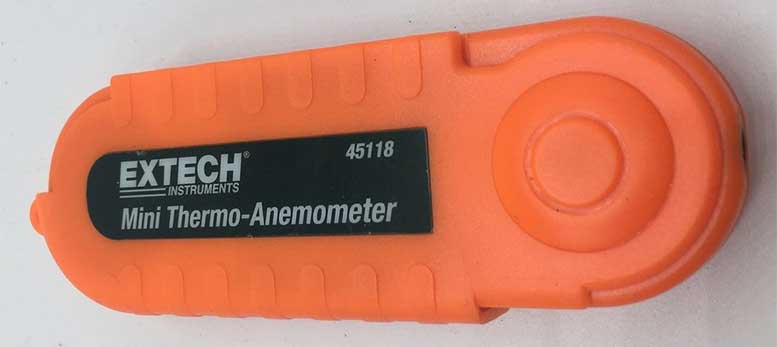 All in all, the Extech 45118 impresses with its portability, simplicity, and ruggedness. Whether you're a professional in need of quick wind and temperature measurements or an enthusiast seeking a handy tool for outdoor activities, this is a reliable companion for a wide range of applications. Its compact design and versatile measurement options make it an excellent runner-up choice.
Pros:
Foldable design keeps it protected while not being used.
Accurate measurements with instantaneous read times.
Highly waterproof with an excellent build quality.
Backlit display is easy to read in all environments.
Cons:
No actual water resistance rating given.
5 minute auto-shutoff can be annoying.
Fairly expensive given its features.
Best for HVAC: Testo 405i Handheld Anemometer

Key Features:
Size: 8 x 1 x 2 inches (when folded)
Weight: 119.6 grams (4.22 ounces)
Powered by 3 AAA batteries
Hinged design with telescopic shaft.
Bluetooth connectivity to smart app
Measures air velocity, temperature, in-duct airflow, and volume flow
The Testo 405i Handheld Anemometer is a reliable indispensable tool designed especially for HVAC technicians. Known for its solid build quality and user-friendly features, this anemometer simplifies the measurement of air velocity, temperature, in-duct airflow, and volume flow, making it an essential companion for professionals in the field.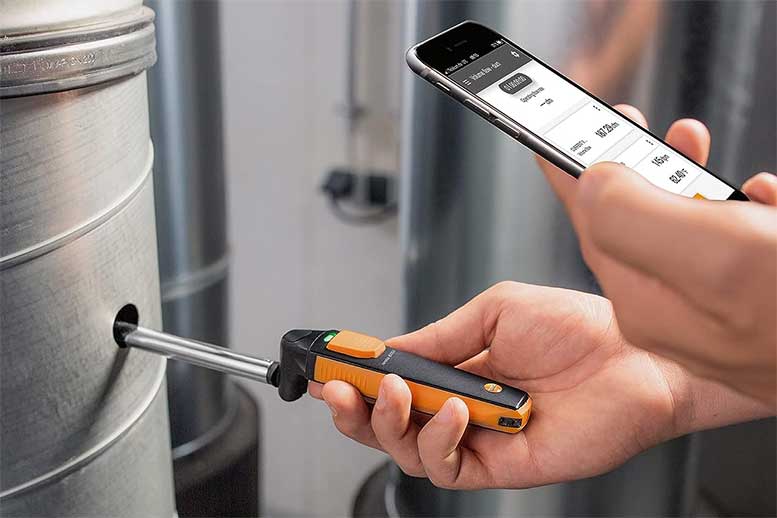 With a portable design that measures a compact 8 x 1 x 2 inches (while folded up) and weighs only 4.22 ounces, the Testo 405i is easily transportable and ideal for on-the-go tasks. Powered by three AAA batteries, it offers an impressive 15-hour battery life, ensuring it stays operational throughout the workday.
One of the standout features of this anemometer is its magnetic back, which allows it to securely mount to ductwork. This feature proves invaluable when taking airflow measurements in confined or elevated spaces, providing hands-free convenience and accuracy.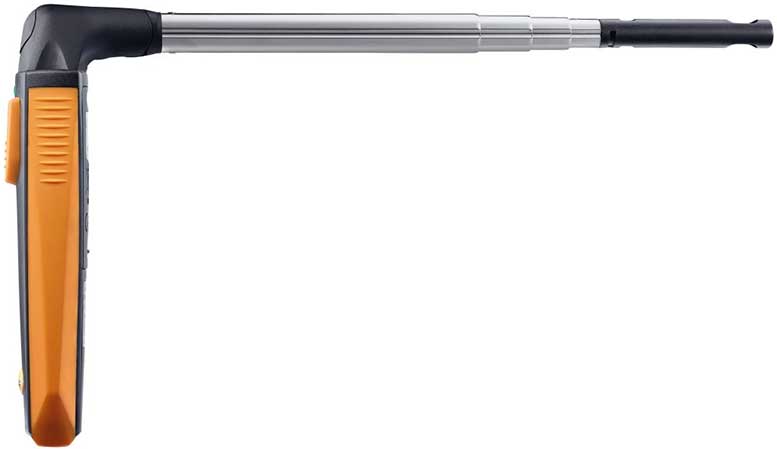 On top of this, the Testo 405i is equipped with a hinged, telescopic shaft that can extend up to 15 inches. This extension capability enables technicians to measure airflow even in challenging-to-reach areas, granting them greater flexibility and precision in their work.
The Testo 405i goes a step further with its Bluetooth connectivity, seamlessly pairing with the Smart Probe App, available for iOS or Android. This app enhances the user experience by presenting instrument readings as tables and graphs, making data interpretation more straightforward. In addition, all collected data can be easily stored, retrieved, or exported into custom reports in PDF or Excel formats. This can streamline the documentation process for comprehensive analysis and reporting.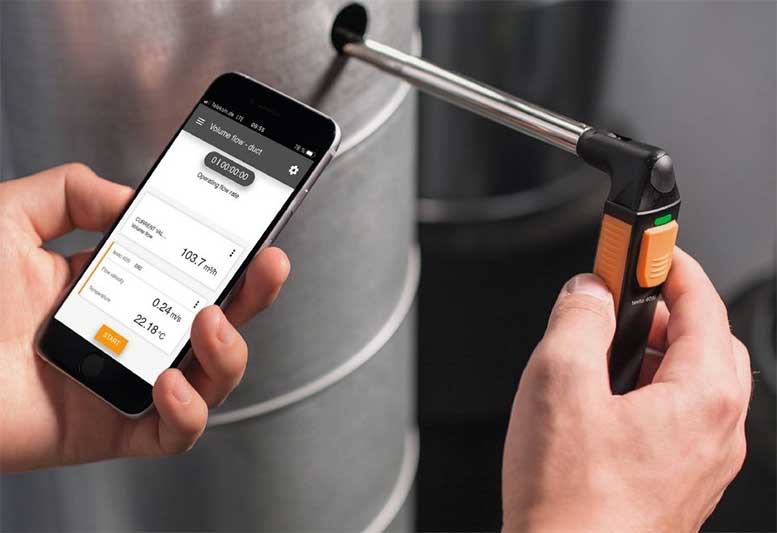 For HVAC technicians seeking a reliable and technologically advanced anemometer, the Testo 405i is a valuable asset. It's well known for providing accurate measurements, portability, and data management capabilities. This device not only simplifies the tasks at hand but also ensures that professionals can maintain precise control over airflow and temperature in their heating and cooling systems. While it may not be as rugged (no waterproof rating,) it's a solid choice.
Pros:
Connects via smartphone or tablet for in-depth analysis.
Foldable design that easily extends into hard to reach areas.
Excellent build quality.
Magnetic backing adheres to ductwork for ease of use.
Up to 15 hours of battery life.
Cons:
Not ideal for outdoor use (not waterproof.)
Bluetooth wireless range could be improved.
Best Budget: HoldPeak 866B Handheld Digital Anemometer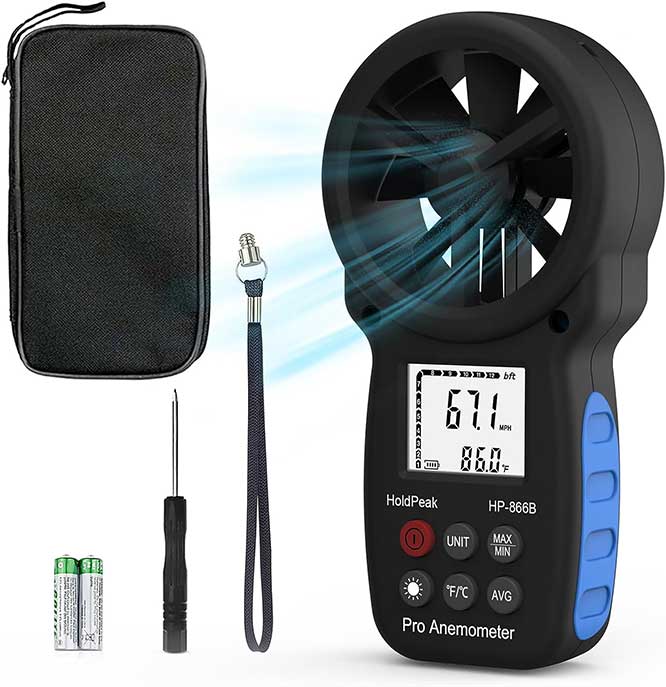 Key Features:
Size: 6.5 x 3.34 x 1.49
Weight: 153 grams (5.39 ounces)
Powered by two AA batteries
Provides wind speed, temperature, and wind chill measurements
The HoldPeak 866B Handheld Digital Anemometer stands out as the ideal budget-friendly choice for those in need of wind speed, temperature, and wind chill measurements. Despite its affordability, it boasts a relatively large, backlit LCD display that presents data clearly and vividly, ensuring readability in various lighting conditions. Whether you're indoors or outside in the bright sun, it displays nicely.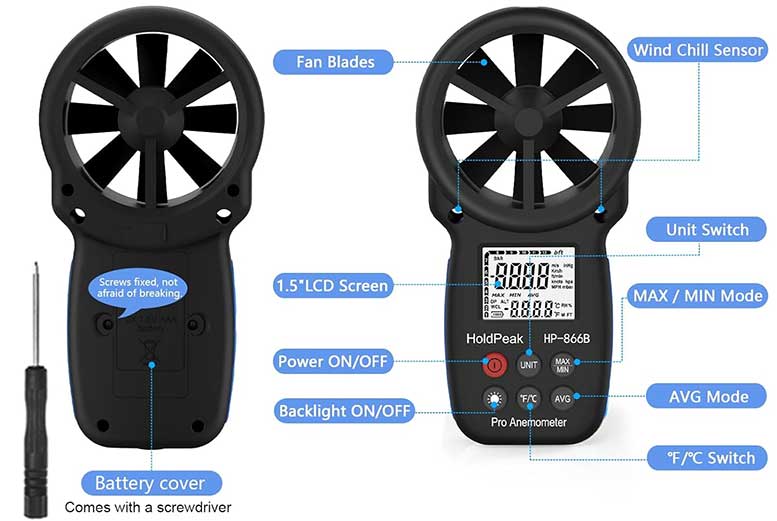 One notable feature of the HoldPeak 866B is its eight-vane impeller with a smooth fan shaft and two temperature sensors. This configuration enhances the accuracy of wind and temperature measurements, making it a dependable tool for virtually any use. It measures 6.5 x 3.34 x 1.49 inches and weighs 153 grams, striking a balance between compactness and usability, making it easy to handle and transport.
Powered by two AAA batteries, the HoldPeak 866B offers 10 hours of battery life, which, while not as efficient as some other models, is still acceptable for most users. However, it's important to note that the battery compartment uses a small screw, which may be prone to stripping if not handled carefully during replacement. Thankfully, the manufacturer includes a small screwdriver to use.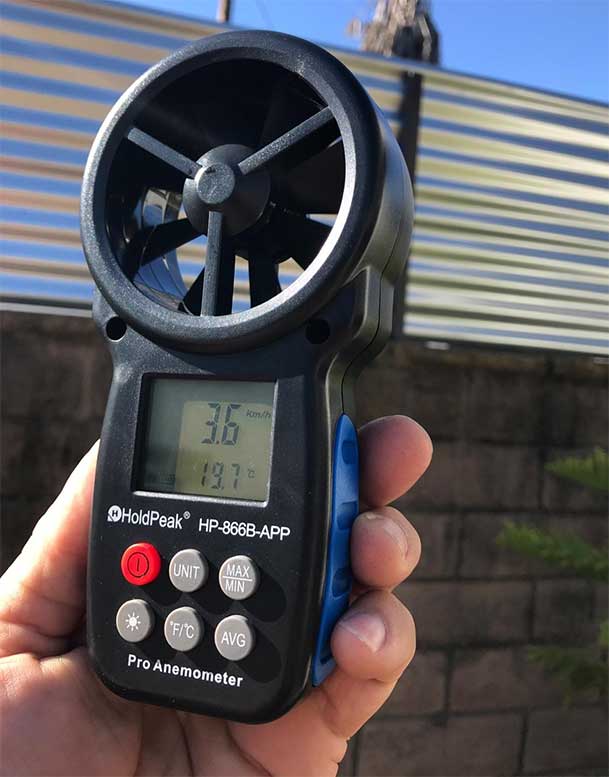 The 866B measures wind speed in five different units, including meters per second, kilometers per hour, feet per minute, knots, and miles per hour, catering to various preferences and applications. It also includes a record and recall function for Max/Min/Average/Current readings, making it easier to track and analyze wind conditions without any guesswork. In addition, the low battery indicator is a nice bonus that ensures you're aware when it's time for a battery change.
For added convenience, there's a screw hole in the bottom that can be used to connect a lanyard or tripod, enabling hands-free operation when necessary. While the lanyard is included, a tripod is not. That said, the HoldPeak 866B does come with a zippered hard carrying pouch, making it easy to store and transport the anemometer safely. You'll want to use this, too, since the device is not waterproof like the first two picks in this article.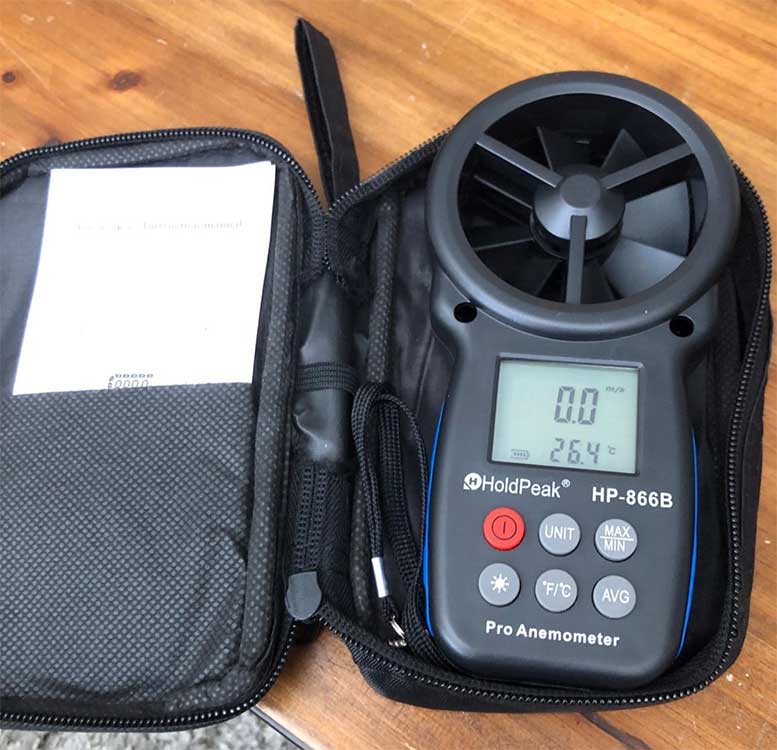 In summary, the HoldPeak 866B impresses as a budget-friendly yet capable tool for wind speed and temperature measurements. While it may not carry the same outstanding build quality as more-expensive options, it's a wonderful choice for those who don't want to spend an arm and a leg. Its robust feature set, including the large LCD display, multiple units of measurement, and record-keeping functions, makes it an excellent choice for both professionals and enthusiasts looking for affordability without compromising on accuracy and functionality.
Pros:
Very attractive price point that's easily affordable.
Can be attached to a tripod or lanyard.
LCD is larger and brighter than some more-expensive models.
Protective carrying case is surprisingly burly.
Cons:
10 hour battery life could be better.
Cheaper build quality than other options.
Not waterproof in any regard.
Meet Derek, "TechGuru," a 34-year-old technology enthusiast with a deep passion for tech innovations. With extensive experience, he specializes in gaming hardware and software, and has expertise in gadgets, custom PCs, and audio.
Besides writing about tech and reviewing new products, Derek enjoys traveling, hiking, and photography. Committed to keeping up with the latest industry trends, he aims to guide readers in making informed tech decisions.