If you've been gaming for more than a decade, there are probably some old favorites you can't play anymore. This is particularly true for old console games, many of which have never been re-released. If you don't own an Atari 2600 or NES, there are some games you won't be able to play. Unfortunately, a lot of these older consoles can be harder to find. Even if you could find them, you'd run into a bunch of issues. To connect an old, 1980s game console to a modern TV, you need to use an adapter. You're also hampered by old-school controls. And let's face it: a tiny controller with a 6-foot cord was fine when you were six years old. But the year is 2021, and you deserve better.
A handheld emulation console is a great way to play your favorite classic games. Thanks to modern technology, a tiny handheld game system can emulate older systems with ease. They can even emulate consoles like the N64 and original PlayStation, which used to be very difficult to emulate. As an added bonus, a single handheld device can emulate multiple old consoles. So instead of packing your living room with a ton of old systems, you'll have one compact game system.
Now, you might be wondering how you play one of these. Specifically, where do you get the games? The answer is that old video games exist in a legal grey area. Technically, they're still under copyright. And in the case of certain titles, publishers will still aggressively pursue those copyrights. But for the most part, publishers just aren't worried about 20-, 30-, or 40-year-old games. As a result, there are thousands of titles readily available online, for free, on legitimate websites. We won't be listing any here, but they're not hard to find.
We're about to review three high-quality handheld emulation consoles. To begin with, we'll examine the TAPDRA Handheld Game Console. This is a Game Boy-style console with over 14,000 pre-loaded games. Next, we'll look at the DREAMHAX RG351MP. This is a rugged aluminum controller with PS4-style controls. Last, we'll check out the Powkiddy RGB10 Max. This is a fatter, ergonomic controller with dual thumb sticks and top-mounted R2 and L2 buttons. Which one is the best? To find out, we'll have to dig a little deeper into all of their features, benefits, and drawbacks. Once we've gotten a good look at each of them, we'll sum up what we've learned, and give our opinion. Let's begin!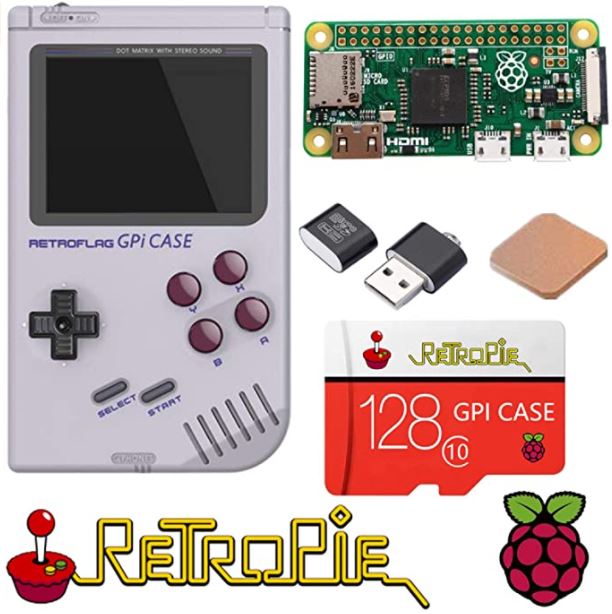 TAPDRA Handheld Game Console
The TAPDRA Handheld Game Console is designed to look like an old-school Game Boy console. It has a grey rectangular housing, with three hard corners and a rounded corner at the bottom right. That bottom right corner is slotted, and the speaker is mounted inside to provide sound. It's just a small speaker, like the ones on an older handheld game system. If you want better sound, you'll want to plug your headphones into the 3.5mm jack on the bottom. For the most part, this shouldn't be necessary. After all, we're talking about a retro game system, so most of your sound will be beeps and boops.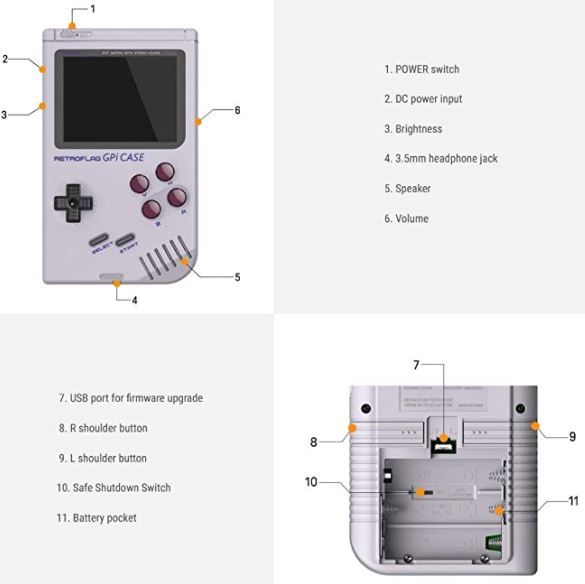 The controls are similar to the original Game Boy. There's a D-pad to the left, with rubber Start and Select buttons in the bottom center. The one concession to modernity is that instead of A and B buttons, you have a full set of ABXY buttons. This improves compatibility with systems like the Super Nintendo. That said, there are no bumpers or triggers. This can be problematic if you're trying to emulate a console like the N64. The screen has a size of 2.8 inches, which is pretty small by modern standards. Still, it's big enough for older games, and it's a high-quality IPS panel. You can see in full color, even if you're looking at the screen from an extreme angle.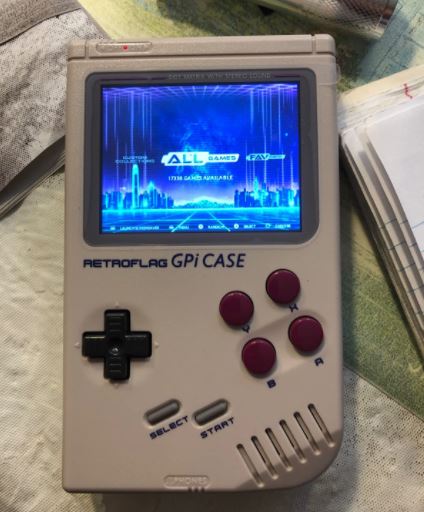 For controls, you have a power switch at the top left. This can be used to safely shut off the system, even if you're in the middle of a game. There's also a volume dial on the right side, which is self-explanatory. On the left side, there's an SD slot, for inserting memory cards. For power, you have a couple of options. The standard option is to use three AA batteries. You can also use the included DC power adapter, if you want to plug into the wall. We were a bit disappointed by the lack of an internal battery. But then again, AAs can be instantly swapped out without having to wait for them to charge.
Specs & Game Library
The TAPDRA Handheld Game Console runs on a Raspberry Pi ZERO. If you're technically inclined, this can be easily removed and replaced with a Pi ZERO W, but not a ZERO WH. You'll find that an upgrade is mostly unnecessary. It can help with loading speeds, but other than that, you won't see much benefit. This once again comes down to the lack of any triggers, since you'd need them for newer games anyway.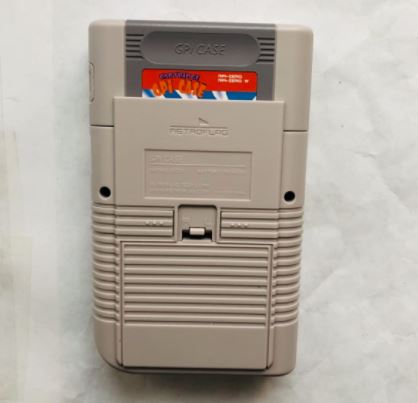 That said, the RetroPie gaming emulator is surprisingly robust. We knew it was powerful, but upon examination, it can emulate up to 52 game systems. These include classics like the Intellivision, and obscure systems like the Vectrex. You can also emulate newer systems like the GameCube and PlayStation 2. At least, you could if you had more buttons. But even so, the TAPDRA handheld console is compatible with more than 20 game platforms. It also supports dozens of file formats, depending on the console's requirements.
The package actually incudes a 128GB SD card, with more than 14,000 games loaded on it. The neat thing about this is that you can add or remove games as needed. If you already have a bunch of ROMs on your hard drive, you can copy them right on over. There's also a USB port underneath the battery cover. This cannot be used for playing games. However, it can be used to connect the Raspberry Pi to a PC for firmware upgrades.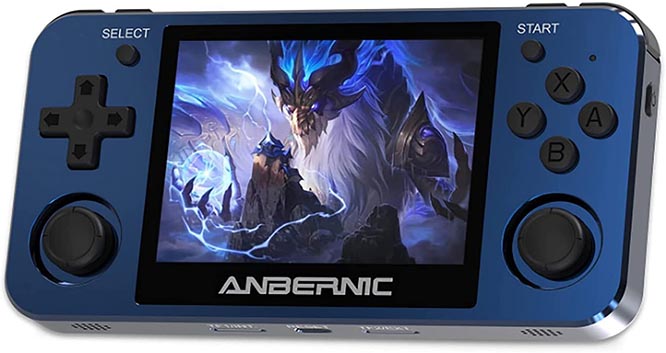 DREAMHAX RG351MP
The DREAMHAX RG351MP has a more modern aesthetic. It has a wide rectangular shape, with an aluminum housing that's available in blue, black, or green. The control scheme is similar to that on a PlayStation console, with two thumb sticks that are not offset. Above the left stick is a D-pad, with a Start button above it. Above the right thumb stick are your ABXY buttons, as well as a select button. The power button is located on the right of the housing, and is somewhat hard to press. This is intentional, so you won't accidentally shut off the controller while you were playing.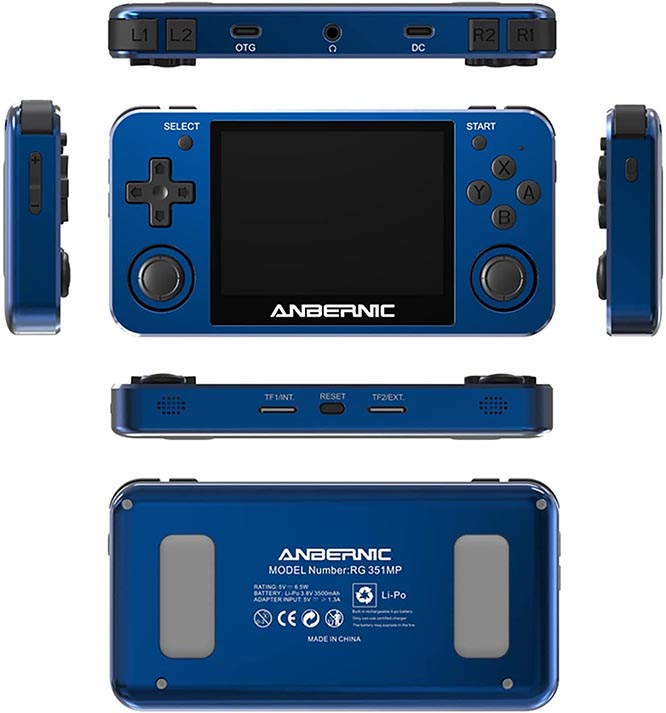 In addition, there are trigger buttons on the front corners, with L2 and R2 buttons inside of those. The fact that there are triggers makes it easy to play some games on relatively newer consoles. That said, the location of the L2 and R2 buttons towards the inside can be awkward. You have to be careful not to hit the R1 or R2 button at the same time. Another neat feature is the vibrating motor, which responds to the rumble function on appropriate titles.
The screen has a resolution of 640 x 480 pixels, identical to an old CRT TV. At 3.5 inches in size, it's easy to make out what's happening on screen. And the screen is a fully-laminated IPS panel, which makes it both durable and colorful. The speakers are fairly small, but for what it's worth, there are two of them. This allows for stereo sound, although it will still sound better with headphones.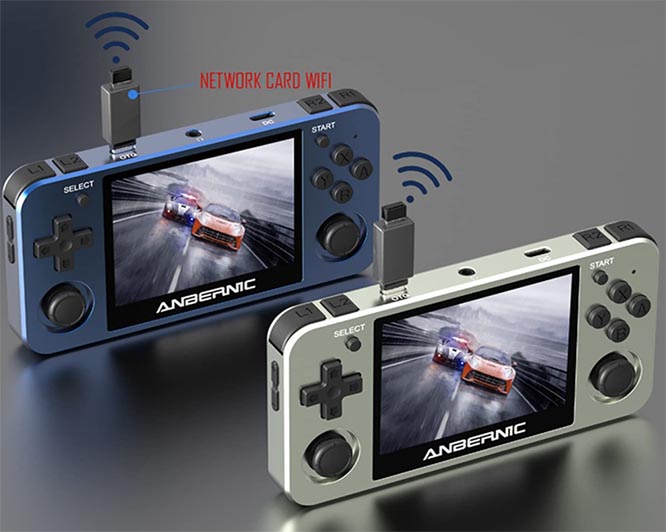 The internal Lithium battery has a capacity of 3,500mAh. That's enough for about six hours of play time, depending on your settings and what you're playing. It also charges quickly, in less than two hours via USB Type-C. Be careful, though. For whatever reason, it can accept a maximum load of 2 amps. If your power source isn't regulated, it could damage the battery.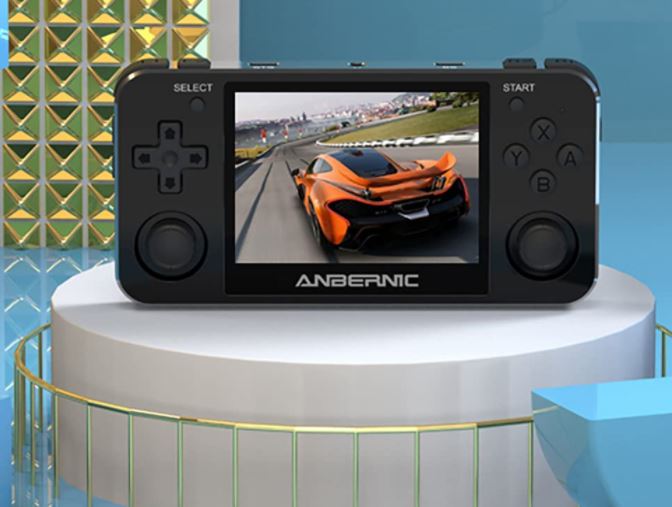 Specs & Game Library
Like the TAPDRA handheld console, the DREAMHAX console comes with a pre-loaded Micro SD card. This SD card has 5,500 games, which might sound like a lot less by comparison. But how many games do you actually intend on playing? What matters more is that you can play the games you want. And in that regard, this little system is highly capable. Thanks to the control scheme, you can play some newer games. You can also play over 20 different formats. This means you can add games from many older consoles. You can also upgrade to a larger SD card, up to a capacity of 256GB.
The package includes a WiFi adapter, so you can connect with an external controller. There's also a USB Type-C to Type-A adapter, so you can install system updates.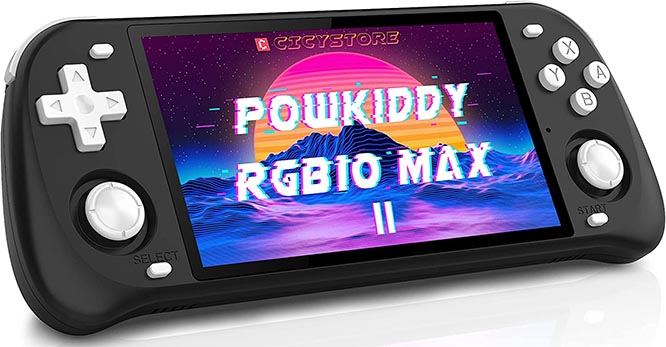 Powkiddy RGB10 Max
The Powkiddy RGB10 Max has a lot in common with the DREAMHAX emulator. The control layout in particular is virtually identical, with one important exception. Instead of being located inside the primary triggers, the L2 and R2 buttons are on top of the controller. This means you won't hit the main triggers by accident while you're using them. But you'll need to get used to those buttons being on top, which can feel awkward at first.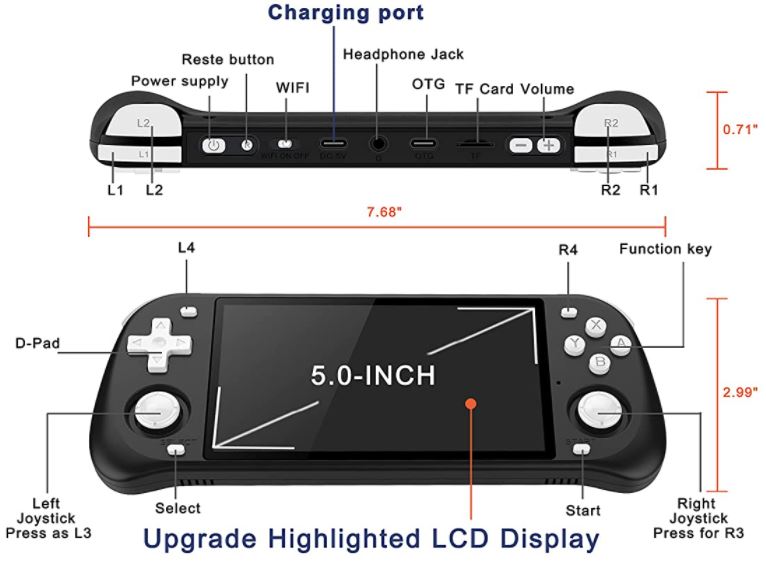 One thing that won't feel awkward is the form factor. The housing is constructed from black ABS plastic, with a broad, curved profile. The hand grips are slightly arched, which makes them comfortable to hold onto. In terms of shape, it almost reminded us of the old Sega Genesis controller, but a bit larger.
The display has a resolution of 845 x 480 pixels. This is the same vertical resolution as a CRT TV, but with an aspect ratio of 16:9. It's protected by a tempered glass screen cover, which is scratch- and shatter-resistant. It's also easy to make out colors when you're looking at the screen from an angle.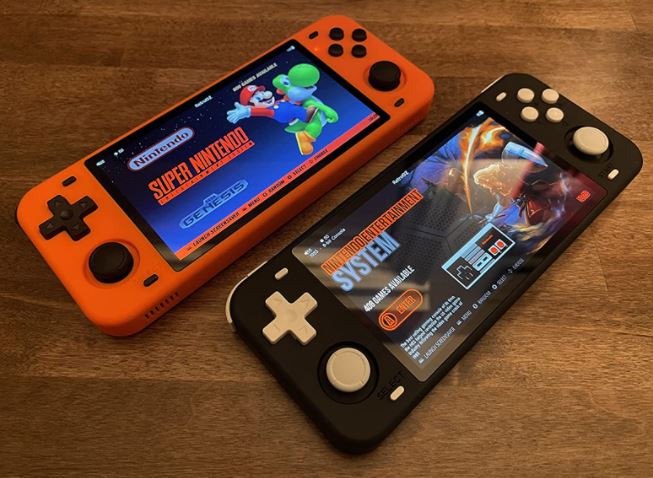 The internal battery is nice and powerful, with a capacity of 4,200mAh. It will run for around eight hours, with a lot of variation depending on what you're doing. Charging via USB Type-C takes less than three hours, so you can easily recharge overnight.
Specs & Game Library
The RGB10 Max comes with a 128GB SD card, which is pre-loaded with 30,000 games. On the one hand that's way more than you'll ever play. On the other hand, the games you want are very likely to already be on the drive. And as with the last two emulators, you can add and remove games as needed. System compatibility is also very good. You can use the RGB10 Max with more than 20 emulators and more than 20 file formats. Some of these are relatively recent consoles, such as the PS1 and N64.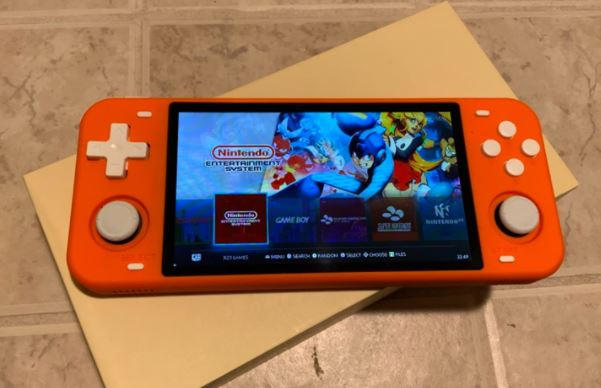 Another neat feature of this emulator is that it supports Bluetooth and WiFi connections. This allows you connect emulator controllers. You wouldn't want to do that for single-player games. But attaching a second controller lets you play two-player games with your friends.
Final Verdict
So, which one of these handheld emulation consoles is the best? Let's quickly cover what we've learned. The TAPDRA Handheld Game Console has a great aesthetic, with a truly classic design. It's reasonably rugged, and comes with 14,000 games. That said, it's hampered by the lack of any triggers. It also relies on AA batteries instead of a rechargeable, which many people may not like. Still, it's great for playing older games, especially if you miss your old Game Boy.
The DREAMHAX RG351MP is the most durable of the bunch. With its aluminum housing, it can take a serious beating. It's also compatible with a wide variety of games, including some from 21st-century consoles. The pre-installed game selection is smaller than the others, but that's a minor concern. After all, you can always add your own games.
The Powkiddy RGB10 Max, on the other hand, comes with an absurd 30,000 games. That's probably more than you'll ever need. You can also emulate a lot of systems, including the N64 and original PlayStation. External controller support and an ergonomic design round out a well-equipped little console.