Remember when times were simpler? Back when you had all the favorite video games from your childhood waiting for you when you got home from school. No matter which console you had, there were a ton of fun games to choose from. Technology has come a long way since then, and now you're able to play all your favorite games in one system using a retro handheld emulation console.
Why Own a Handheld Emulation Console?
Nostalgia: Playing games from your childhood is one of the best and most nostalgic feelings a gamer can experience. Playing them transports you back in time, and reminds you of your gaming roots and why you started playing video games in the first place. Emulator consoles enable this to be an easy experience.
State-of-the-art technology: One problem with playing old games on old consoles is that the consoles aren't made with new technology. Sometimes they're broken or glitchy for no apparent reason. Emulator consoles are made with brand-new tech to ensure they function properly. Additionally, they typically come with expandable storage. This is great for playing as many games as you want. However, you must pay attention to the maximum storage size and card type supported by any given console as they vary a lot.
Readily available: Finding retro consoles can be difficult and expensive. High-quality options are rare, so they often come with lots of blemishes. You may also have a hard time finding them anywhere consistently. These emulation consoles are all readily available online for you to choose from.
Multiple playing options: For the most part, retro consoles limit your playing ability. Sometimes they're handheld, and sometimes they're built to be played on the TV, but rarely can they do both. Emulation consoles oftentimes have multiple ways to play, and have modern connectors to make TV or monitor play easily doable.
Best Overall: RG353V Retro Handheld Game Console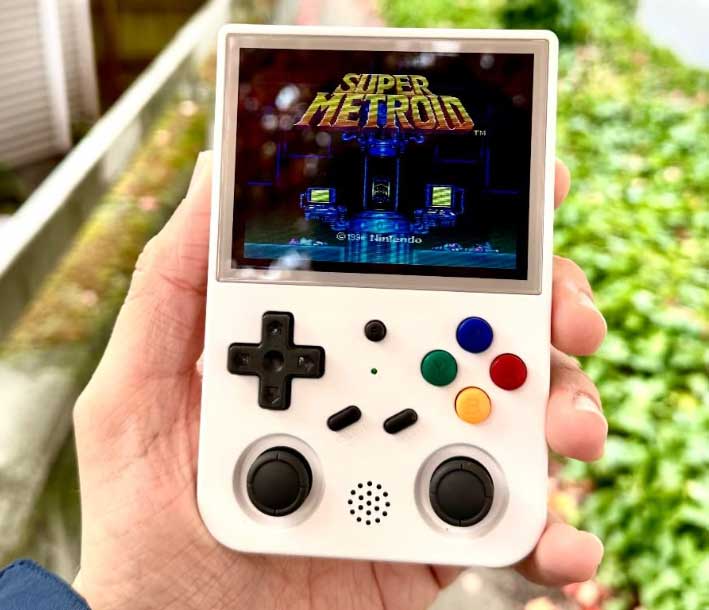 Key Features:
4.96 x 3.27 x 0.83 inches
3.5 Inch screen
0.73 pounds
Variable storage with TF cards
The RG353V is a great option for flexibility of use. It comes with a TF card pre-loaded with 4452 games. It has dual operating systems, Linux and Android, which allows it to play games in 32-bit and 64-bit. However, only certain colorways have both operating systems, so make sure you know which one you're choosing when you purchase. Additionally, it supports Moonlight Streaming. This allows you to add games from 20 different formats, so any game from your childhood should be playable.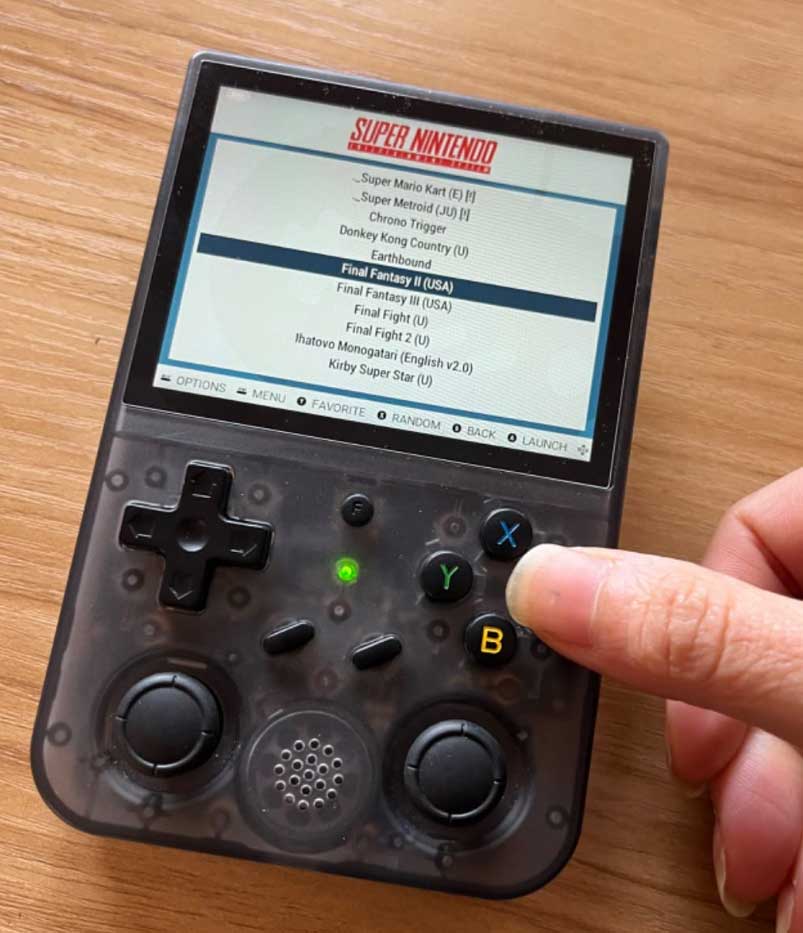 It has a 3200 mAh li-polymer rechargeable battery to power the device. This allows you to use it for 5-6 hours before needing to recharge. To recharge, simply use a USB-C cable.
The RG353V is compatible with TF cards, so memory is expandable. It does come with a 64-gigabyte card, however, that already has games on it. That said, it wouldn't be a bad idea to pick up additional memory to play even more of your favorite games.
As for the technology the device uses, it's a great option. It uses a quad-core 64-bit processor with low power consumption. It also has 2 GB of LPDDR4 ram. Its screen is a 3.5-inch IPS panel with a resolution of 640 x 480. Best of all, it's capable of being used as a handheld or being plugged into a TV or a monitor via USB-C to HDMI.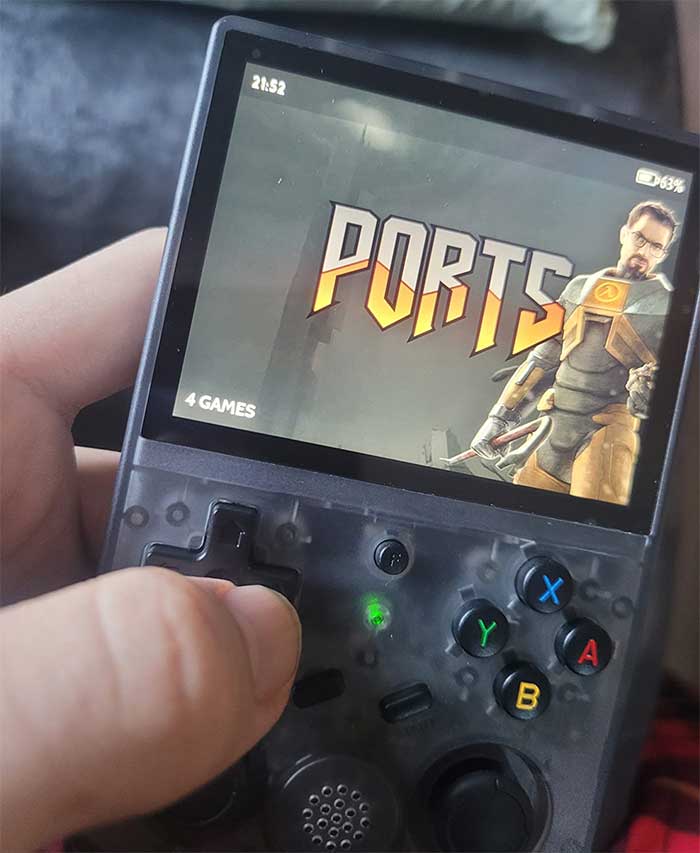 The RG353V is a great-looking console. It has the classic look of a handheld gaming device, with a d-pad and singular buttons on the front. As for color options, it's available in transparent purple, transparent black, grey, and white. In our opinion, this is the best option on the list. It has multiple ways to play, it comes in a wide variety of colors, and it can play nearly anything you want it to. All that at its price point makes it hard to beat.
Pros:
Comes with 4452 games pre-installed
Dual operating system
Additional downloads for over 20 different formats of games
Cons:
Purchasing the correct model may be confusing
Best Alternative: Retroid Pocket 3 Retro Game Handheld Console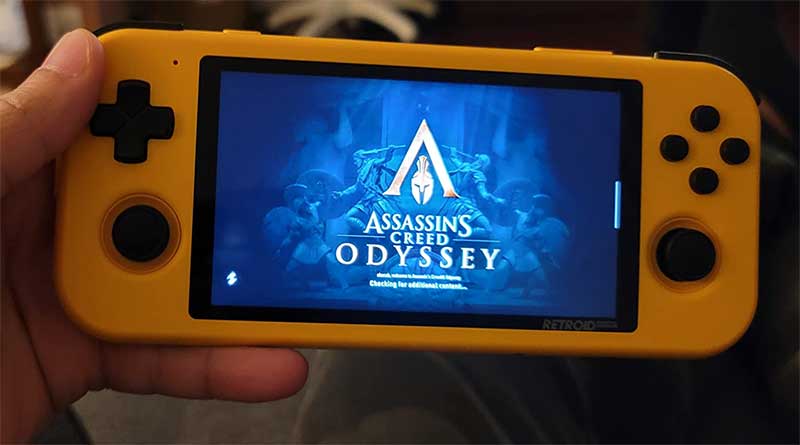 Key Features:
7.27 x 3.2 x 0.95 inches
4.7-inch screen size
1.17 pounds
Storage Size: 32 gigabytes of onboard storage
The Retroid Pocket 3 is a great option for both retro and semi-modern gameplay. It doesn't come with any preloaded games, however, games are easily downloadable on its Android platform. It's compatible with over 500 games from PC, Xbox, PlayStation, and more.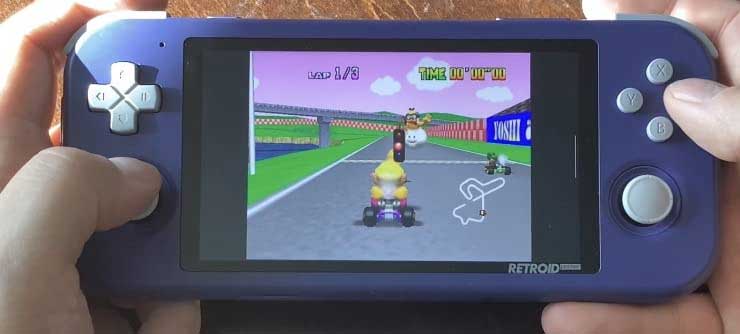 This is a rechargeable console, featuring a 4000 mAh battery. This battery gives you hours of play at home and on the go. It also has self-protection. This allows the battery to drain itself over time to keep it from breaking.
The Pocket 3 comes with 32 GB of onboard memory. This allows ample space to put hundreds of your favorite games right on the device. The technology used internally is great. It features a quad-core processor, two or three GB of LPDDR4 Ram, and both Wi-Fi and Bluetooth. The screen is a 4.7 inch IPS HD 16:9 LCD panel, which provides crystal clear graphics. Additionally, this console can be played on a TV or monitor and offers multiplayer for up to two people.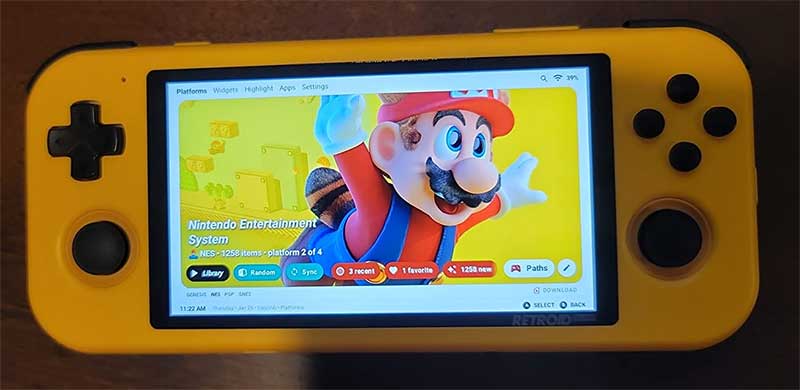 Aesthetically, you have a lot to like about the Retroid Pocket 3. It's a long skinny device, following the design of some modern handhelds. This design fits well in your hands and gives comfortable gaming experiences for hours. It's available in a range of colors. They include black, grey, indigo, orange, and white.
If you're looking for the most modern-looking console that can play a wide variety of games the Retroid Pocket 3 may be the best choice for you. Its ability to play solo or multiplayer makes it awesome for you and anyone else you want to play with. It also isn't built for just retro games, offering tons of choices for semi-modern games as well. You really can't go wrong choosing the Retroid Pocket 3.
Pros:
Can play it handheld or on a TV or Monitor
Large screen size
Multiple color options
Cons:
Highest Storage Capacity: RG353P Handheld Game Console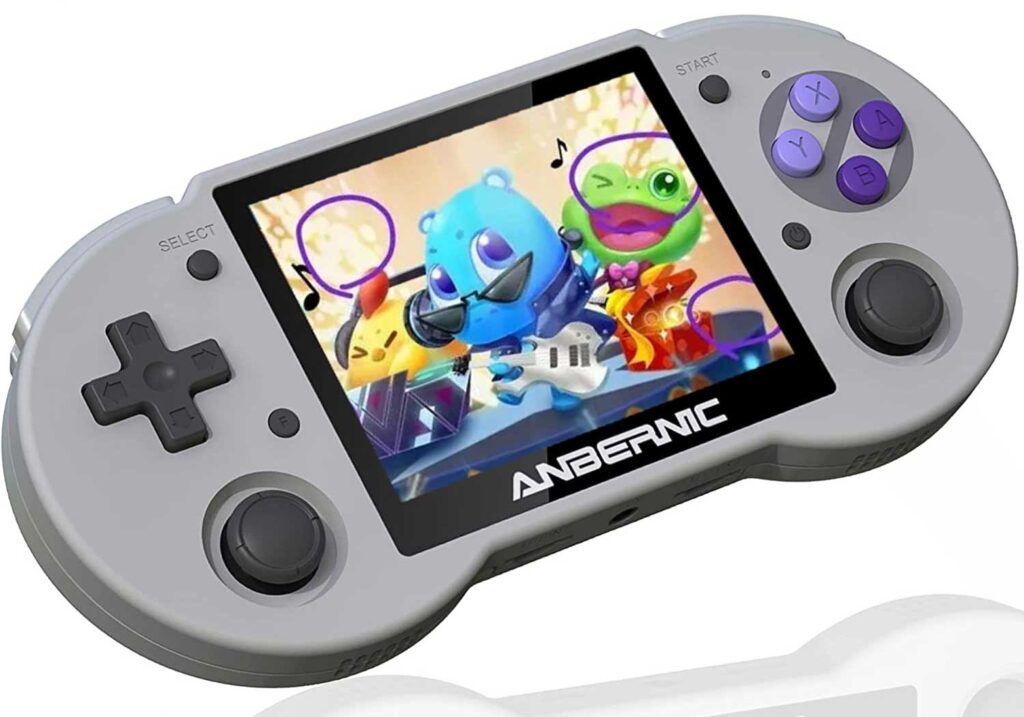 Key Features:
5.51 x 3.94 x 1.69 inches
3.5-inch screen size
0.9 pounds
Variable storage with TF cards
The RG353P Handheld Game Console is a very similar option to the RG353V. It comes with 4452 games preloaded on a 64 GB TF card. It can also stream games via Moonlight, with downloadable support for over 20 different file types. No matter what emulated game you're looking for you should be able to add it to this device.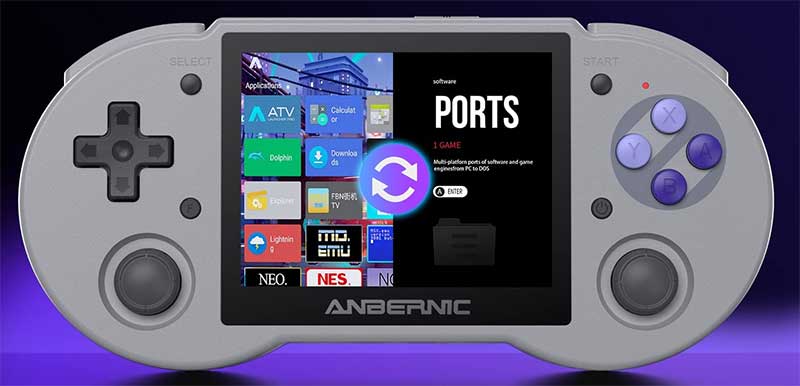 It comes equipped with a 3500 mAh rechargeable polymer lithium-ion battery. This allows continuous use for up to 6 hours. You can plug in the included USB cable to recharge back to 100% in only four hours using 1.3A charging.
The RG353P can use TFD cards to increase storage capabilities. It comes with a free 64 GB card. You're able to swap that out with TF cards up to 512 GB for even more downloadable game use.
As for technology, it has a lot of great features. It has a quad-core 64-bit 1.8GHz CPU to reduce battery usage. It also comes with 2 GB of LPDDR4 Ram. The screen is a 3.5 inch 640 x 480 IPS panel. It has a full viewing angle and multi-touch technology. It features built-in support for Wi-Fi and Bluetooth and also allows for TV and Monitor use via HDMI. You can plug in 3.5mm headphones to have sound as well.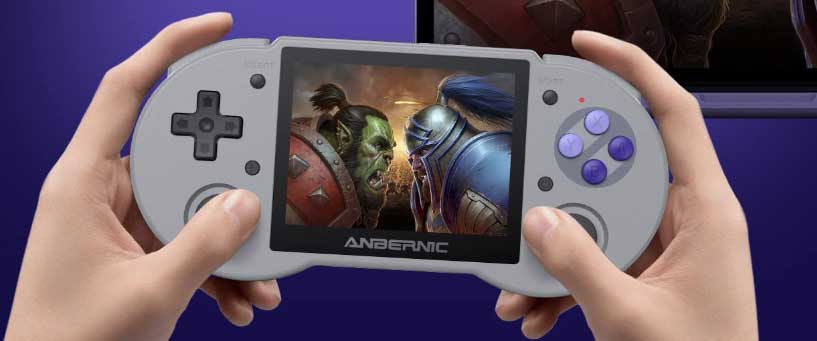 This device is designed to look like a cross between a new-gen handheld and a retro game controller. With the controls on either side of the screen and rounded corners, you will have a compact device that you can play for hours comfortably. It's available in multiple colors, including grey with purple buttons, and transparent black with black buttons. In our opinion, if you want a console that has great technology and the most expandable storage available, the RG353P is your best bet.
Pros:
Comes with 4452 games pre-installed
Dual OS
The unique design is a cross between a controller and a handheld device
Expandable memory up to 512 GB
Cons:
Best Budget: DREAMHAX RG300 Portable Game Console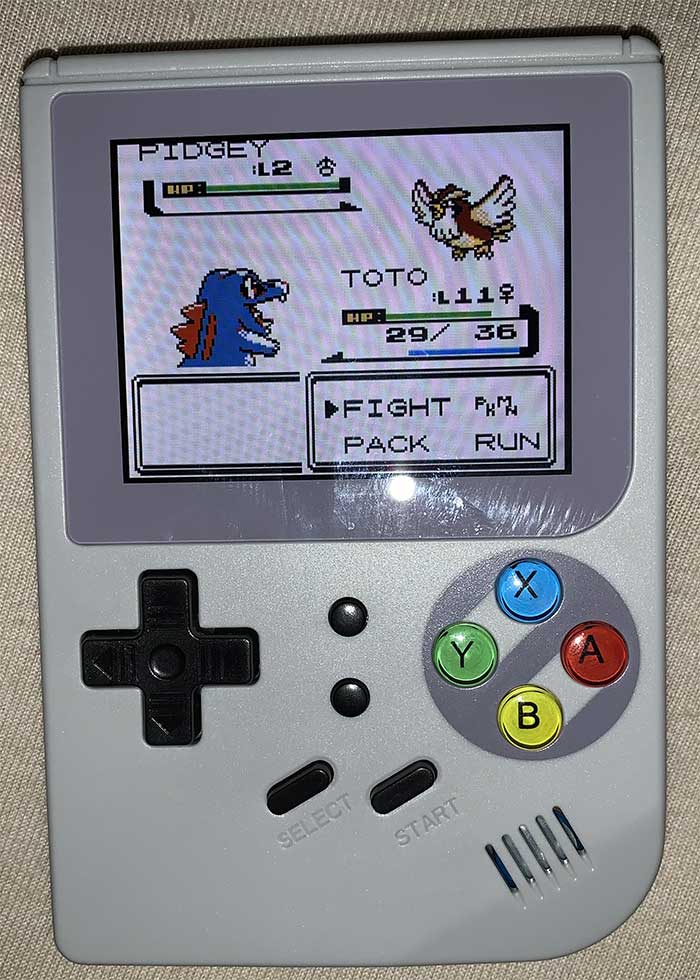 Key Features:
4.69 x 3.23 x 0.98 inches
3-inch screen size
0.75 pounds
Expandable TF memory up to 32GB
The Dreamhax RG300 comes with the most preloaded games of any option on this list. It comes with 10,000 games ready to play right out of the box. It also has an open-source system that allows it to download and play additional games in 20 different formats. If you're looking for an option that requires little to no work to play your favorite games right away, this is a great option.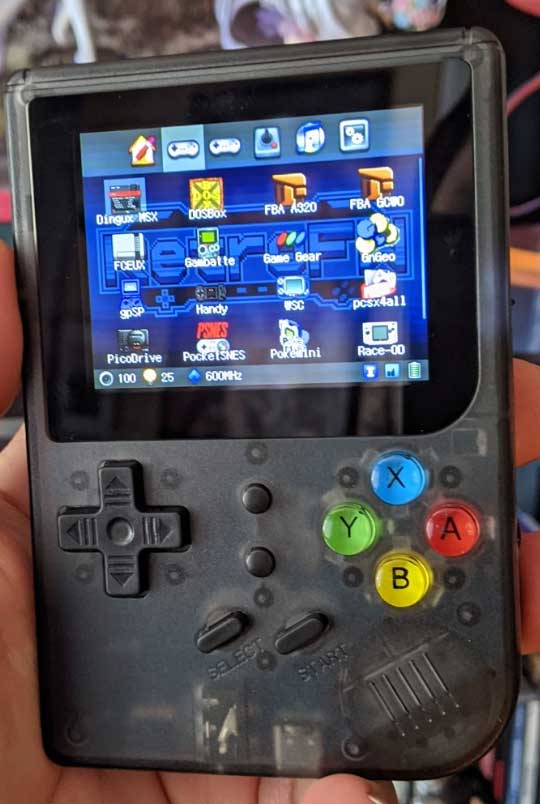 The RG300 has an 1800 mAh BL-5B lithium battery to increase battery life and standby time. It can support up to 6 hours of continuous gaming. A state-of-the-art USB-C cable is used to recharge it quickly.
Thankfully, it comes pre-loaded with a 32 Gigabyte TF card. Additionally, you can expand the storage with additional TF cards as long as they're 32 gigabytes or less. This gives you less storage than the RG353P, but still allows for a lot of different games.
Internally it has a Dual 528 MHz CPU, and 128 MB of DDR2 Ram. Its screen is a 3-inch tempered glass IPS panel. This allows you to play and view your games in high quality. For sound, has onboard speakers, but can also have 3.5mm headphones plugged into it. The components make it a perfectly capable console, however, it isn't nearly as powerful as the other options on this list.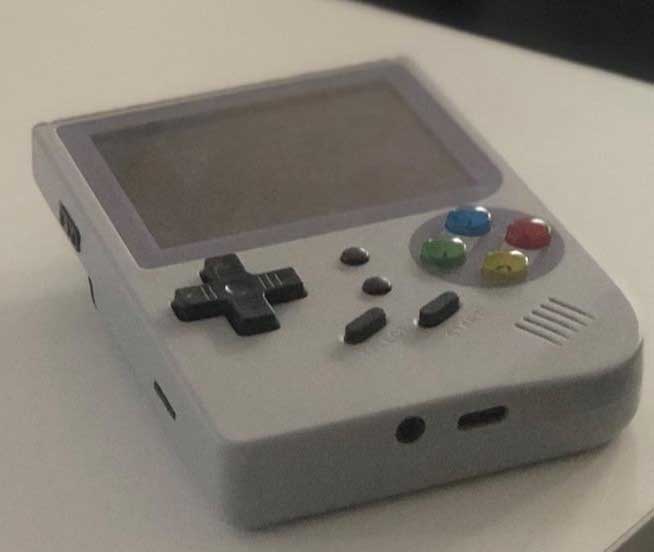 Aesthetically, the RG300 is available in two different color styles. The first is grey and purple with a d-pad and normal buttons. These buttons are black, green, blue, yellow, and red. The second choice is a black transparent case, with the same button colors. Overall, the look is similar to old-school handhelds. In our opinion, if you want a retro console that won't kill your budget and comes with a ton of games right out of the box, the RG300 is for you.
Pros:
Lowest cost on the list
Comes with 10,000 pre-loaded games
Tempered glass IPS screen
Cons:
Doesn't support AV output
Not as powerful as other options
Meet Derek, "TechGuru," a 34-year-old technology enthusiast with a deep passion for tech innovations. With extensive experience, he specializes in gaming hardware and software, and has expertise in gadgets, custom PCs, and audio.
Besides writing about tech and reviewing new products, Derek enjoys traveling, hiking, and photography. Committed to keeping up with the latest industry trends, he aims to guide readers in making informed tech decisions.