Are you tired of waking up to the same boring alarm sound and routine every morning? A projection alarm clock may be just what you need to start your day on the right foot. We've scoured the market and compiled a list of the best projection alarm clocks to suit different needs and preferences. Here's a quick rundown of the top picks:
Each of the entries we chose offers something special. So let's jump right in and find out which projection alarm clock is right for you.
Best Overall: Uptimus Projection Alarm Clock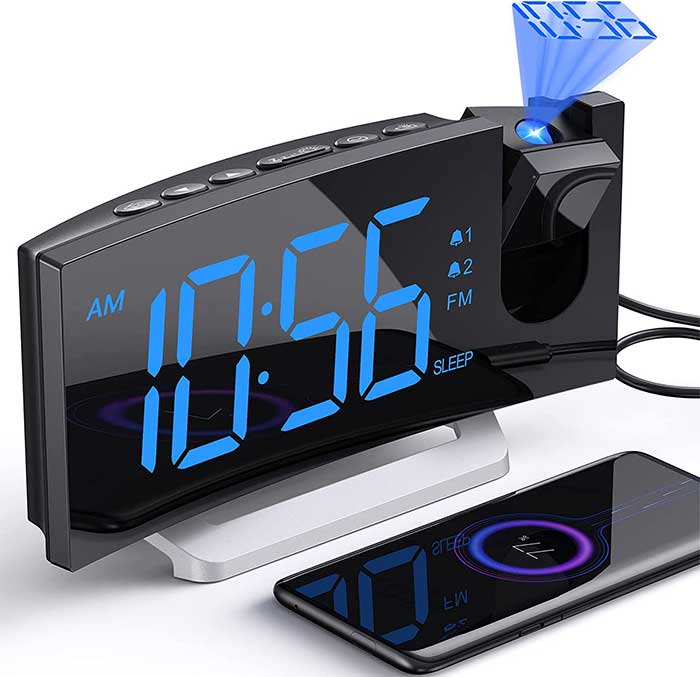 Key features:
Curved screen for reduced glare
FM radio with adjustable volume
Clear ceiling projector
Dual alarms with customizable sounds
The Uptimus Projection Alarm Clock is an essential addition to any bedroom, providing a host of features that set it apart from conventional clocks. Measuring 7 x 3.7 inches, it showcases a stylish curved screen that reduces distortion, glare, and eyestrain while offering a wider field of view for improved focus.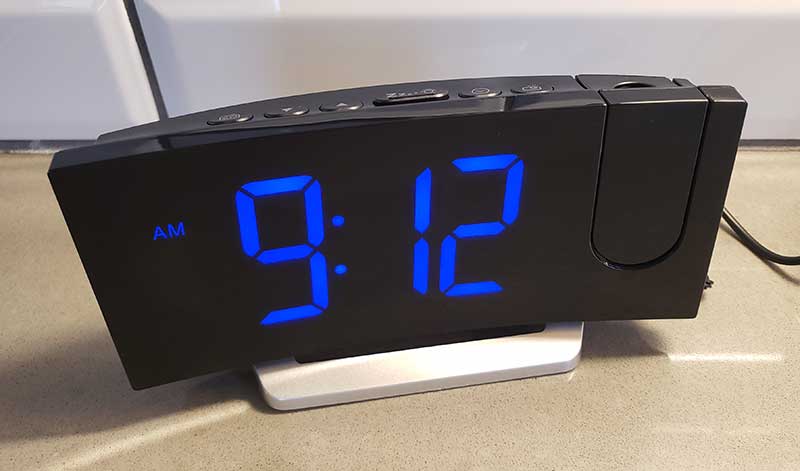 Another feature that's sure to reduce eyestrain is the large 3.5*2-inch crystal LED display. You can adjust this from 0-100% using the clock's dimmer, so it's easy to suit your individual preferences. This is particularly helpful for those who prefer dimmer lighting or even want to turn off the display entirely for a good night's sleep.
This unit also boasts an integrated FM radio with both manual and auto-tuning capabilities. Its 0-100% volume control makes it a breeze to find the perfect listening level. The clock also features a clear projector, allowing users to easily read the time on their ceiling without the need to squint at a phone screen.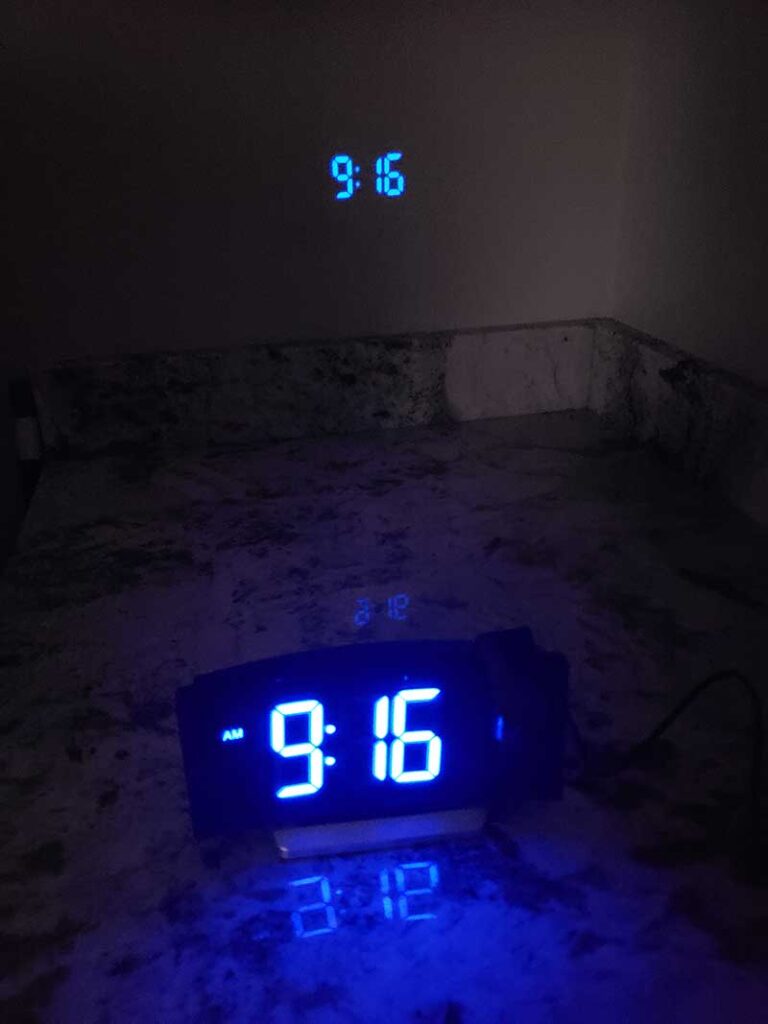 Equipped with dual alarms and five unique alarm sounds, it ensures that both you and your partner can wake up to personalized settings. It also offers a snooze function and three volume levels ranging from 75-85dB.
The 5V/1.2A USB charging port and USB-C adapter make it easy to charge devices, while its 69.5-inch cable offers ample length for convenient placement on a nightstand. A built-in battery backup (CR2032) ensures that your settings remain intact even during power outages, though it doesn't power the clock itself.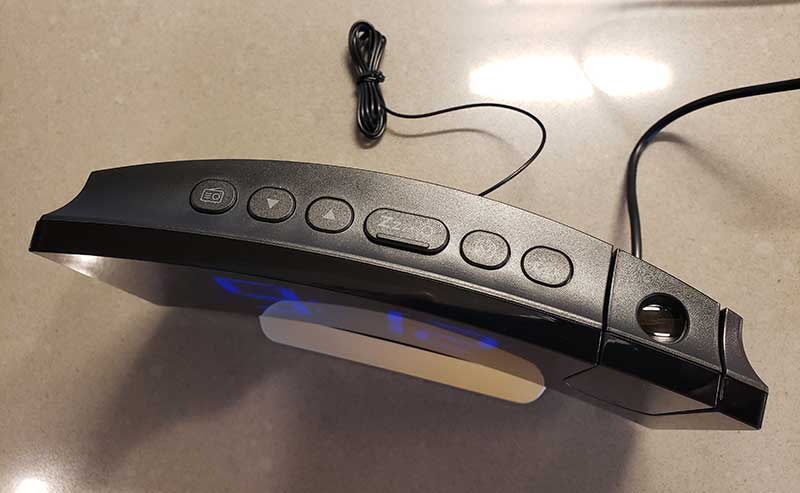 User-friendly top-mounted control buttons and dials with easily recognizable icons make the Uptimus Projection Alarm Clock perfect for everyone, streamlining the process of programming alarms and setting times. The non-slip base ensures stability, making the Uptimus Projection Alarm Clock a practical and reliable choice for any bedroom.
Use code "8LYGC8D9" for a 15% discount when you order the Uptimus Projection Alarm Clock on Amazon.
What we liked:
Adjustable dimmer for personalized brightness
USB charger and USB-C adapter included
Built-in battery backup for power outages
User-friendly controls with clear icons
What we didn't like:
Battery doesn't power clock itself
Limited alarm sound options
Most Compact: SMARTRO Projection Alarm Clock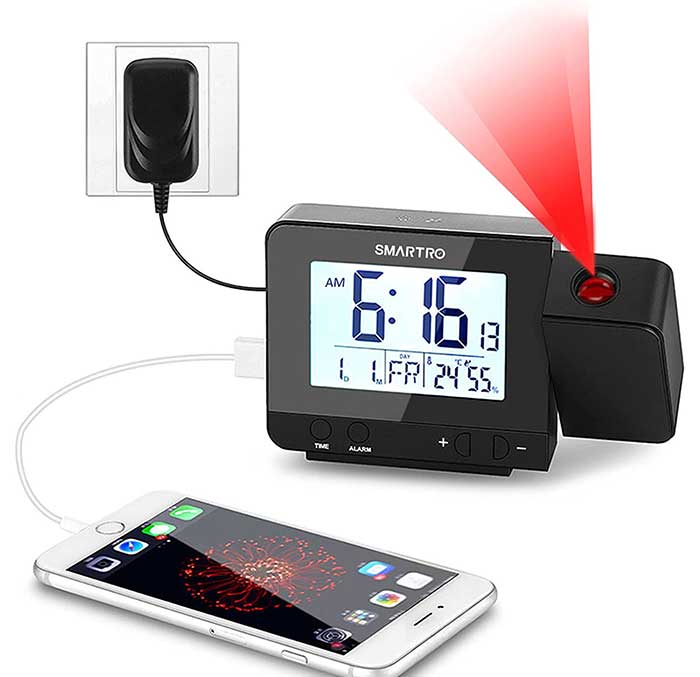 Key features:
Dual alarm function with ceiling projection
Indoor thermometer and hygrometer gauge
USB port for charging devices
Adjustable backlit brightness and snooze function
In our quest to find the perfect alarm clock, we came across the SMARTRO Projection Alarm Clock, which we found to be an ideal blend of functionality and convenience. This versatile clock is suitable for use in bedrooms or on travels and comes with both AC and battery-operated power sources. It measures a mere 5.28 x 3.14 inches, so it'll fit seamlessly into any room setup.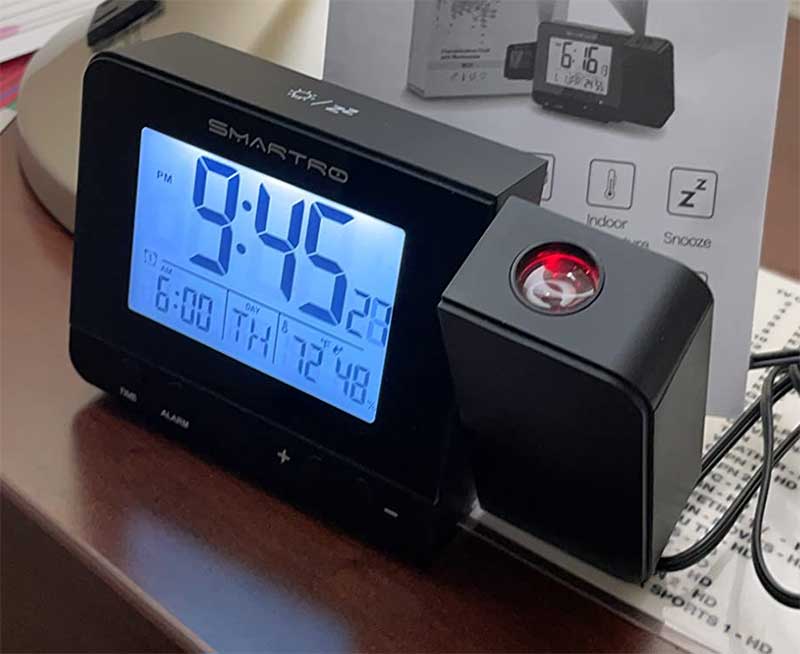 The standout feature of this alarm clock is its dual alarm function with ceiling projection. This allows users to set two separate alarms for different purposes while the time is projected in a soft red color on the ceiling or wall. The projection is easily visible throughout the room, and the suggested distance for optimal projection is between 5 to 13 feet. The projection can also be reversed by 90 degrees for added flexibility. This feature is particularly useful for kids and those who prefer a quick glance at the time without disturbing their sleep.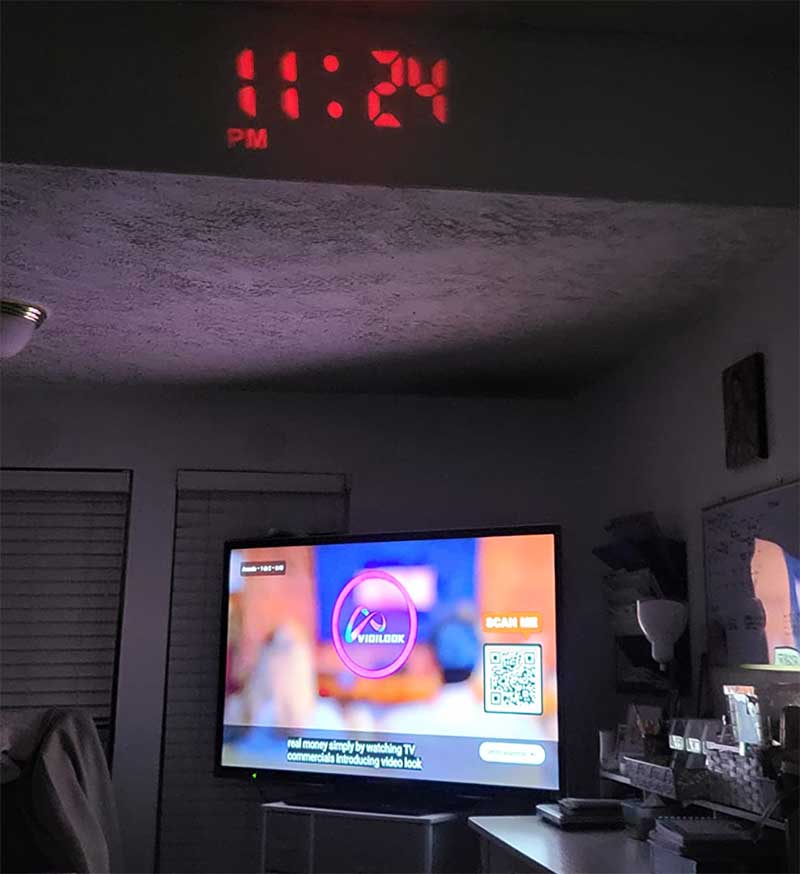 The device's time projection is temporary when using AAA batteries to power it. This is activated by pressing the top button. If you wish to use batteries as your power source, you'll need to supply your own, as none are included with the clock. Conversely, when using the included 5-volt power adapter, both backlighting and projection remain constantly lit. The snooze button allows users to change the backlit brightness to three different levels, and the USB port doubles as a charger. So you can conveniently charge up your smart device while you sleep.
Another impressive aspect of this alarm clock is the indoor thermometer and hygrometer gauge. Its built-in sensors provide accurate humidity and temperature readings, ensuring optimal living conditions for your household. The snooze function is the standard fare; it works in 5-minute increments. The alarm is nice and loud, too – it's sure to wake even the heaviest of sleepers.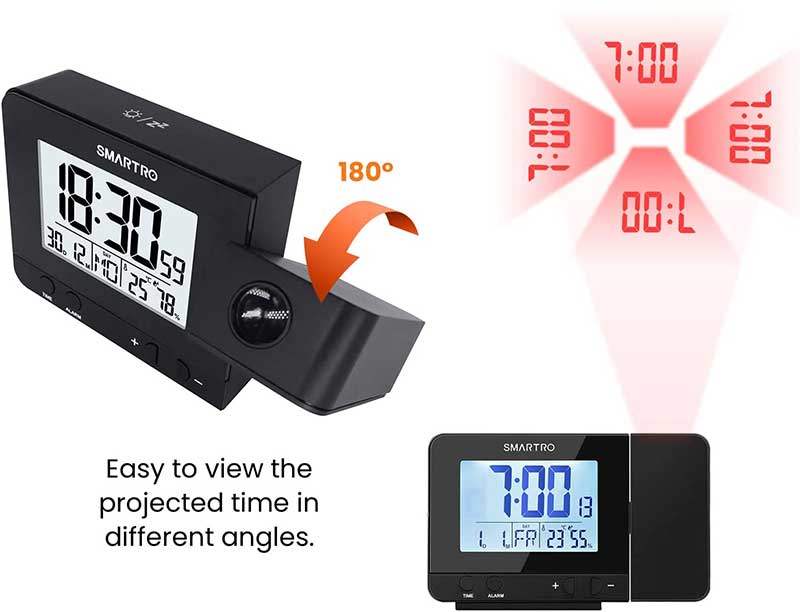 The inclusion of temperature and time and date helps set SMARTRO's Projection Alarm Clock apart from many others. The only real downside is the design. It's solid for the most part, but it lacks even weight distribution. As a result, blindly hitting the snooze button in the morning tends to knock over the clock. Other than that, this one has a lot to offer, with plenty of bells and whistles.
What we liked:
Compact design for easy placement
Battery and AC power options
Good projection distance
Automatically resetting alarms
What we didn't like:
Unstable design, easy to knock over
AAA batteries not included
Best with Weather: La Crosse Technology Projection Alarm Clock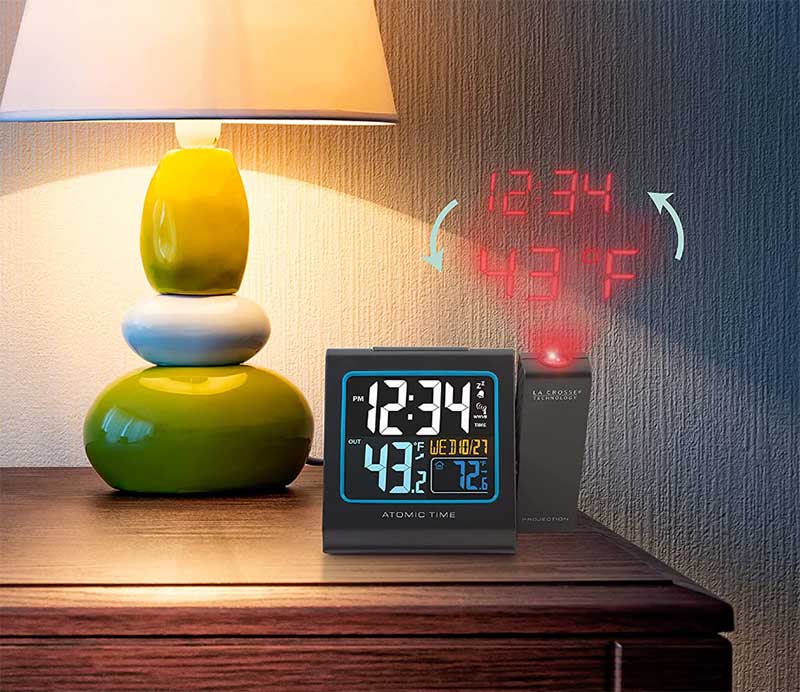 Key features:
Color projection of time and temperature
Atomic accuracy with self-setting time
Wireless outdoor temperature sensor
Built-in USB charging port
Our next entry is the La Crosse Technology Projection Alarm Clock. It not only functions as an alarm clock but also displays outdoor temperature and comes with a USB charging port – two notable features that add greater convenience and versatility.
The clock measures 5.23 x 4.33 inches and has a rectangular shape with a digital display. It is made of plastic, but it doesn't feel cheap at all. In fact, it has a lightweight yet durable feel. The color LCD screen is incredibly bright and vivid, with large 1.25-inch time digits, making it easy to read at a glance. The indoor and outdoor temperature readings, displayed with trend arrows, add useful information for users.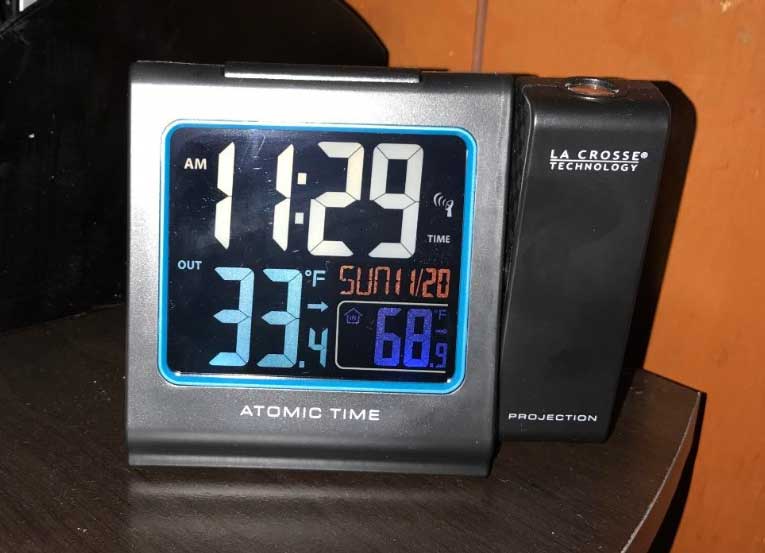 Its projection capabilities are also excellent. It is equipped with a 90-degree arm rotation that allows users to project the time and/or outdoor temperature onto the ceiling or wall. Users can choose between three projection modes: time/outdoor temperature, time only, or outdoor temperature only. The projection arm can rotate in 180-degree increments, ensuring a comfortable viewing angle. Furthermore, the projection intensity can be adjusted with "HI/LO/OFF" settings.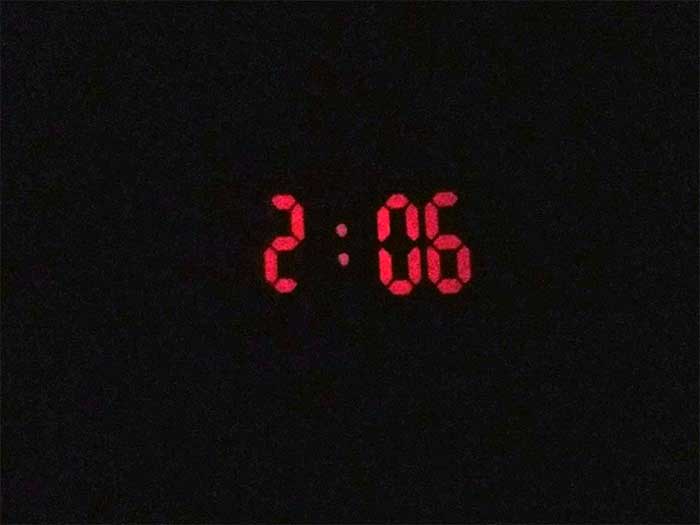 The clock is radio-controlled and offers atomic accuracy to the second. It self-sets the time according to one of the seven pre-set time zones and adjusts automatically for Daylight Saving Time. The crescendo alarm and 9-minute snooze function ensure users wake up on time.
As with similar clocks, you get a built-in USB port for mobile device charging, which offers an extra level of convenience. The clock requires 2 AAA alkaline batteries (not included) for backup, and there are even handy low battery indicators provided.
The wireless outdoor sensor (TX141) has a 330-foot range in open air and can withstand temperatures ranging from -40°F to 140°F. The sensor requires 2 AA batteries (also not included).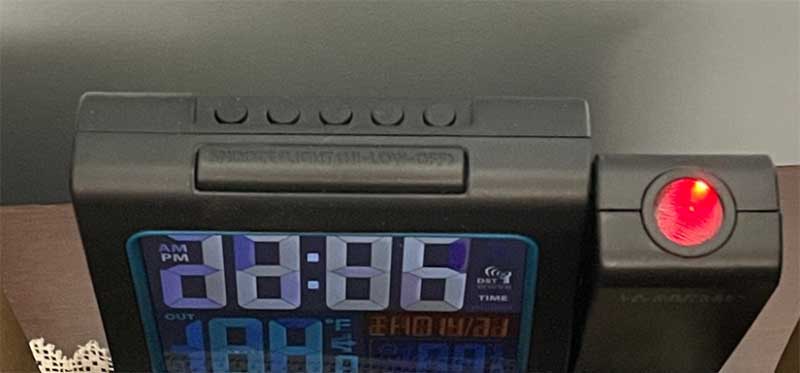 During our testing, we found the projection and temperature features to be accurate and easy to use. We were able to get accurate temperature readings from about two miles away. The versatile display options and USB charging port make this alarm clock a valuable addition to any bedside table. But as good as the display is, it does have a notable caveat. When looking at it head-on, the display is bright and clear. But when viewed from an angle, especially top-down, it's virtually impossible to make out what it says.
Other than that, La Crosse Technology Projection Alarm Clock offers a unique combination of features and functionality. Its projection capabilities and adjustable settings make it a top choice for those looking for a multifunctional alarm clock.
What we liked:
Large, vivid color LCD display
Adjustable projection intensity settings
Seven pre-set time zone selections
Crescendo alarm with 9-minute snooze
What we didn't like:
Batteries not included
Loses clarity when viewed at angles
Best with Sound Machine: Homedics SoundSleep Projection Clock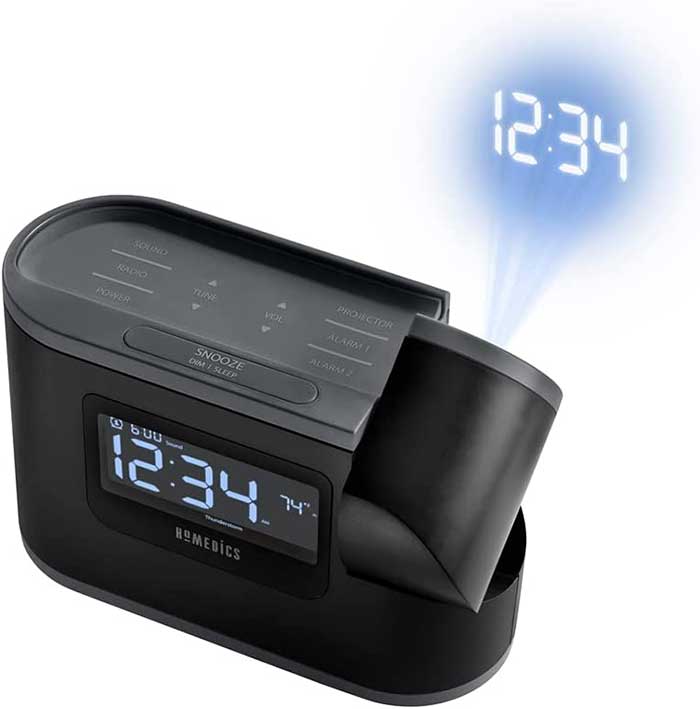 Key features:
6-in-1 versatile sleep device
8 soothing nature sounds
Sleep timer and alarm options
Indoor temperature sensor and time projector
The Homedics SoundSleep is a versatile 6-in-1 device that's a good fit for anyone looking to improve their sleep quality and wake up refreshed. Measuring in at 7.3 x 6.25 inches, it's not the most compact clock out there. But considering all that it offers, we think it's just right.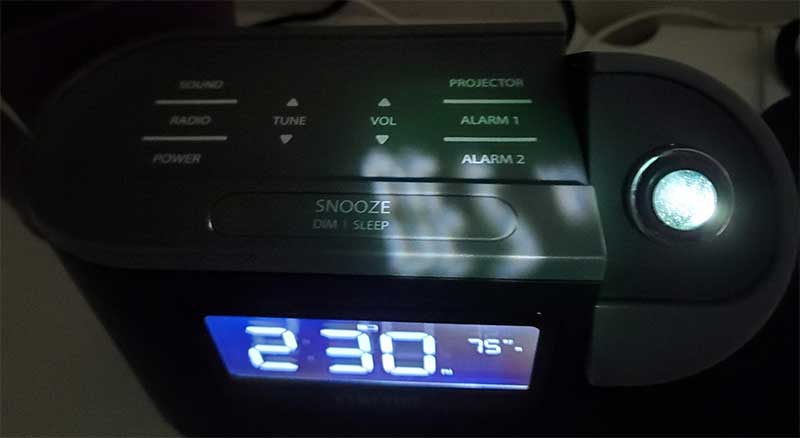 We really like the variety of sleep sound options available here. With eight digitally recorded nature sounds to choose from, including fan, thunderstorm, gentle rain, campfire, rainforest, white noise, ocean, and brook, users can easily find the perfect calming audio to drift off to sleep. We tested these sounds and found them to be authentic and soothing, helping users relax and block out distractions.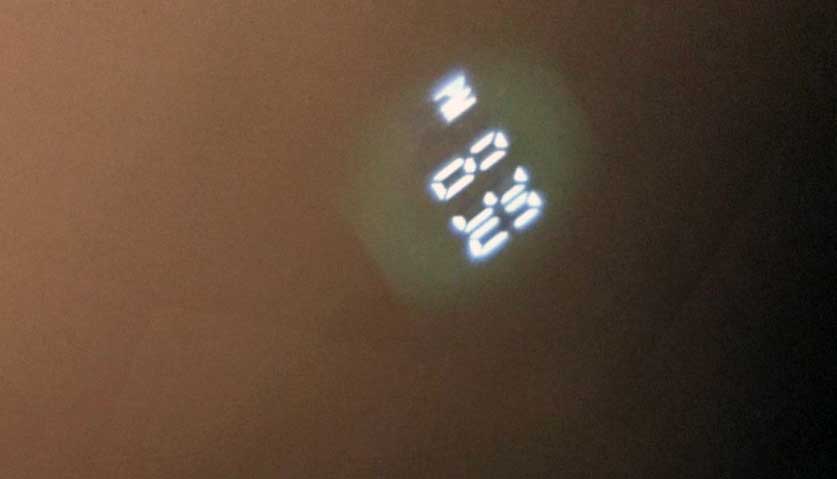 The alarm clock function comes with a sleep timer and multiple alarm options, allowing users to fall asleep listening to their choice of radio station or sound. There's also an auto-off function that can be set in 15-minutes increments, up to 60 minutes. This ensures that it doesn't play all night. The alarm proved to be effective in our testing, as it works well to gently wake up users without causing abrupt disruptions to their sleep cycle.
The indoor temperature sensor and time projector are additional perks. The temperature sensor displays the current room temperature on the device's front, while the time projector allows users to see the time on their wall or ceiling. This eliminates the need for checking the time on a phone or another clock and ensures users can stay informed about their environment.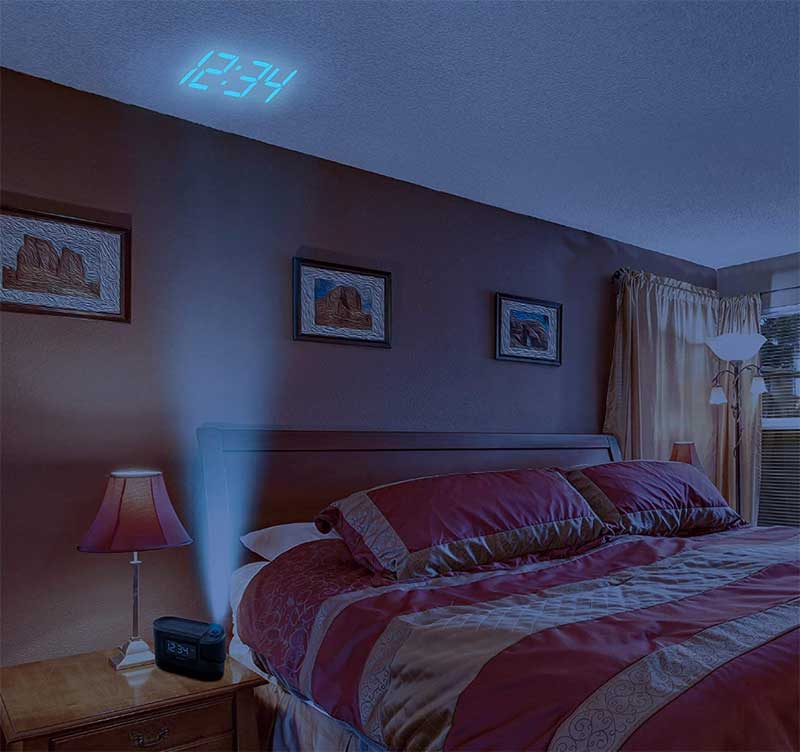 Finally, the Homedics SoundSleep also functions as a smartphone holder, enabling users to keep their phone within reach while they sleep. This multifunctional device is perfect for anyone seeking a combination of a sleep sound machine and an alarm clock, all while providing additional features such as a temperature sensor and time projector. So overall, the SoundSleep offers an impressive array of features to enhance sleep quality and morning routines.
What we liked:
Just the right size to fit any space
Effective sleep aid and relaxation
User-friendly settings and controls
Doubles as smartphone holder
What we didn't like:
Corded electric power source
Limited sound variety compared to competitors
Projection Alarm Clock FAQs
How do I use the ceiling projection feature on my projection alarm clock?
Simply adjust the angle of the projector to ensure it is aimed in the right direction. You may also need to adjust the focus of the projection to ensure it is clear and easy to read.
Can I customize the alarm sounds on my projection alarm clock?
Many projection alarm clocks offer customizable alarm sounds, allowing you to choose from a range of options.
Do projection alarm clocks require a power source?
Yes, although some models may operate on batteries, while others require an AC adapter.
Final Verdict
Each of the four projection alarm clocks we reviewed has its unique features and benefits that set them apart from one another.
The Uptimus Projection Alarm Clock is an excellent all-around option that offers a curved screen, FM radio, clear ceiling projector, and customizable dual alarms.
The SMARTRO Projection Alarm Clock is the most compact of the bunch, making it a great choice for those who need a travel-friendly device that still packs a punch.
La Crosse Technology's Projection Alarm Clock is perfect for those who want to keep track of both the time and outdoor temperature, thanks to its color projection and wireless outdoor sensor.
And the Homedics SoundSleep stands out for its versatility as a sleep sound machine, alarm clock, temperature sensor, and smartphone holder.
Ultimately, the best projection alarm clock for you depends on your personal preferences and needs, but any of these four options is sure to help you start your day on the right foot.