Although lava lamps have been around for decades, jellyfish lava lamps have not. They're the newest take on the latest trend that combines fantasy and style into a usable light source. Perfect as a focal point or for adding an artsy flare to any room in the house.
They utilize the power of LEDs to provide color changing light with realistic-looking jellyfish inside. Although the jellyfish are completely fake, at first glance these lava lamps will surely turn heads. Whether you want a purposeful night light or to add a relaxing effect, they're a fun addition, regardless of age. But which one is best? Today we're going to feature some of the top-rated options and outline the best options.
Choosing the Best LED Jellyfish Lava Lamp
When you're selecting a jellyfish lava lamp, there are some important factors to consider:
Size: Is there a specific size you are looking for? Determining exactly where you'll place your jellyfish lava lamp is essential to pick the correct size. Large rooms require larger lamps while small areas require the opposite.
Lighting Effects: Most lamps have a night-light effect that's ideal for dark environments. A lava lamp likely won't be the primary source of light, so the amount of brightness it emits isn't typically too important.
Colors: Since they utilize LEDs, most lamps are capable of emitting vibrant assortments of colors. Check to see how many colors or which specific colors it's capable of producing.
Price: As with anything, you'll find them priced anywhere between $30 and $150+ depending on the specific size and features the lamp is able to provide.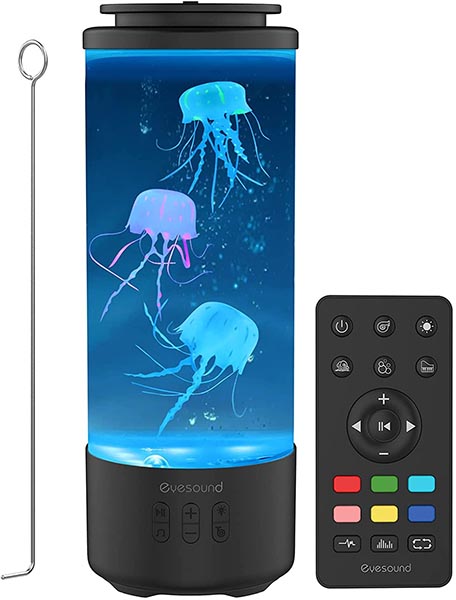 Best Overall: Eyesound Jellyfish Lava Lamp Speaker
As our best pick overall, the Eyesound Jellyfish Lava Lamp provides plenty of features and its own Bluetooth speaker built-in. You can either pair it to your smartphone and play your very own playlist, or play one of the three white noise audio tracks that are built-in. It's even capable of emitting 7 different colors that can constantly change. In addition, there's 4 light modes that can either be a static color, RGB gradient, karaoke mode or auto change through a cycle of colors.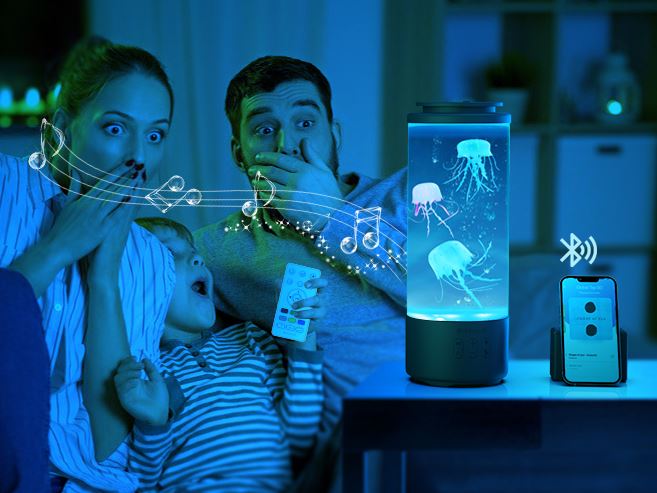 Our favorite feature, Karaoke mode, will match the music that's playing through the speaker; down to the precise beat. In fact, the built-in speaker has much better performance than one may initially expect. And since it's its own wireless speaker, you don't need to plug the lamp into an outlet. You can utilize the internal 3000 mAh capacity battery. In fact, it provides 8-10 hours of music and lighting before it needs to be recharged.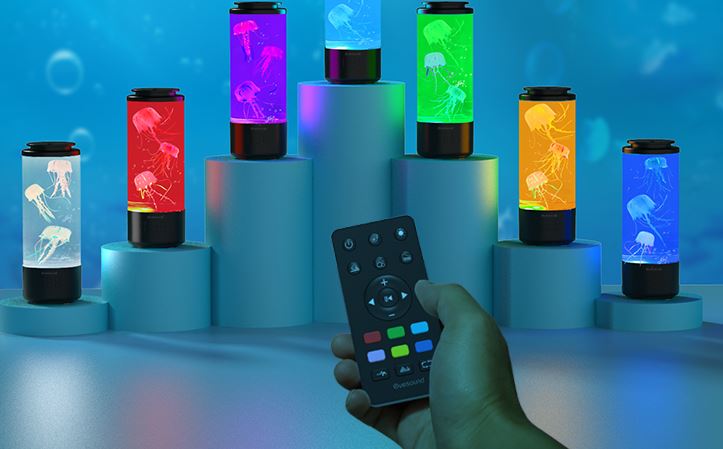 The lava lamp holds 2.2 liters of water and is completely sealed from top to bottom. Ultimately, this means you can freely move it around and even toss it upside down without any leakage. Best of all, you're able to choose from 3 water speeds. Each one will adjust the movement of the jellyfish to move either faster or slower.
What We Liked
Bluetooth speaker function sounds great.
Completely spill-proof and properly sealed.
Remote included for wireless adjustment.
Built-in battery with USB-C charging.
What We Didn't Like
When turned on, a loud voice emits.
Bluetooth speaker is placed in a poor spot.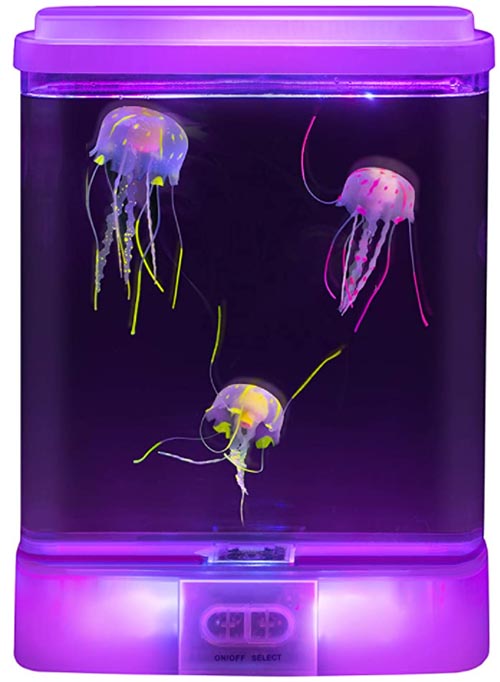 Best Runner-Up: Playlearn Illuminated Jellyfish Lamp
For our best runner-up, the Playlearn Illuminated Jellyfish Lamp is very desirable. Providing a wide assortment of color changing effects in addition to three continuously moving jellyfish, it'll provide a sensory-rich addition to any room. Measuring 8″ wide, 10.5″ tall and 3.5″ deep, this is a transparent acrylic tank that can be enjoyed and viewed from all directions.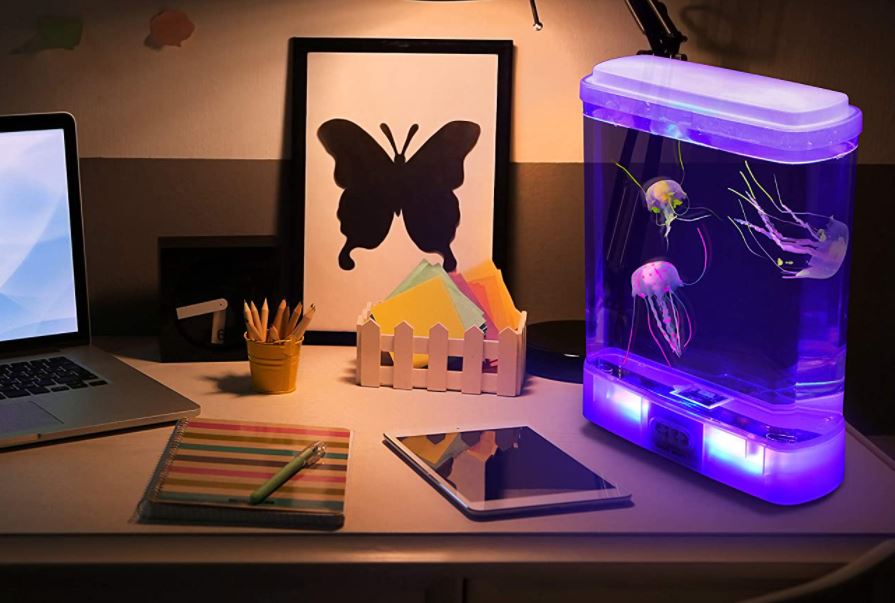 As the jellyfish swim around, you're able to hear a continuous "hum" sound that promotes calmness. All the while, the LEDs are changing colors to provide a vibrant seascape that's sure to stand out. Best of all, it's very easy to use. Simply fill the tank with water, place the faux jellyfish within and plug it in. Overall, this is a well-made, high-quality option that works exactly as expected.
What We Liked
Very well-made with a great design.
Changes colors on its own.
Automatically turns off after 4 hours.
Easy set-up.
What We Didn't Like
Minimal amount of custom settings.
Priced higher than most.
No remote.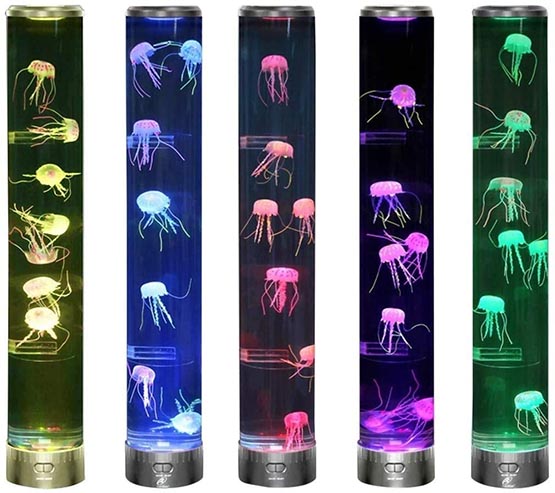 Best for Large Rooms: Lightahead LED Fantasy Jellyfish Lamp
If you have a large space to fill or simply want the tallest available, look no further than the Lightahead LED Fantasy Jellyfish Lamp. Measuring 32 inches tall, there's 7 individual jellyfish inside, paired with 5 color changing lighting effects. This gives it is a fantasy-like experience that's quite realistic at first-glance. With a 5.5 inch diameter, it boast a cylindrical design that towers almost 3 feet above the table.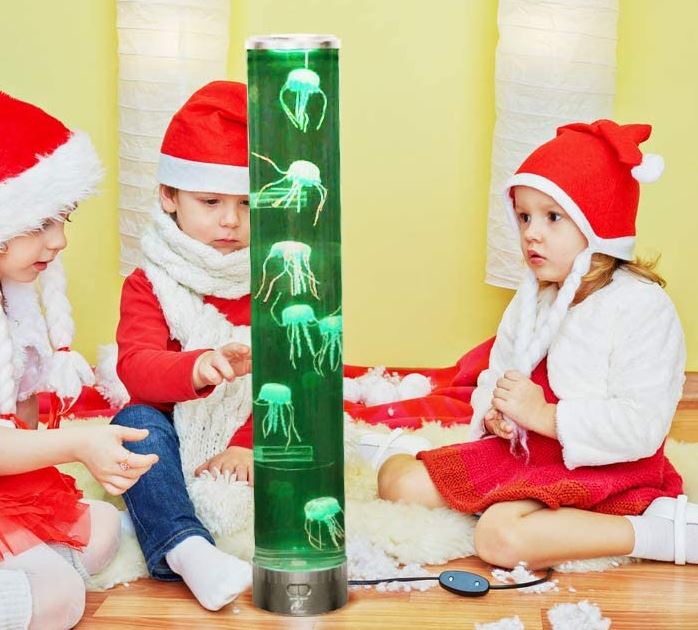 Internally, there are 18 individual LED lights; 6 red, 6 blue and 6 green. These RGB LEDs give off a variety of patterns and pulsations that make it stand out in any room. Although it needs to be plugged-in to an outlet, the size is perfect for waiting rooms, lobbies or kids rooms that need a fun flare. Regardless of the usage, this is a well-built, highly functional jellyfish lava lamp that seems even bigger in reality.
What We Liked
Extremely tall; perfect for large spaces.
7 individual jellyfish; much more than any other lamp.
Auto shut-off feature turns it off in 4 hours.
Also available in 14 inch height.
Very quiet operation.
What We Didn't Like
Somewhat top-heavy.
Minimal extra features.
A bit expensive.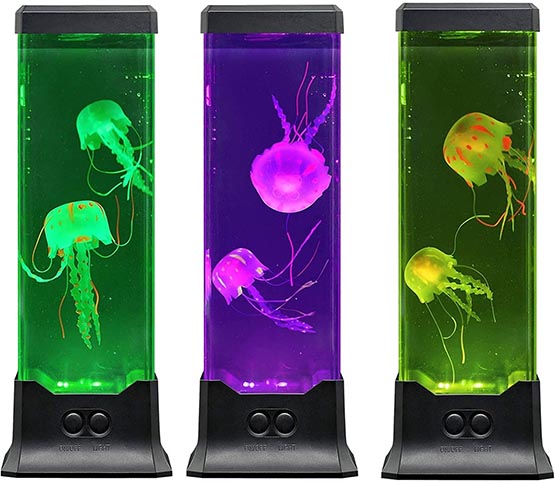 Best Budget Option: CALOVER Electric Jellyfish Tank Lamp
For those looking for a decent jellyfish lava lamp but don't want to spend much, we recommend checking out the CALOVER Electric Jellyfish Tank Lamp. Measuring 12 inches tall with a viewing area of 9.1 inches, it's compact and well-priced for those on a budget. Capable of emitting an assortment of colors, it'll cycle through a each color to create a smooth blend-like effect. Although the lighting isn't customizable, this is a simple lamp designed for ease of use.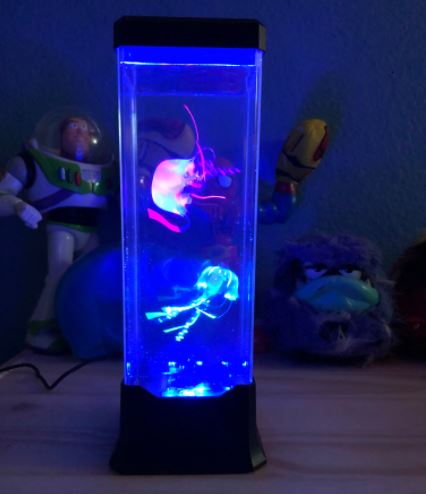 Powered by the supplied AC adapter, there's two buttons on the front panel. You can select from on/off or click the "color" button to select a variety of colors. There isn't a fancy speaker built-in or even a remote included. This is a standard, well-functioning lava lamp that's ideal for gift-giving. Available in either black or silver, it's the perfect size and shape for virtually any occasion.
What We Liked
Priced affordable.
Simple design without any complications.
Motor is incredibly quiet.
What We Didn't Like
Only contains 2 jellyfish.
No remote.
Very few functions.
Who Would Enjoy a Jellyfish Lava Lamp?
With the vibrant effects that a jellyfish lava lamp can bring to a room, virtually anyone can enjoy one. They add a sort of fantasy-like ambiance to any dull or subtle setting. Kids rooms, entry ways, and guest bedrooms are all fantastic places to put them.
They're great for professional settings, too. Offices or reception waiting rooms are an ideal place to use a jellyfish lava lamp. Although they certainly give off a bit of light, they're more purposeful as an added element to any room. One look at it and most people are mesmerized or at least somewhat captivated at the appearance of jellyfish swimming around in a tank.
Add-in some colorful, brightly lit LEDs and you've got yourself a surreal experience that's hard to match. Best of all, the jellyfish look realistic, but they're totally faux. At first glance, it may not even be noticeable. As long as you have your lava lamp setup properly, you can easily fool passerby's.
Which is the Best Jellyfish Laval Lamp?
The best jellyfish lava lamp totally depends on what you're looking for. All of the options that we listed are good picks. However, some stand out more than others.
The Eyesound Jellyfish Lava Lamp is our choice for the overall best. Not only is it completely tetherless, meaning no cords or wires to tangle with, it has its own built-in rechargeable battery. This lets you freely move it and even toss it around without worry of leakage. In addition, it powers the built-in speaker that sound surprisingly well. Best of all, the speaker can pair with your own soundtrack to play your favorite playlist while the jellyfish are swimming around.
Next, we examined the Playlearn Illuminated Jellyfish Lamp. It's larger than most, but carries a smooth, oval-like appearance that looks great from any angle. The lighting effects are a nice touch and work very well at providing a smooth blend of RGB colors throughout.
The Lightahead LED Fantasy Jellyfish Lamp was another popular choice. Its massive 32 inch height towers above anything else and is sure to make a statement. With 7 individual jellyfish and a wide range of lighting effects, it's surely a great pick. Unfortunately, it's much more expensive than anything else we've featured.
Lastly, we featured the CALOVER Electric Jellyfish Tank Lamp. Although it's one of the smallest on our list, it's also the most affordable. Ultimately, this makes it great for gifting. However, there's only 2 jellyfish inside. Overall, it still provides a nice experience and is built well with attractive lighting options.
Meet Derek, "TechGuru," a 34-year-old technology enthusiast with a deep passion for tech innovations. With extensive experience, he specializes in gaming hardware and software, and has expertise in gadgets, custom PCs, and audio.
Besides writing about tech and reviewing new products, Derek enjoys traveling, hiking, and photography. Committed to keeping up with the latest industry trends, he aims to guide readers in making informed tech decisions.