When it comes to immersive gaming, nothing elevates your experience like a dedicated joystick and HOTAS (hands-on throttle-and-stick) mount setup. Whether you're piloting a commercial airliner or commanding a starship, you need a stable, accessible, and ergonomic place for your controls. We've waded through several options to bring you our top picks. So if you've been searching for a quality mount, we've got you covered. Here's a quick snapshot of what we chose and why:
Now that you've seen our top picks, let's descend into the details. Below, we share our reviews of each mount to help you pick the best copilot for your gaming escapades.
#1. EG STARTS Universal Joystick and Hotas Mount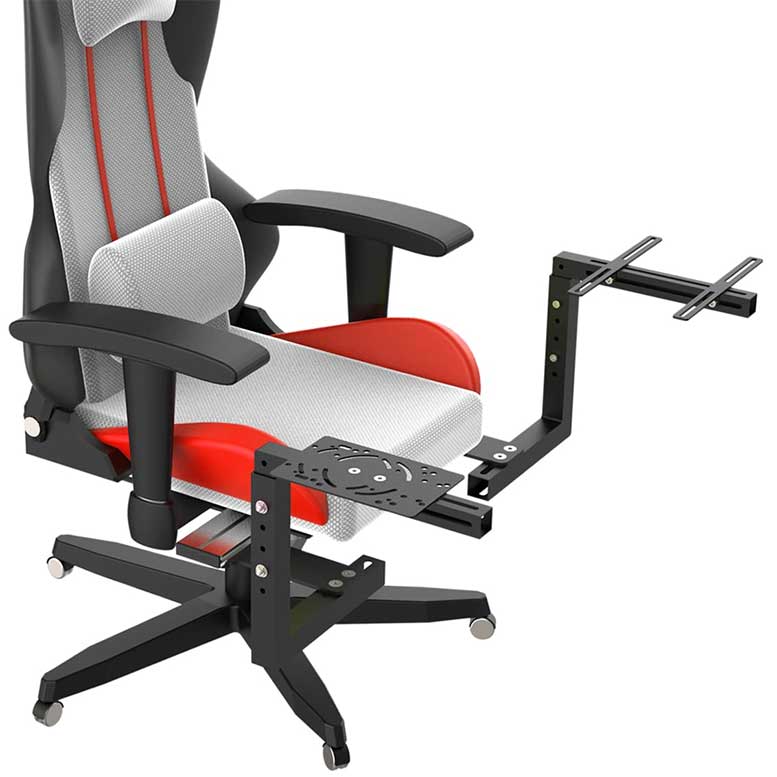 Key features:
Wide device compatibility
Heavy and strong build
Ergonomic design
Dual chair support
The EG STARTS Universal Joystick and Hotas Mount is less of a gimmick and more of a cockpit transplant for your everyday office chair. This device aims to elevate your virtual flying experience by integrating your joystick and throttle system seamlessly onto your chair. But does it deliver on its lofty promises? We fastened our seatbelts and got into pilot mode to find out. Starting with compatibility, it supports a broad spectrum of flight game hand-control devices.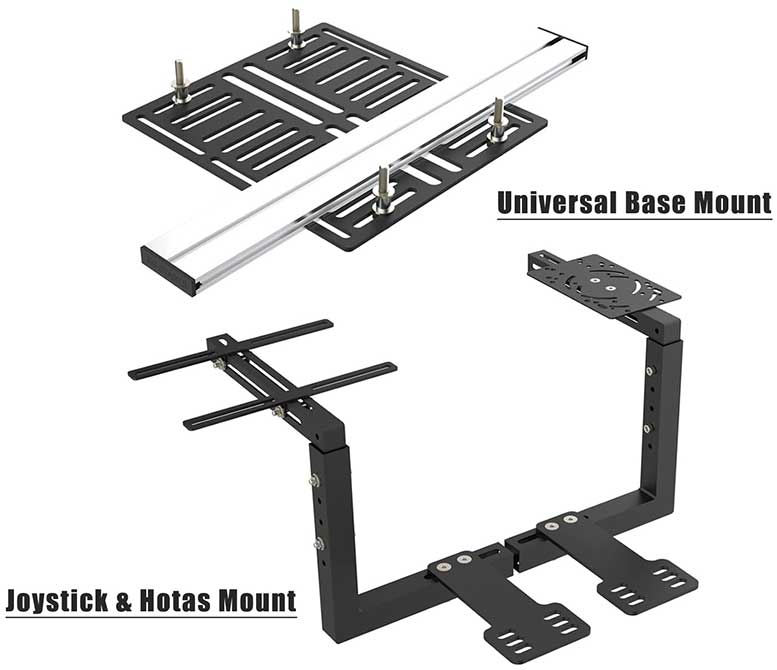 From the TCA Officer Pack Airbus to the VKB Gladiator and the T.Flight Hotas 4, the list is impressively extensive. So whether you're maneuvering an X-Wing in Star Wars: Squadrons or piloting a commercial airliner in Microsoft Flight Simulator, this device has your back. With dimensions of 19.7 x 10 x 3 inches and a weight of 15.77 pounds, it is designed to be robust.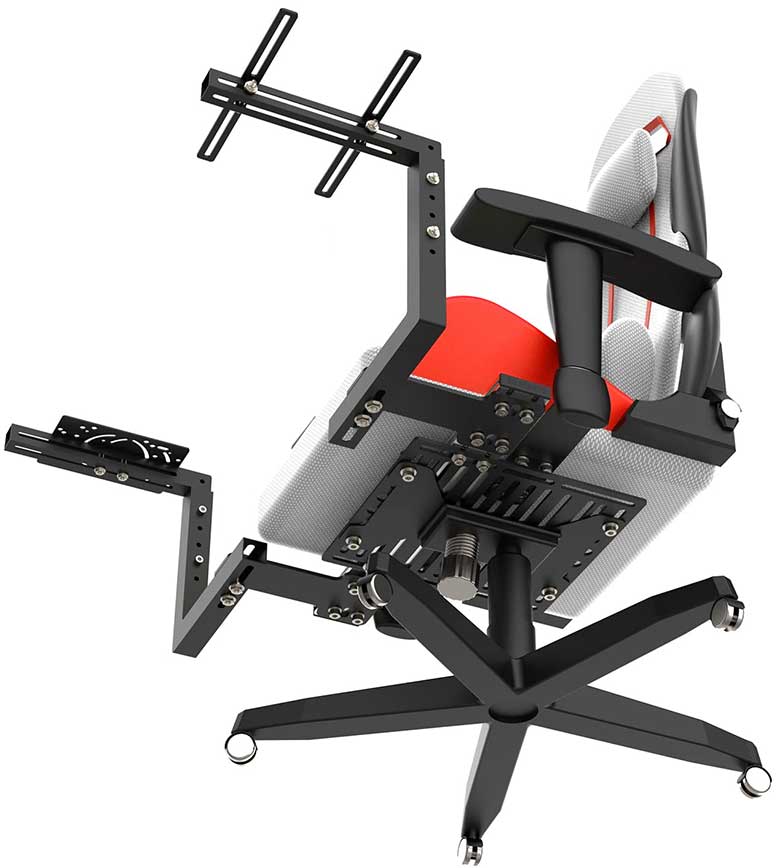 And if you're worried about it wobbling mid-flight, our testing showed minimal shaking when securely fastened. Let's face it: If you're going to pilot your way through asteroid fields or engage in dogfights, comfort is not a luxury; it's a necessity. We're happy to report that the ergonomic design allows for comfortable hand positioning, ensuring extended play without issue. In addition, installation was a breeze, so you won't have to burn precious gaming time on setup.
What we liked:
Minimal setup required
Extremely versatile
Durable material
Limited wobble
What we didn't like:
No keyboard tray
Additional hardware may be needed
#2. Unbound System Flight Sim Modular Chair Mount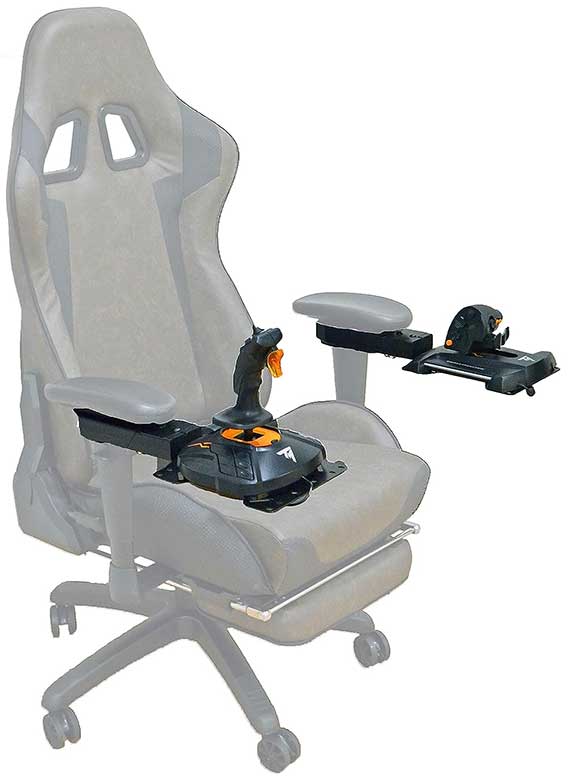 Key features:
Quick and easy installation
Compact with heavy steel construction
Patented quick-connect system
Versatile gaming setup compatibility
The Unbound System Flight Sim Modular Chair Mount by Tecicity brings innovation to the gaming world by converting an ordinary desk chair into an advanced gaming station or flight sim. This device particularly appeals to avid gamers, offering a versatile, ergonomic, and stable setup with heavy steel construction, attributed to its design by a Navy Pilot.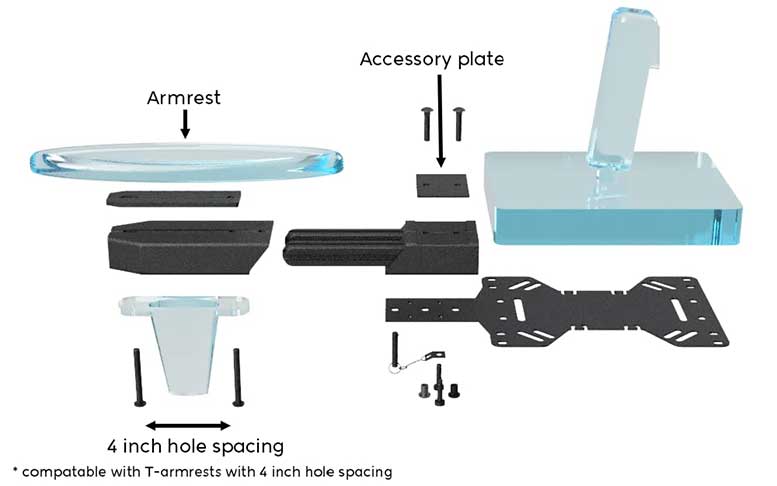 Upon testing, installation was quite straightforward and consumed minimal time, enhancing user convenience. It mounts to standard desk chairs with T-Armrests and 4-inch hole spacing seamlessly. With dimensions of 18.2 x 2.75 x 1.3 inches and a weight of 6.22 pounds, it is compact and lightweight, leaving a small footprint but making a large impact. So if you're short on space, this may very well be the system for you. It's certainly not the smallest option out there, but if you want superb quality, this one's definitely worth checking out.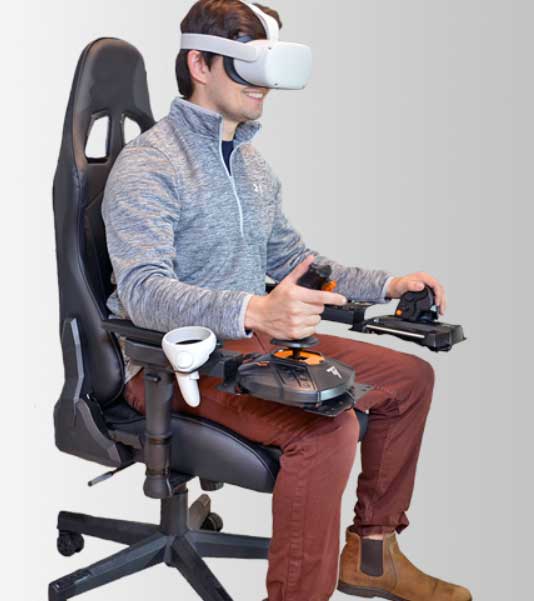 As for user-friendliness and convenience, the patented quick-connect system stood out during our evaluation. This clever function facilitates swift transitions between systems, saving space over traditional solutions. That means you can easily store it away when not in use. And as for what's included, the box contains all necessary hardware and tools required for installation, including two quick-connect receivers and connectors, universal mounting plates, a joystick mounting plate, and six 5mm spacers. Bottom line: you get everything you need to get mounted.
What we liked:
Efficient space saver
Ergonomic and reduces fatigue
Enhances gaming precision
Universal plates secure multiple setups
What we didn't like:
Not compatible with all chairs
Limited to chairs with specific armrests
#3. RACGTING Hotas Mount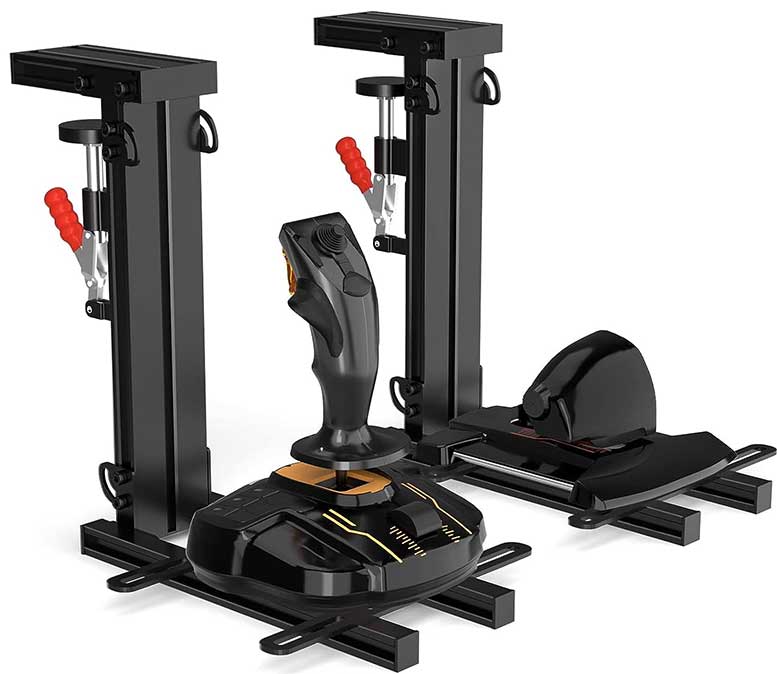 Key features:
Exceptional compatibility
Five-minute assembly
Aluminum push-pull clamps
Quick folding design
The world of flight simulators and space exploration games can be captivating, but if your joystick and throttle setup keeps sliding off your desk, the illusion shatters pretty quickly. Introducing the RACGTING Hotas Mount, a product that aims to keep your gaming gear stable and versatile. One of its biggest draws is its compatibility with a range of popular flight stick and throttle brands like Logitech, VKB Gladiator, and Thrustmaster.
Constructed from durable aluminum, the unit boasts push-pull fast clamps that provide a robust clamping force, effortlessly securing to table edges between 0.2 and 5.7 inches wide. In terms of durability, we found that it held up well under the 7.78-pound weight of our full setup. Measuring 13.54 x 8.58 x 4.96 inches, it provides a compact but solid base for your gaming gear. The RACGTING offers one more feature we can't help but applaud: quick disassembly for easy storage.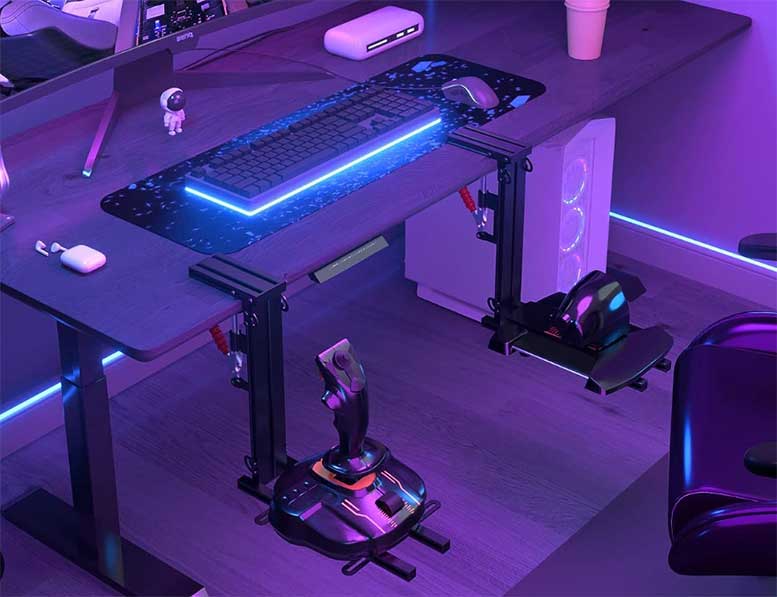 Now, reclaiming your desk space is as hassle-free as unclipping a seatbelt. The RACGTING Hotas Mount checks quite a few boxes: easy assembly, robust build quality, and exceptional compatibility. However, those with larger hands may find the hex nuts a bit finicky, but that's a minor gripe in an otherwise sound product. It's certainly a product that's built to last, offers great versatility, and serves its purpose with flying colors.
What we liked:
Broad brand compatibility
Hassle-free setup
Compact yet sturdy
Swift disassembly
What we didn't like:
Finicky hex nuts
Tedious initial setup
#4. Hikig 'The Desk Mount'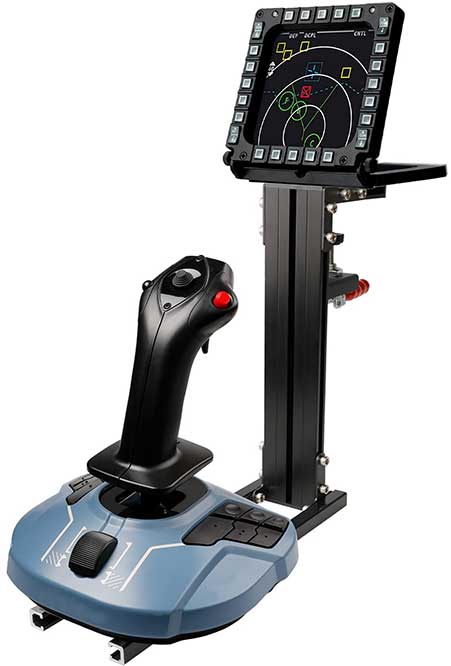 Key features:
Excellent stability for equipment
Compatible with many devices
Easy and adjustable installation
Enhances gaming immersion
The Hikig Desk Mount provides an excellent, stable platform for flight simulation gaming equipment like joysticks, throttles, and HOTAS systems. It offers great compatibility with a range of flight game hand-control devices, making it a versatile choice for avid gamers. During our testing, installation proved to be a breeze with its 91N.m Force Clamp, making the setting up process straightforward. The mount's height and position are adjustable, allowing users to find the ideal setup for their gaming style.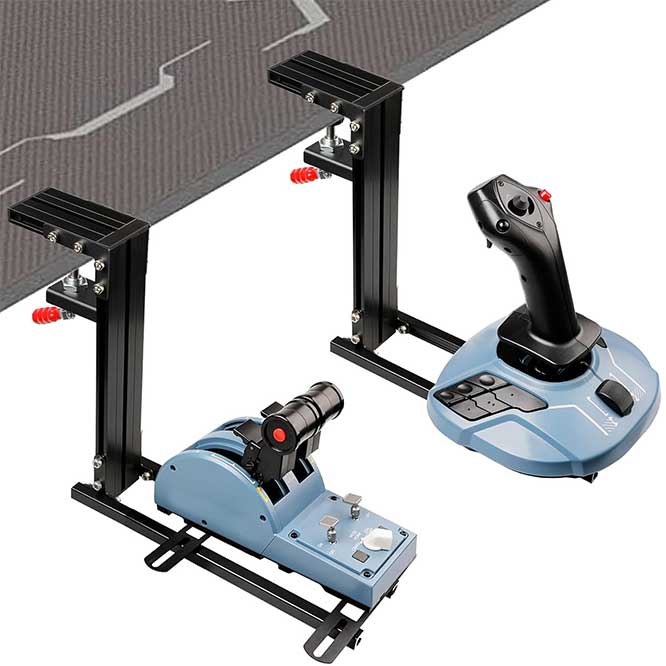 It extends from -300mm to +300mm in height and 80mm to 300mm back and forth, giving users plenty of options. Its dimensions of 14.25 x 5.43 x 2.76 inches and weight of 4.04 pounds provide substantial space to securely hold the equipment in the best position. It offers a clean and fixed environment, letting gamers focus on the game without interference from big appliances on their desks. The build of the Hikig Desk Mount is heavy and strong, ensuring stability even during intense gaming sessions.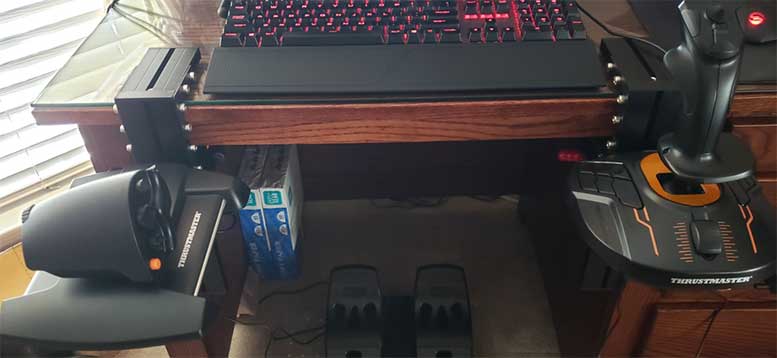 However, it's worth mentioning that the provided instructions contain only pictures with no text, which can make the setup a little intuitive at first. Additionally, we had some concerns about the long-term durability of the protective sponge that's meant to shield desks from marks. So there might be some room for improvement in future models in this area. But that's a minor gripe in the grand scheme of things. This is an overall exceptional product that's sure to provide hours of enjoyment.
What we liked:
Stable and secure mounting
Simplified installation process
Clean, fixed gaming environment
Highly adjustable to user preference
What we didn't like:
Instructions lack textual clarity
Protective sponge lacks durability
#5. J-PEIN [UPGRADED] Desk Mount for Joystick and HOTAS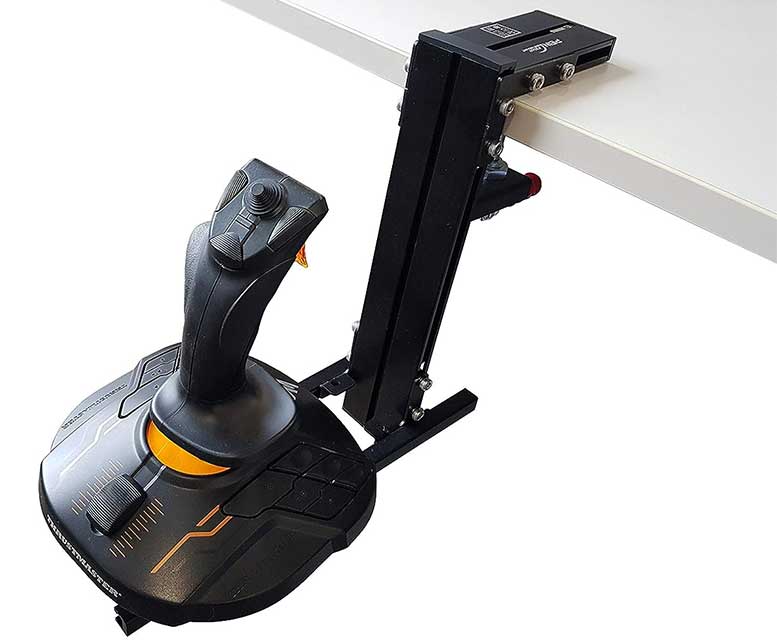 Key features:
Easy 91N force clamp installation
Universal gaming hardware compatibility
Anodized aluminum and powder-coated finish
Wide range of adjustability
So you're knee-deep in aerial dogfights or gliding through the infinite space corridors of your favorite flight simulation game. The last thing you need is for your joystick or HOTAS system to go AWOL on your desk. Enter the Upgraded Desk Mount from J-PEIN – a device designed to lock your gaming hardware into a combat-ready position. For something that boasts such robust construction, the mount is surprisingly a breeze to install.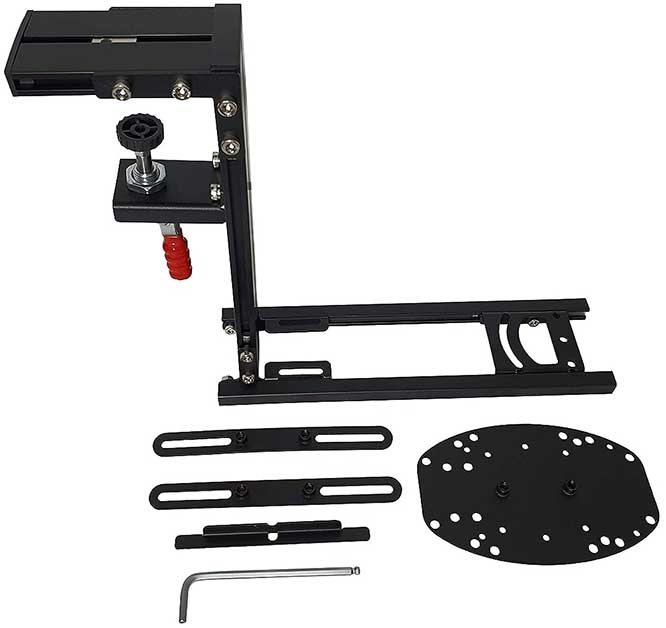 Within seconds, you'll employ a 91N force clamp to secure the unit to your desk, all without the need for an engineering degree. And let's talk compatibility – this unit offers universal compatibility with almost all models. From Thrustmaster T16000M FCS to Thrustmaster Warthog and Logitech X55/X56, the list is long. But as great as that is, it's the build quality that really sets this mount apart. J-PEIN didn't cut any corners here. What you get is a well-designed and well-built piece of hardware for your gaming adventures.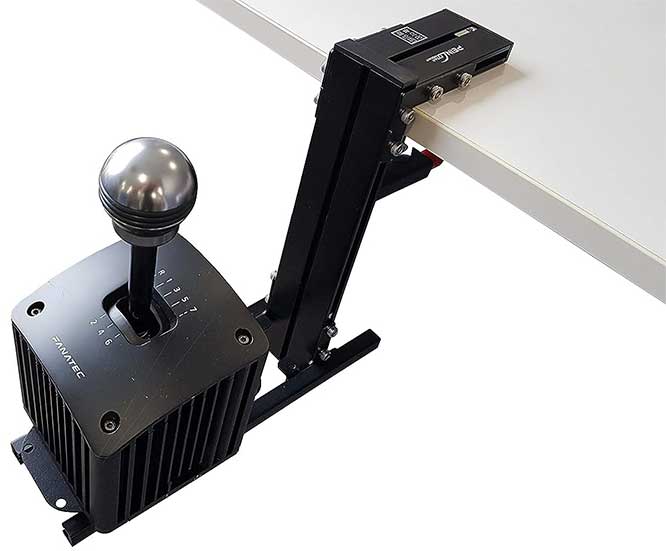 Boasting an anodized aluminum body frame and powder-coated brackets, it adds a touch of sophistication to your gaming setup without compromising on sturdiness. It weighs in at 4.03 pounds and has dimensions of 13.43 x 4.84 x 2.09 inches, ensuring it won't commandeer your entire desk. Adjustability is on point here, as well. The mount allows for a movement range of -30 degrees to +30 degrees, giving you plenty of leeway to find that sweet spot.
What we liked:
Quick and painless setup
Highly adaptable to multiple devices
Offers an ergonomic gaming experience
Long-lasting build quality
What we didn't like:
May slightly misalign some models
Plastic end caps can be brittle
Joystick & HOTAS Mounts FAQs
Do I need special tools for installation?
The straightforward answer is: it largely depends on the model of the mount you choose. Many of these mounts are designed to be user-friendly, coming with their own set of screws, brackets, and even an Allen wrench. Yes, manufacturers are often that considerate. However, the last thing you want is to unbox your shiny new mount and realize you're short of a crucial piece of hardware. So if available, check out the PDF manual to see what you need beforehand.
Is compatibility an issue?
While you might assume that one size fits all, this is rarely the case. Each mount is designed to cater to specific joystick and throttle systems. To avoid getting burned, always consult the product specifications and compatibility list. You can typically find this in the product listing or on the manufacturer's website. A few extra minutes of research can save you from a mismatch headache later on.
How much space do these mounts take up?
These mounts come in all shapes and sizes. Before you buy, you want to take stock of your available space: length, width, and height. Then cross-reference those measurements with the dimensions provided by the manufacturer. If you don't measure up, you might find yourself grappling with an unruly mount that's eating up too much of your precious space.
Final Verdict
Throughout our rigorous evaluation, each joystick and HOTAS mount we reviewed came with its own set of admirable qualities. The EG STARTS Universal Joystick and Hotas Mount lived up to its name, offering universal compatibility for a multitude of devices. On the other hand, the Unbound System Flight Sim Modular Chair Mount caught our attention with its straightforward installation process, making it a go-to choice for those less mechanically inclined.
The RACGTING Hotas Mount earned points for its quick folding design – ideal for those who need to frequently reclaim their desk space. Meanwhile, Hikig's 'The Desk Mount' demonstrated an exceptional level of stability and adjustability. And lastly, J-PEIN's Desk Mount stood out for its universal compatibility and long-lasting build quality, making it a worthy investment for dedicated gamers. In the end, each mount has its merits and could potentially be the perfect match, depending on your specific needs and gaming setup.
Meet Derek, "TechGuru," a 34-year-old technology enthusiast with a deep passion for tech innovations. With extensive experience, he specializes in gaming hardware and software, and has expertise in gadgets, custom PCs, and audio.
Besides writing about tech and reviewing new products, Derek enjoys traveling, hiking, and photography. Committed to keeping up with the latest industry trends, he aims to guide readers in making informed tech decisions.