For those who want to build their own PC or have to replace components in the one they already have, it can seem like a daunting task. There are tons of steps, parts, and more that you have to know in order to have a fully functioning machine when you're done. If this sounds like you, there's one specific part that's super important to remember; a quality CPU cooler. There are lots of choices. However, one style we really like is a low-profile CPU cooler.
A low profile CPU cooler is one that has been designed and created to be as small and narrow as it can possibly be. This helps to maximize the amount of leftover space within your case. They're also great for those building within a compact case. When choosing the right one for you, take a few different key features into consideration.
Design and Aesthetics
The design of each cooler will vary, mainly in how big they are and what they look like. If you're a gamer, you may want something extremely flashy. If you're more of a minimalist, there are options for you too. Take a look at the different options and pick the style that best fits the computer you have or are building.
Construction Quality
A good fan needs to be built well. Premium materials will help them last a long time. You'll also need to pay attention to their dimensions in order to see how they'll fit within your case and on your CPU. Not all coolers will fit all CPUs, so that's especially crucial.
Power and Cooling Effectiveness
Arguably the most important part of a CPU fan is how well it can actually cool your CPU. Different fans have different fan speeds and overall cooling designs in order to reduce temperatures as much as possible.
Noise Level
If you've ever had a computer with fans, you know they can get noisy. This is no different for CPU coolers, as they can be noisy, while others are designed with silence in mind. Make sure to see what the standard decibel levels are before making your choice.
Best Overall: Noctua NH-L12S, Premium Low Profile CPU Cooler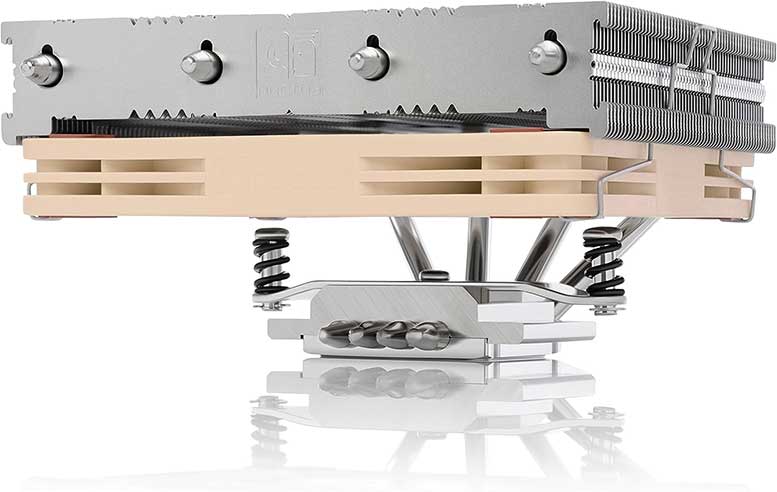 Key Features:
Traditional Noctua Look
1850 RPM Fan
23.9 Decibels
In the world of low profile CPU coolers, the best overall is the Noctua NH-L12S. This cooler has a premium look with the brown and beige colors you'd expect to see from Noctua. Additionally, there are silver heatsink pipes throughout that elevate its look.
This is a really well built cooler. The base and heat pipes are each made from copper, while the cooling fins are aluminum. Everything has been plated in nickel, and the fan itself is a durable plastic. All of this combined makes a sturdy cooler.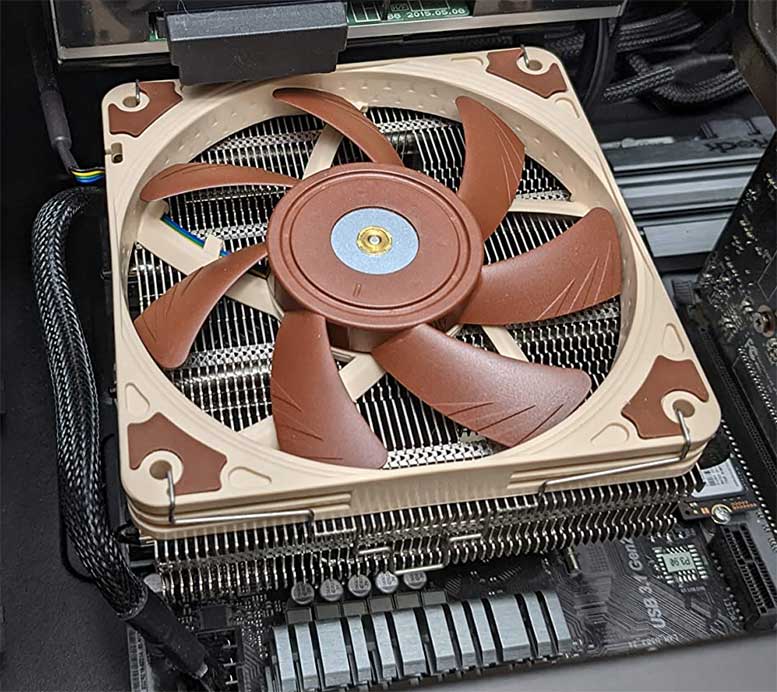 The fan can operate at speeds up to 1850 RPM to move a bunch of air. This gets combined with the aluminum fins, base, and heat pipes in order to cool your CPU extremely well. Overheating shouldn't be an issue with this cooler.
Another important feature is the noise level it creates. Fans can get noisy. However, this one operates at 23.9 decibels. This is about the same as a whisper, so you likely won't easily hear it while it's on.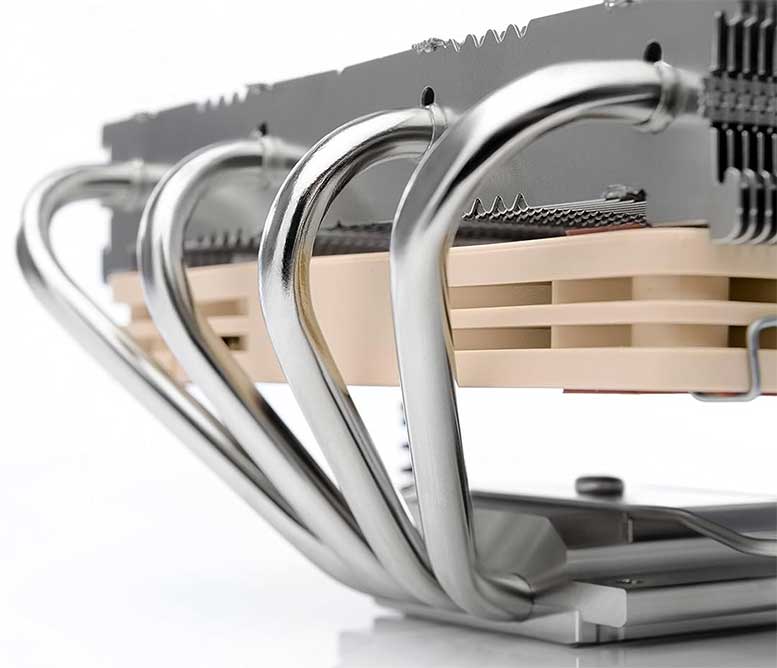 Using the SecuFirm2 multi-socket mounting system, the Noctua NH-L12S can be used on a variety of AMD and Intel CPUs. For intel, you can use it on LGA2066, LGA2011-0, LGA2011-3, LGA1700, LGA1200, and LGA115x (LGA1150, LGA1151, LGA1155, LGA1156). As for AMD, it can go on either AM4 or AM5 chips.
Pros:
Premium build quality
Powerful fan
Works on Intel and AMD
Cons:
Be careful when installing, as you may bend the heat pipes accidentally
Best Runner-Up: Noctua Chromax Black Low Profile CPU Cooler (NH-L9a or NH-L9i)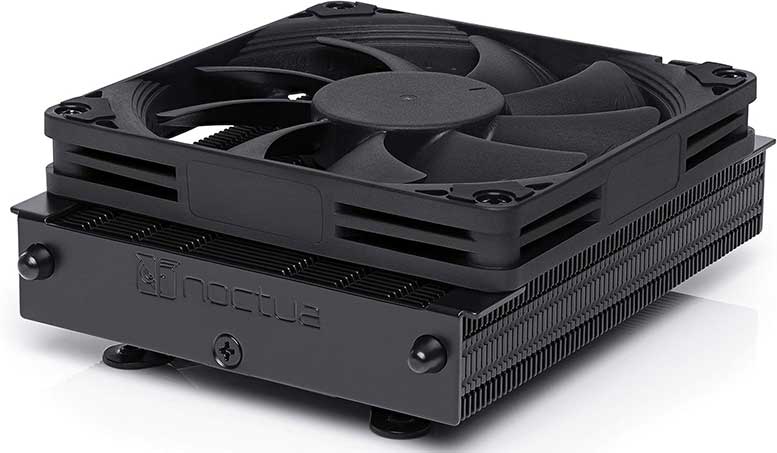 Key Features:
Black Colorway
2500 RPM Fan Speed
23.6 Decibel Noise Level
The best runner-up choice also comes from Noctua, with the Noctua Chromax Black Low Profile CPU Cooler. This cooler is available in an all-black colorway, which blends it into your setup well, along with the low profile design. This is a bit surprising from Noctua, as they're usually known for their regular colorway, like the one found on the NH-L12S.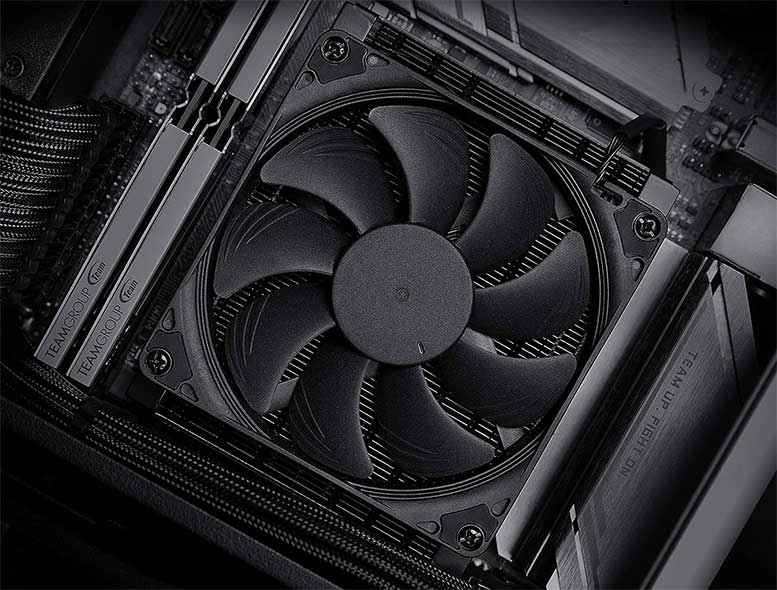 Construction quality isn't an issue on this cooler. The fan is made from a durable plastic. The main base is made from copper, and the cooling fins are made from aluminum. One feature this cooler is lacking is heat pipes. However, everything that is included is premium.
The fan on this cooler rests directly on top of the cooling fins. When operating, it can reach fan speeds of up to 2500 RPM. This is slightly higher than the NH-L12S and should provide a great cooling experience as well.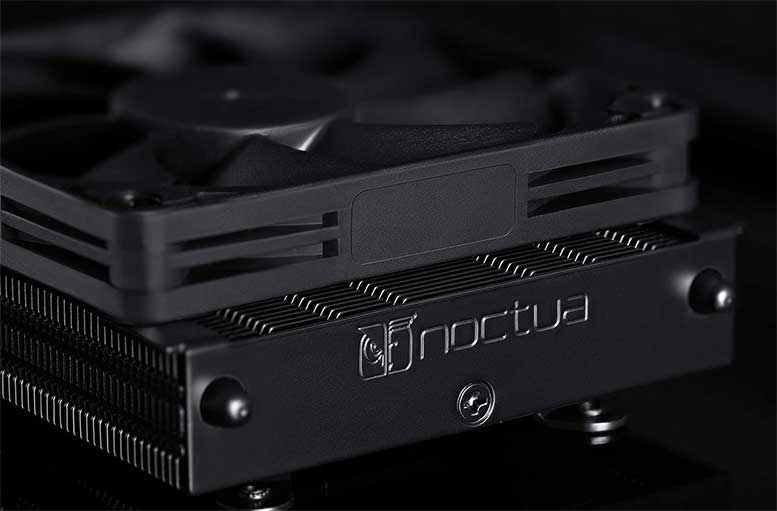 While the Noctua Chromax is in use, you can expect a noise level of 23.6 decibels. Compared to the other Noctua option, it's slightly quieter but will still be about the same as a whisper. One thing to note is that this cooler is available in two different models. One is created for AMD AM4 CPU chipsets, while the other is made for Intel LGA1200 and LGA115x chipsets. Make sure you do your research and purchase the correct cooler to go along with whichever CPU you're using.
Pros:
Two models available
The black color makes it blend in well
Premium construction all around
Cons:
Some reviewers note it can be difficult to install correctly
Best RGB: ID-COOLING IS-55 ARGB Low Profile CPU Cooler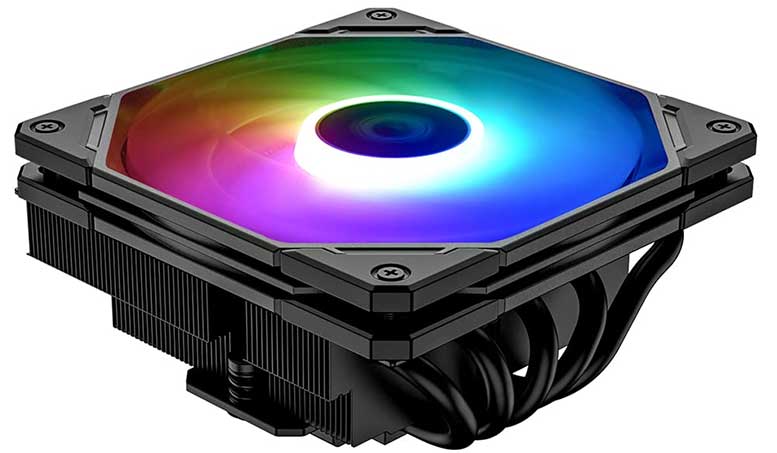 Key Features:
RGB Lighting
2500 RPM Fan Speed
42 Decibel Noise Level
One of the main things gamers everywhere care about is RGB in their computers. If that sounds like you, then the ID-COOLING IS-55 ARGB Low Profile CPU Cooler may be for you. This cooler is available in either black or white, with an RGB fan on top. The RGB can be customized with many of the main RGB customization software options on the market, like AURA Sync. However, if you prefer not to have RGB in your setup, there's a version of this cooler without it as well.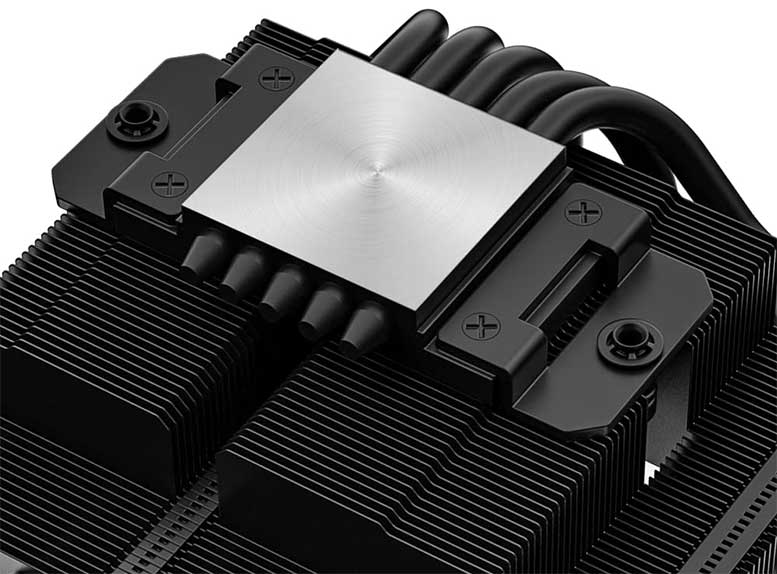 This is a well built cooler. The fan is a high quality plastic. The base of the cooler is made out of copper, while the cooling fins and heat pipes are made out of high quality metal. Overall, you shouldn't have any issues with the cooler breaking.
The copper base is designed specifically to pull heat away from the CPU as quickly as it's created. This pairs well with the fan, as it can be set to operate between 500 and 2500 RPM to move air. These features make it a great choice to keep your CPU from overheating while playing your favorite games.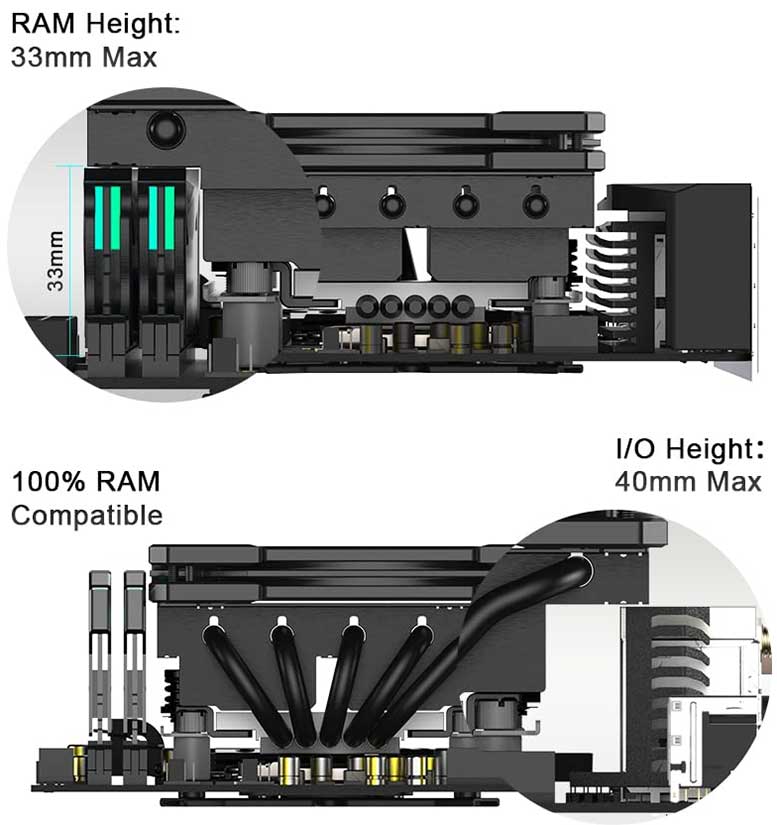 As for noise level, the ID-COOLING is a bit noisier than the options from Noctua. At full RPM, this cooler will create 42 decibels of noise. For reference, this is about the same as you'd find in a quiet library, so it's still not that bad. This cooler is also compatible with a variety of AMD and Intel CPU chipsets. For Intel, it will work with LGA1700, 1200, 1151, 1150, 1155, 1156. On AMD, it will work with either AM4 or AM5.
Pros:
Works with modern Intel and AMD CPUs
Addressable RGB fan
Up to 2500 RPM fan speed
Cons:
It's noisy compared to other options out there
Best Alternative: DeepCool AN600 Low Profile CPU Cooler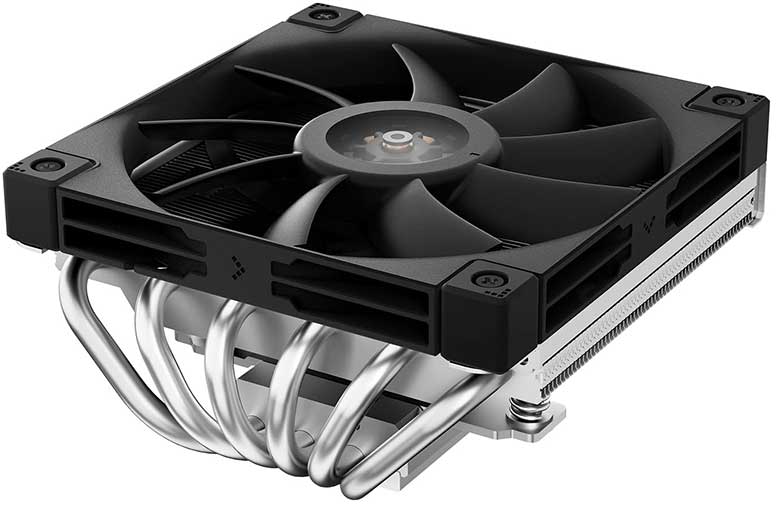 Key Features:
Black and Silver Aesthetic
1850 RPM Fan Speed
24.4 Decibel Noise Level
If you want a great alternative, then the DeepCool AN600 Low Profile CPU Cooler is a great option. It has a really sleek and classy look, with silver metal components and a black fan on top. This makes it easy to put in your computer and have it blend in no matter what your design is. However, if you like RGB, this won't be the option for you.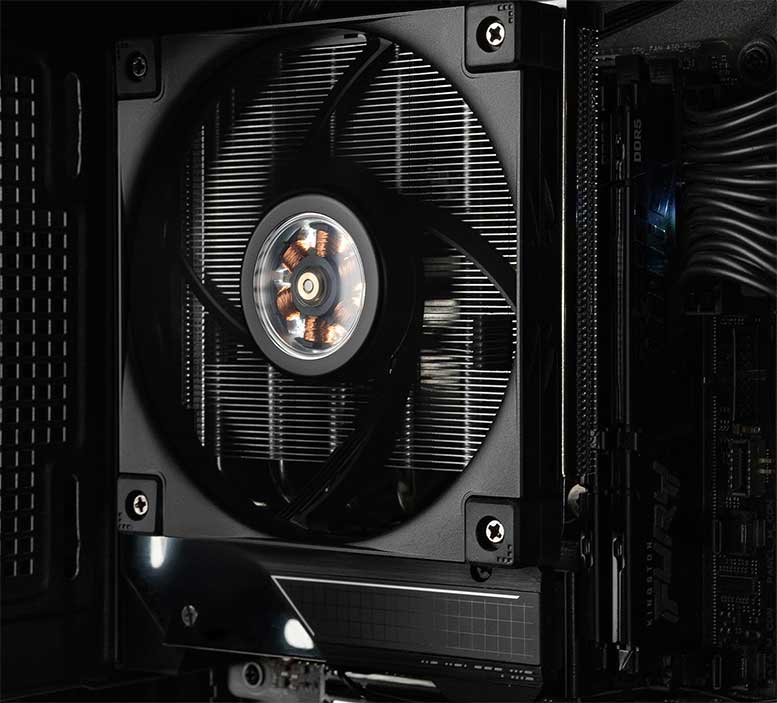 The fan itself is made out of PBT plastic to ensure maximum durability while in use. The base, six heat pipes, and cooling fins are made out of a mix of aluminum and copper to help with heat dissipation and durability. Overall, DeepCool made a great cooler that won't break easily during installation or while operating.
The fan on top has six different speed options, ranging from 500 to 1850 RPM. This gives you a lot of flexibility for how much cooling you want to provide. Additionally, the base, cooling fins, and heat pipes do a great job of pulling heat off the CPU and moving it away from it. One really cool feature of this cooler is the overhang design it has. Depending on how you position it, this allows you to cool your RAM as well as your CPU with one device, further improving the performance of your computer.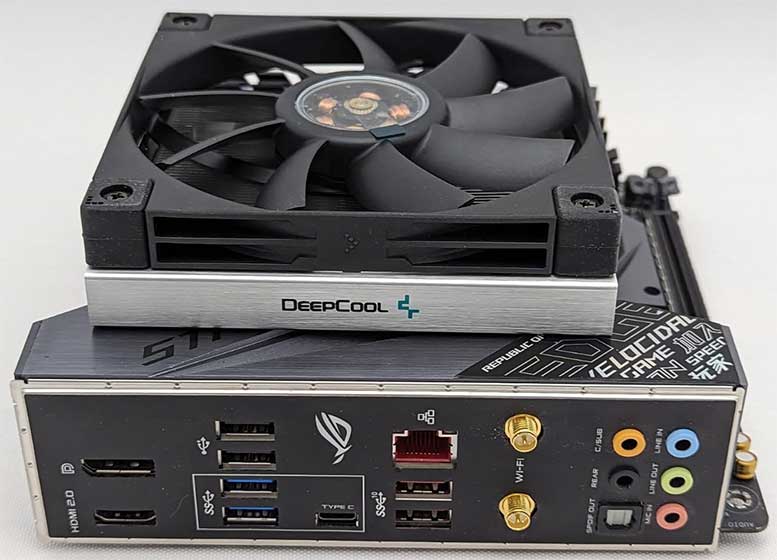 As for noise level, the DeepCool is a quiet cooler. It reaches a maximum of 24.4 decibels while operating, putting it right in line with the coolers from Noctua. As for CPU compatibility, you can use this cooler with both Intel and AMD. For Intel, it will work with LGA1700, 1200, and 115X. With AMD, you can expect it to work with either AM4 or AM5.
Pros:
Compatible with Intel and AMD easily
It can cool your RAM and CPU
6-speed fan
Cons:
The top speed of the fan isn't as high as others available
Best Budget: Thermalright AXP90 X47 Low Profile CPU Cooler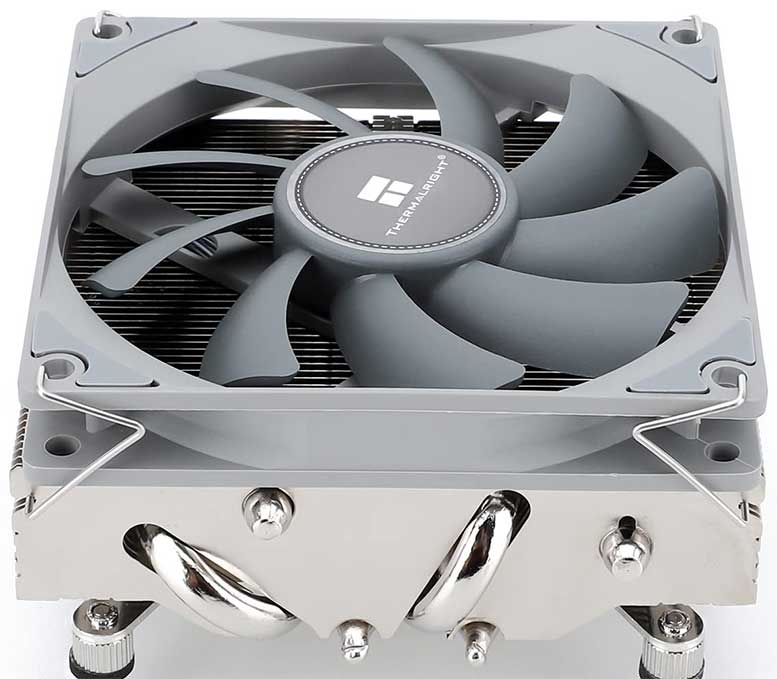 Key Features:
White Colorway
2700 RPM Fan
22.4 Decibel Noise Levels
We get it; building and upgrading PCs can get expensive. However, it doesn't have to, especially with a great budget option like the Thermalright AXP90 X47 Low Profile CPU Cooler. This cooler is available in a nice colorway that will either blend in well or make a clean and sleek statement in your computer. There is no lighting included with it.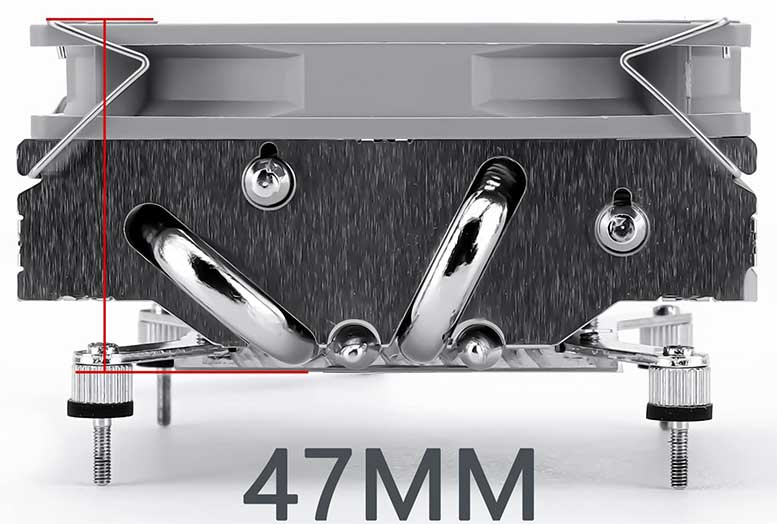 The fan on top is made out of plastic, with the rest of the cooler being a mix of aluminum, copper, and silicone. Everything used is compact and high quality. This means that even though it's a budget cooler, it shouldn't give you any problems with the quality.
As for cooling effectiveness, it starts out great with a powerful fan. It can achieve a maximum speed of 2700 RPM, which is actually the most powerful option on this list. This is then paired with a metal baseplate, compact heat pipes, and cooling fins. All of this works together to pull hot air off of your CPU and keep it as cool as it possibly can.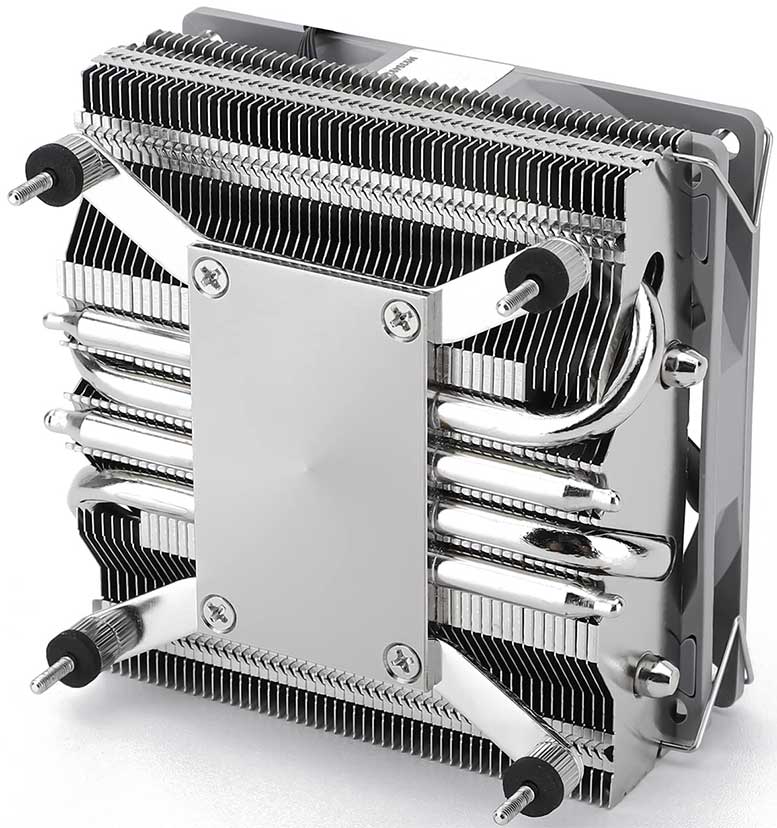 For noise level, you can expect an operating level of 22.4 decibels. This is also one of the lowest noise levels on the list, so it won't be easy to hear it while it's doing its job. It's also competitive when it comes to CPU compatibility, as it can work with both AMD and Intel. For Intel, it will work with chips in the 1150, 1151, 1200, and 1700 series. As for AMD, you can use it on either AM4 or AM5.
Pros:
The cheapest option on the list
Super powerful fan
Whisper quiet operation sound level
Cons:
Installation can be a bit of a pain