Stock coolers are awful. Everyone knows it, and the reason why is simple. The people who make CPUs care about making CPUs, not coolers. The exact same thing is true of GPUs, which is why virtually everyone buys their NVIDIA-based products from a brand like EVGA or GIGABYTE. People want superior aftermarket cooling solutions.
Noticing that consumers weren't happy with their basic CPU coolers, AMD and Intel had opposite reactions. AMD has responded by trying to slightly improve their CPU coolers. And the new coolers on Ryzen processors are certainly a step above the junk coolers that AMD used to ship.
Intel, on the other hand, decided to stop shipping coolers entirely. Seeing how many of their stock coolers were ending up in the trash, many Intel chips now require you get your own aftermarket cooler to even use the chip! For many people, even if you have a pretty decent stock cooler, or a nice cooler left over from a previous build, it might not help you.
That's because any regular sized stock cooler isn't going to be able to fit into a smaller form factor case. And those smaller cases are an increasingly common trend for home PCs. For a small case, what you need are PC components built specifically with a low profile design. That's true from your RAM and GPU, to your CPU cooler.
Choosing a Low Profile CPU Cooler
With CPU coolers, you basically get exactly what you pay for. That means choosing the right one is largely about understanding the amount of cooling appropriate for your investment. However, you'll want to know that AMD coolers and Intel coolers aren't necessarily compatible.
That's because AMD coolers have a heat spreader that's slightly convex, while Intel coolers are slightly concave. This physical difference in build ensures different mounting kits are necessary, only both types of mounting kits are not always provided by the manufacturer.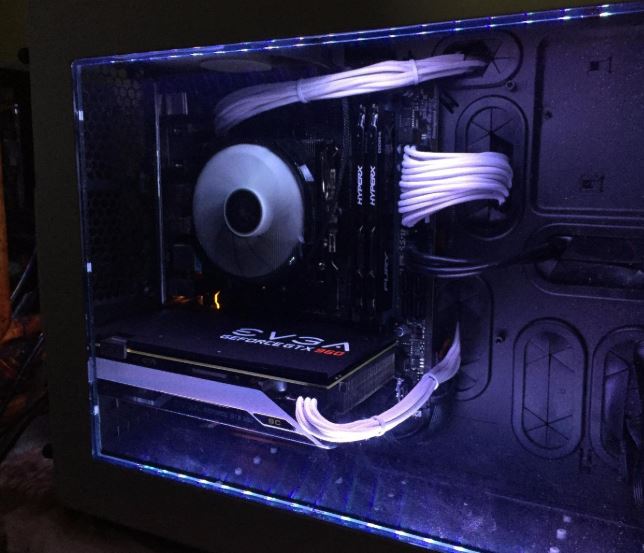 Fitting In Your Case
The most important thing to get out of the way are space requirements. This doesn't simply mean asking if you can physically fit the cooler within your case. More than that, you want to think about the range of space you have around the CPU socket of your motherboard.
This will help determine whether or not the cooler will interfere with the placement of other critical components in your build. And physically colliding with other components isn't the only way you can make your life difficult. You don't want access to other connectors or cables to be blocked in the process of installing your cooler.
Apart from the area around your CPU socket, you'll want to know about the basic dimensions of the cooler. Just because a CPU cooler is low profile doesn't mean it will fit in your case. There's actually a fairly wide range of different size equipment, some exceptionally small, and others a tad larger. Generally speaking, you want to go as big as you can with your CPU coolers. Bigger coolers move more air and produce less noise, provided you can squeeze them in your case.
Price Point
You can think of a CPU cooler as doing two things. The first thing is that it helps prevent your performance from throttling due to heat, which is mostly a concern for people who are pushing their system to its limits. Consequently, one of the most important factors to consider in deciding your CPU cooler is whether or not you intend to overclock your system.
The second thing a CPU cooler does is act as a sort of insurance policy for your CPU. Statistically speaking, components run at cooler temperatures will last longer. This is important because of Moore's law basically came to an end in 2011. The pace at which CPU technology is advancing has crawled to a halt. And consequently, the practical lifespan you can expect from a processor has increased. Many people can now expect to get 7-8 years of reliable performance out of their CPU.
So if you've invested in a $350 top-shelf CPU, then it makes sense to protect your investment with an equally matched cooler. That doesn't mean you need the same cooler as an overclocking user would use, but you'd certainly want something more than the basics.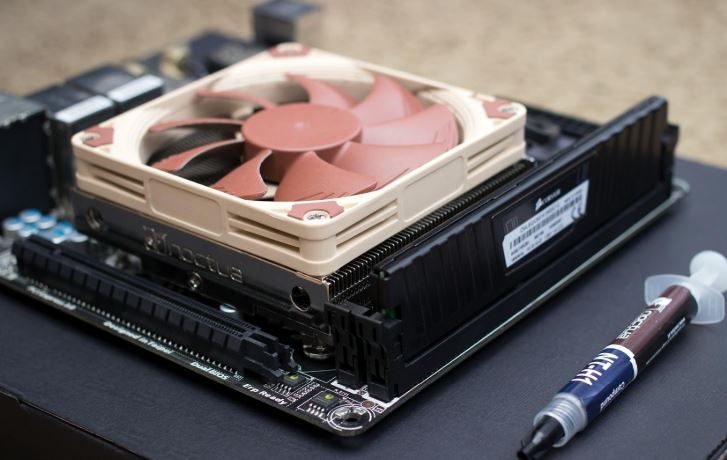 TDP
One more thing should affect your consideration is the heat output of the CPU you have. Some CPUs run hotter than others. This is rated as thermal design power, or TDP. For example, Intel's i7 8700k has a reputation for running a little hot. You'd want to pair a 95W TDP chip like that with a cooler equipped to take on at least as much heat.
Pin Connectors
A 3-pin fan cannot have its speed modulated by the motherboard or any software programs. The most you can do to control a 3-pin fan is through a separate fan controller. With a 4-pin fan, the 4th pin is responsible for communicating speed information to the motherboard.
That fourth pin means you can directly configure and control these fans with relative ease. You'll need to make sure your motherboard has 4-pin fan headers, though. While 3-pin fans can be placed on 4-pin headers, it doesn't work the other way around.
Aesthetics & Noise
Finally, aesthetics may matter to you. Some coolers are ugly, some aren't. If you're using a low profile case, odds are you're not deeply invested in aesthetics. There simply isn't enough room to cram a bunch of LEDs into small cases. But nevertheless, it's something to think about.
And of course, fans make noise. If you're using a smaller case, you might me making a media machine for your home theater. That being the case, the last thing you want is your PC to sound like a vacuum cleaner. But smaller fans tend to be the noisiest, especially if they're spinning quickly. Noise ratings are sometimes provided by the manufacturer, but often you're left at the mercy of consumer reviews for concerns like those.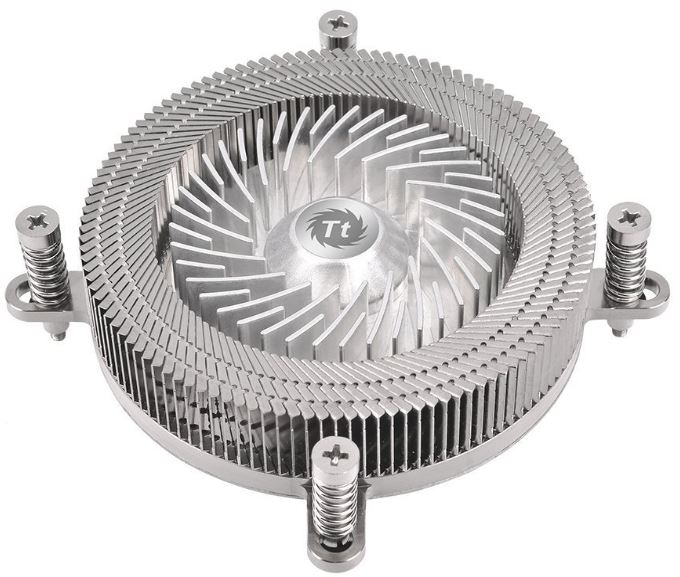 Thermaltake Engine 27
There are many ways to make a cooler, and the Thermaltake Engine 27 is clearly one of the more unique ways to do so. It uses a highly innovative design, combining the fan and heatsink elements into one component, which is called a radial fin arrangement. These radial fins spin around as though they were a fan. You don't have to be an engineer to be slightly impressed while watching the Engine 27 at work.

Build & Design
The Thermaltake Engine 27 sits at 3.6 x 1.0 x 3.6-inches, weighing just under a pound. It's built to support Intel LGA 105X sockets, and manage heat dissipation for up to 70W Intel CPUs. The incredibly low 27mm height of this cooler, as reflected in its name, helps makes this CPU cooler fit within virtually any small case. And like you should expect from any modern fans, the Thermaltake Engine27 has PWM control to keep fan operation silent when you need.
On the bottom of the Engine 27 you'll find a smooth copper base. On top, the fan is a compact 60mm design, composed of forty fan blades to help dissipate heat rapidly. That's because the blades themselves are charged with thermal energy!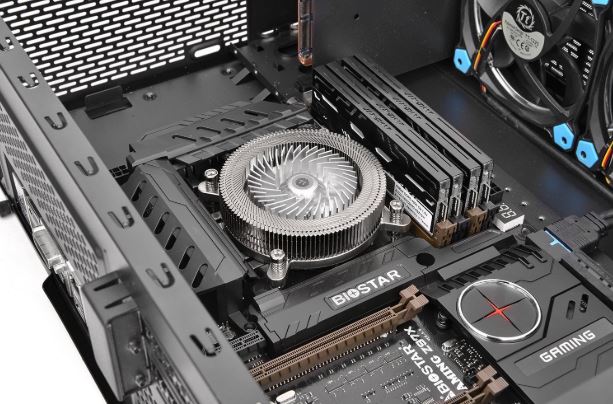 Other Considerations
Under normal circumstances, 60mm fans would howl like crazy, making plenty of noise. But their metallic construction reduces blade noise and vibration since hot air being pushed away from the blades, creating a small vacuum around each blade, and drawing in fresh air from the heatsink. This pushes down noise towards as little as 13db, virtually silent operation.
This CPU cooler is also compatible with a 1U computer chassis.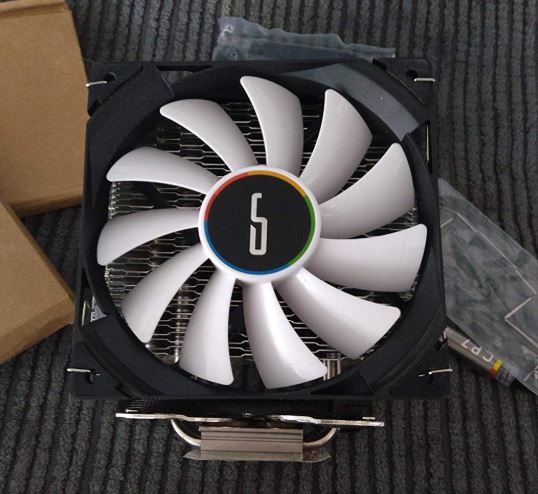 Cryorig C7
The Cryorig C7 is all about the basics. Its distinctly low profile 47mm design makes it ideal for any variety of small form factor cases. Its base is composed of copper, which is a great replacement for the cheap aluminum so often shipped with processors.
Moreover, the C7 offers a modern PWM controlled structure for fan speeds ranging between 600 and 2500 RPM. Cryorig claims their cooler performs about 25% better than the heatsinks provided by stock coolers, and that's actually pretty easy to believe.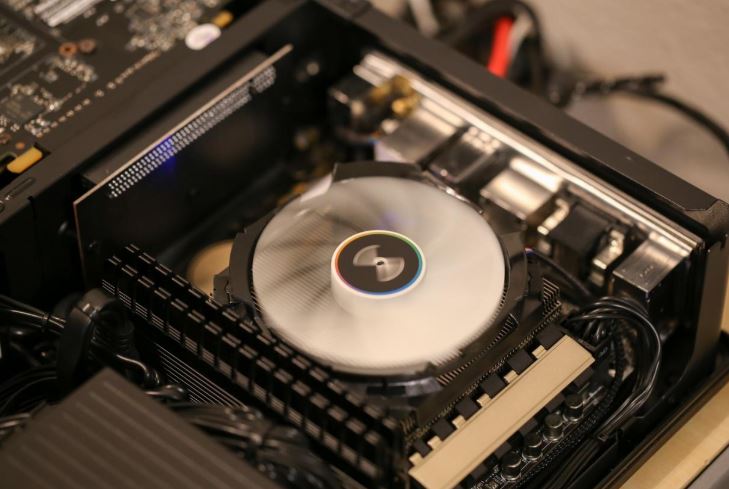 Build & Design
The Cryorig C7 sits at 3.9 x 2.0 x 0.8-inches, and the diameter if the fan is a fairly large 92mm. From a design perspective, having placed the fan on top of the cooler makes it quite easy to remove, replace, or clean. The C7 is built for a variety of socket types, including LGA115X. And the cooler weighs just over a pound, which doesn't add much weight to your case.
The Cryorig C7 uses the same basic installation as any other CPU cooler. The cooler itself rests directly on top of the CPU. Above that, four copper heat-pipes help distribute thermal energy across the heatsink. And the fan is located on top of that, helping pull the heat away from your system.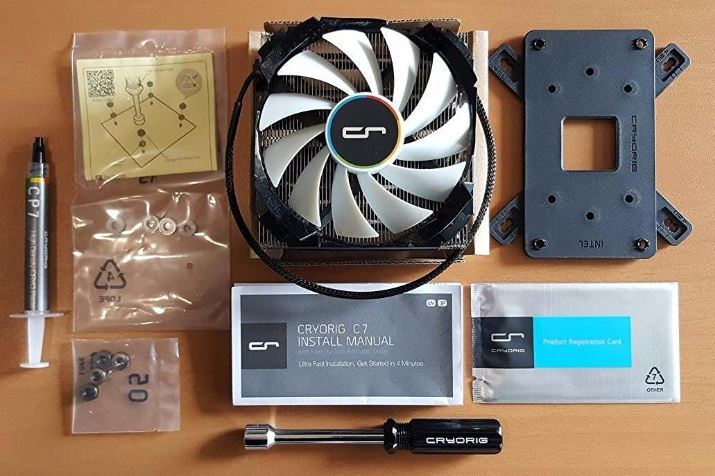 Other Considerations
This kit doesn't include an AM4 bracket, you can get one for free by contacting customer service. The C7 is louder than a stock AM4 fan, but you can easily replace the fan to something quieter if it ends up bothering you. In short, the Cryorig seems like a great choice for both ITX and SFF cases.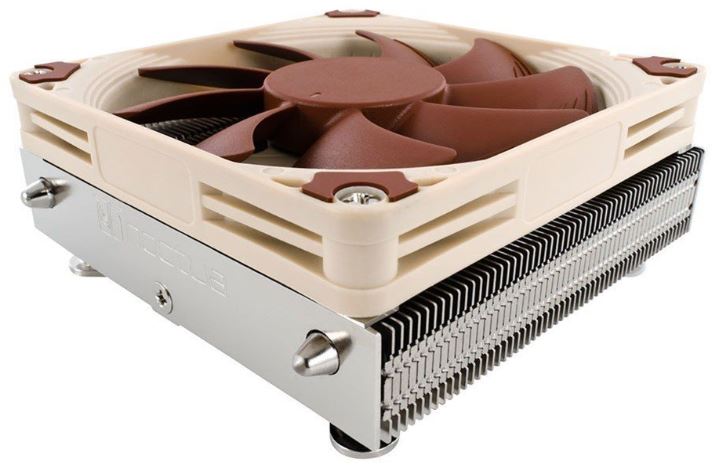 Noctua NH-L9i
Noctua is widely considered to be the best manufacturer of premium PC fans. Their equipment isn't always cheap, but it's always powerful. The NH-L9I makes use of an incredibly low-profile 23mm design. The fan measures only 14mm, making the total CPU cooler stand only 37mm within your case. Whether you're using a small form factor or a HTPC case, the NH-L9I will easily fit.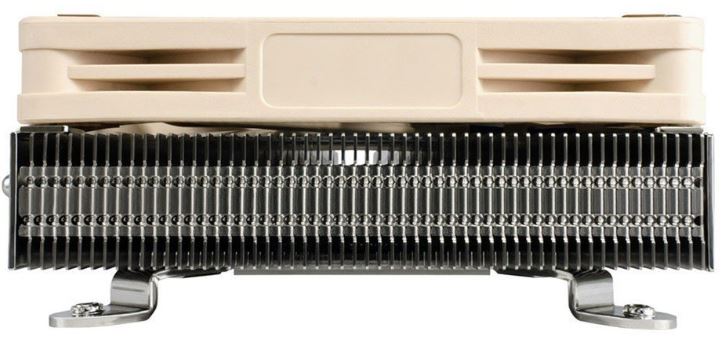 Build & Design
The NH-L9I uses the same brown and white aesthetic Noctua brands all their fans with. And like with most low profile air coolers, the NH-L9I has a fan which rests neatly on top of the heatsink, making it easy to pop off and cool.
As far as compatibility is concerned, the NH-L9I uses a standard 95mm base, which is built to precisely match LGA115x sockets. With that clearance in mind, you don't have to worry about bumping into RAM slots, or having issues with your bigger modules.
A great number of mini-ITX motherboards place their only PCIe slot right next to the 95mm x 95mm CPU socket zone. Many, many large coolers can block your PCIe slot. But the NH-L9I was built to specifically work around that problem.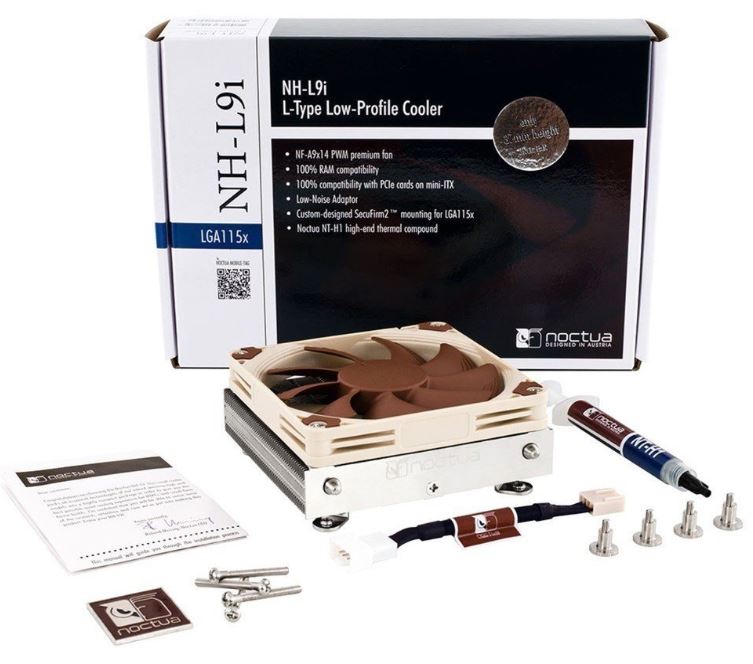 Other Considerations
Even the fan used by the cooler is somewhat impressive. It's a NF-A9x14 Noctua fan, using their highly soundproofed AAO frame. Additionally, PWM control is enabled for automatic speed control to keep your fan quiet. You can take it a step further with the included low noise adapter to reduce the fan from 2500RPM to 1800RPM. This setup is adequate for CPUs up to 65W TDP or less.
The Noctua kit includes NT-H1 thermal paste to help you install the cooler. It includes the low-noise adapter cable, a mounting kit, screws, and a Noctua metal case badge. Noctua also provides an impressive 6-year warranty on all their fans.
Choosing Between 3 Strong CPU Coolers
If you're using an ultra-small case, then your best choice for an equally small cooler is the Thermaltake Engine 27. Its 27mm design is highly quiet, and highly effective at dissipating heat for up to 70-watt TDP, provided you're using an Intel CPU. It's a good choice for modest overclocking, and it's compatible with a tiny 1U PC chassis.
The Noctua NH-L9I stands at 37mm, making it the second smallest cooler on this list. While it doesn't have the metallic radial fins of the Engine 27, it does have one of the best air cooling fans on the market. Moreover, it includes Noctua's thermal paste, which is one of the best price per dollar thermal pastes you can purchase. It's basically an added value of about $10. For up to 65 TDP, this cooler is an easy recommendation for anyone who can manage fit it within their case.
The Cryorig C7 is a terrible choice for overclocking, you'll get stock temperatures with extra noise. This fan is made for one thing and one thing only: fitting in compact spaces. It's a great choice for someone who wants something better than a stock cooler at an exceptionally low price. The 47mm build is low profile, but not that low if you're counting even single millimeter. Because of its somewhat large design, it supports a TDP of up to 100 watts.